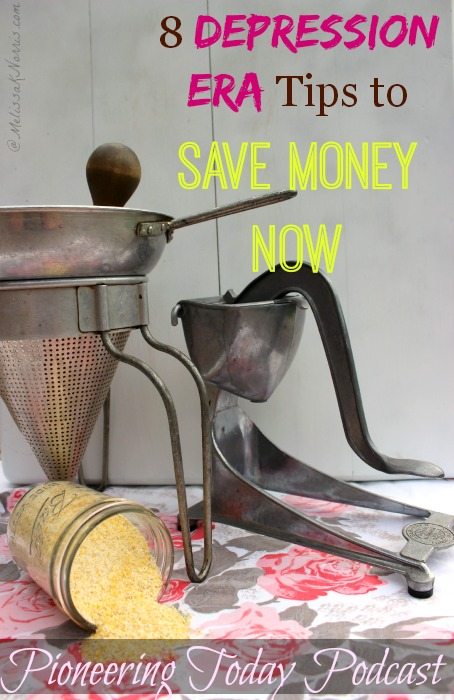 The Great Depression was a time when people learned how to make do with very little, something we could all benefit from. I share frugal tips from my grandma (via my aunt) that they used to get by during the Great Depression and beyond in both the kitchen and the home.
I post new episodes every other Friday morning. You can subscribe via RSS and receive every episode for free.


Or subscribe via Itunes
We're going to be talking about more Depression Era Tips after the huge success of last weeks post (my most downloaded show ever in just 24 hours) Episode #39 Building a Great Depression Era Pantry-Frugal Recipes and Tips . I heard ya loud and clear, we needed more Depression Era Tips!
Resources for Depression Era Tips to Save Money:
Cornmeal is a great way to stretch the food budget. My grandmother used it as much as she used flour as cornbread was a daily staple in their home. Purchasing it in bulk will save you money and increase your food storage. Organic 25 pound bag of Cornmeal
Parchment paper– I re-use my parchment paper multiple times when baking bread or homemade granola bars. It keeps my pans in good shape and helps keep my baked good from sticking, because no one likes it when half the loaf of bread comes out. I bought this roll two years ago and still have some left, if you re-use each sheet it will last you just as long.

During the Great Depression people learned to make do with very little. We are so spoiled today in our modern society. I'm grateful we don't know those times, but we take so much for granted. I love having a more frugal mindset because it makes us appreciate what we have more.
It seems so many of us (myself included sometimes) have an air of ungratefulness, that we're owed things. Instead of grumbling about things we don't like, if we look for something to be thankful, we're much better off. I've been readingOne Thousand Gifts by Ann Voskamp, and I'm implementing finding things every day to be thankful
When you're looking for things to be thankful for, it changes your emotion and mindset to that of grateful instead of grumpy and frustrated. Look for ways to thank God every day for little blessings in little moments. I think that is something those who went through the Great Depression learned.
I called my aunt to get some more Great Depression Era tips. She said, "Those years shaped the way my mom lived the rest of her life. It was always in the back of her mind. She never threw things away, thinking she might need it."
We need to find ways to re-purpose things. One reader said her grandmother taught her to wash out plastic ziplock bags. During the Depression they didn't have this, but in today's time we can learn to wash and re-use things instead of one time use and toss. Wash bags out and then turn them inside out to dry. I use parchment paper when baking bread and different baking. I re-use the parchment paper every time I bake bread at least 2 to 3 times before throwing it away. Most things can be re-used more than we currently do.
My grandmother always said anything can be made at home. My grandma firmly believed everything made at home is better for you than made in stores. Now we've come full circle and are embracing this again. It's always cheaper for me to make something at home than it is to buy it in the store, and always healthier.
They had a milk cow and each day she'd skim the cream off the milk and put it in the fridge, because it wasn't enough to make butter at once. She waited until she had enough cream saved to make butter. It took so long the cream would start to turn sour. When she had enough cream she'd let it come to room temperature on the counter and then make butter, which was a cultured and soured butter. Cultured food is much better for us and also didn't let any of their milk go to waste. My aunt said it was an acquired taste, but she remembers it fondly. You learned to wait until you had enough to make something and you weren't allowed to be picky.
We like to think of what we want to have for dinner or eat instead of what we need or the cost of the food. We really need to learn to pay attention to what we need and afford, not what we want.
They didn't have bread very much. Lunches weren't sandwiches, but biscuits and corn breads, which didn't require yeast or another ingredient. They used quick bread recipes. Biscuits are very versatile, topped with warm applesauce, butter, jam for a treat or topped with eggs, or biscuit sandwiches for a meal.
Treats wasn't something they were always able to due, but my grandma would make a special treat called chocolate gravy and serve it over the biscuits. It wasn't served often, but both my aunt and dad remember it well. It was like a chocolate pudding. I don't have this recipe because my grandma didn't follow recipes, she just cooked the way her mother had taught her, by taste, feel, and sight. This recipe looks very similar to what my father remembers for Chocolate Gravy.
Grandma's rule is you only eat white corn, yellow corn is for chicken and livestock. I don't have her sentiment, but she was adamant on this point.
My Grandma's Cornbread Recipe (she wrote it out for my Mom, the only recipe of hers I have)
1 cup flour
1 cup cornmeal
1/4 teaspoon soda
2 1/2 teaspoons baking powder
a cup of buttermilk
Add a little water if too stiff.
There's no directions for temperature or time because for most of her life she cooked on a wood cook stove. Sometimes she'd fry them up like pancakes. This is not a sweet cornbread. Another thing my father said is you don't have cornbread without milk. You pour a glass of milk and crumble your cornbread into the glass and eat it with a spoon. To this day he doesn't eat cornbread without doing this.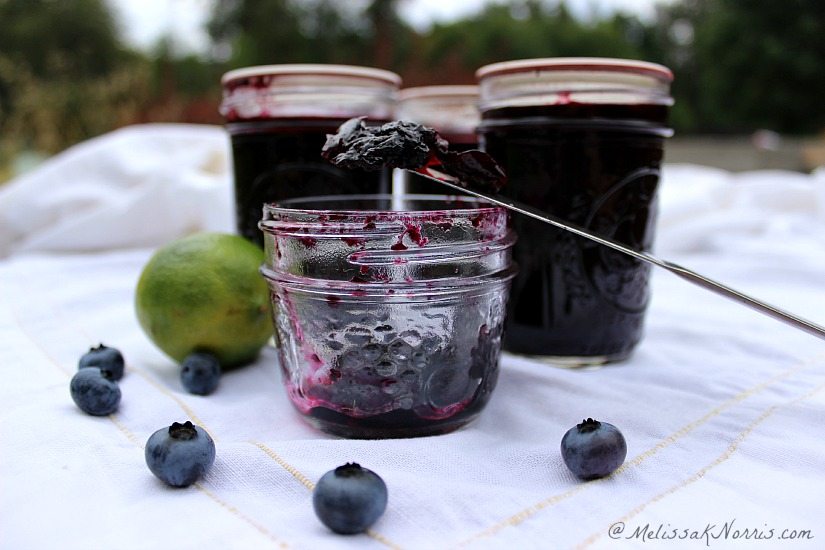 My grandmother didn't buy store bought pectin. Blackberries grow wild here and she made blackberry jelly and syrup. Grandma taught my mom to make blackberry jelly without pectin. You grate up one to two green apples and cook it with the blackberry jelly. The apples create the set and are the natural pectin source.
I don't use store bought pectin often either. I make strawberry jam, blueberry jam, and cherry jam without store bought pectin. You could say I take after my grandmother in many ways.
My grandpa used a wood stove for heat, cooking, and as a dehydrator. They didn't have dehydrators like we do now so they used the sun or the wood stove. Wood stoves put off dry heat. He hung hooks above the wood stove and used screens to dry prunes above the wood stove.
Corn is usually easier to grow than wheat, at least where we live. She used cornmeal to stretch out the flour. You go through your corn and pick the ears that aren't prime and cut kernels off of the cob and dry them. When fully dry, it was dried into corn meal. Corn could also be fed to the livestock during the winter months.
Here's my great-grandmothers pie crust recipe, be warned, it might be the best pastry you've ever had. Grandma would take pie crusts and cut it out in small circles and put fruit or applesauce inside and then put another small circle on top. She'd crimp the edges with a fork and fry it. They're called pasties and if she didn't have enough fruit for a full pie she'd make smaller versions. You can also put meat and veggies in them, which my aunt says is popular where she now lives in Wisconsin.
I'm got 75 pounds of apples and am putting some up into the pressure canned apple pie recipe to make some pasties this winter.
I would encourage you to talk to your family and get your family history, stories, and recipes before they're gone. Reach out and ask questions. I feel blessed to reconnect with my family and preserve this knowledge before it's forgotten and gone. Ask them for recipes and stories.
Even after the Depression was over and they did have some money, my grandma was still in the mindset you didn't splurge on things. My grandpa went to the store and brought her a hand mixer. She made him take it back and said, "I don't need that. I can do without it." So much of what we have we don't need.
Want frugal recipes made with real ingredients from a time when people knew how to save money and cook! Click here
I will order some things online because we're rural and I can't always get to the store. I've started putting things in the cart and not checking out. If I come back the next day or two, I find I don't really need it and don't purchase.
Use things until they're totally worn out. With clothes we don't usually wear it until it's worn out. We wear them until we don't like them or want them anymore or they're not fashionable. I just wore out the first pair of my pants as an adult. I bought a pair of pants 10 years ago and finally wore them until the fabric had worn and split beyond repair. After being worn out as pants, they could still be torn into rags. Depression Era mindset was finding ways to use things again.
My aunt said they always purchased their clothes used, even after the Depression was over.
I'd love to hear your frugal tips!
More Simple Living Articles: