Have you ever wondered how people manage to grocery shop, cook from-scratch meals for their family, and have no waste coming out of their homes? They make it look so easy! Though it might not be easy, it is simple.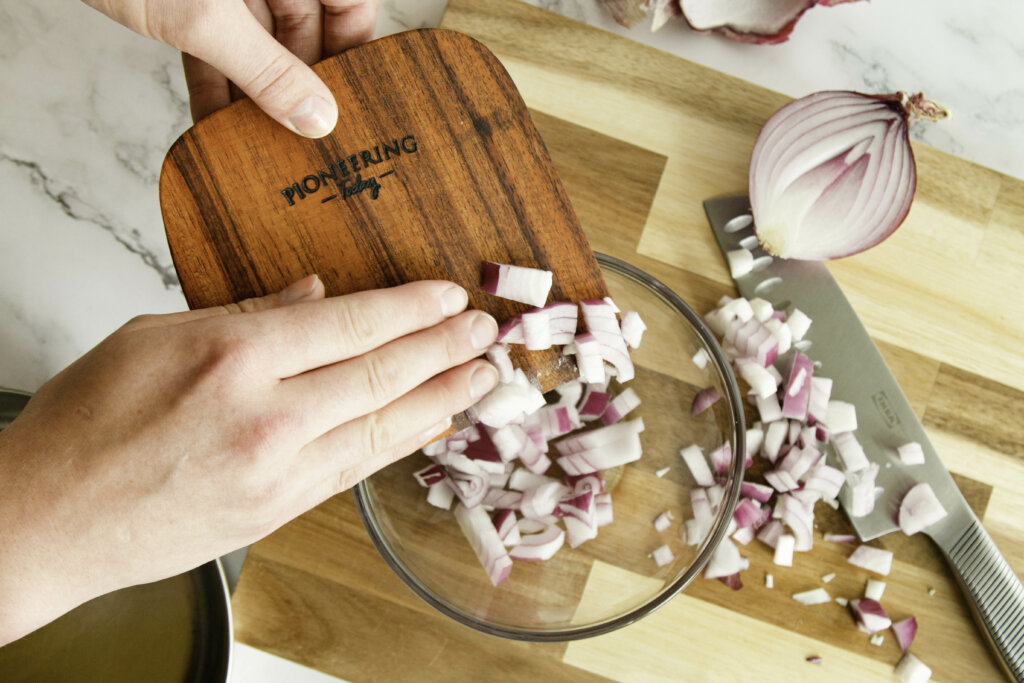 Today's guest on the Pioneering Today Podcast (episode #407) is very special. And I must say she's just as sweet in person as in her YouTube videos! My guest today is Mary Shrader from Mary's Nest. She's sharing her decades of knowledge and tips on maintaining and maximizing a no-waste kitchen.
About Mary Shrader
Mary grew up in the suburbs of New York with a father who had a country heart. During her childhood, her parents practiced many of the skills homesteaders today are doing. Her mother could make a complete meal from scraps and was passionate about teaching her "the gentle arts of domesticity."
Mary recalls rolling her eyes as she followed her mother's instructions. Her mother taught her how to cook, clean the house, iron, etc. As a teenager in the 60s and 70s, she didn't think she'd need these skills as an adult, but she humored her mother and learned the skills.
Later in life, after her son was grown and off to college, these valuable skill sets helped her create her successful YouTube channel and website, Mary's Nest, where she now passes along these same skill sets to others.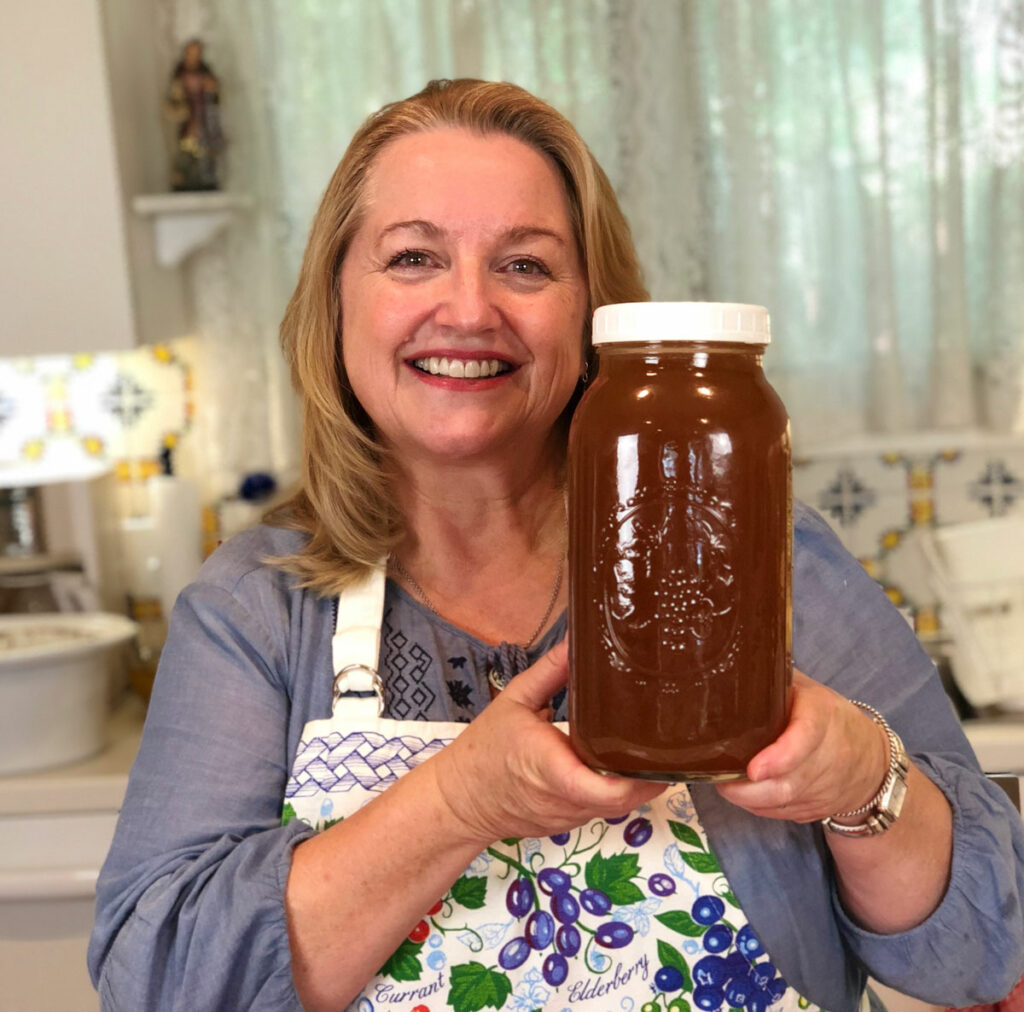 Why Learning These Skill Sets is Important
It doesn't matter if you were raised in the city, the suburbs or on a homestead. These basic skill sets can be learned by anyone at any age and are great knowledge for whatever the future may bring.
Consider there's a job loss in the family or an upcoming move across the country. If there comes a time when you need to pinch a few pennies, or you're working hard to get out of debt, or heaven forbid, a death in the family, reducing the grocery budget is one of the easiest ways to cut down on your monthly expenses.
Focusing on what's important during these times instead of having the stress of learning to manage a home or cook well on a budget can help ease the burden.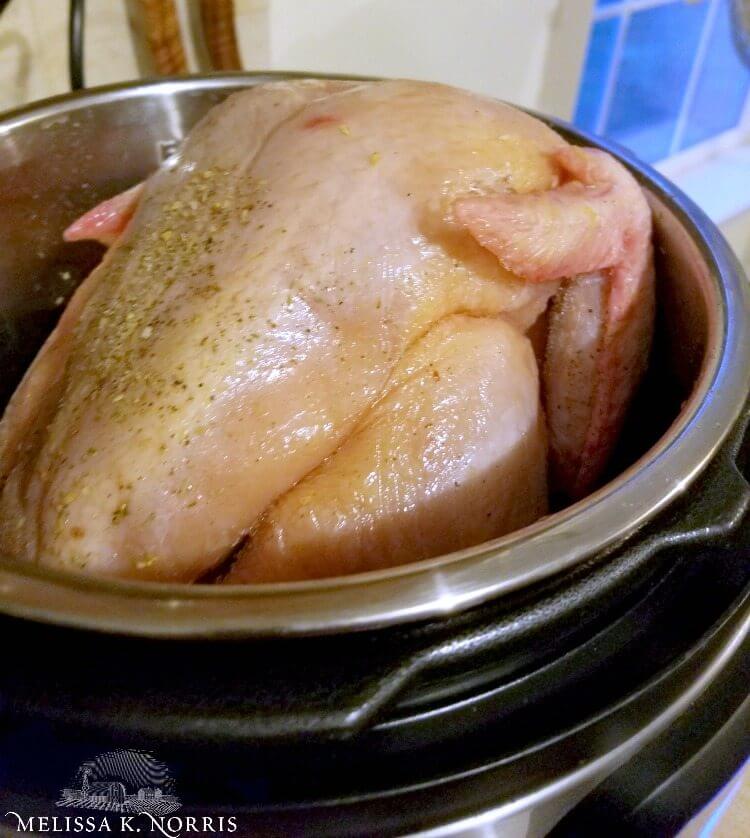 It Should Not Feel Overwhelming
When you're beginning this journey, it's important not to jump off the deep end. Learn one skill at a time, but also take small steps. When trying to cook from scratch or replace ingredients in your home with healthier alternatives, don't go tossing all your pantry items in the trash!
Slowly layer on these skills one at a time. For your pantry ingredients, only replace an item once you've used up what you already have on hand.
Take the journey slow and steady, and you're less likely to crash and burn.
One of Mary's biggest encouragements to people is not to get too dialed in on what's not feasible at this moment.
For example, if you're on a budget and trying to feed your family healthy homemade food, buy the best chicken you can afford. If you can't afford organic, pasture-raised, etc, then buy the cheapest option.
Roast the chicken, save the bones, and turn it into bone broth. You'll be amazed at how far a whole chicken can stretch to feed your family healthy whole foods. Even if it's not organic!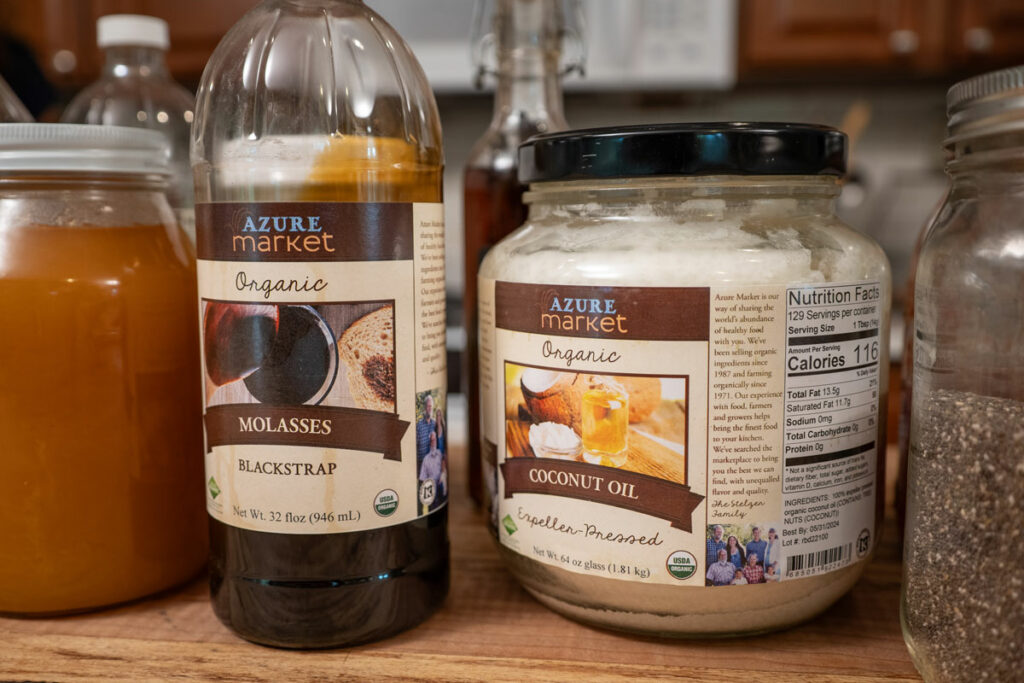 Shop Locally (Save Money)
Spending more money than you have is never wise. The stress of the financial burden only adds to an already stressful situation.
As you begin to cook from scratch, start thinking about ways to source food locally. Shop farmer's markets or join a CSA or a community garden. Get to know your local farmers. Seek out those raising meat chickens, egg-laying chickens, beef cows, dairy cows, etc.
Develop relationships with the people around you and find creative ways to stay within your budget.
Consider bartering. Many farms will barter your time for products. Help a farmer harvest their potato crop in trade for a year's worth of potatoes. Getting creative can help when it comes to saving money.
When you can't find something locally, consider a food-buying coop like Azure Standard. I've been shopping with Azure for years and they've really helped build up my bulk food storage supply. They also carry all kinds of household goods, animal products, etc.
For first-time customers, Azure Standard is also offering 10% off your first order of $50 or more when you use coupon code "Melissa10" at checkout.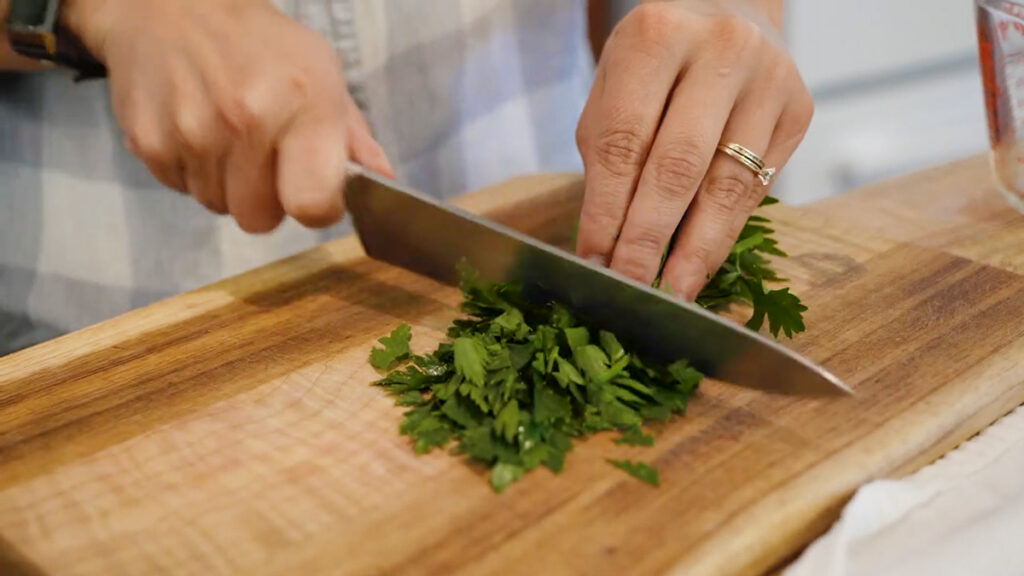 Save the Scraps!
The best first step in creating a no-waste kitchen is to get a scrap bag! What's a scrap bag? Great question! A scrap bag is a large gallon-sized ziptop bag that you keep in your freezer. Every time you peel an onion, or carrots, or chop the leaves off a stalk of celery, you throw the scraps in the bag.
As you roast whole chickens, save the bones in a separate bag in the freezer. Once you have about one to three chicken carcasses and a bag of vegetable scraps, you're ready to make a batch of chicken bone broth.
Then, learn how to inspect the chicken bones to see if there's still some cartilage left on the chicken to know if you can make another batch of broth. If you don't have time, cool the bones and store them in the freezer until you're ready to make another batch.
If you get on a roll and make too much to consume before it goes bad, learn how to can bone broth so it's sitting on your pantry shelf whenever you need it.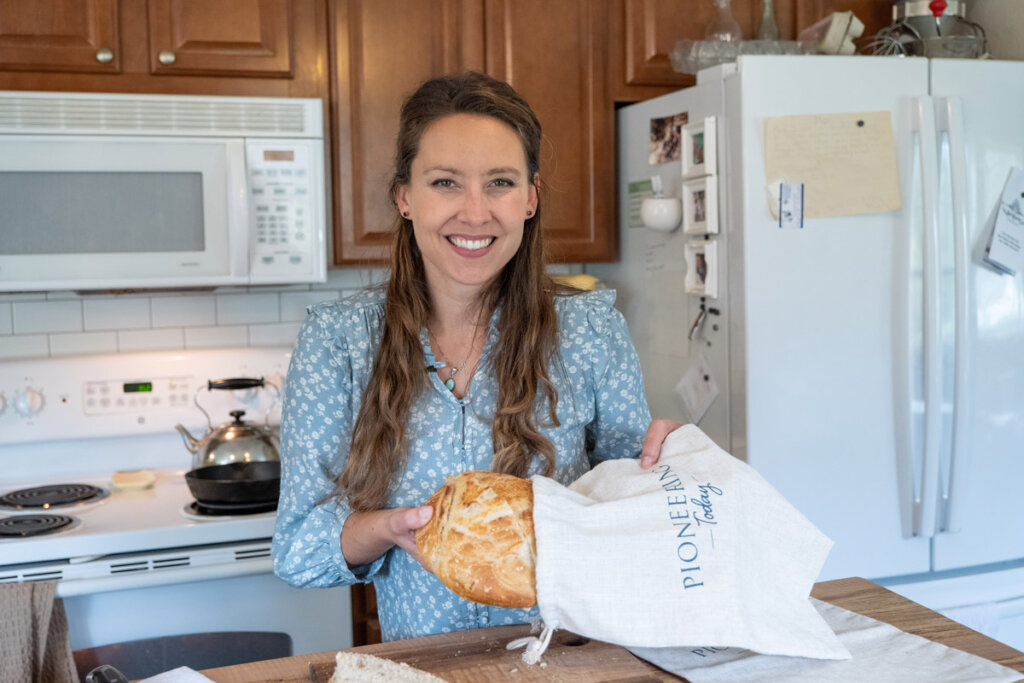 Learn to Evaluate Your Food
Another great skill is learning how to get creative with your food and evaluate it. Once a week, Mary looks in her crisper drawer and makes soup from whatever veggies need to be used up before going bad.
When you learn how to use ingredients and seasonings, you'll be amazed at the delicious meals you can create from what might otherwise end up in the compost bin.
When you get in the habit of evaluating your food, you start to realize there are many other uses once that food is past its prime.
Stale bread? Turn it into breadcrumbs or bread pudding, or use it for a breakfast strata.
Veggies that are a little past their prime? Give them a trim and toss them into soup, or save them in your scrap bag for adding nutrients to bone broth.
Cold compost! When veggies are beyond saving, you can "cold compost" like Mary's mom used to do. Put the ingredients into a blender with water and create a liquid compost. Then, take it out to the garden, dig a hole and pour it in. Cover that hole and let your plants compost the liquid as fertilizer.
Don't toss your tomato skins! When blanching tomatoes for preserving, save the skins and dehydrate them. Then, blend them into a powder to add to soups and stews for added flavor.
Sourdough discard – If you keep a sourdough starter, don't toss the discard. Save it in the refrigerator to make sourdough pancakes, waffles or a tamale pie. Finding creative ways to use your sourdough discard means it never ends up in the trash.
Because both Mary and I grew up with parents who lived through the Great Depression, we were both taught to reuse as much as possible. Before tossing something into the trash or compost, we always ask ourselves if there's another use for that item.
Saving rubber bands, paperclips, clamshell containers from the grocery store (they make great seed starting containers), etc.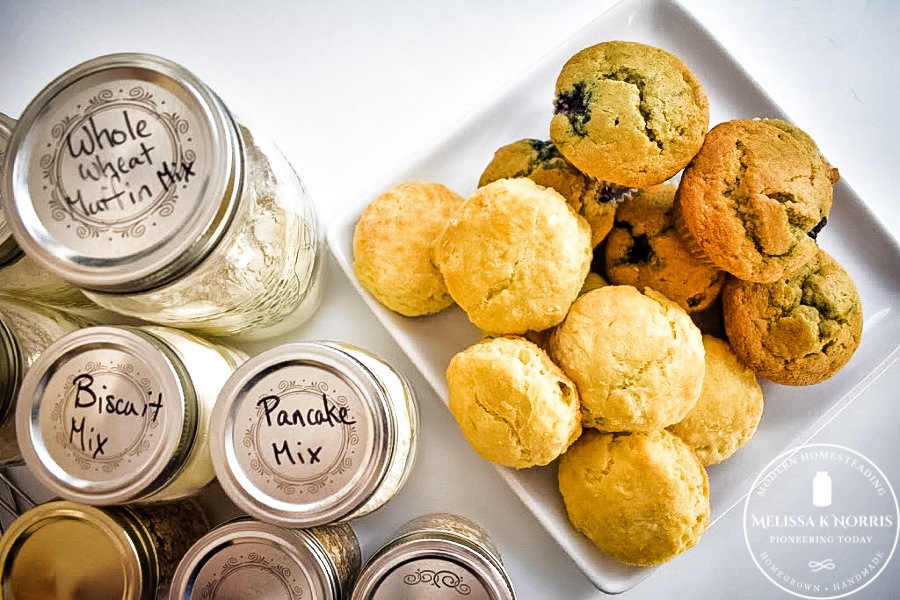 Stock Your Pantry Well
When you begin learning how to cook from scratch, you also learn how to stock your pantry with ingredients that can be turned into delicious meals. You learn ingredient substitutions so you're not constantly running to the store every time you run out of an ingredient.
You're no longer buying packaged foods like cake mix. Instead, you have a few jars of homemade cake mix or brownie mix sitting on your shelf. The same goes for pancake mix, muffin mix, biscuit mix, oatmeal mix, and even homemade hot cocoa mix! Making these items from scratch saves so much money.
When visiting the grocery store less, you're also saving money by not making impulse buys.
The more you can stay out of the grocery store, the better! You're not only saving time and money, but you're likely making healthier choices by cooking from scratch at home.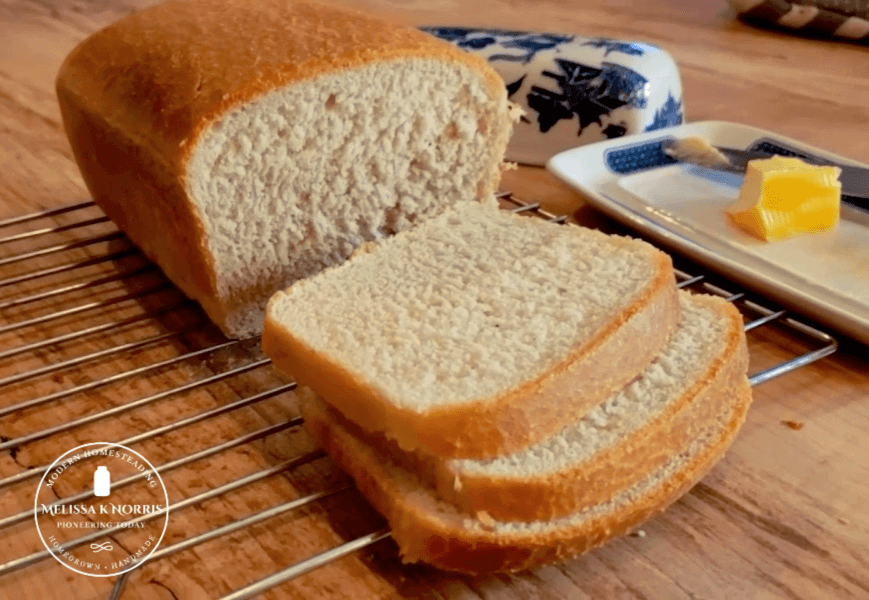 We Make The Most of our Homemade Products
When someone spends time making something from scratch, it's much more likely that they'll make the most of that ingredient.
It's easy to throw away a loaf of store-bought bread once it's gone moldy. But if we make a loaf of bread from scratch, we're much more likely to make use of the entire loaf before it goes bad.
You won't want to waste it because it takes time and energy. It'll "hurt" a little bit more if you throw some of it away.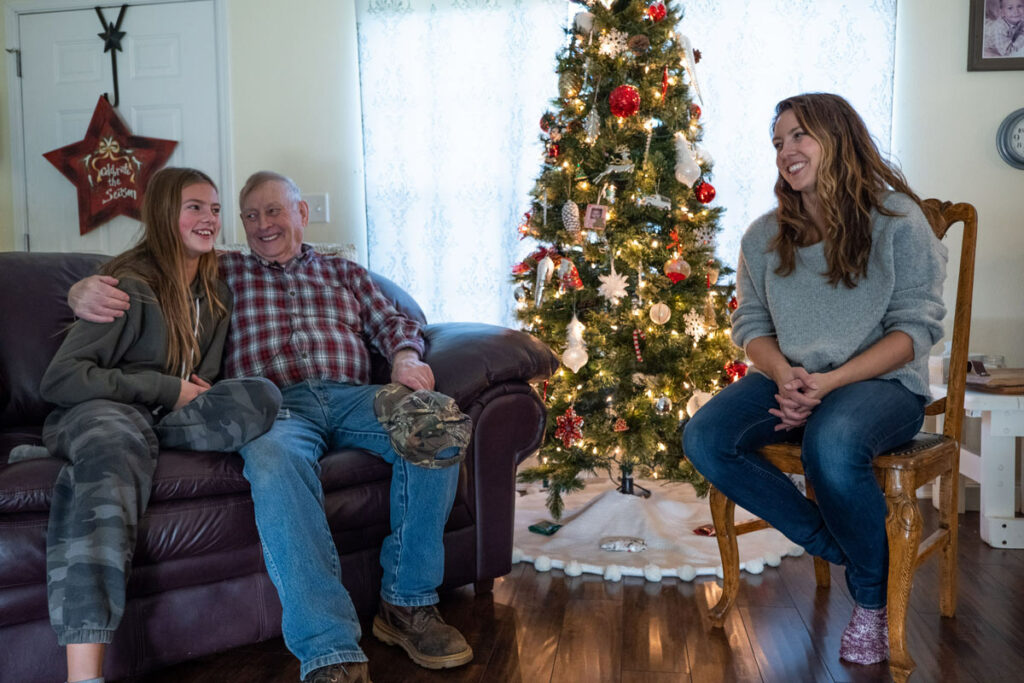 Family & Memories & Food Are Intertwined
And finally (and this is why I got emotional on the podcast that accompanies this blog post), cooking brings us together. We remember recipes our grandma or our mother used to make for holiday meals, and there's something inside of us that wants to continue that tradition once they're gone.
When we make those recipes, it connects us to them. Brings back floods of memories and carries on their legacy.
Share the Journey
One of both Mary's and my favorite things is to watch people on their journey to discovering home-cooked meals. We don't all need to jump in with both feet and learn the art of sourdough bread. But we can pick up some flour and a packet of yeast and make an inexpensive homemade sandwich bread (that's much healthier and less expensive than the store-bought alternative).
Then, once we learn a skill, pass it along to a friend, a neighbor, or a child. Maybe start a working bee group. Be part of someone else's journey by sharing your own.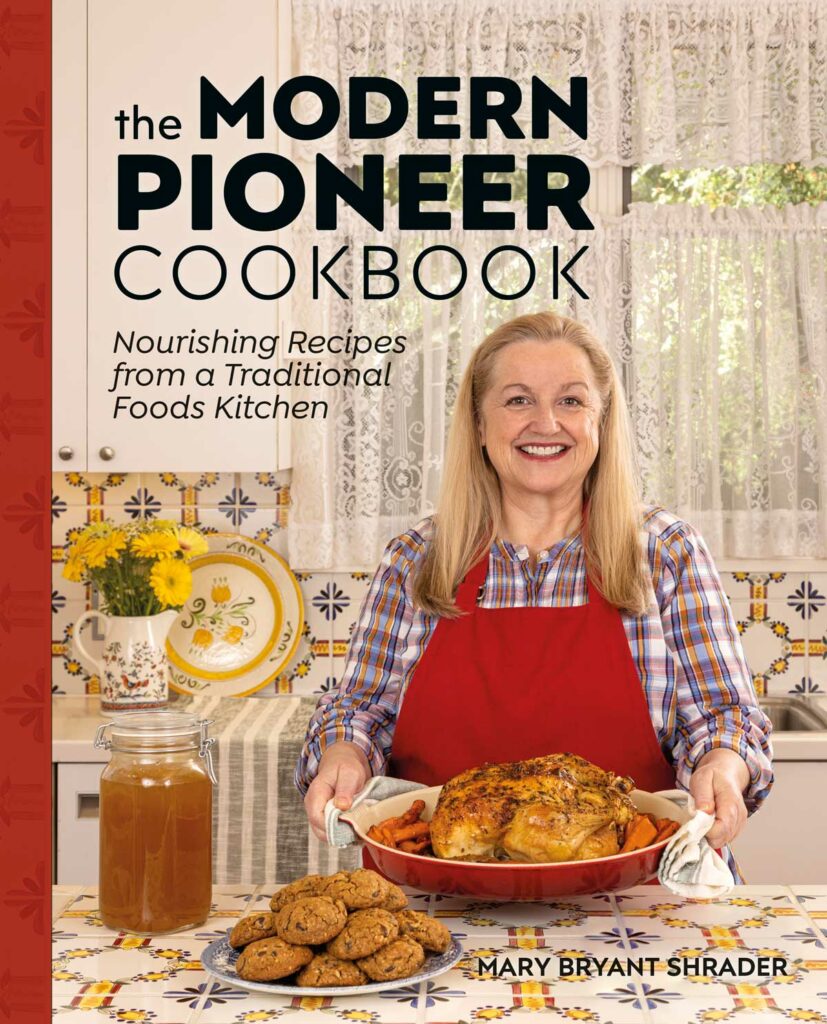 Where to Find Mary
Mary has recently published a cookbook called The Modern Pioneer Cookbook: Nourishing Recipes From a Traditional Foods Kitchen. She will also be at the 2024 Modern Homesteading Conference. And finally, you can find Mary at her website, Mary's Nest, as well as the following social media channels: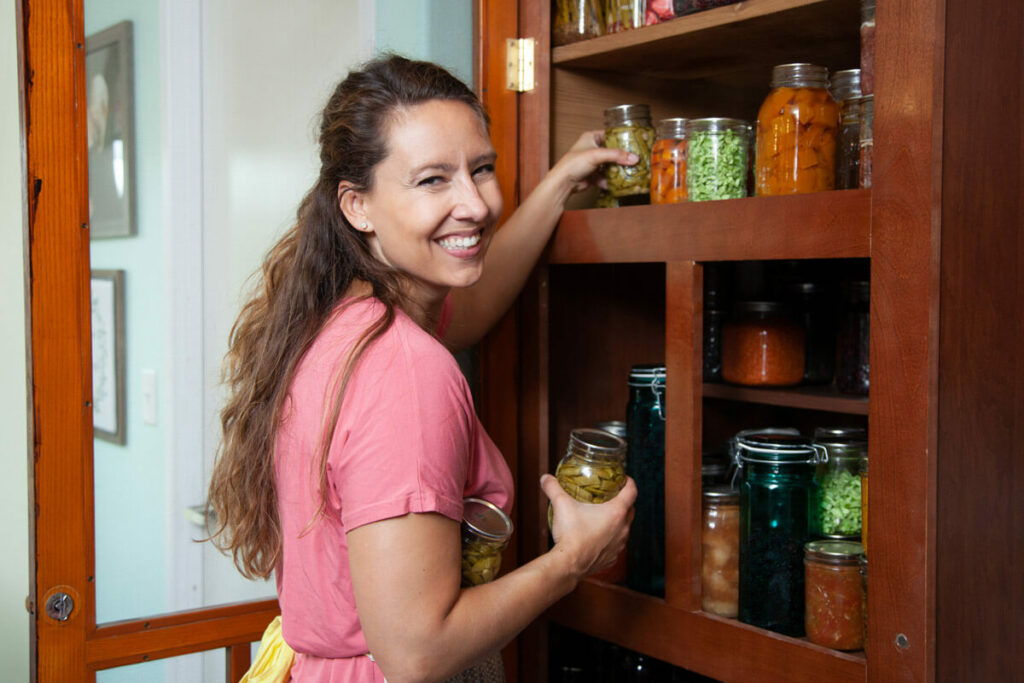 More Posts You May Enjoy
Melissa: Hey Pioneers. Welcome to episode number 407. Today we are going to be talking about a no waste kitchen, so creating a no waste kitchen, cooking traditional foods, cooking from scratch. And I'm really excited because we have a special guest on today who is going to be sharing her tips for cooking traditionally and creating that no waste kitchen that you can apply and use in your kitchen. Right now, if you have a garden, you're probably wrapping up that garden. And so I know as we move into the fall and the wintertime, and especially the holidays, that food budgets definitely tend to increase. We're spending more, we're not supplementing from the garden with fresh vegetables anymore, though hopefully you have been preserving and stocking your larder with some of those things. But the talk of creating a no waste or low waste kitchen, finding ways to just use everything to its full value and maximizing what you already have in the kitchen and your food is going to serve you very well, especially when you start to do that from a traditional foods standpoint.
Today's guest, I am very excited to introduce you to, many of you probably know and love her. She has such a sweet personality and soul, and she is the same in person as she is online. And that is Mary from Mary's Nest, so super excited to have her on today and her story. And today's episode is sponsored by Azure Standard. So if you are looking to save money, have traditional foods in your house, then Azure Standard is definitely going to be one of those resources that you want to put to use. I order from what things that we're not obviously putting up ourselves, but using their canning jars, a lot of tools like that to help us with preserving and then ordering things that are items that we're not growing ourselves or can't necessarily grow here. Spices, all of those types of things, I get those from Azure Standard.
I have been using them long before they became a sponsor of the podcast. I have been using Azure Standard for years now. Ever since I found out about them, have always been very happy with the quality of the things that I have gotten from them. And also knowing that anything that they have listed is either grown on their farms or from other small family farms that very much manage their farms in a way that we also do. So they stewardship very well and they only have companies and their products for sale through them that take that same view on using regenerative agriculture on either certified organic or honestly even I say higher than certified organic because sometimes certified definitely better than conventional in a lot of ways, but doesn't always mean that things are raised to the standards because there's some things that can slip in under certified organic that I would use on our farm and want for my family.
So I love knowing that they have done that vetted work for me, and I have one spot that I can go, I can buy things in bulk, I can try things in smaller quantity and then buy them in bulk to make sure that our larder and home is stocked with things that are whole foods that are nourishing to our family and also helping us on our budget. Great news is if you are a brand new first time customer to Azure Standard, you can use coupon code MELISSA10 and get 10% off your very first order of $50 or more, so we will link beneath that.
In today's podcast episode, we have an accompanying blog post. If you're watching this on YouTube, you'll see that beneath here in the video description. If you're listening to this old-fashioned way on an app, then you can go to melissaknorris.com/407. That's just the number 407 because this is episode number 407. But at that blog post, we will have links to a lot of the things that we talk about today, like doing different recipes and making a lot of the different things that we're referencing. We have tutorials and recipes that are on the website that you can access to get going. So without further ado, I'm very excited to introduce you to Mary. Well, Mary, welcome officially to the Pioneering Today Podcast.
Mary: Oh, Melissa, thank you so much for having me. I really appreciate it.
Melissa: Yeah, well, I am very excited to have you on with us today. And Mary and I were chatting right before we started to record. So for those of you who attended the Modern Homesteading Conference that we had in Idaho this past June, you may have seen, gotten lucky enough to see Mary there. She came, I got to meet her in person and hug her neck, and she is just as sweet in person as she is online. So that was a lot of fun and looking forward to having you back as a presenter at the 2024 Modern Homesteading Conference, but I didn't want to wait that long to share some of your wisdom with more people. So I'm so glad that you could come on today.
For those who might not be familiar with you, Mary, I'd love if you just give us a little bit of your history, a little bit about you, and then we're going to jump straight into our topic, which is, I guess I'll kind of spill the beans a little bit early. But we're going to be talking about creating a no waste kitchen, ways to save money on groceries and to just take what you already have and get that much more out of it, both as in no waste, but also as traditional food and talking about that because we can all eat three meals a day, but what you're eating is going to feed your body and nourish it in a much different way. So I'm excited to talk all about that, but I would love to know a little bit of your story and to share that too.
Mary: Well, as I mentioned to you before we came live here or recording, I have quite a bit of different background than you. I'm very impressed with the fact that you're five generations of a ranching family, and I find you such an inspiration to learn from. My background really started just growing up in the suburbs of New York. I lived outside of New York City. My dad worked in New York City and he was funny. He was a city boy from Jersey City, raised in Jersey City, but here he was now living in a suburb in the state.
He married my mom. She was a New Yorker, and we lived in the suburbs, and he always had a country heart. I think he would've loved being friends with your dad. He passed away a few years ago, but he would've loved your dad and he would've been very impressed as I am with your ranching history and all you know about the life you've lived and the skills you share and all of that. He had a country heart and he bought a book one day. I still have the book to this day called How to Buy Country Property.
Well, my dad decided at one point we should move to the country, but you have to understand that moving to the country meant that we simply moved from the southern part of our county, which bordered New York City, to the northern part of our county, which still wasn't all that far from New York City. But my parents found a house, and I think it was on about three acres with a well and septic and the whole nine yards, and they couldn't have been happier. My mother was a good egg. She went along with the whole plan and she had grown up in the suburbs, but she was born in 1925, she's 98, and God bless us, still going strong, but I'm still eating butter. Sally Fallon would be very pleased.
Melissa: Oh, we're proud. Yes.
Mary: But it was interesting because she, growing up in the suburbs in 1925, again in the same county where we lived right outside of New York City, it was pretty country. And so she had a lot of the skills, I think similar to what a lot of your listeners in terms of how they live their lives now. My grandmother had a big garden, fruit trees, they preserved. They lived, as you said earlier on the topic today, they wasted nothing. My mother could make a whole meal out of scraps. It's just nobody knew they were scraps. So we moved to the northern part of our county, and my mother was very, very traditional. This is someone who, as I said, was born in 1925 and she felt very strongly about teaching me how to learn all the skills she knew. She wanted to share this with me, and she would call them the gentle arts of domesticity.
Melissa: I like that title.
Mary: And she would say, "Okay, you need to know how to cook and you need to know how to cook properly--everything homemade. You need to know how to clean the house. You need to know how to sew. You need to know how to iron." It was very cute because you have to keep in mind, I was growing up in the sixties and then was a teenager and a young woman in... I was born in the 1950s and I was a teenager and a young woman in the 1970s and the sixties and seventies, this was women's liberation and all of that. So I thought my mother was very old-fashioned, but I loved her and I felt, well, these are valuable skills and I should learn all of this. I may never do this as you-
Melissa: You humored her, right? As most teenagers do, they humor their parents-
Mary: They humor their parents. Yeah.
Melissa: ... for the most part.
Mary: So my mother was teaching me all these things, and it's sort of funny later in life, after I got married a little later in life and our son was born in my early forties, and my mother would call me. She lived like five minutes from me, and she would call me and she'd say, "Well, what are you preparing for the evening meal for your husband?" I'd be like, "Evening meal! Mom, I'm not even dressed or showered. I've been up all night." And she'd be like, "Don't worry, I'll be over in five minutes." It was very cute.
So I learned all of these things, how to... We didn't call it bone broth. I think my mother was probably saying stock or broth terms like that, and she taught me how to roast chickens and how to save the bones and save the scraps and all of these things. And then you make the broth and then you use the broth to make soup. This is how you make yogurt at home, and this is how you make a sourdough starter and sourdough bread, and this is how you ferment. I will say my mother learned... My mother's Italian, Northern Italian, and she learned how to make sauerkraut because that was something my father liked, but that was not something she grew up making. She grew up making more of what's called a jardinière, which is a mixture of vegetables like cauliflower and whatnot, and peppers, and that's fermented.
So she understood the concept of fermentation, but it was very cute watching her make the things. Now my father's not German, but he grew up from across the street from a German bakery. And so she learned how to make rye bread and sauerkraut and all these things that my Irish father was enjoying. So that's basically my background. Then I was just a working woman in my twenties and thirties. My husband is very, very sweet because when we were planning our wedding, he said, "Well, if we get married at this point, you'll still be 39. You won't have turned 40 yet." I was just about to turn 40. He said, "But if we get married before the end of the year, you can tell your girlfriends, you got married in your thirties."
So I had been working all through my twenties and thirties and I... You know, you're busy and you're single and you're not making sourdough and sourdough bread. At the most I was roasting chickens and always made some kind of broth and whatnot, and it had really been ingrained in me. I was raised by people who lived through the depression and the shortages of World War II and all of this. So I knew not to waste and I knew to make the most of whatever I had. And I've shared this story before, and it's sort of funny because even in my little tiny railroad kitchen, I lived and worked in New York City, I would roast a chicken.
Also too I didn't have a lot of money, and it was cheaper to buy a whole chicken than it was to pick something up at one of the stores in the city. I lived in Manhattan and very expensive, and you're just trying to scrimp and save every possible penny you can. So I would buy a whole chicken and I would roast it and I would say to my neighbor or girlfriend, "Come on over. We can have dinner together." And I'll remember one of my friends walking in and saying, "Oh my gosh, Mary, you live like an adult."
I said, "We are adults. We're in our twenties." She's like, "Who roasts a chicken? A whole chicken." But when I married, it became really important to me to feed my son and my husband the way I had been fed. I wanted to get back to making all of these foods again, and I became... My husband, he's really a good egg because it was a real bait and switch because I got pregnant very soon after we got married and I said, "Would it be okay if I didn't work outside the home?" And I became a homemaker and he was thrilled, and he was like, "Oh my gosh, it'd be fantastic. It'd be wonderful." So here I am, this expectant mother and starting to make these very traditional foods, and I had a lot of ups and downs remembering all of these skills. You know I had the occasional culinary disaster as I would say, and just sort of plowed my way through.
My son was just such a good egg, even as a toddler taking his cod liver oil. I would be doing all these things with him, and it was funny because I'd give him a little tiny bit of grapefruit juice and I would call it... Now keep in mind I don't drink alcohol just because I don't have any particular religious conviction or anything like that. I just don't drink. I would give him the cod liver oil, and then I'd say, "Here is a grapefruit chaser, and you can take that down to wash down the cod liver oil." So here he is, three, four years old at the playground telling all the other mothers, "Oh yeah, my mom gives me a chaser." And I'm just like, "Oh, heavens to Betsy." But in any event, life goes on.
My son was diagnosed with very severe dyslexia, very severe like the one percentile. And the school he was in, he was going to a little kindergarten school and they said, "We're not prepared to handle this." And so I talked to the public school in our area and they said, "We're not..." He's a grown man now, and back then, I lived in what was once a small town. It used to be like 3000 people, but with suburban sprawl and the popularity of Watson, it's like 20,000 people now. But back then other public schools said, "No, we're not prepared." And we even amazingly had a school for dyslexics for children with dyslexia here in Austin and I took him there and they said, "No, he's too severe. He needs one-on-one." So all of these people said, "Have you thought about homeschooling?" I said, "No, I never thought about it, but I had no options available."
So I brought him home, I had to find a private reading therapist who could handle the dyslexia. That was not easy to do in Austin all those years ago. I found a student working toward learning how to be a reading therapist and so she said, "Well, I can get my hours. I'll train your son and I'll give you a little reduced rate and you pick up the other subjects." So we go on this journey. And why I share this with you is I searched out other homeschool mothers and I was a lot older than them. And Sally Fallon's book, Nourishing Traditions had come out and they said, "Oh, Mary, you know how to make this food, don't you?" And this is something I think a lot of people who were in the homeschool circle, at least, were starting to get interested in. And I said, "Oh, yeah, I know how to make most of this." You know, kombucha, things like that were new to me. But I said, "For the most part, I can teach this to you." So they were like, "Great, we're coming on Saturday."
So here I have all the fathers take the older kids, the mothers have their nursing babies, so everybody's in my kitchen, I'm showing how to make bone broth every Saturday. Then other mothers would say, "Okay, now you come up to my house," then I would go to their kitchen. And this just snowballed, and this went on for free year after year and homeschooling and all of that. My son's name is Ben, when he went off to college, he and my husband said, "Gee, you're so passionate about this. You want to keep this alive, put the videos on YouTube. Just stand behind the kitchen island. Dad will film you and do your classes." And so I had to learn. I watched people on YouTube, I knew what it was all about, but that was five years ago and I was 60 years old. It wasn't like I was super knowledgeable about all the technology and all of that, and so I had to take a little course on what do you do? How do you set up the channel and all of that.
And so I forged ahead and I said, "Okay, I'll do 15 videos and I will call it Mary's Nest and it's because my husband and I like birds. I'll do these 15 videos: bone broth, cultured dairy--when you look at Sally Fallon's cookbook, what she covers. I'll do these 15 videos and that'll be great for people." I was surprised, and I think you have experienced this yourself as well. All of a sudden you find, wow, there's a lot of people interested in this and there's a lot of people who want to learn how to do this. And so I just kept going and five years later I've got like 600 videos. I can't even believe it myself. Sometimes I say, "Oh gosh, I'm so exhausted."
Melissa: I can laugh with you because yes, it's so funny because until you start to create videos, I never understood how much work actually went in them. Because for those watching, unless you've ever been part of the process, you see a video that can range anywhere in length, of course, from 10 minutes to 30 minutes and sometimes maybe 40 minutes depending on what the topic is or whatnot. But it's literally hours of work that has went into the filming and the editing and learning the equipment, even in the beginning, learning how to operate video cameras and all those things.
And so I smile with you because so much of your story is so similar, even though we have an age difference, because my dad is only about 10 years younger than your mom. He was born in the 1930s and so I resonate so much with what you're sharing. Yes, the waste not always finding a way to reuse and to get the most of what you have and can you repurpose something into something else, that was such a cornerstone of my upbringing that even later as a newlywed and... I got married at 18, so I was a newlywed.
Mary: Oh, that's beautiful.
Melissa: But even that, once you're out on your own, like you said, there was certain elements that they are ingrained in you when you're raised by someone who has experienced those types of things, the Great Depression in World War II, those types of things, it affects them their whole life, and they really want to make sure that they and those that they love never go through it as hard as they did or is prepared for that. So I actually think that I didn't necessarily appreciate it as a teen the way that I do now, but now I'm so grateful. But what I love about your story as well is like you were saying, even your mom and everything, that you don't necessarily have to come from this deep home setting ranching background. I mean, I am fortunate that I do come from that farming background and homesteading background and whatnot, and it served me well, but there's a lot I've had to learn on my own and implement.
Just like you were saying, you didn't necessarily know some of the things in Sally Fallon's book, but you've learned them as well. But I think for anybody that's listening or watching this, it just shows that no matter where you are at, no matter what skillsets you may or may not have learned as a child, and if you live in the suburbs, if you live in the apartment in the city like you were in Manhattan, you can put these skill sets to use. You can learn them no matter what age you are, no matter what your background is. This is something that is attainable and doable truly for everybody.
Mary: Oh, I agree with that 100%. It does not matter. You can, like you said, be in the city, you can be in the suburbs or you can live in the country, it doesn't matter. And also to the entry point to this should never feel overwhelming to people. People should never feel, oh, I can't be a traditional foods cook because it's very expensive, because I can't get pastured meat. I can't get organic vegetables, whatever the case may be. And I always say to people, "Forget about all of that. All you need to do is the best you can do." And when you're starting out on this journey, don't clean out your pantry and then suddenly say, "Okay, I'm going to have everything perfect, everything organic," because that's just a recipe to crash and burn.
So I'll never forget when I first started teaching my friends in the homeschool circle, I was very kind of naive about it because of the way I had been raised. And I was like, "Okay, let's do a sourdough starter." And I'll never forget this lady, she was just the best. She was so cute. She kind of put her... She was sitting at my kitchen table and she kind of went like this. She was like, "Whoa, I don't know how to bake bread."
And it made me realize, wow, a lot of these people, they are really at the very beginning of a journey. A lot of the people that I met didn't even know how to cook, and they also had very tight budgets. Sometimes I take a lot of flack for this in certain communities because I'll say, "Just buy a chicken. Just whatever chicken you can afford at the grocery store and roast it, save the bones, use it to make bone broth, and that's where you're going to start your journey. And even if all you can afford is a chicken that's 99 cents a pound, don't worry about it. Don't get all obsessed about how the chicken was raised, especially at the very beginning of this journey, and especially when your budget might be very tight, because I always feel spending more money than you have is not..."
My parents were very much of the Dave Ramsey School of Thought long before Dave Ramsey. You never spend more than you have. You never have debt, and you just don't do that. You go without, and you make the best of what you have, and again, you don't waste anything. The smallest little rubber band, it goes into some sort of vessel to save for when you're going to need that later. You just don't waste anything. You know that old Yankee expression, I don't know exactly what it is, "Wear it out or do without and just constantly be repurposing and using everything." But I found that I never wanted people to feel that they couldn't enter into this type of lifestyle because their budget was too tight. And what I tell people is just start small and just start with what you can afford and then move forward from there.
The more you start to make things homemade, and the more you start to learn how to repurpose all of your scraps and not waste anything, you suddenly find you have a little more money. And then when you have a little more money, you can buy the better chicken, you can buy the better meat, you can buy the better eggs. It's funny, I always tell people, "Don't worry, don't be a zealot. Don't get nuts about it all." But what I do find is as you become more into this way of cooking and thinking, you start to do different things in your community. You start to say, "Someone's got to be raising chickens. Someone's got to have eggs that I can buy locally." Maybe someone's even butchering chickens or I remember the dairy where I would get my raw milk from, the man and I would get to talking the dairy farm.
He was such a nice man. It was funny because sometimes people would come from the city. I think you'll really appreciate this being a multi-generation farming and ranching family. And the people would say, "Well, there's not very much cream on the top this time." Or, "Oh, it's not very yellow this time, whatever." And he'd be like, "For heaven's sakes, there's seasons and things change and we're in a drought and raise your own cows." He and I would've such a laugh. He was so funny. He'd tell, "I get so frustrated with these city people." But one day we were talking and I said, "Gee, do you know..." I said, "Yeah, I'm really trying to find some bones." You know now it's so common you can find them at the grocery store.
But I said, "I'm trying to find some bones. I want to make official bone broth, beef bone broth." And he said, "Oh yeah, my buddy has a ranch," and I'm in Texas, so. The next time I went to pick up milk, this rancher comes, he's got a big plastic bag filled with bones, and he said, "I love you. Nobody wants this stuff." That was 20 plus years ago. And I said, "Oh, I'd love to buy whatever you have." And he's got this big bag, Melissa, he says, "$2?" I said, "I'm going to give you more than $2." I said, "While you're at it, do you have any organ meats?"
But you find this no matter where you live, and then you start to develop relationships with these people, you start to meet people at the farmer's market, you start to realize that there's so much you can do to stay within your budget as you make more homemade and you are able to improve what you can afford. And then when you bring those bones home, for example, you realize that you can get multiple batches of bone broth. You examine them and you say, "Oh, there's still cartilage on here." And you can push out the bone marrow and you can eat that, it's very nutrient dense.
Melissa: Oh, my husband loves the roasted bone. It's his favorite thing. He loves to spread it on sourdough bread and eat it like butter.
Mary: I love it. Exactly. I always tell people, "Don't be afraid. Just try a little, it's steak butter. It's delicious."
Melissa: Yeah, it really is.
Mary: But there's all these things that even when you make the bone broth, I always recommend with the chicken carcass, you save three chicken carcass, make a real nice chicken bone broth, and then you look at it and at the carcass and okay, there's still some cartilage there. I'm not going to throw this out. I'm either going to make another batch. If I can't make another batch right away, I'm going to cool it and I'm going to store it in my freezer and bring it out next time. When I peel carrots, those are going. That's the first thing I always tell people. Do you have your scrap bag? Get your scrap bag going. You peel your carrots, you save those scraps. Who throws out onion peels? This was shocking to me because my mother, even as a young woman, when I wasn't doing everything the right way, I knew not to throw out onion peels.
Those are rich in nutrients. And even if they're not organic, they're in the Clean Fifteen on that website that the Environmental Working Group I think shares. They don't have that many pesticides. Don't worry about it. I save the onion peels, I'd save the little bottom of the celery all going into the scrap bag. And when I would make the chicken bone broth, I would dump out the scrap bag. I wouldn't get fresh carrots and fresh onions and fresh celery, I'd dump the scrap bag and that's where I was going to get the minerals. Whenever you take something out of your refrigerator and you're like, "Oh, okay, it's getting a little past its prime. Maybe I need to discard this." It almost becomes like a game for you when you get into the no waste, and you don't have to be perfect. Unfortunately, sometimes things do get wasted. It happens.
But you can work towards a low waste kitchen. You don't have to... I always tell people, you don't have to be perfect. We're just homemakers. We're home home cooks, we're home bakers. None of these needs to be perfect. You just have to try and you just have to do your best and you have to grow your skills over time. And I think when you get into this mindset of making traditional foods and making more and more things homemade, before you put something in the garbage or maybe send it to the compost, you look at it and you're like, "Okay, what can I do with this? What kind of meal can I make with this?"
I always try once a week to say, "Okay, we're going to..." It's not like I'm advertising it to my husband or my son if he's home, but I'm like, "Okay, we're having to clean out the crisper soup and I pull everything out of the crisper that may be just looking a little past its prime and something that may have not been home canned or... You get busy sometimes you forget, all right, that's going in the soup pot and if it's really looking wilted, maybe we're pureeing it.
Melissa: Yeah. You know with this scrap bag thing, I remember I started doing this scrap bag exactly like you said. Oh gosh, I don't even reme- years back, decades now. But one of the things is putting things in there that you typically don't eat, which is like the carrot tops. Most people aren't eating, and I don't mean the top of the carrot. I mean the greens of the carrot and the leaves on the celery. Most of the time we're just chopping up the stock, but there's a lot of flavor in those leaves, and so throw those in the scrap bag or even puree them up to your point. Puree up those celery leaves. They add a lot of flavor, they still have nutrients and stuff in them, but it's oftentimes those are the discarded parts of those vegetables, and they still have a lot of flavor, they still have nutrients, et cetera.
So even looking at that part, that was my conversation my husband and I were just having actually with our celery, I had a few celery. We were growing celery this year, and I had a few stocks. They just didn't get harvested in time. So we went and I used them for broth because they were very woody, so they were fine for broth because you're not actually consuming them. But to try to chop them up in saute them, they were way past their prime. But there was so many leaves on them, and that's why I told my husband, I said, "Well, I'm just going to freeze dry all of the leaves and I'm going to make them into a powder, and then we have a celery powder that's from the leaves, but it'll be a good texture." So even I think just really that evaluation, and I think that's what you're getting at too, look at it, what can you do with it?
It might be that in its prime where you might have a beet that's way too shriveled to actually do roasted beets, but to your point, could you puree that up and make a borsch or some other way to put it to use and really just get in the habit of thinking like that. And when you start to look through that lens, it's really amazing because we're talking about the kitchen, but I even have it come across in all aspects of the barnyard and the house and all of that kind of like you were talking about the rubber bands and paperclips and just all those little things. So much of that ends up getting tossed if you're not thinking about what can I do with this later? How can I use this later? So yes, such a good lens to look at that way.
Mary: Oh, it really is. I remember when my father was still alive, he was sitting here at my kitchen table having a cup of coffee, and the newspaper came and speaking of the rubber band, I took the rubber band off the newspaper and it was very dirty. I went to put it in the garbage and my father said, "What the heck are you doing?" I said, "It's all dirty, dad. I'm going to throw the rubber band out." He said, "I'll take that home with me. I can use it." And he had one of those garages, and I'll bet you your dad could relate to this with all the cans, with every nut and bolt and screw and duct tape and whatever. You might be over at his house and I'd say, "Oh, I got this problem or whatever." "Oh, I got something for that. I can fix that." Yeah.
It was just amazing to me that... Speaking of garbage, I was trying to remember garbage day when we moved to the northern part of our county, and I couldn't remember garbage day. And I said to my mother, this is recently, I was just talking to my mother recently about it, and I said, "Mom, what did we do? I don't remember garbage. I don't remember putting the garbage out." I'm an only child. My mother also got married later in life and had me a little later and I was an only child, and that would've been my job. And I was like, "I can't remember taking the garbage out when we lived in Bedford." She looked at me and she said, "We didn't throw anything out."
She said, "We didn't have garbage pickup. There was no garbage truck coming around. If we wanted to discard something, your dad had to put it in the station wagon and take it to the dump and he had to pay." She said, "So we didn't throw anything out. There was no garbage day." And I thought, wow, that's amazing and I really believe it. My parents were just not throwing it. My mother was figuring out a way. She did, and this is sort of funny. We didn't have any kind of compost pile or anything like that, and I learned about this years later, and I would see... My mother, we used to call her blender magic because she had a blender and she was always blending stuff, I mean stuff to eat. As talking about pureed soup, she didn't have one of those things that are popular today.
Melissa: Oh, the immersion blender.
Mary: The immersion blender. Yeah. And we'd say, "Oh, mom's doing blender magic." But a lot of stuff, she was basically doing something that people call cold composting, and she would dig a hole in the garden and she would roll something in the blender and she would pour it in a hole and just cover it with dirt. That was her way of fertilizing her plants in her garden, and nothing went to waste. I was thinking about this, and a few years ago somebody was talking about cold composting. I said, "What the heck is that?" And they explained it to me and I said, "Mom, did you use to whirl when you were whirling the stuff in the blender and you were burying it outside? I thought this was just..." She was discarding it.
Melissa: Just a way to bury it to get rid of it.
Mary: And she said, "No, I was fertilizing the plants with whatever vegetables or something she had that were compostable and could put minerals into the soil." This is fantastic to me. I hear these things and I'm like, "Wow, I never realized how economical my parents were and how they really did make the most of everything." And it's to your point about talking about freeze drying, the celery leaves. I don't have a freeze dryer, but if I'm going to be canning tomatoes and you have to remove the skins and all, I will dehydrate those skins and then I'll turn them into a tomato powder. Then I'll use that to add to soups or stews or even if you can even put some in a teacup and add some hot water and kind of like a very budget friendly tomato soup.
But these are all the things that you have to always be looking at. If you have bread and say you're ma- Yeah, making sourdough bread is no small undertaking. If you're serious about, and you're baking on a regular basis and you're keeping your starter alive, I think you've talked a lot about this, what to do with your discard. People have different ways of maintaining their sourdough orderer without the discard where they can have it dried in the jar and then kind of reconstitute it and all of that. But if you're the type of person who keeps the discard, and I really like it because I find that the discard can serve as a food to make something very simple like pancakes or waffles. I never throw out my discard, and I might mix a little...
Something called a tamale pie is very popular here in Texas, and I will forego the cornmeal and I'll just add a little extra flour to my discard and just pour it on top of some scraps and little bits of meat that I have left over in the fridge, some little bits of vegetable, chop it all up, fry it up in the cast iron pan, and then pour my discard on top. My husband is like, "Wow, this is really good." And it's really just kind of a mishmosh of, I've got my clean out the crisper meals soups, and then I've got my clean out the fridge dinners and I just pull whatever little scraps of meat. I mean, it really literally can be anything. Even some cold cuts maybe that we had that I feel are a little past their prime and should be heated up. Some rice, some vegetables, corn, anything sauteed up with some butter or some ghee, whatever fat people like to use and pour the discard on top and it makes something really nice with this puffy type bread like biscuit sort of topping.
So you can always be looking at that and saying, "All right, I need to make fast meals, I don't want to waste anything I bake on a regular basis, I'm going to keep my discard going and alive on my counter." I'm going to scoop that out, a cup or half a cup, whatever, and I'm going to put that in a jar. I'm going to put it in my fridge at the end of the week. I've got something that doesn't require me making anything fancy. I don't have to bring out the flour and the bacon soda and all that. I'm just going to pour this on top. And if you have some leftover sourdough bread, my gosh, that's gold. You never throw that out. You can make a bread pudding. You can make what people call Estrada, where it's sort of in a sense kind of a savory bread pudding where you mix it with eggs and veggies and you bake it in the oven and you chop up your sourdough bread.
I think you have shown this, making croutons and breadcrumbs from your stale bread, your stale sourdough bread. Everything can be looked at in a completely different light when you say, "Okay, I'm going to really limit what I buy and I'm going to really limit what I throw out." Mustard is easy to make, ketchup is easier to make. You've showed making homemade mayonnaise and how easy that is, and you add a little whey. If you were straining your homemade yogurt to make... No, I don't, don't know if it's officially the farmer's cheese or the pot cheese, but the yogurt cheese and you've got that whey and you throw that in to kind of little extend the life of your mayonnaise and you start making these things and you don't have to worry so much about...
What bothers me with a lot of the products at the grocery store, and I know you've shared your story about the scare you had, the health scare you had earlier in life with your digestive check or your esophagus and how you wanted to get these processed foods out of your diet. And I think so many people like us at one time in our life have this feeling that we don't want mayonnaise made with soybean oil. Especially as I age, I really focus on lowering inflammation in your joints. Why do you want to bring in inflammatory foods into your kitchen when it's so easy to make your mayonnaise homemade with the oil you want?
I'll tell you something funny. Somebody said to me, "Oh, I like to make mayonnaise with olive oil, but it has an olive oil taste." But growing up with a strong Italian heritage, I'm very used to olive oil and I was saying to someone, "Oh yes, you can make it with olive oil and an egg; olive oil and egg mayonnaise." And when I was writing the cookbook, they had a recipe tester and she corresponded with me and she said, "It tastes a lot like olive oil." And I said, "That's what I called it olive oil." Yes, it tastes like olive oil, but that's the nice thing about doing it homemade, you can use whatever oils you like. I often think of Mary Enig, if I'm saying her name correctly, Sally Fallon's associate who's since passed. But she used to make her Mary's blend. She and I just happened to have the same name, but she had coconut oil, I think a little sesame oil and a little olive oil. And I've made that many times, it's delicious. It can't compare to what they try to sell at the grocery store.
Melissa: Yeah, I think so much of it is... I run into this too, I'm sure you do as well, but especially for people who haven't seen people making things from scratch, they just don't have any context. And some of us who have been in this maybe from birth, like my mom always cooked from scratch and your mom. That's so foreign to us. We almost are like, "How could you not know that that could be made at home?" But it is true, and so I think a lot of it is people realizing that these are things that you can make at home and quite easily. I mean, a lot of these things don't take... It's not like doing a souffle, which I still do not know how to make it in all-
Mary: I don't either. I don't either.
Melissa: There's certain things like that. But a lot of what you're buying on the store shelf can be made at home and it can be made at home easily and for much cheaper and with better ingredients that are more healthier. I found, and I'm sure you have too, that when I really started diving into this deeply, and yes, you are, for most people learning to a degree, a new style of cooking, a new way of managing your kitchen and so give yourself some grace, but stick with that, as you said.
But I find I spend so much less time at the grocery store because once you start to learn how to make all of these things, a lot of it where you're stocking those basic pantry ingredients and they just turn into so many different things that I don't have to run to the store for a cake mix if I want to make a specific something. I've got the flour and the sugar. I've got all this stuff that I need in order to make that, and so I also save money because I'm not at the store as much because we're all kind of guilty. At least I am when I go to the store of doing some type of impulse buy.
Mary: Yes.
Melissa: And so I found that the more I cook from scratch and the more I use more of the things in different ways, like you said, like breadcrumbs, making your own bread crumbs from that last heel of bread or even a bun top, you can toast that and make into croutons or breadcrumbs, all of those things, those stop me from going to the store and grabbing even if it's just one or two little extra things every time you go to the store. Well, if you're going to the store weekly, I know some people that go to the store almost every day. There's a lot that you are buying that you're not even realizing is an impulse buy, and so I think you saved money too by just negating all of that by making so much more at home and you're limiting the times that you do have to go to the store for stuff.
Mary: That is so true. The more you can stay out of the grocery store, the better because you may not even focus on it being an impulse buy. You might be saying, "Oh, I could use a little of that. I could use a little of this." And next thing you know, your cart is piled with stuff. I have been guilty of that, and you used the term to give yourself a little grace. I love that because that is exactly how you have to approach this. You have to give yourself grace. As you said, there are a lot of people who were not raised with a parent who was a home cook and they don't know how to cook. And as teachers, as ourselves being teachers, we have to be very patient about that. We have to give them grace, we have to give ourselves grace. Yeah. I'm not making no souffles. I am such a traditional... I mean, I'm just such a basic home cook. I joke, if I could roast a chicken every day, I would. I'm not making souffle.
Melissa: No.
Mary: Much work, yeah. My mother was not like that. I was not raised like that at all. And even speaking of olive oil, when I was first married, my mom and I were grocery shopping and I was just looking at a bottle of olive oil. I hadn't even put it in my cart and she said, "You put that bag right away. Don't even look at that. That's $17. Your husband works hard for the money, you don't need to buy that." She's just so cute. She is so, so cute and I'm like, "Oh, okay, mom."
Melissa: Yes, ma'am.
Mary: Yes ma'am. But that was very cute. But it's true. We have to always remember that so much of this is very new to the people. Like that lovely young mom in my kitchen who pushed back from the table when I mentioned a sourdough starter and she was like, "I don't know how to bake bread. Can we just bake bread with the packaged yeast?" And I realized, I said, "Oh, okay. I have to just show all-purpose flour and package yeast, and we're going to make bread." And it's amazing when people learn. It's so adorable because they get so happy when they learn how to make something that they did not learn growing up. And then they say, "Oh, I'm never buying that plastic sleeve of bread again, and I can make this for 50 cents."
I mean, white sandwich bread, that's very inexpensive to make at home. So I love seeing that, I love seeing people on the journey. And then you find that when you teach something or you share something that you know how to do, and as you said, people realize, oh, I can make that at homemade. I had a young man say to me, "I thought it was the cutest thing."I showed how to make hamburger buns and I was just shaping it with my hand, and we put it and baked it, and then we cut them and I put the little sesame seeds on top. He was so cute because this was just via online, and he sent me an email and he said, "I thought I needed a machine to make those, a special machine that they had in the factory to make it look like that."
He said, "This is great. I'm doing this all the time." And it was not sourdough, nothing like that, it was just white flour and yeast. That's why I always tell people, "Yes, sourdough is great, and we're going to get there and sprouted grains and Macon bread. That's all great. But if you've never learned how to bake bread specifically, it's okay to use the flour from the grocery store. It's okay to use the package yeast, and you're going to build on your skills over time." You know I'll have people who come back to me six months, a year later, they're like, "Okay, I think I got the sandwich bread under my belt, and now I'm going to try sourdough." It's learning all of these skills go hand in hand with learning how to create your no waste or low waste kitchen. Because as you make more of these things homemade, and I think it can be a lot easier to discard something that you purchased than it is something you made with your own hands.
Often like the sandwich bread at the grocery store, if you leave it on the counter, it starts to get moldy or whatever, you may toss it and you don't feel particularly bothered by that. I think most people today, they're like, "Oh, well it happened. What are you going to do?" We do unfortunately have a lot of waste in our society, but when you've made a loaf of bread yourself, I really believe you're going to make the most of that. You may use it for some sandwiches and then if you have some leftover, like you said, you're going to do breadcrumbs or croutons. You're not going to want to waste that because you're going to look at that and say, "I made that myself, and that took time and energy and I'm going to use it." And if you did have to throw it out, at least this is... In my humble opinion, I'm saying this, but I would feel a lot worse about throwing something out that I made homemade than something I bought at the grocery store.
Melissa: Oh, a hundred percent. Yeah, I think it's too you have a relationship when you are making it. When your hands are forming it, when you're actually doing the work, you have a relationship with that food, and I think that also begins to extend once you start... Like you said in the beginning of the episode, when you start to make things from scratch, then you start to seek out farmers. Like you might just be buying, like you said, the cheapest chicken that you can afford right now. I just feel like it opens up your eyes so much more when you are cooking from scratch that you then begin to seek out further relationships of sourcing that food or those different things, and so cooking becomes an entirely different thing than just feeding your family and feeding yourself.
Obviously that is I think one of the main benefits of it, but it extends deeper than that. Mary, even now, we lost my father-in-law, and then my grandmother-in-law within the past year and so as we approach the holidays, it's bittersweet, but there's recipes that they taught me how to make or that they always requested and so it's like this tangible thing that even keeps people alive after they're gone. And you don't get that from buying a store-bought pie. Sorry.
Mary: Yes. Oh no, I understand completely. I wish I was there in person and could give you a hug because I really understand what you're saying. It's the first few Thanksgivings and Christmases after my father-in-law passed away and my father passed away. They passed away within six months of each other, and it was a real blow to our family because they were the patriarchs. They were always there and my husband said something and I thought it was so true and so heartfelt that we always felt we had these older men to go to and to lean on and to be there for us and to help us. And then when they passed within six months of each other, it was just like a shock to our system because now all of a sudden, my husband was the patriarch, and sometimes you're not ready for that.
Tank God our moms are both still alive and going strong, which is a beautiful thing. But those holidays, even now, I mean this is... They're gone, let's see, seven and eight years as they died six months apart, but in different years. But it's very hard when you go to celebrate the holidays. We had to change the venue because we couldn't sit around the same table and have those chairs empty. We found really changing the venue was very helpful, and like Thanksgiving, our church has a big Thanksgiving meal and anybody in the community can come and we'll help out with that. Our moms will be there and it's festive, and that was very helpful, changing the venue. But for Christmas, it's funny, we moved from sitting in the dining room to sitting in the kitchen because we just couldn't have those seats empty.
It just was very uncomfortable for us. But making the foods, you really hit the nail on the head. Making the foods that our dads loved and remembering that these were the foods our moms made for them. Over the years, they loved these foods and bringing those foods back to the holiday table and remembering them fondly. It's true, time heals all wounds. And now we can smile, probably a few tears or shed. It's not always easy, but for those of us who remain, but life goes on and we will have funny stories and memories of them, and we're enjoying the foods that they enjoyed. There really is something... You're so right about the intertwining of family and memories and food and kitchen life. All of this together really creates a sense of something so much bigger and so much more than just food.
How many of us can smell something? You hear this, you read about this all the time. You hear people say this all the time, that they smell something cooking and they're rushed with memories of a grandmother who made that particular dish. It fills you with that sense of that love, that hug that your grandmother gave you or that your grandfather or your aunt or whomever. It keeps memories alive and that's something that's very important to me. My son shared something that's a little off-topic, but a little bit related to food and whatnot, but he had said, and this might be a quote, I'm not sure who it was from.
But he said that when you pass, when you die, you die once, but you die a second time the last time your name is mentioned. It makes you tear up. And so ever since he said that to me, I thought, "Well, as long as I'm alive, I want to keep my father-in-law and my father's memory alive through the foods they enjoyed. Every time I think of or make rye bread or sauerkraut, I'm keeping those foods alive that my father enjoyed. My father-in-law was originally from West Virginia and he loved salt-rising bread and I was sadly never able to perfect it until after he passed away. But I felt that he was watching over me from Heaven and saying, "She got it. She got the salt-rising bread."
Melissa: Oh, I love that.
Mary: Also, too, bringing it all back to the no waste kitchen, that when I cook my in-laws too, they're very, very efficient, very thrifty and my mother-in-law's amazing at how she can... She's just like the queen of being able to save money. She's amazing at how thrifty she can be and how much she's made homemade in every aspect of her life, crafts and usable items and everything. She was so cute when I was pregnant. She's like, "I can make you dresses." It's just so sweet. And my father-in-Law, I often say he was the original pioneer of the family. He could do so much. He was an agronomist and he really understood all about crops and all this, and he understood about smoking food, just all of these things.
Having grown up on a farm in West Virginia, he had all this knowledge. Keeping their memories alive, talking about them at holiday dinners, making the foods that they loved, and through all of it, not wasting anything because they would be admonishing us from heaven if we did, it's just a wonderful sense of family, a wonderful sense of community, and something that we can pass down, in my particular case, to our son. Keeping all of these memories alive and tying them all in with foods and that all of us can do no matter what our situation is, no matter what our family situation is, we can keep the family member's memory alive and the foods that they enjoyed or the foods they taught us how to make.
Melissa: Yeah. Well, Mary, thank you so much for coming on and spending your time with us today. And I know you said you had about 600 videos. So for those who are wanting to see how to make that salt-rising bread and to go in and learn some of these skills and cook some of these traditional foods that might not be something that they are used to, please do share your YouTube channel with us and we'll make sure in the blog post that it accompanies this podcast episode, we'll have links to all of that as well. But the best place for people to connect with you online?
Mary: Oh, it's very easy. Mary's Nest, that's the name of my YouTube channel, and I use that across my social media. So Facebook and Instagram, although I post weekly, I'd say, I find that social media can become overwhelming very quickly.
Melissa: Yes, it can.
Mary: But I usually post a video every Saturday morning, about 10:00 AM central time on Mary's Nest, and you can find all my videos over there.
Melissa: And your new book, you have a brand new book, well, pretty brand new. It's released pretty recently. So give us the title of that and we'll make sure that we link to that as well.
Mary: Oh, thank you very much. The name of the book is The Modern Pioneer Cookbook with a subtitle, Nourishing Recipes from a Traditional Foods Kitchen. And it's very much a manual on how to create a traditional foods kitchen. I walk people through the whole process and I have a website, Mary's Nest, and in the toolbar it says My Cookbook. If they click on that, they can see all the different places that they can order it online, or if they live near bookstores, it should be on the shelves there at places like Barnes & Nobles and Walmart and Target.
Melissa: Okay. Well, perfect. We will make sure to get those links in there for people. Thank you so much for coming on, and I can't wait to see you again in person in June.
Mary: Oh, I'm so looking forward to it. Thank you so much for having me. It was very kind of you to invite me to be on your podcast.
Melissa: Oh, I'm so glad you could join us. I hope that you enjoyed this episode as much as I did. We ended up touching on some things that weren't necessarily planned, but I always feel like when those things come up in conversation, that there is somebody that needs to hear that. I don't believe in coincidence, and so thank you for being with me as I ended up crying on camera. You know I ended up getting teary-eyed on this podcast way more often than I anticipate, and so I'm always grateful. You guys are always so kind and supportive. And Mary was also very gracious.
I'm sure she didn't expect me to start crying when we were going over what we're going to talk about in today's episode, but I know that there are other people that are dealing with that as well. And so I hope that you found that comforting and brought you some things that will help you get through this upcoming season. So thank you guys so much for watching. We'd love to see you in person with Mary at the Modern Homesteading Conference. You can check out tickets and all of those details at modernhomesteading.com. And I will be back here with you shortly. For now, blessings and Mason jars.
Sign up to receive email updates
Enter your name and email address below and I'll send you periodic updates about the podcast.