Ever wanted to learn how to make homemade mozzarella? Score! Me, too. Learning how to make my own from scratch food instead of relying on the grocery store is a huge plus for me and homemade mozzarella in less than 30 minutes, oh my goodness.
Not to mention, it's an easy introduction to cheese making.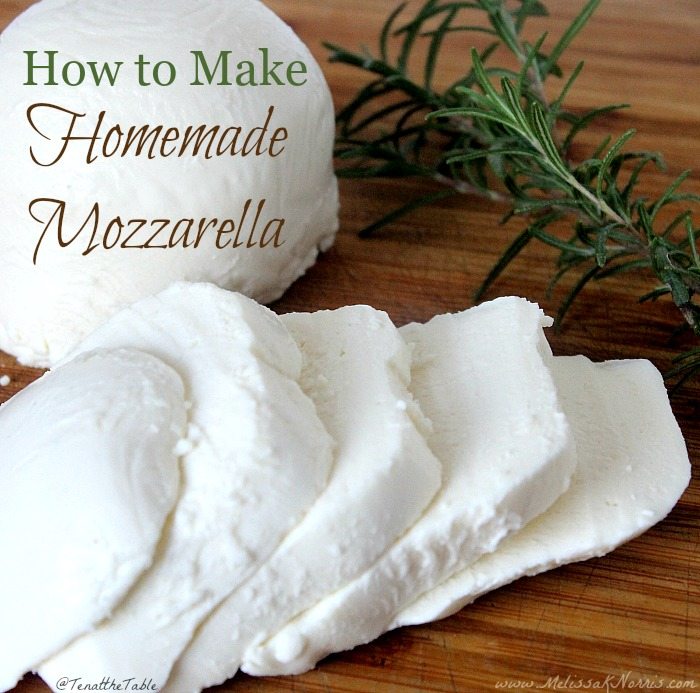 But I've never made it, so I asked my friend Maria to walk us through making homemade mozzarella. Because homesteading folks love to share their knowledge and teach others.
Maria- I love, love, love, love fresh mozzarella cheese. It's healthier, tastier, customizable (after some practice), inexpensive, and only takes 30 minutes to make!!!
I drive 40 minutes into the next town to get raw milk to make my mozzarella (which in my experience results in better tasting cheese), but you could also use homogenized whole milk. Just make sure it isn't ultra-pasteurized, because you will not be able to achieve a curd.
I personally like making fresh mozzarella to snack on with crackers when I'm at the office and get hungry. Though it could also be used for sandwiches, salads, thrown into a easy homemade stromboli, or cubed and packed into your child's lunchbox.
Reasons to make homemade mozzarella:
–You like learning old-fashioned skills
-Your cow is producing more than you can drink. Melissa- now I seriously want a milk cow. Think we could train one of our beef cattle mama's…
-You don't have cheese for your pizza night and don't wanna drive to the store. Homemade White Sauce Chicken Pizza anyone?
-You wanna do something for someone special. Melissa- who wouldn't want creamy homemade mozzarella cheese from scratch goodness? You don't, then you don't mind if I take your's, right?
-You want to increase your preparedness and DIY level.
Well…You have come to the right place! Let the cheesemaking begin.
Melissa here-I was so excited to make my own cheese after reading Maria's tutorial, but the scholar in me had to know what and why I needed these ingredients… so now you know too!
Resources needed for homemade mozzarella cheese
Rennet– rennet is an enzyme derived from an animal's stomach (try not to eww out on me) used in cheese making and needed to create the curds. It separates the milk into curds and whey. You can use traditional animal rennet or this organic vegetable rennet.
Citric acid– the acid helps with coagulation. This is a great answer on if you need citric acid in making mozzarella.
Thermometer– This is one place you can't guess the temperature and need to use a thermometer. I wing it with a lot of things in the kitchen, but cheese making ain't one of them. (My Aunt is cringing at my use of the word ain't… and it's bad of me, but I usually have to use it in her hearing at least once so she can correct me, cuz that's how we roll)
Cheesemaking Made Easy – bring the lost art of cheesemaking to life and get all the information you need to get started with 32 recipes! This walks you through making easier cheeses to the harder aged cheeses. P.S. the early bird special is over half off, but hurry before it ends and
grab your copy–>Cheesemaking Made Easy
Back to Maria's post!
How to make homemade mozzarella cheese
Adapted from TheKthcn.com
To make homemade mozzarella cheese you will need non-chlorinated water, citric acid, rennet, whole milk, and salt.
Dissolve citric acid in 1 cup water. If using rennet tablets, dissolve in 1/4 cup of citric acid water or dilute the liquid rennet in amount of water specified on the bottle.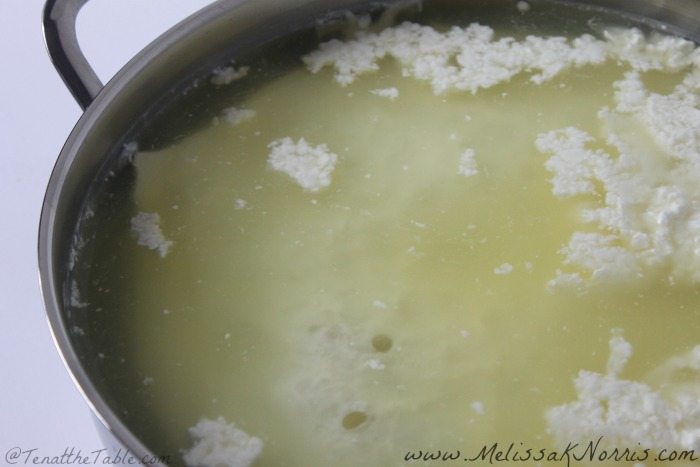 In a large pot, stir together the milk and the citric acid dissolved in 1 cup of the water. Stir for 30 seconds then stop. Heat over medium-high heat until the milk has reached 90 degrees F. Stir in rennet. Cover it with a lid, remove from hat and let sit 5 minutes. You should see curds forming a mass at the top. Also look for whey at the top or the curds pulling from the side.
A test to see if your curds are done is if you pierce it with a knife and the shape holds. If the stab mark caves back in and looks milky, or very soft, let it sit for a few more minutes.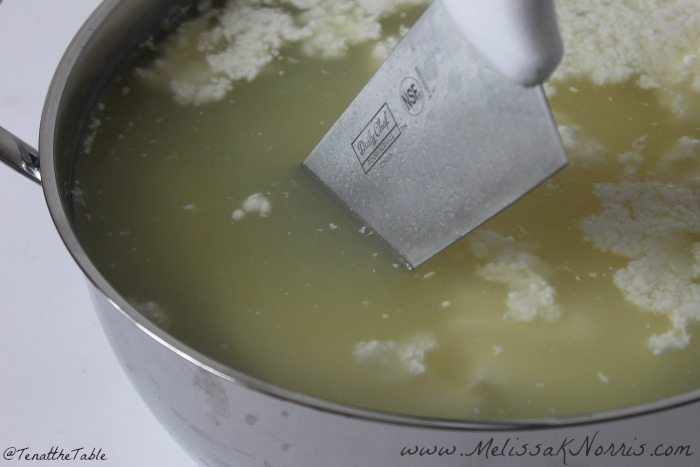 Cut the curds with a sharp knife like a checkerboard, making sure to go all the way to the bottom. Put the pot back on heat and bring up to 105 degrees F. Stir it very gently, and keep the curds moving. If the clearish yellow whey starts turning milky, you are stirring too hard. If you stir too hard you will lose flavor.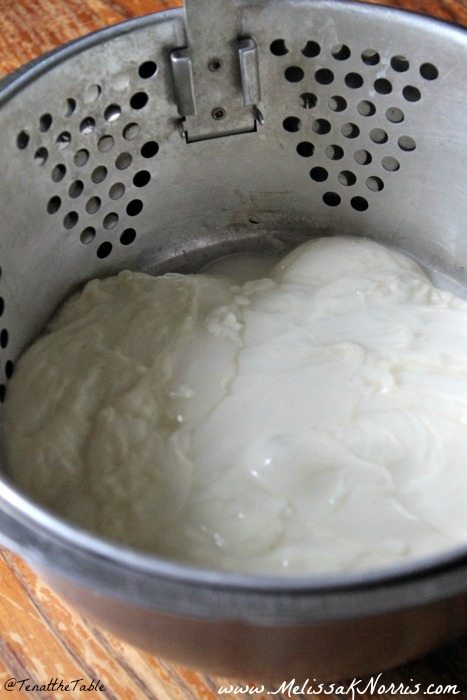 Using a slotted spoon, transfer the curds to a strainer layered in a bowl.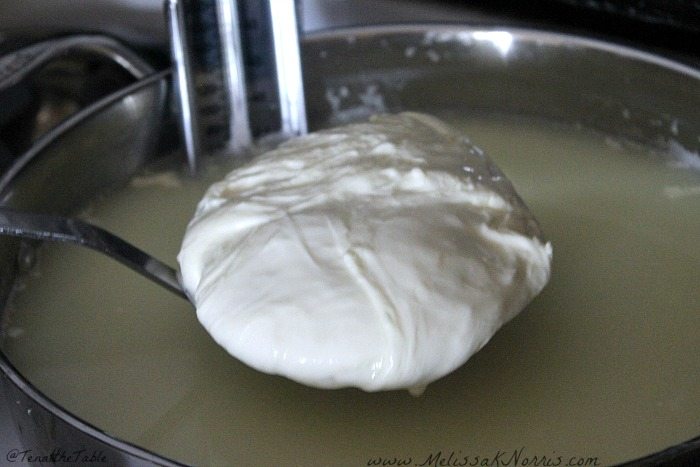 Taking half (or a third) of the curd at a time, lower it into the hot whey until it starts to look a little melt-y.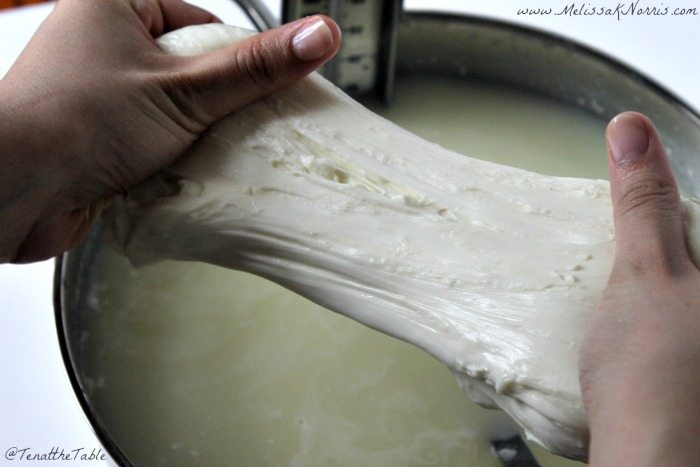 Dip your finger tips on cool water to prevent burns (or wear gloves), then pick up the piece of curd off of the spoon and stretch it. You should see it start to get tougher and shinier.
Sprinkle in some of the salt, fold it in half like a book, and repeat. Push it through the "OK" sign of your hand to create a smooth ball. Place in cool water to help it firm up quickly and hold it's shape. If you don't do this your mozzarella may flatten out a bit.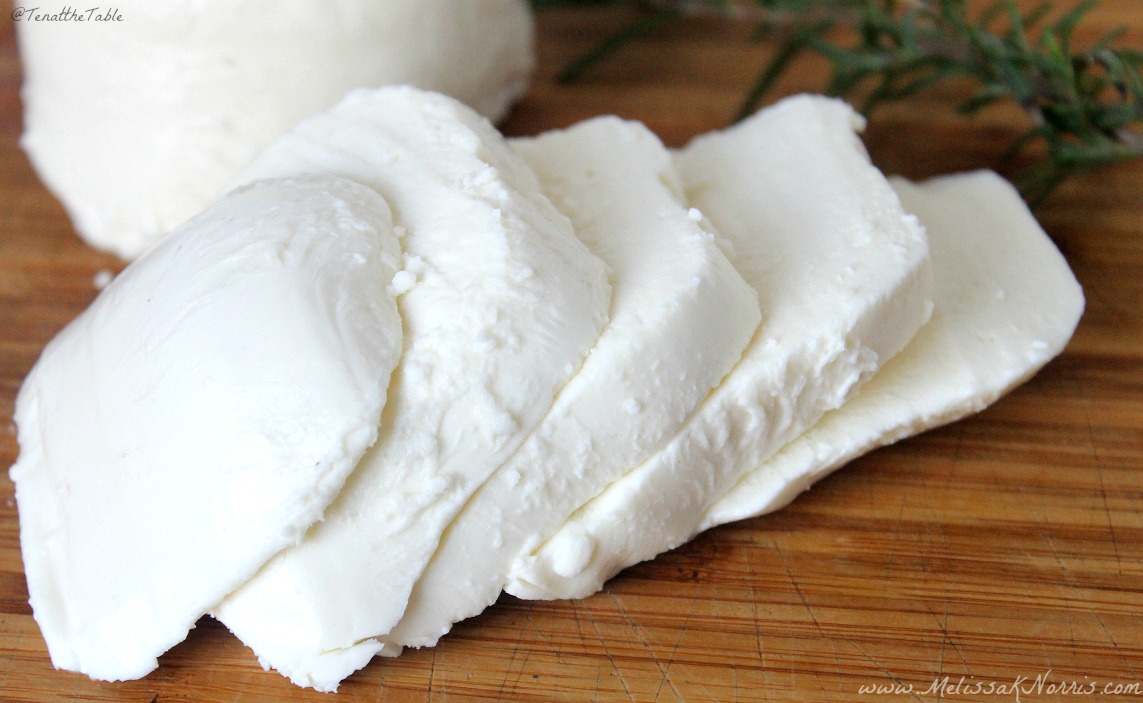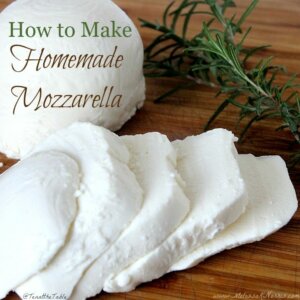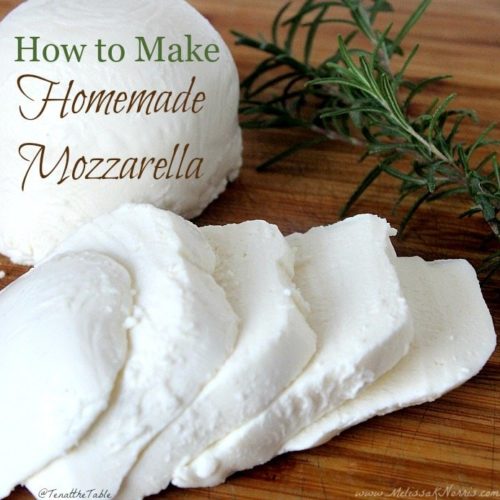 Homemade Mozzarella Cheese
Ingredients
1 1/4

cup

water

non-chlorinated

1 1/2

teaspoon

citric acid

1/4

rennet tablet or 1/4 teaspoon liquid rennet

Not Junket rennet, it is a different recipe and process for that rennet

1

gallon

whole raw milk

or homogenized whole milk (cannot be ultra-pasteurized)

1-2

teaspoons

salt
Instructions
Measure out 1 cup of water. Stir in the citric acid until dissolved. Pour the remaining 1/4 cup of water in a separate bowl, and stir in the rennet until dissolved. (Crushing works well.)

Pour the milk into the pot, and stir in the citric acid solution for about 10 seconds. Set the pot over medium-high heat and warm to 90°F, stirring very gently.

Take the pot off of the heat and gently stir in the rennet solution. Count to 30. Stop stirring, cover the pot, and let it sit undisturbed for 5 minutes.

After five minutes, the milk should have set, be slightly firm to the touch, and and started to peel away from the sides of the pot in some areas. If it is still liquidy, or breaks apart when you touch it, re-cover the pot and let it sit for another five minutes.

Once the milk has set, cut it with a sharp knife like a checkerboard or tic toe pattern. Make sure your knife reaches all the way to the bottom of the pan.

Place the pot back on the stove over medium heat and warm the curds to 105°F. Stir slowly as the curds warm, but try not to break them up too much. The curds will eventually clump together and separate more completely from the yellow whey. If the whey starts turning milky, then you are stirring to hard and you are losing flavor.

Using a slotted spoon, scoop the curds into a bowl lined with a strainer.

Put about half of the curd onto a slotted spoon and submerge it into the hot whey. Hold it in the whey until it starts to melt a little bit. Dip your fingers into cool water before picking it up (or wear gloves) and shaping the cheese. Stretch the cheese, sprinkle on a healthy pinch of the salt, and fold it in half (like a book). Repeat this step 2-3 times before pushing it through the "OK" symbol of your hand. Place in an ice water bath while you repeat with the other half of the curd.

Store in a ziplock bag with the air pushed out.
Notes
Adapted from www.TheKitchn.com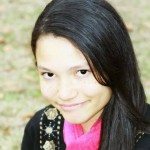 Maria Alison is family-focused Christian, who's finding new ways to feed her family quality home-cooked food on a budget. She understands how difficult it can be to prepare a meal from scratch with such a busy schedule. On Maria's blog Ten at the Table you will find time saving recipes that are friendly to your budget and your health.
Here is the printable to take into your kitchen with you!