Some of the links below are affiliate links, which means I will earn a commission at no additional cost to you, if you click through and make a purchase. Regardless, I only link to products we use on our homestead or believe in.
The Depression Era defined a nation and we can take the tips from folks who went through hard times to stretch our own food budgets and live more frugally. These are recipes handed down from my family from generation to generation and now from me to you. I hope these tips are as helpful to you as they have been for me.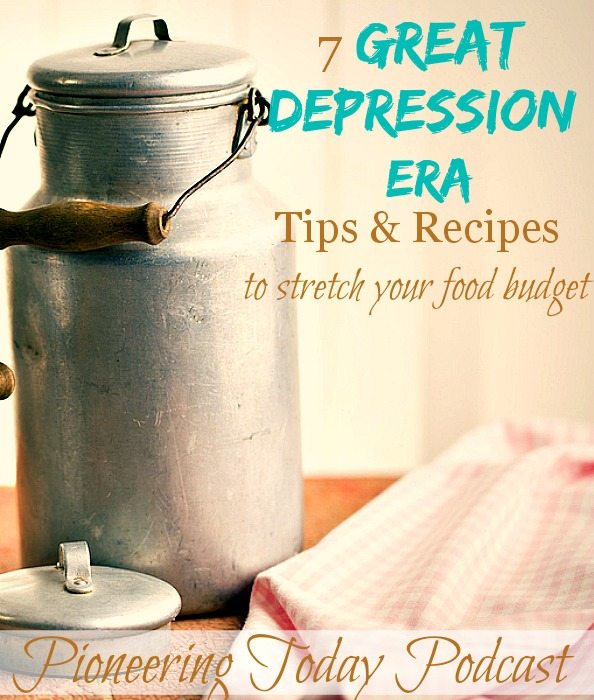 This Depression-era series has helped me find out even more about my grandparents and what it meant to live frugally. I hope it encourages you to find out your family's stories, too. If you missed the other Depression Era episodes here's Building a Great Depression Era Pantry-Frugal Tips and Recipes and 8 Depression Era Tips to Save Money Now
Listen in below to the full podcast, Episode #44 Depression Era Tips to Stretch Your Food Budget, of the Pioneering Today Podcast, where we don't just inspire you, but give you the clear steps to create the homegrown garden, pantry, kitchen, and life you want for your family and homestead.
It's important to pass down the things we've learned from the past generations. Thank you for sharing all of your comments and stories on the blog and continue to share. I love reading about it!
This episode is from my mom's side of the family. My mom wasn't raised through the Great Depression, my grandmother (her mother) was. The Great Depression was when the whole United States went through a hard financial time, but many families went through hard times in the years outside of the Great Depression and continued to carry over recipes and life skills learned and handed down from the Depression years. These tips are for anyone needing to cut corners, stretch their dollar, or be more frugal.
Resources to Help You Stretch Your Food Budget
Because most corn is now GMO, we only purchase organic and labeled non-GMO for our corn products. This is old-fashioned cornmeal. Wanting to up your food storage and get the best deal per pound? This 25-pound bag of organic cornmeal is a great deal –> 25 pound bag of Organic Corn Meal
Azure Standard carries wheat berries to grind your own flour or ground wheat (not the same as regular flour) for homemade cream of the wheat recipe below
Best price for spelt wheat berries for home flour grinding price I've found–> 25 pound organic whole grains spelt (I get all my wheat now from Azure Standard. Simply pop in your zip code to see where they deliver in your area. They use what they call your drop zone where everything is delivered in one area in your location. They offer once a month drop-offs, so you have to plan ahead. You can find out if you have a drop zone in your area but going to their website and researching your zip code.)
When my mom was growing up sometimes they didn't have groceries or food in the cupboard. I don't mean not a lot, or just a little bit of food, but sometimes, nothing at all. Though my mother never remembers going hungry. My Grandmother did can Tarheel green beans, but they didn't have a large garden beyond that living in town and the beans were sometimes eaten before the next harvest. Both sides of my family came from North Carolina and relied on the heirloom green beans we've saved and continue to grow and pass down to this day.
Learning to use the tips from the Great Depression-era and our forefathers has so much value in our modern lives. Not only does it help us save money, know where our food comes from and what's in it, help us become more self-sufficient and teaches us values, but it helps us live a better life.

Old-Fashioned Cooking for a Busy Home with Great Depression Era Tips and Recipes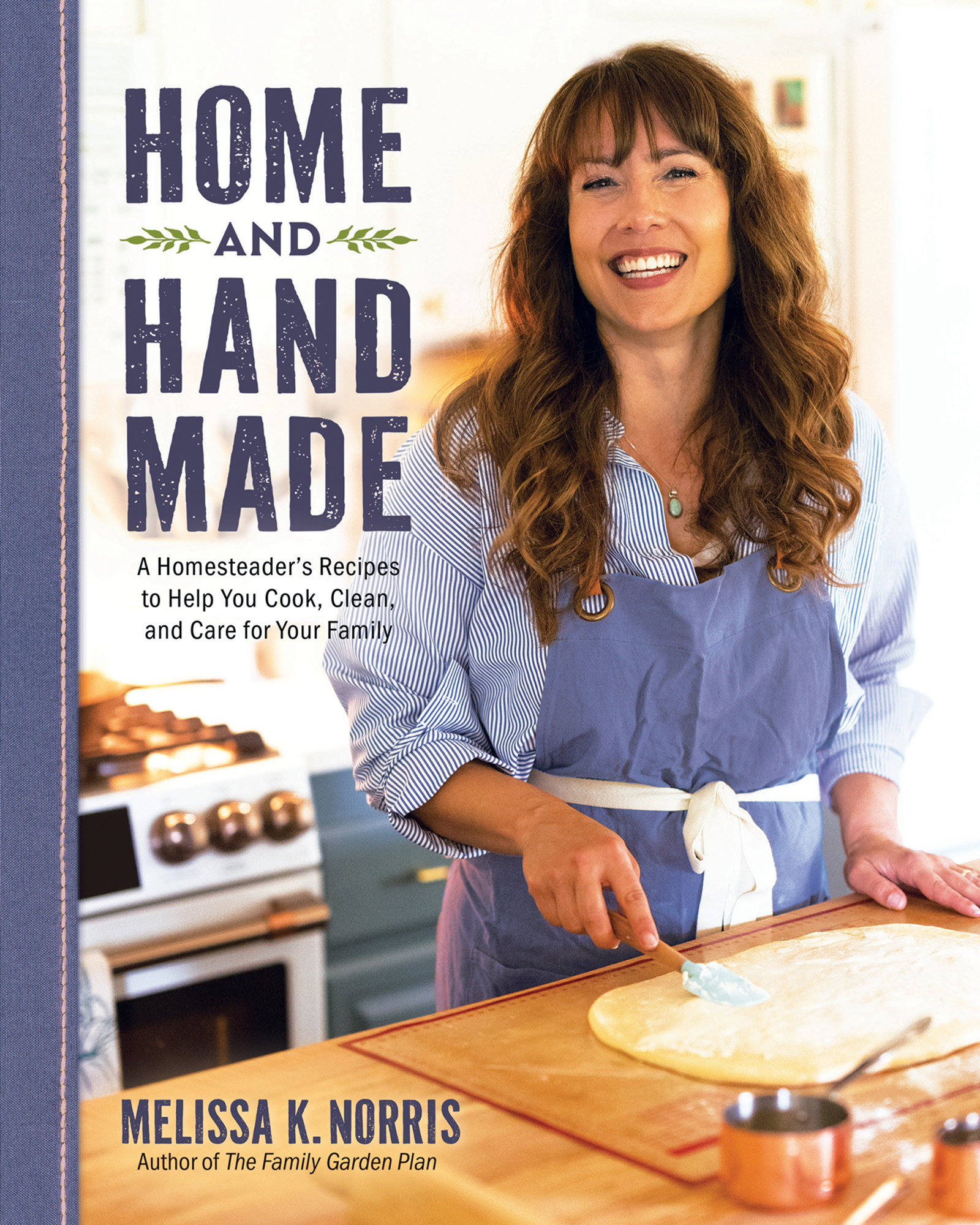 Tired of hectic meal times and complicated recipes or relying on processed foods? Instead, learn how to have
Simple and easy time tested from scratch meals.
Frugal ways to stretch your groceries.
Easy steps and tutorials to make your food last longer and to turn scraps or leftover into entire new meals.
Discover simple way to reuse the items in your home instead of purchasing new and more.
Reclaim your home with practical room by room simplifying guides.
Want more easy homemade recipes all in one place? This recipe and 100+ more are found in my book–-> click here Hand Made: the Modern Guide to Made-from-Scratch Living.
7 Depression Era Tips and Recipes to Stretch the Food Budget
The first recipe listed below was in their dinner menu at least a few times a week. As a child it was a normal dinner item and my mom didn't realize until she had dinner in other people's home this wasn't a normal supper menu item. Cornmeal was a staple in Depression Era or early 1900 to 1800 kitchens. Cornmeal was used much more than it is today. People can grow corn easier than wheat and is cheaper than flour in most cases. My grandmother firmly believed only white cornmeal was for people and yellow cornmeal was only for livestock. I don't hold to that belief, but she was adamant.
Most of these recipes only contain 5 ingredients or less. Bonus points! Less ingredients is usually healthier and cheaper to make.
Cornmeal mush recipe
Take ground cornmeal ratio is 1 part cornmeal to 2 parts water.
Boil 2 cups water and add 1 cup cornmeal and whisk it in.
Cook until it thickens up about 5 to 7 minutes.
Add butter, a little bit of salt, and as long as you had sugar, you'd add sugar or other sweeteners.
This was their entire supper. She doesn't ever remember going hungry, there was always enough in the pot for supper. You could also make it savory. But I think molasses or maple syrup would be a great add-in. It could also be breakfast, but they ate it a lot for supper. Nowadays we'd think things were pretty bad if this was all we had to eat for a meal, but
Homemade cream of wheat Recipe
Use ratio is 2 parts milk to 1 part ground wheat. We grind our own wheat here and I'd use spelt flour for this. (6 Tips for Grinding Your Own Wheat & Tips for Baking with Fresh Flour).
Heat the milk over medium heat and whisk in the wheat.
Let it cook on a simmer until it's thickened and cooked for about 4 to 7 minutes.
I always add a bit of salt because it brings out the sweetness when you add in your sweetener.
Add honey or sugar and a bit of butter.
These are extremely frugal and Depression-era meals.
Use wild game and foraging. My mom said her grandfather was an avid hunter. They didn't have much chicken or beef growing up, but they had fish and a lot of bear meat. You'll get a lot more bear meat per one animal than you would a deer. They used it as we do beef today. Bear meat and gravy, bear stew, bear steak, and bear roast. My mom's favorite food was made by my great-grandmother.
Because cooking was such a natural part of everyday life, they didn't write their recipes down, because they cooked by sight, feel, and taste, so I don't have her exact recipe to share with you. If you have relatives who make a dish you love, ask them to write it down for you now so you can pass it on.
My great-grandmother made bear mincemeat pie. You mince the bear meat up into little itty bitty pieces. In that, you'd have other fruits and spices to make a sweet and savory pie. You'd taste the meat a little bit, not like a pot pie, but with the spices and fruits, it was sweet. A lot of mincemeat pies call for candied citrus fruit or fruit soaked in alcohol to preserve the fruit.
Bear mincemeat pie is my mother's favorite food ever. We raise our own, but bear meat isn't something that we hunt right now. I've never had bear mincemeat pie, but we're doing more and more wild game as the grocery prices continue to rise.
In this season grouse season is on. Grouse is a wild chicken-a pheasant. It's enough to feed our family, myself, spouse, and two younger children. Two grouse would be needed to feed our family and have leftovers, but one will feed us for a meal. This past weekend my husband got one grouse and some chanterelle mushrooms.
Foraging and hunting was something many people did during the Great Depression. Make sure you're foraging in a legal area, know what mushrooms are safe, and use a good field guide. This is the mushroom field guide we have and use.
The thing with hunting is you're not guaranteed to bring home something just because you go out hunting. I'd roasted a whole chicken a few weeks ago from the chickens we'd butchered ourselves. I thought I'd thawed it all the way out before I roasted it and when we first cut into the chicken it looked great. The second day we cut into the chicken I discovered it wasn't quite cooked all the way through in a couple of spots. I tossed it in the freezer to make chicken broth.
Making homemade soup and re-using the bones from chicken and beef to make broth and stock to get even more meals is extremely frugal and healthy. To make stock, which is from the bones, and the broth is from the bones and meat. When I made chicken and dumplings I was making broth. Here's how to make homemade broth and how to can bone broth!
The Depression-era you re-used everything. Soups are a great way to stretch what you already have into another meal and feed more people. By putting in a couple of cups of vegetables and meat, using the broth and dumplings I almost got a week's worth of meals from one chicken. With Thanksgiving coming up if you're cooking a turkey save the bones. You can turn that into turkey stock afterward. In the bones are some great things, one of is gelatin. Gelatin is a great food to nourish our bodies. Tips for making stock:
I love my crockpot because I can put it to work and not have to babysit it. You can also use your wood stove to simmer your stock on not to use electricity. When my dad grew up they didn't have electricity, an indoor bathroom, or running water. They had a hand pump. I also cook on our wood stove in the winter months to save on electricity, or when the power goes out.
When making stock cover the bones with water and some apple cider vinegar to help pull out all the goodies from the bones into your stock. I keep a bag of frozen bones in my freezer to make my next batch of stock. I add extra vegetables to my stock and herbs for lots of flavors and to make it more nutrient-dense. Can you ever go wrong adding garlic and onions? I don't think so either. Sage is one of my favorite herbs to add.
Let it simmer on a low temp for many hours, even overnight.
Stock will get really thick, especially once cooled. When it's done, you'll strain your stock and pull out the spent vegetables. Feed the veggies to your chickens, pigs, or in the compost pile. Take the stock and use it. You can freeze it or store it in the fridge. I'm not sure if pressure canning stock will break down the gelatin or not. You do have to strain off any fat from stock before canning it. Right now I freeze mine to keep the gelatin thick. If anyone has any experience with this I'd love to hear your tips!
Broth is great for pressure canning. Learn how to pressure can broth in this post and video.
This next recipe was used by my husband's family for supper or breakfast. It's lick-your-plate good and an excellent way to stretch the meal to feed more mouths.
Creamed Eggs on Toast
You take 1/4 stick of butter and melt it in a medium saucepan over medium heat. Take 2 to 3 Tablespoons of flour or any thickener of your choice and whisk it into the melted butter a tablespoon at a time. Slowly add in a cup of milk and stir until combined and thickened. We're basically making a white gravy. If you use salted butter you don't need to add any salt.
Take either a biscuit or toast and slice a hard-boiled egg over your toast or biscuit and pour the gravy over the top. This is great for breakfast or dinner. I use this sauce in place of condensed cans of soups. Canned store-bought soup is not frugal and also has questionable ingredients. I use this homemade replacement recipe for condensed soups.
You can also use broth instead of milk for recipes in place of condensed cream of chicken soup. You can sautee some onion and garlic and then add in more butter and make your sauce.
I got my hot little hands on some 1922 cookbooks and after I try them out, I'll be sharing those Depression-era tips and recipes with you, so stay tuned.
Reader Question of the Week: We have a homestead and I'm interested in writing about it and making money. How do I go about this?
Answer: Starting a blog is great if your goal is to share info and help people. If your primary goal to start a blog is to make money I'd suggest you invest your time somewhere else. I blogged for two years without any money. I spend about 25 to 30 hours a week, on top of my homestead and day job. Now it's been 3 and 1/2 years and I"m starting to make a small amount of money. There are costs involved to host a blog and podcast. If your primary goal is money look into a part-time job or selling some hand crafted items from your homestead.
New Feature What I'm Reading this Week: How to Blog with Profit Without Selling Your Soul by Ruth Soukup from Living Well Spending Less. If you're interested in blogging or learning how to begin to earn a profit, this is one of the best books I've read on the subject.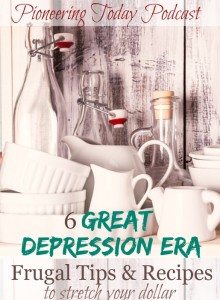 What are some of your family's recipes that have been handed down? How do you stretch your food budget dollars?
More Simple Living Articles: