Some of the links below are affiliate links, which means I will earn a commission at no additional cost to you, if you click through and make a purchase. Regardless, I only link to products we use on our homestead or believe in.
When starting a new garden there are a few tips that can save you time and energy and get to the good part… growing! I'm sharing my best time-saving tips for establishing new gardens as well as utilizing shady or partial-shade areas of your property to maximize your growing space.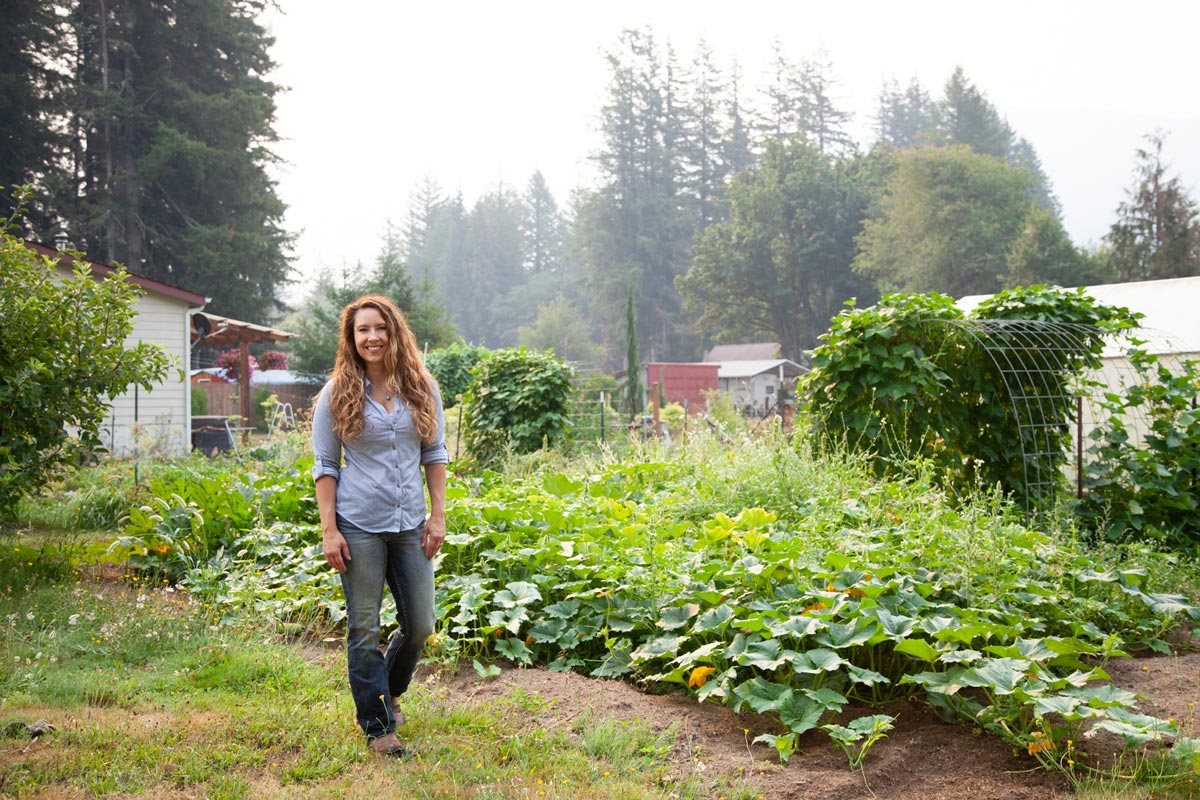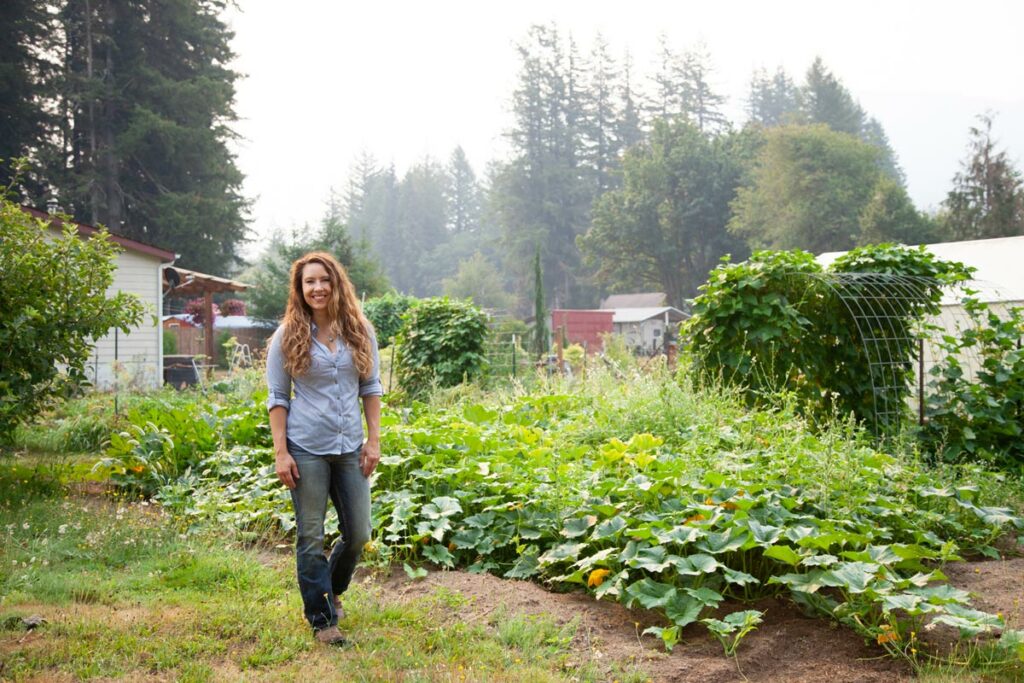 I've discussed many times in the past my beginning gardener secrets, the 13 steps to starting a vegetable garden, planning a garden for more harvest and less stress, and even the 10 things most organic gardeners forget about.
This podcast episode is a special member consult. Those who are members of the Pioneering Today Academy get to apply for a one-on-one consult with me on a specific topic of their choice.
I'm happy to announce that we'll be opening the doors to the Pioneering Today Academy on March 23, 2022 (doors haven't been open since last fall!). If you'd like to get on the waitlist to join when the doors open, you can sign up here.

Without further ado, welcome Susan! She and her husband live in Southern New Hamshire and have purchased a nine-acre plot in Southern Maine where they want to build a home. She's very excited to be starting from scratch on this raw piece of land and is looking for some time-saving tips to starting a garden since she also works a full-time job.
She wants to grow in a combination of grow bags, raised garden beds, and possibly even in-ground gardening, but she especially wants to utilize the property well and have a solid plan right from the start.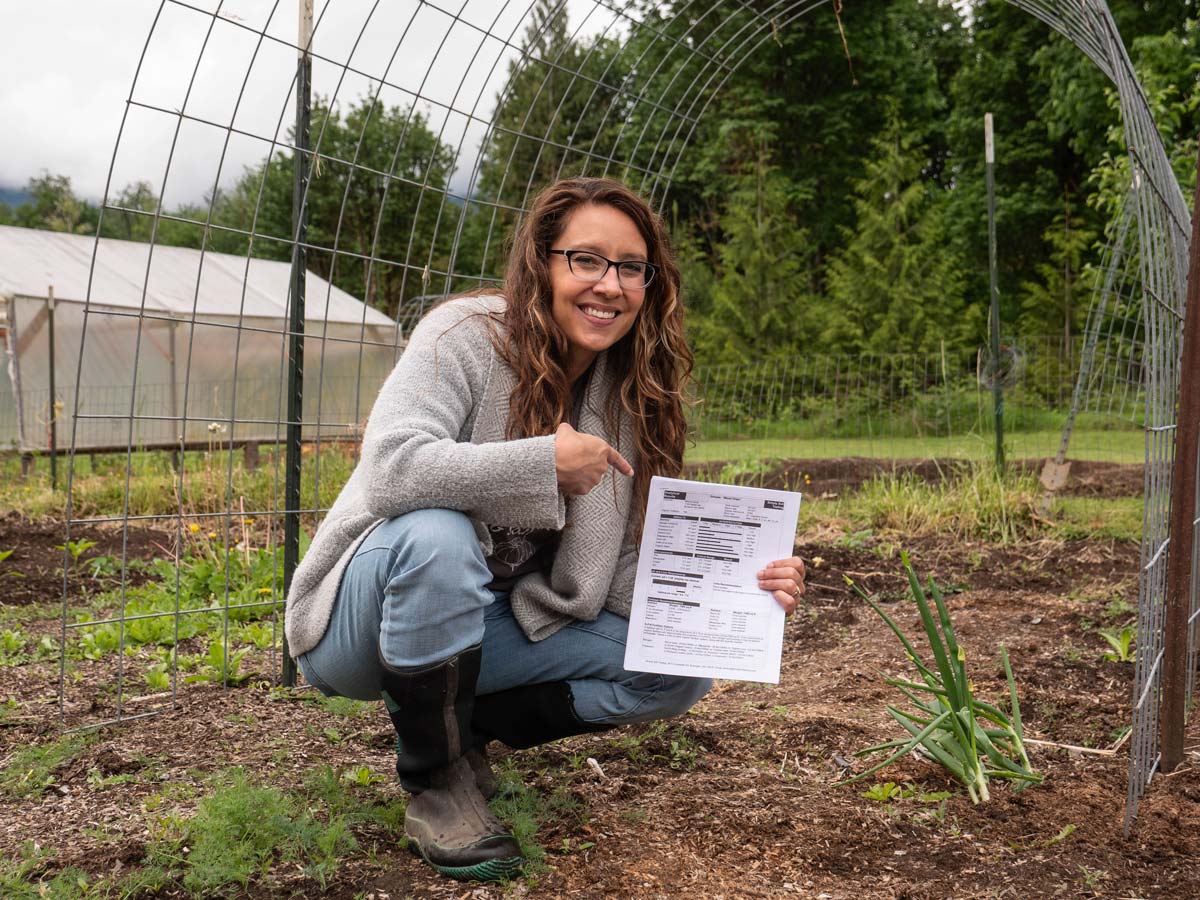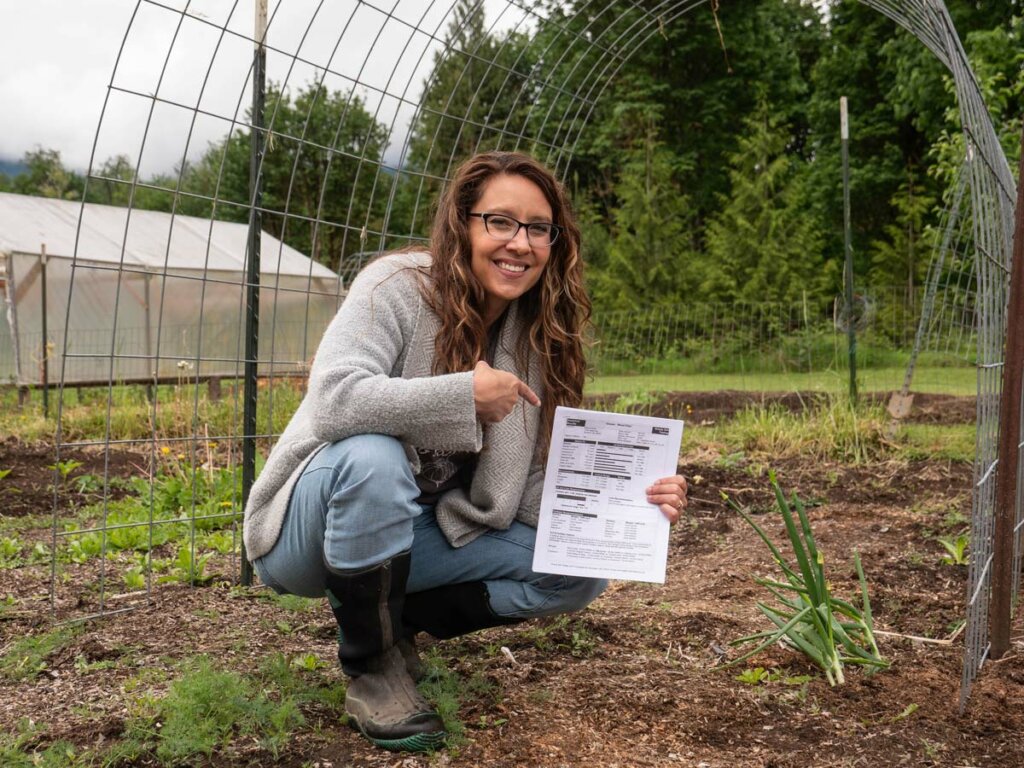 Soil Quality
Whenever you're wanting to grow a garden (or plant bushes, fruit trees, etc.) it's good to know what kind of soil you're working with. This can help you to determine which types of gardens to plan. You can do an at-home soil test, or take your soil into your local extension office and see if they will test it.
Sandy-Loamy Soil
Susan knows she's working with soil that's quite sandy, so it's going to be important for her to bring in organic materials and compost.
Having sandy soil is actually better (in my opinion) than having rocky soil because rocks don't break down over time!
Learn more about testing your soil for proper pH balance, sheet mulching to build soil and compost in layers, and how to improve your soil for gardening.
Rocky Soil
When it comes to having rocky soil, depending on how rocky, it's sometimes possible to bring in heavy machinery (or a shovel and wheelbarrow) and a sifting screen where you can sift out the rocks from the dirt.
If this is not an option, or you're working with too large of an area, raised bed gardening may be a better solution.
Grow bags are also a fun growing medium that doesn't require a permanent place for growing but allows you to grow a lot of produce. You can read this post all about using grow bags in the garden here.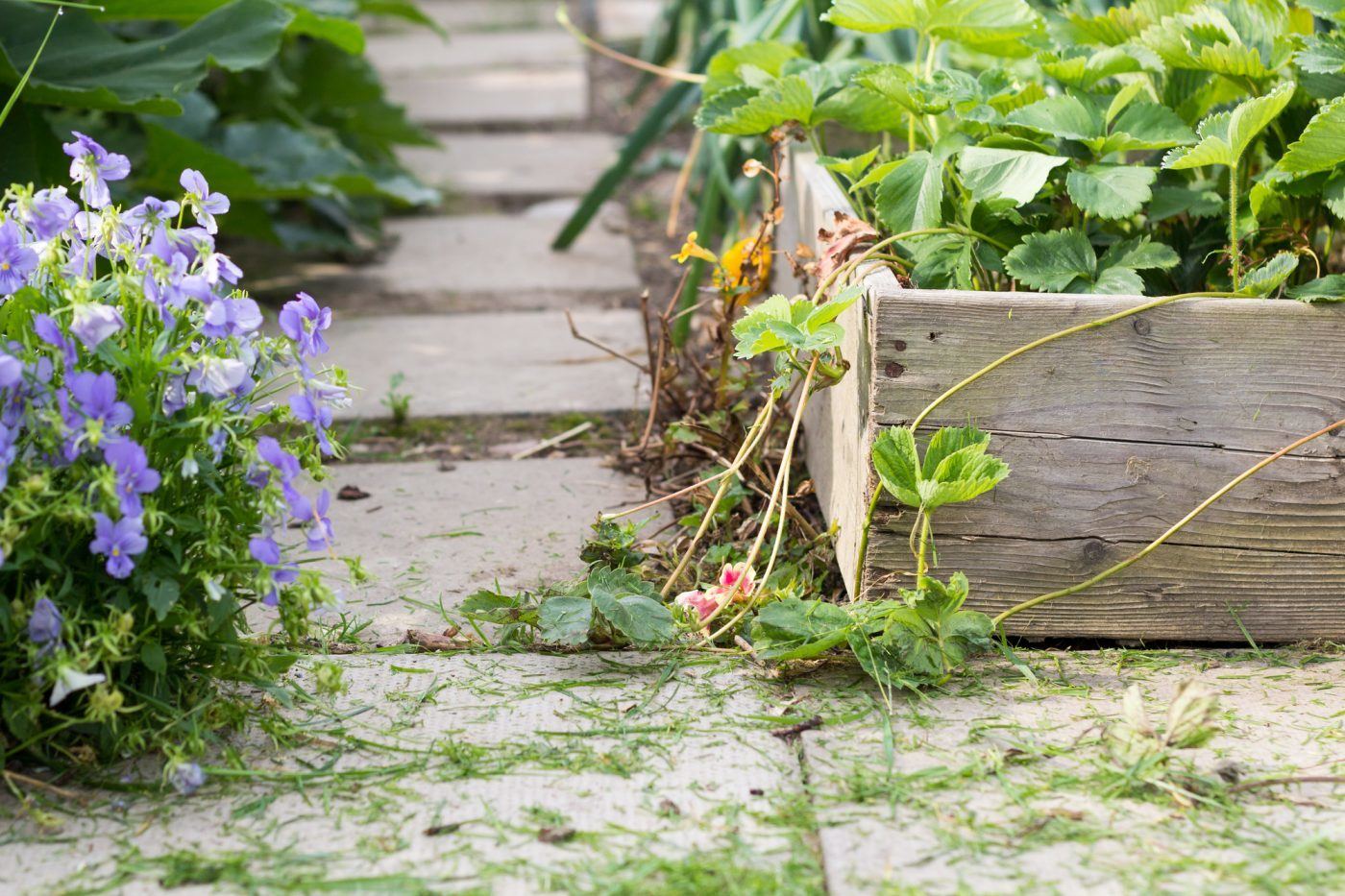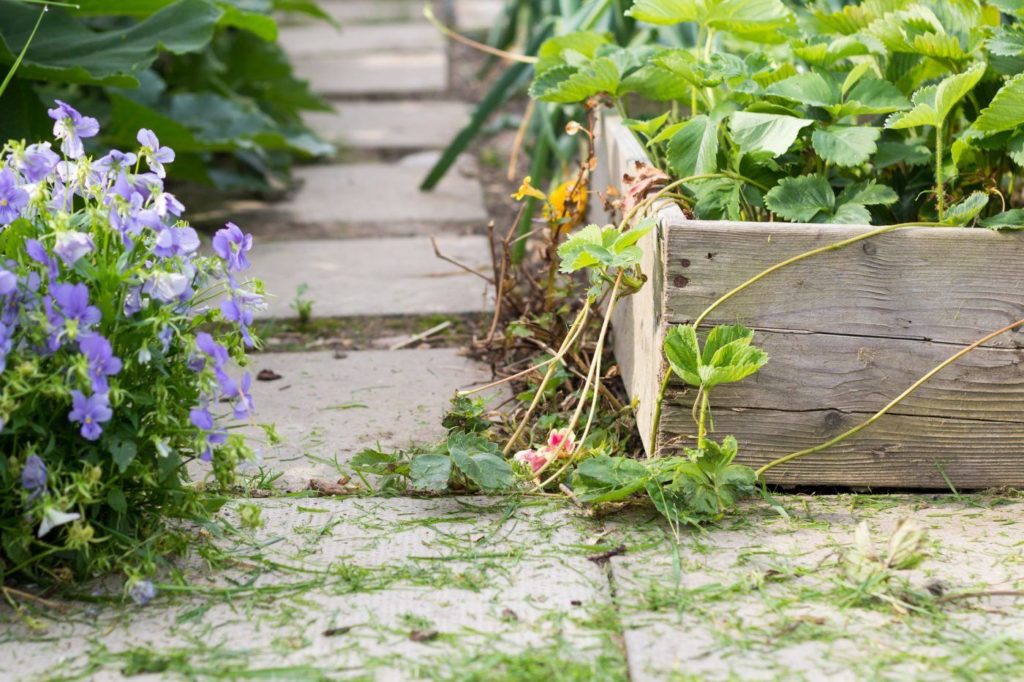 Pros & Cons of Raised-Bed Gardening
Pros
You can grow anything in a raised-bed garden provided that the bed is deep enough for the roots of whatever you're wanting to grow.
Furthermore, if you're working with poor quality soil to start, it's sometimes more affordable and easier to build raised beds and bring in high-quality soil so you can start growing produce immediately vs. waiting the months or years until you're able to build up the in-ground soil through amendments.
Raised beds, even those just a foot or two off the ground, can be easier to garden in so you're not having to bend over quite as far.
Cons
The initial investement of building the beds and bringing in soil can be cost prohibitive, especially depending on how many beds you want to build.
The beds are a permanent fixture and generally aren't able to be moved once established.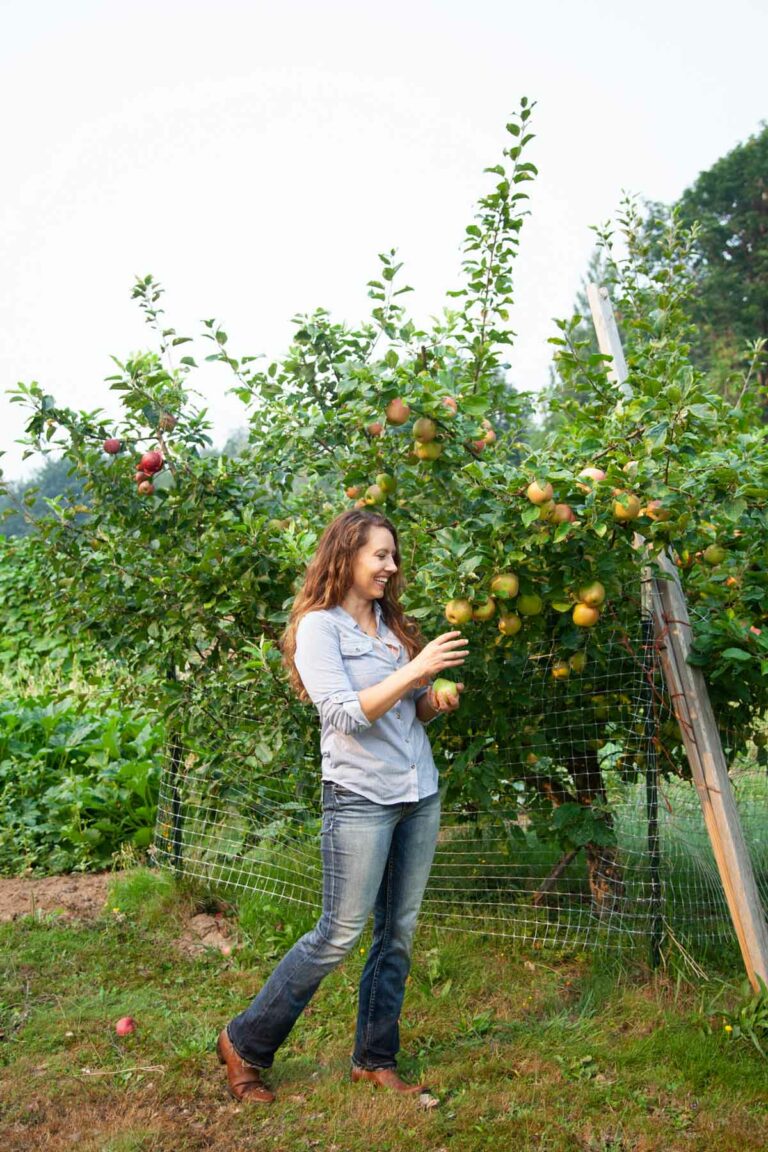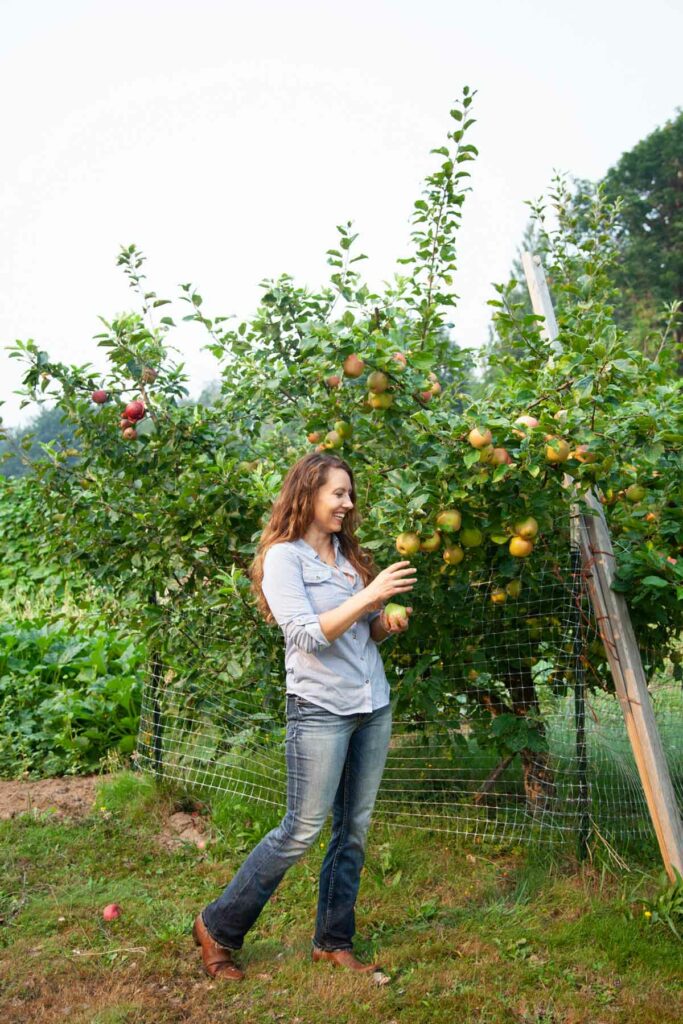 Planting Fruit Trees
Something many people want to do when moving to a new property is to quickly plant their perennial berry bushes and fruit trees.
Susan is wondering about utilizing the land alongside the long drive up to their new house site which can be a great option.
Some things to consider when planting fruit trees or berry bushes are:
If the city you live in sprays chemicals along the roadsides (this is often done to keep weeds from growing)
If animals might be an issue (using something like deer fencing or even lower fencing to keep rodents, rabbits, squirrels away from the bushes/trees).
Washout – is there potential for erosion or washout based on the grade of the road that might inhibit the health of your trees or bushes?
Native plants that live in shady or wooded edges such as elderberry. How to Grow Elderberries & Planting Tips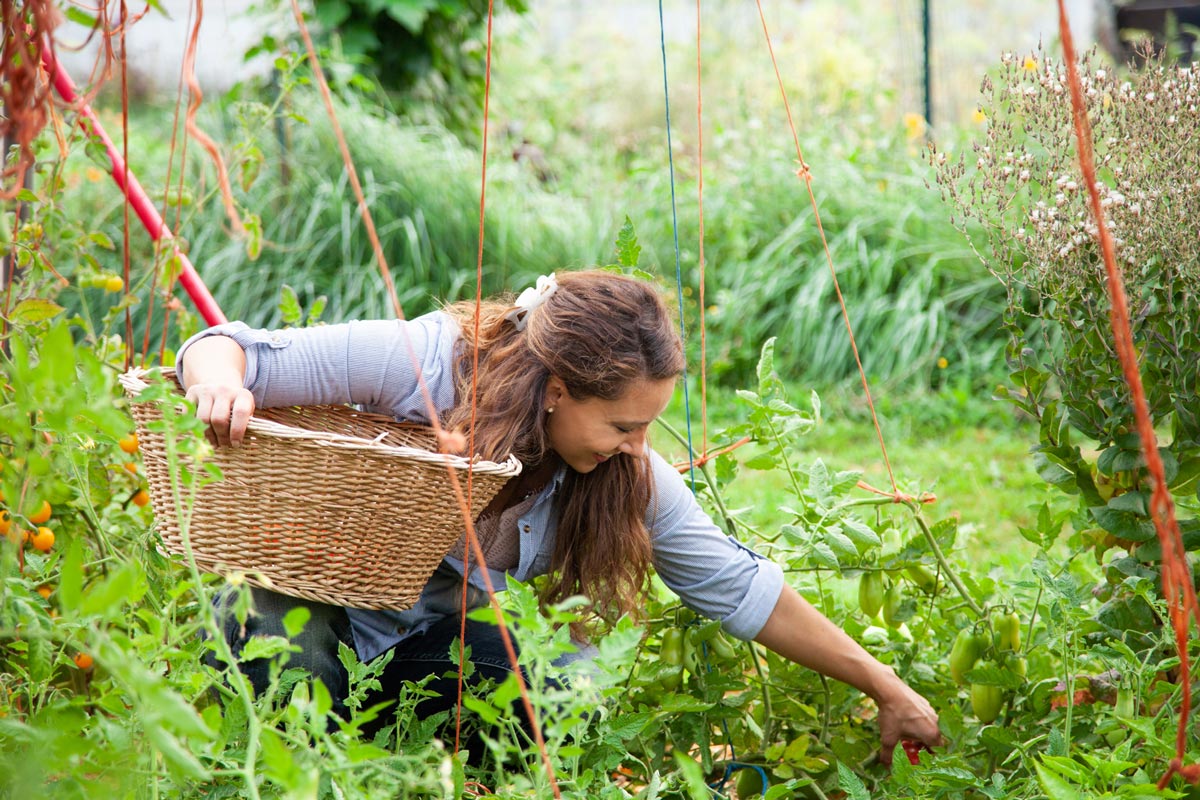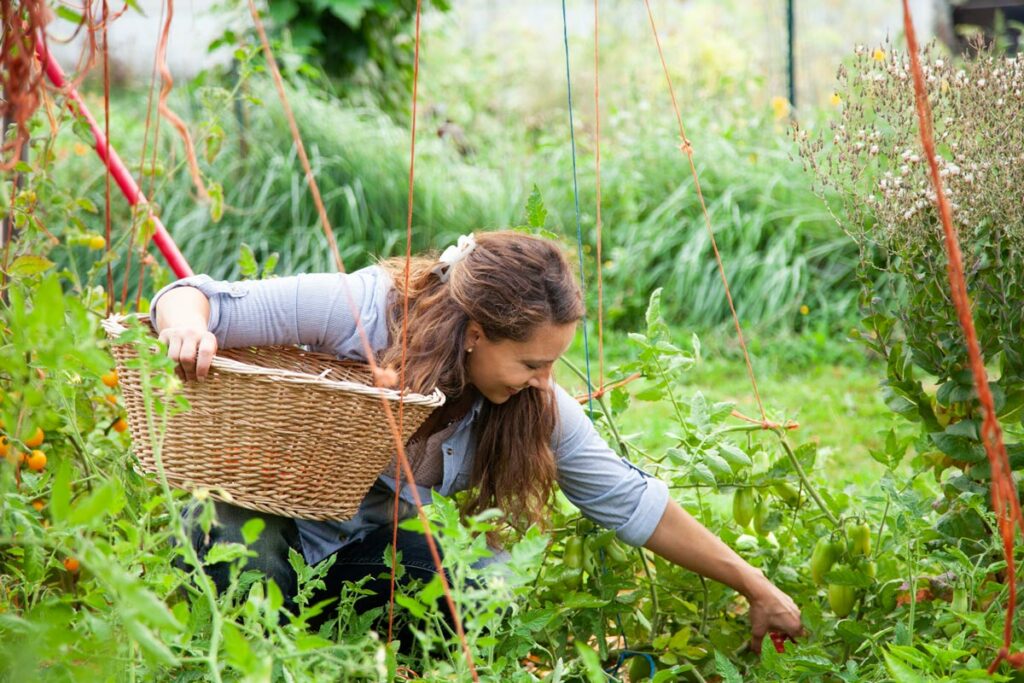 Time-Saving Gardening Tips
Because Susan works a full-time job and also wants to grow a large portion of their food (along with preserving, etc.), she wanted to know my best time-saving tips when it comes to gardening.
Laying mulch, cardboard, or another method to prevent weeds (read more tips on reducing weeds in the garden).
Watering system – watering by hand can be therapeutic, but it also takes a long time! Setting up a watering system for the garden is a great time saver.
Trellis at time of planting
I hope these tips have been helpful for you, as well as for Susan, and that your new garden spaces come together quickly and produce a bountiful harvest in the very near future!
Verse of the Week: Ezekiel 18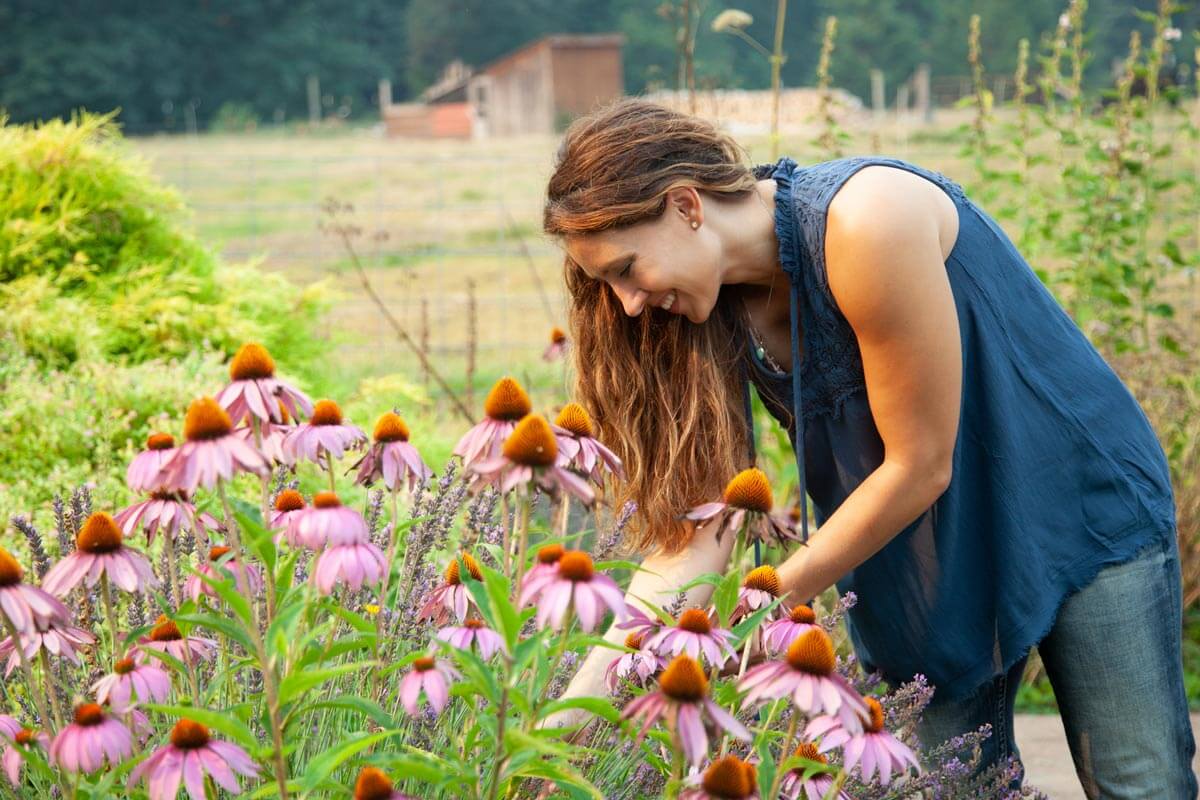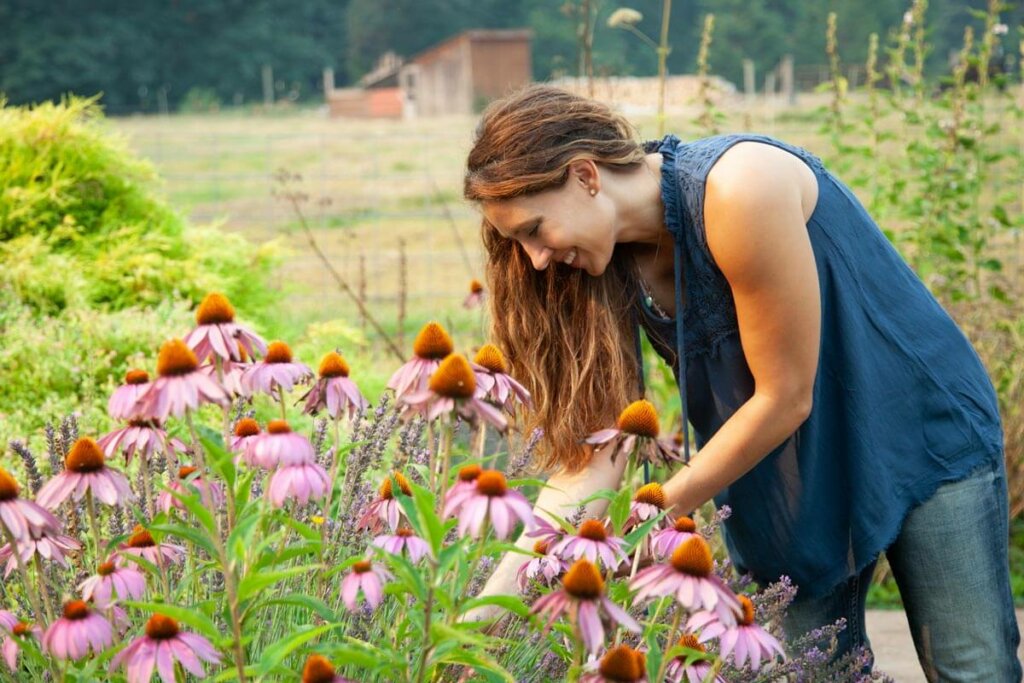 More Posts You May Enjoy
Melissa K Norris: Hey, pioneers. Welcome to episode number 335. Today's episode, we are going to be talking about the best time-saving tips for when you are putting in new garden beds. We'll also be talking about ways that you can take advantage of shady wooded areas of your homestead property that aren't really conducive to growing vegetables, but what can you grow in there, those spots, instead?
Melissa K Norris: My name is Melissa K. Norris. I'm a fifth generation homesteader, founder of the Pioneering Today Academy, as well as melissaknorris.com. I teach thousands of people every single month how to live homegrown and handmade using simple, modern homesteading for a healthier and more self-sufficient life. I am so happy that you are here with us today. On today's episode, we are going to be talking about those time-saving tips, as I mentioned, and we're also going to be talking about planning out your pantry, organization and size.
Melissa K Norris: Today's episode is part of our series where members of the Pioneering Today Academy, which is my membership, get to come on and do a one-on-one coaching based upon whatever it is within homesteading that they need help with. If you are a member of the Pioneering Today Academy, we send out this invitation, and you get to fill out a form to do these one-on-one... I call them coaching because I don't really know what else to call them.
Melissa K Norris: They're like a coaching, but also a consult opportunity. And while I wish that I could offer this to everyone, I simply don't have enough hours in the day. So we offer it to academy members only. You get an opportunity to fill out the form, and then we pick the episode or the people to do the consults with based upon what we feel are going to be able to help the most amount of people, or people who have similar struggles to the guest and member that I'm talking to so that it will be applicable to you.
Melissa K Norris: I think that this episode is going to be very helpful to so many of you because a lot of us don't have a lot of extra time to spend in the garden. Susan, who is the member that we're going to be talking with today in just a few short minutes, she is still working a full-time job and will be doing so for quite a while yet. And so, she needs to be able to grow as much of her own food as possible with the smallest amount of hands-on time.
Melissa K Norris: And because we did our homesteading for over 10 years while still working a day job, there are definite things that I learned and had to implement when I only had a little bit of time in the morning before leaving for work and a little bit of time when I got home, and mainly had to do everything else on the weekends.
Melissa K Norris: Now we are closed right now for new members to the Pioneering Today Academy. But, but, but, but, we will be opening for new members the first time since last fall on March 23rd, 2022. You can get on the wait list for that by going to melissaknorris.com/PTA, obviously abbreviation for Pioneering Today Academy. But you can get on the wait list so that you get the very first chance to join when we open on March 23rd. Without further ado, let's jump straight to this interview with Susan. Well, Susan, welcome to the Pioneering Today Podcast.
Susan Vesta: Hi.
Melissa K Norris: I am really excited to chat with you and help you come up with a plan because you have something very exciting happening in 2022, which is the year, the beginning of the year, at the time we started this recording. Give me a little bit about that and then how I can help.
Susan Vesta: My husband and I current live in Southern New Hampshire and we bought a nine acre plot of land up in Southern Maine where we're going to be hopefully building a home this year. We're very excited about it. Both of my brothers live in South Berwick. That's what we want to get up there and be closer to them. Right now it's a little over an hour drive to see them.
Susan Vesta: And so, what's great about it is that we get to start from scratch on everything, because it's just a raw piece of land. So I wanted a little bit of help in planning because I work full time and there's really no changing that any time until I retire. So I need some help with time-saving tips and I have lots of questions on designing my home because I do a lot of preserving.
Melissa K Norris: Oh, you're talking my love language. Yes. Well, that is really exciting, being able... One, I know it can almost feel daunting when it's completely raw, but it's also really exciting because you can do things to your specs and how you want it. But it's also like, oh, it's not coming in and just changing things. There's a lot to be done when you're starting from scratch. But it's very exciting. Yeah.
Melissa K Norris: When it comes to the layout of the home, compared to what you have now, are you going to be doing the same square footage or is it going to be larger, or do you know yet?
Susan Vesta: It's going to be kind of the same, only we're going to be designing it to be a little bit more effective for what we need. The people that built the house we have now, it's not that old, but they didn't have kids. And so, a lot of the rooms are very small. And then our downstairs is finished and it's just kind of one big, large room and we just don't find it to be, I don't know, just very effective for use. The house that we're designing now, it's going to have a much larger kitchen with an island, because I don't have an island right now and a very large pantry.
Melissa K Norris: Okay. You're going to love having an island. Having lived in a 1974 single wide trailer for a good portion of my life, that did not have an island at all, and then moving to a home that had an island, oh, it just... One of my must haves if we ever move from here is an island in the kitchen. So you're going to love that. Yeah. For the pantry space, what types of food preservation, which this will make a little bit more sense once I go, but are you planning on doing any type of root cellaring type storage, or is that mainly just canned goods, fermenting? What are the types of food preservation that you do or that you maybe hope to be adding once you're in that place?
Susan Vesta: The pantry that's going to be next to the kitchen is mainly going to be for canning storage. I've done water bath canning. I do have a pressure canning system, but I haven't been able to use it yet. So it's going to be mainly just storing of groceries. I did want to ask you, because we will have a basement, and I wanted to get some knowledge on maybe setting up a separate small root cellar area.
Melissa K Norris: Yeah. That's why I was wondering if you wanted to do that. You are going to have a basement, so that is going to be so helpful for the root cellar type storage. And so, that's one of the things, is ideally, with the basement, for the root cellar, depending on what you can easily put down there and have it stay versus not is knowing the humidity and then the temperatures.
Melissa K Norris: And so, I know, with the humidity, we can guess, but if you can get a reader in there and just get some data... And obviously, you'll have to have the house built first. I understand that. I know it, this is a new construction. But starting to monitor the humidity so you can get some data on there because that will inform what will actually stay and keep there versus not.
Melissa K Norris: When looking at things like winter squash and onions and garlic, they all store really well in slightly warmer conditions, so anywhere from like 45, even up to 65 degrees Fahrenheit, because I've stored them very successfully in our kitchen and just a closet that's off the kitchen, all above ground. They don't have to have the higher levels of humidity that things like apples and potatoes and carrots require, because if you've ever tried storing potatoes for any period of time, you'll notice that they quickly can shrivel and sprout.
Susan Vesta: Oh, yeah. Yeah.
Melissa K Norris: The shriveling is not having adequate humidity, obviously. And then usually the sprouting is because the temperature's too warm and they're being exposed to too much light. So that's what I say, if you can get some recordings of the humidity, it'll really let you know which of the vegetables will store down there well, and which ones are going to be really short term, but not for long.
Melissa K Norris: Now there's some amazing resources and books out there, and I will put in the blog posts. I don't have them at my fingertips at the moment, but I'll [inaudible 00:09:34] you those, some really great titles if you decide you want to do more of a section that's traditional route cellaring. Generally speaking, that means that you would have a portion... And this is of course like draining and if it's above a daylight basement versus down deeper.
Melissa K Norris: But for the humidity, is really having a gravel floor or dirt floor. I know in a basement, that most people are like, "Well, I don't know that I really want a section... Unless it was completely walled off, that would be that way. But that's really the way to get humidity, is having some of that earth and floor. And it can be covered in gravel or dirt, to be able to really successfully store things like potatoes and carrots, and even apples, that require that the more humidity.
Susan Vesta: Okay.
Melissa K Norris: Yeah. And then I have to say, for the pantry, which you probably know, especially if you are going from a house that's very similar and then you're able to design the new one off of that layout, is when we first moved into the home that we're in now, which was in 2006, it was almost double the square footage because we were living in an 800 square foot home, a very, very small single wide trailer.
Melissa K Norris: So when we moved in here, I thought, "Oh my goodness, our house now is... I should know what our square footage is. But it was so long, I forget those specs. I think we were right around 1,500 square feet, so almost double, that I thought I will never run out of root... This is a palace. I've got so much storage space and cupboards, and oh my goodness.
Melissa K Norris: Now here we are like 16 years later. Of course, I've got now two children. At that time, my son was just 18 months old. We only had one, and he's a teenager. But we are actually on an additional 200 square feet to our place so that we've got more storage room and a place that's-
Susan Vesta: Oh, nice.
Melissa K Norris: I'm very excited. So I'm saying, if you can, go bigger on the food storage spots, like the bigger the pantry... The reason for that is we brought in a freeze dryer. I mean, they're not huge, but they're not small like a dehydrator that you can just put under the cupboard when it's not in use. It also means I'm even preserving more food because I'm able to use a freeze dry to do things that I previously couldn't do with just a regular dehydrator or even canning.
Melissa K Norris: And so, the new spot that we're building and extending out off the side of the house to build this will house the freeze dryer. It'll allow me to have more things in bulk out there. I'll still keep the canning jars, because I just, cooking for those constantly in their current spot, but I can put back stock back there. I say that just to think about like if you think you ever would get something like a freeze dryer or continue to expanding the amount of food that you're preserving, especially as you reach retirement, that just make sure you've got that adequate space and maybe have a little bit more storage than you thought you would need, or just to consider.
Susan Vesta: Can you use a freeze dryer in a pantry? I've never used one before.
Melissa K Norris: Yeah. You just need to have adequate... Not right against the wall, so that the [inaudible 00:12:44] vents. But just like any piece of equipment, you just wouldn't want to have it directly against the wall, but a few inches clearance. I'm not sure if there's actual... I need to look at to see if it says like six inches or something like that, but just inches. So you can have it on a table in there.
Melissa K Norris: Yeah. The main thing with the freeze dryer is you have to drain it into a bucket. So we have a five gallon bucket because what happens is that it freezes it to negative temperatures. And so, it takes it down and it freezes it. And so then any of the moisture is then sucked out once it's frozen, is then sucked out with the vacuum pump. That's how it removes the moisture initially. Then it switches over and it dehydrates it to take further any out.
Melissa K Norris: But because there's actually the freezing process, there's ice in there and the moisture that was removed from the freezing part. And so, after you do a run, then you have to drain the ice melt. It has to have somewhere to go when it drains out. And so, unless you have it hooked up to a drain, which most people don't have a drain just in the floor where it can easily go, then there's a tube.
Melissa K Norris: You probably don't even honestly need a five-gallon bucket. I've never had it fill up anywhere near that much. Usually in the bottom of the five gallon bucket, I think the most on a run that had a lot of heavy ice load in it, or a lot of moisture, maybe two to three inches in the bottom of a five-gallon bucket. So I could get away with a smaller bucket. But I wasn't sure when we first started. So I'm like, "I don't want to have water all over anywhere," and have it set up. So I'll probably use a slightly smaller bucket once we get it in here.
Melissa K Norris: But so you do have to have some space just knowing too whatever countertop or shelving that you have it on, that there's a room for the drain hose to go down through it. And then underneath, that there's something for it to drain the water into. And then you just empty that out. Yeah.
Susan Vesta: Okay, great. The pantry's going to be for not just food, but also all of my small appliances, like my dehydrator. I'll probably have some cabinets to tuck that stuff away, like maybe on the bottom and then have shelves on top.
Melissa K Norris: Yeah. I'm with you. I like being able to access those things easily, but I don't necessarily need them being front and center or seeing them all the time. So I like the idea of the cupboards. I'm with you there.
Susan Vesta: Yeah. Because some of them are really heavy. Like I have a nice KitchenAid mixer and it's just not something I want to be dragging around the house.
Melissa K Norris: No.
Susan Vesta: It's heavy.
Melissa K Norris: It is heavy, almost deceptively. When I got mine and I first went to move it, it was the same thing. I'm like, "Oh, well, maybe I'll just bring it out when I'm using it and then put it underneath the cupboard.
Susan Vesta: No.
Melissa K Norris: No, yeah. After I picked it up, I'm like, "Nope, this baby is staying right where it's at.
Susan Vesta: Yeah. We have have it out in the kitchen. It's the one thing we have on the counter, because we don't have a lot of counter space right now. But I'm like, "I'm not lugging this every time I want to make something."
Melissa K Norris: Yes. Completely agreed. In regards to house planning, do you have any other questions regarding that?
Susan Vesta: Not the house itself, but I do have a few questions on how to set up our land.
Melissa K Norris: Yeah.
Susan Vesta: We're going to be starting from fresh for a garden. I think I mentioned before that a couple years ago, I got diagnosed with acid reflux and I've been on a very low dose medication ever since. I've been trying to get off of it and I've pretty much changed enough of my eating where it doesn't go through the medication anymore. Now my goal is to try and get off of it someday.
Susan Vesta: Couple years ago I started my own garden, and last year I successfully grew tomatoes. I've grown cucumbers and peppers and things like that. But I want to really expand on the garden. Currently where we are, we're on a hill with rocks. So I grow all in grow bags now. So when we get up there, I'm going to have a mix of grow bags. We're going to do some raise beds and I might try and grow some things in ground. I didn't know if you had some advice as to what works better in what container.
Melissa K Norris: Yeah. Oh, that's a great question. Congratulations on working towards getting off. That is a journey I've went through myself.
Susan Vesta: I know.
Melissa K Norris: So I know how much work goes into that and also how long it can take, because it's not an instant thing. So I just wanted to touch on that for a minute, so to give you encouragement. Yeah, so I hope that you're able to do it. Obviously, I can't give medical advice because I'm not a medical, but just make sure when you're coming off, if you've been on... I don't know if it's a proton pump inhibitor or not, but just make sure that you really talk with your pharmacist and your doctor and do a taper, because I know a lot of people-
Susan Vesta: Yes.
Melissa K Norris: Okay, good. A lot of people don't realize that. They don't realize that if you don't taper down, that it actually can trigger a reaction where your body goes into hyperdrive and creates a ton more acid. And if you taper, it helps to eliminate that. And so, I feel like a lot of people have tried to go off and they didn't realize that. And so, they thought, "Oh, I can't go off." It was just because they tried to stop too fast. So definitely talk with them because they'll be able to go like what dose you've been on and how long, and to help you do an appropriate taper. Yeah.
Susan Vesta: I'm honestly terrified to get off of it at this point, because it was so bad. So it's not something I would just go cold turkey off of.
Melissa K Norris: Good. I know most people probably would, but then I do know other people who just... You don't know what you don't know. So I just wanted to make sure that we shared that. For the gardening, that is a great question because you can grow anything in a raise bed, provided that it's deep enough for the root system. But there's also the expense of initially building the raise bed where it's usually depending upon your soil. Of course, if you have really poor soil, for anybody who's listening, if you have extremely poor soil, a lot of people find it easier to go the raised bed route if they're already going to have to be bringing in some type of dirt, that their existing dirt in the ground is just not going conducive to growing.
Melissa K Norris: Then in the long run, it's actually cheaper to build a raised bed, bring in soil, and start getting produce right away than the months and years that it can take to develop good soil in ground, if you're starting with really, really poor soil. But I don't think that that's your case, but I just wanted to preface that with it, for anybody who's listening.
Susan Vesta: I think it's fairly sandy.
Melissa K Norris: Okay. That just means that you'll be wanting to bring in lots of organic matter, compost, that type of thing to help get more in there so it's not so sandy, which is very, very doable. That probably is a little bit easier to deal with then. You might have to water more the first year until you get more built in and really watch that, if there's plants that are not as drought tolerant or in the summer months. But mulch will definitely help with that as well.
Melissa K Norris: But you'll just want to keep an eye on that with your irrigation. But I think really rocky soil is probably some of the hardest because the rocks don't ever really break down. So with the sandy soil, I feel like that's a little bit easier to deal with and mitigate. You just have to watch how quickly things dry out. But, with that being said, I like to look at what has the most expansive root system and or really spreads out and takes up a lot of growing space.
Melissa K Norris: And so, those are the items that I would put in the ground, if it were me, and then save the raised beds for things that aren't so expansive, just because if you've got a raised bed, say, that's four by six feet, for example, probably only going to really be able to grow in that just because of their vining habit and how much they spread, maybe five winter squash or six zucchini, for example.
Melissa K Norris: But if you have those in the ground where they can really vine out and you're not so limited on space, then with that raised bed section, excuse me, you could grow tomatoes in there. You could have lettuce tucked in there. You could have basil in there, just the ability to grow more in that space efficiently. I feel like if you've got the option of doing both, is going to be better. Of course, even with the raise beds, if you get close enough to one another with your aisle way, then you can take the hog panels and do a trellis between the two raised beds, so it's like going over the walkway, and then you'll be able to take advantage of that vertical space too.
Melissa K Norris: So that might be something where you're like, "Oh, I do want to put some vining plants in," and you would plant them on the edge so that you'd train them to grow up and over that trellis. And that would still leave a lot of space in that raise bed area for you to grow. There are little ways that you can get around that and maximize even with the vining ones, just depending on how deep and big that the raise beds are.
Melissa K Norris: For me, I have found that tomatoes, because they have such a large... Well, you know. You've been growing them in containers. I found that they have such a large root system or want to, more so than what we would anticipate, I think, that once I started growing them in the ground versus growing them in containers, I found that I got a much larger harvest. They just seem to be more prolific. I know you've got the grow bags for them, but what might be fun... And this is something that I love and encourage everybody to do, is to test things out.
Melissa K Norris: Don't test the whole crop. Don't be like, "Oh, I know I get this amount of tomatoes by growing these in the grow bags." And then you switch it all the way around, but I would try a couple of tomatoes in the ground and then just see, do you notice any difference between growing them in the grow bags versus in the ground? Do you have to water more often or do they seem bigger? Do they feel like you get more of a harvest? Just do your own little split test on them and then record that on your property.
Susan Vesta: That makes sense.
Melissa K Norris: Yeah. There's been some that I have been so pleasantly surprised, and that I switch and that's the only way that I grow it from there on out. And then there's been others where I'm like, "Oh, buddy, I am so glad that I did not bet the whole harvest on this test and that I kept some the other way." So really just looking at the space it takes as it grows above ground and then also the root system underground. And is this something that has a more expansive root system?
Melissa K Norris: That's how, as just an easier criteria, I would use for what you would be putting in the raise beds versus in the ground. And then I don't know if you'll want to be trying to do any of the in ground over wintering of some things like potatoes and carrots. Do you know what your usual temperatures are, the cold temps in the winter months where you're going to be moving?
Susan Vesta: Cold.
Melissa K Norris: Okay. I figured you said Southern made. And so I'm like, "It's probably going to be pretty cold." The reason I say that is because if you are going to try to over winter anything like carrots and or potatoes in the ground, then I have successfully over wintered our potatoes at five degrees. We don't hit negatives here. So if you're hitting negatives, I don't know how well it would work. I would only test a small amount. But I can leave my potatoes in ground, and I do the trenching method where I plant them deep and then I just continue to add soil on top in the ground as they grow.
Melissa K Norris: And then, after they're done producing and the vines grow back... Die back, excuse me, I will mulch twist straw, about four to six inches thick of heavy straw. And then I just go and pull that back and dig them out as I needed. Of course, when we had three feet of snow, I wasn't digging through the three feet of snow to get them. But-
Susan Vesta: That's our usual.
Melissa K Norris: Yes, so it matters. But like carrots, oftentimes if you want to leave some of the carrots in the ground to harvest in the spring once the snow does begin to melt, that would be an option. But it would depend on if they freeze or not. So the reason I was bringing that up is because those types of crops you're going to try to over winter in the raised bed, you're going to have to use a lot more insulation, maybe lining the outside of the raised bed with some straw bales, et cetera. Because if they're in the ground, you're only having to mulch from the top, just because they're going to stay better insulated.
Melissa K Norris: So that would be something, depending on climate and what you're hoping to do with some of your crops, that I would also take into consideration. Is this going in a raise bed or is this going to be going in the ground?
Susan Vesta: Okay. We have a couple other sections of the property. Our land is at the end of a dead end private road. And so, there's only four houses on this road. I've met my two other neighbors. They're fantastic. My younger brother has actually purchased the land on the other side of us, so it's going to be really fun.
Melissa K Norris: Yeah.
Susan Vesta: It's not a heavy traveled road at all. We have alongside of the road and we have a buffer along the road, a forested wetlands that we can't actually put our house over there. So I'm wondering if you... I know normally you're not supposed to plant anything alongside of the road because you don't want any runoff or exhaust or anything like that, but we're not going to really have that. So it's a big space that I want to try and utilize in either the forest or alongside of the road. [inaudible 00:26:12] if you had any suggestions.
Melissa K Norris: I don't know, in where we live, even on our more rural, rural roads, the county will come through and spray. So you have to make sure you have signs up that say, "Don't spray". I don't know about your county. Obviously, it's very different states.
Susan Vesta: Oh, yeah.
Melissa K Norris: But that would be one thing that I would consider, is making sure you have signs up that say, "No spray" really clearly marked and visible and maybe even calling and checking with the county and making sure that... Asking them like, "How big do the signs need to be?" Or, "Do I need to report this?", or what they recommend so that they don't spray there.
Susan Vesta: They might not because it's a private road. We're in charge of maintaining the road ourselves. We have to organize the plowing. If anything ever got damaged, we would have to pay for it. So I don't know if the town would actually do that.
Melissa K Norris: Okay. You might just want to check, just to make sure.
Susan Vesta: Yeah. Yep.
Melissa K Norris: But hopefully that's not an issue. And then you don't even have to worry about putting up the signs and making sure that they obey the signs, so to speak. But just something to consider. But yeah, that would be because I understand that we have a wetland forested area that we can't do any building and can't remove anything from either.
Susan Vesta: Why?
Melissa K Norris: That can be, depending upon how much sunlight it gets, those can be great places for some perennial and permaculture. So elderberries would be great, things like salmon berries, huckleberries, things that already will grow in a wooded or more shaded environment. I'm thinking of plants that produce fruit, that are native to our area in that forested shady thing, but I'm assuming would grow well where you are. But those are things that I would look at. Are there any types of wild fruit that already grow in your area that you could bring more in there?
Susan Vesta: I'm pretty sure one of my neighbors said that there's a few Blackberry bushes.
Melissa K Norris: Okay, perfect. Blackberries grow everywhere here as well. They don't really care. The ones that are in more full sun do produce more berries and earlier, but even the ones in full shade here will still produce some fruit. It's just a little bit later in the summer, which I actually don't mind that they produce later in the summer because that's when I actually can get to them. Yeah, I would look at that.
Melissa K Norris: You might look at how much direct sunlight it's getting, based upon how the sun falls along the side there. Of course, some of the trees in wintertime, if you're looking at that right now, don't have their leaves out unless they're all evergreen. So just keep that in mind, like, "Oh, when this is all leafed out, will this be actually more shadier than it is now? But then I would just start looking at what is native to your area as far as berries and edible plants, that type of thing. And then just looking and see, can I purchase actually more of those and purposely plant them here because you know that they'll already grow easily in that environment.
Melissa K Norris: But I would look at some of those berries. Especially like elderberries, those should grow really well there for you, especially alongside.
Susan Vesta: Okay.
Melissa K Norris: But yeah. As you get further into it, there's edible hostas will grow well in the shade. I know we're talking about a wooded area, but even in the yard. We think of hostas as a pretty shade plant. But actually, the roots of them are edible. So it may even be a little bit off the beaten path of what we would consider normal food crops that you might be able to tuck in there and take advantage of that space.
Susan Vesta: Okay. Well, that sounds good. I also want to grow some apple trees. I know that you have extensive experience in that. We're hoping to be up there next year. But with everything that's going on, I don't think we're going to be able to get up there probably next fall.
Melissa K Norris: Okay.
Susan Vesta: I don't know if I should try and get something up there next fall or if you wait till next spring.
Melissa K Norris: That's a great question. With the apple trees, if you can do a fall planting, that is great. The only thing, if you're not on the property yet, that... I mean, obviously, with apple trees, you're going to want to make sure that you have got the varieties that will cross pollinate one another, so that you'll actually get your fruit production once they're old enough. But deer or any wildlife, just making sure that you've got them well protected, especially when they're young. And if you're not there to really monitor and see, that would be something that I would just really make sure that you've got...
Melissa K Norris: I would get like wire fencing and put the tea posts around it and, and completely wrap it basically around with that, just to keep any of the deer off. And then, you would want to also consider, later in winter, like once you start to get snow and really cold, is keeping an eye, at ground level, on the trunk, to make sure that you don't have any rabbits or voles or anything that are starting to eat the bark because they get hungry. In that case, you may need to wrap it.
Melissa K Norris: But you wouldn't want to do that right at planting time in the fall. Usually that's a little bit later in the season, especially when it's a younger tree, because it's more tender and those little stinky rodents like to get in there and take advantage of that. So it would just be knowing that there would want to check on those things, especially if you're not up there, that you're able to access and get up there just to keep an eye on it every so often.
Melissa K Norris: I mean, I wouldn't worry about even checking on it weekly quite honestly, I just, from the get go, would wrap that with a wire, just using some of those T-posts, just to keep the deer off of them when they're young [crosstalk 00:31:47]-
Susan Vesta: Yeah. I know we have a lot of wildlife out there.
Melissa K Norris: Yes. Yeah. That's the biggest thing with the fruit trees even here. I actually put some new fruit trees in. Literally, my front yard, I could look out my bedroom window and see them and we've had the deer come in. And so I still have to keep them wrapped. Once the trees are more mature, then I can take it off and it's fine because if they come and nibble a few of the lower branches, they're not taking off everything and then there's nothing left for the tree. So you don't always have to keep it up. But I would definitely recommend it for the first couple of years.
Susan Vesta: Okay. One final question. What do you consider to be your biggest time saver in the garden?
Melissa K Norris: Oh gosh, that is a good question.
Susan Vesta: In maintaining it or anything.
Melissa K Norris: Yeah. That's a great question. Really was the most time saving is twofold. It's either just spending 10 to 15 minutes every morning out in the garden so that none of the tasks build up to be this huge thing that I then have to spend hours on the weekend correcting or maintaining or dealing with. If that's not a possibility, like say you decide to plant and you guys aren't living up there this year, then that gets a little bit more difficult.
Melissa K Norris: And so, it is just making sure that I've got a really good mulch layer down so that I don't have to do as much hands on weeding.
Susan Vesta: Okay.
Melissa K Norris: That has really been... Because I feel like once the garden is planted, there's a lot with seed starting and actually getting it in the ground and all of that. But once it's actually in the ground, until you come to full-on harvest time, which is the fun part, we get to bring in the harvest, I really find most of the maintenance work really is, for the most part, it's keeping the weeds at bay. I mean, there's a little bit of, you know, maybe needing to water with some fish fertilizer concentrate on some plants that might need a little bit of an extra boost at the beginning of the growing season. I usually do that with my onions and my tomato plants.
Melissa K Norris: And then once they start to get close to bearing fruit with the tomatoes and their blossoms, and then the onions get closer to bulbing, then I pull back and I don't do that anymore. But it really is the weeding maintenance, I find, that is the most time consuming. I found what worked really well and it lasted for a full two years, and that was we put the plants in and then lined it with cardboard in the aisle ways and just right up to the stem of the plant, first with cardboard. And then we put the wood chips on top of the cardboard.
Melissa K Norris: And so, the cardboard helped to smother any little weeds that wanted to pop up. And then the sawdust kept after the cardboard broke down, then the sawdust was that barrier layer, or excuse me, not sawdust, wood chips. And so, now we're coming up on year three and we just started to have quite a few weeds pop through this fall. Now as the snow is melting, nothing's really coming yet, but I can see where the weeds were from last year. I'm like, "Okay, we're going to have to redo some of these sections with either heavier wood chips again, like a new layer, because it's obviously broken down.
Melissa K Norris: We'll probably do a big layer of composted manure and then the wood chips on top of that in the growing rows. I don't care so much about the walkway if there's the composted manure. But give a good dose of that and then reapply. So there is three application part, but that's really true with any mulch. But I did find for the first two years, that that mitigated my weeding in that section of the garden, just a huge amount.
Susan Vesta: Yeah. I noticed that in the garden that I have now, because we laid down some crush stone and put the grow bags right on it. But to keep the weeds from coming through, I did as much cardboard as I could, as we had. And then the other half I put down a weed barrier, the weed cloth. No weeds came up through the cardboard. I had a ton of weeds on the weed cloth side.
Melissa K Norris: That has been my same experience as well, which is why I use the cardboard.
Susan Vesta: The ugly... I wish I had more free cardboard.
Melissa K Norris: Yes. I know. I don't know if reaching out maybe to grocery stores or Costcos... I don't know. That might be something that I entertain in the future, or even just to neighbors like, "Hey, any of your cardboard that doesn't have a ton of like printed ink on it, save it for me."
Susan Vesta: I've already started saving our Amazon deliveries. It's all stacked up in the garage waiting for the move.
Melissa K Norris: Yes. Yeah. I know that cardboard boxes have become precious. It's like, "Oh, do I need them for the move or do I need them for layering in the garden?" Like, "Both." But what's my biggest priority there?
Susan Vesta: I know.
Melissa K Norris: Yeah. Do you have one last question or anything that you could use some guidance on?
Susan Vesta: I think those were all my questions.
Melissa K Norris: Oh, well, good. We're feeling quite accomplished then. Well, I look forward to seeing how it progresses and what you put in. Of course, inside the academy community, if you have any questions as you get a little bit closer, definitely take advantage of that, so we can all jump in and help. But such exciting things happening, so I'm really excited for you guys.
Susan Vesta: Oh, thank you so much.
Melissa K Norris: Well, I hope that you found that consult helpful and were able to glean some great tips. For links to any of the blog posts or resources that we talked about within this episode, I have a lot of content on the website. You can on over to it, melissaknorris.com/335. That's just the number 335, melissaknorris.com/335, because this is episode number 335.
Melissa K Norris: Now today's verse of the week really is almost the entire chapter of Ezekiel 18. I know a lot of times... Well, I don't know. I shouldn't speak for everyone. But a lot of times, we spend a good portion in the New Testament because that is obviously Jesus's teaching. We see His birth, His teachings while He was alive, His death, the resurrection, and the story of the disciples thereafter, revelation. But there's a lot to be gleaned from the Old Testament as well.
Melissa K Norris: I have been working my way through Ezekiel. What specifically made me want to share about chapter 18 is the story of where God is telling His people, Israel, that each person is responsible for their own actions, that the son is not responsible for the father's actions. The father is not responsible for the son's actions. Of course, once that son is of age, of course. Even as a child, we do our best to rear up our kids.
Melissa K Norris: But ultimately, your salvation and if you go to heaven or not is based upon your actions and choices. You can't have secondhand salvation, is basically what it's imparting. But also, it talks about how if you walk with God and do what is righteous according to His Word, and then you fall away from God and don't repent, then it doesn't matter that you were righteous beforehand if you didn't repent and you fell away into a life of sin. Then whatever the way we're living at the end of our life is going to be the way that God judges us based upon our actions.
Melissa K Norris: And then, on the flip side, he says, if you lived a life of sin, doing things that went against the Word of God, but then you repented, turned yourself around and started to live a righteous life, then you will be alive in Christ. Even though we're talking about the Old Testament, it's still a reflection and shows the way of what happens once Christ comes and dies for us. So specifically it's the last two verses, but I would highly recommend that you go through and read through that chapter as well.
Melissa K Norris: But Ezekiel 18 chapter 30... Or excuse me, 18:31 and 32, "Cast away from you all your transgressions by which you have transgressed against me, and make you a new mind and heart and a new spirit, for why will you die, oh, house of Israel, for I have no pleasure in the death of him who dies, says the Lord, God. Therefore turn, be converted and live." That was the amplified translation of the Bible.
Melissa K Norris: Verse 31 may have sounded very familiar because it is what Ephesians 4:22 and 23 from the New Testament is based upon. But make in you a new mind and heart and a new spirit, because it's not God's desire that any of us would die in our sin. His desire is that we would all turn to Him and live for Him and be saved. It's why He sent His Son.
Melissa K Norris: I think it's important to remember that for ourselves and to take this time as I was reading through that verse, to think about any transgressions that I maybe making or have snuck into my life, or maybe haven't been rooted out yet and ask for forgiveness and to work on those. But it's also important for us to remember, which this goes back a little bit when we're talking about the divisiveness of our society right now, how we tend to want to see things very black and white when it comes to people and their choices, and that's all we see, instead of actually seeing the human behind them.
Melissa K Norris: We want to put labels on people. And so I think that's important because I need to remember myself that God loves every single person, every politician, everybody on social media. He doesn't desire for any of them to fall away from Him or to die without knowing Him. His desire is that every single person would repent, ask forgiveness of their sins, and turn to a life with Him.
Melissa K Norris: Now we know that, obviously, that won't happen. Not every single person is going to do that, unfortunately, but it's important for me to remember that that is His desire. And whenever I'm having interactions or seeing things that I remember God loves that person just as much as He loves me. And we're all, in that sense, equal in the eyes of God, that He wants every single one of us, the best for us, and to be saved.
Melissa K Norris: I hope that that provides you with a little food for thought. It's definitely some things I have been chewing on this week. I want to thank you so much for joining me on this episode of the podcast. I'll be back here with you next week. Blessings and mason jars for now.
Sign up to receive email updates
Enter your name and email address below and I'll send you periodic updates about the podcast.