Some of the links below are affiliate links, which means I will earn a commission at no additional cost to you, if you click through and make a purchase. Regardless, I only link to products we use on our homestead or believe in.
Learn how to plant strawberries with these 5 tips for berry success. Nothing says summer to me quite like a fresh ripe strawberry. They're as good fresh as they are baked into desserts. And to ensure you have a lovely crop come summer, now is the time to get planting.
One of the great things about strawberries is they lend themselves nicely to small spaces. Even if you only have a porch or patio, you can have a great strawberry patch.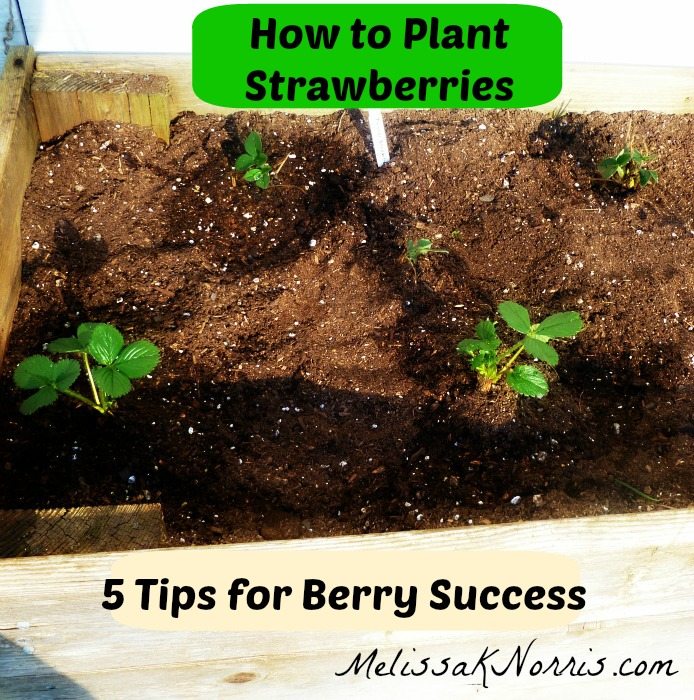 One of the most disappointing things is buying a strawberry at the super market and biting into the bright red berry and tasting….nothing. No matter how beautiful a berry may look, it's the taste that counts.Tweet this
In true pioneer style, I'm going to walk you through growing your own, because homegrown is just better. 🙂
Strawberries are a perennial plant that will continue to give you years worth of harvest if taken care of properly. I find growing strawberries in raised beds to keep the slugs away and to keep them contained where you want them is the easiest method. Strawberries spread via runners and a container or raised bed helps keep 'em where you want them.
How to Plant Strawberries
1. Choose your strawberry variety. Most common are June-bearing and Everbearing. June-bearing have one crop that ripen in June. You harvest all the berries at one time, which is preferable for preserving. Everbearing varieties set fruit for the entire growing season and are great if you like to eat berries fresh and don't care so much about preserving. We put in a bed of each.
2. Deciding where to plant. Strawberries require at least 6+ hours of full sun. They also prefer well-draining soil, which makes raised beds a perfect option. Another reason for raised beds is it deters slugs, which we have a ton of here in the Pacific Northwest, and I don't like to share my harvest with non-human varieties.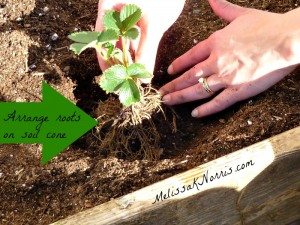 3. Containers. We use cedar beds for our berries. Make sure any lumber you use is non-treated for your edible beds. Cedar is water-resistant and slow rotting, so it makes a great choice. Whiskey barrels also make a fun container.
4. Planting. Strawberries don't require heavy fertilization, but will benefit from a good organic compost soil mix. They need to be kept moist, but their roots don't tolerate standing water, so good drainage is a must. Dig your hole and in the center of the hole, firm a cone of soil. Arrange the roots around the cone and fill in the hole with soil. Tamp lightly and water. Make sure the plant's crown is at soil level or slightly above.
5. Spacing. Strawberries can be susceptible to fungus, so keeping space for good air circulation is your best defense. June-bearing strawberries should be between 15″ and 24″ apart, with Everbearing plants 10″ to 18″ apart. If you plant at the minimum spacing suggestions, you'll need to keep the runners removed so your plants don't become crowded. Plus, berries will ripen quicker when they're not crammed together.
I came across this fun tutorial for a tiered whiskey barrel strawberry planter from Angela England of Untrained Housewife.com. She graciously allowed me permission to share her photo.
Do you have a strawberry patch? Do you have a container garden of any kind? What's your favorite variety of strawberries?
Check out When and How to Plant Fruit Trees for Years of Harvest.
Our most viewed jam recipe is our homemade low sugar no pectin strawberry jam recipe.