I wanted to share with you today some really practical tips that I put into practice this summer when were super duper busy that keeps my grocery budget down, and keeps us making things from scratch but it also saves me time, because home made should not be hectic. These are from my homestead kitchen and some originate from the Great Depression!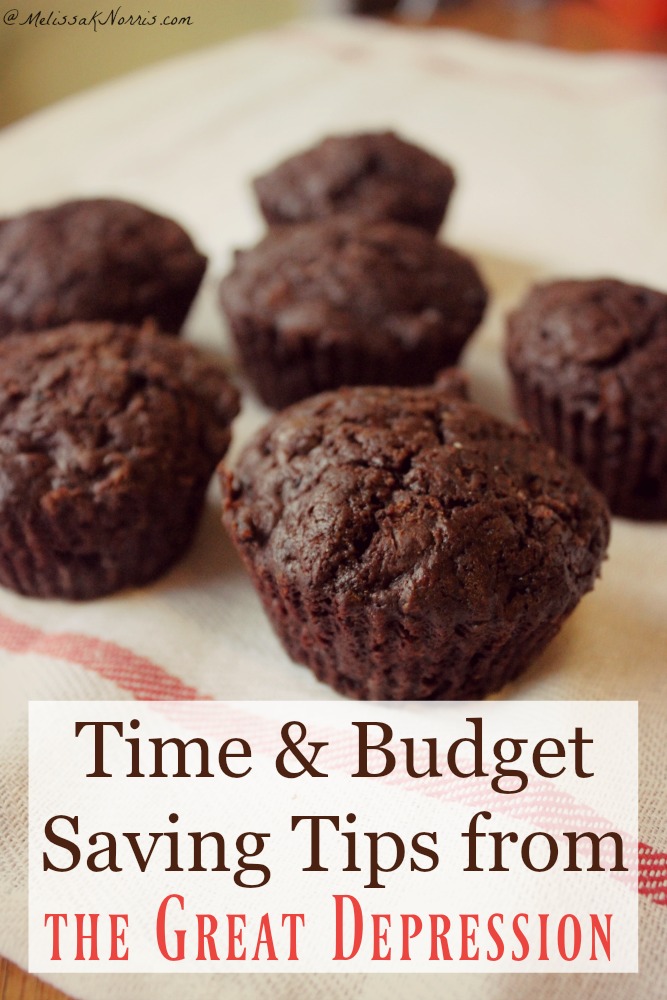 When we're in the thick of things, it can be hard to remember why we want all our food from scratch, when you're exhausted from canning quart after quart of the harvest, the last thing you want to do is prepare a big meal… we may have had a take out pizza after said canning marathon.
Listen in to the Pioneering Today Podcast where we focus on old-fashioned wisdom and skill sets in a modern world to help you create a more self-sufficient home and well stocked larder.
I want to share with you today ways I've made the from scratch part not take as much time and how we do homemade breakfast without cold cereal or cooking every morning. Some of the tips hail from the Great Depression and some from my homestead kitchen to yours.
Remember why you want to feed your family home cooked items, because you know exactly what's in it, the ingredients used, and that it's more nutritious and nourishing, something we all benefit from way beyond the eating of the meal! This always gives me new motivation.
Easy time saving and healthy alternatives to store bought items
I rarely buy cereal. For school or busy morning I do the following ahead of time.
Make a double batch of muffins. I only have to bake muffins twice a month, which is approximately 18 muffins and a small loaf of bread (because I'm revolting on buying another muffin to bake all the muffins at once…) That lasts about a week and a half, sometimes two weeks.
From scratch goodies don't contain preservatives, amen! Muffins can stay out on the counter about 2 to 3 days, then move them to fridge. Otherwise, you'll wake up one morning and see mold. They will stay good in the fridge up to 2 weeks, because no one wants to throw out food!
You can freeze the muffins alternatively and thaw them out each day. But I prefer the fridge so I don't have to remember to thaw them out the night before (because I try not to use the microwave) and apparently, my memory isn't always so great the night before.
I use local and in season produce (preferably what I've grown myself) to use in our cooking and meals. Right now I used the very last fresh zucchini from this summer's garden to make double chocolate zucchini muffins. Zucchini is great because it adds extra moisture and fiber to the muffin. I have grated frozen zucchini and dehydrated to be able to make more through out the year.
Flour choices for muffins. Your flour content is where you can make things healthier, especially if you have special dietary needs or allergies. I use a mixture of Einkorn (an ancient grain with a different type of gluten than modern grain and higher protein), Spelt (another ancient grain with a higher protein content) and sometimes a mixture with organic all-purpose flour. With fresh ground flour we're keeping all three parts of the wheat berry, giving more nutrients, vitamins, and fiber.
We'll be having some upcoming episodes of the podcast and the Pioneering Today Live show on grinding your own flour and baking with it!
Seasonal muffin ideas
Summer and fall, zucchini for these double chocolate muffins
Fall and winter, pumpkin chocolate chip muffins (you can use pureed butternut in place of pumpkin)
Spring and summer, fresh fruit, rhubarb, raspberries, blueberries, and apple are our favorites
Pioneer and Great Depression Era Tips for Meal Time
If we go back, biscuits are something that the pioneers made a lot. You'll find, especially, like my dad grew up during the great depression in the early 1940s and even beyond. A lot of times in Southern states, I'm from the Pacific Northwest in Washington but my dad and my grandparents came out here from North Carolina and Appalachias in the early 1940s and if you look a lot of that cooking during that time period, they didn't bake bread a lot. This was true even during the Great Depression.
Reason for that is because, bread took longer, people generally didn't have that much time necessarily to devote to breaking bread when they are using yeast and it had to rise and yeast was an added expense.
If you're doing traditional sourdough, then you're creating your own natural wild yeast and sourdough has its health benefits as well, which we can talk about more. Also, I will be sharing a little bit about some of the bonuses that you get with my new book, "Hand Made" especially if you are interested in sourdough.
Quick bread like biscuits and corn bread, tortillas. Those type of things were used because they could be made without the addition of yeast and they could be done very quickly, they could easily be turned into a lot of meals.
Have your biscuit as a side item, a way to stretch whatever vegetables and meat you're serving. You could have a biscuit as a snack and then you could turn that biscuit into a sandwich for breakfast. You could smother it with gravy, which we had last night for supper and is one of our favorites.
Or you could also cut it open, slit it open and make it a sandwich. Breakfast sandwiches are something that we like to do with biscuits so you can throw an egg in there. Specially when the chickens are laying.
You can wrap those up and make a whole bunch at once. Wrap them up and freeze them.
I always make a double batch of biscuits which I am going to share, my recipe with you here for Easy Buttermilk Biscuits that are Ready to Eat in 20 Minutes. Double it, bake one up at that time for eating for whatever meal we're doing, then freeze the biscuit dough.
Resources
Packed with Great Depression and old-fashioned wisdom and tips, "Hand Made: The Modern Woman's Guide to Made-from-Scratch Living", also has three bonus videos:
how to do fermented vegetables.
how to do your own sour dough starter from scratch and then feeding an upkeep tips.
how to make home-made doughnuts .
To get access to all three videos, plus custom downloads, printabls, labels and other bonuses, all designed to help you create a self-sufficient kitchen with hand made foods and a well stocked larder for a simpler home. Go here to get your copy and bonuses!
How to Freeze Biscuit Dough
Biscuit dough freezes phenomenally well. You prepare the dough right up to the step of baking, fully cut out, then place them in the freezer. When ready to bake, take them out frozen and place in a cast iron skillet or baking sheet.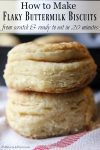 Increase the baking time to about 20 minutes when they are from a frozen state. When they are from fresh, it's about 15 minutes.
How to Make Sky High Flaky Melt-in-Your-Mouth Biscuits
There are a few crucial steps to getting flaky biscuits every time. For the full recipe and tips (trust me, ya need to read these) click here for my Easy Flaky Buttermilk Biscuit Recipe (aka best flaky biscuits ever!)
Double Dough Cooking Saves Time and Money
By doubling your recipes you're saving time because it really doesn't take any longer to prepare a double batch of dough.
You're only using electricity and energy to wash the dishes once, instead of twice if you'd made them separately.
If you're baking a double batch, I can fit all of my muffins and bread in the oven at one time. This means my oven is only heating up once.
More Articles on the Great Depression