Homemade freezer meals and real food batch cooking should have a place in your meal planning, especially if you struggle to find the time to make everything from scratch but don't want to sacrifice your families health with processed convenience food.
Today we are talking about freezer meals and batch cooking. For some of you who are my long time listeners, you're like, "Melissa, I know you don't use a ton of freezer 'cause you do a ton of canning", which is true. But there are items that just don't lend themselves for safety reasons or quality issues, which we don't can. And I realize that not everybody cans as much as I do.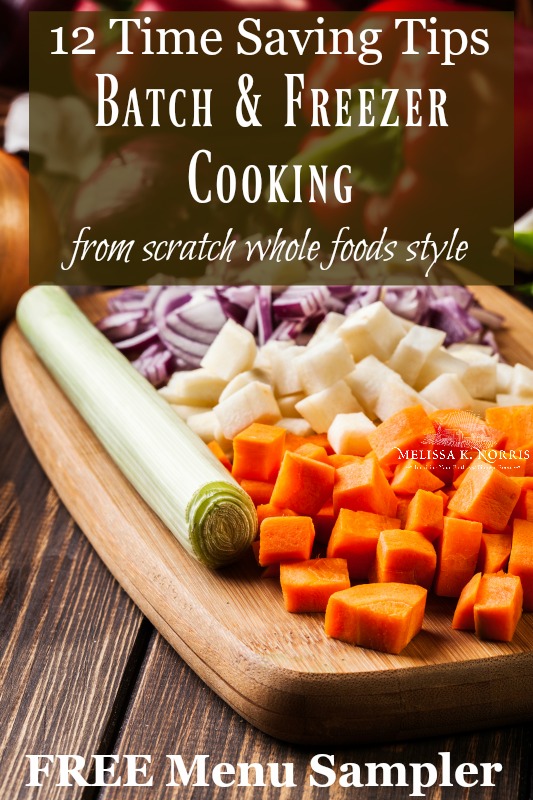 If you've been curious about how to serve more tasty nutritious meals for your family, but don't have a lot of time to can, then you my friend are in for a treat today.
I've brought on Tricia from ___->Once a Month Meals<—–_____ today who grew up saying "never". I am never going to can, and never enjoyed doing it as a kid, or picking things from the garden. But she still wanted to serve nutritious meals. She runs a freezer cooking website which helps families turn ingredients into meals which can then go into their freezer to be used at a different time.
Listen below to, Batch & Freezer Cooking- 12 Time Saving Tips for Homemade Meals, Episode #155 of the Pioneering Today Podcast, where we teach families how to grow, preserve and cook their own food using old-fashioned skill sets and wisdom to create a natural self-sufficient home, with, or without, the homestead.
Resources:
Get our FREE written out with freezer/batch cooking day steps, cooking from frozen, sampler recipes–> Click Here for Your FREE Batch & Freezer Cooking Recipe Sampler
Need more time saving tips on growing, cooking and preserving your own food? Make sure you're on the notify list for when the doors open to the Pioneering Today Academy by clicking here
What is batch cooking?
Batch cooking is where you are prepping and cooking a ton of ingredients for a whole bunch of meals all at once. The benefits are:
Dirtying up the kitchen once, only one big clean up.
Planing and putting the meal together is done once, not every day.
Melissa: Do you do it all on one day for the entire month?
Tricia: 75% of the people that visited our site did it for a month at a time. However, MOST people only have snip-its of time available. It's also more digestible to do it in batches. We have meal plans that will give you 30 dinners for the entire month or meal plans that will be more like two weeks worth of meals. It varies with your situation and what is more digestible for your family and schedule.
When you bring in that fresh produce how do you freeze it? Do you portion it? Or do you have a specific recipe for it?
Tricia: I go in with a plan. Let's say I have 20 pounds of zucchini that just came in. If I were to portion that up and freeze it then I tend not to utilize it out of my freezer specifically because it's an ingredient. An ingredient means that I still have to put a meal together, which is what I don't have time for.
Instead, I would go and find recipes that utilize zucchini both in entrees, breads, muffins, breakfast, and create a whole menu just around zucchini. Then I have a set number of meals that are going to utilize the bulk of this zucchini, and meals that I know that my family would eat in the future.
Melissa: I love that you're saying find a recipe for it and put it in there. I will say, there's some different soup recipes that I have and I know I'll just put a cup of zucchini in. So I will sometimes do just a cup pre-portioned.
Do you have specific containers that you prefer to use?
Everyone is at a different spot in their journey, if you don't use plastic or foil, we have you covered. Find what works for you and your comfort zone to create easy nutritious meals for your family.
I tend to use Ziploc freezer bags a lot for my non-instant pot meals because they can actually go into the device frozen, whereas things like slow cooker's need to be thawed. So, with the exception of the instant pot meals, all of the other appliances I tend to use a variety of items:
Freezer bags
Foil containers
Glass containers (you can search thrift stores for those, or watch for them to go on sale on Amazon)
Plastic BPA free containers (search on amazon, or at your local Dollar Tree)
FoodSaver– but this is not a must, freezer bags from the grocery store work well (we have this model and use it for the vegetable, meat as well, we do freeze that don't lend themselves well to canning)
Mason jars- make sure that you still have a lot of head space at the top with liquids because it will expand if it's solid liquid.
Instant Pot Freezer Meal Tips
Make sure you freeze in a round container, I recommend what is called Reditainer, it's a 64 ounce food BPA free round plastic container off Amazon.
One of the biggest Achilles heels of freezer cooking is remembering to defrost a meal. -Tricia
This is why I love the instant pot. I can put a frozen meal into it, and an hour later have dinner on the table. I don't have to worry about defrosting anything or putting into my crock pot frozen. Placing food in your crock pot frozen runs the risk of a food-borne illness that stays in the danger zone too long.
If you don't have an Instant Pot, an electric pressure cooker (not for canning), it's one of my favorite modern appliances for fast and easy cooking. This is the model we have.

Freezer batch cooking beginner tips
First off, if you are a canner and you have done that for any length of time, you have enough patience to do freezer cooking and batch cooking.
Start with 5-10 recipes. Pick a recipe, whether it's on our site or elsewhere, and just plan on doubling each of them.
Stay away from stove top recipes (where you have to pre-cook ingredients) and pick recipes that aren't labor intensive. We call these dump and go recipes. You're basically throwing the ingredients together for it to cook on your serving day. These type of recipes are typically cooked in the slow cooker, baked or instant pot.
Double 5 recipes for 10 meals.
Pick recipes your family likes. If you're not sure if they're going to like a recipe, then you can make one for dinner that night and freeze one for later.
Start small. Starting manageable with a selection of recipes that will only take you a couple hours to put together NOT several hours or half of the day.
Invite a friend. It's always better and fun to do with somebody else. You can either make five meals, double them and she makes five meals, doubles them and then you swap some of those so that you have more variety, or you cook together.
Incorporate your kids. Both with the selection process and the making. It's something that's fun rather than a chore and it helps with meal time.
If you need some inspiration for your freezer cooking or how to incorporate your meals, walk down the freezer aisle, look at what they're doing and find similar recipes and use sites that have adapted those recipes for freezer cooking as your resource. -Tricia
What can't I freeze?
You CAN freeze dairy, but you have to heat it up slowly. Also, the water-based vegetables are harder. They don't come out as crunchy as they do at harvest, such as mushrooms and green peppers. If you really like the crunchy vegetables you may want to wait to incorporate those vegetables on your serving day versus doing it to frozen.
Click Here for Your FREE Batch & Freezer Cooking Recipe Sampler
Meal Prep Batch Cooking Tips.
Plan on going to the grocery store to pick of the rest of your ingredients, either the night before, a few days ahead, or that morning.
Have a list of all items that need to be chopped and sliced. Then have all those things ready and prepped in prep bowls, so be your own sous chef. Do all the ingredients as assembly line.
Put out a table and get all of the ingredients out that you need.
Have all of your storage containers ready.
Either clean up all at the end, or as you go.
One of the biggest tips is just learn from the efficiencies that you've done with canning and apply them to freezer cooking. -Tricia
One of the things that we've done with Once A Month Meals is incorporate efficiency and tips for you and tell you what to do. All you have to do is follow the list and the steps that we tell you to help you get those efficiencies.
Do you guys have different menu plans for different dietary needs?
Today we have nine plus menu types. Including real food, and, keto, and paleo, and Whole30, vegetarian, vegan nut-free, egg-free. We have some allergen, low FODMAP, low-histamine, those type of menu types too that are more specialized and we're hoping to create more of a database of those type of recipes as well. You're not going to find cream of soups or processed ingredients on that menu plan or any of those recipes.
We have menu plans that are already done so that you can just kind of grab and go and utilize them. Or you have 7,000 plus recipes in the database to use, and each of those recipes are tagged based on the criteria that that recipe needs.
Within the last year we've also hired a trained professional licensed staff dietitian. She goes through our menus and make sure that they're tagged appropriately and that they meet the standards for each of the tags that we want.
We have a volunteer test base of people who volunteer to test our recipes that are every day folk. Each recipe that gets put in our database gets sent to at least two individuals. They have to cook it, freeze it and then eat it before they submit their data. Then we revamp as needed re-send out to test cooks.
Melissa: Thank you so much for coming on today Tricia and sharing your wisdom with us. I'm really excited to put this into practice and to get my hands on the sample menu that you are providing.
Do you do homemade freezer meals or batch cooking?
Click Here for Your FREE Batch & Freezer Cooking Recipe Sampler
More Tips on Cooking and Baking from Scratch: