Some of the links below are affiliate links, which means I will earn a commission at no additional cost to you, if you click through and make a purchase. Regardless, I only link to products we use on our homestead or believe in.
12 baking substitutions every kitchen, especially a homestead kitchen, needs to know about. One of the things I pride myself on is not running to the store and having a well-stocked larder to cook and bake things from scratch. But even with the best of intentions, you know it happens.
When you start a recipe and realize, oh crud, I'm out of an ingredient. It happens to the best of us.
I don't know about you, but pretty much the end of November all the way through December, my least favorite place to be is the grocery store because, it gets a little bit crazy. Sometimes it's so busy, you can't even find a cart.
If your kitchen is like mine, then you're probably do a whole lot of baking. No worries, I've got some great healthy baking substitutions and hacks that I have used for years here on our homestead and I'm gonna share them with you so ya can skip that holiday frenzied rush to the grocery store.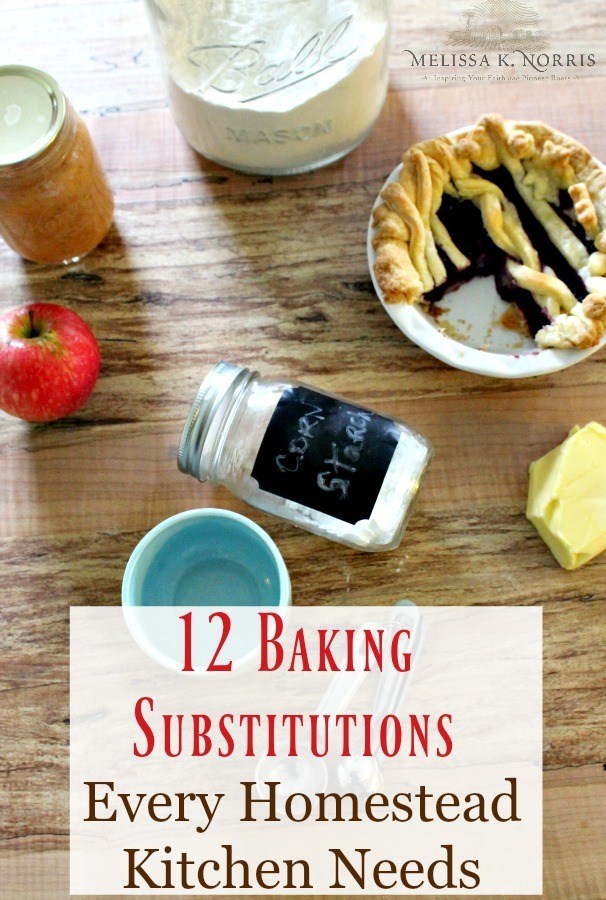 Speaking of holiday pie baking, ever struggle with:
having perfect flaky pie crust every time
rolling out the dough so it doesn't stick
what to do when your dough cracks
how to freeze your pie dough or your pies for easy baking
how to decorate those pies so they look as gorgeous as they taste
flour substitutions including fresh ground and ancient grains
Then you my friend need to join our FREE pie crust challenge, including my great-grandmother's recipe with her 2 secret ingredients (you get 3 generation of pie bakers expertise) all here –> get my FREE 6 Secrets to Flaky Pie Crust Every Time Guide
Listen below to, Episode #162 – 12 Baking Substitutions Every Homesteader Needs to Know of the Pioneering Today Podcast, where we teach families how to grow, preserve and cook their own food using old-fashioned skill sets and wisdom to create a natural self-sufficient home, with, or without, the homestead.
12 Baking Substitutions Every Homesteader Needs to Know
Buttermilk
Real, cultured buttermilk is a beautiful, beautiful thing. One of the reasons it's so gorgeous is because it adds extra acid to a recipe which produces a flakiness and light, airy texture. So if a recipe calls for buttermilk, like buttermilk biscuits, you do not want to use regular milk. You need that extra acid. Below are two buttermilk substitution options:
One cup of milk and add one tablespoon apple cider vinegar or one tablespoon lemon juice.
Let it sit for about five, 10 minutes, and it will curdle. Then just go ahead and use it in your recipe.
Another buttermilk substitution is using:
A cup of yogurt, sour cream, or kefir. Make sure that it's unsweetened and not flavored and sweetened.
Milk
I'm not a milk drinker, so oftentimes I will go to bake something and I'll grab the milk and I'm like, "Oh, we're almost out or there is definitely not enough here to make this recipe." So here are some many substitutions in place of milk.
Almond or coconut milk, make sure it's unsweetened.
Plain yogurt and/or sour cream and thin it out with a little bit of water.
Water and add an extra teaspoon of melted fat. (Melted butter, melted coconut oil, melted lard, or avocado oil is flavorless.
Cake Flour
Sometimes you will see recipes that specifically call for cake flour and I don't ever buy cake flour, or self-rising flour. In fact, if you want to go back and listen to Episode #161 Best Flour for Baking- Home Baker's Flour Guide 101 , I really get into the nitty gritty of what these different flours and how to use them with your baked goods. My substitution for cake flour is:
Grab your 1 cup measuring cup and add in 2 tablespoons of corn starch. (I only use non-GMO organic corn starch)
Top off the cup with your all purpose flour.
Self-Rising Flour
I really don't have any recipes that call for self-rising flour, but I know there's a lot of recipe books that do. So here you go:
1 cup of all purpose flour + 1 1/2 teaspoons baking powder + 1/4 teaspoon salt.
Mix it all together and it will equal one cup of self-rising flour.
Corn Syrup
A quick note about this one for a minute because if you know me, then you know that I am a huge advocate for staying away from and not consuming GMOs. High fructose corn syrup is a genetically modified product because most commercial corn grown in the United States is genetically modified. It's then severely processed in order for it to become high fructose. Corn syrup that you're buying for baking wise at home is generally not high fructose corn syrup. If you have a brand of organic and non-GMO verified corn syrup that you like to use, by all means, keep using that, but I have yet to find one in our local stores.
I don't use corn syrup very often, except during some of those holiday baking episodes, but a lot of those once a year recipes will call for corn syrup (candy making, some fudge recipes, caramels, homemade marshmallows, popcorn balls, caramel corn, etc). All of those things usually call for corn syrup. But I don't even stock it. I haven't stocked it for years. I've got two substitutions.
Honey or maple syrup, you'll use the same amount as the recipe calls for.
Water and sugar. Take 1 cup of sugar and a 1/4 cup of water. Heat the water up a little bit so that the sugar fully dissolves into it. Then you can use that in place of corn syrup in a recipe.
Brown Sugar
You don't want to just substitute in regular white sugar because the brown sugar has the molasses in it which adds flavor and moisture, causing your food to come out dry.
1 cup regular sugar and use 1 tablespoon molasses for light brown sugar. Add 2 tablespoons molasses for golden brown sugar.
We don't actually use regular white table sugar. I use organic evaporated cane juice, it's very similar to sugar in the raw so it's a caramel creamy color. This substitution will work fine no matter what type of sugar you have. Either the sugar in the raw, the evaporated cane juice, regular white sugar. Doesn't matter. I've tested it with all of them, but using the raw organic or evaporated cane juice does make this a tad more of healthy substitute for brown sugar in baking.
Powdered Sugar
I rarely purchase powdered sugar from the store. But when you really do need powdered sugar for certain recipes, especially when it comes to homemade frosting because regular sugar ends up giving a pretty gritty texture.
Take regular sugar, what ever you need for the recipe, and grind it up until it's fine and powder. A coffee grinder, high powered blender, or food processor all work.
Be sure you pulse it so it doesn't get super hot.
Healthy sugar substitutes for baking (equal natural substitutions for sugar)
Other than some holiday recipes and traditional family favorites, I try to keep our sugar at a minute. So here is a natural sugar free substitute that I use that you can replace cup for cup in baking for healthy baking substitutions.
I find that powdering the erythritol in a coffee or spice grinder first for things like frosting, cheesecakes and glazes is best.
This is not like it's aspartame or those different blends on the store shelves that say that they are sugar free substitutes. This is the good stuff and it is a lot more frugal.
Heavy Cream
This is one of my favorite things. But sometimes you don't always have heavy cream or maybe you don't have enough of heavy cream because you have used too much too liberally in your coffee or your homemade hot cocoa. Here's a good substitute for you:
3/4 cup milk (preferably whole) and 1/4 cup melted butter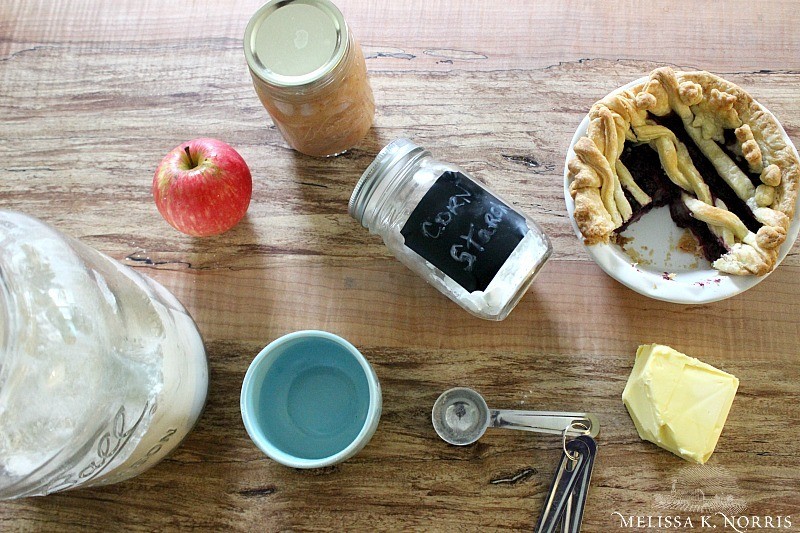 Oil – low fat baking substitutions
Sometimes people want to just lower the fat content of a recipe and other times you just might not have oil or you don't have enough. This is a healthy cooking substitution and allows me to use two crops we can grow ourselves. You can swap out (in baked goods) cup for cup of:
Apple sauce and/or
Pumpkin puree.
If your apple sauce has sugar in it or is really sweet naturally, then you may want to cut back on the sweeteners within the recipe.
1 ounce semi-sweet chocolate squares
I rarely have bakers chocolate on hand, but I've always got cocoa powder on hand. So this is a great substitution for one ounce of a semi-sweet chocolate square.
3 tablespoons of unsweetened cocoa powder with one tablespoon butter or coconut oil. You want the butter to be soft and then mix them together.
This is a replacement for one ounce. You would double or triple or whatever you would need to meet the ounces with that substitution.
Pumpkin Pie Spice (or apple pie spice)
Pumpkin pie spice in your baking, there's no need to buy pre-made pumpkin pie spice. It is so easy to make at home. In fact, I have never bought pumpkin pie spice. Now I don't like cloves, and when you buy the store version, it's gonna have some cloves in there. So here is a substitution with or without cloves.
2 teaspoons ground cinnamon + 1 teaspoon ground ginger + 1 teaspoon ground nutmeg, optional add in either 1/2 teaspoon ground cloves or 1/2 teaspoon ground cardamom).
I call this pumpkin pie spice, but really works awesome in apple pie, or anytime you're doing a spice cake, it's a great blend to put in.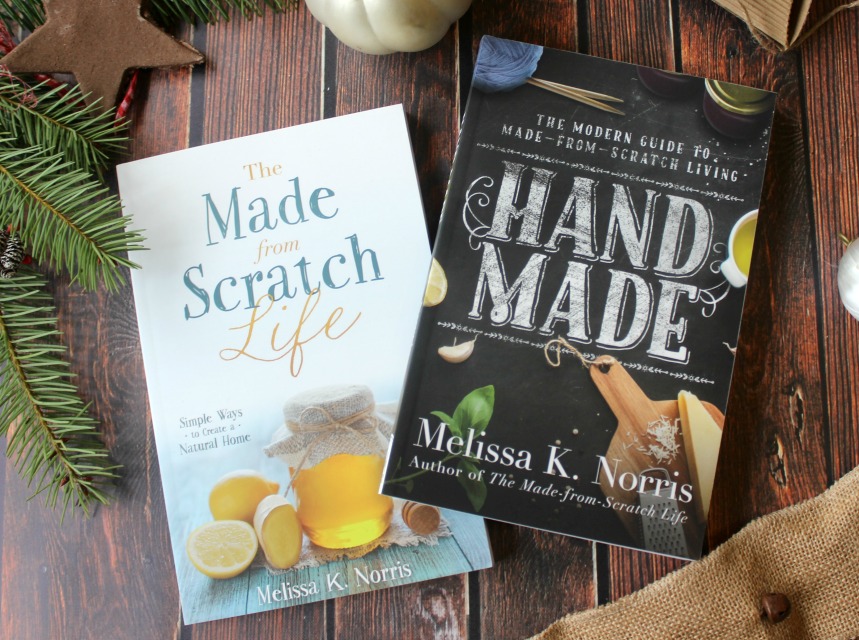 If you are looking for more old fashioned, from scratch tips and cooking just like this, you are definitely gonna want to check out both my books, —–> The Made-From-Scratch Life, and, Hand Made: The Modern Woman's Guide to Made-from-Scratch Living <——- are packed with recipes and information just like this to help you serve up amazingly tasty food with old fashioned whole ingredients.
Also, if you have the Made-From-Scratch Life or you're planning on ordering it, you can go to, madefromscratchlife.com and the bonus button. There's a little form for you to fill out but there is a gorgeous ingredient substitution chart all done up for you that has a lot of these included in it. It looks like it's a chalkboard art. So you could print it out, and frame it, or keep it in your kitchen up on the wall. It's that pretty.
There you have it, my 12 baking substitutions. I want to thank you so much for joining me on this episode of the Pioneering Today Podcast. I hope you have a wonderful Thanksgiving day filled with delicious from scratch food, a thankful heart, and the company of those you love.
More Tips on Cooking and Baking from Scratch: