Here are 37 ingredient substitutions every kitchen, especially a homestead kitchen, needs to know about. From running out of basics like butter or sugar to some of the more specialty items like cornstarch or cream of tartar. We all need to know a substitution from time to time.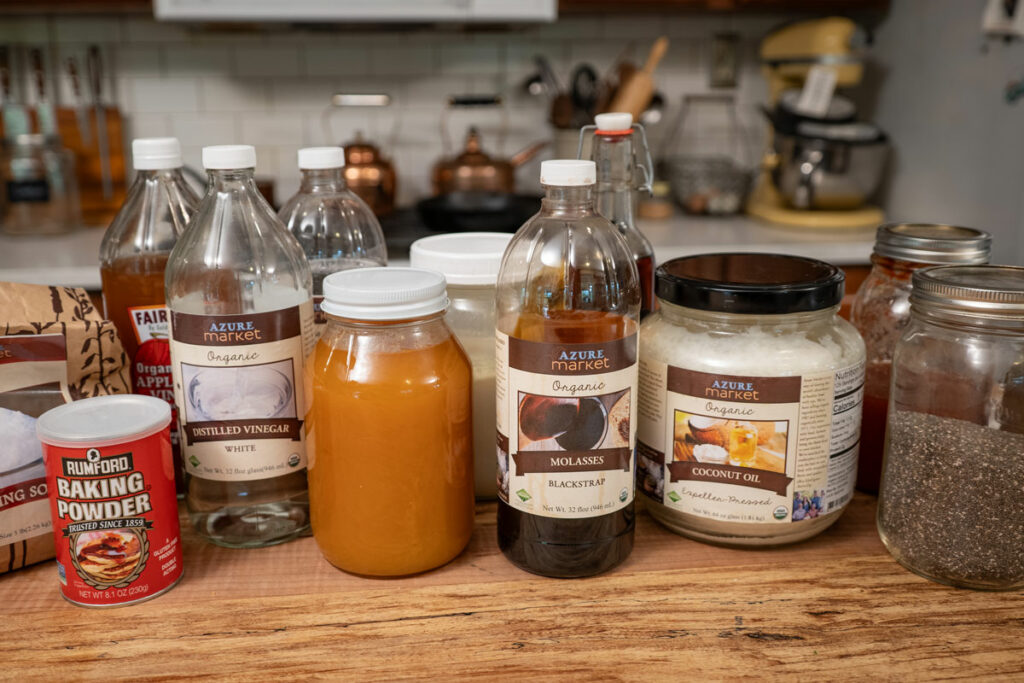 One of the things I pride myself on is not running to the store very often. The only way this happens is by having a well-stocked pantry with must-have supplies to cook and bake things from scratch. But even with the best of intentions, you know it happens. When you start a recipe and realize, "Oh, crud, I'm out of an ingredient!" What do you do then? Look to this list of ingredient substitutions!
Why Ingredient Substitutions Are Important
Ingredients matter, especially in baking, so knowing an equivalent ingredient substitution that will work the same way is important.
I've shared my baking hacks for busy nights, my time-saving tips when cooking from scratch, as well as how to stock your pantry for easy weeknight meals. Those are all great places to start.
You may also want to check out these 13 healthy ingredient swaps you can make in your kitchen, or these must-have homestead kitchen items as well.
But now, back to the ingredient substitutions because that's what you're here for!
Listen below to, Episode #162 – 12 Baking Substitutions Every Homesteader Needs to Know of the Pioneering Today Podcast, where we teach families how to grow, preserve and cook their own food using old-fashioned skill sets and wisdom to create a natural self-sufficient home, with, or without, the homestead.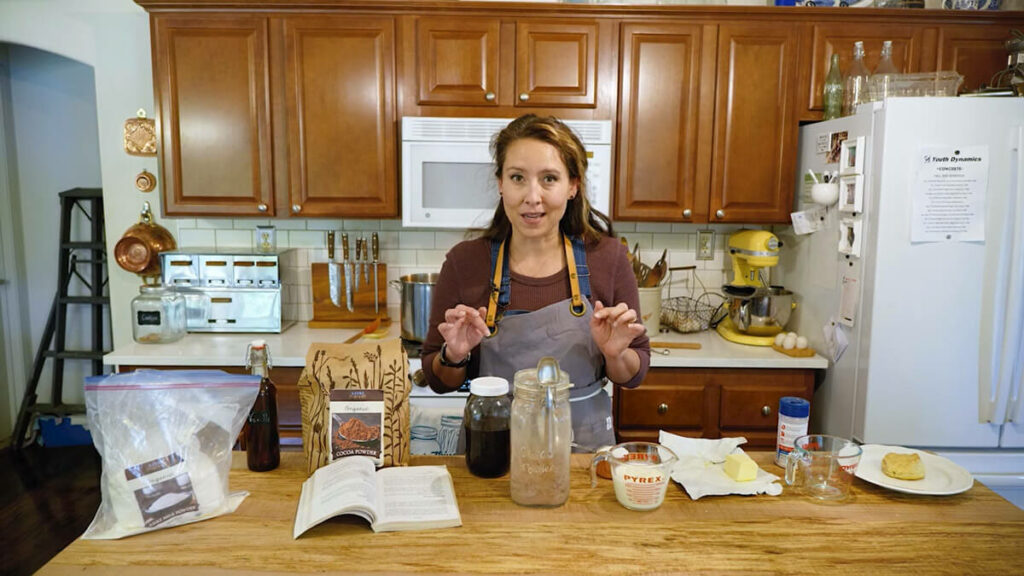 Common Baking Ingredient Substitutions
Baking Powder
Certain recipes will call for baking powder as a rising agent. It's job is to create air bubbles which give your baked goods a light, airy texture.
For every teaspoon of baking powder, replace with ½ teaspoon vinegar and ¼ teaspoon baking soda.
Baking Soda
Certain recipes will call for baking soda as the rising agent, usually in combination with an acid. Baking soda's job is to create air bubbles which give your baked goods a light, airy texture.
If you don't have any baking soda, triple the amount of baking powder in the recipe. So if a recipe calls for 1 teaspoon baking soda, use 3 teaspoons baking powder instead. If a recipe calls for baking powder, also include that amount in the recipe.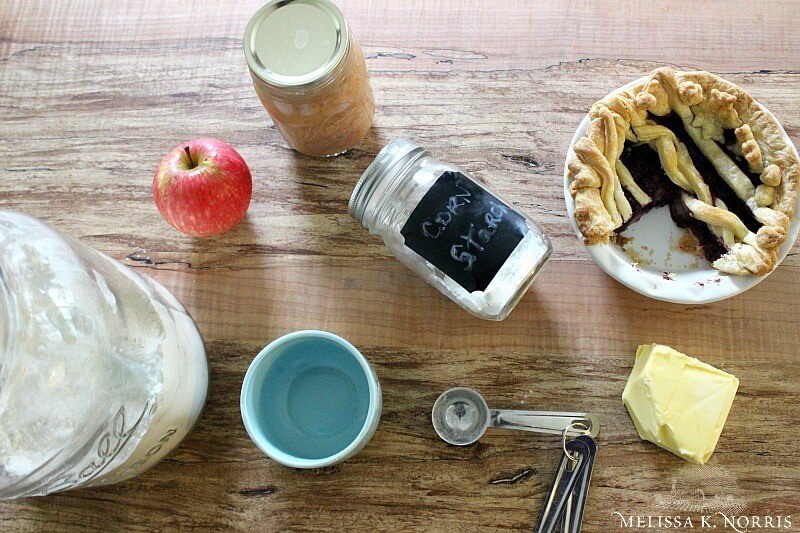 Cornstarch
Generally speaking, cornstarch is used as a thickening agent when added to soups, stews and gravies. Because it's denser than flour, less of it is needed to thicken a liquid to the desired consistency.
Substitute 1:1 with one of the following:

Potato starch
Rice flour
Tapioca starch
Arrowroot powder
Xanthan gum
Psyllium husk

If you don't have any of these, use one and a half times the amount called for of all-purpose flour.
Cream of Tartar
Cream of tartar is often called for when whipping egg whites. It stabilizes the bubbles, helping them not to deflate. It also prevents crystallization, so depending on your recipe, it may or may not be absolutely necessary.
For every ½ teaspoon cream of tartar, sub one teaspoon lemon juice or white vinegar.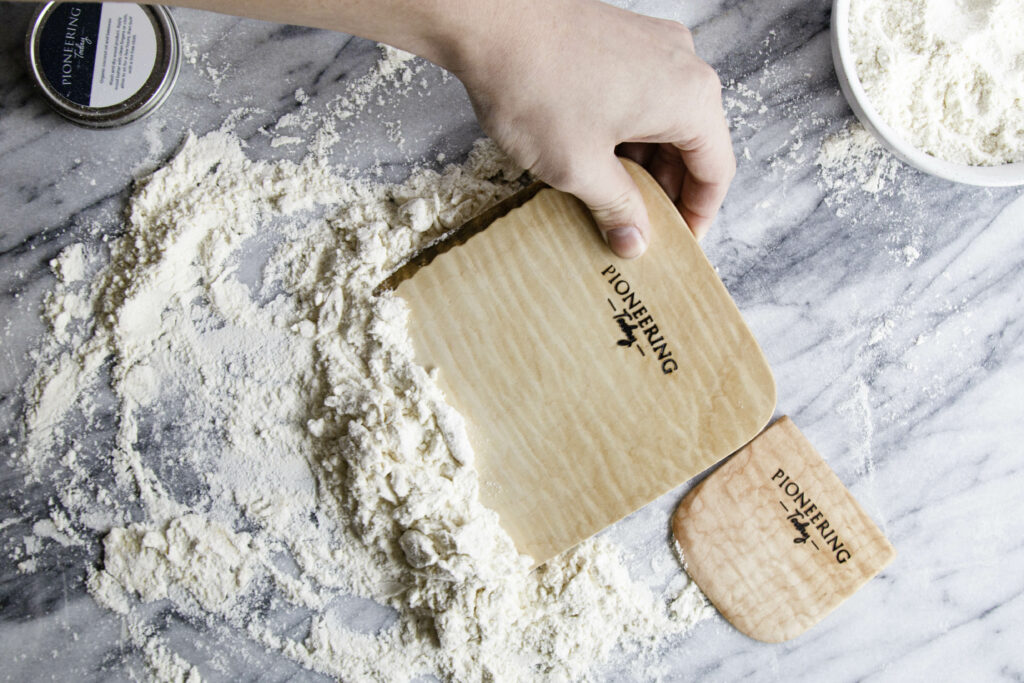 Specialty Flour
Sometimes you will see recipes that specifically call for cake flour. I don't ever buy cake flour or self-rising flour. In fact, if you want to go back and listen to Episode #161 Best Flour for Baking- Home Baker's Flour Guide 101, I really get into the nitty-gritty of how these different flours work and how to use them with your baked goods.
Cake Flour Substitution – Add 2 tablespoons of corn starch (I only use non-GMO organic corn starch) to a one-cup measuring cup. Top off the cup with all-purpose flour.
Self-Rising Flour Substitution – Add 1 ½ teaspoons baking powder and ¼ teaspoon salt to a one-cup measuring cup. Top off the cup with all-purpose flour.
Learn how to grind your own flour here.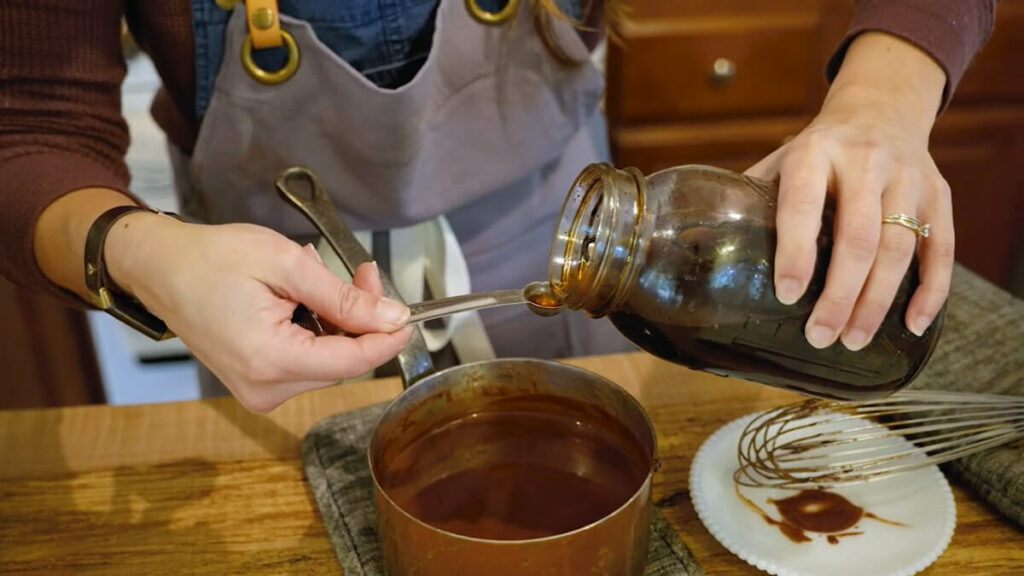 Vanilla
You may think vanilla is a necessary ingredient for a recipe. But you might also be surprised at how delicious something can be by trying one of these substitutions!
Vanilla paste
Vanilla powder
Vanilla sugar
Almond extract
Maple syrup
Check out my homemade vanilla extract.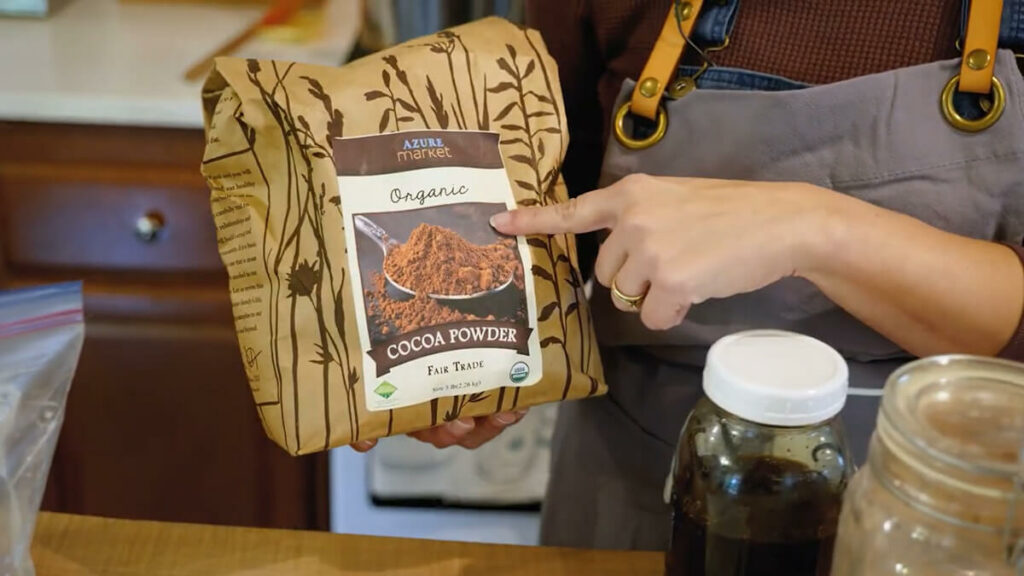 Dutch Process Cocoa
You can get away with substituting any other cocoa powder you have on hand. But if you don't have any kind of cocoa in the house try the following:
Replace 3 Tablespoons of Dutch-processed cocoa powder with 1 ounce of unsweetened baking chocolate.
Natural Cocoa Powder
If you run out of cocoa powder and need to make a recipe that calls for it, try substituting one of the following…
Use 1:1 one of the following options:

Powdered peanut butter
Carob powder
Baking chocolate
Hot cocoa mix (though this option may not always work, you may be pleasantly surprised by the results!)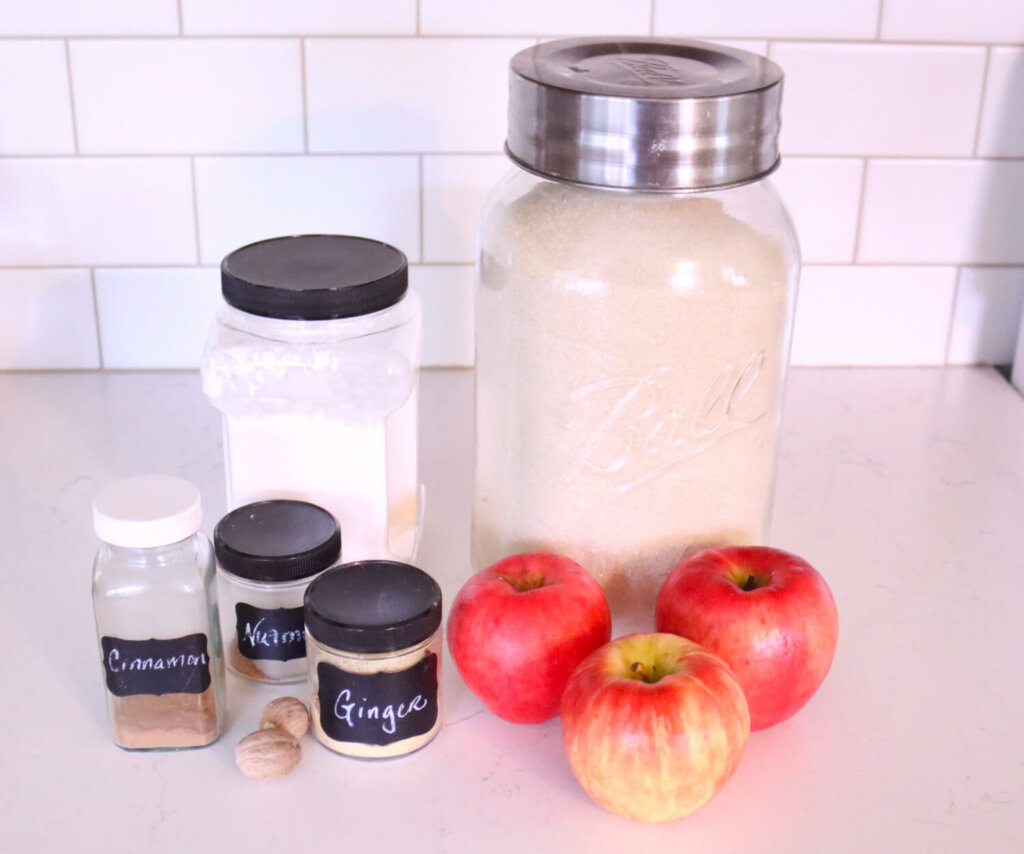 Pumpkin Pie Spice (or Apple Pie Spice)
I don't like cloves, and store-bought pumpkin pie or apple pie spice always includes this. So, I created my own recipe! Mix this up with or without cloves and never buy these spices again.
Mix together 2 teaspoons ground cinnamon, 1 teaspoon ground ginger, 1 teaspoon ground nutmeg, and either ½ teaspoon ground cloves (optional) or ½ teaspoon ground cardamom (optional).
I call this pumpkin pie spice, but it works well in homemade apple pie filling and for spice cake as well. You may also enjoy my no-bake pumpkin cream pie or great-grandmas pumpkin roll recipe.
Allspice
Allspice is simply cinnamon nutmeg and cloves, so mix up your own with the following…
Mix together ½ teaspoon ground cinnamon, ¼ teaspoon ground nutmeg and ¼ teaspoon ground cloves. Use 1:1 as you would Allspice.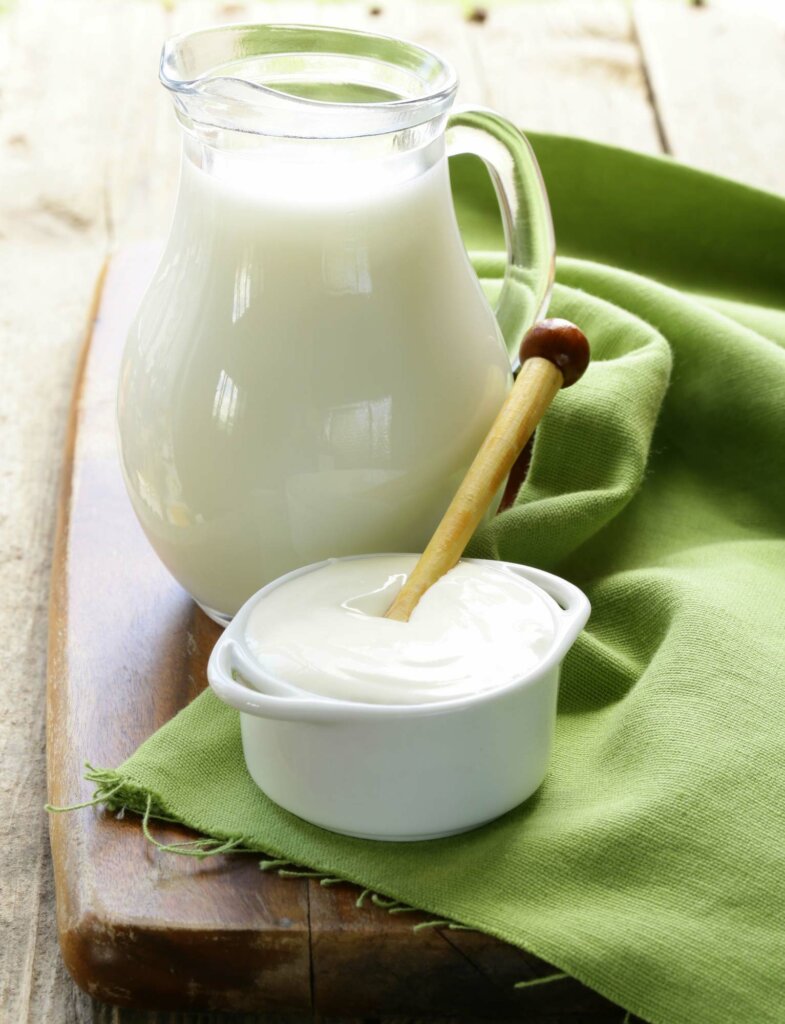 Liquids
Buttermilk
Real, cultured buttermilk is a beautiful, beautiful thing. One of the reasons it's so gorgeous is because it adds extra acid to a recipe, which produces a flakiness and light, airy texture. So if a recipe calls for buttermilk, like buttermilk biscuits, you do not want to use regular milk. You need that extra acid. Learn to make real cultured buttermilk here.
One cup of milk and one tablespoon of apple cider vinegar or one tablespoon of lemon juice. Stir to combine and let it sit for about five to ten minutes. It will curdle slightly, then just go ahead and use it in your recipe.
One cup of yogurt, sour cream, or kefir. Make sure that it's unsweetened and not flavored and sweetened.
Half & Half
Half and half is simply half milk half heavy cream. You can easily make this at home, but you will want to pay attention to the milk you're using. For example, if you're using whole milk, a 1:1 ratio will work well. However, if you're using skim milk, you may want to increase the heavy cream portion.
Equal parts milk and heavy cream.
Whole milk + butter
Evaporated milk
Sour cream, plain yogurt or greek yogurt thinned with a little water (these will add tanginess)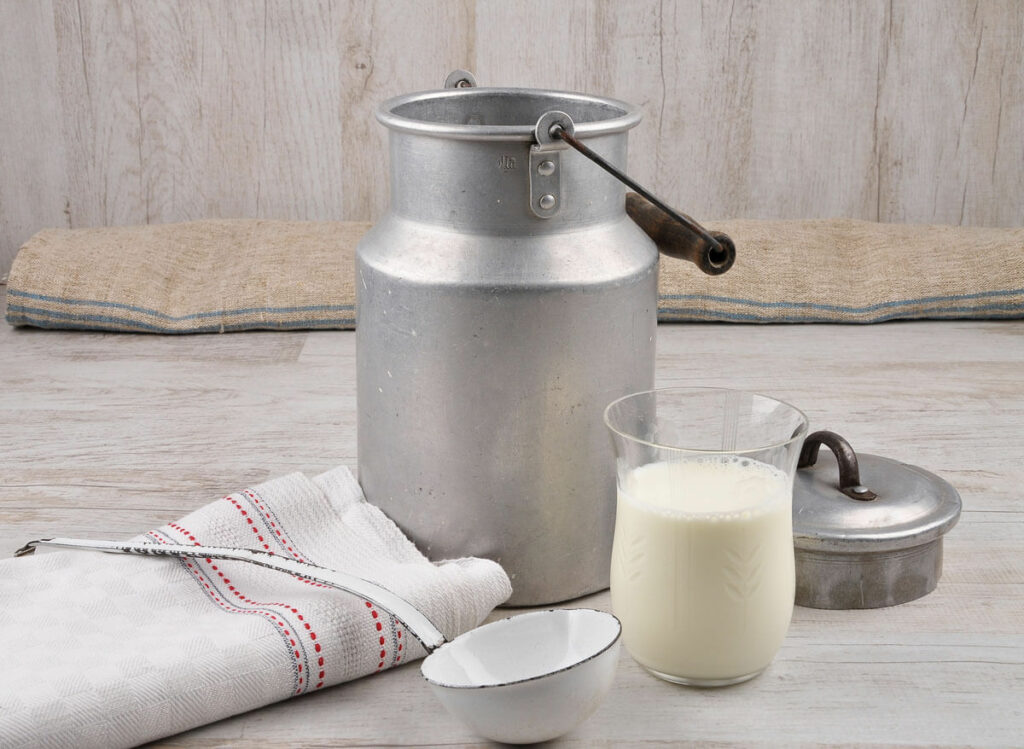 Milk
Milk is one of the easier ingredients to substitute. Sometimes it's just being used for liquid purposes, but oftentimes the fat in the milk is necessary for the recipe.
Almond or coconut milk (canned or carton): make sure it's unsweetened.
Plain yogurt and/or sour cream, thinned out with a little bit of water.
Water and a teaspoon of melted fat. Fat options: butter, coconut oil, lard, or avocado oil. I recommend using avocado oil as a flavorless option.
Heavy Cream
I'll admit I run out of this one far too often… maybe it's because I've been a bit too liberal with the cream in my coffee or homemade hot cocoa!? If you need heavy cream for baking, here's a good substitute for you.
¾ cup milk (preferably whole) and ¼ cup melted butter.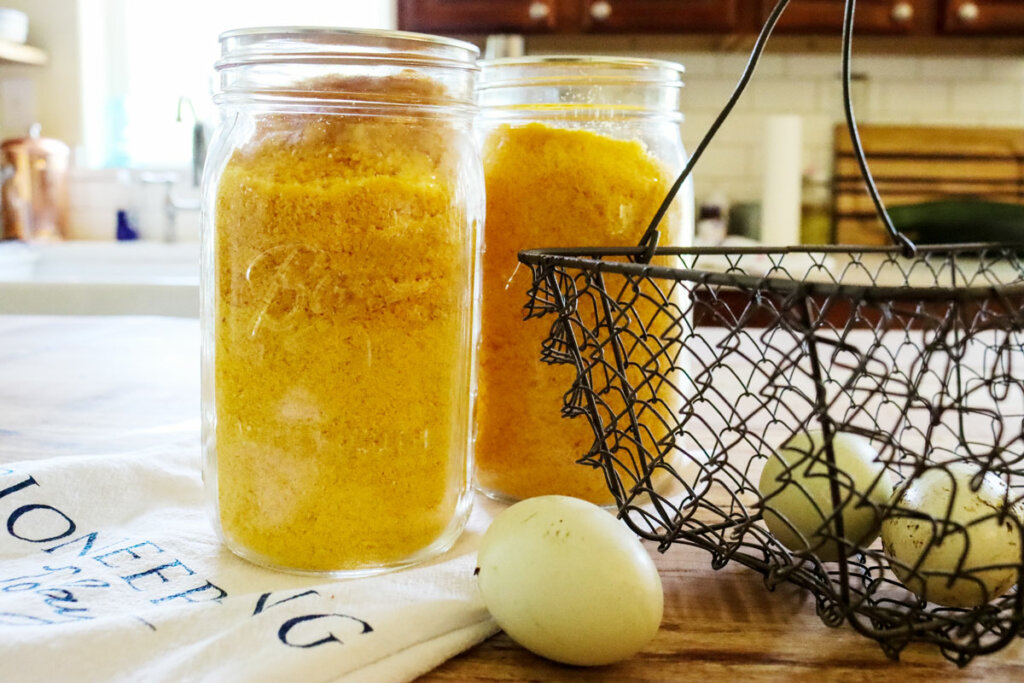 Eggs
There are many options when it comes to egg substitutions. Depending on what the egg's purpose is in the recipe, one of the following options should work.
Flax egg – combine one tablespoon of ground flaxseed with three tablespoons of water. Mix well and let sit for five minutes before using.
Chia egg – combine one tablespoon chia seeds (ground or whole) with 2 ½ tablespoons water. Mix well and let sit for five minutes before using.
Mashed banana
Applesauce
Yogurt
Buttermilk
Sweetened condensed milk
I love to have freeze-dried eggs on hand at all times so I never need an egg replacement.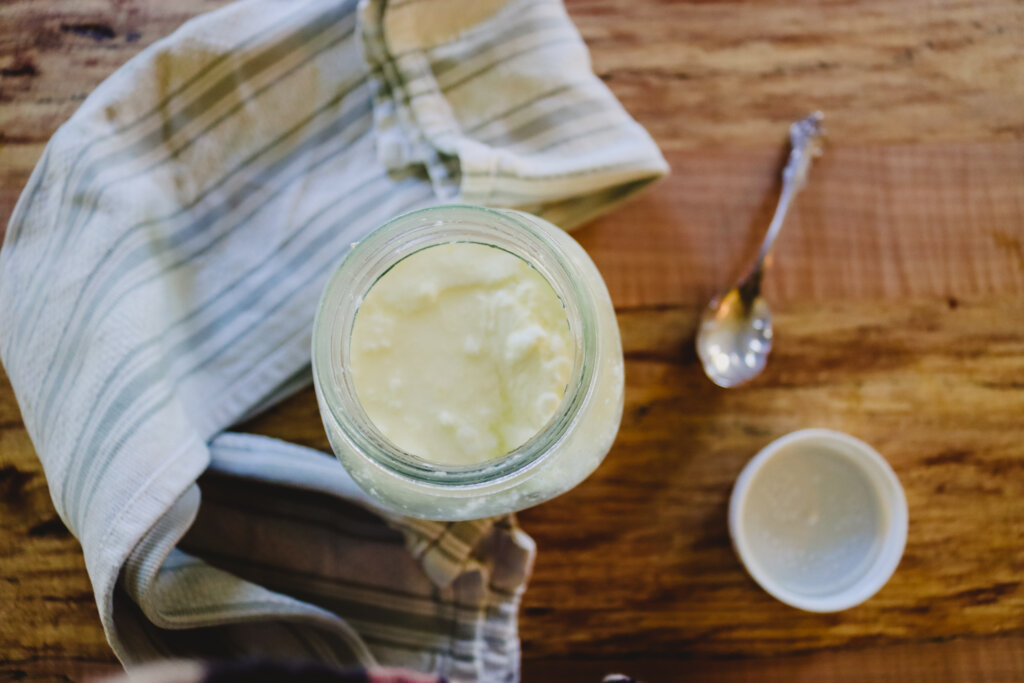 Yogurt
Because yogurt is tangy, any of the following dairy products can be swapped out (and vice versa!). I usually have one of these on hand at all times (or at the very least, faux buttermilk).
Creme fraiche
Sour cream
Buttermilk
Cottage cheese (blended)
Ricotta cheese
Learn how to make yogurt at home and never be without it again!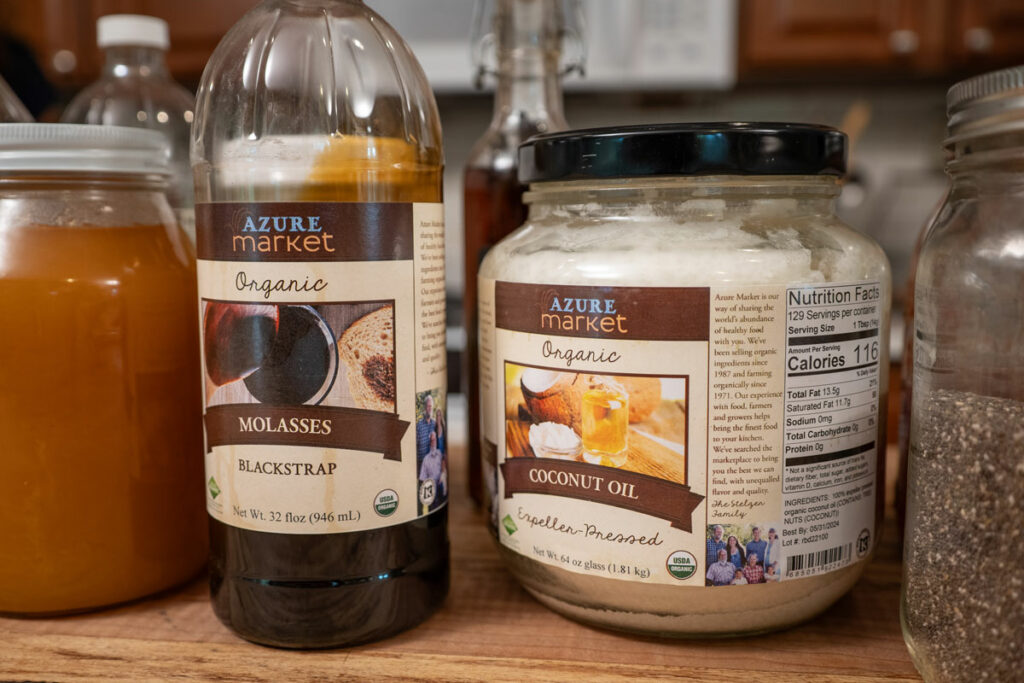 Fats
Butter
It really depends on the need for butter in the recipe as to which of the following ingredient substitutions you choose. In general, you can substitute 1:1 for your specific recipe. The results may not turn out exactly the same, but it could save you from having to toss your ingredients!
Olive/Avocado oil
Coconut oil
Pumpkin puree
Applesauce
Greek yogurt
Bananas
Shortening
My hope is that you've long eliminated shortening from your cupboard. But some of great-grandma's recipes do call for it! So here are my healthier go-tos when it comes to ingredient substitutions for shortening:
Butter
Lard
Coconut oil
Ghee
Bacon grease
Learn how to Render lard here so you always have some on your shelf.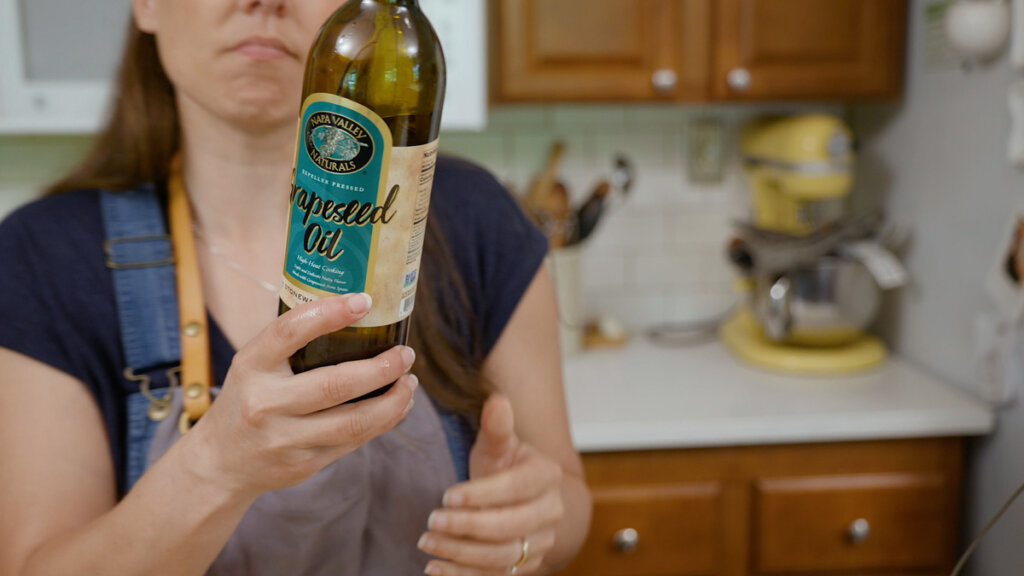 Oil
Many times different oils can be swapped out successfully. For example, I can swap out avocado oil for olive oil in any dressing recipe. The most limiting factor when substituting an oil is the desired flavor profile for the recipe.
You wouldn't want to substitute sesame seed oil in a baked goods recipe calling for butter. However, you can sometimes successfully substitute a flavorless oil such as avocado oil or coconut oil for butter.
This takes a little practice in knowing what the end result should taste like and thinking about what other oils you have on hand.
However, when it comes to oil and baking, there are a couple other options. These oil substitutions for baked goods work great if you run out of oil or simply want to cut down on the calories of your favorite recipe. The beauty of these ingredient substitutions is that you can substitute all or some of the oil in a recipe.
Oil substitutions (for baked goods)
Apple sauce – swap out cup for cup.
Pumpkin puree – swap out cup for cup.
Mayonnaise – though this wouldn't be considered a low-calorie option, you can substitute mayonnaise in baked goods for the oil called for in the recipe.
Pro Tip: If your apple sauce has sugar in it, or is really sweet naturally, then you may want to cut back on the sweeteners within the recipe.
I'm just getting into learning about growing and pressing my own seed and nut oils. You can listen to my podcast on pressing nut and seed oils at home here.
Sour Cream
Some ingredient substitutions will work better than others here. Again, consider your recipe and choose which one will work best.
Yogurt
Mayonnaise
Buttermilk
Creme fraiche
Cream cheese
Milk kefir
Mexican crema.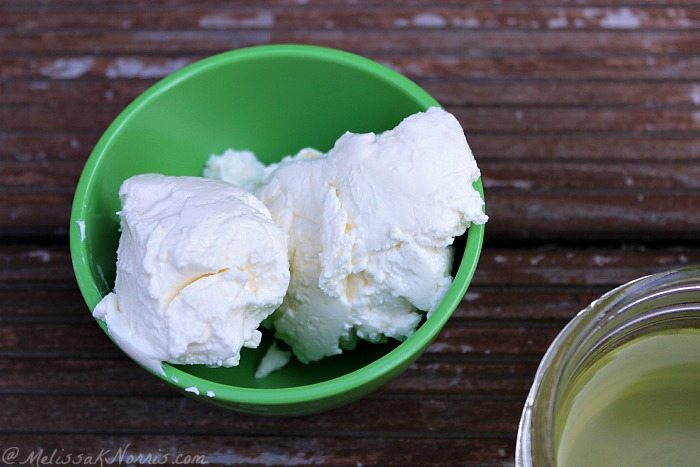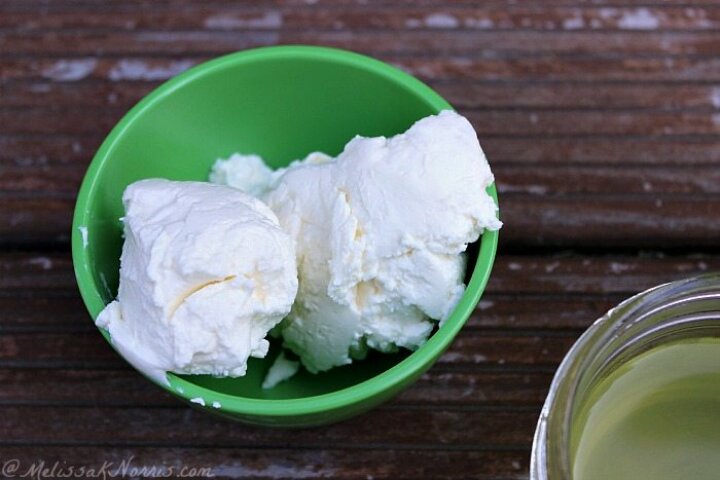 Cream Cheese
Not having cream cheese for certain recipes will be a show stopper. However, you may be surprised when you think outside the box!
Depending on the recipe, you can try one of the following: blended cottage cheese, greek yogurt, ricotta cheese, mascarpone cheese, Neufchatel, or even milk kefir with some chia seeds to thicken it.
Peanut Butter
This may seem like a no-brainer, but I'm not going to assume you all know that most nut-butters can be substituted 1:1 in any recipe. Have you ever tried making hazelnut butter cookies? You're welcome!
Almond butter
Cashew butter
Walnut butter
Hazelnut butter
Pecan butter
Sunflower butter (nut-free option)
If you don't have nut butter on hand, learn how to make peanut butter.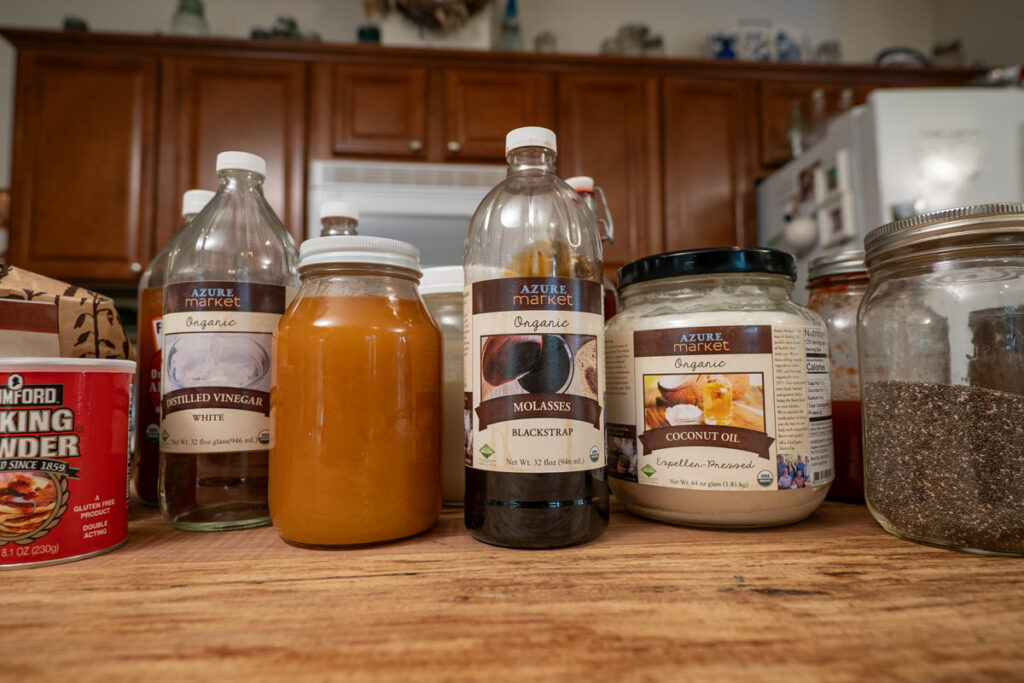 Sweeteners
Honey
Though your recipe may not turn out exactly the same, most sugars can be substituted out. It's important to know if the honey is used as a thickener or binder in a recipe. For example, if you're making no-bake oatmeal bites, you'll want to substitute another "sticky" sweetener such as molasses and possibly maple syrup.
Raw sugar
Brown sugar
Maple syrup
Molasses
Date paste
Molasses
The same goes for molasses as with honey. Many times the molasses is creating a desired consistency in the recipe. In which case, honey or sorghum syrup are your best ingredient substitutions here.
Honey
Maple syrup
Sorghum syrup
Simple syrup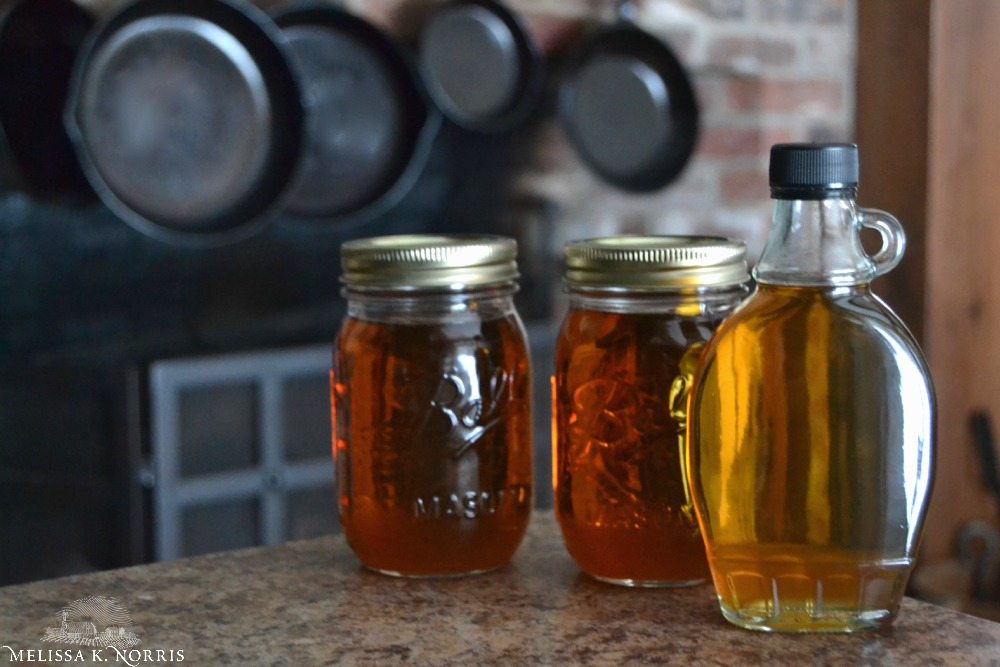 Maple Syrup
There's no real substitution if the hope is topping homemade pancakes or waffles… however if a recipe calls for maple syrup as the sweetener of choice, you have some options:
Honey
Molasses
Simple syrup
Brown sugar syrup
Coconut nectar
Agave nectar
Keto syrup alternative
Be sure to check out my Homemade Maple Syrup Guide.
Corn Syrup
I don't use corn syrup very often, except during some of those holiday baking episodes (most candy making, some fudge recipes, caramels, homemade marshmallows, popcorn balls, caramel corn, etc., tend to call for it). I also try to stay away from GMOs, which most corn products are made from GMO corn. Learn about GMOs here and how to keep GMOs out of your food here.
If you find yourself needing corn syrup and don't want to make a special trip to the grocery store, I have two options for you…
Honey or maple syrup, you'll use the same amount as the recipe calls for.
Water and sugar. Take 1 cup of sugar and a ¼ cup of water. Heat the water up a little bit so that the sugar fully dissolves into it. Then you can use that in place of corn syrup in a recipe.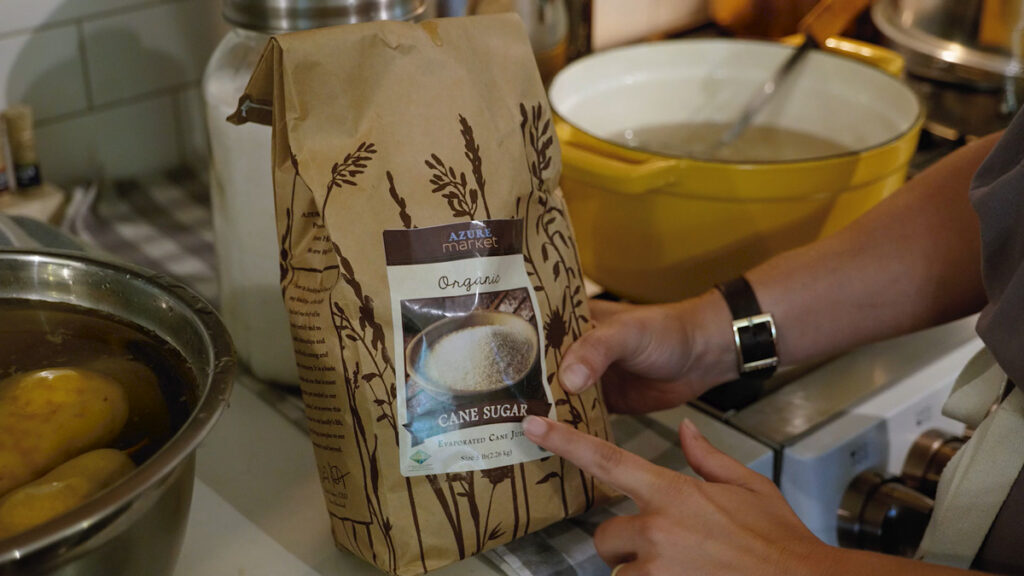 Brown Sugar
You don't want to just substitute in regular white sugar because the brown sugar has the molasses in it which adds flavor and moisture, causing your food to come out dry.
Light Brown Sugar – One cup regular sugar and one tablespoon of molasses.
Golden/Dark Brown Sugar – One cup regular sugar and two tablespoons molasses.
Pro Tip: I only use organic evaporated cane juice in our home. It's very similar to sugar in the raw with a caramel creamy color. This substitution will work fine no matter what type of sugar you have. Either the sugar in the raw, the evaporated cane juice, or regular white sugar. Doesn't matter. I've tested it with all of them. However, using raw organic or evaporated cane juice does make this a tad more of a healthy substitute for brown sugar in baking. If you don't have any molasses, you can use maple syrup or honey as a mock brown sugar.
Powdered Sugar
Now that I know how easy it is to make powdered sugar at home, I only buy it when I need it for specialty items, like homemade frosting. This homemade version does tend to be a tad more "gritty" because, even with a high-powered blender, it's hard to get it as smooth as the store-bought kind.
In a high-powered blender, coffee grinder, or food processor, add one cup of granulated sugar and pulse it until it's fine and powdery. Allow the machine to rest occasionally so it doesn't heat the sugar up too much. This will make approximately 1 ½ cups of powdered sugar, so adjust according to your recipe.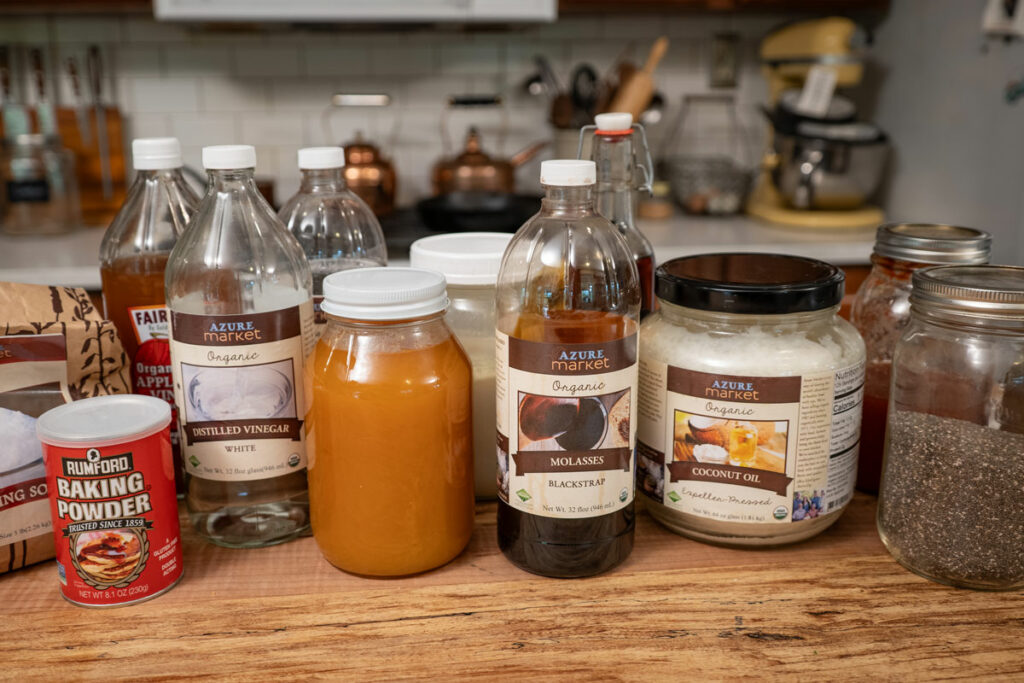 Sugar-Free Sugar Options
Other than some holiday recipes and traditional family favorites, I try to keep our sugar intake to a minimum. So here is a natural sugar-free substitute that I use that you can replace cup for cup in baking for healthy baking substitutions.
Pro Tip: I find that powdering the erythritol in a coffee or spice grinder first for things like frosting, cheesecakes and glazes is best. Learn more tips for cutting out sugar here.
Semi Sweet Chocolate
I rarely have bakers chocolate on hand, but I've always got cocoa powder. So this is a great substitution for one ounce of a semi-sweet chocolate square.
3 tablespoons of unsweetened cocoa powder mixed with one tablespoon of softened butter or coconut oil. Using a fork or a stand mixer, combine the two together until fully incorporated.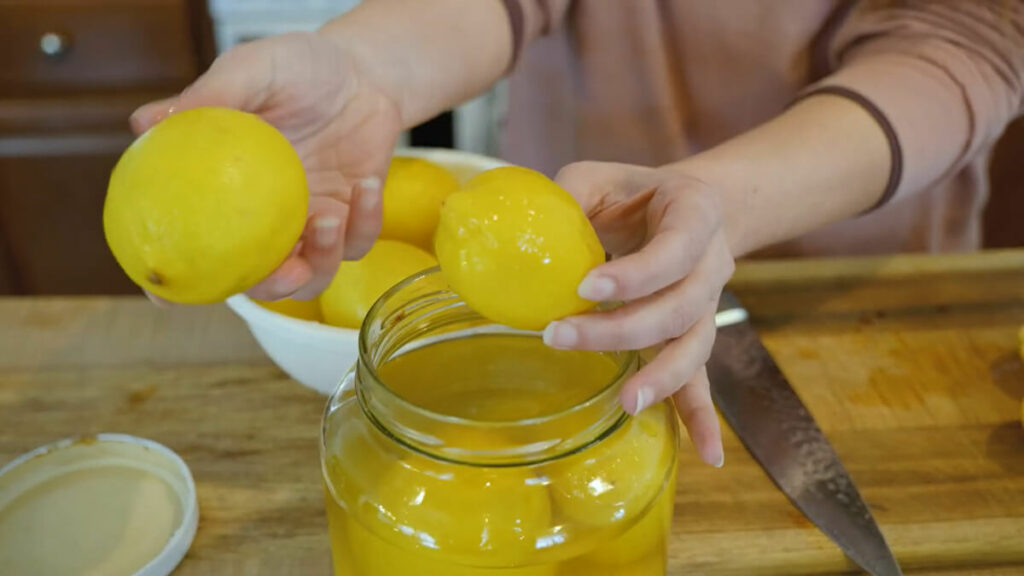 Other Ingredient Substitutions
Lemon Juice
Many times it's the acid needed in a recipe, in which case lime juice is a great substitute. But other times, it's the tanginess and flavor of the lemon. Here are a few options:
Lime juice
Orange juice
Vinegar
Citric acid (1 teaspoon of citric acid equals about ½ cup of lemon juice)
Alternatively, learn how to store lemons for a year so you never run out of lemon juice again!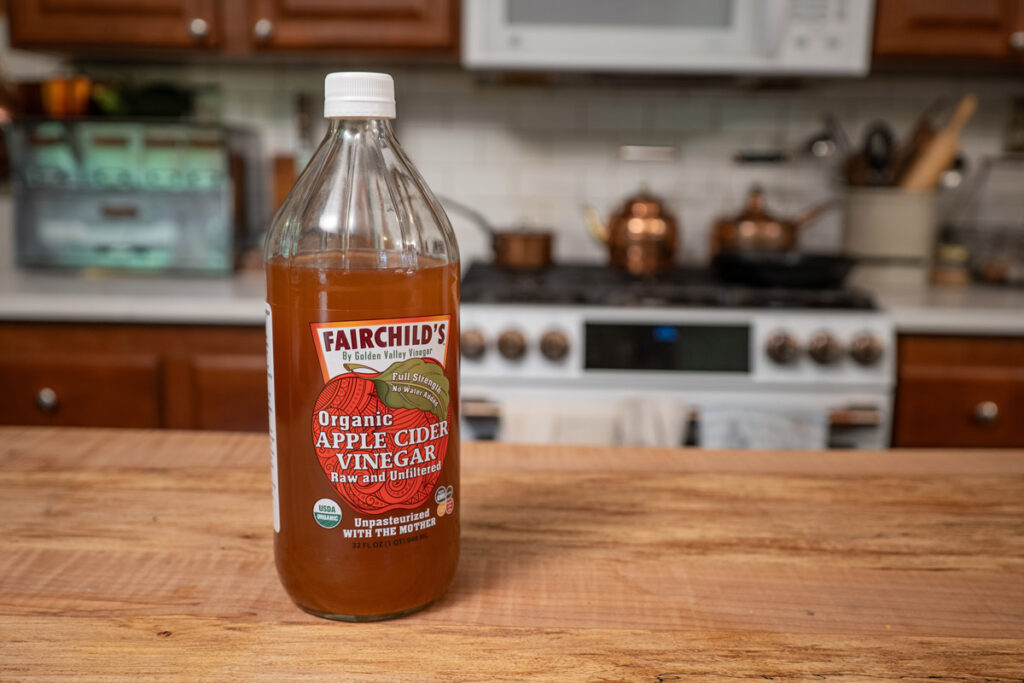 Vinegar
Most of the time you're only using tiny amounts of vinegar in a recipe, so you won't even taste it if you swap vinegar out with one of the following. Use equal parts of the following options…
Lemon juice
Lime juice
Cider vinegar
Malt vinegar
Learn how to make raw apple cider vinegar here.
Beer
Beer can be a tricky one, depending on the intended outcome for the recipe. If it's simply added liquid with a bit of flavor, an easy swap is homemade bone broth. But if the bubbles are needed, you may need to try another carbonated option.
For many sauces, you can substitute equal amounts bone broth.
Or try a can of Coke, Pepsi or even Zevia (especially if you need the carbonation for the recipe).
Though I haven't tried this, I think kombucha would also work (though if you're heating it, you may ruin some of the probiotic benefits).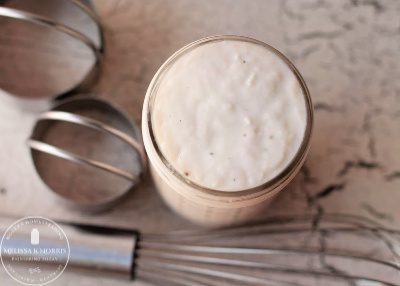 Condensed Cream of Soups
Make it homemade! Try any one of the following homemade options below:
Tomato Paste
Tomato sauce or tomato puree – For every tablespoon of tomato paste needed, use 3 tablespoons of tomato puree or sauce. You can optionally reduce them down to thicken them prior to using.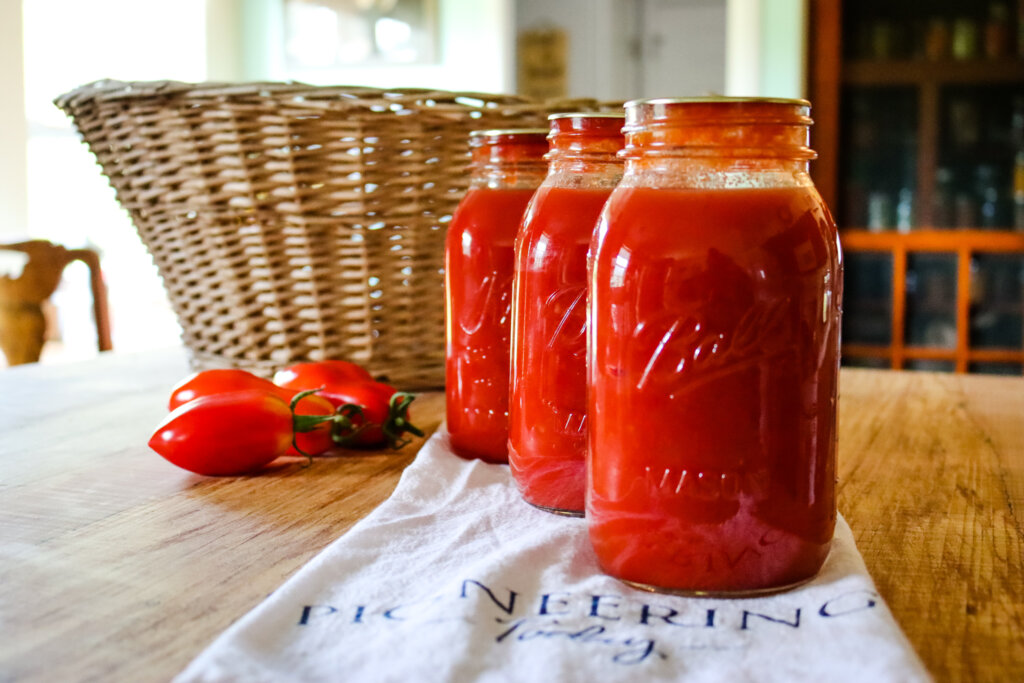 Tomato Sauce
I love having homemade tomato sauce on hand. In a pinch, I can cook it down for tomato paste, make tomato soup, or even whip up some homemade ketchup! However, if you don't have tomato paste, you can try one of the following options:
Tomato paste (with some water or bone broth added to thin it out to the right consistency)
Canned tomatoes (blended)
Tomato soup – this may not be a perfect solution, but it's an option.
Ketchup – keep in mind this will generally include sugar, so adjust your recipe as needed.
Fresh tomatoes (blended)
Sun-dried tomatoes (soaked in water, then blended) – this one is a stretch, but I figured I'd list it here if it's the only ingredient substitution you have on hand. Give it a try!
I like to can my own tomato sauce every year to keep my shelves lined!

Azure Standard
As you can see, many of my bulk food items come from Azure Standard, and they're the sponsor of this podcast. If you're looking to stock your pantry with healthy products that you can trust their sourcing, Azure is for you.
Right now, if you're a first-time Azure Standard customer, you can also get 10% off your first order ($50 minimum) with coupon code MELISSA10 at checkout.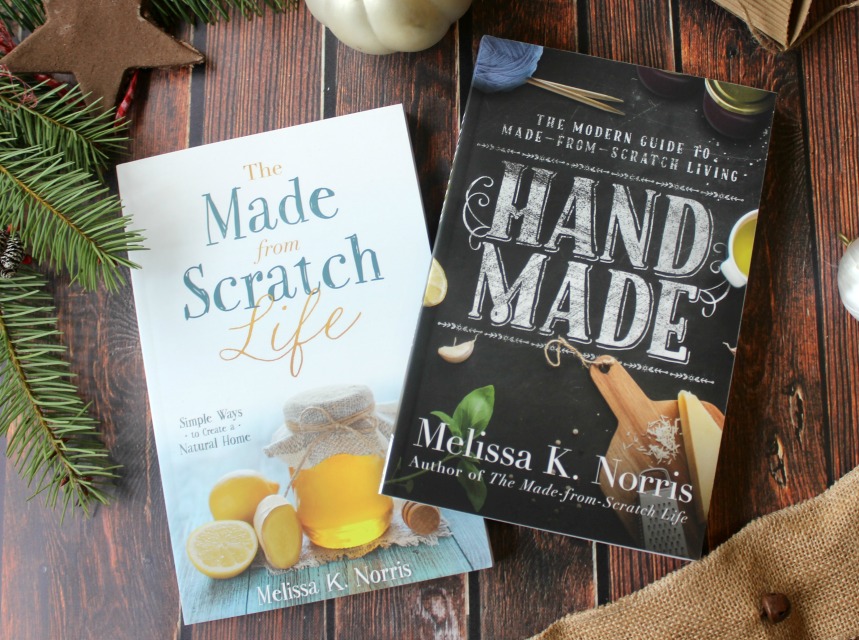 If you are looking for more old-fashioned, from-scratch tips and cooking just like this, you are definitely gonna want to check out both my books, The Made-From-Scratch Life, and Hand Made: The Modern Woman's Guide to Made-from-Scratch Living.
They're both packed with recipes and information just like this to help you serve up amazingly tasty food with old-fashioned whole ingredients.
There you have it, 37 ingredient substitutions every home cook should know.
Did I miss any? If you have more ingredient substitutions, please leave them in the comments so we can all glean from your wisdom!
More Posts You May Enjoy