Some of the links below are affiliate links, which means I will earn a commission at no additional cost to you, if you click through and make a purchase. Regardless, I only link to products we use on our homestead or believe in.
A pioneer kitchen held many things our modern kitchen's don't, like a wood burning stove (though I know some of you cool people have an old-fashioned wood burning cook stove, my parents do and my grandma did).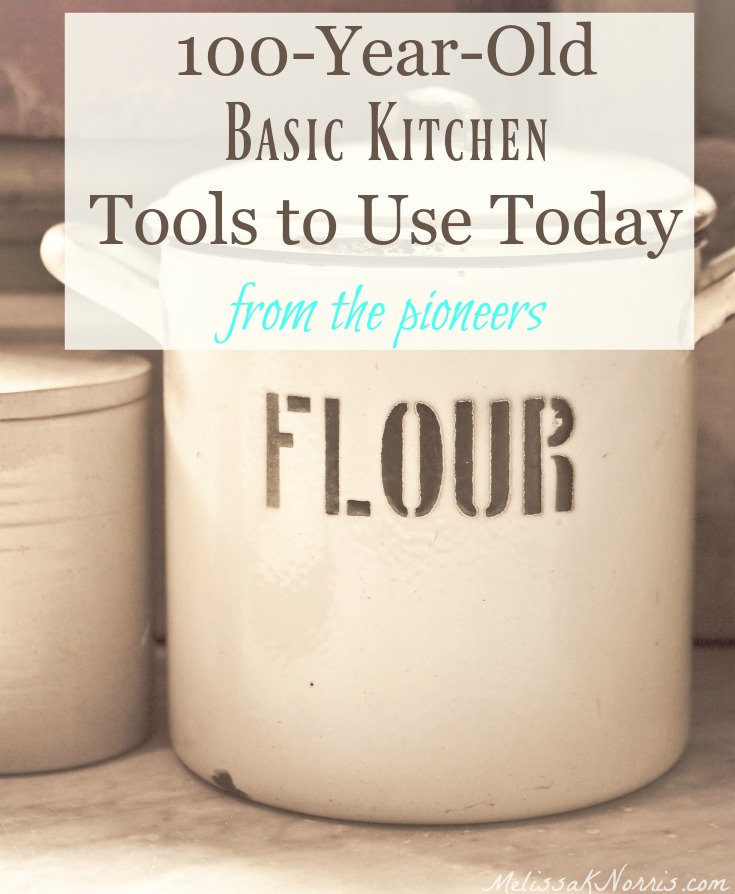 While I'm grateful I don't have to shovel the ashes out of my cook stove and stock wood in the kitchen (I do plenty of that with our wood heat stove in the living room), there are some pioneer tools I think every kitchen should have stocked. And not just stocked, but used often.
One of the dangers of living in a push button, ready-to-go pre-packaged society, is we begin to loose the skill sets and knowledge from those who went before us within a generation or two. Knowing how to use these basic tools to prepare meals for your family is something every household and person should possess.
Listen in: Episode #107 of the Pioneering Today Podcast a Pioneer Kitchen- 100-year-old kitchen tools every home should still be using today. Listen in on the go or while you're whipping up something in the kitchen, or scrubbing out the dishes.
Watch the Pioneering Today Live show below

A pioneer kitchen operated not only as a place to prepare food, but also the butchery. Your meat didn't come all cut up, skinned, and portioned out on a little tray wrapped in plastic wrap.
Knives
Having a good set of knives will serve you for years to come, provided you take care of them. Regular sharpening and caring for your wooden handles knives is a must.
Skinning Knife– exactly what it sounds like. This knife is used to skin your meat, my husband prefers it when cutting up any chicken or beef and even uses it to trim up steak and slice it.
Chef's Knife– this is my preferred knife in the kitchen and most used, from chopping up veggies for bone broth, meat for soups, and anything in between.
Knife sharpener- every good pioneer knew that having your knife didn't do you much good if it isn't kept sharp.
Cast Iron Cookware
Cook outdoors to keep your kitchen cool during the summer months, camping trips, barbecues (you know longer have to keep going inside and missing all the fun to check on the food) and when the power goes out, learn how to cook and bake in our FREE Dutch Oven Cooking Guide & Favorite Recipe.

Once supper is prepared, we need to get it cooking. There was nothing more versatile in a pioneer kitchen than a Dutch oven, specifically a:
a spider cast iron Dutch oven. We have three different sizes, but this 8 quart Dutch oven from Lodge is one of our favorites. We like Lodge because they're made in the USA and they make quality cast iron.
Spider Dutch ovens allow you to cook outdoors without rigging up some type of leveling system. Just place over your coals, pile the rest on top, and you're good to go. They can still be used in the oven, you just slightly rotate the pot so the legs go between the rack.
cast iron loaf pan. I'm not kidding, this is the best pan I've ever baked bread with. First time out, no sticking and with every use, the seasoning gets better and better.
cast iron skillet. No pioneer home was without one and it's the only frying pans and skillets we use. Not only can they go from the stove top, to the oven, and on top of the wood stove, they'll last for decades and close to another hundred years if taken care of. I love an 8 inch because I can use it for cornbread and brownies.
Wood Utensils
Many of the pioneers had to make their own utensils, including spatulas and larger spoons. They used what they had available and many times, this involved carving out their own from wood.
Wooden Utensils Set this organic bamboo has them all in a set. My most used are my wooden slotted spatula and large spoon. Plastic tends to melt and warp, plus I'm not crazy about using it in contact with my food.
This vintage replica glass citrus juicer looks adorable on the counter as part of our decor and comes in handy for juicing, while technically they were made popular in 1916, they're over a hundred years old, so we're going to include them in a pioneer kitchen.
I use mine to make homemade lemonade, lemon water, and most importantly, when making my Strawberry Jam Recipe- without pectin and low sugar.
Aprons
Back in the day, you didn't have nearly the amount of clothes we do today. Usually you had your Sunday best, which is was one dress, then one or two everyday dresses, and a work dress. You wore these clothes until they wore out.
To help make your clothes last longer, every kitchen had an apron. Aprons served as a pot holder, pockets for clothes pins or to give you an extra hand, a towel to wipe your hands on, and of course, to help save your clothes from stains.
This is one of the cutest full length aprons in a vintage pattern I've seen for the price –> Vintage Farmhouse Apron
Dish towels
Paper towels were not an option back then. You used dish towels for keeping food covered, wrapped in, drying your hands and the dishes.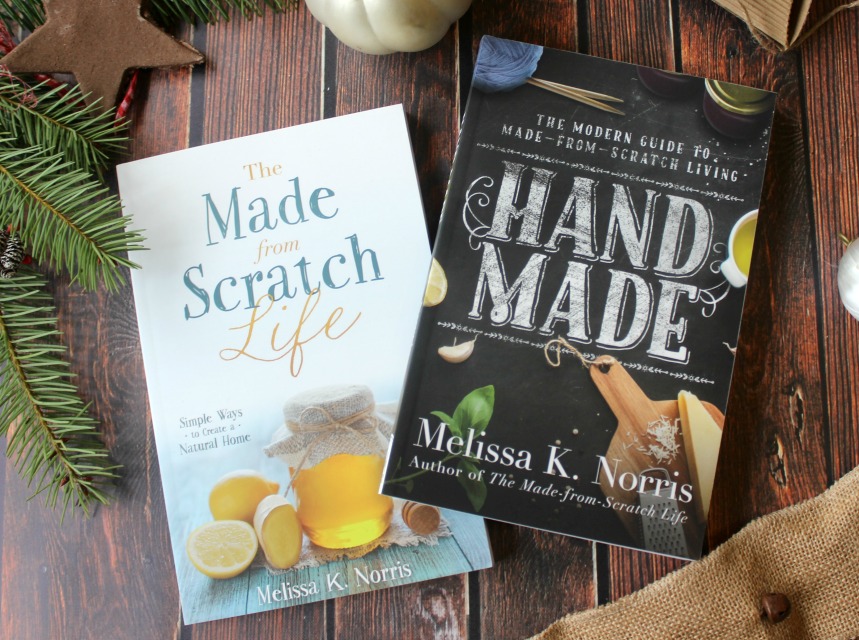 I have several of these vintage dish towels in my kitchen and they get used daily.
Cookbooks
Most of the folks back in the day knew how to cook. There was no running to the drive thru on the corner, delivery, and though a few restaurants existed in town, most pioneer families didn't frequent them except on rare occasions.
If you were traveling, you put your Dutch oven to use and cooked where you were camped.
Having a some good cookbooks are essential in finding new recipes and inspiration, at least in my home, and I"m pretty sure the pioneer women felt the same way.
I prefer the older cookbooks where the ingredients aren't a can of condensed this or that, a mix of this (unless you make it yourself ahead of time) and a box of this. I want it to be from real wholesome ingredients, but it still has to deliver.
If making things from scratch the old-fashioned way without chemicals and a ton of store bought ingredients, you're going to love The Made-From-Scratch Life.
Included are my great-grandmothers and grandmother's recipes for jams and jelly without store bought pectin. Learn how to preserve food the old-fashioned way complete with charts, lists, and time tested recipes! P.S. check out the bonuses –> The Made-From-Scratch Life
Want over 100+ recipes made with real food ingredients? My newest book Hand Made: the Modern Guide to Made-from-Scratch Living features old-fashioned buttermilk biscuits, sandwich bread, and homemade crackers with Great Depression Era frugal tips and so much more!
Another one of my favorites is this 1950's edition of Betty Crocker's Picture Cookbook. You can still get used ones here. This one has earned a home on my kitchen shelf, where only my most used cookbooks live.
Create your own. When I first got married my Aunt gave me a binder filled with blank pages and some of her favorite recipes in each category. Over the years, I've added my own, as well as family favorites. These are the recipes you find gracing the pages of the Made-from-Scratch Life.
Gather your favorite recipes and put them together in a small kitchen binder. You can get pre-made blank recipe binders like this one or use a small 3 ring binder and create your own.
Tea Kettle
A kettle is handy for of course, boiling water to make tea, but the pioneer home used it to heat water for dish washing and to sanitize water for first aid care.
A stainless steel kettle is nice and I use ours on our wood stove when the power is out or to help add moisture back into the air. In true pioneer fashion, fill it with water the night before, that way if the power goes out, you've got a full kettle of water ready to go.
Do you stock these basics in your kitchen? Have any I should be adding to my collection?
Other Homesteading Articles You Might Like