If you're going to bake a pie, it's imperative that your crust be the star of the show. A pie with a melt-in-your-mouth perfect pie crust will make any pie so much better! Want to know Great Grandma's secret ingredient to perfectly flaky crust? Keep reading and you'll too have perfect crust every single time WITHOUT using lard or shortening (talking Crisco).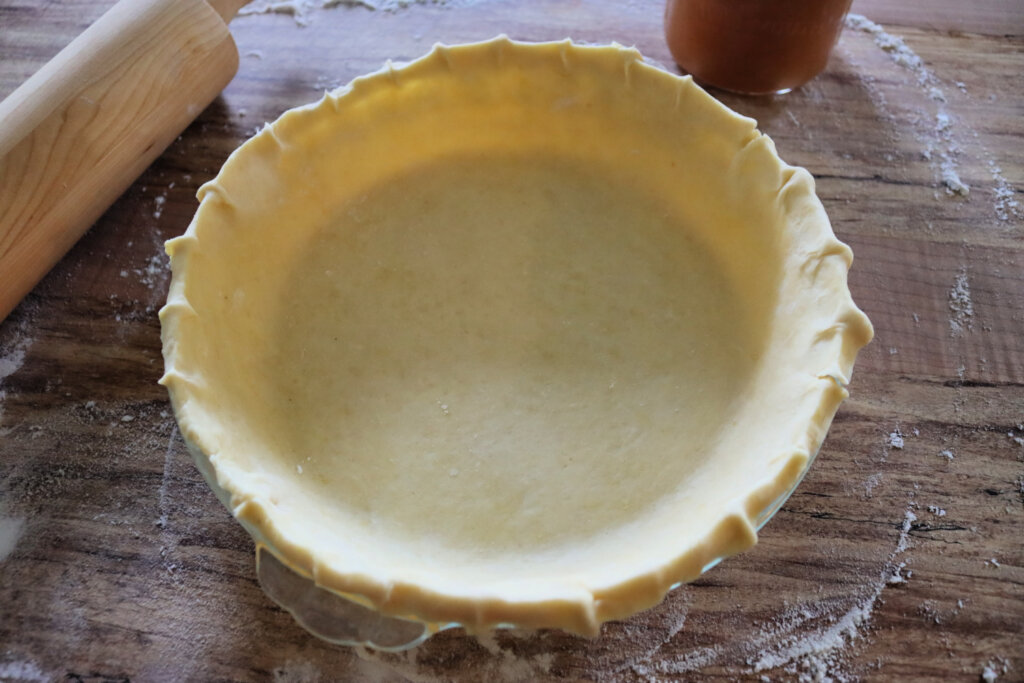 Many people think you need to use lard or shortening in order to get a flaky, melt-in-your-mouth pie crust. But you DON'T! My Great-Grandma shared her tips with me for getting the best crust every time, and there's a secret ingredient that most recipes are missing.
This recipe uses butter or lard (but coconut oil works equally as well) and is a foolproof recipe for flaky pie crust that rolls out easily every time.
Let me ask you this… do you ever eat a pie and fork out the filling, leaving the crust behind? Because if you said yes, you, my friend, have been using the wrong recipe.
In less than 15 minutes you can have 4 crusts (this a double pie crust recipe, meaning you'll have enough crust for 2 tops and 2 bottoms of an 8 or 9-inch pie plate, or 4 crusts for cream or pumpkin pies) ready to bake or freeze.
This crust is so delicious, you'll be leaving the filling just to eat the crust! In fact, my seven-year-old did that tonight.
When I was little, we made the hour trip to go visit my great-grandmother. We didn't get to go very often, but I remember her house and beautiful rose bushes even though I was quite young. My mother is an excellent baker and cook, but I never liked pie crust. Until I tasted this one. I had never eaten pie crust before and when I ate the entire piece of pie, crust included, my mom switched her recipe as fast as my great-grandmother could write it out.
Now I'm thrilled to share it with you. Be warned, this flaky pastry pie crust recipe is the best I've ever had. Like melt-in-your-mouth, going to eat the entire thing in one sitting so grab a big ol' fork, good!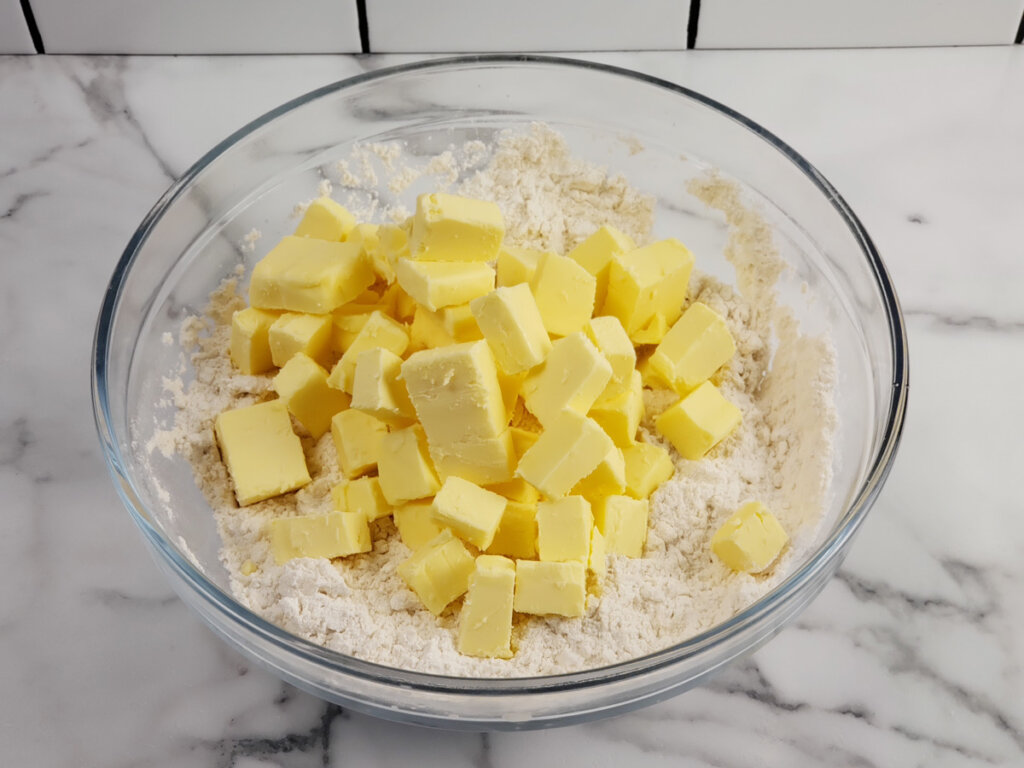 Table of Contents

[Hide]

[Show]
No Shortening
Are you looking for a pie crust recipe without shortening (aka Crisco)? If you're concerned about GMO foods and ones that are highly processed, then the answer is yes. I cut shortening out of our kitchen after a cancer scare almost ten years ago and have never looked back.
This recipe became my no-fail flaky pie crust with butter because, let's face it, real butter just makes everything taste better (especially grass-fed butter!). For real, I've even been known to slip some butter into my coffee. And contrary to popular notions, I've not packed on the pounds.
Butter or Lard?
Should I use butter or lard in my pie crust? The truth is, either one works fine. I find that half butter and half lard make a perfect crust, and if I've been "pioneering" then I usually have some homemade lard in the cupboard.
But for those of you who haven't quite crossed that bridge yet, using all butter works just as well (and is what I'm demonstrating in the video above).
Note: In order to achieve a flaky crust, your lard, butter, or coconut oil needs to be cold. It's the pieces of solid fat distributed throughout the flour which melt upon baking that create the flakiness.
Dairy-Free Pie Crust Options
If you're dairy free, you can make this pie crust recipe with lard or coconut oil and it turns out just as flaky and delicious.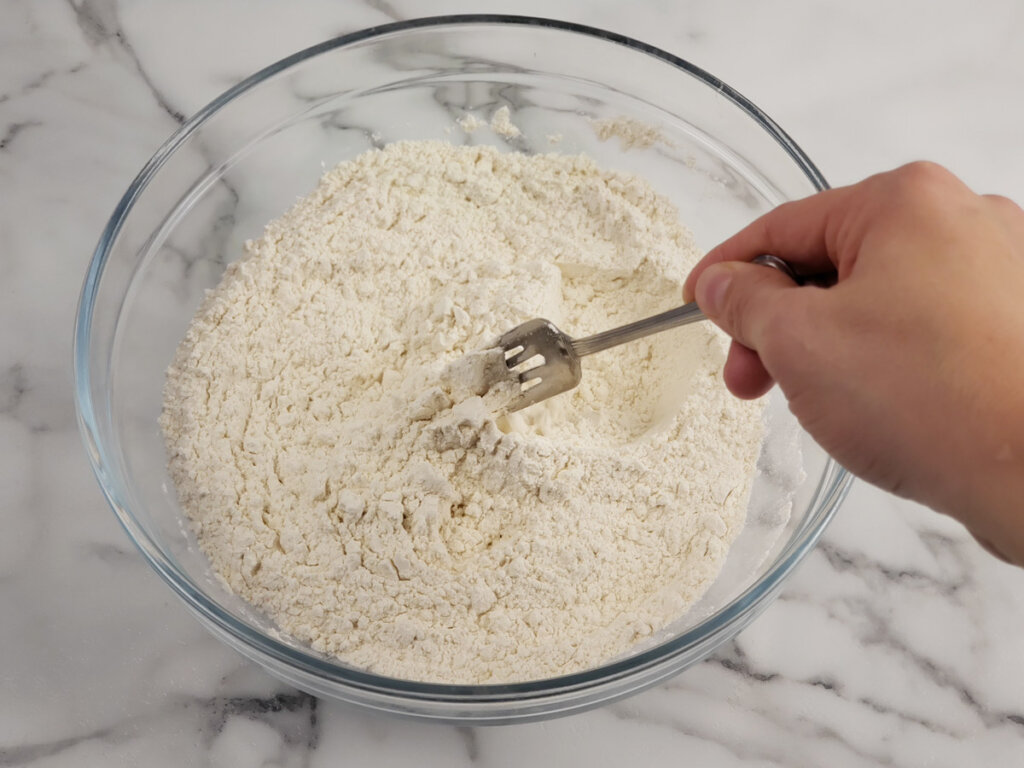 What flour is best for my pie crust?
All-purpose will give you a great texture as well as pastry flour. I wouldn't use bread flour, you don't need the extra gluten for pie crust.
For fresh ground flour choices, I use a blend of fresh ground spelt and soft white wheat on the pastry setting of my flour grinder. Learn more on grinding your own flour and choosing a grinder here.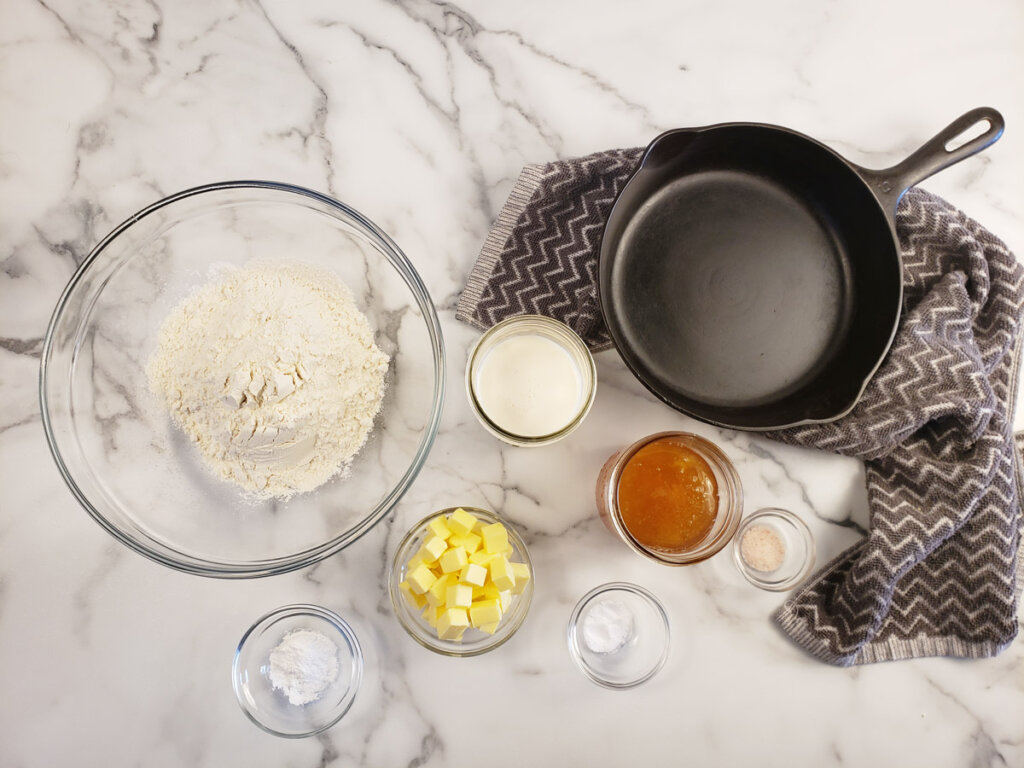 Ingredients
Great-grandma knew a thing or two about baking and one of those was the addition of two special ingredients not always found in common pie crust recipes. These two items make this a foolproof pie crust with the addition of vinegar and egg!
I know, the vinegar may throw you, but trust me, together, they make a world of difference in both the flakiness and ease of working with the dough, and you won't taste the vinegar one bit.
Flour – you can use just about any flour you want for pie crust, however, I have the best, most consistent results when using all-purpose or pastry flour.
Fat – no matter what fat you're using, it's critical that the fat is cold! My preferred fat is butter (grass-fed, if possible), but you can also use lard (especially delicious if you've rendered your own lard), or coconut oil (perfect for a dairy-free option).
Sugar – not too much, just enough to give your pie crust more of a dessert taste, rather than a savory taste. You can easily omit this, but I've used this exact recipe even for savory dishes (hello homemade chicken pot pie!) and it's great. I also like to sprinkle sugar over the pie crust before baking. It adds a delicious crunch and pop of sweetness with each bite.
Salt – because salt = flavor, and flavor is imperative for a delicious crust!
Vinegar – you can use any vinegar you have on hand (homemade fruit vinegar is great for baking). Since I always make our own homemade apple cider vinegar, it's what I use most often.
Egg – though not typically found in pie crust, the egg working together with the vinegar is what makes the fool-proof flaky layers!
Ice Water – though water isn't typically listed as an ingredient, it's important to mention that you need ICE-COLD water! Those flaky layers happen when the butter melts during the baking process, so you don't want the butter to melt into the dough BEFORE baking, otherwise… no flaky layers!
Milk – we don't add milk to the pie crust itself, but just before baking, I like to brush the pie crust with milk, then sprinkle on some sugar. This helps the crust bake up perfectly golden-brown.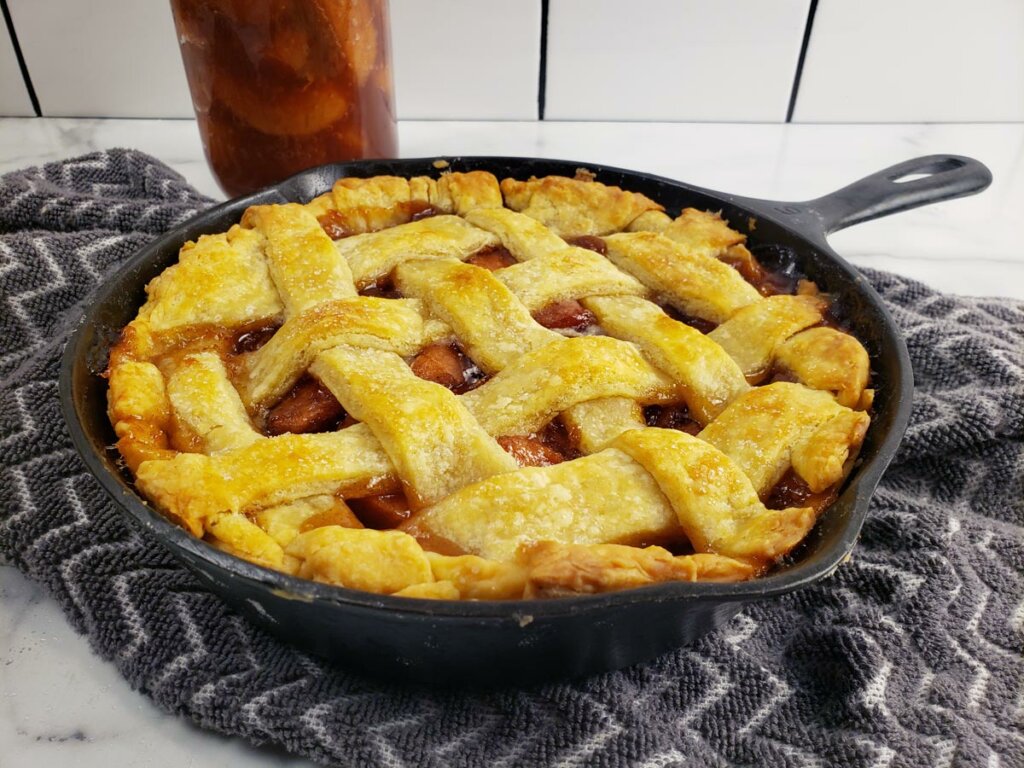 Instructions
Measure out all ingredients and cut the butter into 1/2 inch cubes, then place the butter in the refrigerator or freezer until ready to use.
1. In a large bowl, combine flour, sugar, and salt and stir to combine.
2. Cut in cold butter using a pastry cutter until there are no pieces larger than the size of a pea.
3. In a small bowl, whisk together the apple cider vinegar and egg until combined, then add to the flour and butter mixture.
4. Add cold water, one tablespoon at a time, until dough just starts coming together, then turn out onto counter.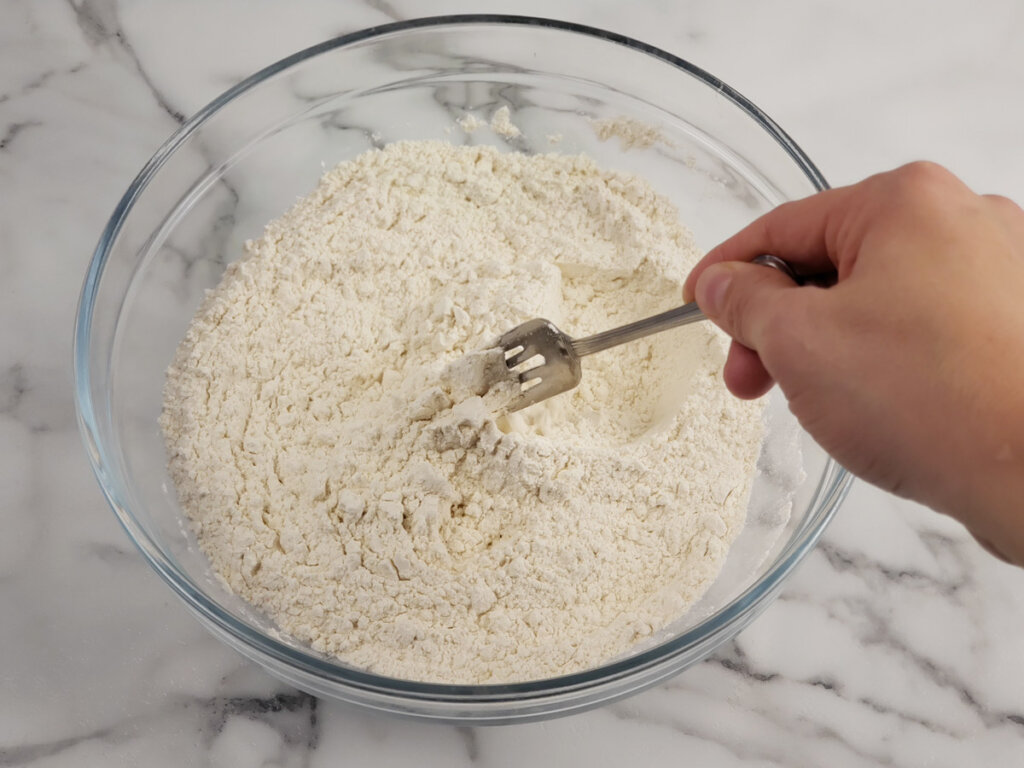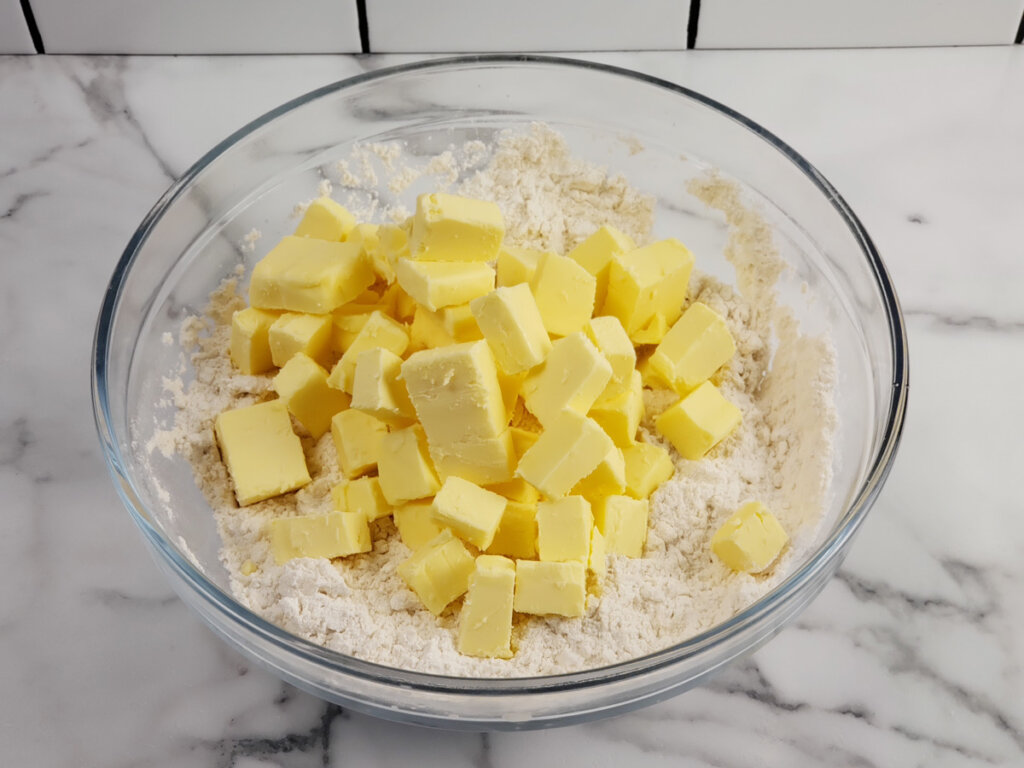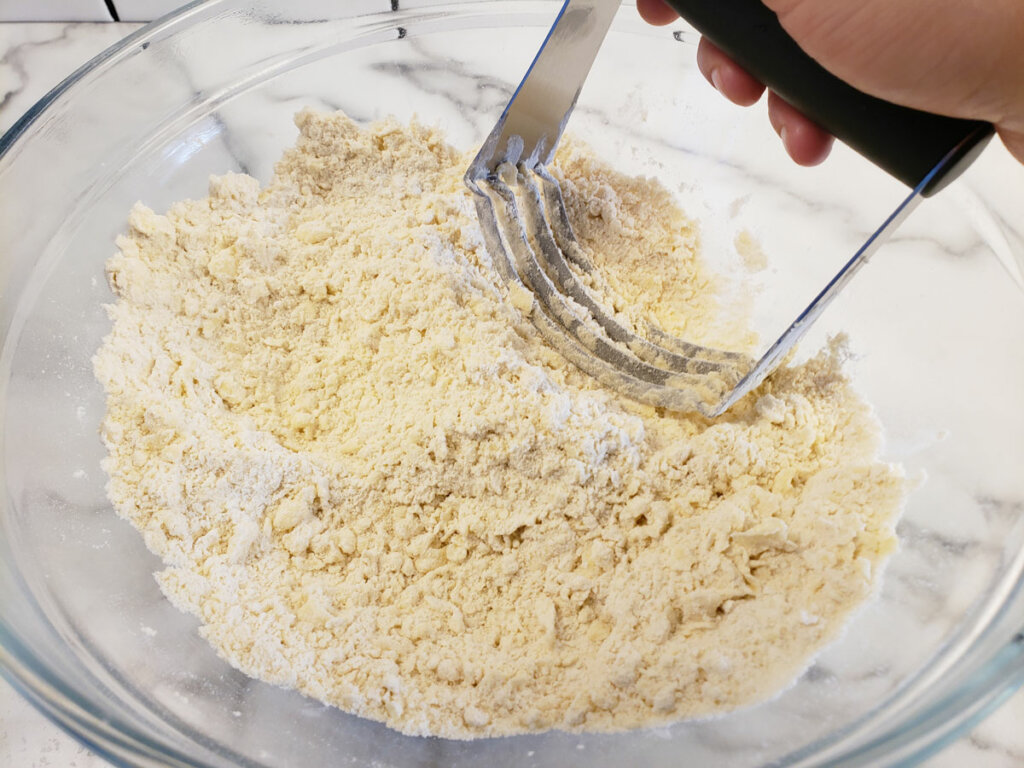 5. Continue adding 1 tablespoon of ice water until the dough holds its shape without crumbling. Don't add too much water, you don't want a sticky dough, just a dough that barely holds together.
6. Work the dough into a large round ball, cover with plastic wrap and refrigerate for 15 minutes to allow the dough to rest. (Don't skip this step!)
7. Once the dough has rested, remove it from the refrigerator and divide it into 4 equal portions. (I use my wooden bench knife for easy cutting. For more tips on using this indispensable tool, check out 10 Time-Saving Uses for a Wooden Bench Knife in the Kitchen.) Press each quarter into a disc shape, then, if freezing, follow the instructions in this post for how to freeze pie dough.
8. Working with one quarter at a time (keep the others in the refrigerator until ready to roll out), lightly dust your countertop and roll out pie crust, giving the dough a 1/4 turn after each roll to be sure it's not sticking to the counter.
If the dough starts sticking to your rolling pin, lightly dust the rolling pin with flour.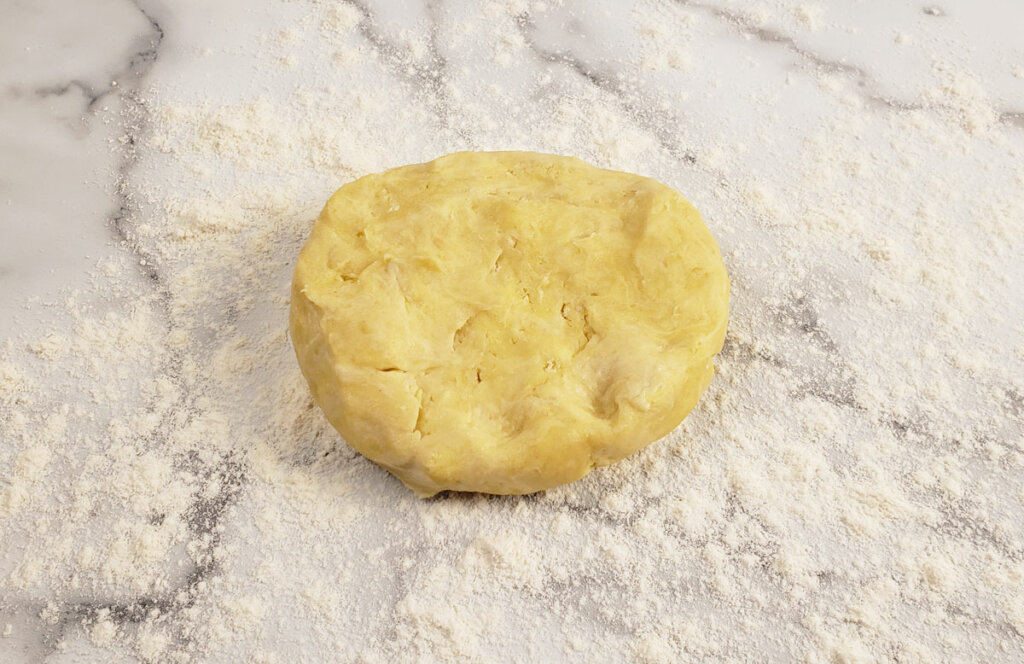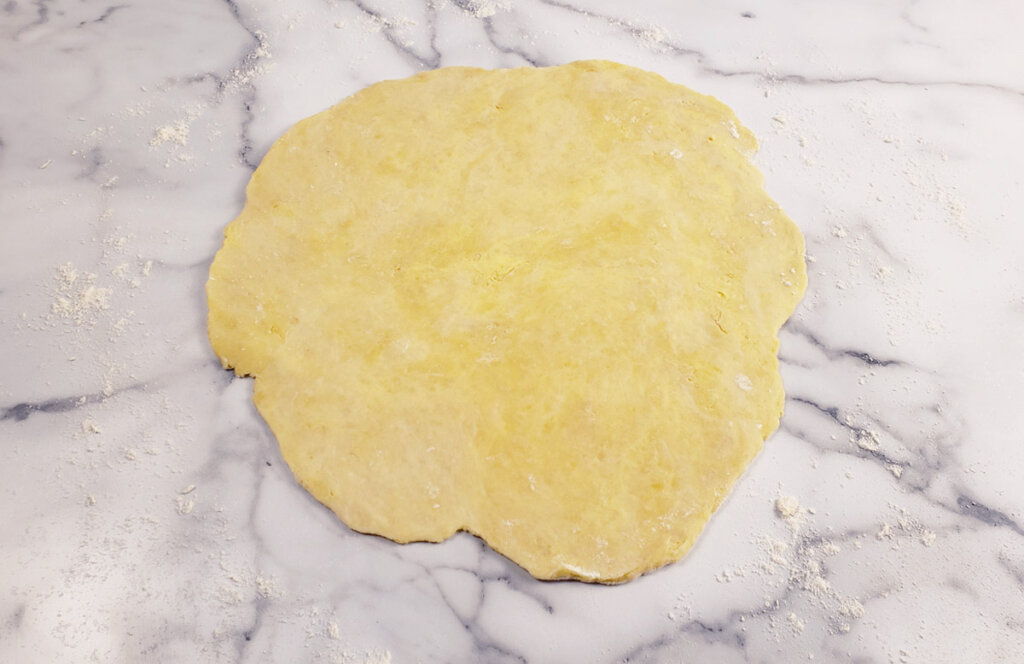 9. Carefully fold the dough over on itself and transfer it carefully to your favorite pie plate or cast iron skillet. Then, follow the instructions for your favorite pie or quiche recipe.
Pie Baking Tips and Tricks
If you're not baking your pie today, take the unbaked pie dough ball, press it out into a disc, and wrap in plastic wrap. Toss it in the freezer until ready to use. The day before you're ready to bake, thaw flaky pastry crust dough in the fridge overnight (or on the counter for a few hours). Lightly flour surface and roll out to desired thickness.
Alternatively, roll out bottom crusts and place them into pie plate, freeze until solid, then pop frozen pie crust out, wrap, and freeze. Bake pie crust from frozen in the same pie plate you froze it in! (More tips on freezing dough here.)
When freezing, be sure to mark your dough. I also freeze sugar cookie dough and on Christmas morning I mistakenly used sugar cookie dough for my pastry crust in a sausage quiche. My brother said, "Does this have maple-flavored sausage? It's sweet."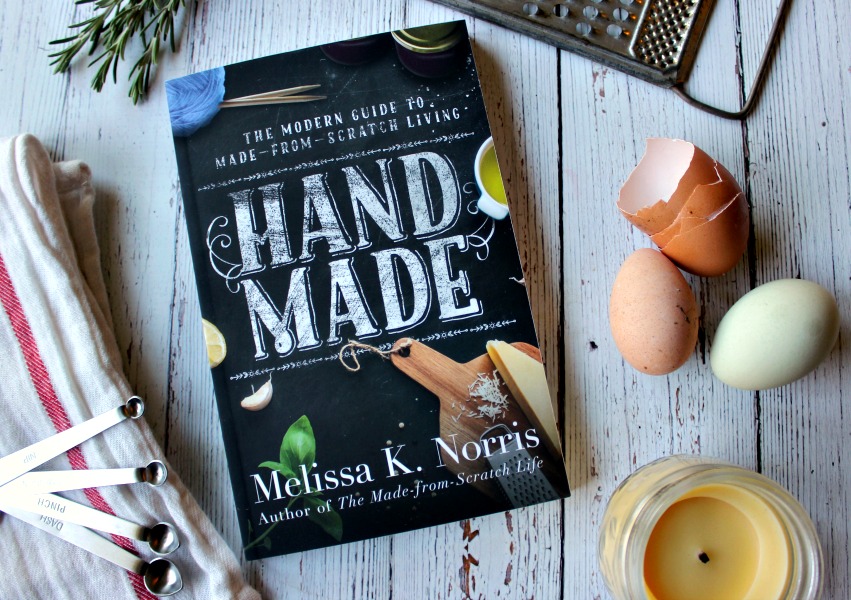 Additional Resources
Hand Made: the Modern Guide to Made-from-Scratch Living – get the best old-fashioned recipes for a busy home without spending all day in the kitchen! Get over 100+ recipes and tips from over 3 generations of bakers. Psst, don't forget to claim your bonuses here.
This Fiesta ware pie plate – made in the USA, is so pretty, I don't know if I could store it in the cupboard. But as they always say, we eat with our eyes first, so I love pretty pie plates and cast iron skillets when it comes to my pies.
Gorgeous pie cut out – whether you like a lattice top, simple slits, or a beautiful and ornate pie crust, this pie crust cut out can help for those of us who are creatively challenged in the decorative pie crust area.
Pastry cutter/pastry blender – seriously, this little tool is the secret to flaky pie crusts… and biscuits. If you don't have one of these kitchen tools yet, go grab one!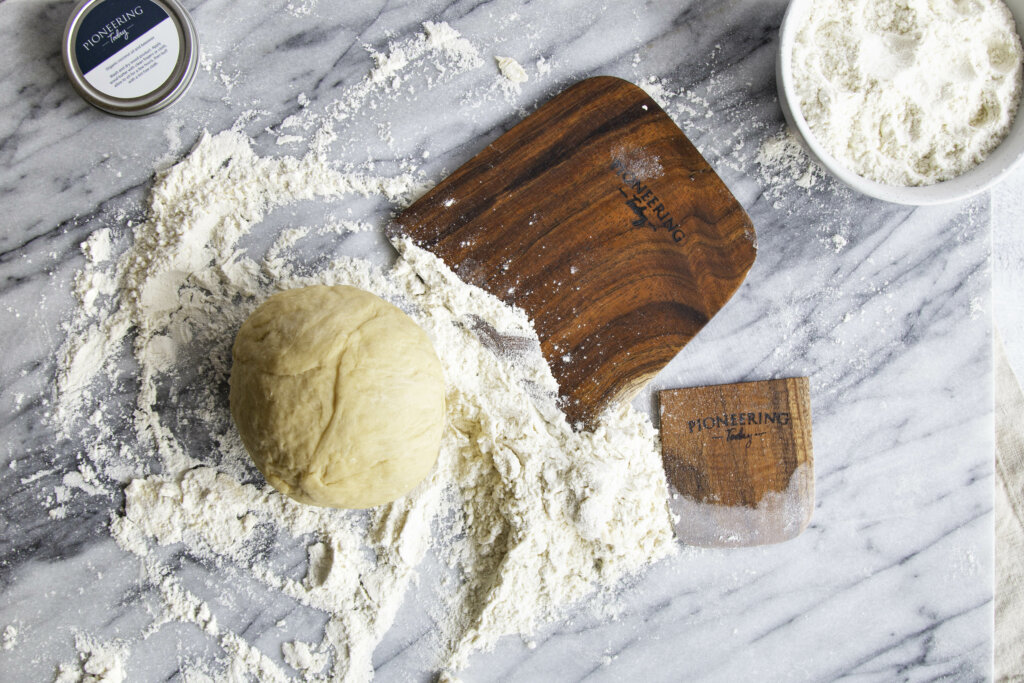 Wooden bench knife– nothing is faster for cleaning up dough and flour from the counter and if your pie crust starts to stick, this will lift it quickly!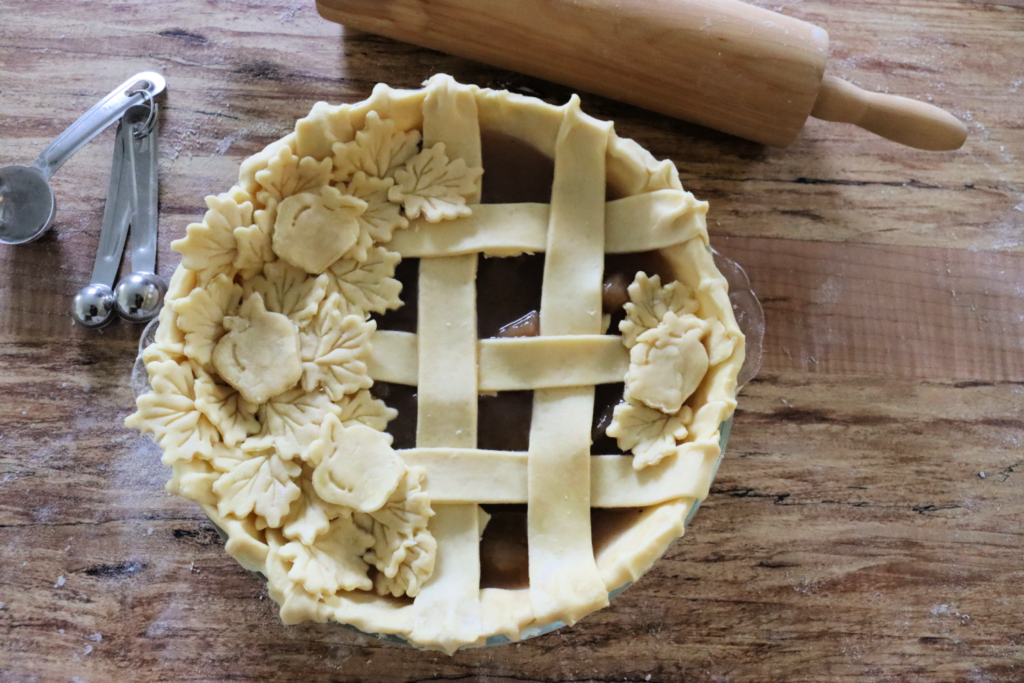 More Recipes & Posts You May Enjoy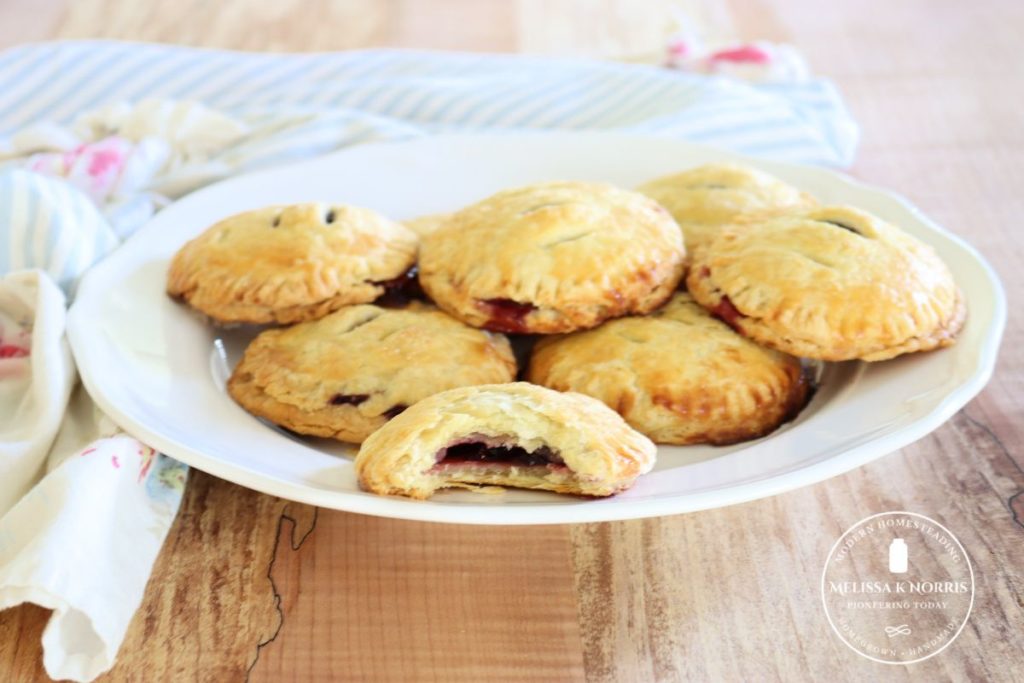 Did you make this recipe? Snap a photo and tag me on social media, I'd LOVE to see your flaky pie crust! Then be sure to rate this recipe by clicking the stars in the recipe card below!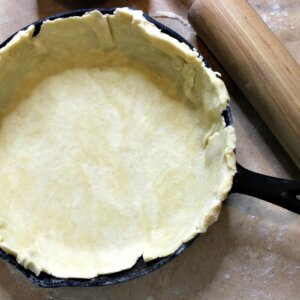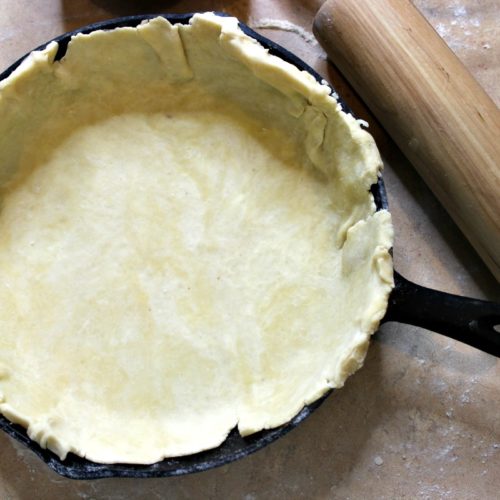 Best Ever Flaky Pie Crust
Easy to roll out, melt-in-your-mouth flaky pie crust made with all butter (you can use lard or coconut oil for dairy free) for delicous pies!
Ingredients
4

cups

flour

see notes on best flour to use

1.75

cup

butter

or lard or coconut oil

1

Tablespoon

sugar

2

tsp

sea salt

1

Tablespoon

Apple Cider Vinegar

You can use white vinegar, but I prefer apple cider in baking

1

egg

1/2

cup

water

ice cold
Instructions
Mix flour, sugar, and salt in a bowl. Stir to combine.

Cut in COLD butter (or lard, or coconut oil).

Fat is fully cut in when the flour is in crumbly pea size pieces.

Mix egg and vinegar together in a small bowl, then add to flour mixture along with 3 tablespoons of ice cold water.

Continue adding water, one tablespoon at a time, until the dough just holds together, without crumbling, when pressed into a ball.

Wrap dough in plastic wrap and chill in the fridge for 15 minutes.

Divide dough into four equal balls, press out into a disc and either freeze or roll out to bake pies.
Video
Notes
In order to achieve a flaky crust, your lard, butter, or coconut oil needs to be cold. It's the pieces of solid fat distributed throughout the flour which melt upon baking that create the flakiness. You can freeze your butter or lard before cutting it in. The large side of a cheese grater works great with frozen butter.

Don't skip the chilling step. This allows the dough to rest and the butter to get cold again before rolling/baking.
Roll out bottom crusts into pie plate, freeze until solid, then pop frozen pie crust out, wrap, and freeze. Bake pie crust from frozen in the same pie plate you froze it in!
Nutrition
Calories:
2390
kcal
Carbohydrates:
197
g
Protein:
30
g
Fat:
166
g
Saturated Fat:
103
g
Cholesterol:
509
mg
Sodium:
3783
mg
Potassium:
346
mg
Fiber:
7
g
Sugar:
7
g
Vitamin A:
5082
IU
Calcium:
97
mg
Iron:
12
mg