Having tools that work as hard as you do is very important in a homesteader's life. Because there is always more to do than we have hours in a day and if we can have a wee bit of help with that in our modern-day kitchen and homes, then we should take full advantage.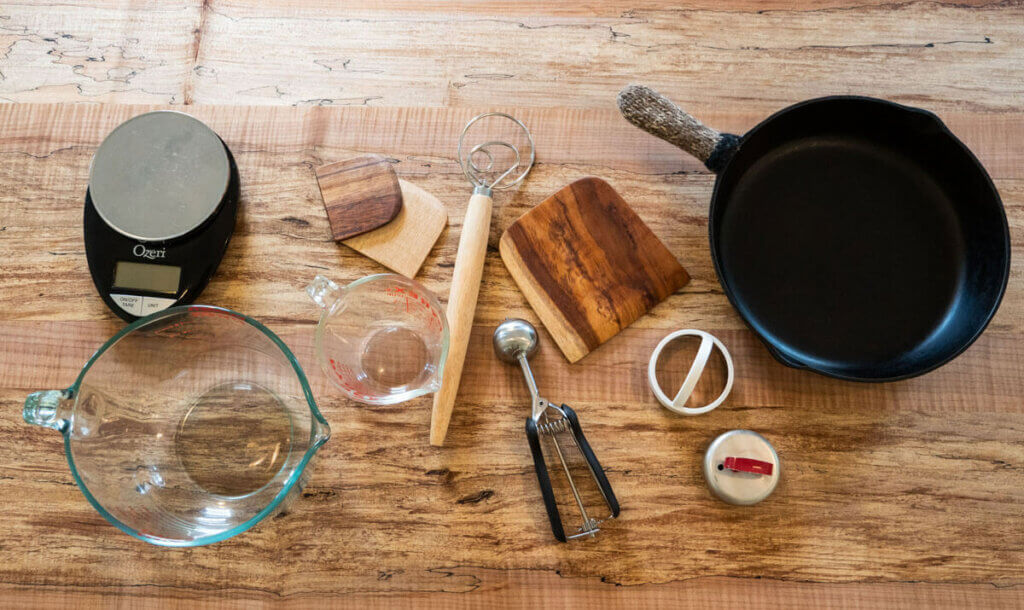 As I get further along in my homesteading journey I feel like I get more in touch with my pioneer roots! Making most of my family's meals from scratch means I spend quite a bit of time in the kitchen. Because of this, I know the advantage and need of having tools that help get the job done easier and/or in less time.
And because good friends share their helpful knowledge, I'm sharing my favorites, which I would absolutely replace in a heartbeat if they broke.
The video above is actually an update to a podcast I recorded a few years ago. I have definitely found some new and very helpful kitchen items, so I'm amending my previous list of six helpful items I shared in the Pioneering Today Podcast (episode #122) which you can listen to at the top of this post.
My Top 17 Must-Have Kitchen Tools
I'll give you my list at-a-glance here, then you can scroll down through the post to see the actual tool, plus hear my reasons why they make my must-have list! In no particular order:
Pyrex Liquid Measuring Cups
I love my Pyrex measuring bowls, especially my large 8 cup bowl. My favorite things about them are that they're glass, plus they have a large handle and a pour spout.
I also really love my one-cup liquid measuring cup and use it the most (in fact, if you can get a couple of each, I highly recommend it as mine are constantly in use!).
I frequently mix together homemade brownie batter, no-knead bread dough, scrambled eggs, and so many more food items in these bowls.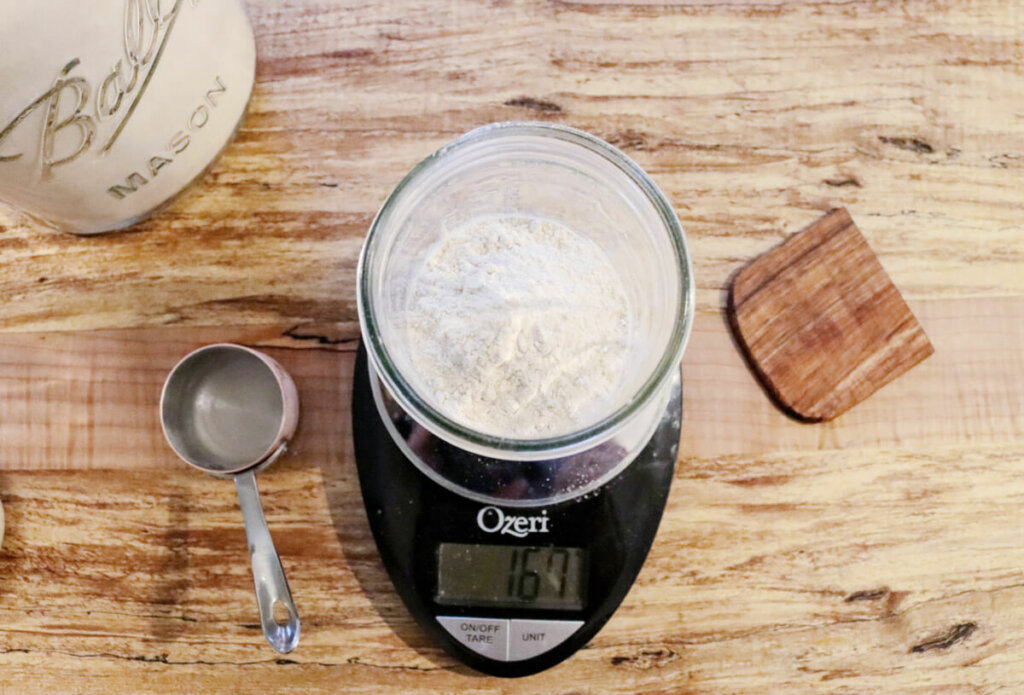 Digital Scale
I've had my digital scale for six or seven years and use it all the time! I'm not sure how I managed baking sourdough bread before I had it.
I also love using it for making homemade salves or homemade soaps.
It's extremely helpful when making homemade pie crusts and dividing them by four equal parts so all your crusts are the same size.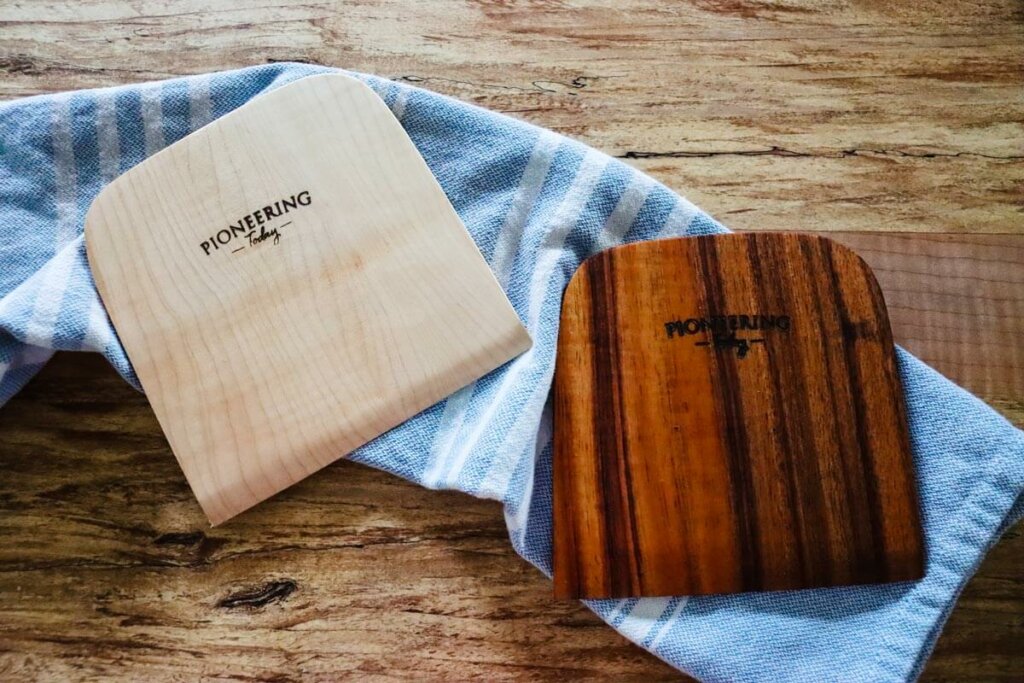 Bench Knife
I can't believe I waited so long to get myself a bench knife. I'd seen other bakers using their bench knife for forming homemade artisan bread but didn't truly know how great they were for so many other tasks until I had one.
I use it to cut my pie crusts, dividing any type of dough, and even for transferring cut-up veggies into a bowl or to a pan on the stove.
It also is a great tool for cleaning up countertops after rolling out dough. It scrapes up all the little bits of dough that stick to the counter (no matter how much flour I sprinkle there's always a few little clumps), making cleanup a breeze.
For more tips like these, check out 10 Time-Saving Uses for a Wooden Bench Knife in the Kitchen.
This wooden bench knife fits so much better into my hands than some of the other metal bench knives I've had. If you'd like, you can get on the waitlist to get your own hand-crafted bench knife right here!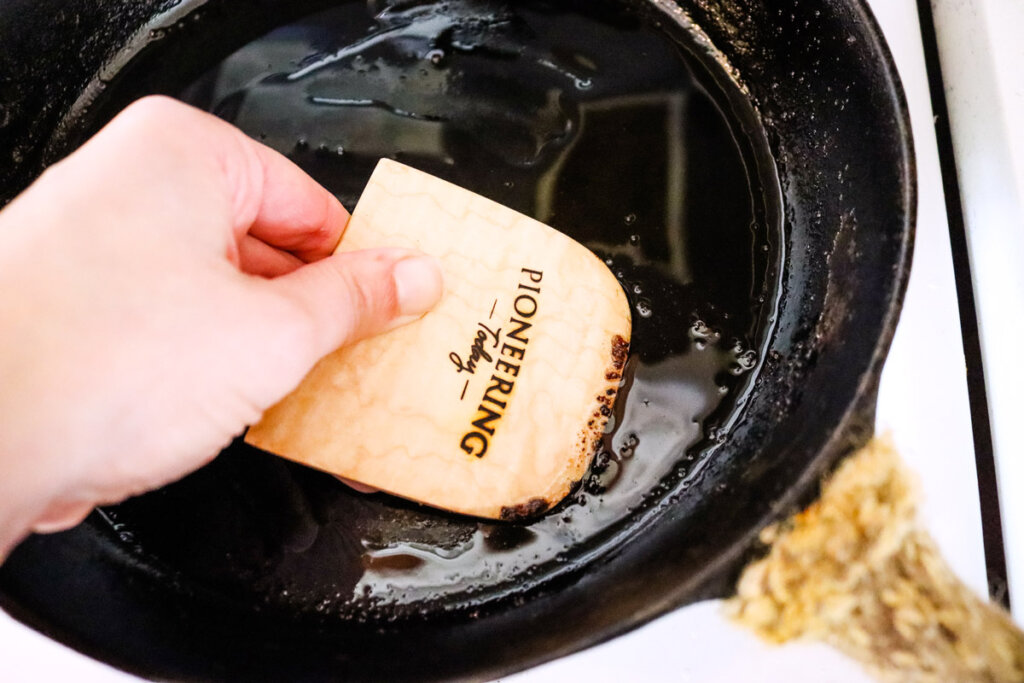 Dough Scraper
My wooden dough or bowl scraper is also my new favorite (and has replaced all my plastic dough scrapers). It works phenomenally for scraping dough out of bowls and it's fantastic for cleaning cast iron pans!
Cast Iron Handle Cover
Yes, cast iron is one of my favorite things, but I think I've shared my love of cast iron plenty in this post on seasoning cast iron, this post on cleaning cast iron, and this post on my favorite 25+ cast iron (and Dutch oven) recipes!
But what DOES make this list is my new cast iron handle cover! The one photographed above was actually knitted by one of my readers and I couldn't be more in love with them! These handle covers are a lifesaver. If you're not a knitter or crocheter, these silicone handle covers are the next best thing!
A handle cover is essential because the entire cast iron pan will heat up, making the handles a bit of a hazard for small children (or when you mindlessly forget and grab the handle yourself!).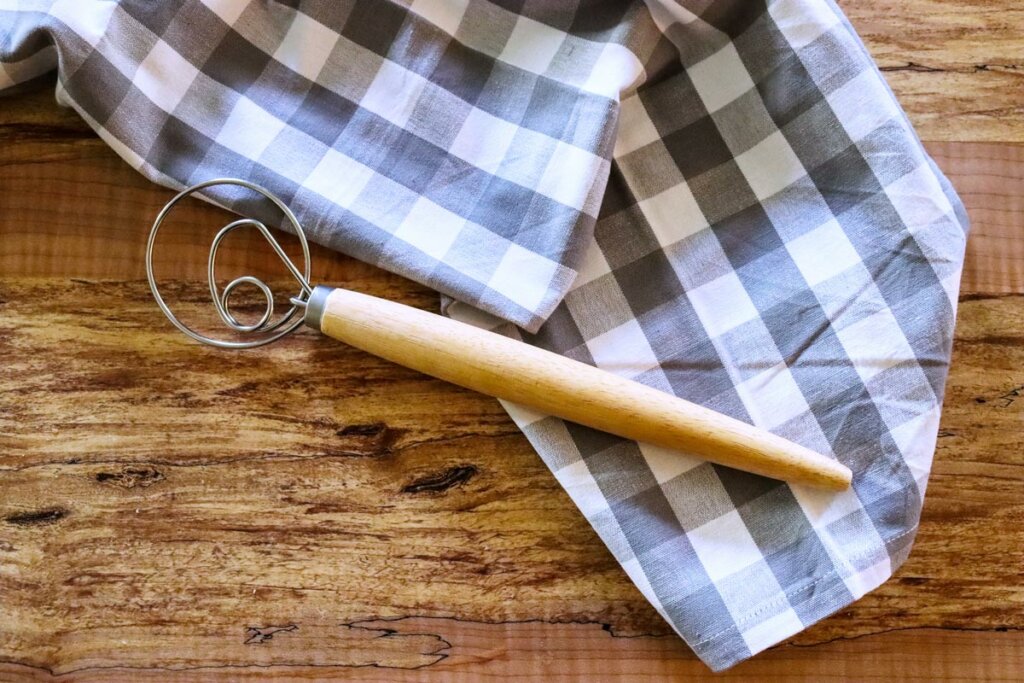 Danish Dough Whisk
I can't recommend this tool enough. It's great for thicker doughs or batters (especially sourdough or no-knead bread) and I can't believe how easy it makes mixing up these thick doughs.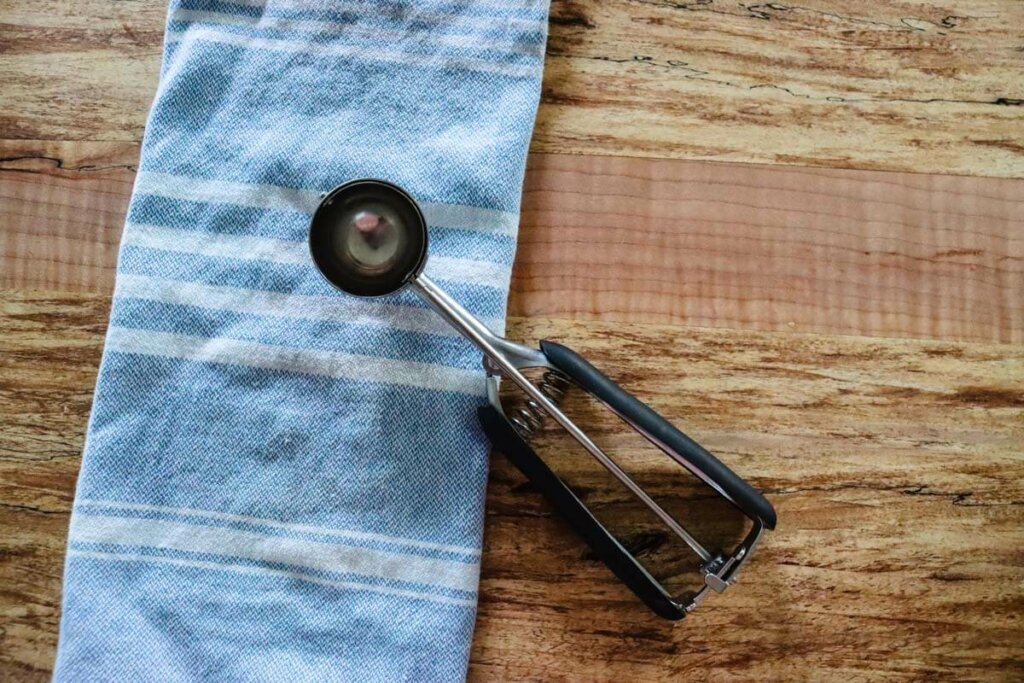 Cookie Scoop (Ice Cream Scooper)
Yes, technically this is an ice cream scooper, but we rarely use it for that! My favorite use for this tool is to create uniform-sized cookies!
This scoop makes the cookie-making process so much faster and easier, especially when baking because all cookies will bake at the same time since they're the same size, super important for homemade sugar cookies!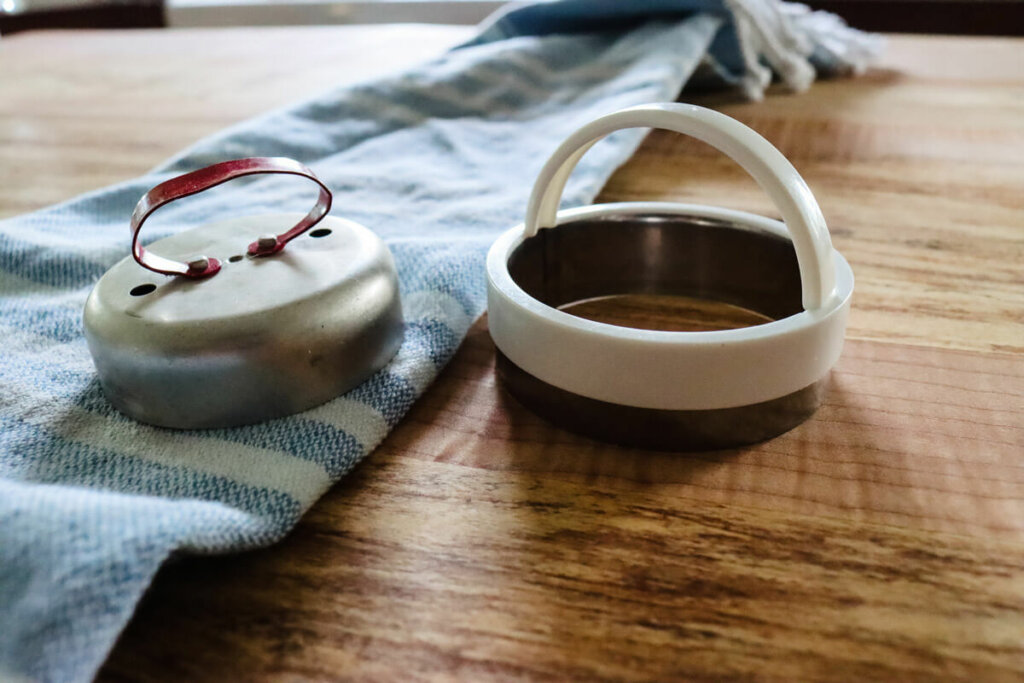 Metal Biscuit Cutter
If you ever bake biscuits, having a metal biscuit cutter is a MUST! If you use something like a mason jar, you will actually end up pinching your biscuit closed and you won't get those mile-high biscuits with all those flaky layers!
If you're so inclined, you can also pick up this biscuit cutter/donut cutter combo! I have an antique donut cutter that I absolutely adore!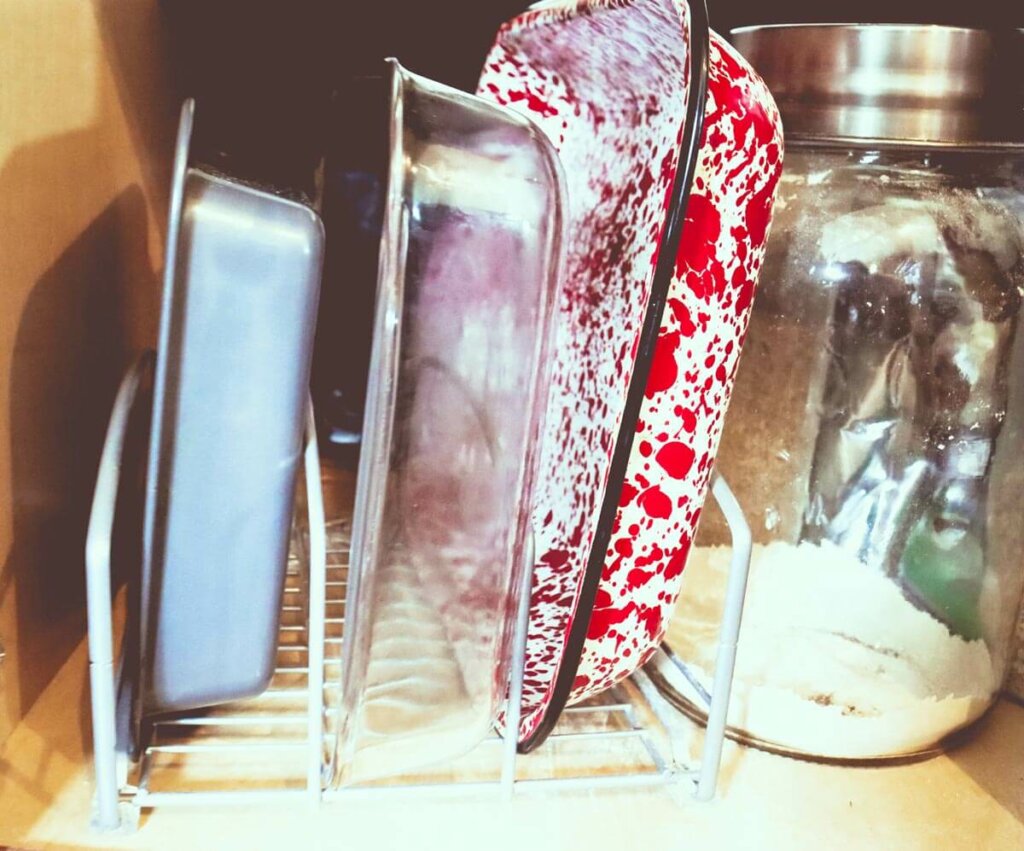 Kitchen Cupboard Organizer
Not as much of a tool, but still one of my favorite kitchen items! I actually have two of these kitchen cupboard organizers and they keep my cupboards so neat and tidy. Especially because my kids know exactly where to put my kitchen pans and cutting boards.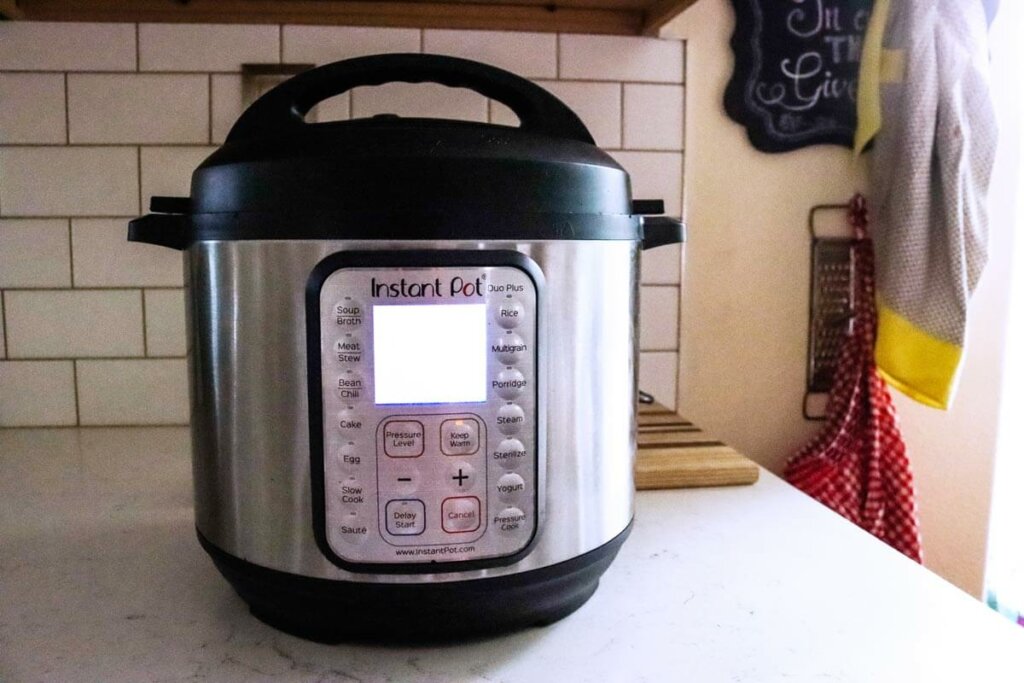 Instant Pot
On Thanksgiving day we had an unexpected flood. As in, all access roads were flooded and the planned trip to my in-laws was a no-go. It also meant I did not have a thawed out turkey ready to go, but I did have 3 homemade pies so that counts, right?
I threw a whole frozen chicken into the Instant Pot (chickens raised right here on our homestead and chickens we butchered ourselves as well). Within 60 minutes my bird was done. Like fall-off-the-bone, juicy, finger-licking-good done.
The pureed pumpkin in the pumpkin pie? I cooked the pumpkin whole in the Instant Pot.
I'm not kidding when I say I almost took it with us camping this summer… and when I saw another camper with theirs, I told my husband, "See, I should have brought it!"
Do you have an Instant Pot yet? Some homesteaders are against using an electric pressure cooker, but once I got mine I was a believer!
I was actually able to get rid of my slow-cooker, my rice cooker, and my steamer really clearing up space in my cupboards, which made me love it even more!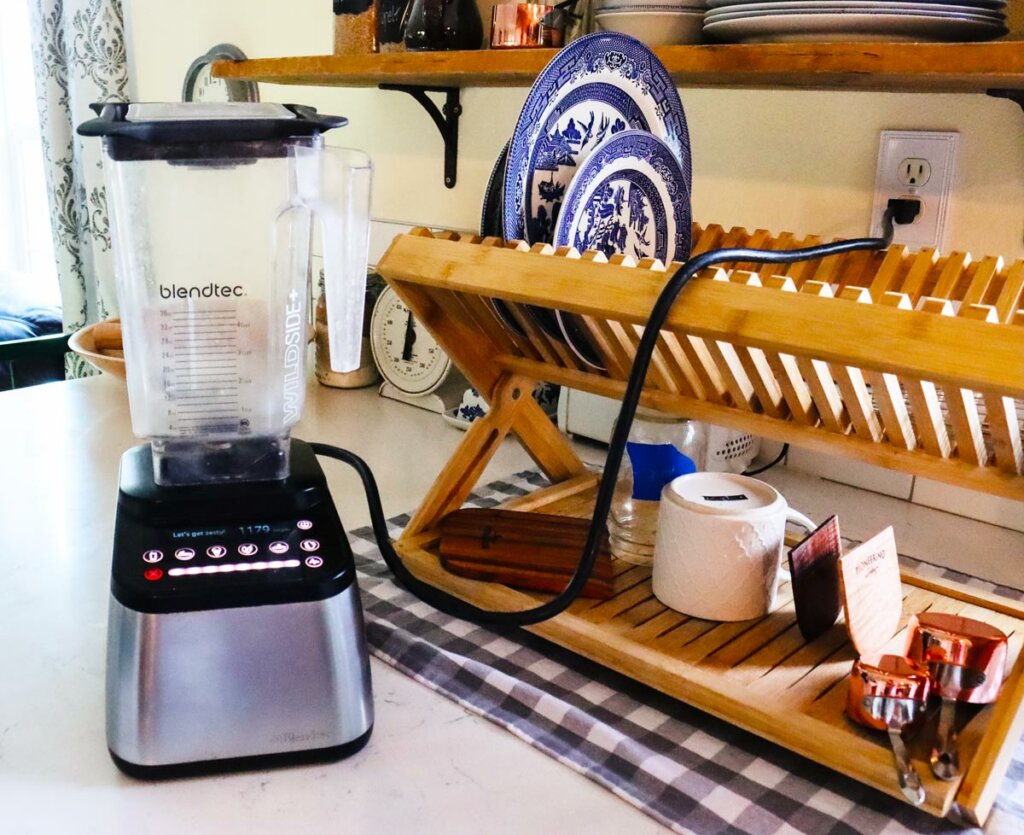 BlendTec High-Speed Blender
BlendTec actually sent me by high-speed blender almost eight years ago to test it out. I've now used it 1,158 times! (I've actually used it more than that, but if you only blend something for a few seconds it doesn't record the use.)
I use my blender the most in the summertime when I'm blending my tomatoes for canning tomato sauce or making homemade jam or homemade fruit leather.
If anything happened to my blender I would replace it in a minute!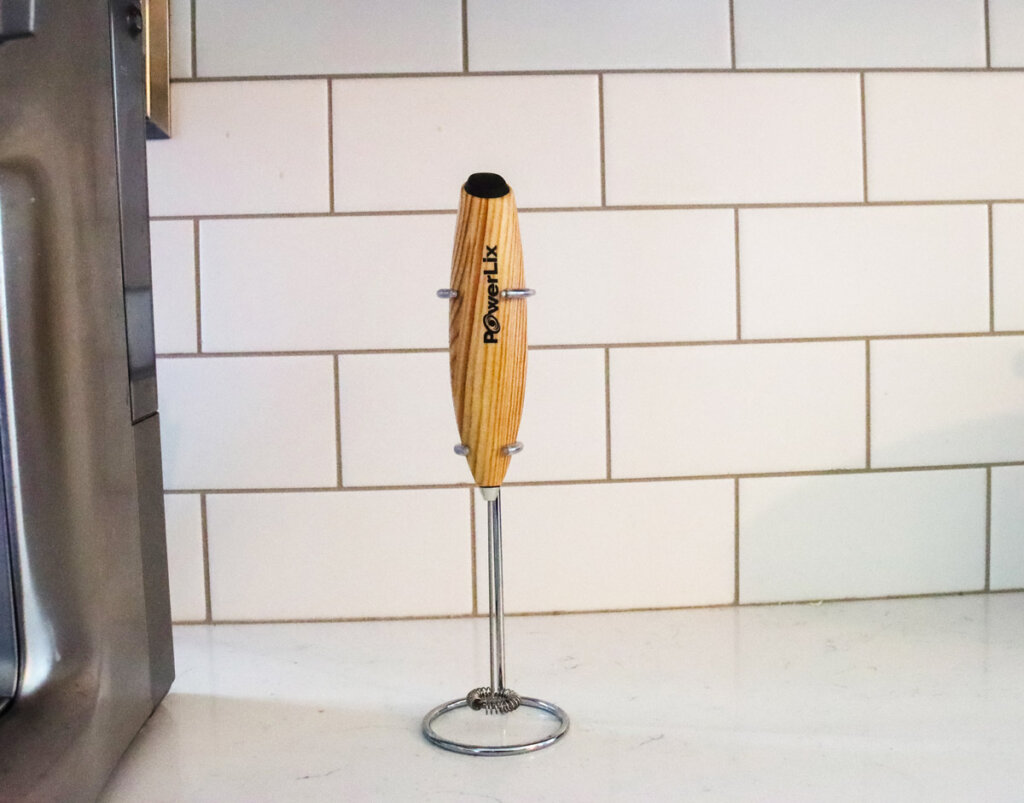 Whisk Wand
I shared this tool in my Homesteader's Gift Giving Guide, but it's worth mentioning again here. This whisk wand/frother is great for blending coffee with cream and collagen in the morning, hot cocoa for the kids, my favorite chai tea latte in the wintertime, etc., etc.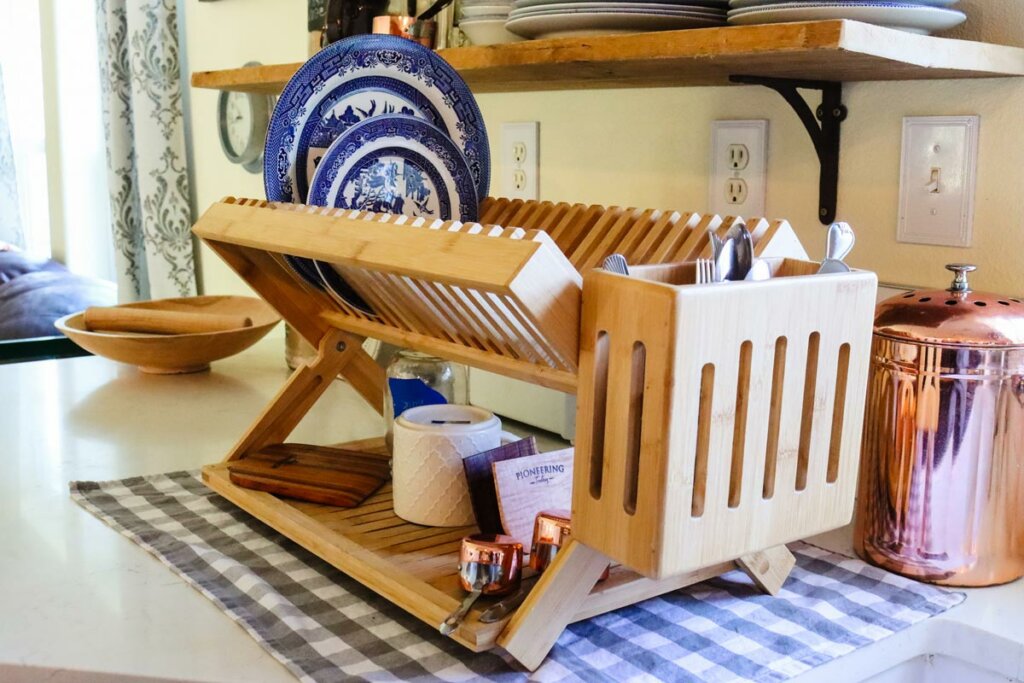 Dish Drying Rack
Unlike many households, we actually don't have a dishwasher. In my family we all take turns washing dishes and we usually just wash our own dishes as they're used throughout the day.
Because of this, I wanted a dish rack that was large enough and sturdy enough to hold my larger pots and pans, plus something that I didn't mind staring at all day since it rarely gets put away.
I found this giant wooden dish rack from Lehmans (have you guys checked out all their amazing products yet?) and I couldn't be happier with it.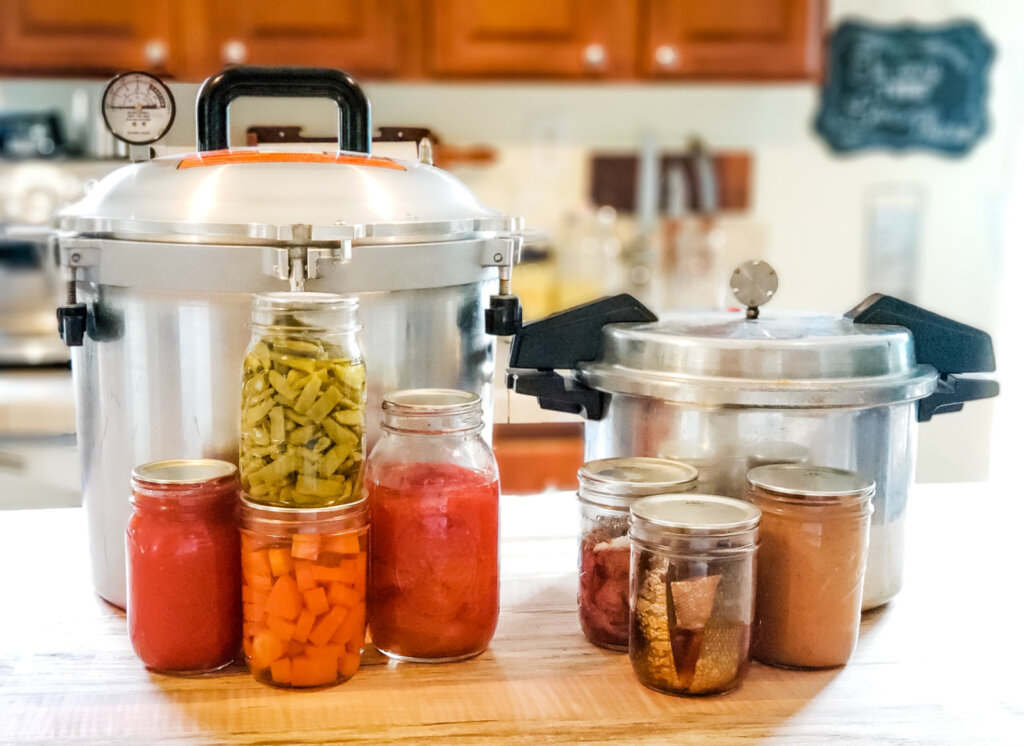 Pressure Canner
Not just any pressure canner, an All American Canner. My husband listened to a podcast many years ago now and bought me this beautiful 21.5-quart pressure canner. I'd had my old pressure canner for over fifteen years, and it did get the job done (about 400 jars a year), but this upgrade has been amazing and I can more food in less time because of it.
I can do 19 pints of home-canned beans at once! That's a big deal when you grow and can all of your green beans for a year. The same amount of electricity, the same amount of water, but 19 jars in one run instead of 7.
That is a time and energy savings this homesteading mama adores. Plus, it actually reaches and maintains pressure more efficiently than other models I've tried and used.
This All American Pressure Canner goes down as one of the best kitchen gifts ever.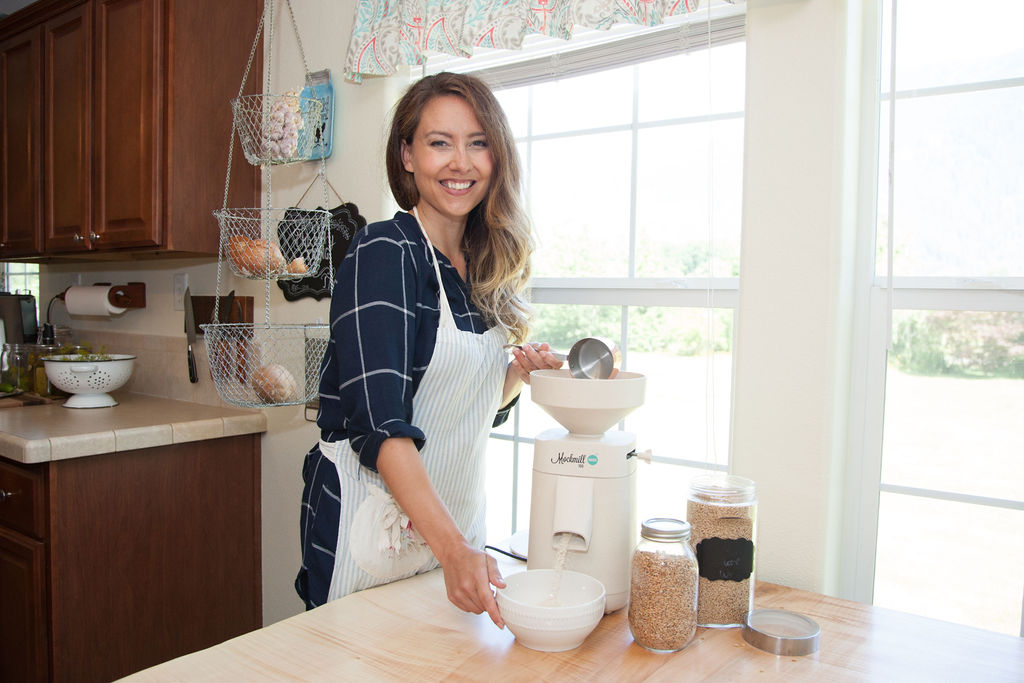 Mockmill Home Grainmill
There's nothing like grinding your own flour, spices, and even dried veggies up into fresh flour. I've been grinding my own flour for nearly a decade now and I still get that wow factor every single time.
Here's my Grinding Flour and Beyond – the Homesteader's Guide to Home Milling article which has much more info than I'll share here.
While I love the health benefits and versatility of milling my own flour, this homestead cook is not sacrificing melt-in-your-mouth pie crust and light and fluffy cake, so when I saw how fine of a grind I can get with the Mockmill, I promptly retired my old grain mill.
It's not just for whole wheat flour, but gluten-free blends, spices, and even dried vegetables. If you don't have one yet, check out the great offers Mockmill has here. (This link gets you 5% off and FREE shipping! No coupon needed, the discount is applied when you click checkout.)
Cold Coffee Toddy Maker
Why on earth would I want to make cold coffee? So glad you asked, cold brew coffee is different than traditional coffee brewed with hot water. The obvious, use it in homemade cold coffee drinks, but I use cold brew coffee all year round for one simple reason…
Cold brew coffee has 67% less acid than hot brew coffee. For those with stomach acid issues, this is an amazing breakthrough. It was for me.
Plus, no electricity required, you simply place the filter in the container, fill it with your cold water and grounds, let it sit for up to 12 hours, drain and store it in the fridge for up to 2 weeks.
You can heat it up if you want a hot cup or drink it cold. Because you've brewed it cold, once the beans are removed, you can heat it up without the worry of the acid. I've had this cold brew system for over 8 years and it's still going strong.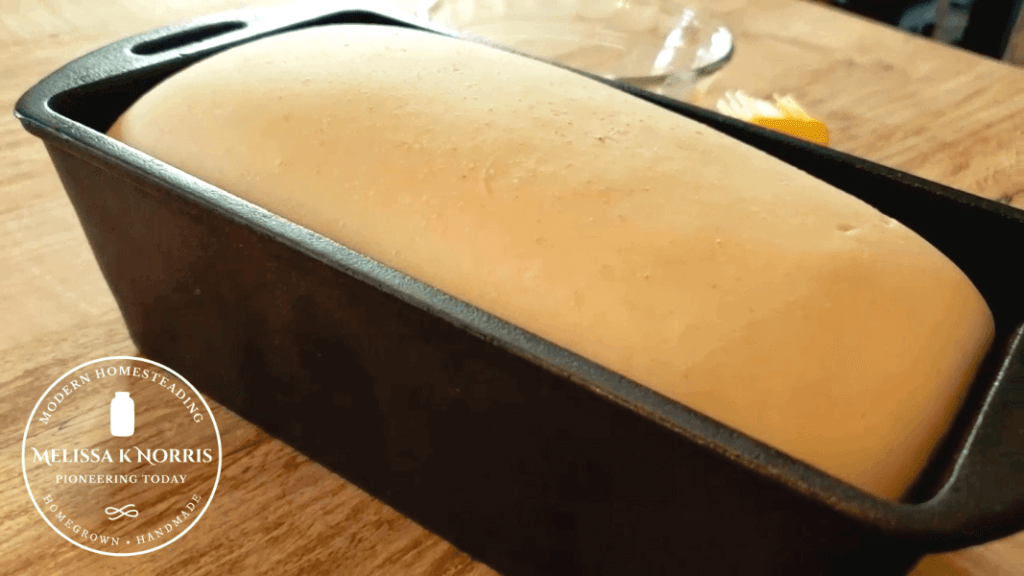 Cast Iron Loaf Pan
Cast iron makes my kitchen go round. I use my cast iron skillets for everything, baking pies, quiches, biscuits, brownies and even my favorite chocolate-caramel cinnamon rolls.
But having a cast iron loaf pan is the best for homemade sourdough sandwich bread. It's my favorite bread pan and I've actually purchased more than one so I could make my two-loaf recipe.
You can grab a two-pack of cast iron loaf pans here (one for me and one for you?!) or pick single or multiple sets of cast iron loaf pans here.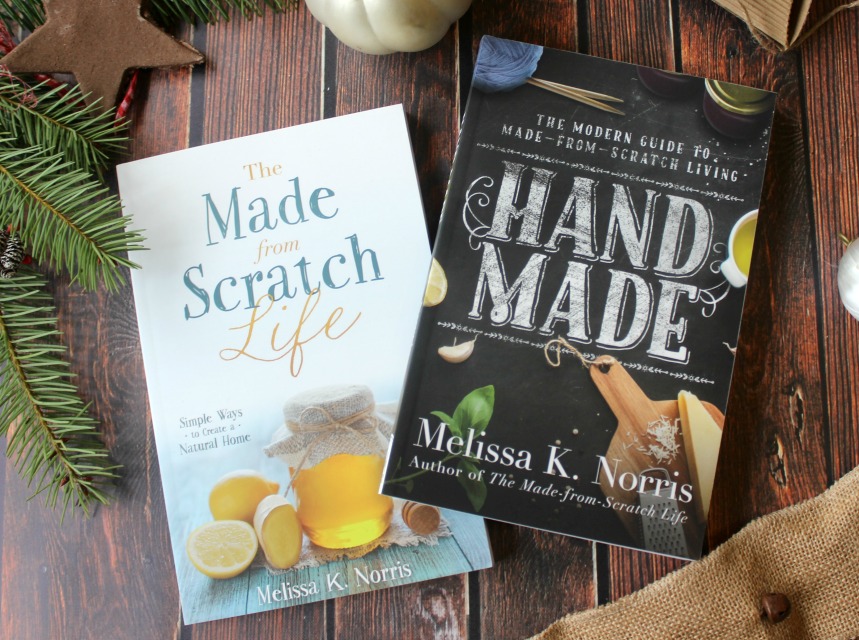 While we're on the subject of made-from-scratch cooking, having tried and true recipes are a must and I share all of mine in both my books, The Made-from- Scratch Life and Hand Made: the Modern Guide to Made-from-Scratch Living (psst, this one has over 100+ recipes!).
More Tips on Cooking and Baking from Scratch: