25+ one dish cast iron skillet and Dutch oven recipes for easy indoor, outdoor and wood stove cooking.
Cast iron is the number one cookware in my kitchen. Our grandmothers knew the wonder of cast iron and there are some old-fashioned things, okay a lot of old-fashioned things, we'd do best to go back to and leave the newer stuff in the stores. Teflon is not allowed in our home but despite it's questionable health issues, cast iron is much more efficient at turning out luscious desserts, succulent meats, and fluffy breads. Are ya hungry yet?
Oh, good. Because I've got some fun cast iron Dutch oven recipes. Because really, half the fun of cast iron is being able to cook on a wood stove (how to cook on a wood stove) or outdoors with coals. You now, true pioneer stuff.
Am I the only Mom who loves only dirtying up one pan and having supper ready?
25 Cast Iron One Skillet Dutch Oven Recipes

…
Cast Iron One Skillet Main Dish
One Skillet Broccoli Cheese Cornbread-Real Food Style
Kale and Tomato Crustless Quiche
Gluten Free Kale and Salmon Cake Patties
Salsa Verde Chicken & Dumplings
Old-Fashioned Cooking for a Busy Home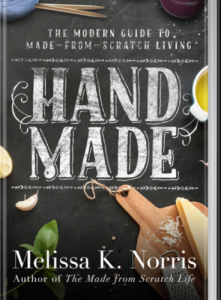 Tired of hectic meal times and complicated recipes or relying on processed foods? Instead, learn how to have
Simple and easy time tested from scratch meals.
Easy skillet suppers
Nourishing and kid-approved soups and stews
Old-fashioned baked goods from buttermilk pie, homemade cake mixes, to Mom's chocolate chip cookies
Don't spend all day in the kitchen, tips for busy times without sacrificing hand made goodies
Wholesome ingredients without processed and questionable items
Want more easy homemade recipes all in one place? This recipe and 100+ more are found in my book–-> click here Hand Made: the Modern Guide to Made-from-Scratch Living.
Cast Iron One Skillet Desserts
Campfire One Skillet Rob Roy Cookies
One Skillet Pumpkin Cake Gluten and Dairy Free Options
One Skillet Pumpkin Granola Cookie
One Skillet Chocolate Chip Cookie
Caramel Chocolate Cinnamon Rolls
Dutch Oven Recipes-Main Dish
How to Cook with a Dutch Oven on an Open Fire
Dutch Oven Chicken and Vegetable Bake
Off-grid Cooking with Dutch Ovens + recipes
No Knead Artisan Bread w/ a twist
Dutch Oven Chicken and Dumplings
Dutch Oven Desserts
Fun bit of Dutch Oven history and how-to
Check out the 5 piece Lodge cast iron set and reviews we shipped to one lucky winner. The contest is over, but we still love our cast iron, and the recipes are great!
This giveaway was sponsored by:
Melissa K. Norris of Pioneering Today 25+ One Dish Cast Iron and Dutch Oven Recipes
Laurie of Common Sense Homesteading
Tammy of Trayer Wilderness
Lisa of The Suvival Mom 12 White Hot Ways to use Cast Iron
Kathie of Home Spun Seasonal Living
Do You Love Cast Iron Too? Here's More Information on Proper Cast Iron Care: