Some of the links below are affiliate links, which means I will earn a commission at no additional cost to you, if you click through and make a purchase. Regardless, I only link to products we use on our homestead or believe in.
GMO products is one area I feel the national media is sorely lacking in covering. While there is a huge outcry online for GMO awareness and education, very little media coverage is being done. It makes one wonder why?
It's up to you and I to protect ourselves and our loved ones. I've been researching GMO's and how to keep them out of my food and kitchen, but most importantly, out of my body and my family. I hope this helps you in your efforts to lead a healthy life.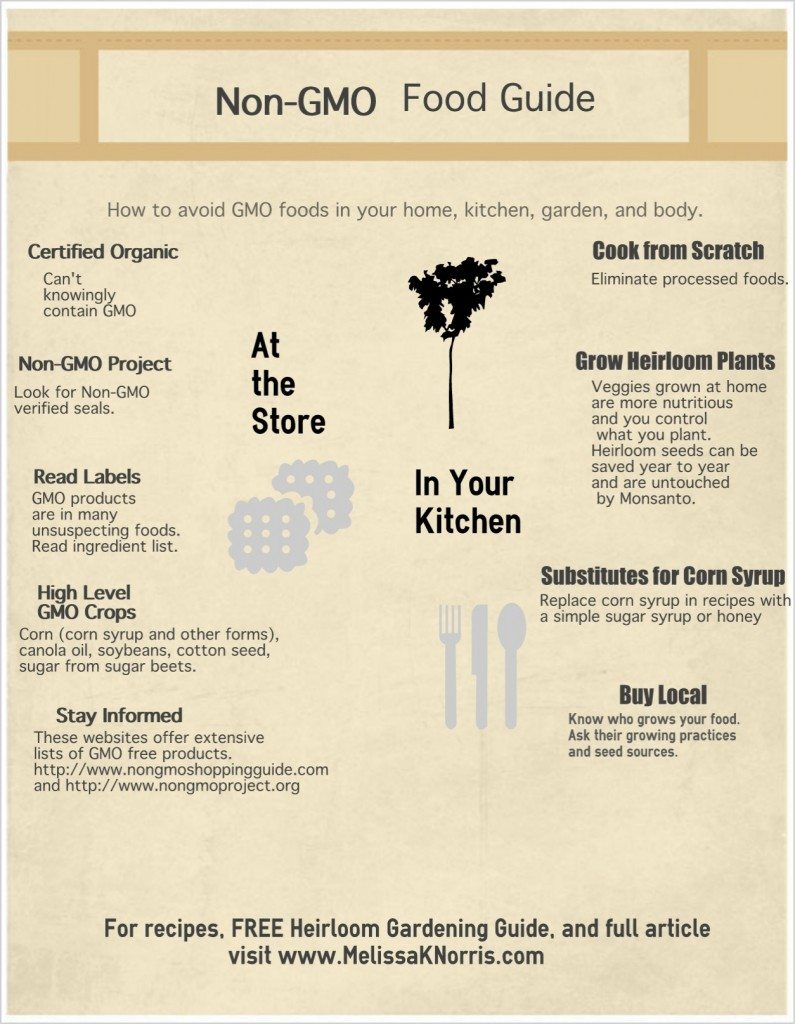 Here's what I've been able to glean and implement in my home.
When shopping at the grocery store, purchase certified organic products. Certified organic products can't knowingly contain GMO food and they don't contain pesticides or other nasty chemicals.
Look for the Non-GMO certified seal. This means it's been verified and tested and contains no more than 0.9% GMO products. To read more, visit Non-GMO Project Verification. The only sugar I buy carries this seal and is carried at Costco or you can purchase it through Amazon, as many readers have told me not all Costco's carry this brand or if you don't have a Costco card you can purchase it here from our affiliate partner Amazon Wholesome Sweeteners Organic Fair Trade Cane Sugar, 10 Pound
Read the label and ingredient list. I can't stress this point enough. You'll be amazed to see what ingredients are slipped into many products. High Fructose Corn Syrup is in everything from bread, chips, ketchup, sauces, and salad dressings. Know what is in the food your buying.
The highest level of GMO crops at this time are sweet corn, soybean, canola oil, cotton seed, and sugar from sugar beets. These items should be on your don't buy list unless they're verified by the GMO seal or certified organic. Summer squash and zucchini are also being grown as GMO in the US. Recently, a field of wheat in Oregon was found to be GMO as well. Note: At this time blue corn is not GMO. I buy organic blue corn chips when we eat chips.
Avoiding GMO Food In Your Kitchen.
Make as much as possible from scratch. This way, you're controlling the ingredients, know exactly what's going into the product, and don't have to worry. Plus, many items are much cheaper when made at home, allowing you extra room in your food budget for the certified organic products.
Don't have a lot of time? Try my Homemade Bread in 5 Minutes a Day and Crunchy Granola Bars. Read the first chapter in my book, Pioneering Today-Faith and Home the Old Fashioned Way, that contains over 40+ traditional from scratch recipes.
Grow Heirloom Plants. Like cooking from scratch, growing your own fruit and veggies enables you to know everything about the plant. Start with heirloom seeds to avoid any GMO traces. Monsanto (the major creator of GMO products) has purchased many seed companies and owns the patent to some hybrid seeds. This is a great list of seed companies owned and NOT owned by Monsanto.
Corn Syrup Replacements. When baking from scratch, you'll come across many recipes that call for corn syrup. To replace corn syrup use a simple sugar recipe or honey, preferably from a local honey keeper so you can ask about their bees and hive practices.
Buy Local. What you can't grow yourself, try to buy from a local farmer. Many local farmers practice organic farming, but can't afford the organic certification. Get to know them and visit their farms. Ask where they get their seed. You'll have confidence in your food when you know the people it came from. Plus, it will be fresher and have more nutrients than store bought that's been shipped and sitting on shelves for weeks.
For more info on GMO's and why I believe they're worse than suspected, read Is the Bible Against GMO's. Subscribe to the blog for more articles and soon to be released podcasts to keep your family safe and healthy the pioneer way.
What are your biggest concerns about GMO? How are you keeping your family safe? Do you grow a garden?