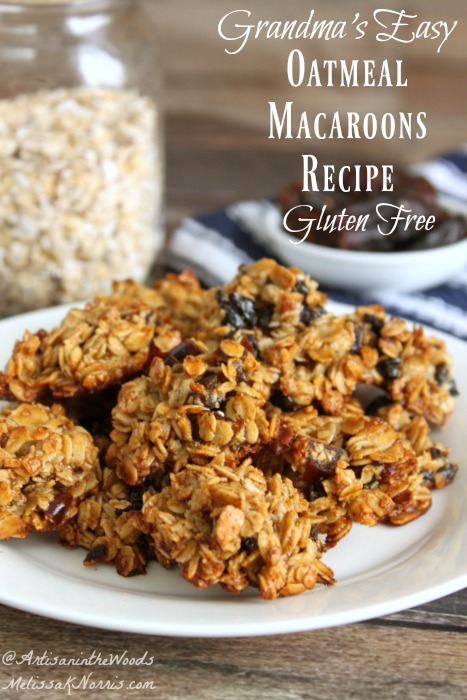 I discovered this Easy Oatmeal Macaroons recipe in my grandmother's recipe box, and right away I knew it was a recipe worth sharing. They are super-simple to make, only have a few ingredients, and most of the sweetness comes from dried fruit. This is a cookie I can feel good about eating!
Although the original recipe calls for brown sugar, they were just as good made with a few tablespoons of honey. For the dried fruit, my grandmother liked them with dried apricots, and I have made them with dates, prunes, and raisins, and I'm going to try cranberries the next time I make a batch.
The lemon zest in the recipe adds a nice zing to the cookie, but when I don't have lemons on hand I add a little vanilla instead. This is truly a versatile cookie with lots of room for creativity!
Resources for Grandma's Easy Oatmeal Macaroons Recipe-Gluten Free
Gluten Free Old-Fashioned Rolled Oats– Though oats don't contain gluten, if they're not marked gluten free, they may have been processed on equipment that processes wheat as well.
Parchment paper– this is a staple in our kitchen, I use it for lining bread pans and cookie sheets. You can use the same sheet multiple times to make it last longer. This is the best deal I've found and this one roll is still lasting me three years later!
Old-Fashioned Cooking for a Busy Home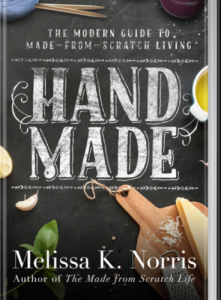 Tired of hectic meal times and complicated recipes or relying on processed foods? Instead, learn how to have
Simple and easy time tested from scratch meals.
Easy skillet suppers
Nourishing and kid-approved soups and stews
Old-fashioned baked goods from buttermilk pie, homemade cake mixes, to Mom's chocolate chip cookies
Don't spend all day in the kitchen, tips for busy times without sacrificing hand made goodies
Wholesome ingredients without processed and questionable items
Want more easy homemade recipes all in one place? This recipe and 100+ more are found in my book–-> click here Hand Made: the Modern Guide to Made-from-Scratch Living.
More Gluten Free Recipes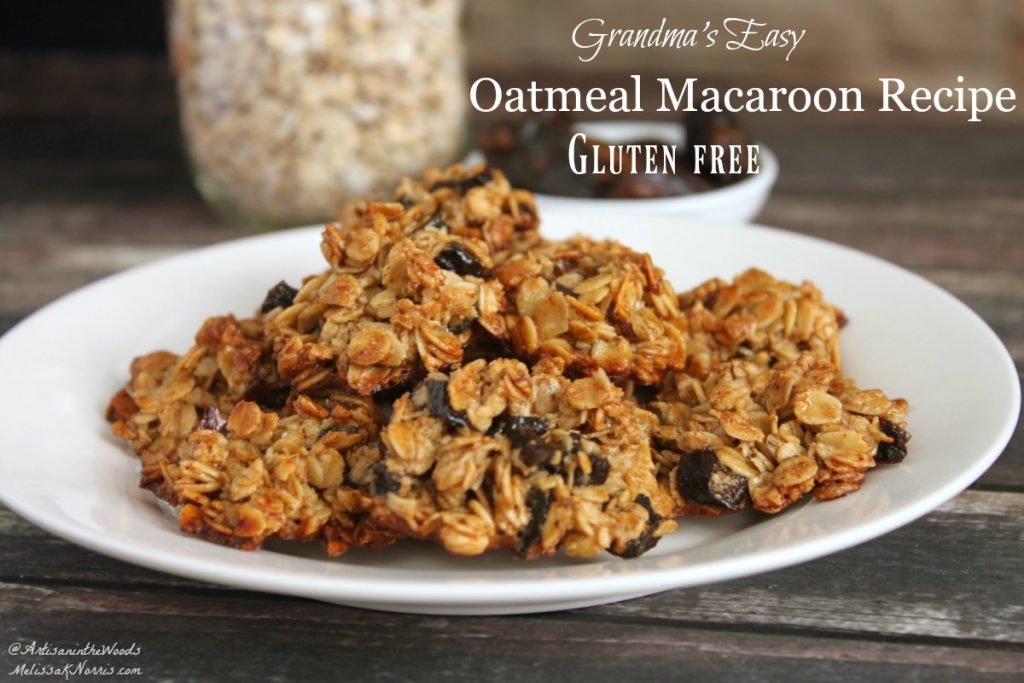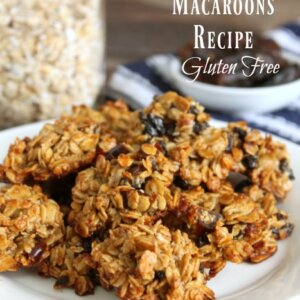 Vintage Recipe: Grandma's Easy Oatmeal Macaroons
Ingredients
1/4

cup

butter

1 1/2

cups

rolled oats

1

egg

3

Tbsp.

honey

or 1/4 cup brown sugar

1/2

tsp

cinnamon

pinch

of ground cloves

1/2

cup

dried fruit

cut in small pieces

1

tsp

grated lemon zest

or 1/2 tsp vanilla
Instructions
Preheat oven to 350 degrees.

Melt butter in a pan, add oats, and stir until lightly browned. Pour oats onto a plate to cool.

Beat egg, honey, and spices with an electric mixer until light and fluffy. If you don't have an electric mixer, a whisk and a strong arm should do the trick.

Stir in oats, dried fruit, and lemon zest.

Using a moistened teaspoon, place small mounds on a parchment-lined or greased baking sheet. Use the spoon or your fingers to mold them into a mounded shape. At this stage, you might think they will never stick together, but they will once they are baked!

Bake the cookies for 12 – 15 minutes, until they are light brown. Remove to a wire rack to cool.