Some of the links below are affiliate links, which means I will earn a commission at no additional cost to you, if you click through and make a purchase. Regardless, I only link to products we use on our homestead or believe in.
How to grow an herbal tea garden at home, because if you're a tea drinker (and who isn't at least once in a while), then why not grow your own herbal tea garden at home? You'll save money, you'll KNOW it's all organic and you can make your own blends tailored to your specific tastes.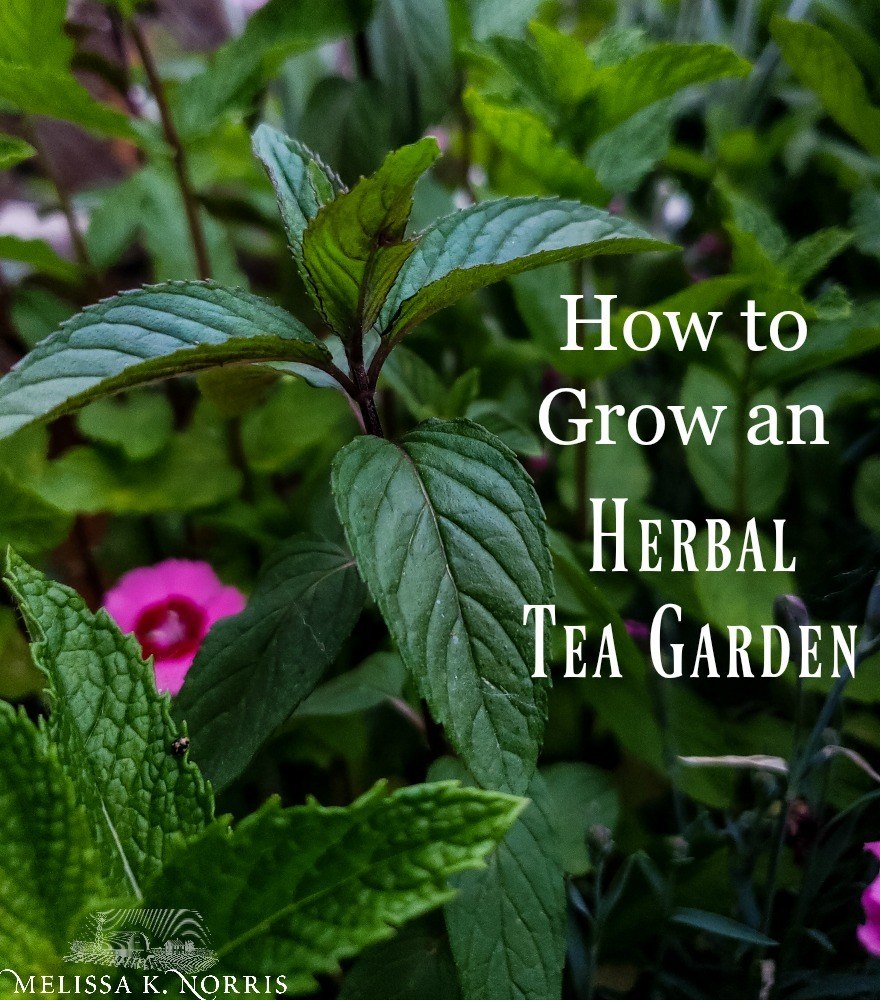 In fact, if you're growing an herb garden at all then you're probably growing some fodder for herbal teas already. Simple, common herbs like peppermint, lemon balm and even catnip can all be used to make some pretty delicious and medicinal herbal teas.
Really, any herb can be used to make tea, which is how their medicinal properties are most commonly extracted. But certain herbs, flowers and even weeds lend themselves to making better tasting herbal teas that are just as good for you as they taste.
As far as flowers go, lavender and chamomile are the most common, but other flowers like rose and hibiscus flowers also make fabulous herbal tea ingredients.
Even weeds like nettles and dandelion root can be used to make herbal teas that you would pay top dollar for from a health food store. Here's my tutorial on how to harvest and make nettle tea.
And of course there are traditional tea leaves from the camellia sinensis plant, which are finicky, but can be grown at home in some climates. This is where you get your black and green teas from.
The point is, growing your own tea garden is really easy and totally worth it. But for best results, a little planning is always recommended. Here's what you should know before you grow…
Warnings and disclaimers
I am not a medical professional and the following is meant for educational and informational purposes only. I always recommend speaking with your personal health care provider before consuming any sort of herbal teas or medicine, especially if you are nursing or pregnant as some herbs are not safe to use while pregnant.
Remember, just because something's natural, doesn't mean it's always safe. Always err on the side of caution and speak to your doctor first if you think there is any way taking herbs could put your health (or the health of your baby) at risk.
How to grow tea at home
Before we dive in, I just want to make a note about growing herbal tea versus growing black or green tea…
Traditional tea (green or black) is very particular about the climate and environment where it grows, which is why the vast majority of tea is grown in Asia where the climate is right.
While there are a few tea farms scattered throughout North America, most commercial teas are grown abroad. However, you can technically grow your own black or green tea at home if you have the right microclimate.
The camellia sinensis tea plant is actually a shrub that can be grown in warmer climates (Zone 8 or warmer), likes acidic soil and takes up to three years before it's ready for harvest. From this plant you get black tea, green tea and oolong tea. So if that's what you're after and you think you've got the right climate to do it, then go for it! Although I have a feeling if it were that easy, there would be more local suppliers.
So if you enjoy black, green or oolong teas and want to make tea blends with them, your best bet might be to purchase some good quality looseleaf organic tea and use that to craft your tea blends.
Otherwise, all of the other teas and ingredients are considered "herbal," including culinary herbs, flowers and weeds.
Many of them can be enjoyed on their own or as part of a tea blend, and like all good, edible things, they each have their own medicinal properties and unique flavour profile.
Here are a few herbal tea plants you should consider growing in your garden, as well as some simple homemade tea blends to get you started growing and crafting your own teas at home.
Top 5 tea garden plants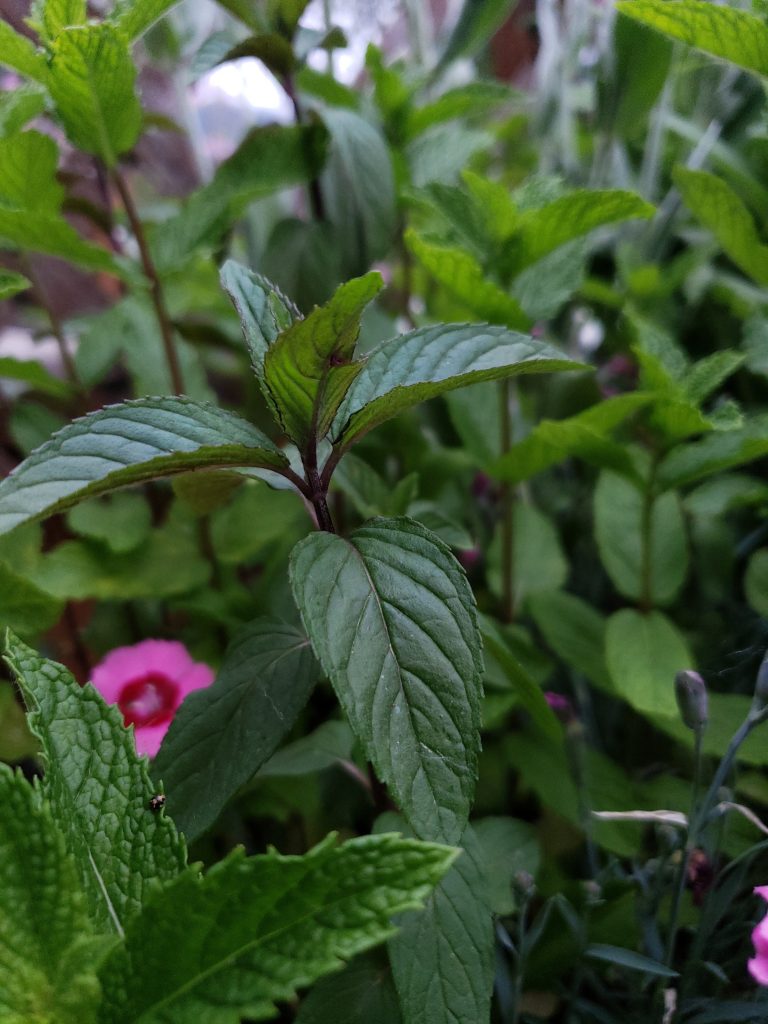 There are so many herbs, including leaves, flowers, fruits and roots that you can use to make tea out of. But if I had to choose the top five herbs for any herbal tea garden, these ones are the must-haves.
Peppermint (Mentha x piperita)
This is one of the most popular herbal teas around and one of the easiest to grow at home. Peppermint is a perennial herb and actually a pretty invasive plant, which means it's highly productive but should be kept contained in a planter unless you plant it somewhere where you don't mind it taking over.
Medicinal benefits of peppermint include easing nausea and upset stomach, easing headaches and freshening breath.
Peppermint can be steeped fresh or dried to make tea and can be enjoyed on its own or as part of an herbal tea blend. Some other great mint varieties for tea are spearmint, chocolate mint and apple mint.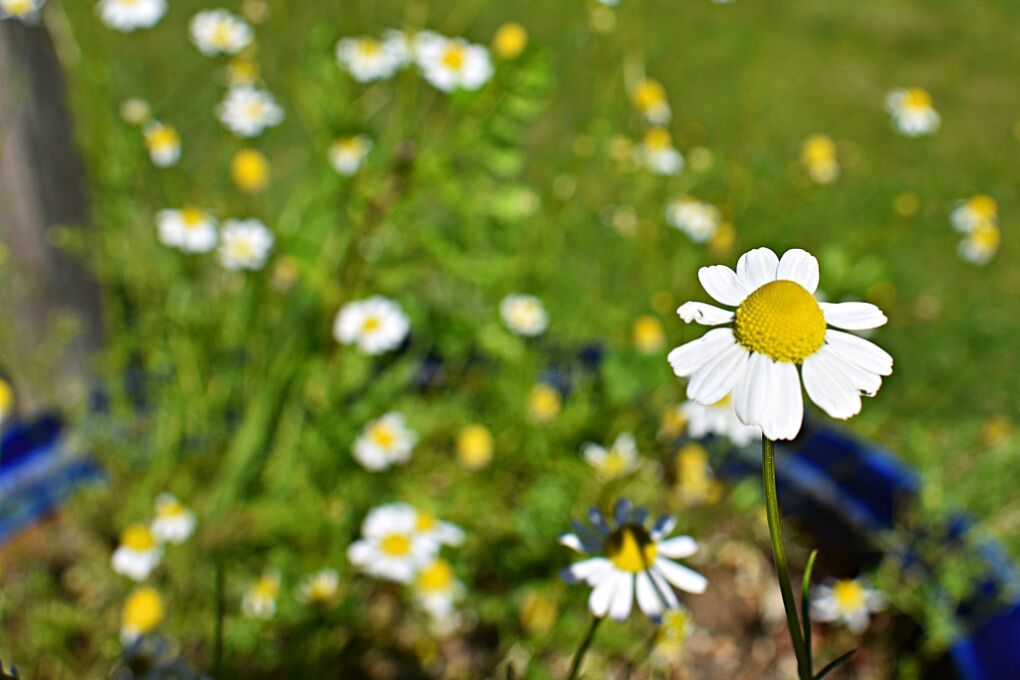 To harvest, pinch off stems of mint leaves just above the spot where a pair of leaves meet. This will help encourage more growth. Hand stems up to dry and then remove leaves from stems and store. Crush the dried leaves and steep or mix with other herbs to make a tea blend.
Chamomile (Matricaria chamomilla)
Like peppermint, chamomile tea is very popular and can be enjoyed on its own or as part of a blend. Medicinal benefits include helping to calm, relax and relieve insomnia, easing menstrual pain and helping to treat cold symptoms.
You can grow German or Roman chamomile at home, although German chamomile is more prolific and has higher concentrations of essential oils, making it slightly more robust than Roman chamomile, which has a hint of apple flavour to it.
German chamomile is also prolific and, although it's an annual, it self seeds. Plus it grows tall, whereas Roman chamomile grows low to the ground, which makes German chamomile easier and more abundant to harvest from. The biggest drawback to growing chamomile for tea is that you need a lot of those tiny flowers to make any significant amount of dried tea!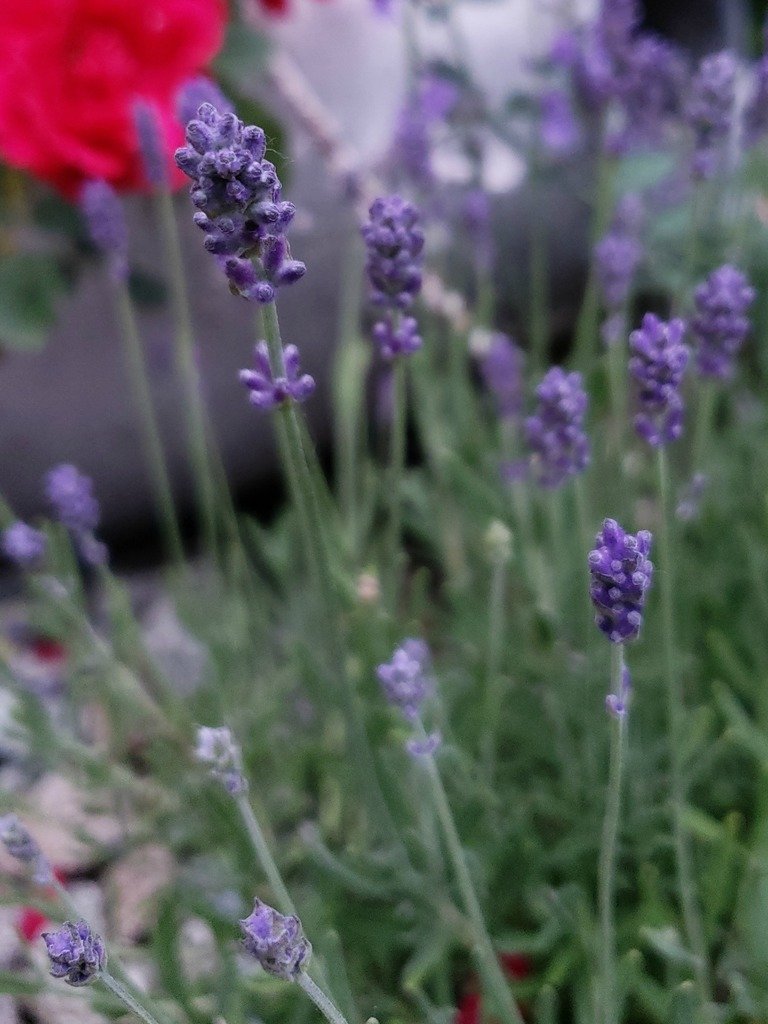 To harvest, pop or pinch the flowers off and lay them on a tray to dry out of direct sunlight before storing. Steep whole dried chamomile flowers in hot water to make tea.
Lavender (Lavandula angustifolia)
No list of herbs would be complete without lavender, right? Lavender is a perennial staple in most herb and flower gardens and makes an excellent addition to an herbal tea blend. It is excellent for relaxation as well as a whole host of other ailments, including headache and allergy relief. But not all lavenders are created equal when it comes to medicinal benefits and flavour.
While French lavender is highly aromatic, it also contains more of a chemical called camphor, which makes it less palatable. So when planning your herbal tea garden, opt for an English Lavender variety. Munstead is a good culinary variety.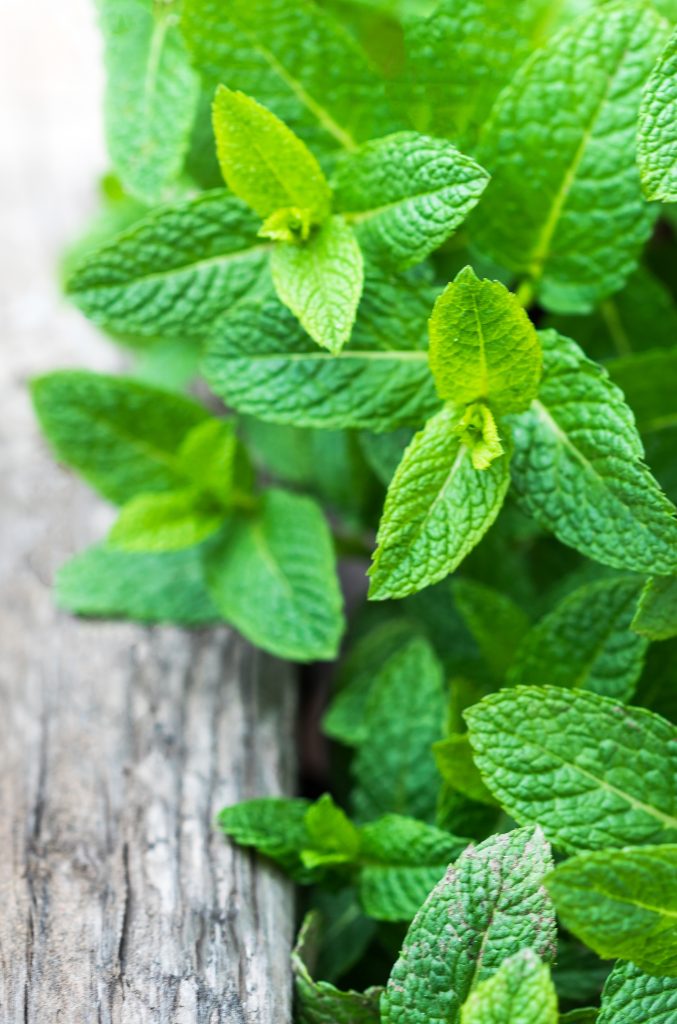 Harvest as soon as flowers open and hang stems upside down to dry. Use your fingers to gentle crumble dried flower buds off of the stem. Mix with other herbs to make an herbal tea blend or steep lavender on its own and enjoy with a little honey and lemon.
Lemon Balm (Melissa officinalis)
Lemon balm is another fantastic choice for an herbal tea garden. Its sweet, lemony flavour makes it a popular choice for herbal tea on its own or as part of a blend. Of course, it also has medicinal properties, including easing stress and anxiety, insomnia and indigestion among others.
Part of the mint family, this perennial grows more like a bushy oregano plant. It can be invasive if not controlled, however in my experience, it doesn't tend to be as bad as traditional mint plants. Still you might want to consider growing it in a container if you're worried about it taking over your garden.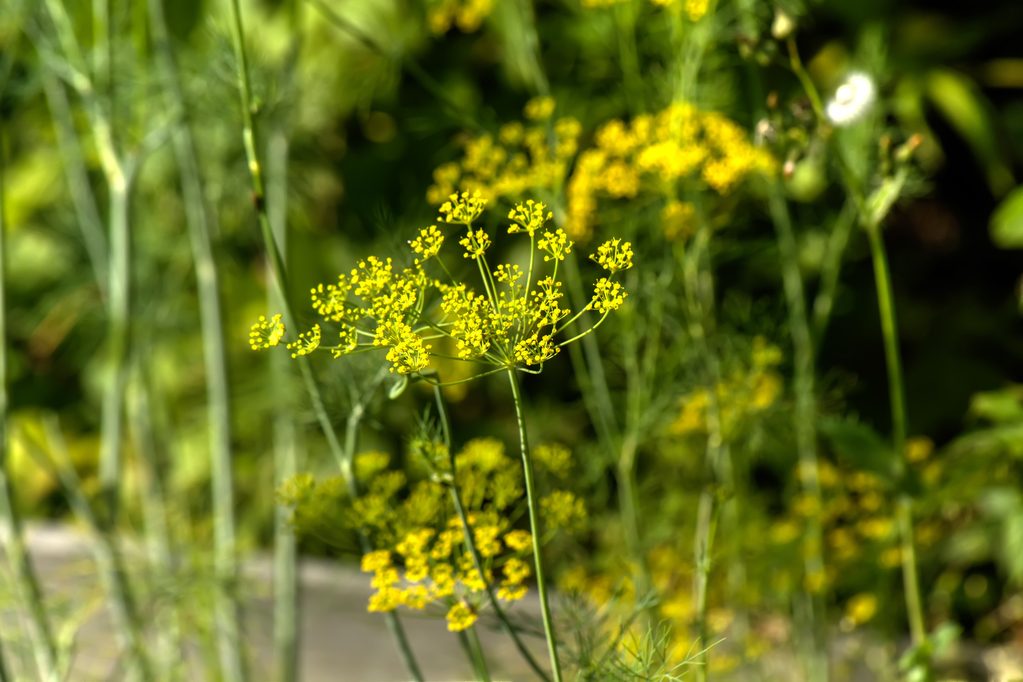 Harvest like mint, hang upside down to dry. and remove dried leaves from stems. Steep crushed leaves and enjoy solo or in a blend.
Fennel (Foeniculum vulgare)
Fennel has a taste similar to black licorice. Its medicinal properties include soothing upset stomachs, boosting metabolism and encouraging milk production in nursing mothers.
Fennel is a perennial plant in Zones 6 and warmer and can be grown as an annual in colder climates. Unlike other herbs on this list, it is a bulb that grows edible stems and wispy fronds similar to dill weed. Herbal tea can be made from its fronds (leaves), flowers, bulb, or seeds, although the seeds are typically more flavourful and aromatic and are the popular choice for most fennel tea recipes.
Allow the fennel plant to go to seed in the fall. It will produce little yellow flowers that, again, look similar to dill. Harvest the seeds once the flowers dry out and begin to turn brown. Remove flower heads from plants and allow them to dry out completely on a tray in a sheltered area out of the sun. Most seeds will drop off the flower heads on their own, but can gently shake any that haven't or rub them to remove them.
For maximum potency, crush seeds gently before steeping or adding to tea blends.
Other notable herbs for your tea garden
I couldn't possibly go over every herb you could grow for herbal tea as the list is extensive. The ones listed above are great staple herbs for any herbal tea garden, although there are many more I recommend keeping on hand, whether you grow them in your garden or forage them wild.
Here are some other great herbal tea plants to grow or forage for homemade tea.
Lemon Verbena – leaves
Spearmint – leaves
Echinacea – flowers
Marjoram – leaves
Stevia – leaves
Catnip – leaves
Sage – leaves
Bee Balm – flowers or leaves
Roses – petals and rosehips
Elderflower – flowers or berries
Hibiscus – flowers
Nettles – leaves
Dandelions – roots
Raspberry – leaves
Fenugreek – seeds
Ginger – root
Turmeric – root
Licorice – root
Pine, fir or spruce trees – fresh tips
3 homegrown herbal tea blends to try
While any herb can be steeped and enjoyed all on its own, making your own tea blends means you can take the powers of more than one herb and combine them into a super blend of deliciousness with a potent medicinal punch. Plus, they're fun to make and make great homemade gifts for any occasion.
Here are three herbal tea blends to try making at home.
Relaxing Blend
2 parts chamomile
1 part lavender
1 part lemon balm
Allergy Relief Blend
2 parts stinging nettle leaves
1 part peppermint leaves
Tummy Ease Blend
2 parts peppermint leaves
1 part fennel seeds
1 part chamomile flowers
Fertility Blend
2 parts red raspberry leaves
1 part nettle leaves
1 part peppermint leaves
Morning Energy Blend
4 parts dried dandelion root
1 part crushed, dried stevia leaves
Flower Power Immunity Blend
1 part echinacea flower petals
1 part elderflowers or elderberries
1 part rosehips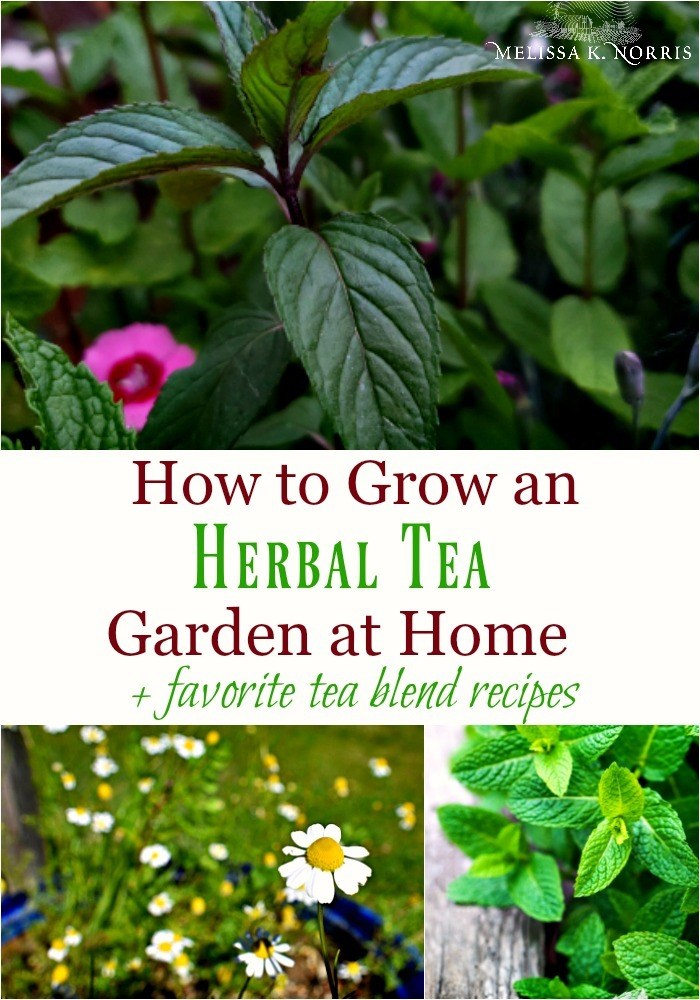 More articles about medicinal herbs…