If you're an avid baker, or you just like cooking with cast iron, you must have a wooden bench knife (I wish I'd known about these years ago)! It's a game-changer in the kitchen and will simplify your tasks and save you time!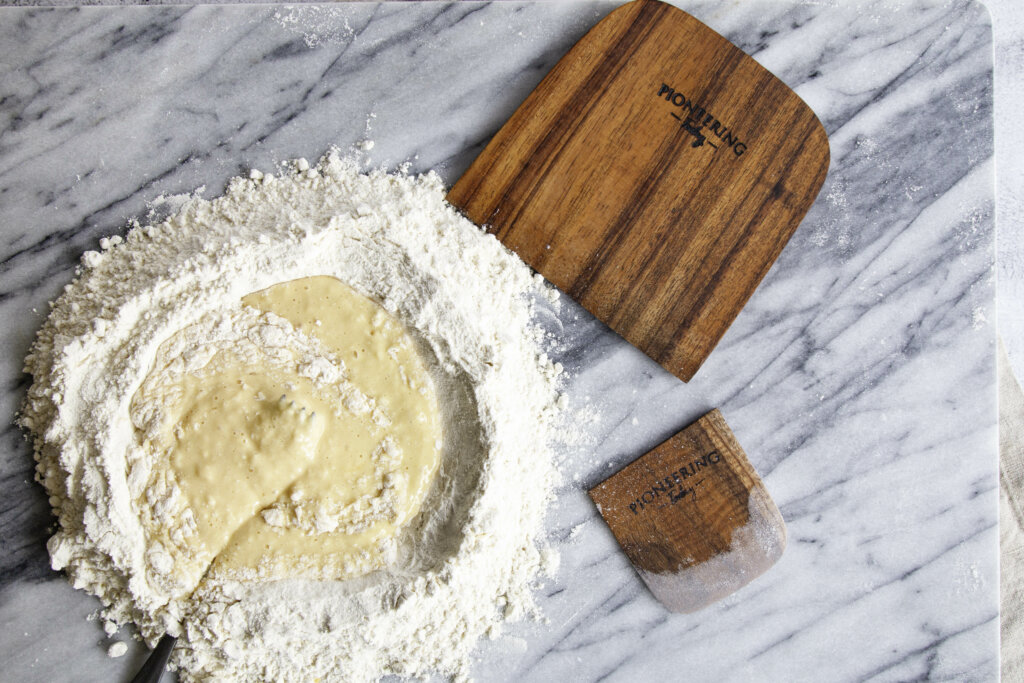 Why I Love Wooden Kitchen Tools
I do a lot more baking in late fall, early winter, right around the holidays. It was a few years ago that I started getting very frustrated with some of my must-have homestead kitchen tools.
Most specifically the little scraper that I have loved using to get stuck-on food off of cast iron pans. But because it was a plastic scraper, and because the best time to remove food from cast iron is when it's still hot (learn how to properly clean cast iron to maintain the seasoning here), so that scraper warped and didn't have a sharp edge anymore.
I asked my husband if he could make a wooden scraper that wouldn't warp and he did!
This got me thinking, I also love using a bench knife when baking bread or cutting through hard dough, but those handles are always so awkward, so while my husband was at it, I asked if he could make me a wooden bench knife as well! And he did!
I love these products so much for myself that I encouraged my husband to make a large batch of them to sell to the Pioneering Today Academy members, and wouldn't you know it, but that very first run of products sold out in 38 minutes!
So clearly I'm not alone in my desire for high-quality wooden tools! If we still have any in stock, you can purchase your own wooden scrapers and bench knives here.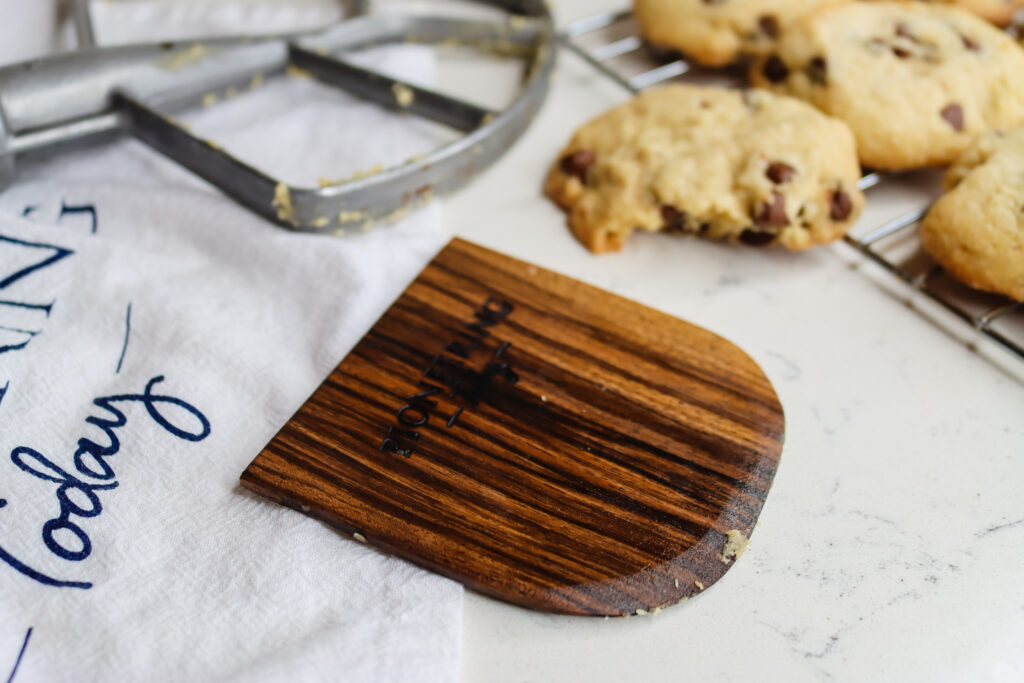 Ways to Use Wooden Bench Knives & Scrapers in the Kitchen
There are so many ways to use a wooden bench knife and a wooden scraper in the kitchen. Aside from cleaning my cast iron pans, here are some of my other favorite uses…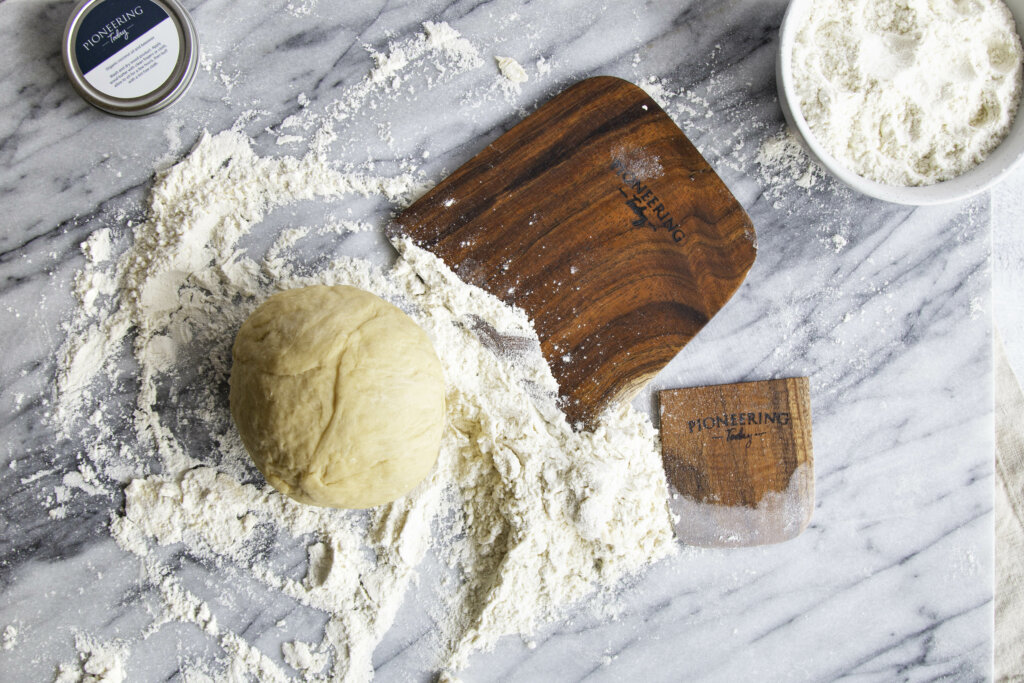 Pie Crusts
When you make the best homemade flaky pie crust recipe, it's enough for two double-crust pies, so I like to use the wooden bench knife to cut the dough ball into four equal quarters.
Also, sometimes when you roll out your pie crust you don't use enough flour and the crust can stick to the counter, run the wooden bench knife along all sides of the crust (or any spot that is sticky), to loosen it from the counter before folding it onto itself and transferring it to the pie plate.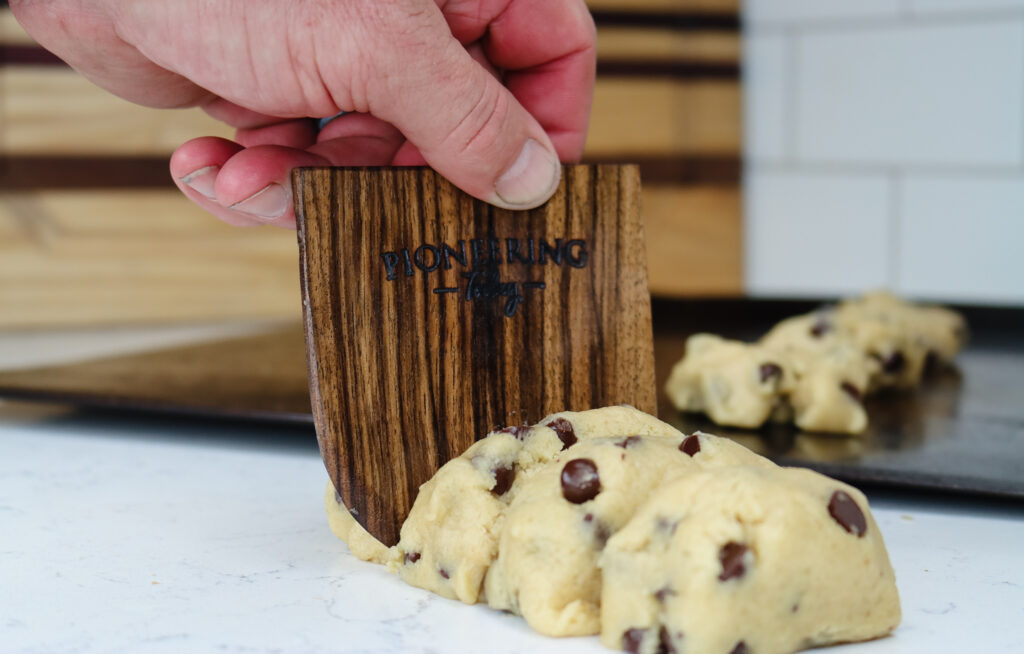 Cookie Dough
Around the holidays I bake a lot of cookies. Whether it's good ol' chocolate chip cookies, old-fashioned molasses cookies, great-grandma's WW2 carrot cookies, or any of these 16 Christmas cookie recipes.
There's always a potluck, holiday event, school production, or gathering with friends and I like bringing along a plate of homemade cookies as a hostess or thank you gift.
But let's be honest, the holiday season can quickly get filled up with so many "places to go" that making another batch of cookies is the last thing I have time for.
What I've learned to do is make up a few large batches of cookie dough of various kinds ahead of time. I shape the dough into a log and freeze it, then when I want to bake a few cookies, I take my wooden scraper and cut off discs of cookie dough, place them on a cookie sheet and bake them up!
This not only saves me so much time, but it allows me to bake up just a few of each kind of cookie, making a fantastic cookie platter.
Bonus tip: many cookies taste better with some chill time, it allows the flavors to deepen.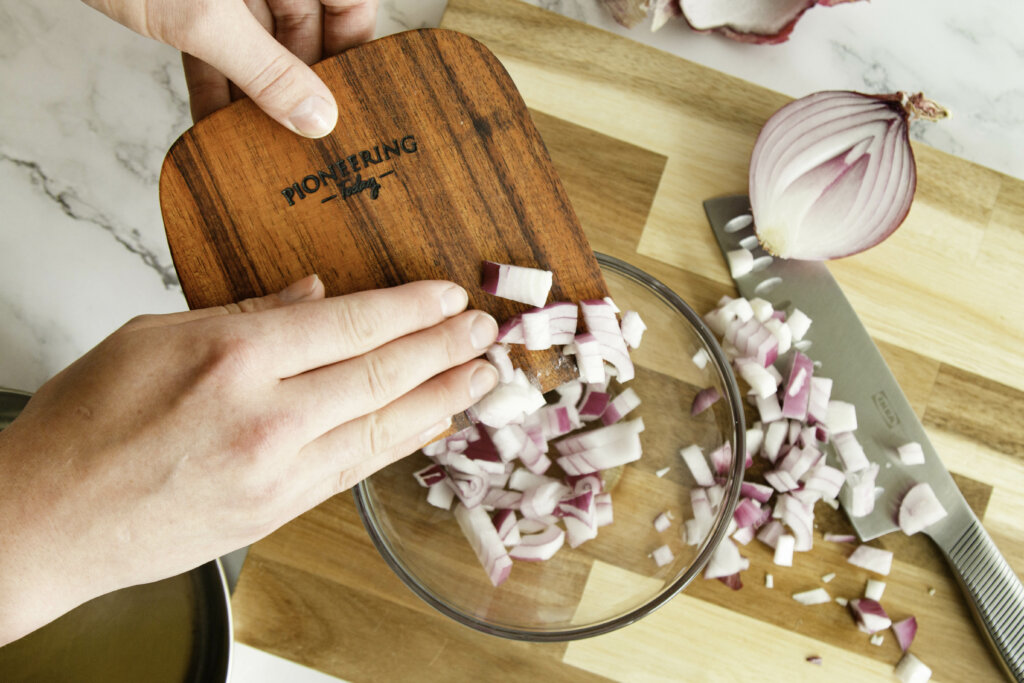 Vegetables
The large bench knife comes in very handy when chopping up a lot of vegetables that need to be transferred to a bowl or pot. You can just scoop them up with the bench knife and transfer them with ease (especially if little ones are helping in the kitchen and you don't want them handling a sharp knife blade yet).
Smashing Garlic
I can never have enough garlic! Basically, if a recipe calls for one clove, you know I'm adding at least 3-5. This is another great use for my large wooden bench knife.
Layout all those cloves of garlic on the counter, then take the bench knife and give them a good solid whack. All the cloves are crushed and the paper falls off with ease.
When canning salsa this saves so much time!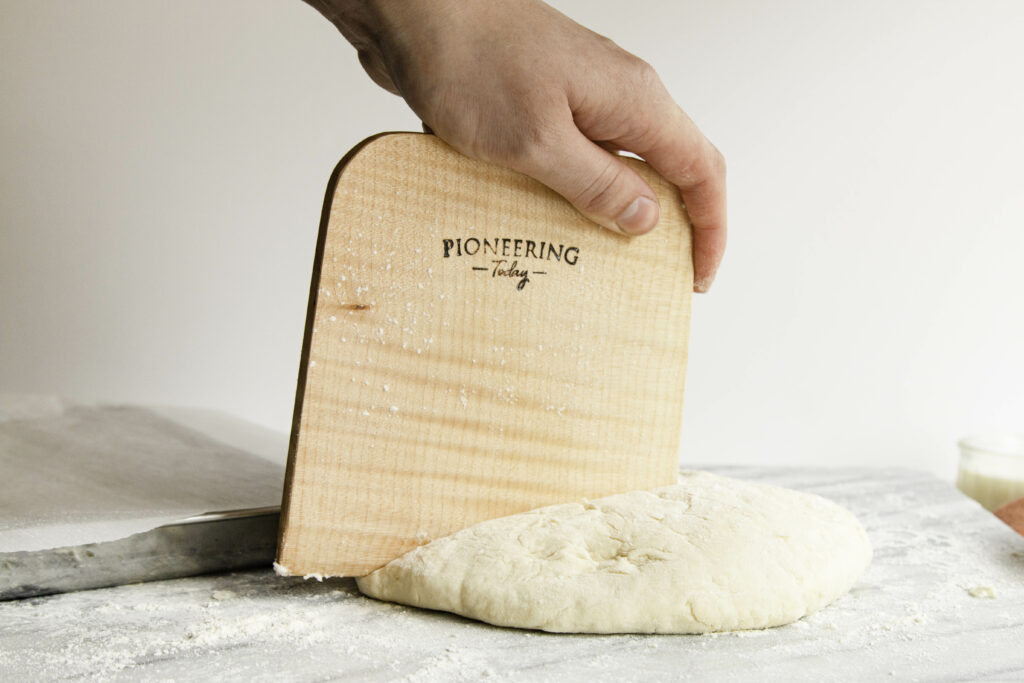 Bread Dough
Where this wooden bench knife really shines is when making loaves of my homemade no-knead artisan bread. Because that dough is a very wet dough, it sticks to your hands a lot. That's just the nature of no-knead recipes.
But using my wooden bench scraper keeps my hands much cleaner, and the dough doesn't tend to stick to the bench knife as much as my fingers.
I also use the bench knife to create tension on my loaf of bread, as well as to scoop the bread up and out of the pan and onto the cooling rack.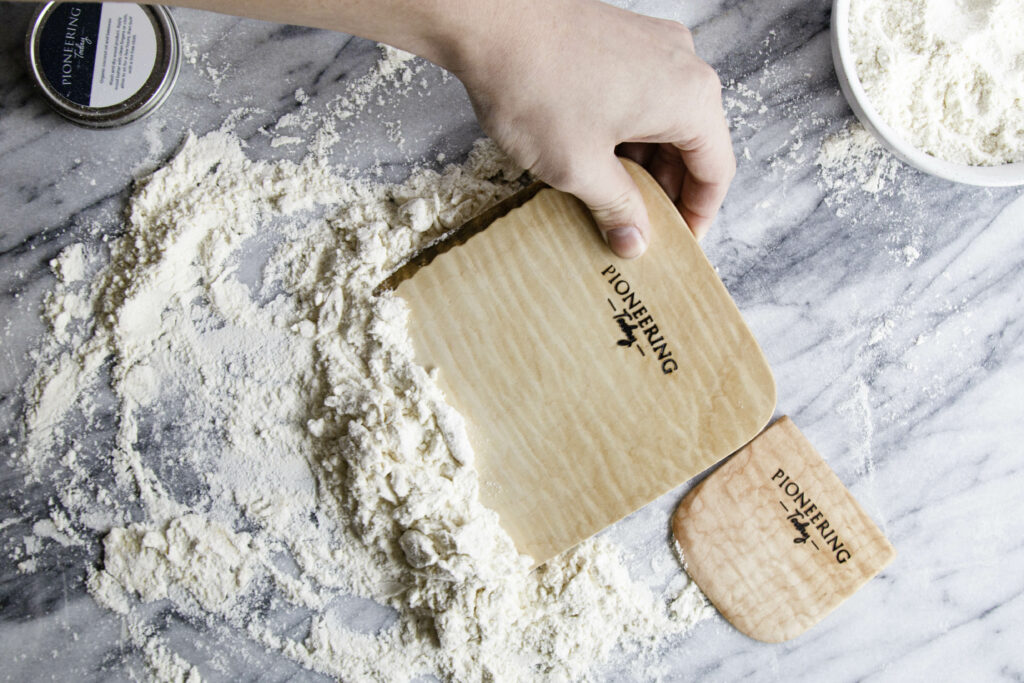 Easy Clean Up
After working with any kind of dough on your countertop, there's surely dough residue left over. If you try cleaning it up with a washcloth, the dough just gets gummy and your washcloth is a mess. I love how easily the bench knife or the dough scrapers clean off the counter!
If you're not fully convinced of your need for a wooden bench knife and a dough scraper, then let the products speak for themselves. Go check out my store and see all the products I have to offer!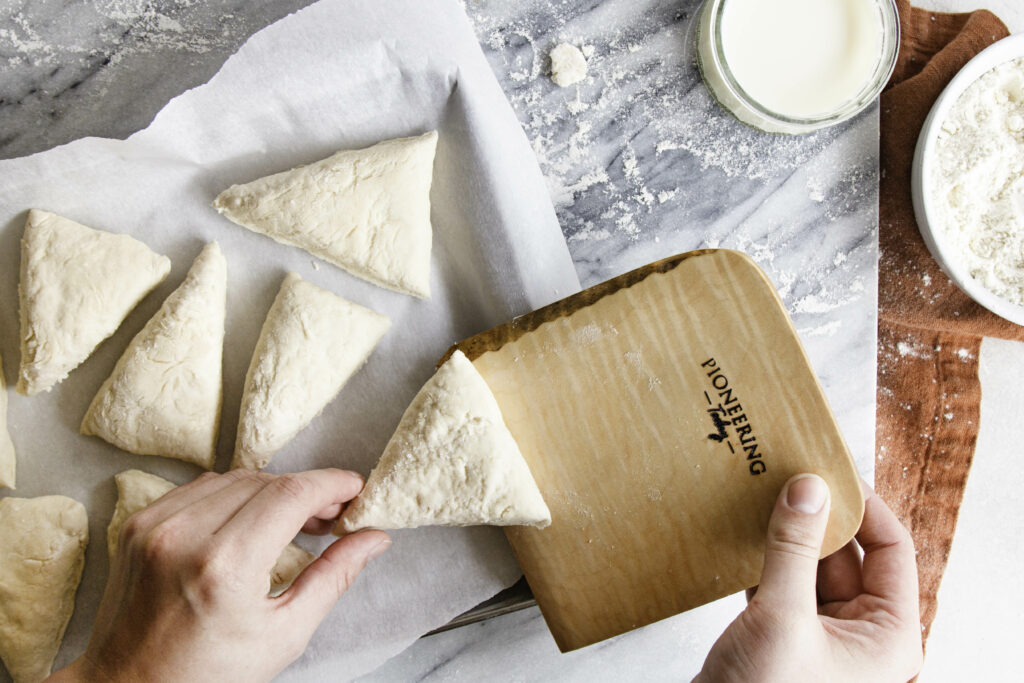 Even More Uses
Cutting scones, pastries, or other dough.
Cutting Pasta
Making gnochi
Transfering raw dough items (sugar cookies, biscuits, scones) from the counter to the baking sheet.
There's virtually no limit other than your own imagination!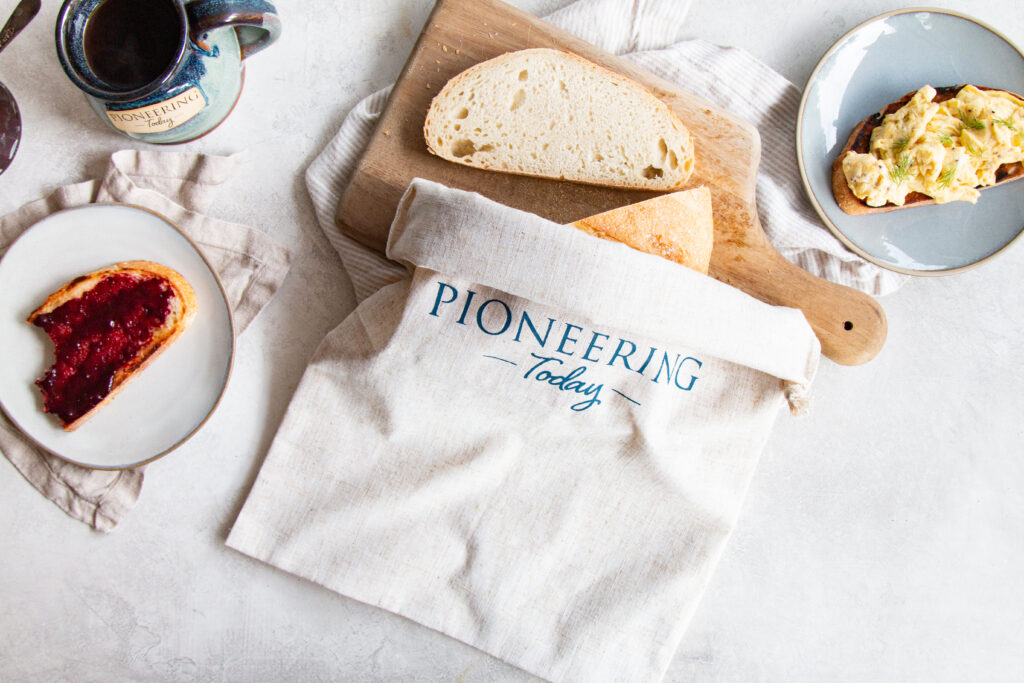 More Posts You May Enjoy