Baking hacks and tips for busy night, I use these tips all year long in order to get homemade from scratch food on the table rather than relying on processed convenience items from the store (they taste better, are healthier, and cost less than buying a tube or can of this and that). My secret weapon is knowing how to freeze dough for busy nights but especially during the holidays.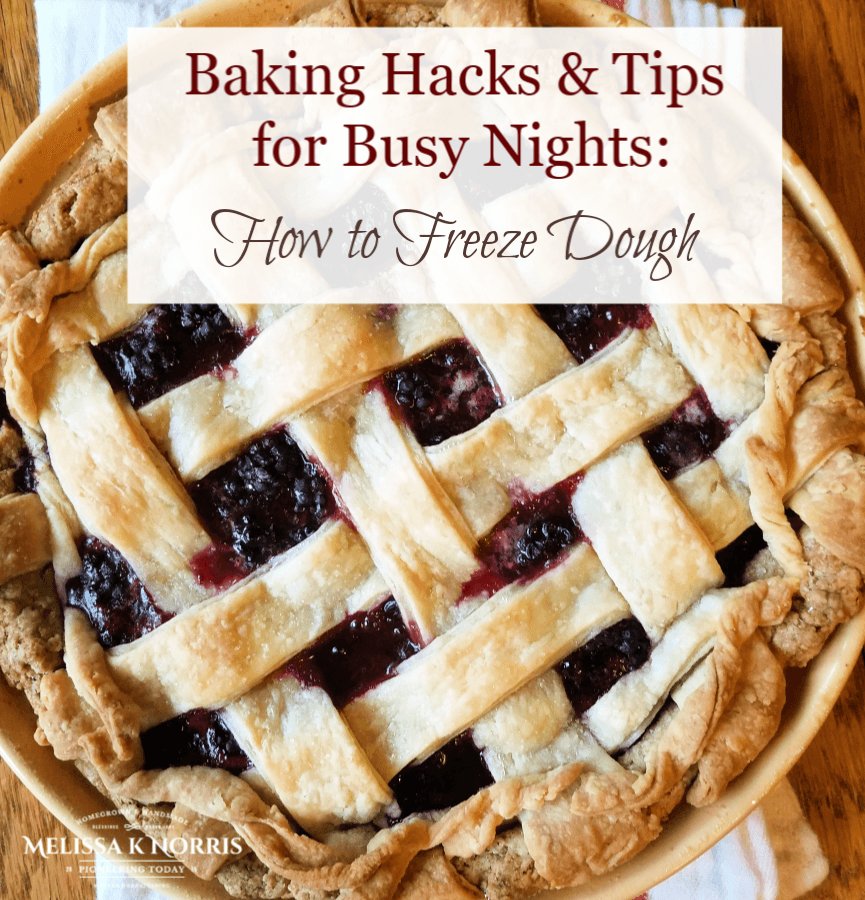 I'm just getting back from a 5-day business trip, and I cannot believe that Thanksgiving is in a few short weeks! There are specific steps I take in the kitchen to prep for the holidays that make life less stressed and more enjoyable for me during the holidays. So, I thought I would share those with you!
Listen in below to the full podcast, Episode #215 Baking Hacks & Tips for Busy Nights: How to Freeze Dough of the Pioneering Today Podcast, where we don't just inspire you, but give you the clear steps to create the homegrown garden, pantry, kitchen and life you want for your family and homestead.
Baking Hacks & Tips for Busy Nights: How to Freeze Dough
Pie Crust
As we come into the holidays, one of the things we always have to have is pies. With all the different varieties of pies, there isn't a lot of people (not that I've met at least) that don't like at least one type. Because of this pie usually is one of those items that is a must during the holiday season. We need our pie dough to be very chilled before working with it because
It's easier to work with

It rolls out easier and doesn't stick

It makes the flakiest crust
If you've ever made a pie crust, you know that this is a very labor-intensive process, especially if you're making several at a time for the holidays or large dinner. And because we need the dough to be chilled beforehand, this makes them the perfect candidate for a make-ahead item. If you've ever struggled with pie crust you need to snag this recipe and step-by-step tutorial for perfect flaky pie crust every time!
Provided that you have enough pie plates, the easiest way to make pie crust ahead of time is to roll out the dough, put it in your pie plate, and crimp the edges and put it in the freezer. Once it's frozen, you just lift it out of the pie plate. Take all of your frozen pie crusts and stack them together in a freezer bag or container. On the day of baking, take out the frozen crust, place in the same pie plate, add the filling and bake the pie with the crust still frozen! This is especially easy if you're doing a pumpkin or crumb top pie.
If you're making a fruit pie, you can freeze the top crust into a ball. Another option is to take wax paper and roll the top crust dough out. Once it's rolled out on the parchment paper, you'll roll it back up and freeze. This is a great option because the pie crust is already rolled out. Once it's thawed out, all you have to do is unroll it from the parchment paper and place it on your pie.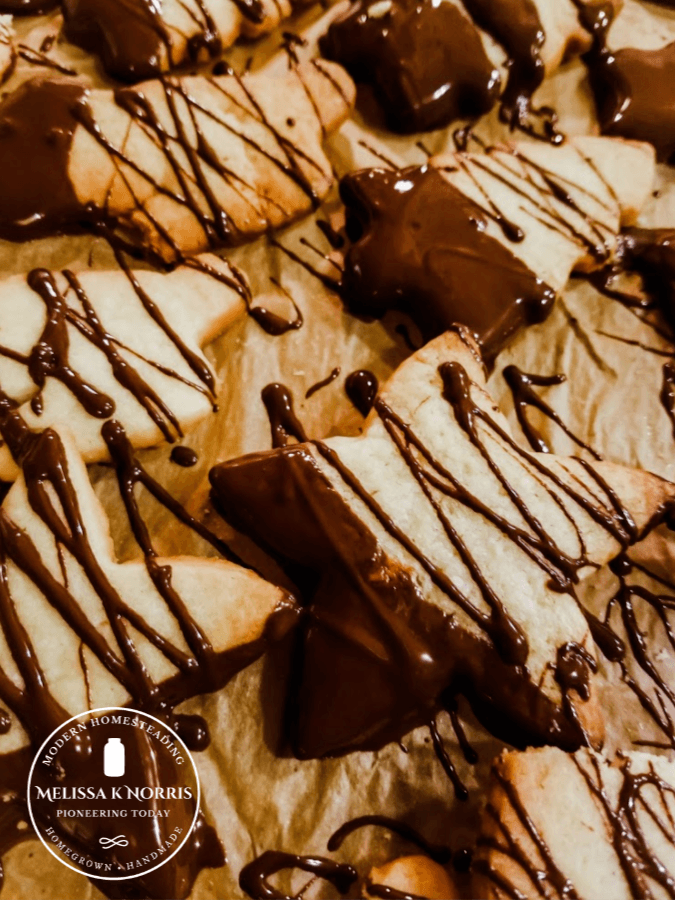 Now, these tips are fantastic for holiday baking, but I always have frozen pie crust on hand all for pot pies and quiches.
Cookie Baking Hacks
Another item I keep in my freezer year-round is cookie dough. My family LOVES cookies. Chocolate chip is their favorite (mine too, but I try not to eat cookies every night.) When I make the dough, I bake half of the cookies. The other half a roll into a log and freeze it. When I want to bake more cookies, I just take the log out and let it sit on the counter for about 10 minutes and then take a sharp knife and slice the cookies and place on the sheet and bake for 8-10 minutes at 370 degrees Fahrenheit so I'm able to make the cookie dough ahead and freeze it. This is also especially convenient to do with sugar cookies during the holidays, where it seems that life get busier and busier.
Cookie Bars
Another thing I love to use chocolate chip cookie dough for is cookie bars. When the cookie dough is thawed, you roll it out in a 9×13 pan and bake it. I make cookie bars in the Spring and Summer to take advantage of our fruit harvest. I mix some cream cheese and whip cream and layer that on top of the cooked and cooled cookie dough and add some fresh fruit on top. You can even sprinkle some cocoa powder or chocolate shavings. These are a great dessert option when you have last-minute guests come over or just because!
Freezing Homemade Bread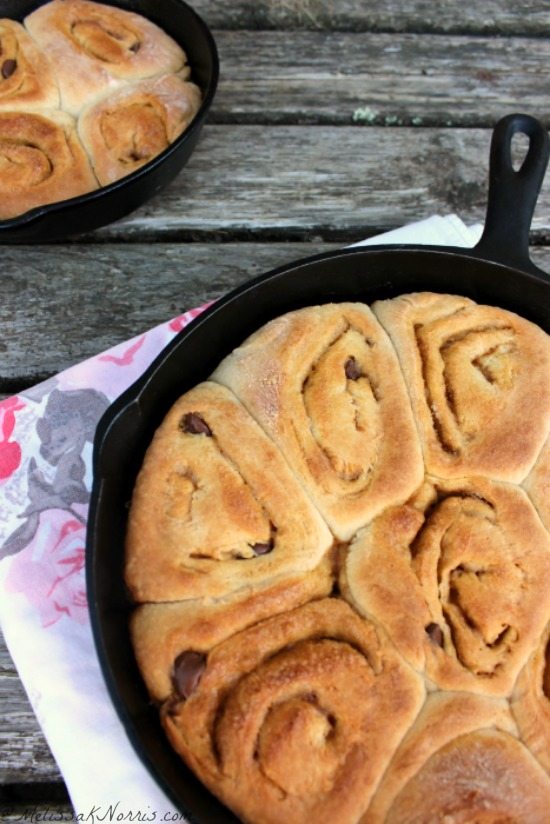 For homemade rolls and bread, I prefer to freeze the items after they've been baked. Allow to fully cool, seal in an airtight freezer bag or container, and freeze for up to 3 months. To serve, allow frozen bread or rolls to thaw at room temp (I promise they don't get soggy) and then pop in the oven for just a few minutes to warm if you're after that just baked experience!
Refrigerating Bread Dough
You can refrigerate your bread dough as the cold doesn't kill the yeast, but slows them way down. The key is knowing at what step of the dough to put in the fridge to bake the next day.
For sourdough bread, you want to put your loaf in the fridge during the second proofing (or the second rise time) after the loaf has been formed. Sourdough bread is often improved both with texture and flavor by a long cooler proofing period (up to 24 hours or longer) and I always proof my artisan sourdough loaves. To bake, simply pull out the dough and let it sit at room while the oven is pre-heating. Then bake as normal.
For yeast bread, after the first rise and forming of the bread or rolls (this works extremely well with cinnamon rolls), place bread/rolls covered in the fridge for 8 to 12 hours (overnight works wonderful), then pull out when you're ready to bake and sit on the counter. Pre-heat the oven. Once oven is preheated, place pan in the oven and bake as normal.
Resources & Recipes for better baking:
Whether you're a newbie and want to learn how to make the best pie crust you have to check out my great-grandmother's flakey pie crust recipe along with tips on how to troubleshooting check out –> Great-Grandma's Flaky Pie Crust Recipe (if you've ever struggled with pie crust this is your answer!)
My Old-Fashioned Homemade Cinnamon Rolls
Learn how to make homemade sourdough starter here with my easy 2 ingredient starter system!
Get all my baking recipes and tutorials, over 100 + recipes in Hand Made: the Modern Guide to Made-from-Scratch Living here
I hope you enjoyed these baking hacks and tips and learning how to freeze dough, if you have any other tips please share below so we can all have homemade delicious food on the table!
More Tips on Cooking and Baking from Scratch: