When I first started using cast iron as my exclusive skillet over fifteen-years-ago, I struggled with knowing how to clean it up. You don't simply fill a cast iron skillet with hot soapy and water and let it soak, EVER.
Once cast iron is properly seasoned, you won't experience stuck on food frequently, but you will still occasionally have times when things stick. That's where knowing these secretson how to wash a cast iron skillet correctly come in to play, so you don't destroy your seasoning or spend a lot of elbow grease cleaning.
Cast iron is hands down my favorite cookware. It can go from stovetop to oven, on the woodstove, and to our outdoor fire pit. Plus, it's a bang-up weapon if you need one, just don't drop it on your toe. After applying these methods it will quickly become your favorite if it's not already.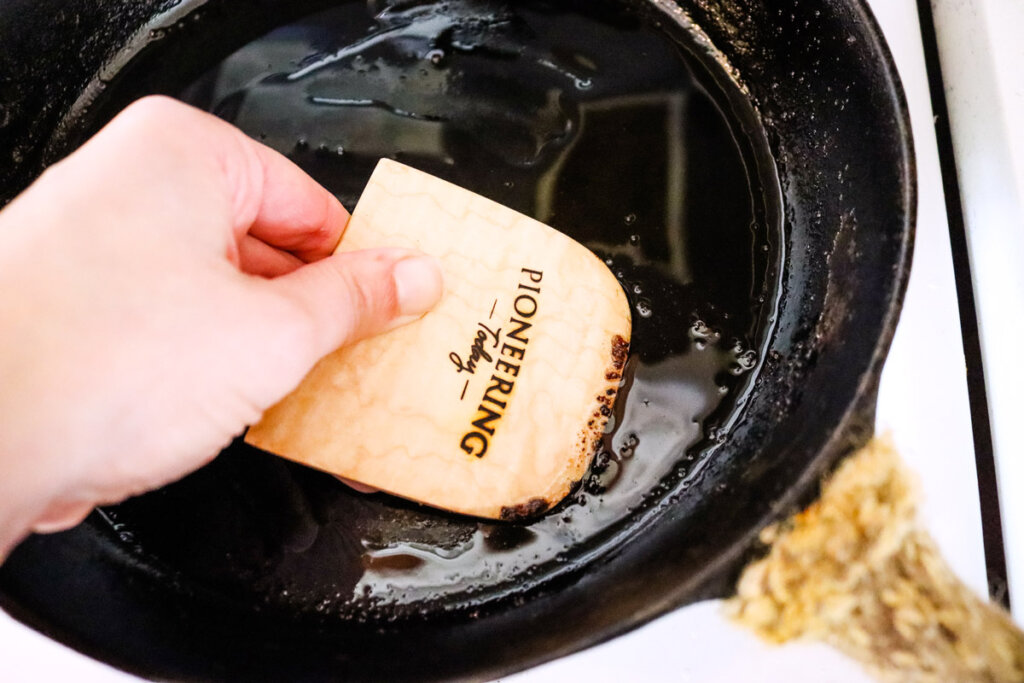 Every pioneer home had a cast-iron skillet. No matter how poor or rich, they all cooked their food with a cast iron pot or pan. Every meal, no matter if cooking outdoors over an open flame on a campfire, on top of the woodstove, a burner on the stove, or in an oven, could be prepared in a cast-iron skillet or Dutch oven (here are 25 of my favorite cast iron recipes).
And I firmly believe every home should still have cast iron cookware. Cast iron is superior to other metals because it distributes heat evenly and can go directly from stovetop to the oven.
When cast iron is seasoned properly, it's completely non-stick (I may wager even more so than Teflon!). I cook pancakes and scrambled or fried eggs with nary a problem. To ensure your cast iron pan remains non-stick and seasoned there are a few steps you must follow.
Table of Contents

[Hide]

[Show]
Why Is Teflon Dangerous?
Today's Teflon coated pans, when scratched or exposed to extreme heat, release a chemical proven to cause cancer, immune system problems, and birth defects. DuPont, the manufacturer, states their product is fine when used according to directions, but I'm not willing to take the chance, especially when cast iron is a much more efficient pan.
Properly Cleaning Cast Iron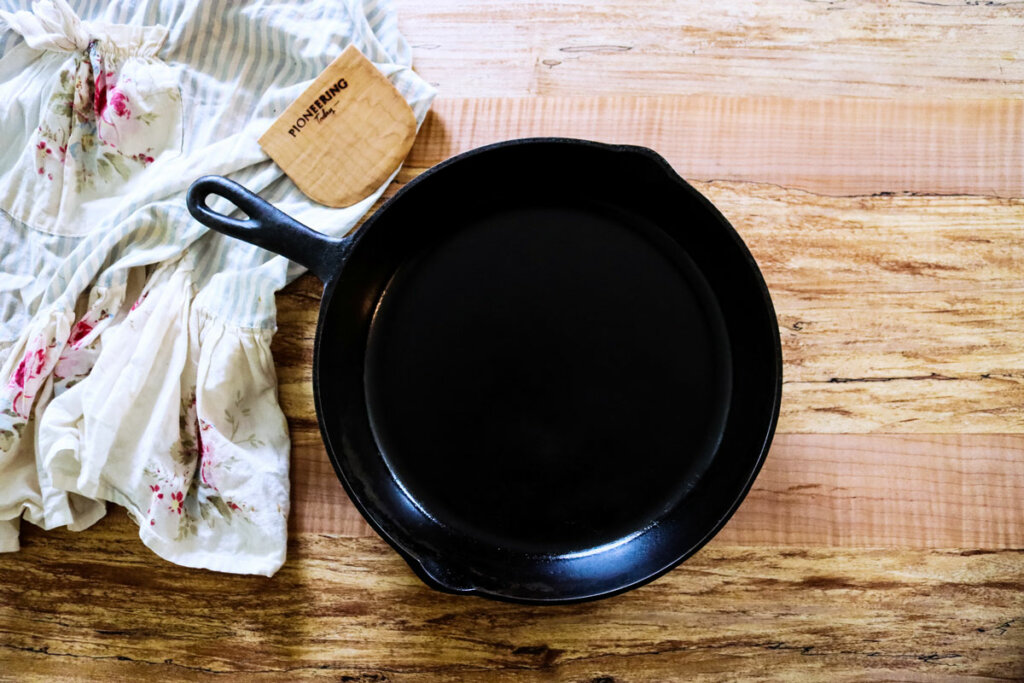 Proper Seasoning
As mentioned, unless your cast iron pan or Dutch oven is properly seasoned before cooking, you'll have a heck of a time keeping the pan non-stick.
After purchasing a new pan, or scoring one at a garage sale, you must season the pan. Even if a pan says "pre-seasoned", I still season it myself before use. Sometimes twice if need be. This momma doesn't like her eggs sticking!
Not only that, but the pre-seasoned cast iron tends to be seasoned with unhealthy vegetable oils, so I like to seal mine off with a good coating of coconut oil or lard that I have rendered from pigs we have raised.
Cook with Fat!
When cooking eggs, pancakes, lean cuts of meat, or veggies, always melt your fat of choice (butter, lard, oil, etc.) in the pan first.
Even though our pans are "non-stick", this doesn't equate to the same non-stick as Teflon which allows you to fry an egg without a stitch of oil.
The fat will help keep your foods from sticking, but once you're done cooking, fat will actually help maintain the seasoning on the pan.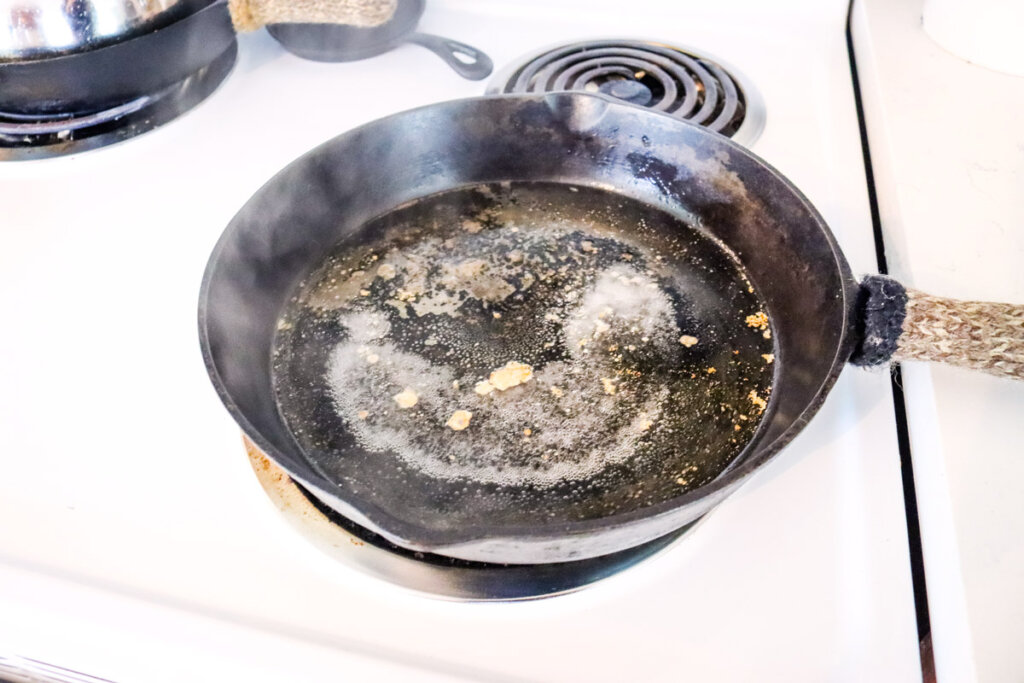 Cast Iron Do's & Don'ts
Learning how to clean cast iron to properly maintain the seasoning is probably the most important step to having success cooking with cast iron. There are definitely a few do's and don'ts when cleaning:
Don't use soap to clean your cast iron (you don't need it).
Don't pour cold water into a hot pan…it can crack or warp.
Use hot water and wipe out your pan with a non-abrasive cloth. You don't want to scratch the seasoning.
If you have baked-on food, you can use table salt and scrub off the sticky parts but I've found using a wooden scraper to be easier and keeps my salt supply from dwindling as fast (Get a handmade wooden dough scraper here).
The heat in the pan will kill any bacteria; soap can destroy your seasoning and cause your pan to rust.
Wipe dry and recoat with a thin layer of oil/fat source.
How to Clean Stuck-On Food From Your Cast Iron
Depending on what you just cooked, cleaning instructions may vary. Here's the basic order for properly cleaning and maintaining the non-stick surface of your cast iron pans:
Wash your cast iron while the pan is still warm. If food has been sitting for multiple hours (or overnight) add a layer of water to your pan and place on the stove over medium-high heat.
Once the water comes to a simmer, scrub the stuck-on food particles with a mesh scrub brush, or, I prefer a wooden bowl scraper.
Dump water and repeat if necessary.
Dry pan completely with a paper towel or dedicated cloth.
If your pan looks dull, add a small amount of oil to the pan and spread it around with a paper towel or dedicated cloth. Wipe excess oil off.
Store in a dry place. If stacking pans, be sure a paper towel is placed between them.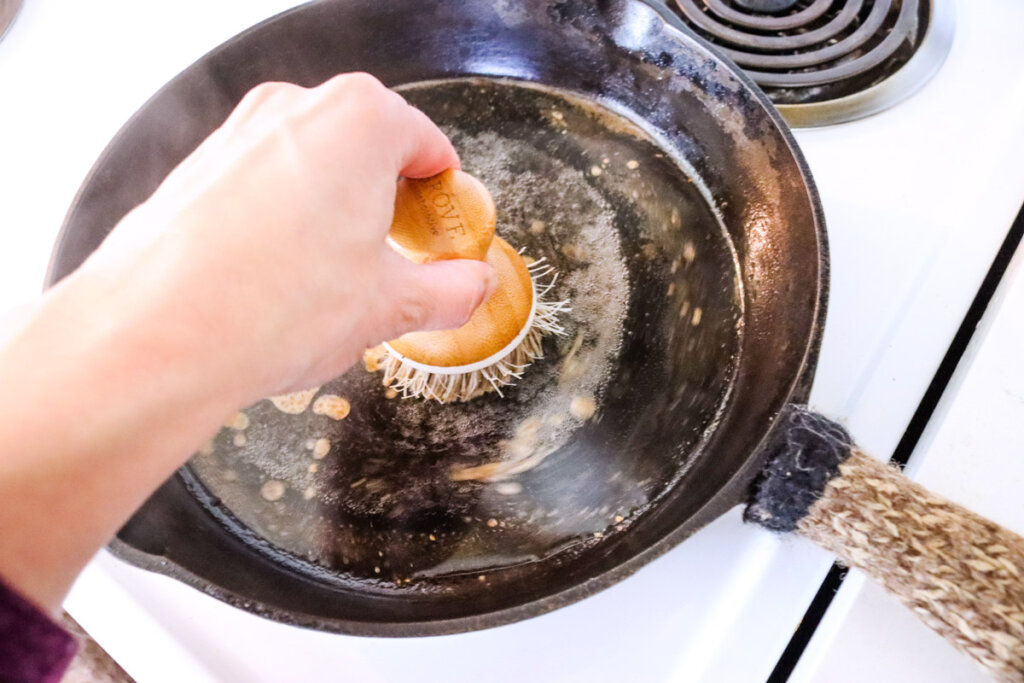 Grease with Food Particles
If you happen to have a grease-filled pan with food particles that has sat overnight in your cast-iron pan or Dutch oven, simply place it back on the burner to warm it up and add a thin layer of water to the pan. Allow it to come to a simmer then scrub with a rough scrub brush.
Dump the greasy water somewhere OTHER than your drain. I just dump mine out my front door (or onto weeds that I'm trying to kill!) and have never had any issues with rodents or other animals. (You don't want greasy water going down your drain as it can harden inside your pipes and cause a real problem over time.)
Once you've dumped out the greasy water, take the pan to your sink and run hot tap water over the pan. Using a dishrag I wipe over the surface of the pan to remove any remaining grease or fat. Dump water outside again since there was still oil!
Once your pan is clean, if you can see a nice shiny surface then that means your seasoning is still intact. You just need to completely dry your cast iron pan and store it away (never store your cast iron when it's wet as this will cause rust!).
Some people like to set their pan on the hot burner of the stove for a few minutes, just to be sure all moisture has evaporated from the pores of the pan. I've found, if your pan is properly seasoned, those pores don't hold water and drying it completely with a towel is sufficient.
You'll know if your pan is seasoned well if you can dry it with a towel and have no rust spots start to show up.
Grease and Fat
If you're dealing with a pan that just has a layer of grease or fat, you can simply heat it up and wipe it out with a cloth or paper towel, dry it completely and you're good to store it away.
Stuck On Food That's Hard to Clean
Occasionally, especially if your pan is in need of a good seasoning, you'll deal with really crusty stuck on food that's hard to remove.
This can happen when cooking scrambled eggs or when baking in your cast iron pan.
I used to remove food like this with a salt scrub, but I now use a wooden dough bowl scraper. I used to use a plastic one, but I found if my pan was still warm (which makes for easier clean-up), the plastic scraper would melt and warp, no longer leaving a sharp edge that makes these scrapers work so well.
I now use this wooden scraper (which my husband actually makes and sells right here), after seeing my plastic scrapers melt, he took it upon himself to craft one that will actually work and last!
To clean stuck-on food I take my wooden scraper and go back and forth, scraping up underneath the food. Remove the food from the pan then run it under hot tap water, scraping any remaining food, if needed, then dry it completely with a towel.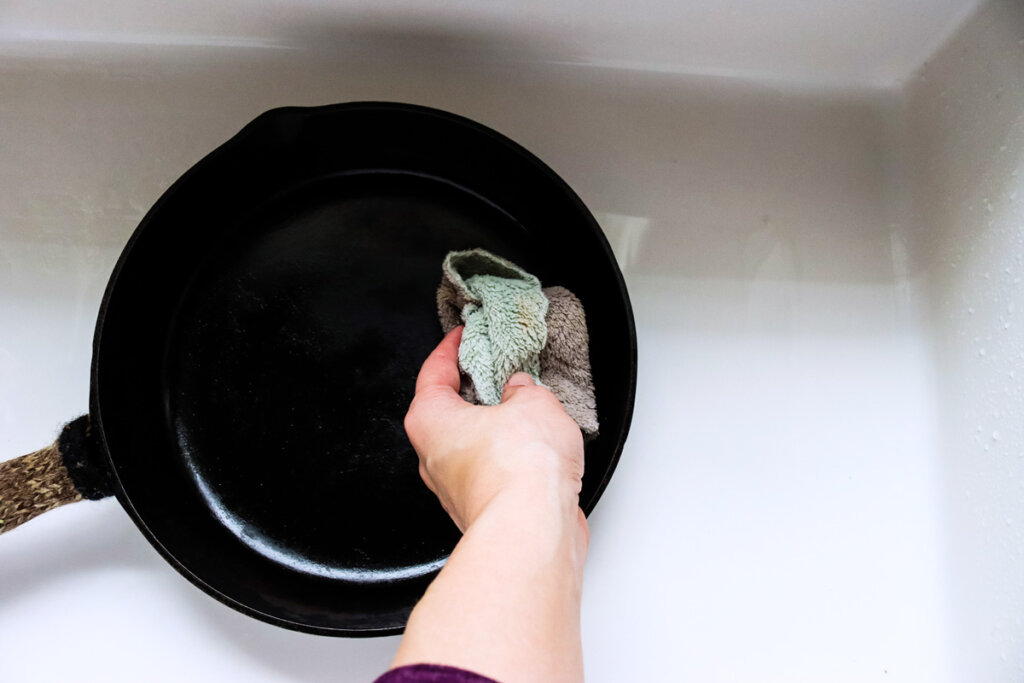 How to Re-Season After Cooking
If you notice that shiny coating is starting to look dull and spotty, it's probably time for a re-season on your pan. To do this the quick way, you can simply add a small amount of coconut oil, lard, or flaxseed oil to the pan and set it on a burner over high heat.
Once your pan is hot, using a paper towel or a kitchen rag that's solely for your cast iron, wipe the oil all around the cooking surface and sides of your pan, making sure all surfaces are coated.
Keep wiping away the oil until just a very thin layer is remaining. Make sure the pan is completely dry and store it away.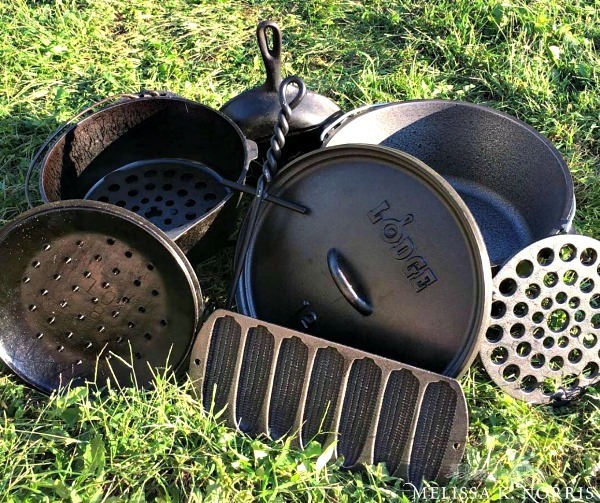 How to Store Cast Iron
Your cast iron will store best in the open in a single layer. If you must stack them, always place a towel in between the pans to absorb moisture and prevent scratching the seasoning.
Cast iron will last a lifetime if cared for. Some of my best pans have been ones I've picked up at thrift stores or garage sales. A little bit of elbow grease by making sure they're seasoned correctly and they're oftentimes better than the new ones.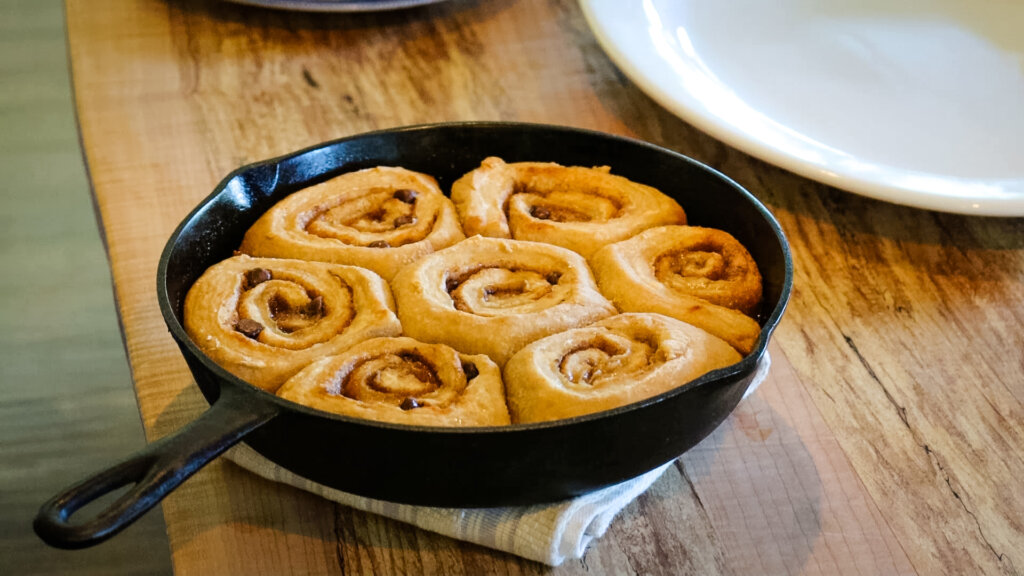 Hooked on cast iron? Check out these resources:
The other cookware you'll find in my kitchen is stoneware for baking my fresh bread in less than 5 minutes a day.
Do you cook with cast iron? Are any of your pans passed down from family members?
More Household Cleaning and Organization Tips