Strawberry rhubarb dump cake is one of my favorite recipes, in fact, I started with this recipe when I was seven years old. A neighbor served this dish and the next day, I walked up the street to her log cabin and asked for the recipe. She graciously shared! (I take it as a compliment when someone asks for the recipe and always supply it upon request)
But as we started moving away from processed and boxed foods, I had a hard time making strawberry rhubarb dump cake because the original recipe called for both strawberry jello (hello food dye and artificial flavoring) and a boxed cake mix.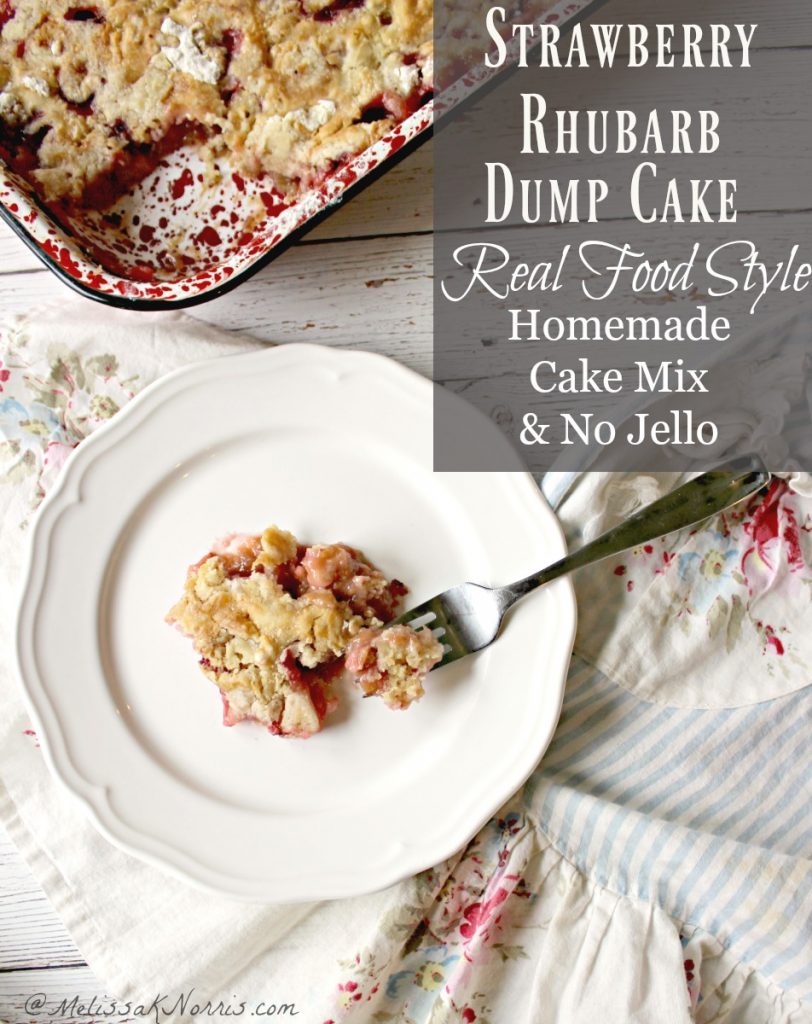 Since recovering my health and only using from scratch recipes in our kitchen, I struggled with giving up our beloved Strawberry Rhubarb dump cake or using the processed ingredients and cringing the entire time. I'm telling you, the dilemma is real people.
I'm not one to give up on our favorites, I was determined I could do this real food. Determined. It took a couple of goes, but I did it. This strawberry rhubarb dump cake from scratch now contains real strawberries, gelatin (totally a health food when sourced from grass fed cattle), and a homemade cake mix that is light and fluffy. Can I get an amen!!!
No more feeling guilty and it still tastes amazing.
So I did it, I came up with a completely real food version of our favorite. You're welcome! Now you can make real food versions of any flavor dump cake with my versatile dump cake recipe.
If you want to make things from scratch the old-fashioned way without chemicals and a ton of store-bought ingredients, including from-scratch cakes, biscuits, and more, grab Hand Made: the Modern Guide to Made-from-Scratch Living with over 100 recipes!
Keep rhubarb on hand all year-long
A great way to keep rhubarb for baking all year long is to chop it up and freeze it in a plastic freezer bag or freezable container.
The great thing about this strawberry rhubarb dump cake is you can use fresh or frozen fruit, so it can be served all year long.
Other easy delicious homemade dessert recipes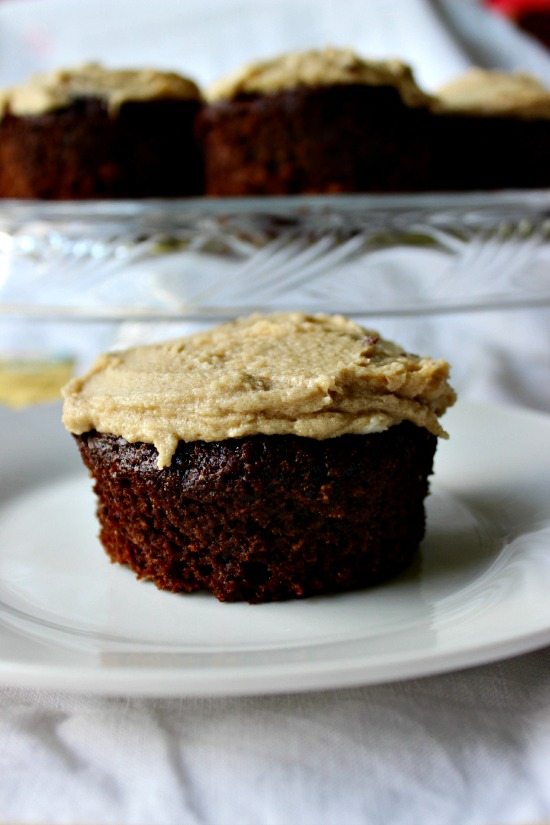 Great-Grandma's Heavenly Easy Chocolate Mayo Cake
Melt in Your Mouth Blueberry Cake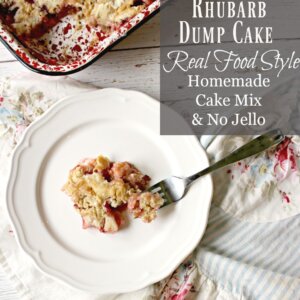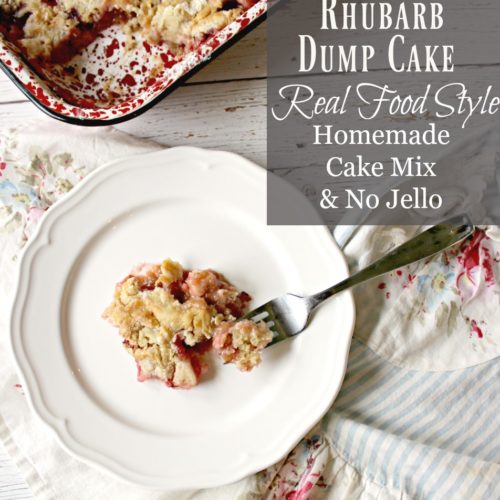 Strawberry Rhubarb Dump Cake without Jello
Ingredients
4

cups

diced rhubarb

1

and 1/2 cups sliced strawberries

1/4 to 1/2

cup

sugar

I use raw organic cane sugar

1

scoop

gelatin

2 and 1/2 teaspoons gelatin I use this brand of gelatin that's from grass fed cattle and no fillers

1

cup

cold water

Homemade Cake Mix

1

and 1/2 cups all purpose flour

we'll turn it into cake flour below

3

Tablespoons

organic non-GMO corn starch

use 2 Tablespoons in the bottom of your cup, then spoon full with flour, use 1 Tablespoon for the 1/2 cup

3/4

cup

sugar

1

teaspoon

baking powder

1/2

teaspoon

salt
Instructions
Preheat oven to 350 degrees Fahrenheit. Place rhubarb and sliced strawberries in pan, sprinkle sugar over it, then evenly sprinkle the gelatin over top.

Thoroughly mix your dry cake ingredients together and sprinkle evenly over rhubarb. Pour your 1 cup water over all of this and dot with 3 tablespoons chopped butter. Don't stir!

Bake at 350 for 1 hour. Serve this warm by itself, or add a dollop of whipped cream or vanilla ice cream. My husband says the rhubarb counts as a vegetable and eats it for breakfast, too.