Some of the links below are affiliate links, which means I will earn a commission at no additional cost to you, if you click through and make a purchase. Regardless, I only link to products we use on our homestead or believe in.
The holidays are upon us, and it's time to get all those gifts for the homesteader in your life. Take it from me, a fellow homesteader. These are the top gifts that I've ever received (or bought for myself!). Everything from the cast iron in the kitchen to organizing the garden, personal care items, towels and sheets (and even those gifts NEVER to give)!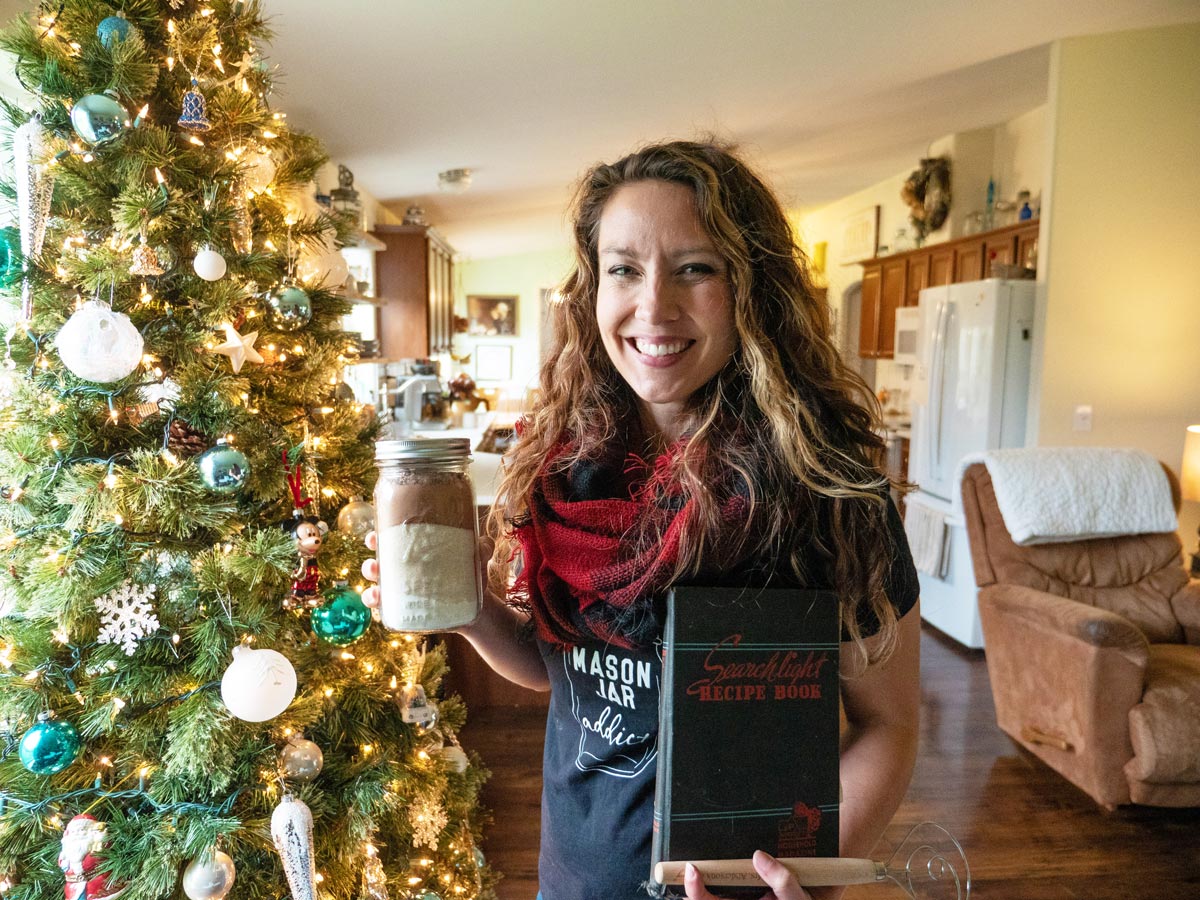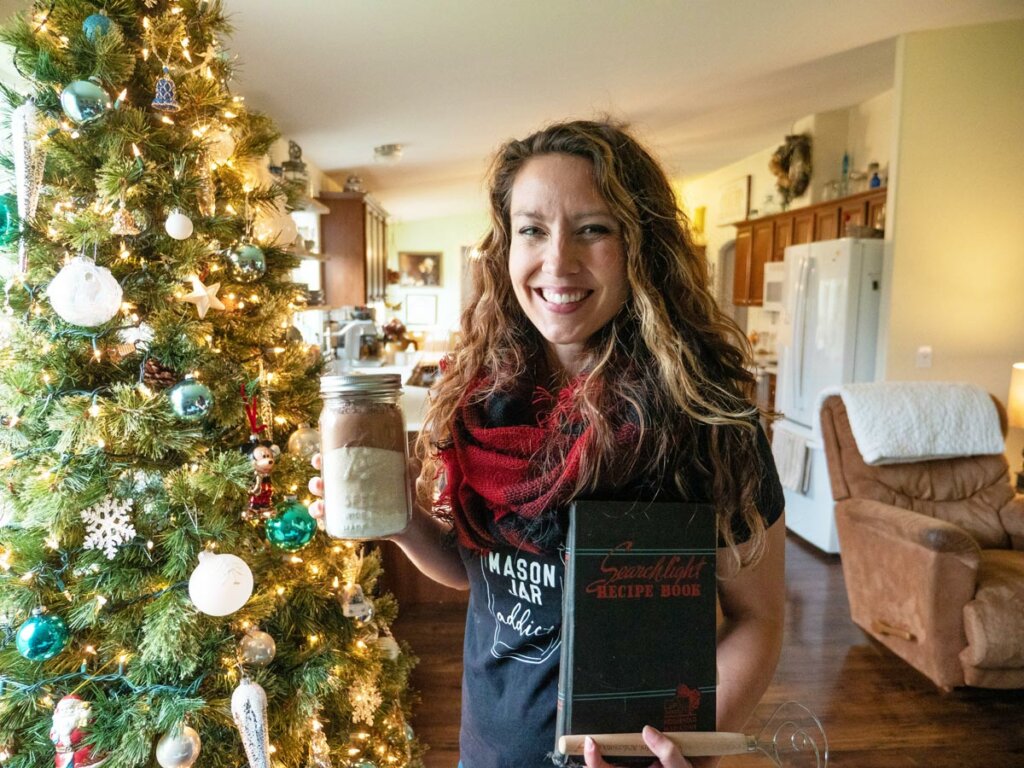 It's close to the holidays and you may be wondering just what to get for your homesteading friends!
If you'd rather listen to me share about my favorite gifts, kind of like we're sitting together chatting over a cup of coffee, you can click the podcast player above (or the second holiday gift guide podcast below) and hear about my favorite gifts.
These podcasts are episodes #368 and #281 of the Pioneering Today Podcast where I'm covering everything from the kitchen to the garden, tools, gadgets, and more!
Gifts for Everyone
Wool Clothing
My newest find in 2022 was Simply Merino, a 100% merino wool clothing company out of Canada. What I love about them is they design and make everything in Vancouver, they ship to the US and do all of their manufacturing just a few minutes away from their house.
One of the reasons I love wool is that it's a natural fiber, absorbs odor, and insulates you very well (something I'm needing during these cold and wet winter months while milking Clover, our dairy cow!).
Simply Merino has given me a discount code for all of you to use to receive 10% off your order! Just use code "PIONEERING10" at checkout!
Blankets, Towels & Sheets
I've shared my love of my American Blossom Linens before, but let me just say, the more I use them, the more I love them! Next on my list are some of their towels and the cozy throw!
They are actually the sponsor for this podcast episode. They're 100% made in the USA and have been in business for over 120 years. American Blossom Linens makes 100% organic cotton sheets, blankets and towels.
This past summer, I received my first set of sheets and was immediately impressed. They kept us cool during the summer months, and every time I went to wash them, I just couldn't get myself to put on one of my old sets of sheets.
American Blossom Linens offers a two-year risk-free trial on their products. So go and snag yours and get an additional 22% off with coupon code "PIONEERINGTODAY22" at checkout.
Cleaning Supplies
You know you're growing up when new cleaning supplies excite you! Yes, I have even been happy with a new vacuum cleaner as a present before! But one of my favorite things are the cleaning supplies from Truly Free.
Deal #1 is their A FREE Cleaning Caddy + 63% OFF The Best Family-Safe Cleaners!
Deal #2 is Black Friday 300 FREE LOADS of Laundry Detergent!
Especially with our new Farm Stay, I only want to use cleaning supplies that are safe and chemical free out of respect for those coming to stay as a guest in our rental.
The thing I love about Truly Free is you can actually sign up for auto-ship (optional), but for people like me who don't always realize supplies are getting low, I like receiving my order without having to lift a finger!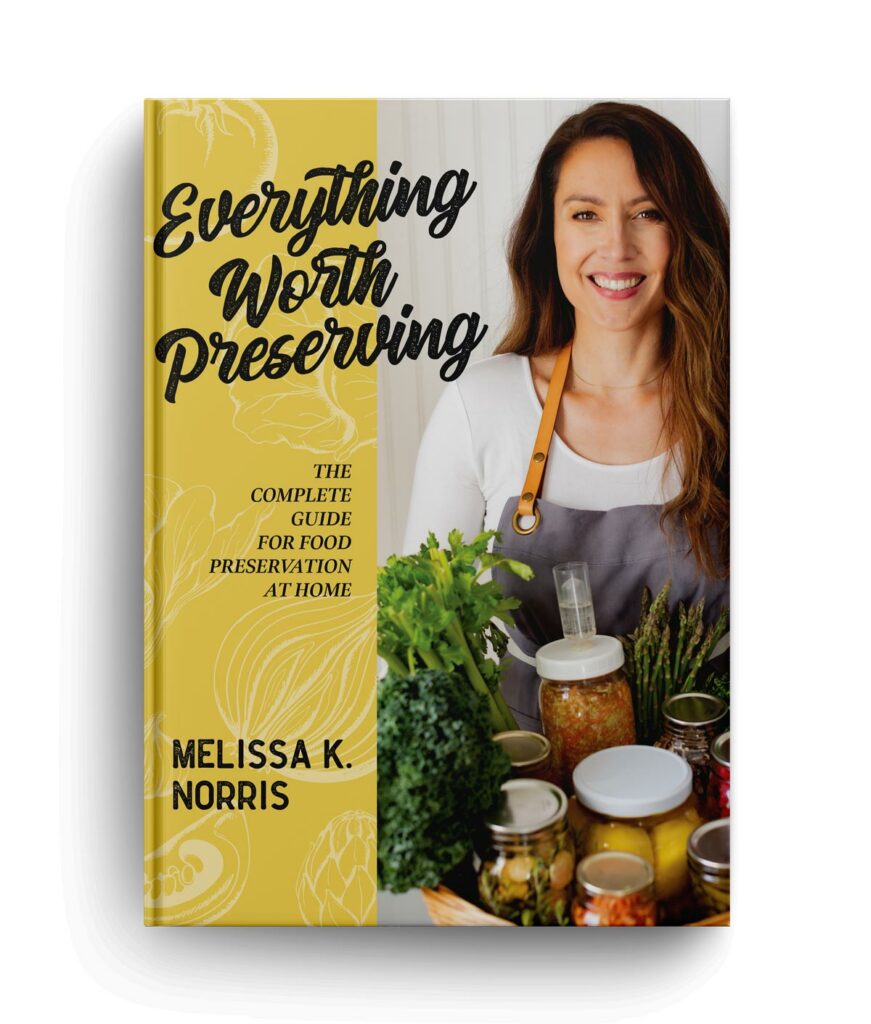 Gifts for the Kitchen
Books
There are so many gifts I've been given that I use daily in the kitchen! One of my most recent favorites is my new preserving book, Everything Worth Preserving. It's filled with an A-Z list of all my favorite preserving methods and recipes, including all of the tested and approved methods for how to preserve those items in the home kitchen.
Wooden Utensils
Another new favorite are these wooden utensils from River Wood Trading Company made by a father and son here in the US. They even have unique pieces for left-handed people! (If you're hoping for a gift for Christmas, place your order soon!)
Wire Baskets
My friend Michelle introduced me to these wire baskets that slide onto existing shelves and create storage space underneath. I'm excited to use them in our new pantry to hold some potatoes and onions without taking up additional shelf space.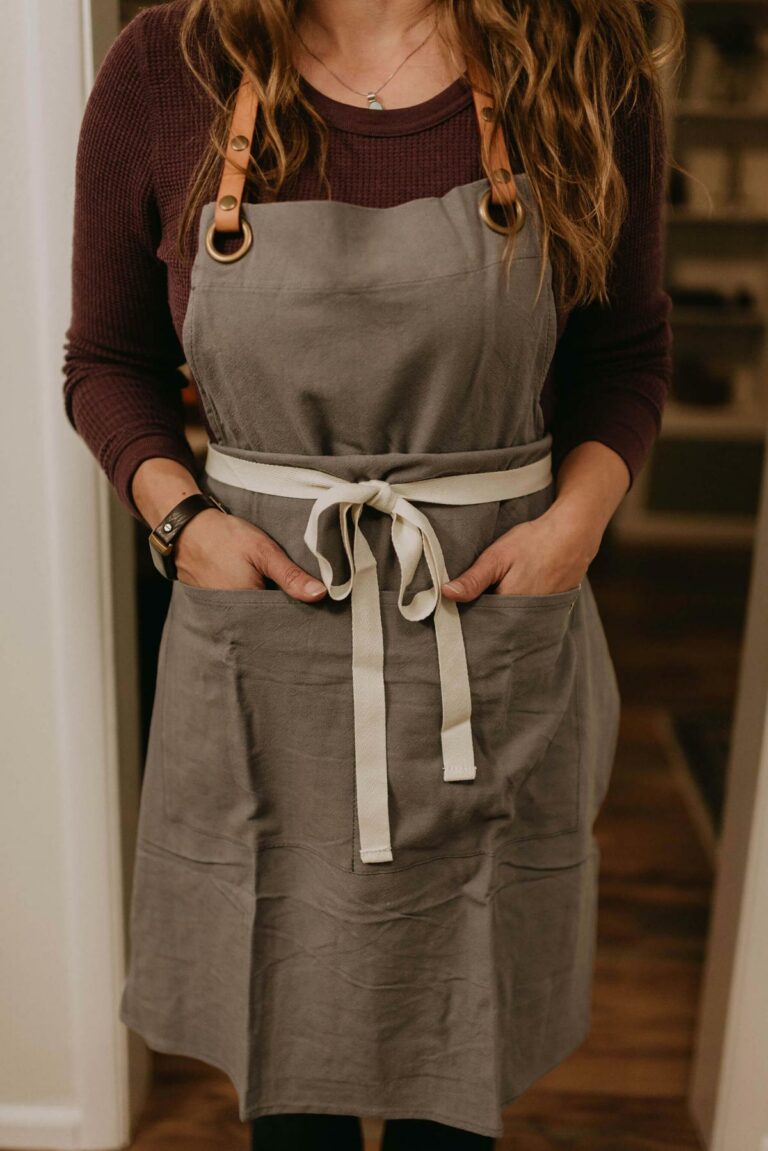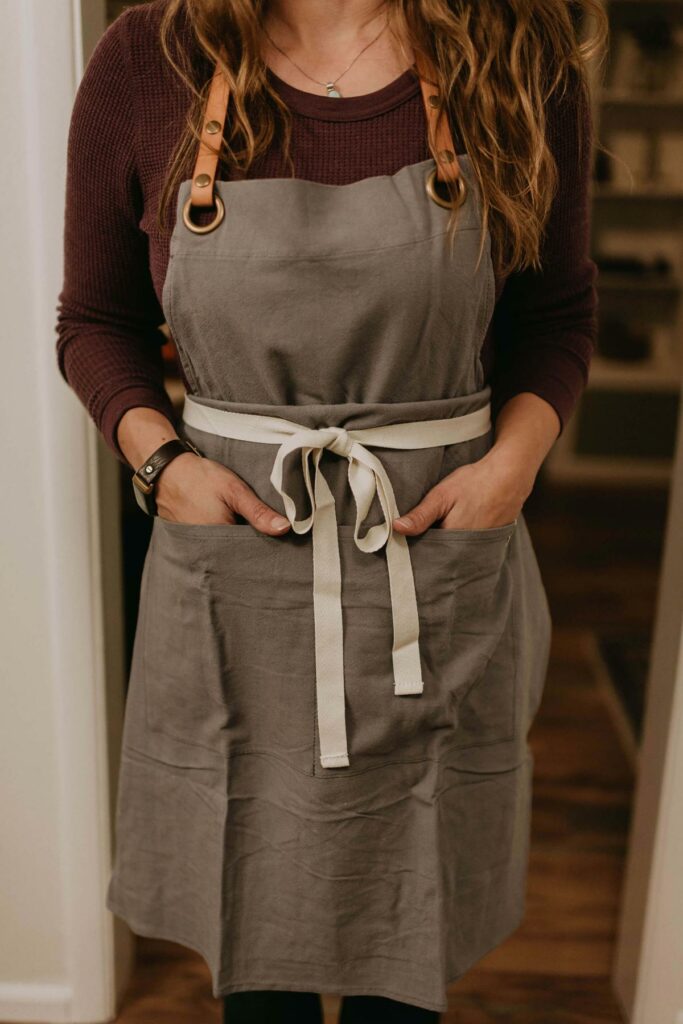 Linen Aprons & Kitchen Towels
I had been looking for a really good apron for quite some time and just couldn't find one I liked. I have very specific needs when it comes to an apron, such as large pockets (for gathering eggs), quick-drying (because I use it as a towel), an adjustable neck strap (for full coverage), and cute!
So I decided to find and sell one that meets all these needs. If you haven't been to the General Store on the website lately, head on over and find my 100% linen aprons there.
This is the same for linen towels! I'm super picky and could never find towels I liked for my kitchen, which also pulled double duty when making yogurt or cheese. These are also in the General Store on the website!
Espresso Machine
There are so many amazing gifts for the kitchen, it's actually hard to list my favorites, but one that I couldn't live without is my Breville espresso maker! This is one gift that certainly does get used daily (and oftentimes twice daily!).
More Kitchen Gifts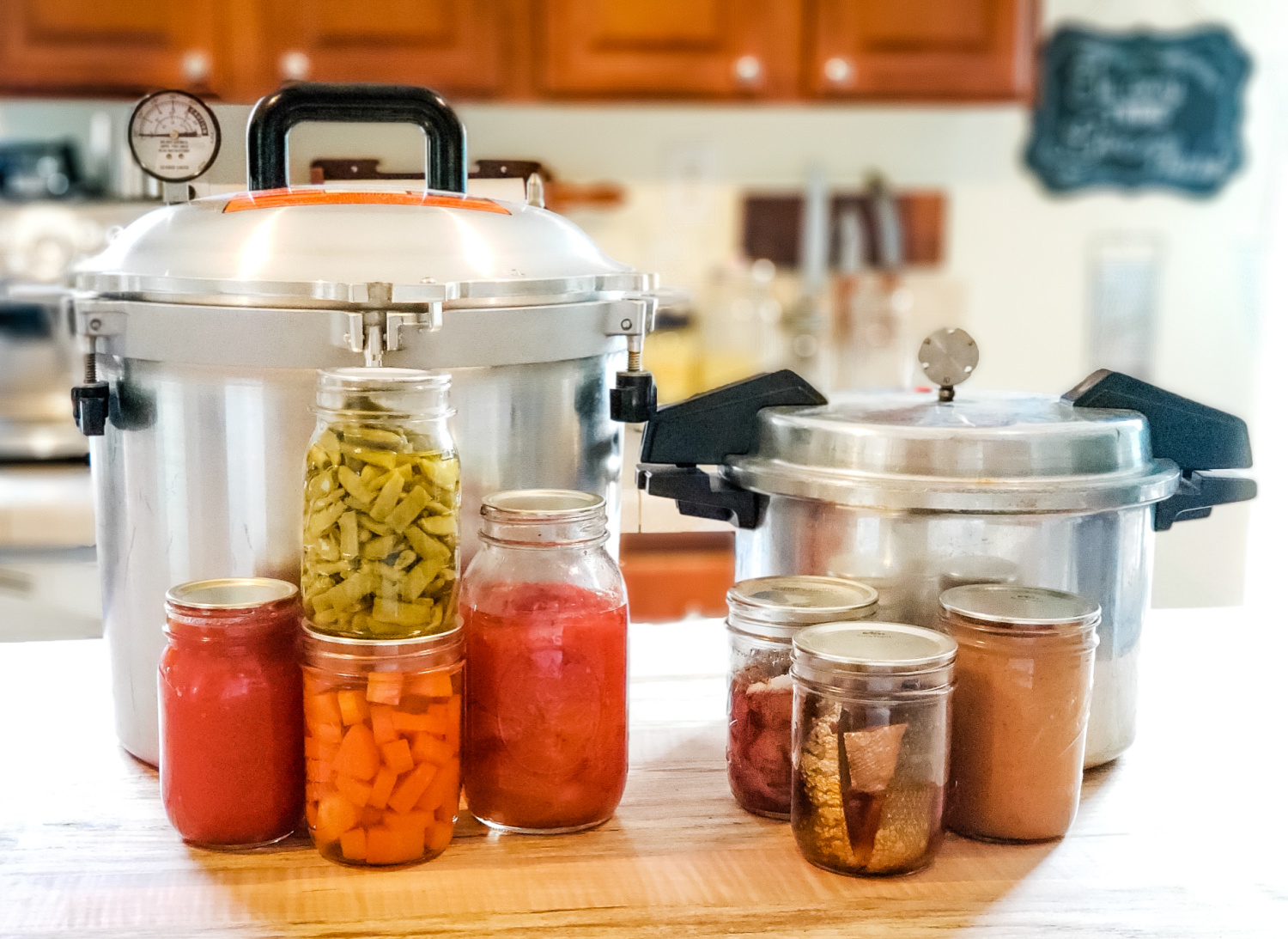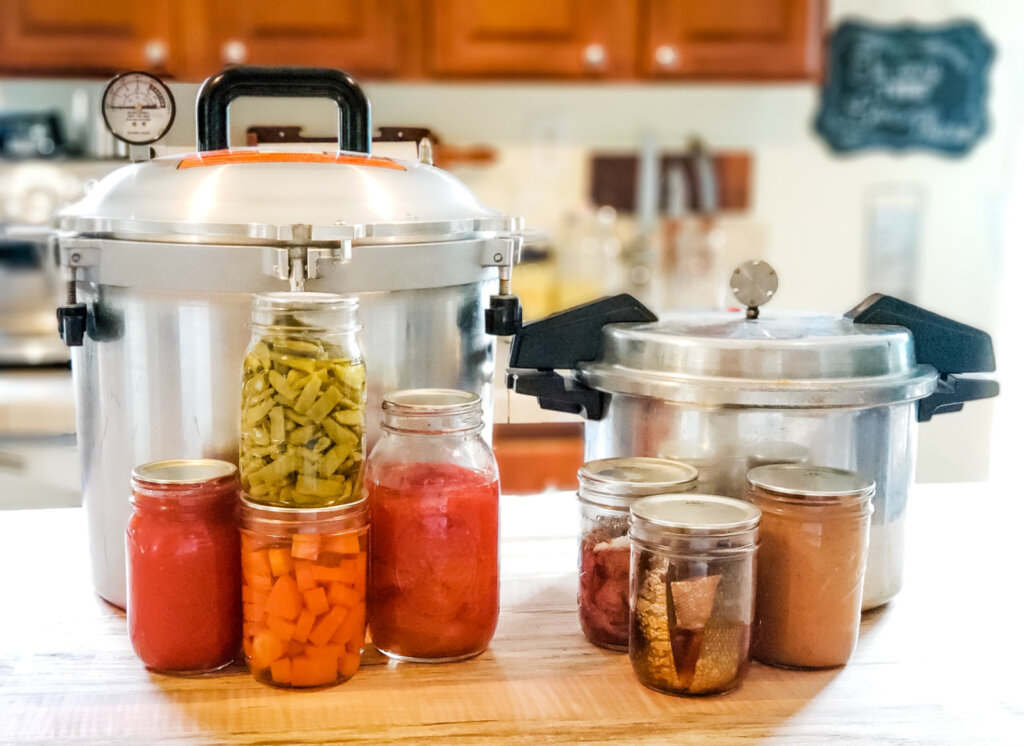 Gifts for Preserving
Any homesteader will love gifts that have to do with preserving!
One gift that my husband continues to get points for is my All-American Pressure Canner.
Though not a gift I use daily, every time I pull it out to preserve food, I'm so thankful I have it. It's a gift that will last well beyond my lifetime and will probably be passed down to my daughter.
But I truly wouldn't want to be without the following preserving tools (and if any of them broke or got lost, I'd replace them in a heartbeat!):
More Preserving Gifts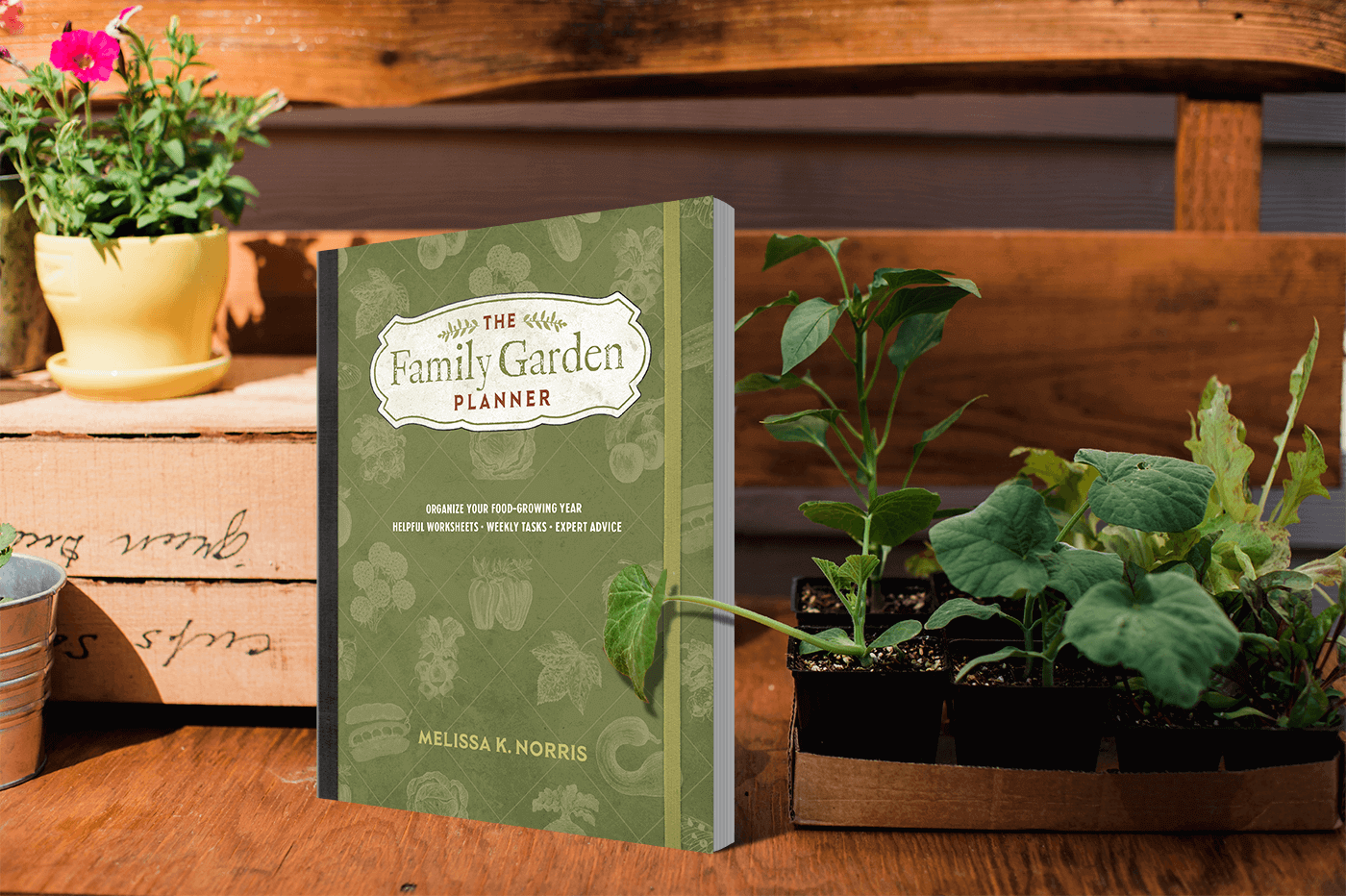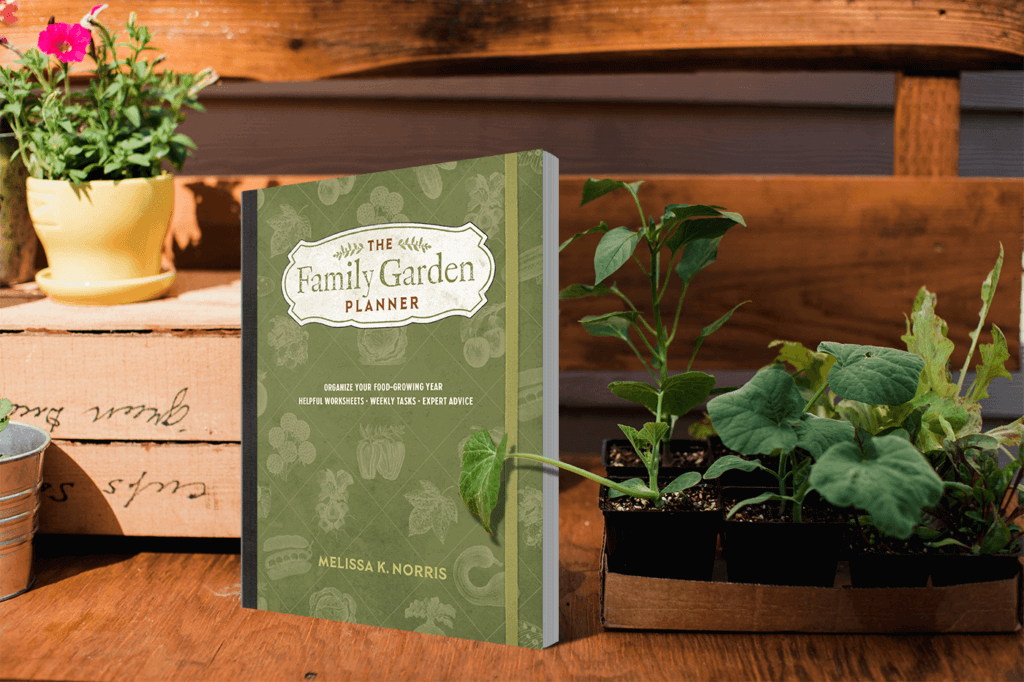 Gifts for Gardening
Books
For the gardener in your life, I can't recommend enough my two books, The Family Garden Plan and The Family Garden Planner.
Although they go hand-in-hand quite well, they're each a stand-alone book on their own. If you know someone who wants to get better, more organized or do more as a gardener, I highly recommend both of these books.
Pruners & Snips
Furthermore, this last year we put in a lot of cut flowers, so every week, I would go out and cut a lot of flowers for arrangements, etc., but I was cutting my flowers with scissors.
My friend told me about Felco snips and pruners, and I couldn't believe I had been using scissors all year to cut my flowers!
Furthermore, my pruners had been neglected and left out in the garden a few times, and with my years as a pharmacy technician, I would experience some carpal tunnel after a day of gardening.
I couldn't believe how well the Felco pruners and clippers worked and the relief they brought to my hands!
More Gardening Gifts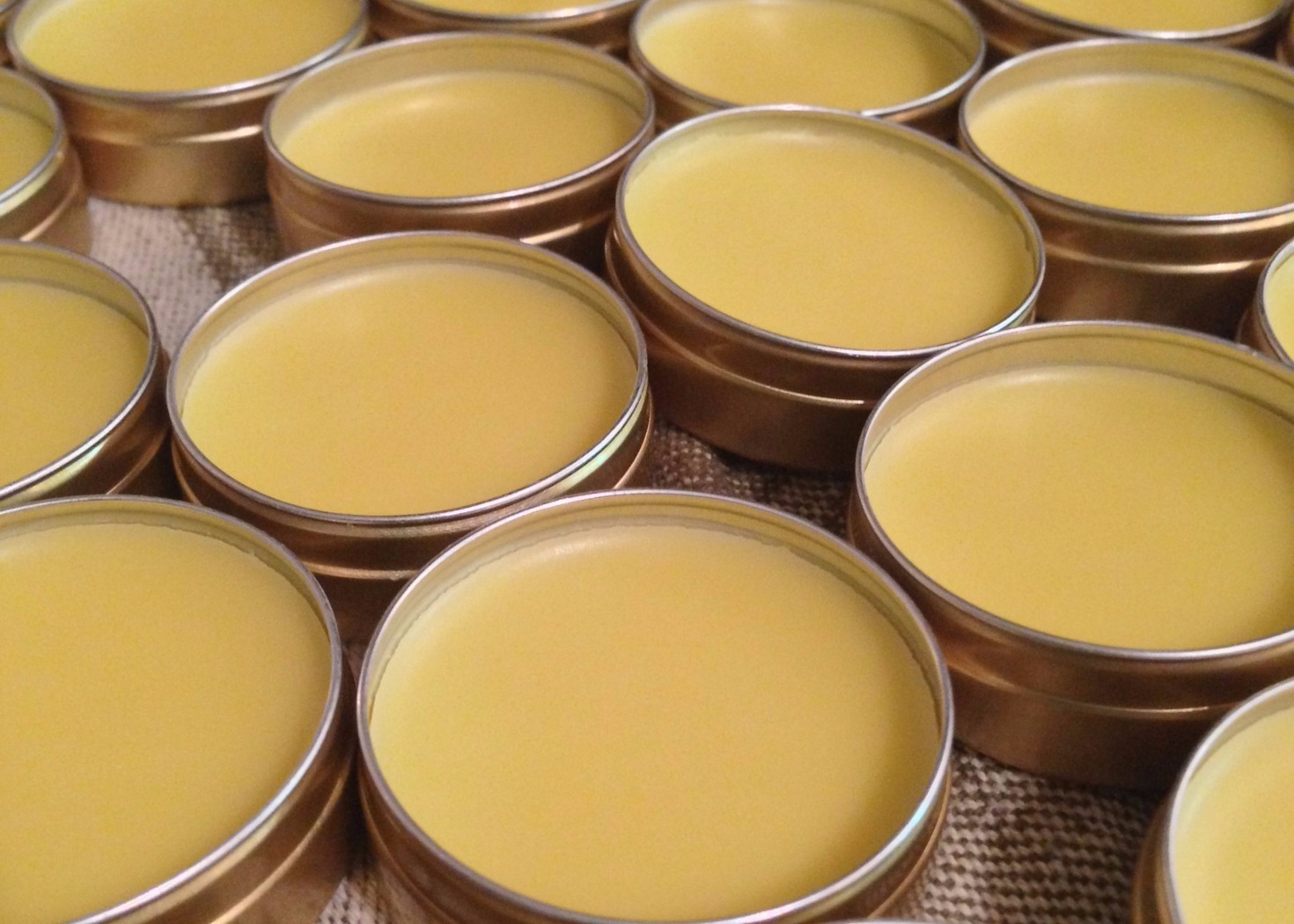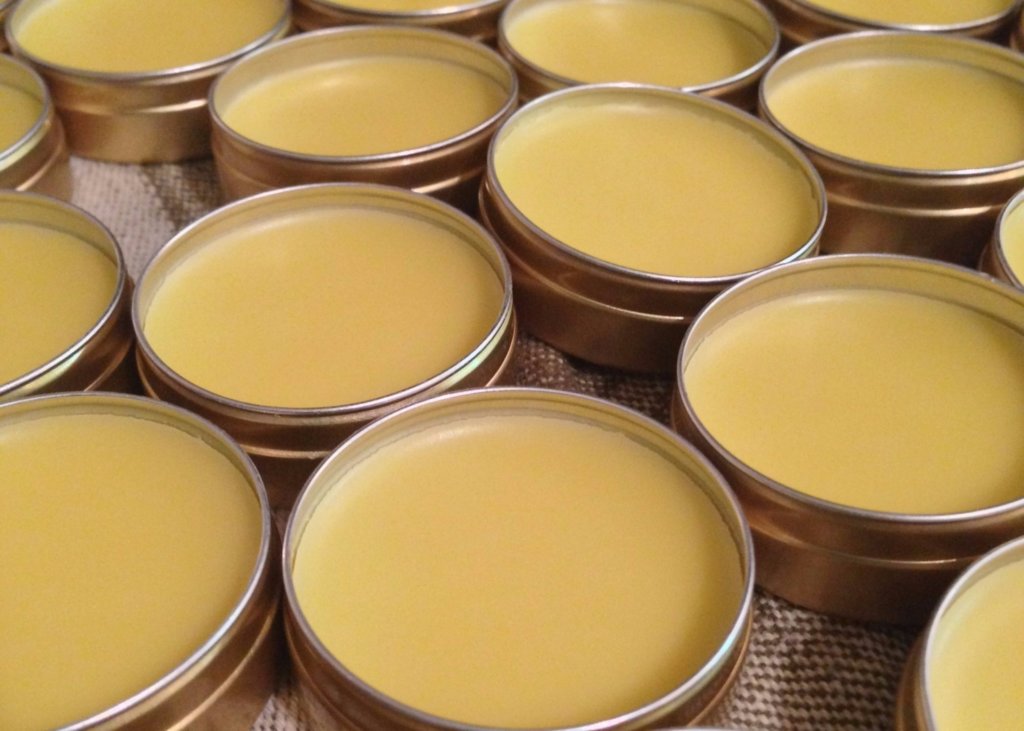 Gifts for Pampering
Although I'm a country girl through and through, I still love a bit of pampering in my life!
I truly like to put on makeup because it makes ME feel good! Furthermore, I love a good handmade product that I know is heartfelt and good for me (meaning I can actually read all the ingredients!).
There are a few options when it comes to gifts like these. First, if you're not a DIYer, you can always head over to MadeOn and check out their products! Their lotion bars are amazing and are very similar to the homemade lotion bars recipe I have on the website!
More Pampering Gifts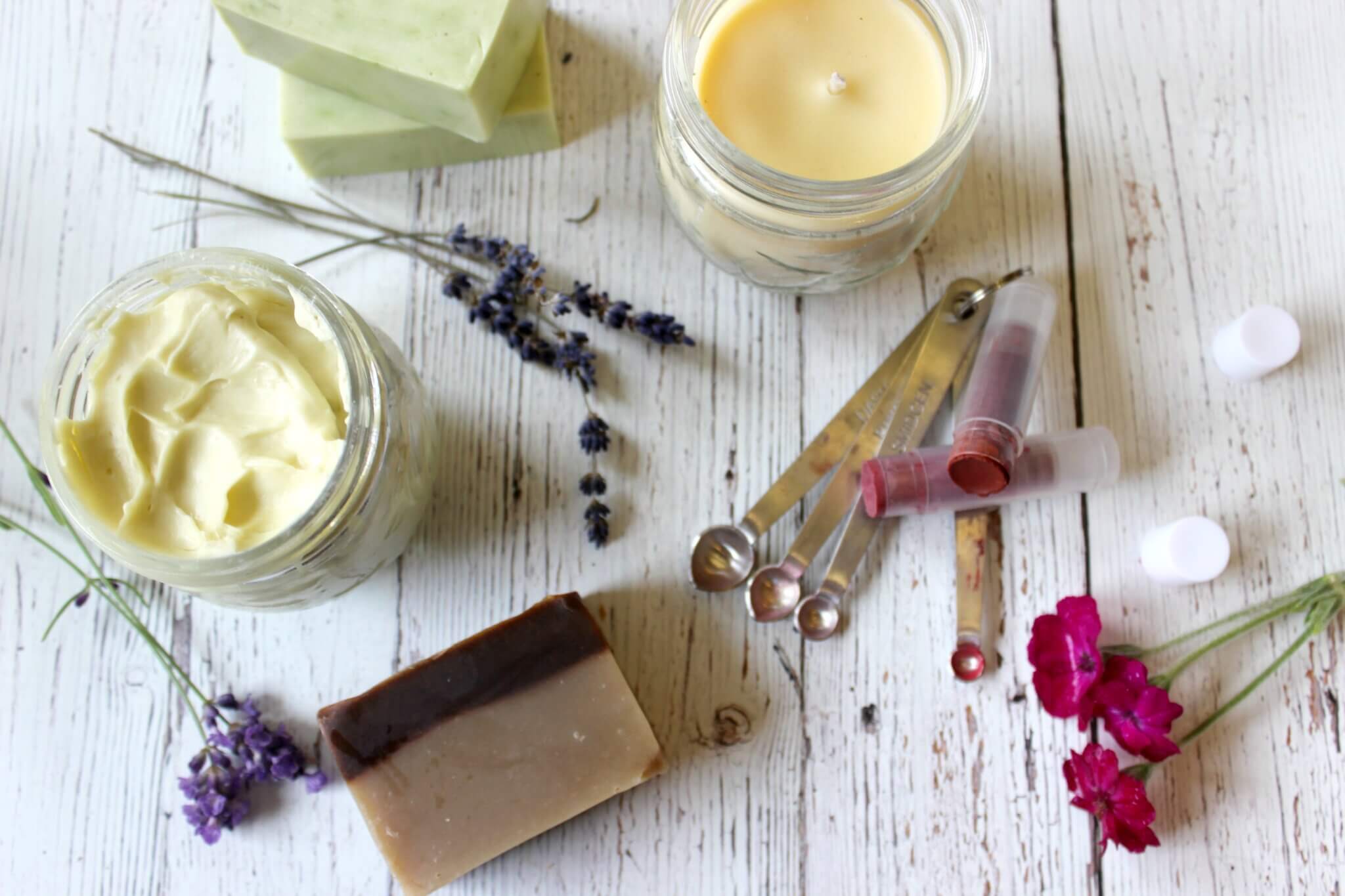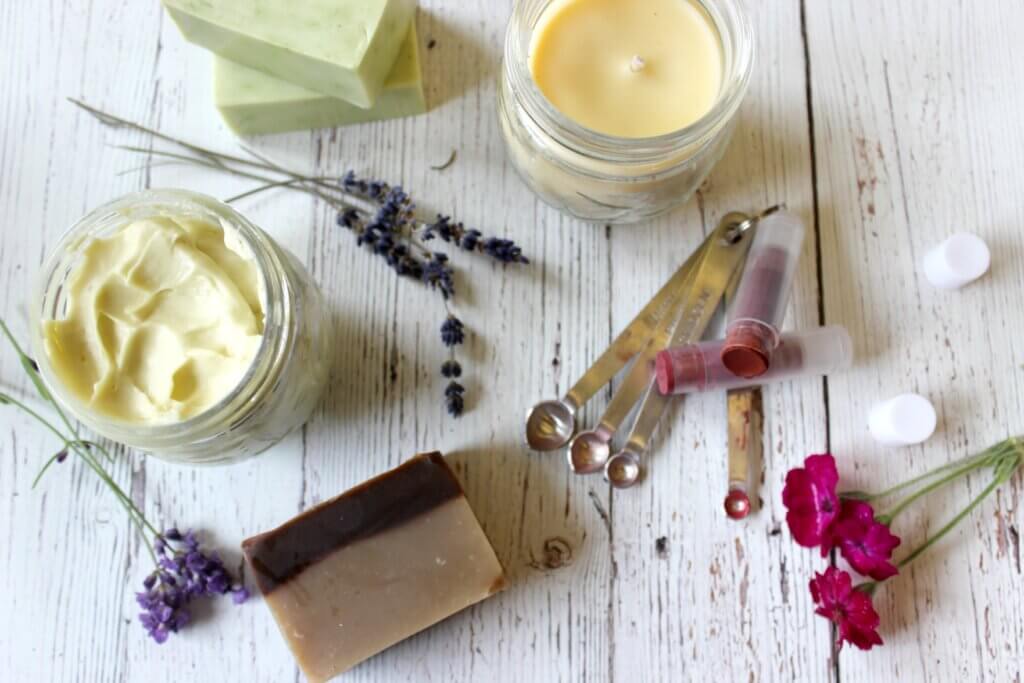 More Homemade and Heartfelt Gifts
As I stated before, a homemade gift just tugs at my heartstrings. In fact, I love handmade gifts so much that I have a full handmade masterclass FILLED with instructional videos on how to make your own!
I don't know about you, but I'll never turn a handmade gift down! They also happen to be some of my favorite things to gift (and usually take the least amount of time to make!).
You may not have all the supplies needed for some of these recipes (although many you may have everything needed!), so make a mental note for next year and be sure to bookmark this post!
More Homemade Gifts
Then, when you're ready to wrap up that gift for the homesteader in your life, be sure to check out my DIY gift bags and tags from the Great Depression Era!
Verse of the Week: Psalms 95: 2-3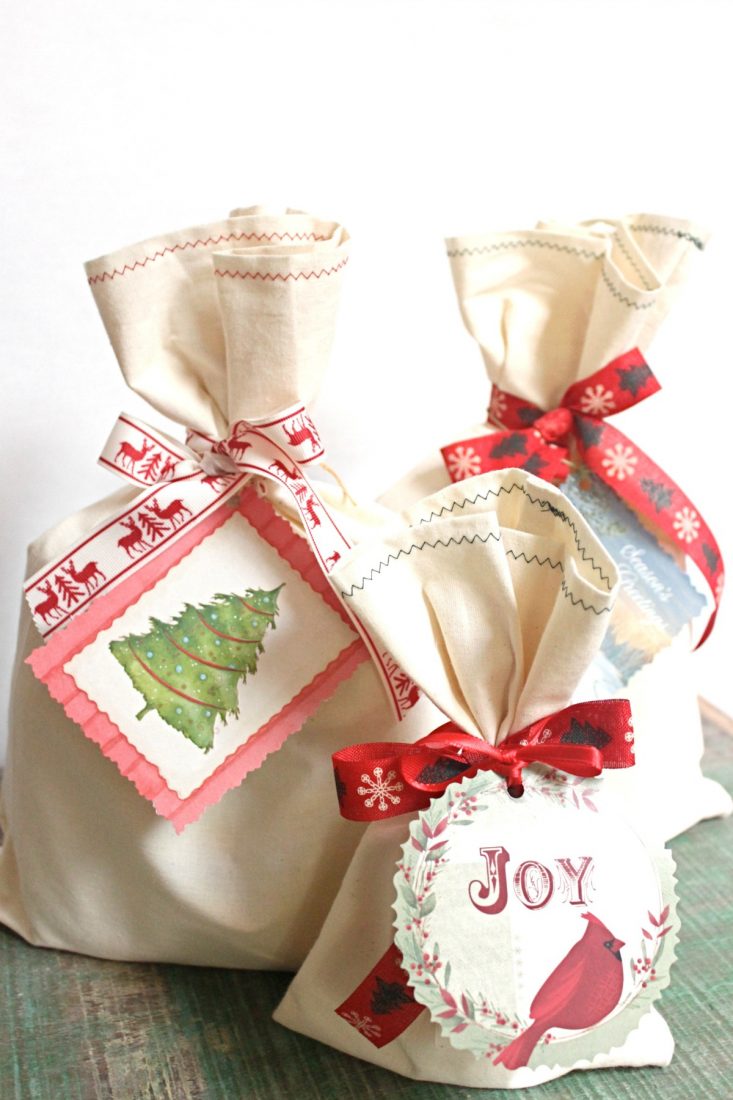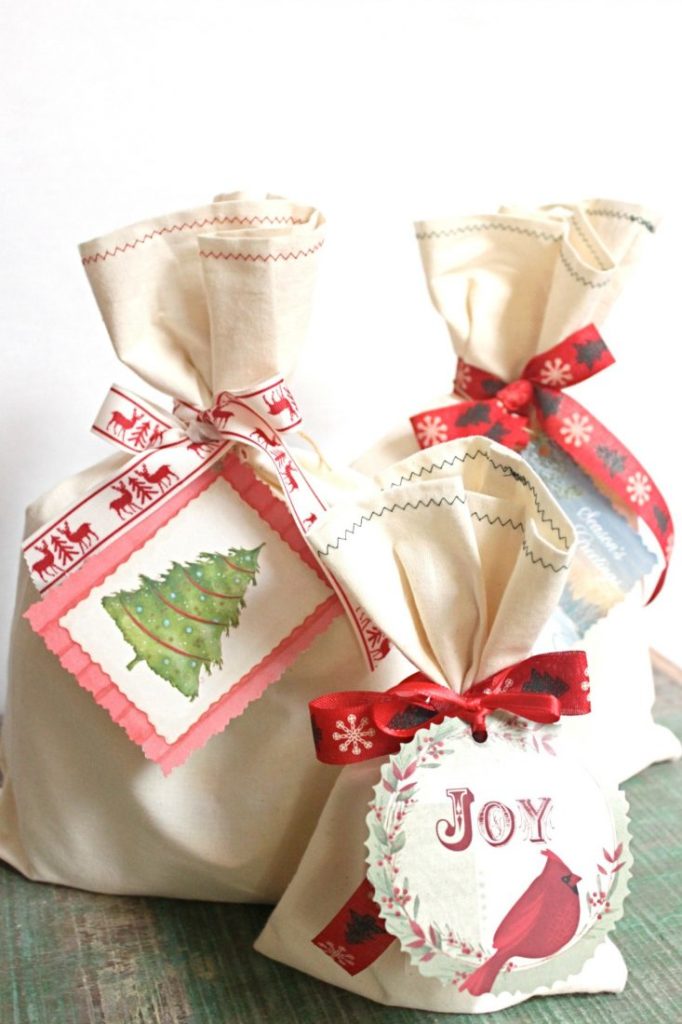 More Resources:
Hey, pioneers. Welcome to episode 368. Today, we are going to be chatting about my favorite things that I am using and have discovered this year on the homestead. You know how you have your really trusted... Well, I'm assuming this is for the ladies, but hey, it could be for some of you gentlemen who are listening in. I should say you have your trusted friends. You go to them and you're like, "Hey, what is your absolute favorite, or what do you think about this, or what do you use for this?" You know when they tell you what it is, you're like, okay, I am going to love this.
Or even yourself, when we find that new thing, you're like, "Oh my goodness, life has been made so much easier since I started using this product. Where has it been all my life?" I love hearing that from other people. I thought for today's episode, because this is actually going to be going live on Black Friday, which if you are in the US, you probably have strong feelings about Black Friday, one way or the other, some negative. Some people love it, some people hate it. Regardless, there can be some deals to be found, and a lot of people begin thinking about purchasing things around Black Friday.
I thought this would be a very fitting addition for us to do. Now, some of these items I have coupon codes for and some of them I don't. We will be updating my homestead gift giving guide to include all of these new updates, but it also has a lot of things that I have shared with you over the years that are some of my absolute favorites. To access that, go to melissaknorris.com/368. That's just the number, numerical, 368, melissanorris.com/368, because this is episode number 368. All right, first up on my list is a company that I just discovered and got my first items from just a couple of months ago, and that is Simply Merino, which is a 100% merino wool clothing made in Canada.
What I love about them is they design and make everything in Vancouver, Canada, which I live in Northern-Western Washington State. Actually I'm really close to Vancouver, Canada. They do ship obviously to the US. I'm in the US, they are in Canada, but they do all of their manufacturing of their products just a few minutes away from their house. Their clothing tags, elastic thread, shipping boxes, all of those are purchased or made locally, which I think is really cool. However, with wool, one of the reasons I love wool is because obviously it's a natural fiber. It helps to absorb odor, but it also is extremely well at helping to insulate you and keep you warm, especially in the cold weather.
But here where we live, we do have cold in the winter, but we often also have a lot of wet. What I love about wool is even if it gets wet, it still will keep you warm, unlike things like cotton and some of the other synthetic fabric blends that you can find in clothes. However, with wool, I know you are thinking this, or most of you are, sometimes you can get wool products and they're just plain itchy. They just kind of make your skin crawl and you can't wear them very long. Well, I am pleased to say that that is not the case with the Simply Merino. I got both the leggings, their wool leggings, as well as their wool waffle top.
One of the things I have been finding... This is going to sound really funny. I don't know if it's just my thyroid is telling me things are not quite where they should be, or if I'm just getting older, or if I just have less tolerance, but I have found in the past couple of years that I am even more sensitive to the cold than I used to be or more unwilling to be cold than perhaps I used to be when I was younger. I don't know. There's certain things as you get older you're less willing to put up with and being uncomfortable is one of them for me. I no longer buy shoes because they are cute. They have to be functional and they have to feel good all day long.
Back to the wool. I really like the wool leggings and the wool waffle top. In fact, I plan on ordering a couple of more items from them. The great thing is they gave me a coupon code, Pioneering 10, for 10% off. Pioneering 10. They have some really cute colors too so they're fashionable. But we are moving into Clover, our milk cow. I haven't done an update on Clover lately. She's great. We got her in last April. For those of you who may not have heard that episode yet, and she is due to calf. It'll be our first time having a calf with her because when we got her, the calf had already been weaned off and was long gone by the time we brought her home this past April.
It was like I think the last day of March or the first day of April. We dried her up the end of summer and she is due to calf actually right at Christmas. While I'm excited about that, that also means that I am going to be out milking every day no matter what the weather is. Typically, our coldest and worst weather is January and February. I was definitely making sure that I have got really warm items on hand that I can layer. If it's rainy and cold, if it's snowing and cold, whatever it is, that I am well taken care of. That is why I actually purchased the wool leggings, as well as the waffle top, but I've just been wearing them because they're really cute and they're very comfortable.
I'm really enjoying them. That was one of the things I wanted to share with you first. Now, the second, I got these items back in April. They are handmade out of cherry wooden spoons, but not just regular wooden spoons. Well, there are regular wooden spoons, I should say, that you are cooking with, but as well as spatulas, stir sticks, all kinds of wooden kitchen utensils. There is just something about wood that I adore. One, I have been adding to my copper collection. When you have copper, it's tinned. You don't want to use metal because you don't want to actually scratch the tinning inside of your copper pots to get exposed down to the copper and the actual cooking surface.
You can't use metal. I have to say, I just love wooden handheld items. Just something about the look in the kitchen, the feel of them. I really like wood, but it's really hard to find affordable, well-made, handmade wooden items. Well, any of us could go to Walmart or places like that and you can get wooden spoon, but usually they don't last very well. They're not very high quality. If I can support a small family business, I am all about that. The Riverwood Trading Company, I met them in person last spring and got a whole set of their wooden tools. I love them. I just used the wooden spatula last night, made homemade chocolate chip cookies.
They just work phenomenally well, and they're just one of my favorites. They also have where they have got them carved if you're left-handers or right-handers. They just have some really cool different pieces that are, of course, unique. All very functional for the kitchen. I will say though, if you plan on placing an order with them as a Christmas gift, you're going to want to get it in as soon as possible. It's a dad and son who are hand carving these. Just be aware, have patience. If you check with them, depending on what time you listen to this episode, if it's really close to Christmas, double check with them if you're planning on giving it as a gift.
But they are really great. They work really great for your sourdough starter. They're wood, so you're not worried about... I keep my sourdough starter in a mason jar. I've never broken a mason jar with a metal spoon, but I don't really like using the metal spoons that much in the jars. This one is great because it's like a stir stick. It's small enough to get in the mouth of your jar and to scrape the sides clean really, really well. Highly recommend checking out that. We'll have links in the show notes, as I said, so you can check all of these out. Now up next, they are actually a sponsor of the podcast and that is American Blossom Linens, but I truthfully really do love them.
If you've listened to a couple recent episodes, you've heard me talk about them. I got the sheets from them. I heard about them for a while. I've heard them from a couple different spots and et cetera, and I'd even looked at their items. I'd looked at the sheets before and I'm like, "Oh man, they sound great, but they're not cheap." Completely bluntly, they are not cheap. But I kept looking at them. I'm like, "Oh man, they sound really great." Here was my thought process going through my head is, this is what I had to do when we actually bought our bed. We had a super old mattress. Raise your hand if you can relate to this.
I know I can't actually see you, but I'm literally raising my own hand. I don't know if it was just growing up, we didn't have extra money. In fact, we were kind of poor at times. I just didn't know it because we never really went without. We raised so much of our own food. My mom sewed, cooked everything from scratch. I didn't realize at times how little extra money we did have. But buying a new bed, especially a new mattress, was just something like, oh man, gosh, that's so expensive. When my husband and I got married, we actually took the mattress that had came in the house that my parents bought when I was in high school.
The mattress came with the house and the bed. That became my bed. When my husband and I got married, that was the bed and mattress that we took and used for years. And then finally we're like, "Okay, this mattress is so uncomfortable," we invested in the cheapest or second to cheapest mattress that the store had five years into being married. And that was the mattress we had until just a few years ago. And then what happened was my husband snores. If you have a partner that snores, you're with me here. I got to the point where I was not getting any sleep. Bless his heart.
You know how you just have that night, you're like, "I have to sleep. I have to sleep. I haven't gotten good sleep. I'm so sleep deprived," so I went out and I slept on the couch. I couldn't get to sleep and I didn't want to wake him up. Because as soon as he wakes up, he stops, but then he is going to fall back asleep. He gets up and works a very physically demanding job as well and leaves really early in the morning. I'm like, I'm just going to go out to the couch and get some sleep. You guys, it is a really bad sign when your couch is more comfortable than your bed. Seriously. I told my husband, I'm like, "I think it's our mattress is the problem."
We went and looked at mattresses. We ended up getting a mattress, and this is not an ad for the mattress company because I am in no way affiliated with them. But we ended up getting a Sleep Number bed where we could raise the head of the bed up. We've had that bed for four years and it has made such a difference. Yes, it was expensive, but I realized how important our sleep is to every facet of our lives. Your bed is something that you are spending hopefully eight hours, around eight hours, every single day of the year, unless, of course, you're away from home for vacation or something.
But I'm like, how silly is it that I will spend money on other things that... Even a meal out, right? That's a one time thing, and I'm not willing to spend money when I know that things are being negatively impacted. That make a huge difference. It was this mind shift thing for me. The reason I'm sharing that with you is because our sheets are also something that we're getting a lot of wear out of, well, if they're well-made. If you have cheap sheets, they probably aren't going to last very long. And that's where I was running into things. I would buy sheets when they were on sale and it was just whatever was on sale and I liked the look of, but they would wear out really fast.
They'd just get really thin where the main trunk of your body is at. They would wear out really fast, and they would get really thin. They'd rip out, or they'd stain, or I didn't like the feel of them, all these things. When I got the American Blossom Linens, they're 100% American organic cotton. The thickness of them, I was like, oh my goodness, these are sheets. What was great is I got them in the summer. They were not hot, very breathable, even though they were a thicker material compared to the sheets that I did have. And now that we've moved into winter, they are keeping us very cozy and warm.
But the funny thing is the more you wash them... I'm like, is this just a gimmick? It says the more you wash them, the softer they'll get and the more you'll love them. I'm like, is that just because they're not super soft off the get-go and that's just so that you don't return them right away? I tend to be a little bit skeptical of things I guess at first, but they were not uncomfortable to begin with. They were soft when we got them. But you guys, now that we're months in, oh my goodness, they are just the coziest. I just love them. The weight of them in the morning, it's cold and you're laying in bed...
Anyways, I really am sold, if you can't tell, on the sheet. Great news is we have a 20% off coupon code for them, and that is Pioneering Today 20. Pioneering Today 20 for 20% off, and that will be in the show notes too. Okay, up next, this is for my gardener friends, and that is the FELCO snips, as well as the FELCO pruners. FELCO is the brand name and I love these snips. I ordered them just as a little bit of an afterthought. We put in a lot of flowers in our front yard, turned it into a herb and cut flower garden area. Every week I was going out and cutting my dahlias and my zinnias, making beautiful bouquets, but I was just using regular scissors, because you need to cut the stem at a nice even slant, all the things.
I just had scissors that I was going out there with. And I thought, this is kind of silly. I should get some actual intended for purpose, and I need to get another set of hand pruners. Mine that I had had were pretty old. To be honest, they'd gotten left out, and I'm sure it was my fault. I'd like to try to blame it on someone else in the family, but I'm pretty sure it was me. I'd left them out one too many times and they had started to get rusted. They were just a general... I don't even remember what brand they were. They weren't anything special. But when you're doing a lot of pruning, because we have added on almost every year more berry plants, we've got a lot more elder berries now, I'm just doing more pruning.
For my years as being a pharmacy tech, I have some carpal tunnel repetitive movement issues. If I do too much, my hands, they get fatigued easy and then they're really sore and a little bit inflamed for a couple days after when we go through and do our big pruning things. I was talking to Rachel, a good friend of mine, and she said, "I cannot believe you have not discovered FELCO pruners yet. You have to get them. They are so well-made and you won't get the fatigue in your hands." They've got left hand ones. My husband's left-handed. They have right-handed ones. They have ones that will rotate with you.
No matter what angle you're going into prune, the handle part where you're gripping it will rotate. I'm like, okay, these sound really great. I ordered a pair. Oh my gosh, you guys, I am so impressed. The snips was just an add-on, but I've been loving the snips. They have a spring in them so that you're not having to reopen them. It sounds weird to explain. If you go and check out the link, you'll see what I'm talking about. But they have been really, really great. I used them even when I was cleaning up in the garden when I was sniping things off to leave the roots down in the ground when we were doing the cleanup last weekend.
Highly recommend those for anybody who is doing gardening stuff, both the snips and the pruners. We'll link to the exact ones that I'm using. Okay, up next, these I asked Michelle. Now, for those of you who are in Pioneering Today Academy or have been on any of my live webinars, you probably are very familiar with both Rachel and Michelle. They help me out a ton. Michelle is the person I go to when I need to get something organized. Michelle probably should be a professional organizer. I kid you not. I ask both Rachel and Michelle, I'm like, what are some of your guys' favorite things? We'll do that.
We'll go back and forth. We'll have a whole thread of texts. We're like, "This and this and this." When any of us are looking at getting something new, we'll ask each other. Michelle sent me these and they are a wired basket that slides onto existing shelves. I know. Way cool. I have ordered some. She uses them everywhere. I'm really excited to put them into our new pantry addition because there are some spots where I'm like, oh, I don't really have enough space to bracket an entire shelf in there. But the way that the shelving unit is set up, I'm like, man, I could actually get a lot more storage in here if I had those.
I will link to them, but they're really cool. Like I said, there are these wire baskets that will slide onto a shelf, and then the wire basket part will be right on the underneath part of the shelf. I'm going to be using in our storage because they'll be great for putting some of the extra onions in and just all kinds of different things, which I will be filming an update on our new pantry for those of you who are following me on the YouTube channel. We'll be having some updates of that in the coming new year. I realized we had it done for a while and I haven't actually done a reveal. The last time I showed it to you guys was when it was in its framing section last spring.
Anyways, that is one thing I have found maximizing our space. The more organized I am, the better life flows. I'm making myself slow down and get back in and organize some of the areas. Now that we've been in them and living in the space and using it for a while, I'm like, oh, we actually need to put something here. Okay, up next is the linen aprons. Now, the General Store, which I have on melissaknorris.com and we'll link there, I got these linen aprons last spring. I had been looking for a really good apron and I wanted it to be 100% linen. It needed to have pockets and big pockets that I could actually...
I don't know about you guys, but oftentimes I will be baking something and realize, oh, I need eggs. I haven't gathered them from the coop yet, so I'll just have my apron on, I'll run out to the coop, get the eggs, and I need the apron pockets to be big enough to hold all the eggs. Because I'm going to get them for what I'm baking, but then I'm also going to gather the rest just to bring them to the house because I didn't do so earlier. I don't know why that happens to me often. I try to go out in the winter and get the eggs first thing in the morning and let the chickens out of the coop just so that the eggs don't freeze throughout the day.
But oftentimes throughout the rest of the year, if I'm not forced to do that, I don't. I go and gather the eggs later. I wanted really big pockets, 100% linen, and I wanted it to still look cute, but be big enough to actually cover everything. Because I've had some aprons in the past that they look really cute, but they don't actually cover enough of your clothes to keep them clean. That's the point of the apron. I had a harder time finding 100% linen. I could find a lot of linen cotton blends, but I couldn't find 100% linen. The other thing is a beck strap, because I want an apron that will fully cover, as I said, the whole top part of your shirt, et cetera.
I need an adjustable one. My daughter will use my apron. I don't know. I'm weird about the way things fit. I don't like I'm tight and pulling on my neck, but they need to stay up correctly. These linen aprons, I found them, they're handmade. I got a small order in to test them out and I love it. I've given them to Rachel and Michelle. My mom does not listen to the podcast, so I can safely say it here, she is getting one for Christmas. Anybody who's on my gift giving list, if I know that they are bakers and cooks, they are getting these linen aprons. I absolutely love it. It's nice because, one, linen does not absorb dirt the way that cotton does.
It's the way that it's just made, the way that it grows. It doesn't absorb odor as much, and it doesn't stain as easily because of the way the fibers will absorb dirt. And then therefore when you go to wash it, you can get it out better as well if you do get stuff on it. Because that's kind of the point of aprons, is they're made to take so that our clothes stay nice. The other nice thing is linen, I use my apron as a towel. I'm always wiping my hands off on it, et cetera, and then I also use it as a hot pad if you're going to grab... Now, the linen fabric is not super thick. It's more like if I'm just on a handle, like the cast iron skillet.
I'm just moving it. It's gotten hot from being on the stove top. I wouldn't use it to take something hot out of a 400 degree oven, not that type of a hot pad, but just like things that have gotten warm. But if fabric is wet and you touch something hot, it transfers through immediately and you'll get really burnt. One of the things that I love about the linen and the aprons is it dries fast. I can wipe my hands off on it and then it doesn't say wet. It dries really fast, and then I can still use it as needed to wrap around handles of different things. You will see those in the General Store. It's a leather neck strap. I was really excited when I found these.
Like I said, I've had mine for over nine months and love it. It's worn very, very well, and I was able to get them and keep them as affordable as possible. Did I say it was a leather neck strap? If I didn't, I meant to. I may have said that. But the cool thing is it's adjustable, so depending upon your size, but then you could remove it for washing, because obviously we don't want to wash leather in the washing machine. But you can also remove it if you do just want a half apron where it doesn't come up and cover the chest area. It's very versatile in that regards. The other thing is flour sack towels. I have had a hard time finding good kitchen towels.
My goal is to have as much made in the USA as possible, but I also want things that are cute. I don't know. Maybe I'm alone in this struggle, but I want things that are functional, but also look really nice when they're out in plain view. I found a designer to do a vintage type artwork on flour sack towels. These towels are large enough and 100% cotton, that I can use them to strain yogurt if I'm going to make a cheese out of it. I can strain curds when I'm doing cheese making. It's absorbent. We don't have a dishwasher. We just wash our dishes by hand. Sometimes I'll have cooked so much that my drain is actually full and only just put some things on a towel to dry.
We've been using them for that. Of course, to put over bread when you're taking it out of the oven or dough, all of the applications that one would use a flour sack towel in the kitchen. Really high quality, made in the USA, printed in the USA, and designed in the USA. The design is really, really fun. It's a set of two, and it says "everything worth preserving." You'll see the cute little sketch art of mason jars filled with food and the other one is complimentary to that as well. Definitely check those out. Those we also have a limited amount of in the General Store. Now, this one was from Rachel.
I teasingly call Rachel the cookbook queen because she loves cookbooks, but the great thing is, is Rachel is a longtime farm girl from scratch cook. I know when she said a recipe book is good that it is good. I actually just ordered this. I buy Christmas presents for myself too. I don't know if anybody else does that, but I will oftentimes be like, "Oh man, I've got to have one of those," and I'll grab it for myself. What was really cool about this cookbook, and when you go to the blog post that accompanies this episode, you'll see some of my other favorite cookbooks over the years, but this is the Italian grandma's cookbook.
Rachel said that the stories in it are just amazing. It's Pasta Grannies: The Official Cookbook: The Secrets of Italy's Best Home Cooks. Rachel said the stories, the photos, and the recipes are all amazing. It's one of her absolute favorite books ever. When I saw that, I'm like, okay, I'm going to have to go ahead and grab that one as well. Now, the last one that I have up on my list for today, I don't know, is this a sign that you're getting old, but it's cleaning supplies. I don't know, it's kind of like when somebody will laugh and be like, "Your husband bought you for Christmas a vacuum cleaner?" But I tell you what, this company was one that a friend of mine shared with me, oh gosh, two, no, I think like three years ago.
I have just fell in love with them. When we were getting ready and are still getting ready, the farm stay, the house down on the farm that we bought that we're renting out for farm stays and short-term vacation rentals, I knew that I only wanted cleaning supplies used in the house by both guests and then, of course, myself, my daughter, and my mom right now are the cleaning crew between guests. I knew that I did not want them using cleaners, nor did I want those type of products in a house that we would be having guests in that I wouldn't use in my own home.
I use and have used for years now the Truly Free Home, and I have a special link for you guys that you can check them out that is a really incredible discount. What it is, is the fully loaded starter kit and it has a free little caddy. One of the things that I love about them is you get a bottle and then you have a pouch of the cleaner, so it's extremely concentrated, and it's all with no phthalates, no synthetics, all the things that I don't want in my home, assuming that you feel the same way, but I need products that actually work really well. That can sometimes be kind of a catch 22. Sometimes something is what I would consider healthy, but sometimes it doesn't feel like maybe it's as effective or it works the same way.
That has not been the case at all with any of their products. As I said, I've been using them for three years. Now, you can just simply do where you just go and you buy it once to try it, or you can sign up and they'll do where they'll ship it. They send you a notice ahead of time. You can put the frequency. You can decide to skip it, et cetera. Personally me, I'm like, okay, I'm always going to need cleaners and dish soap, different things like that, things that I don't make on my own. They have a really good Heavy Duty Degreaser. I have a kettle. It was a stainless steel kettle. I'd wipe it off, but it just stays on the stove all the time, until I got my new copper kettle.
I got a copper kettle because copper is my new obsession. The stainless steel kettle, I'm like, well, I'm going to take that down to the farm stay because people need to have a kettle if they want to make tea or boil water or whatever. I'm like, oh man. Sometimes just taking something out of its regular spot in your home, you're like, oh, that was a little grimier than I realized just on the outside. Anyhow, you're probably thinking, "Wow, Melissa, you're a great housekeeper," but I'm just telling you the truth. I need to get this grease off the outside of it, because there was more grease than I had realized that had built up in certain areas.
I used the Heavy Duty Degreaser, which you get in the starter kit. You guys, it was like magic. It was amazing. All I did was spray it on, let it sit for a couple of minutes, and then just took some soap and hot water and it just came right off. Really, really love that. And then of course, then I used it on the rest of my kitchen because I realized there's some areas that I have not gotten decreasing on or working very hard. I know it sounds funny, but oftentimes I'm like, if there's one less thing that I have to remember, as many things as possible that I can automate, I do. I actually love that they'll send me a reminder and be like, "Hey, are you running low on this," and then I can have it sent directly to my house.
Some of these products I have not been able to find from the store and I don't have a small family owned business store that I get some of these things from anyways in order to support as local. I really love these. I also like that you're getting this reorder pouch. I don't have this constant flow of different spray bottles and cleaning containers and all those things that then I have to dispose of. It's just a little pouch. I'm just adding water and reusing that same container time and time and time again. I actually felt like it was a great gift and it's something that I was buying for the other house. I'm like, hmm, I should probably just go ahead and share this because I really do love it.
Even though if you're thinking of gift buying, I don't know that cleaning supplies are really high up on the list, but it's something that has truly made my life easier. I wanted to share it with you guys as well.
Now for our verse of the week. We are in Psalms 95:2-3. Let us come before him with thanksgiving and extol him with music and song. For the Lord is the great God, the great king above all Gods. Now, I know this time of year, yesterday was Thanksgiving, that many of us do practice Thanksgiving and being thankful for things.
But oftentimes things can start to get stressful or you can have some things that go wrong and sometimes it's hard to immediately think of ways to be thankful. But I have noticed that in a stressful situation, for example, I was on a flight, this was about a month ago, I was on a flight and we were getting ready to leave. I was flying home from where I was at. I was actually over at the conference site where we're doing the Modern Home Setting Conference next summer, which if you have not gotten your early bird tickets to that yet, ticket sales on the early bird, lowest price ever. They're going up the 1st of January.
Definitely go to modernhomesetting.com if you haven't snagged your tickets yet to get them at that price. But I was flying home from meeting at the fairgrounds over there and going through all of our things for the conference and they're like, "The flight is going to be delayed by 45 minutes," which I was already flying home at night. I'm like, oh man, it's a two hour drive for me from the airport to get home once I land. I'm like, oh, it was going to be a late night. It's going to get a lot later now. And then they said why the flight was delayed, and the flight was delayed, I kid you not, because one of the seats that no one was sitting in, it was an empty seat, had a broken chair link.
Now, I suppose if they didn't fix it and we took off and you hit turbulence and something happened and that seat came loose and injured somebody, I'm sure that that was the thought process. But to be honest, when I saw it was an empty chair that we had to wait 45 minutes for them to come and put a new screw in, I was not feeling very thankful. I was really irritated. But then I'm like, okay, well, I can sit here and gripe and be grumpy about this and it doesn't change anything, the flight is still going to be delayed, but then I'm in a bad mood. Instead, I'm like, you know what? It's only 45 minutes.
You didn't miss your flight. You're not having to stay overnight somewhere. You're not missing a connecting flight because it's been delayed. And who knows? Maybe this flight needed to be delayed because by the time when you landed if it wasn't delayed, maybe there would've been an issue, like you would've gotten in a car wreck. By being delayed, that has protected you from something that you don't even know about. It was really amazing just making that decision to not be irritated in that situation. I don't know, maybe it sounds kind of silly or petty, but it just changed my entire perspective and the entire rest of the journey home.
Even in those moments where we're not feeling happy or things aren't going our way, if you can find something to be thankful about, you will truly be better off for it. And it has that ability to compound, especially when you're surrounded by other people. Because if one person's irritated, then it... Isn't that interesting how as humans we kind of do that? If you have somebody that's in a good mood, that can rub off on you, versus if there's someone in a bad mood, sometimes that can rub off too. It's just making that conscious decision to be thankful no matter what happens.
And for that, I am thankful that you joined with me today for this episode, and I look forward to being back here with you next week. Until then, blessings and mason jars, my friends.
Sign up to receive email updates
Enter your name and email address below and I'll send you periodic updates about the podcast.