How to choose the best grain mill to grind your own flour at home, because really, every home and kitchen should be experiencing the benefits of grinding your own flour. And to do that, you need to make sure you're choosing the best flour mill for your house.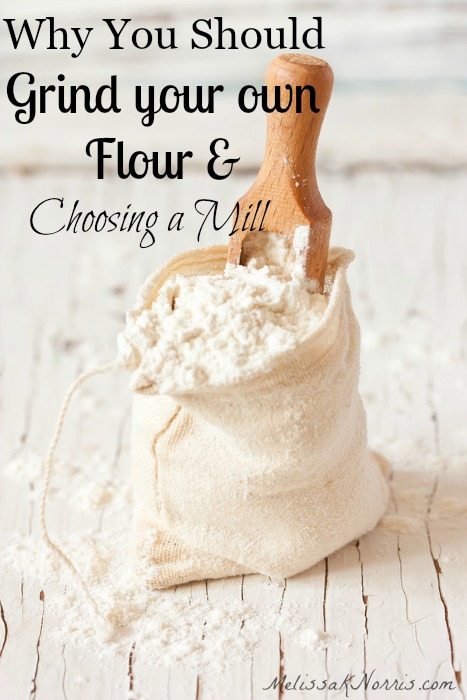 Flour milled at home is healthier and fresher, plus it makes me feel like a true pioneer woman.
Do you ever wonder about the flour you purchase from the store? While I've been baking our own bread for almost a year and a half now, I've been using store bought flour. I know our bread is now preservative free, but what about the flour, the main ingredient.
Tune in to the Pioneering Today Podcast! I post new episodes every Friday morning. You can subscribe via RSS and receive every episode for free.
Or subscribe via Itunes
My desire is to be as self-sustainable as possible. I also believe it's the healthiest way to live. I started researching the benefits of grinding your own flour at home and let me tell ya, there's a ton of nutrition we're missing out on (won't even mention the flavor) by not grinding our own flour.
How to Choose the Best Grain Mill
When you grind it at home, you're leaving in all the nutrition. It will store for one to two weeks, or you can store the ground flour in the freezer. I borrowed a friend's electric Blendtec mill to try out for myself this week.
When you grind a whole wheat berry (it looks like a piece of grain, not a berry), you are grinding the bran and germ into your flour. Because the germ has oil in it, the flour can turn rancid, so it's removed in commercial flour. But most of your fiber, vitamins, minerals, and antioxidants are in the bran and germ.
Disclosure: I received my Wondermill and Mockmill for free, regardless, this is my honest opinion of both mills.
Resources for How to Choose the Best Grain Mill
Best manual grain mill for ease of use and output plus upping your preparedness level–> Wondermill Deluxe Hand Grain Mill
Best back up manual grain mill when using an electric mill as a primary–> Victorio Hand Operated Mill
Best electric grain mill. I used a Wondermill for years, but I had the chance to try a new mill by Wolfgand Mock, a stone burr Mockmill 100 and you guys, I can't believe the difference. It's sooo much quieter, no parts to hook together, and the ability to adjust the grind goes beyond any mill I've seen.
Best electric stone grain mill- Not only can you grind flour, but you can grind all your gluten-free flours, vegetables (yes, vegetables into powders), spices and more. With one mill! Plus, it makes the finest whole wheat pastry flour and for a limited time, they're giving free shipping and I'm throwing in over $60 of free bonuses when you purchase your Mockmill here.
Free guide on learning how to bake with fresh flour –> 6 Tips for Baking with Freshly Milled Flour
How to Choose the Best Home Grain Mill for You
Manual Grain Mills
From my research, this mill Wonder Junior Deluxe Hand Grain / Flour Mill by Wondermill is the best manual grain mill according to many customer reviews and users.
Pros
1. No electricity. You won't be using any electricity or upping your power bill. If the power goes out due to a storm or unforeseen major catastrophe, you can still grind your own flour.
2. Toned arms. Turning the handle creates a toned upper body. I'm a girl who likes to multitask. How about you?
3. Ability to grind oily products. A manual mill allows you to grind oily grains, nuts, and seeds. Homemade peanut or almond butter?
4. Nostalgia. I love vintage and antique things in my home. A hand turned flour mill definitely says homesteading.
Cons
1. Mounting to a solid surface. A manual grain mill must be mounted to a table or counter top.
2. Time. It takes much longer to grind up your flour with a manual mill than an electric one, especially if you need to grind up a large amount at one sitting.
3. Weight. Some manual grain mills weigh up to 20 pounds. Moving around a piece of equipment at that weight may become cumbersome.
Update: I purchased this manual wheat grinder to have on hand for emergency situations, power outages, etc. I did a lot of research on reviews, as I wanted something that would work well when I needed to use it, so there were a few others that were cheaper, but I wanted quality as well. This manual mill from our affiliate partner Amazon a Victorio Hand Operated Grain Mill is still on the less expensive side, as it's not the one I use daily, but keep in reserve. I'd go with the WonderMill Manual if you're wanting it to be your exclusive grinder.
Electric Grain Mills
Pros
1. Ease of use. You simple plug it in, flip the switch, and pour in your wheat berries. No clamping down to anything.
2. Fast. I ground up 6 and 1/2 cups of fresh flour in less than 3 minutes.
3. Adjusting the grind. Adjusting the grind on an electric grain mill is as simple as turning a switch. The grinder I borrowed had 5 different settings for setting the fineness of the grind. The Mockmill has the ability to adjust the grind with over 20 setting.
Cons
1. Noisy. It sounds like a vacuum cleaner.
2. Dependency on electricity. It does require a power source.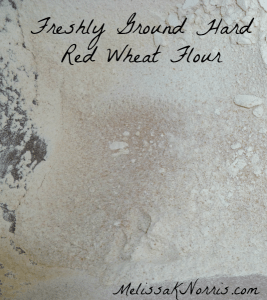 3. No oily products. You can't put anything oily through electric grinders. It gums them up and will make them useless.
I'm going to be ordering an electric grain mill. While I love the idea of the manual grinder, I don't have the counter space or a good spot to clamp it down, nor do I have the time to use it. I need at least 10 to 14 cups of flour every week and time is of the essence.
UPDATE: I'm now the proud owner of a MockMill100. It's much quieter than both the Blendtech and the Wondermill, nor does it jump around the counter while it's grinding, plus it's a tabletop stone grain mill for home use.
The initial price of a home flour mill isn't cheap, but I'm viewing it as an investment. I'll use it every week and it's hard to put a price on something that improves the health of your family. Second, I'm guessing it will almost pay for itself in a year. Third, I can store the wheat berries much longer than bags of flour, increasing our food storage. I purchased organic red hard wheat berries for just $.85 a pound at our local co-op. I used 4 and 1/2 cups of wheat berries and got 6 and 1/2 cups of flour.
I now prefer hard white wheat for bread baking, it's not quite as dense as the red. For delicate or baked items, Spelt is a wonderful flour. It has a higher protein count, but lower gluten, and it is a primitive non-hybridized wheat. I use it for cakes, muffins, cookies, and pie crusts.
Which is right for you? Do you use a flour mill or grind your own flour? Do you have any recommendations on which flour mill is the best?
Be sure to check out our 6 Tips to Baking with Fresh Flour.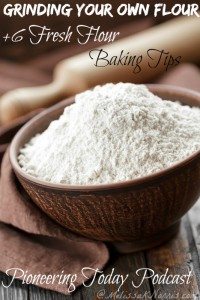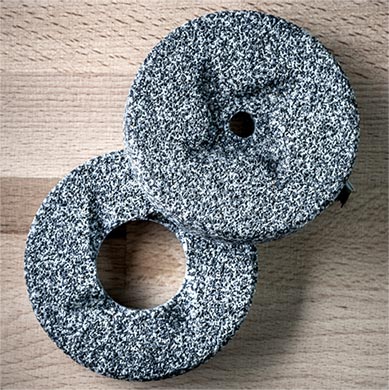 This is where the Mockmill is different than most electric home grain mills, you can easily take it apart and clean the burrs. Most other electric grain mills require you to ship them out, you cannot take them apart.
Why a stone mill is better
The burrs (what the food is ground against to become flour) are probably the most important part of your mill.
There are 3 different types of burrs on the market, steel, cast iron and stone.
Steel and cast iron burrs which do a decent job (this is what my old Wondermill had) but you can't get as fine as grind and they heat up, causing the flour to come out hot (which some believe impacts the nutrition value).
How to Grind Flour at Home
The Mockmill really makes this quick work. You simply flip the switch, pour your grains into the hopper, and watch it shoot out into the bowl. Literally, it only takes a minute or two. Easy, peasy.
What really set the Mockmill apart for me was the ability to adjust the grain to the exact setting I want and need. The other mills I use only have three settings. With the Mockmill I can adjust it to exatly what I need and want, from course for cracked grains to very fine pastry flour, with up to 20 different settings if need be. (I confess, I've mainly been using it on super fine for baking, but a girl wants options)
Where to Buy Your Grain Mill
I don't know about you, but I've never seen a grain mill sitting on the shelves next to the slow cookers (let's hope that changes, and you and I, we're the ones leading the much needed change, woot, woot!)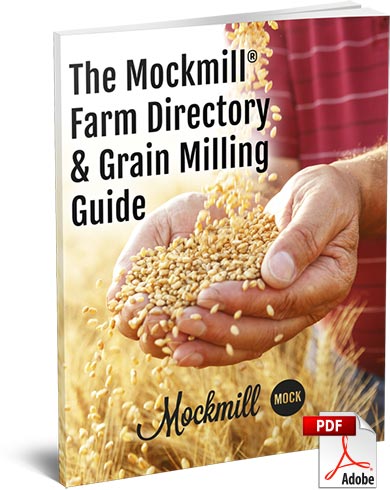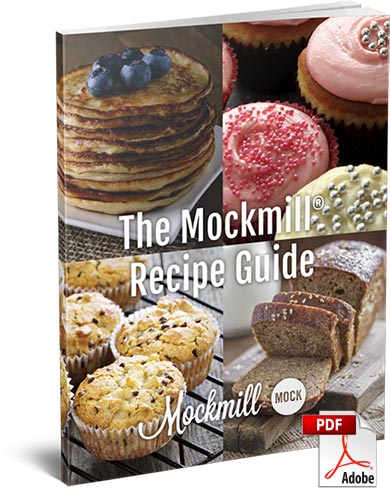 For a limited time, you can order the Mockmill and get FREE shipping, plus some special bonus offers. You get two guides from Mockmill, the first is the Farm Directly and Milling Guide that contains easy links to the websites and Amazon.com listings of small family farmers who will gratefully ship their grains direct to your door.
The second is the Mockmill Recipe Guide, filled with time-saving central bank of recipes from every corner of online universe, The Mockmill® Recipe Guide is a lovingly curated plethora of baking ideas for new bakers, expert bakers, and anyone and everyone inbetween, including sourdough!
Get ready to discover flavor-filled favorites from some of today's top food and healthy-eating bloggers… all the way through to professional artisan chefs who've discovered the taste-infusion fresh flour makes to breads and baked goods.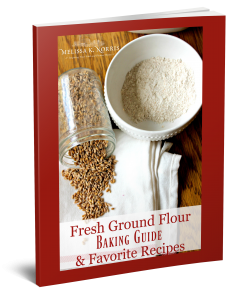 Hold up, I know that when you first start baking with fresh ground flour, you've got to make some adjustments to your favorite recipes. If you've been using store bought flour, you can't just take 1 cup of fresh ground flour and use it in place of all-purpose flour and get the same bread or cookies.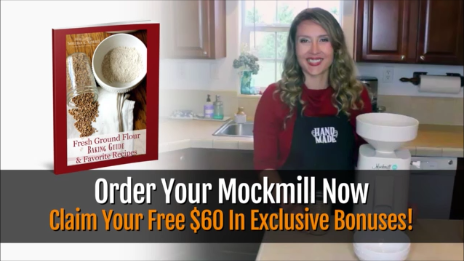 There's a learning curve… ask me how many loaves of bread turned out rock hard when I first started. But you my friend, you don't have to suffer through those mistakes, because I'm sharing the tips I've learned to use fresh ground flour to convert your favorite recipes and get delicious food, every time.
And when you purchase the Mockmill, I'm giving you access to my mini e-course Baking with Fresh Ground Flour and my e-book Fresh Ground Flour Baking Guide & Favorite Recipes, valued at over $60!
You can have home milled flour in your kitchen and the bonuses with these 3 easy steps.
How to Order and Claim Your Bonuses
Order your Mockmill here to get free shipping & 5% OFF, the Farm Directly and Milling Guide and the Mockmill Recipe Guide.
Have your Mockmill Receipt number and fill out this form to get special access to my Fresh Ground Flour mini e-course and Fresh Ground Flour Baking Guide & Favorite Recipes.
Begin creating the freshest flour you've ever had to bake wonderful foods for your family.
There you have it, how to choose the best grain mill to grind your own flour at home. Which one did you go with?