Some of the links below are affiliate links, which means I will earn a commission at no additional cost to you, if you click through and make a purchase. Regardless, I only link to products we use on our homestead or believe in.
Come along and garden with me with my new monthly gardening feature where I'm taking you into my garden and showing you everything I'm doing month-by-month! Here's everything I'm doing in the month of March.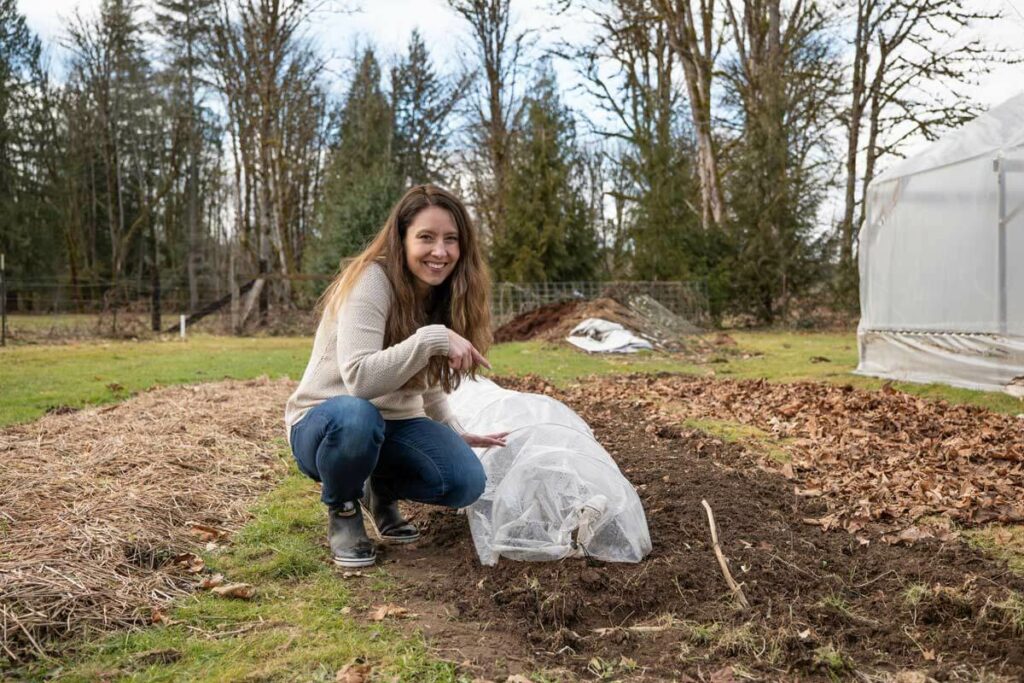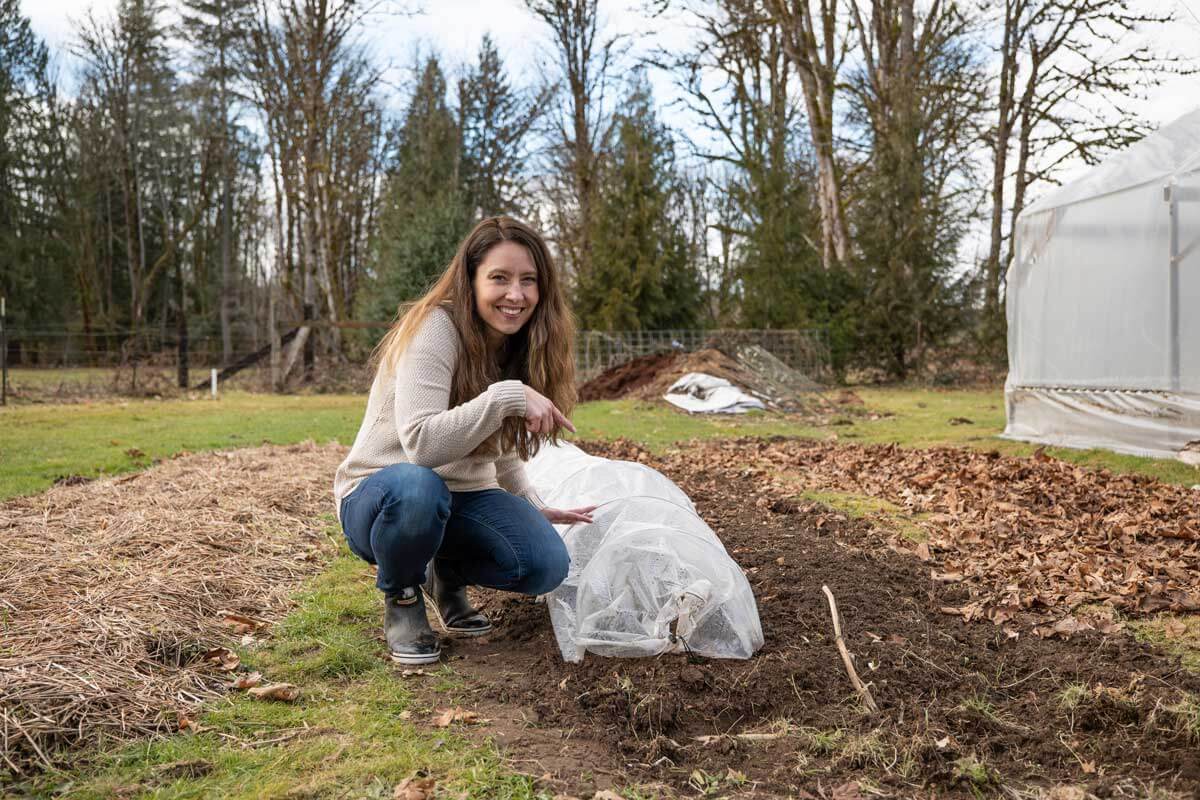 We're in the month of March and I'm excited to finally be getting some plants in the ground. Keep in mind I'm in gardening zone 7B and my last average frost date is April 30th, so you may need to be doing these tasks a little sooner or a little later than me.
Tasks for the Garden in March:
It's exciting to see the garlic coming up through the mulch as it's that first little bit of green we're able to see after a long grey winter! If you've never grown garlic before, check out how to grow garlic with this post. If your garlic is already growing, read this post on harvesting and storing your garlic here.
I started my onions from seed and am doing a test where I direct sowed onions seed in a low tunnel to see how fast they'd sprout AND if they're the same size at harvest ime. If you haven't started your onions yet, NOW is the time to do so.
I've been growing lettuce and other brassicas under the polytunnels in the garden (they even survived a heavy snowfall!). Check out how I avoid cabbage moth and prevent slugs with organic methods.
Checking on the perennials that I over-wintered in the high tunnel. Getting ready to start hardening them off for planting out into the garden and medicinal herb garden. Learn how to start a medicinal herb garden here. And which common kitchen herbs can be used medicinally.
Winter sowing my cool weather brassicas in the high tunnel: cauliflower, cabbage, broccoli, kale, and some lettuces. I will harden them off after a few weeks then plant them into the garden.
Seed starting my warm-weather crops like tomatoes and peppers.
Growing new and old varieties of tomatoes this year. My new experiments are Black Strawberry Tomatoes and then my standby varieties are Galina's Yellow Cherry Tomato, Brandywine (for fresh eating), and then the work-horses for preserving are my Amish Paste tomatoes and the San Marzano Lungo tomatoes. With about 10 plants each of the Amish and San Marzano I am able to preserve enough tomato products for my family for a year (this includes tomato sauce, stewed tomatoes, salsa, tomato soup, pasta sauce, pizza sauce, etc.). Check out my posts on 10 tomato growing tips for a disease-free harvest, how to prune tomato plants for a better harvest, and how to prevent and treat early blight.
For peppers I like to grow King of the North bell peppers and an early jalapeno pepper plant. I'm going to give the Lipstick Pimento Peppers a try this year as well.
I'm amending the soil to eliminate/prevent Mummy Berry Disease on our blueberry bushes.
See which herbs and cut flowers I'm growing in my medicinal herb garden this year.
Grab my book the Family Garden Plan for charts on how much food to plant for your family for a year!
Grab my favorite seed organization boxes here (which are actually photo organization boxes, but they work perfectly for seeds!)
The polytunnel I use for onions and other vegetables in cold weather.
And that's a wrap for March! Stay tuned to see what gardening tasks I'll be completing next month in April.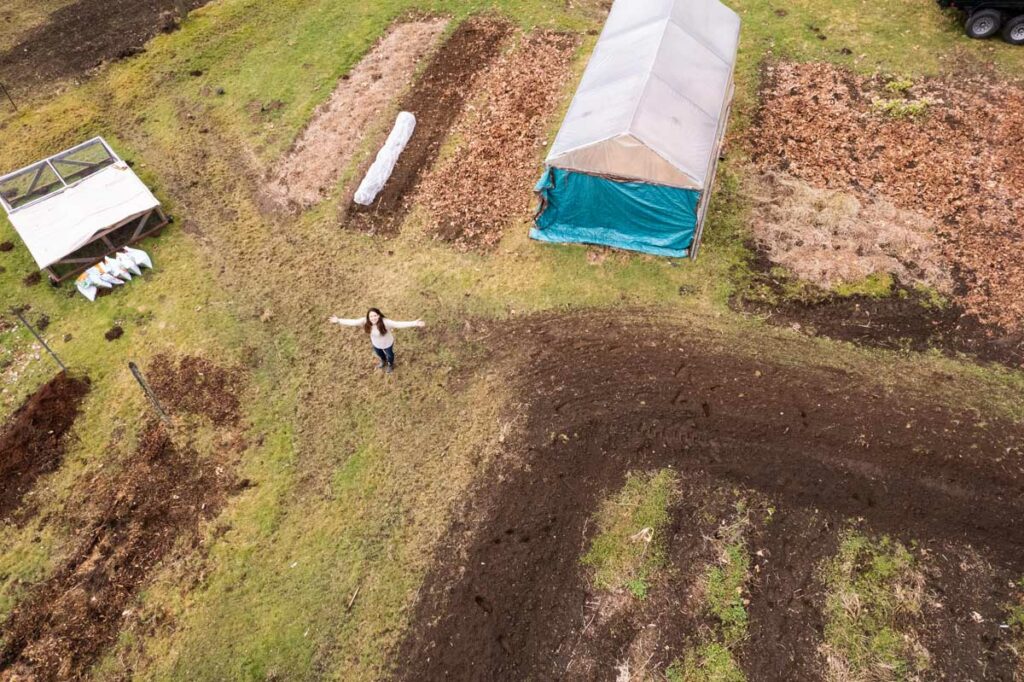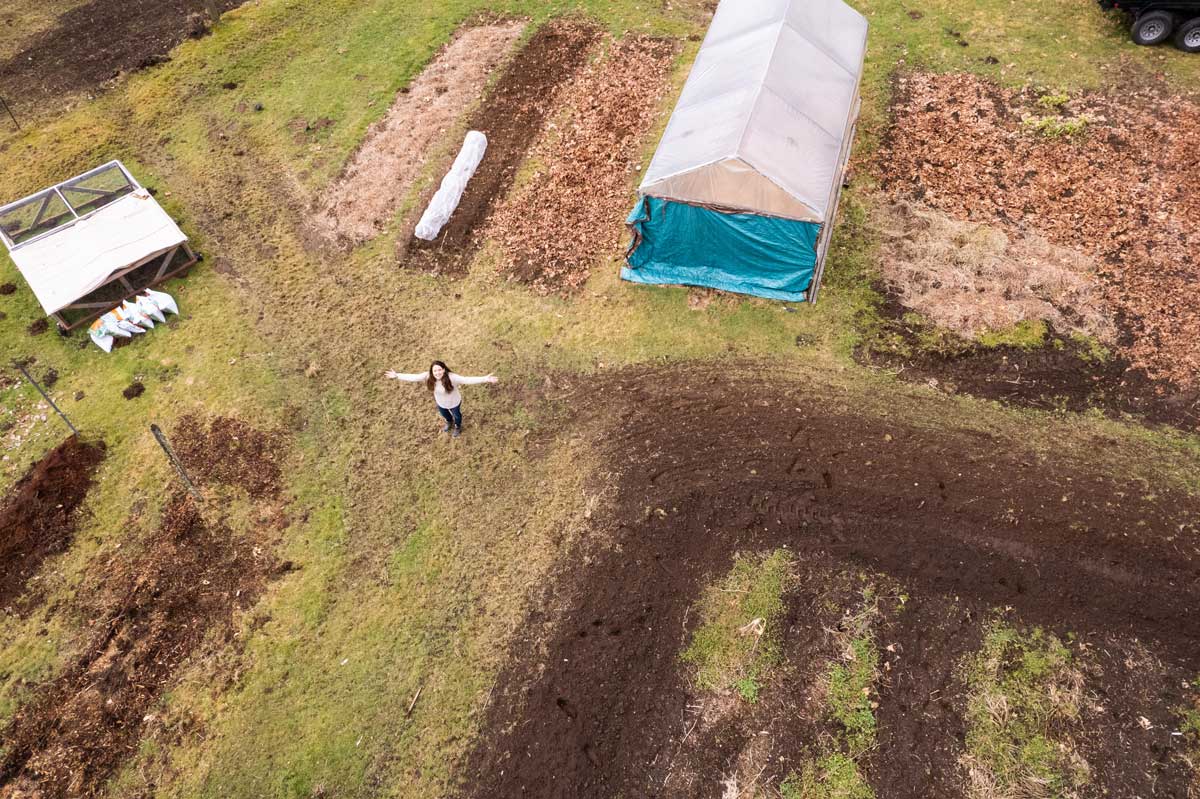 More Posts You May Enjoy