Some of the links below are affiliate links, which means I will earn a commission at no additional cost to you, if you click through and make a purchase. Regardless, I only link to products we use on our homestead or believe in.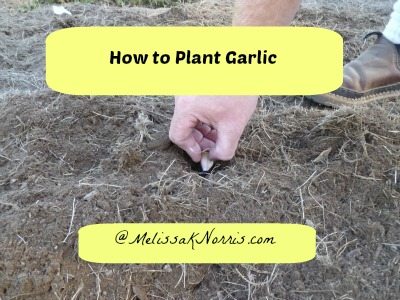 Traditionally, October is a month of harvest. But in the Pacific Northwest (and many other parts of the country) October is the month you plant garlic for a summer harvest.
We prepared new garden beds for our garlic last month. We plant our garlic the first week of October, but if the ground hasn't frozen or endured a deep frost, you're safe a few weeks in.
You'll need to decide if you want to plant softneck or hardneck garlic. We prefer softneck so we can braid it to hang in the kitchen. Plus, softneck has a longer shelf life. Hardneck cannot be braided, has a much shorter shelf life, but it usually has a stronger more complex flavor.
You can also choose to do both. I recommend you purchase your seed garlic from a local grower. Most store bought garlic has been sprayed so it won't sprout in the store, meaning it won't sprout in your soil either. We buy ours from a local farming store, which stocks garlic grown on a local farm. You can also save a some bulbs from your own harvest to plant the next year.
Plus, local farmers know which varieties will grow best in your climate and area. Softnecked garlic is usually easier to grow.
Break the cloves apart and plant with the fat end down in the soil (part that is closest to the root from your main bulb). Plant your clove with about two inches of soil covering it from the tip of the clove. Keep cloves six to eight apart in all directions.
Be sure your soil is well-draining. In the past, we've used raised beds. We're trying out putting the garlic in the ground this winter. We tilled the new beds deep and added dried cow manure. Weed free is a plus as garlic doesn't like to compete.
Once your garlic has sprouted, mulch around the green shoots. After your first hard frost (green shoots will wither), mulch with straw over the entire bed. In the spring, you can pull it back from the new shoots.
Do you plant winter crops? Have you planted garlic before?
Featured on The Barn Hop.