Two years ago I did a test in my garden where I covered half the garden in wood chips and used a no-till gardening method. On the other half, I continued to till and didn't add any wood chips. I wanted to do my own test to know if wood chips were beneficial for garden soil and the growing season or not… it's been two full years and I'm sharing the results of my soil tests in this post. Were the wood chips helpful or not?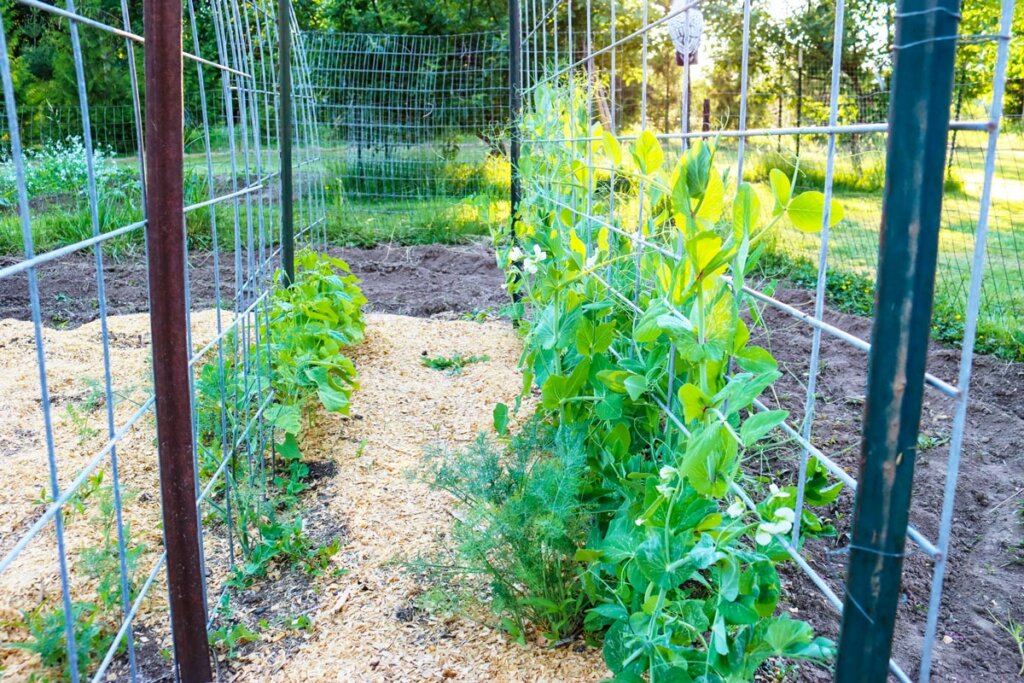 There are so many things to learn about when you're first learning how to start a garden. Everything from these beginner gardening secrets to learning foolproof methods when garden overwhelm sets in (it's a real thing!).
It's also good to learn about companion planting, and how this can help improve the soil health of your garden, as well as how to create a garden plan for more harvest and less stress.
The deeper you get, the more you learn, and that's the beauty of gardening year after year!
Many people tout the benefits of using wood chips or adding a layer of mulch in the garden, and for good reason… but do the benefits always outweigh the potential drawbacks?
My initial concern when covering my garden in wood chips (and the main reason we only covered half the garden) is that the nitrogen would get bound up in the wood chips and depleat the soil.
From what I had read, as long as the wood chips were only on top of the soil and not mixed into the soil this wouldn't be an issue. But I just had to be sure so we did a side-by-side test and got three different soil tests from Simply Soil Testing just to be sure.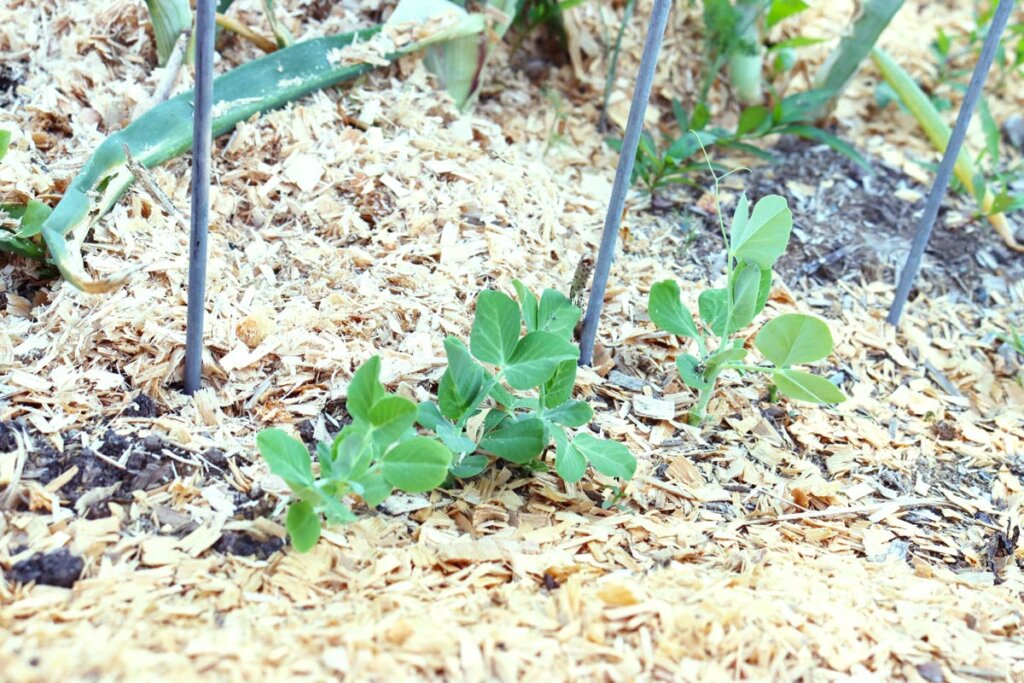 Table of Contents

[Hide]

[Show]
What is "Back to Eden Gardening"?
Originally coined by gardener and arborist Paul Gautschi, the Back to Eden method of gardening is supposed to mimic the forest floor where organic material continues to fall year after year and build up to beautiful, nutrient-rich, loamy soil with great water retention and little to no watering. I've previously written about this method for weed control here.
Depending on your gardening methods, your climate, and the types of crops you're growing, this may be a wonderful method, or it may not. We've been using both the Back to Eden no-till and tilling methods in our garden for the past two years (in different locations).
We wanted to do a true side-by-side comparison and see just what the differences were for us. I just got the soil test results from three different places in our garden and you may be surprised by the results, I was!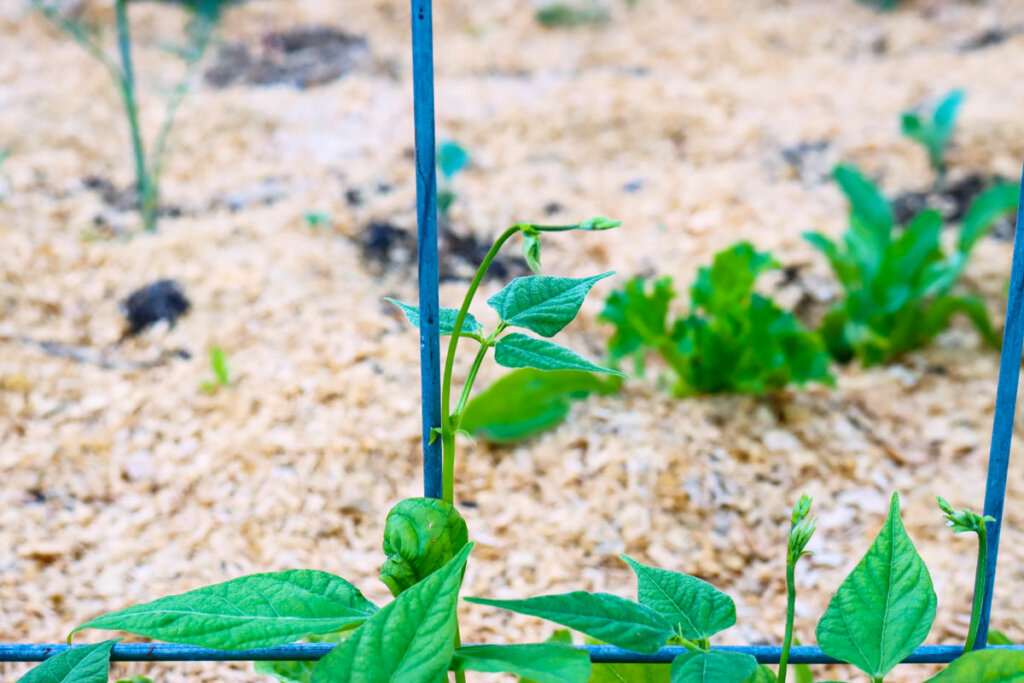 Why Use Mulch in the Garden
There are many benefits of using mulch in the garden. A few of which are:
Less soil erosion
Better water retention/less overall watering
More plant protection
Weed suppression
An improved food web (worm habitat) under the soil
Added organic matter & nutrients
Better soil temperature control
Reduces overall waste
Less Soil Erosion
Because wood chips will absorb excess moisture, during heavy rainfall or heavy waterings, the soil will remain and not get washed away.
This is extremely helpful for erosion-prone areas of your yard or garden that are on a hillside or are just at a slight angle where water would runoff.
Less Watering
Because wood chips retain moisture, they act like little sponges, steadily releasing that moisture during the heat of the day. They also help to insulate the ground (more on that below), so the moisture in the soil doesn't evaporate off as quickly.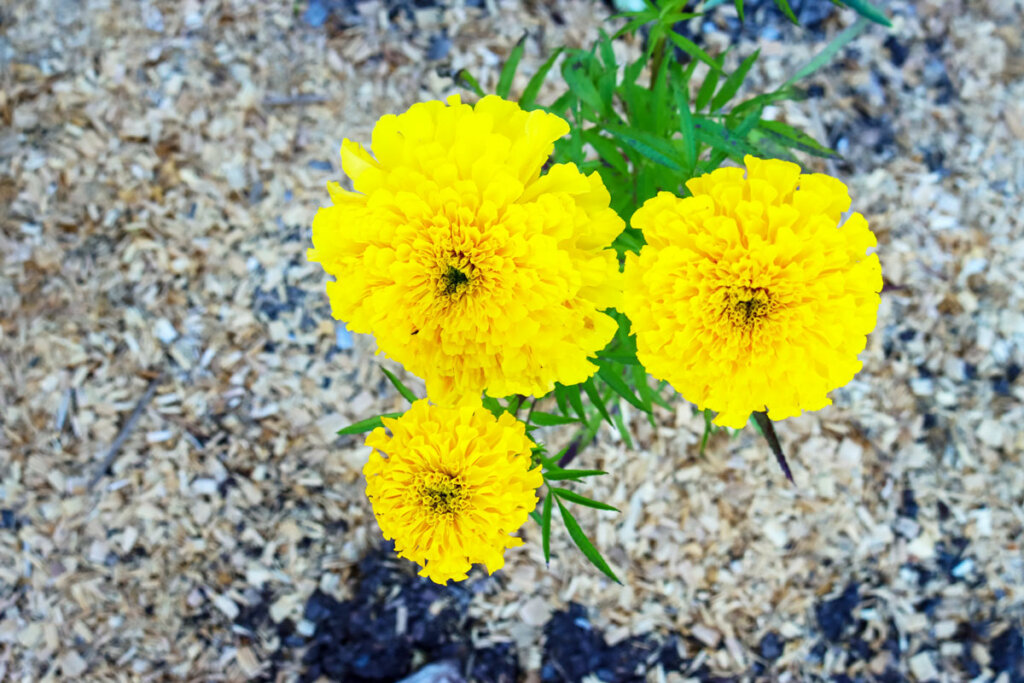 Plant Protection
Plants are protected from soil erosion which could cause their stems to be exposed or the stability of the crop to weaken.
Weed Suppression
Adding wood chips to your garden is a great way to suppress the weeds. Because tiny weed seeds have a hard time pushing up and through the wood chips, they simply cannot grow (not all, but most), therefore reducing the amount of weeds in the garden.
Furthermore, those weeds that do make their way through the wood chips will be easier to pull up.
It's important to note that you don't want to add wood chips over newly planted seeds for the same reason. They will have a harder time germinating and sprouting if they're covered with wood chips and your germination rate will be horrible.
Wait until your crops are established before adding wood chips as mulch up and around the plants.
Improved Food Web
Taking our queue from the forest floor, where leaves, decaying trees, pine needles and other organic materials constantly falls to the ground, there is an amazing web of mycelium underneath the top surface.
Adding wood chips to the garden helps to build up this strong living "food web" hiding out just beneath the surface.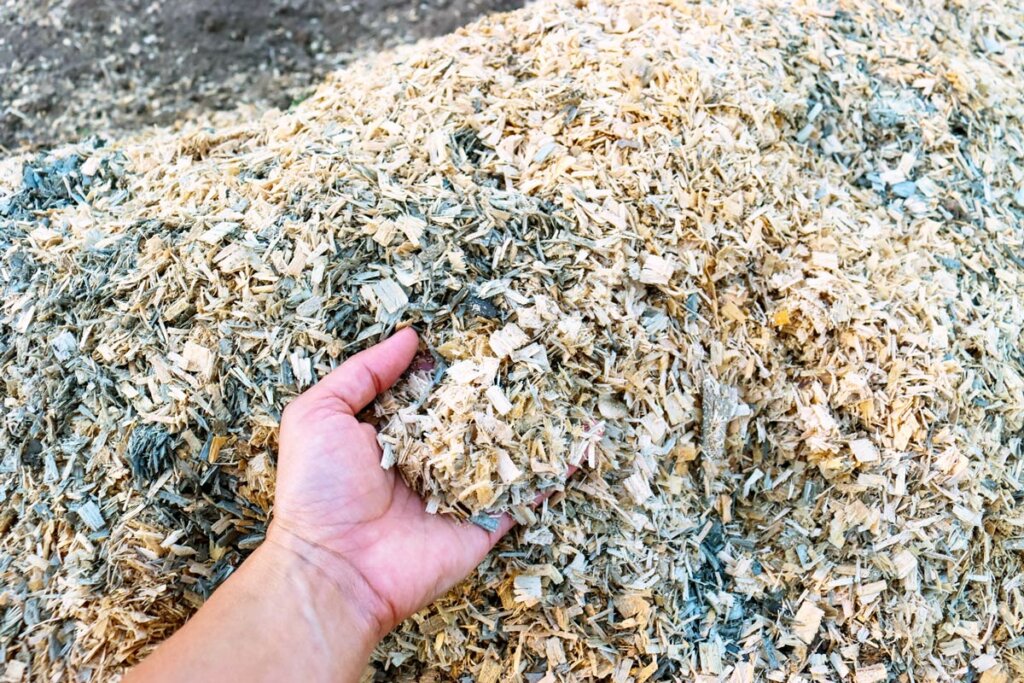 Added Organic Matter
As wood chips break down year over year, they continually add to the organic matter in the soil, creating rich, loamy soil that's the perfect growing medium for vegetables and other plants.
Soil Temperature Control
As mentioned above, a layer of mulch will help control the temperature of the soil. On extremely hot days, the soil just below the wood chips will be slightly cooler. And once those temperatures start dipping toward freezing, the soil will stay insulated a bit longer.
Reduce Overall Waste
Because you can use other materials besides wood chips as mulch, you can really help reduce the waste on your homestead.
Have a fallen tree? Rent a wood chipper and harvest your own wood chips. Raking up a bunch of leaves in the fall? They make perfect mulch (as long as they don't just blow away!).
Look around your yard, I'm sure you'll come up with many items that can make great mulch, even if it's not just wood chips.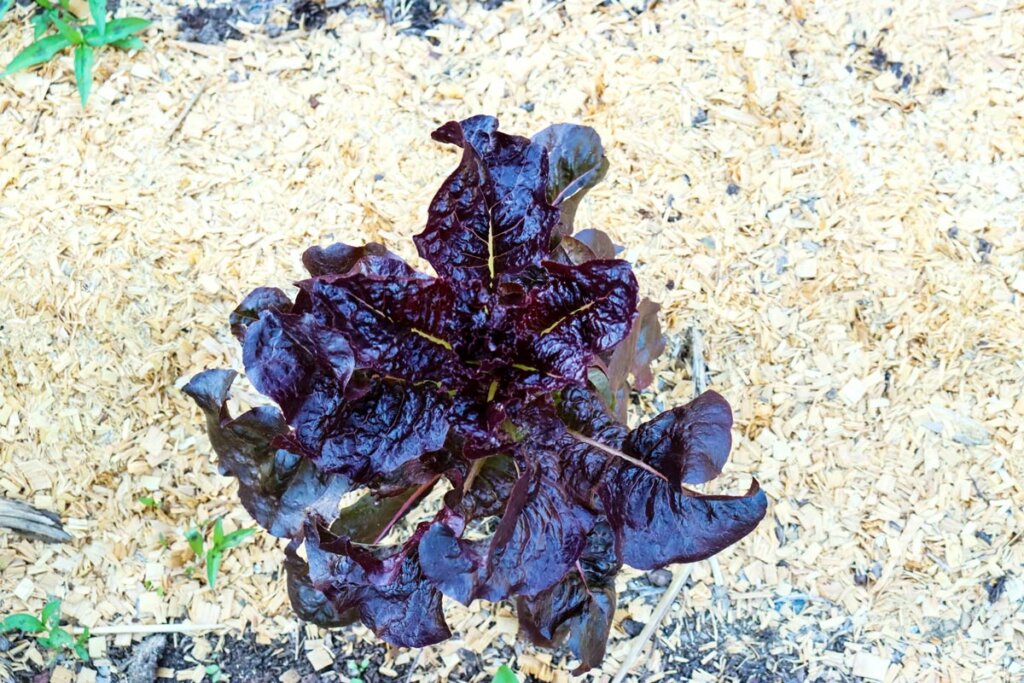 BONUS: Beautifies the Garden
When you add fresh mulch to your garden spaces, it adds a nice appealing look that's very tidy and purposeful. Because it also helps suppress weeds, when adding mulch year after year, you can help improve the look of your garden and lessen your overall workload as well.
Soil Test Results
Now the part you've all been waiting for… the results of the soil tests! Check out my other post if you want a more detailed look at how to test your soil pH and how to amend it based on the results read this post.
I ran soil tests in three different portions of my garden. I definitely took samples of the area that's been mulched with wood chips for two years and the area of the garden where we've continued to till and not add wood chips or any other form of mulch.
Then I also took a sampling from under our high tunnel where we added wood chips just last year. The results of that test were actually the most surprising! Read on to find out why…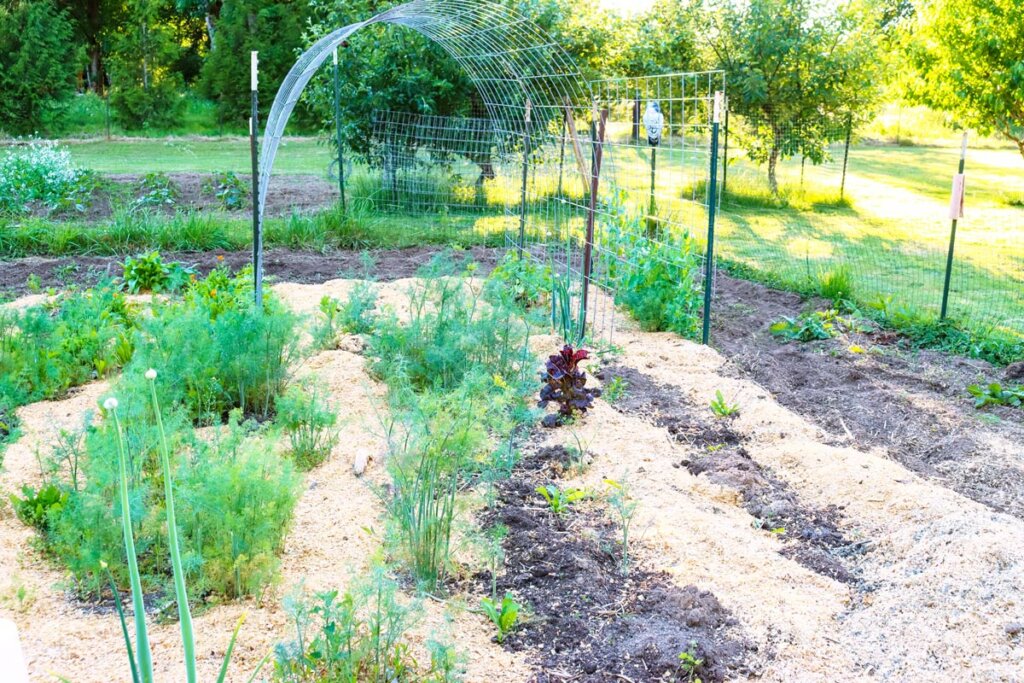 Garden Plot Mulched with Wood Chips
Nitrogen Level – 11 ppm (this is the higher end of "low")
Micro/Macronutrients – all very good! Each of the levels of nutrients (phosphorus, potassium, calcium, magnesium, boron, sulfur, and organic matter) were either in the very high, high, or medium-high range which I'm very happy about.
pH level – 7.08 A vegetable garden is ideal between 6.0-7.0, so I'll add a little bit of elemental sulphur and this will come down just fine.
Garden Plot Not Mulched with Wood Chips
Nitrogen Level – 24 ppm (this is on the high end of medium)
Micro/Macronutrients – all very good in this garden area as well.
ph level – 7.19 Still almost optimal, which with pH levels, if it's just a little bit over or under, it won't affect the growing season much. But when an area is significantly off, you'll notice much more struggle for your crops. This is especially important when you're growing plants like blueberries that like much more acidic soil! So know what you're planting and know the pH level that specific crop desires for the best results.
I have a theory on why both sides have differing results. Many people don't like to till because this can break up the mycelium and food web connection under the soil, however, when we till, we till back into the soil the green matter which will release more nitrogen back into the soil.
High-Tunnel Garden Plot Mulched with Wood Chips
It's important to note that the plot where we put our tomatoes is a new plot that was formerly wooded with evergreen trees which tends to make the soil a bit more on the acidic side to begin with.
After just one year of having this area mulched with wood chips, the results are as follows:
Nitrogen Level – 46 ppm (this is on the high end of high)
Micro/Macronutrients –
pH level – 5.52 This is a little bit too acidic for tomatoes, so I'll be adding some lime to help raise the pH level.
My theory on why this area has a higher nitrogen level is that this area of the garden is covered and doesn't get the rainfall like the rest of the garden areas. I truly believe the rainfall is what washes away the majority of the nitrogen, even when the wood chips are on top of the soil.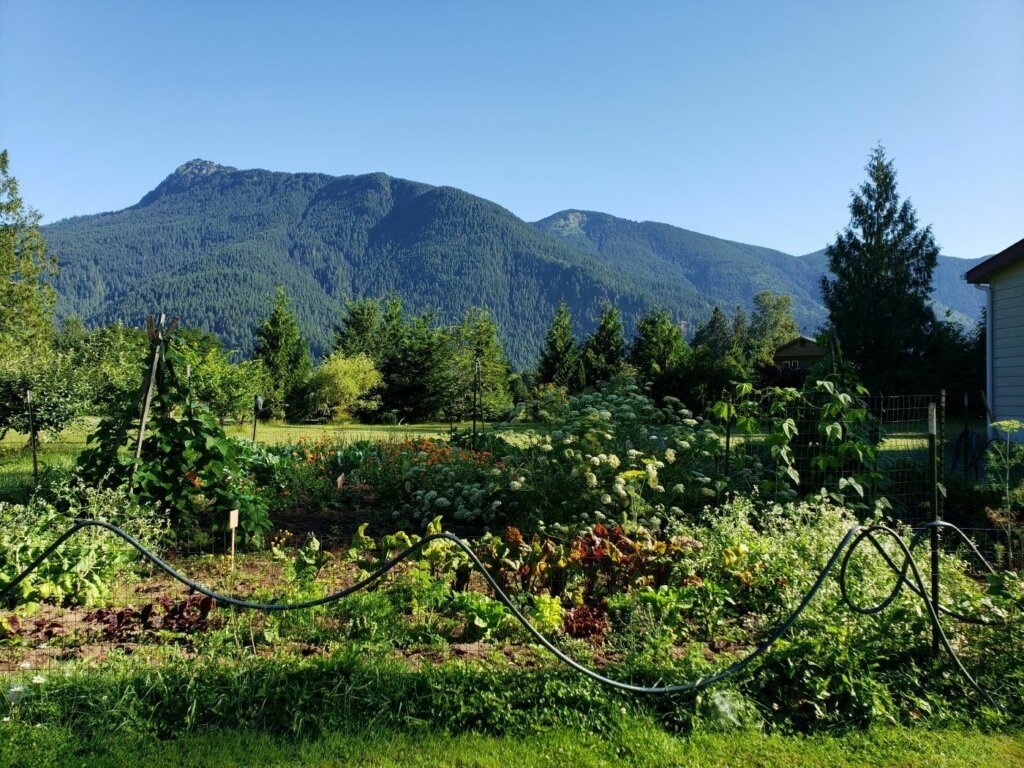 Why Organic Matter Matters?
We like to have a high level of organic matter because, as it holds moisture and brings aeration, it also contains nutrients. As the organic matter breaks down into your soil it will continue to replenish all the micro and macronutrients.
More Gardening Articles