Some of the links below are affiliate links, which means I will earn a commission at no additional cost to you, if you click through and make a purchase. Regardless, I only link to products we use on our homestead or believe in.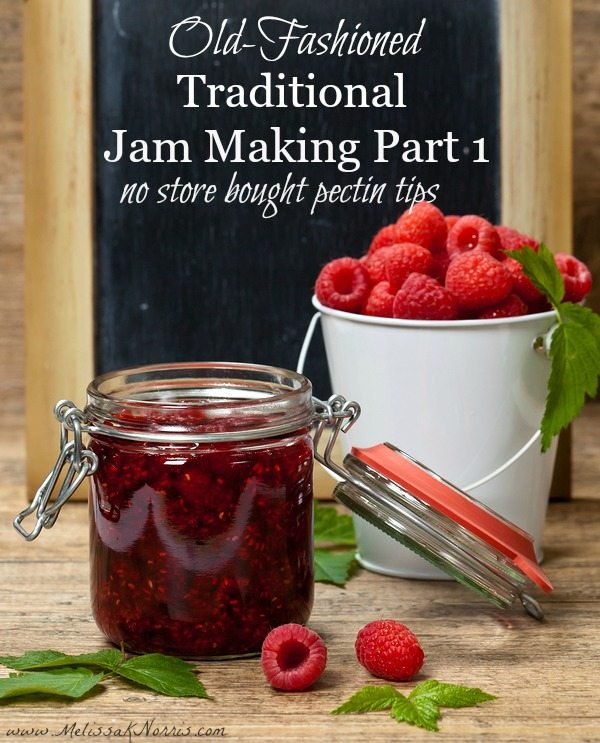 Homemade jams and jellies have been a way to preserve fruits at home for yearlong use for hundreds of years. They allow us to experience the delicious taste of strawberries on the frigid days of January and the zest of blueberries in the soggy days of spring. They can be used in sauces, marinades, cakes, and spread on a number of products. They're found in most lunch boxes and I'm guilty of sometimes just eating them by the spoonful.
This is Part 1 of our Homemade Jam and Jelly Making series, where we'll walk through how to make jams and jellies the old fashioned way without loads of sugar, store bought pectin, and as the harvest comes on seasonally. I'll share our favorite tried and true recipes with tips and troubleshooting help.
Or subscribe via Itunes 
Typical jam and jelly recipes contain just as much, if not more, sugar than fruit. This is because high amounts of sugar are usually required for the set of jams and jellies. But you don't have to use expensive store bought pectin or bucket loads of sugar to have delicious homemade jams and jellies.
When looking through many canning books and homemade jam and jelly recipes, I found complicated recipes, some requiring three days to prepare, or containing exotic expensive ingredients I had no idea where to find or even purchase.
I use traditional homemade jam and jelly recipes that have been passed down for generations. These are the jams and jellies are pioneer ancestors when you put it up at home or went without. They don't contain high fructose corn syrup or food dye. Not all jam and jelly recipes we find online are safe for home canning.
We need to talk safety rules. I'm not always one to follow the rules, but when it comes to canning, I don't take chances. I follow recommended guidelines by the USDA for home canning and do my best to stay up to date. I know a lot of older canning books and recipes don't follow these, but I'm not willing to risk it. Here's the link to the USDA Complete Guide to Home Canning for your own reference.
Jams and jellies can be safely canned via the water bath canning method, which is immersing jars of food in boiling water for a specified amount of time. Only high acidic foods can be safely canned with the water bath method, this includes, jams, jellies, syrups, marmalades, chutneys, pickled foods, and salsas (salsa recipes specific for canning). Tomato products can also be canned with water bath canning as long as you add some acid in the form of lemon juice to the jar.
Jams and jellies are made with fruit which are acidic, with the exception of bananas, which aren't acidic enough on their own to can. You may occasionally see combination recipes with bananas but unless they are from a trusted source, I'd use care in canning them.
If you're ever in doubt on the safety of a jam or jelly recipe for home canning, you can freeze the product or store it in the fridge for a few weeks as you eat it up.
Usually jam and jelly recipes show their yield in four or eight ounce jelly jar sizes, hence the name, right? You can also can them in pint sized jars depending upon the size of your family and how much jam or jelly you use. I prefer to mainly use jelly jar sizes so I don't have to worry about the jam or jelly molding in the fridge before we've eaten all of it. I hate wasting or throwing out food, anyone else with me?
Let's talk acid. A food must have a ph level of 4.6 or lower to be considered safe enough for water bath canning. Most fruits are acidic and safe for canning with the exception of bananas, figs, melons, dates, and papayas. For a full list of foods and their ph level you can view this list by the FDA.
Jam contains the whole fruit and there are pieces of fruit in the finished product. Jelly is made from the juice of fruits.
Equipment needed for Homemade Jam and Jelly Making
Canning jars– most recipes are for six ounce jelly jars or pint sized jars. When canning, it is advised to only use jars specified for canning to ensure they'll hold up to the heat changes involved in canning. I prefer the 8 ounce jelly jar size myself.
Lids-regular canning lids or re-usable Tattler lids both work well. If you're used to regular canning lids Tattler lids are slightly different, but they are the only lid safe to re-use in canning. Here's my review of re-usable Tattler lids.
Water bath canner- a water bath canner is a large pot with a lid and a rack. The most common are granite wear, though many canners prefer stainless steel water bath canners as they won't rust. Both are fine choices. The granite wear canner is a more economical choice while the stainless steel water bath canners will hold up for years to come.
Sieve– a sieve has small holes in it and is shaped conically with a stand and a wooden pestle, allowing you to crush and push foods with seeds through it, capturing the seeds and giving you just the pulp and juice. A sieve is useful for applesauce, tomato sauce, and making jelly with fruits like raspberries and blackberries. I have my great-grandmother's and it is still in perfect working shape. I prefer using a sieve to a food mill or cheese cloth. I find it faster and more efficient.
Optional, but highly recommended
Stainless Steel Steam Juicer– If you've ever went through the process of cooking fruit to then hang it in cheese cloth to extract the juice for jelly (or just for drinking), you'll know how long and arduous this process can be. The stainless steel steam juicer knocks off hours and tons of hands on time. You simply fill the bottom part with water, place the middle section that collects the juice in place, and then put your fruit in the steam rack that fits on the very top. Bring the water to a boil and allow to steam for the appropriated time then let the juice drain into your large glass measuring cup.
It's a thing of beauty and allows you to distract the juice for jelly making extremely easy. Almost like having a maid, almost.
In less than an hour, you'll have gorgeous juice ready for jelly making.
Natural Pectin Sources for Homemade Jam
It is the combination of pectin and sugar that help give jam and jelly its "set" or firmness. Pectin is found fruits, though it is higher in some fruits than others. Fruits naturally high in pectin are apples, crab apples, grapes, quince, currants, lemons, and limes. Under ripe fruit has higher levels of pectin as well. When you're picking or selecting fruit for jams, it's best if you use approximately a 1/4 of slightly under ripe fruit for a better set.
As I mentioned before, pectin is found naturally in most fruits. Many people are familiar with using store bought pectin to make their jams and jellies. The regular boxes powdered pectin or pouches of liquid pectin found on most grocery store shelves requires large amounts of sugar to get the "set" and have other added ingredients that most likely contain GMO ingredients.
The pioneers made their jams and jellies without the neat little boxes and envelopes of pectin. They used natural sources of pectin. And sometimes old-fashioned ways are just better.
Fruits that contain naturally high level of pectin
apples (tart or green apples have the highest pectin levels, especially crab apples)
currants
grapes
lemons
limes
Jams are the easiest to make with natural pectin sources because they keep the skin in the product, where a higher concentration of pectin is found. But, I've successfully made jelly without store bought pectin as well.
Now, if you want the reassurance of a set with store bought pectin (it doesn't take as long to cook the jam), I do use Pomona's Pectin, which is truly a natural pectin made from citrus that uses calcium water instead of sugar for the set. I use Pomona's Pectin for a few of my savory or non-fruit variety jellies.

Are you ready to get your jam? Make sure you subscribe to get our recipes, podcasts delivered straight to your inbox…sign up here!

Want to get started making homemade low sugar jam without store bought pectin now? I've got 5 of my favorite old-fashioned traditional recipes in the Ultimate Home Food Preservation Guide for you right now! Click here for immediate access and let the jam making begin.
Verse of the Week:
Galations 6:9 Let us not become weary in doing good, because at the proper time we will reap a harvest.
I don't about you guys, but sometimes I get bone tired, exhausted, and I wonder if anything I'm doing is making a difference and if I should just give it all up. I know that's not true, but sometimes we have moments where we're filled with self-doubt.
I love this verse because it tells us we'll reap a harvest if we don't give up. These past weeks I was sowing seed in the garden and we're not guaranteed that all of them will come up or germinate. But it really reminded me that sometimes you soak all of the seeds and almost all the seeds are up. I went out to where we planted pumpkins and I plant five seeds per hill and thin it down to three.
There were 3 hills where none of the seeds had come up. I went in and soaked some more seed overnight and went out the next morning, and low and behold, if pumpkin plants hadn't sprouted and popped up overnight.
Now mind you, the other hills and seeds had been up for about 4 days, so there was quite a difference in time. It reminded me we don't always know when things are going to happen or we'll reap the harvest.
If you're in a spot the harvest doesn't look near, don't give up or grow weary, because at the proper time, the harvest will come (those seeds will pop up).