Some of the links below are affiliate links, which means I will earn a commission at no additional cost to you, if you click through and make a purchase. Regardless, I only link to products we use on our homestead or believe in.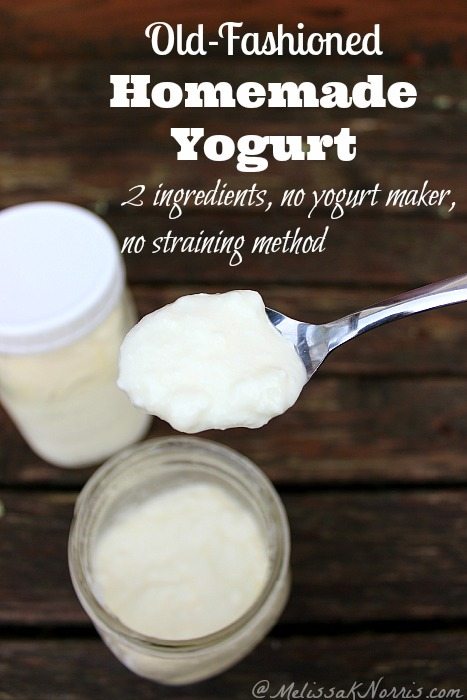 Does anyone else get a little bit excited twirl around the kitchen and do a double fist pump when they learn how to make something from scratch at home instead of purchasing it from the store? Whew, glad it's not just me. I spun around and may have knocked over a dish or two when I learned how to make yogurt at home without a yogurt maker or any new appliance. Because really, I hate appliances that only serve one purpose. I'm a multi-tasking girl and expect just about everything in my house to be the same way.
Some of you have been making homemade yogurt for years, and you rock. For others, it's been on your to do list for a good while. If neither applies to you, check out Fermented Dairy: Why You Should Be Doing this Now. Then come back here and celebrate, because today is your day. Today you're going to learn how to make yogurt at home and you'll be spinning right around with me. Okay, maybe I'm the only one who spins, but you get the point. This is exciting stuff.
Let me say making the yogurt was way easier than I anticipated. One of the first things I like to look at when making something from scratch at home is if it's more healthy, cheaper, and something I can do fairly easy. Rest assured my friends, homemade yogurt fits the bill.
One, homemade yogurt is a fermented food, meaning live good bacteria, as in probiotics baby. Best part, it's much cheaper than those little capsules at the store. Two, no added sugar or food dye. Three, by making yogurt at home I'm able to cut my cost in half. In half! All it takes is about ten minutes hands on time. Oh yes, those are the sweet nothings a pioneering today woman likes to hear.
Where I live an organic quart of plain yogurt is just shy of $5. I can purchase a half gallon of organic non-homogenized and non-ultra-pasteurized milk for $4.67. I use my own yogurt starter which makes a quart of homemade yogurt only $2.33, plus it has more live cultures in it. Sweet!
I believe the less ingredients the better and this homemade yogurt recipe only uses 2 ingredients and requires no straining! High five me.
Disclosure: Some of the below links are affiliate links. My family and I thank you for helping support this blog.
What you'll need to make yogurt at home
A quart (or more) of organic milk- don't use ultra-pasteurized
yogurt culture
Candy thermometer *aff link
Quart sized Mason jar
Sauce pan
The ingredients
If you have access to raw milk, by all means, go ahead and use it. You can find instructions for making raw milk yogurt here. However, a lot of folks don't, including myself, so these instructions are for regular milk. A couple of things about your milk. If money is really scarce I tighten up my grocery budget, but one of the things I insist upon buying organic is milk. Due to hormones and other GMO products associated with commercial dairy products, I only purchase organic butter and dairy for our home.
I use non-homogenized and non ultra-pasteurized milk. These are two different things. Homogenized milk goes through a process that breaks up the fat so it's distributed evenly throughout the milk. This means no cream on top and no need to shake your milk. I prefer to skim off the cream for other uses or shake it up. I also believe the less processed the better, so I prefer non-homogenized.
Now let's talk a little bit about the difference between pasteurization and ultra-pasteurized milk. Pasteurization is the process of heating milk up to 161 degrees F for 15 seconds. This kills some of the bacteria and gives the milk a longer shelf life. Ultra-pasteurization is heating the milk up to 284 degrees F for 4 seconds, essentially killing off everything and making milk shelf stable without refrigeration for up to 9 months.
Most milk, even organic milk, is both homogenized and ultra-pasteurized. I had to look pretty hard to find a brand that was neither. Both Fred Meyer's and our local co-op carry Organic Valley and they have a non-homogenized non-ultra-pasteurized line in a half gallon. Beware, they also have ultra-pasteurized so carefully read the fine print on the front of the carton.
My understanding is the ultra-pasteurized milk has been heated so high, there isn't enough food left for the live cultures to live on and make a good quality yogurt. I haven't tested this out as I prefer the regular pasteurized milk. Food spoils, it's normal, and the idea of milk being able to still be drinkable after being left on the shelf for months just makes my stomach churn, ya know?
The culture
This is where we get to have some fun. Fermented food is a live and living thing. Live cultures are good for our intestinal system. The type of culture will determine the flavor of your yogurt.
Most people are pretty familiar with greek yogurt. It's thick and has a very strong tangy flavor. My kids don't like it, as in turn up the noses doesn't matter what I add to it, can't stand it. I only like it when I've added honey and fruit…
But there are many different varieties of yogurt starters, from heirloom to direct set, and dairy-free starters.
I chose a Bulgarian starter because it's sweeter and creamer than Greek. It seriously makes the best yogurt we've ever had. I can even eat it plain and in a smoothie… oh be still my heart, think of a cheese cake in drinkable form. Yeah, that good.
I purchased my starter from Cultures for Health .
The cool thing is you only need purchase a starter once, then you keep using it every time you make yogurt. The gift that keeps on giving. I've also gifted some of my starter and if you know of someone who has one, I bet you could ask them pretty please for a starter of your own.
You can also use a carton of regular yogurt as long as it says live cultures on it.
Want to learn how to make your own cultured buttermilk, kefir, sourdough, and vegetables? Snag your copy of Hand Made: the Modern Guide to Made-from-Scratch Living with my free bonus videos walking you through it plus over $57 here.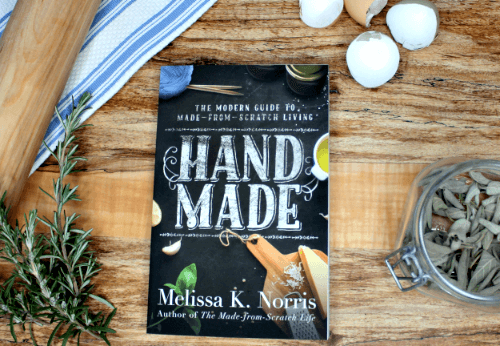 Been hearing about probiotics and fermented foods?
They aid our bodies in proper digestion and naturally preserve foods with a longer shelf live!
Step by step guides to ferment your own:
cultured buttermilk, sour cream, and yogurt
real sauerkraut and fermented salt water brine vegetables
kefir
and traditional sourdough starter with baking and cooking recipes!
All of this and more inside Hand Made: the Modern Guide to Made-from-Scratch Living, find out what others are saying here!
How to make yogurt at

home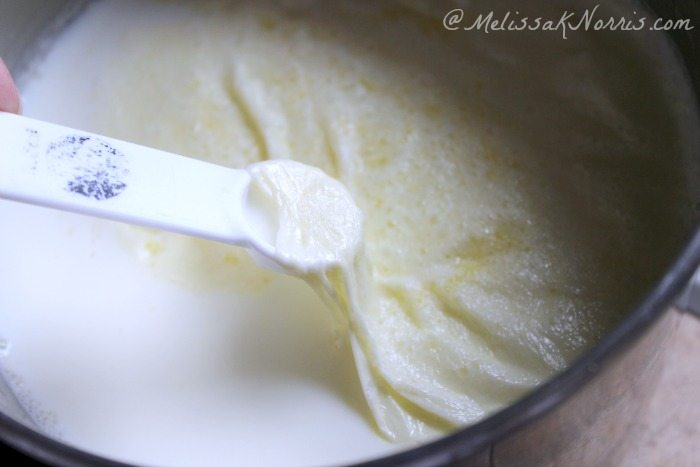 Pour 4-6 cups of milk into a saucepan. I usually do 6 cups so it lasts us the whole week. On medium low heat, bring the milk to 160 to 175 degrees F.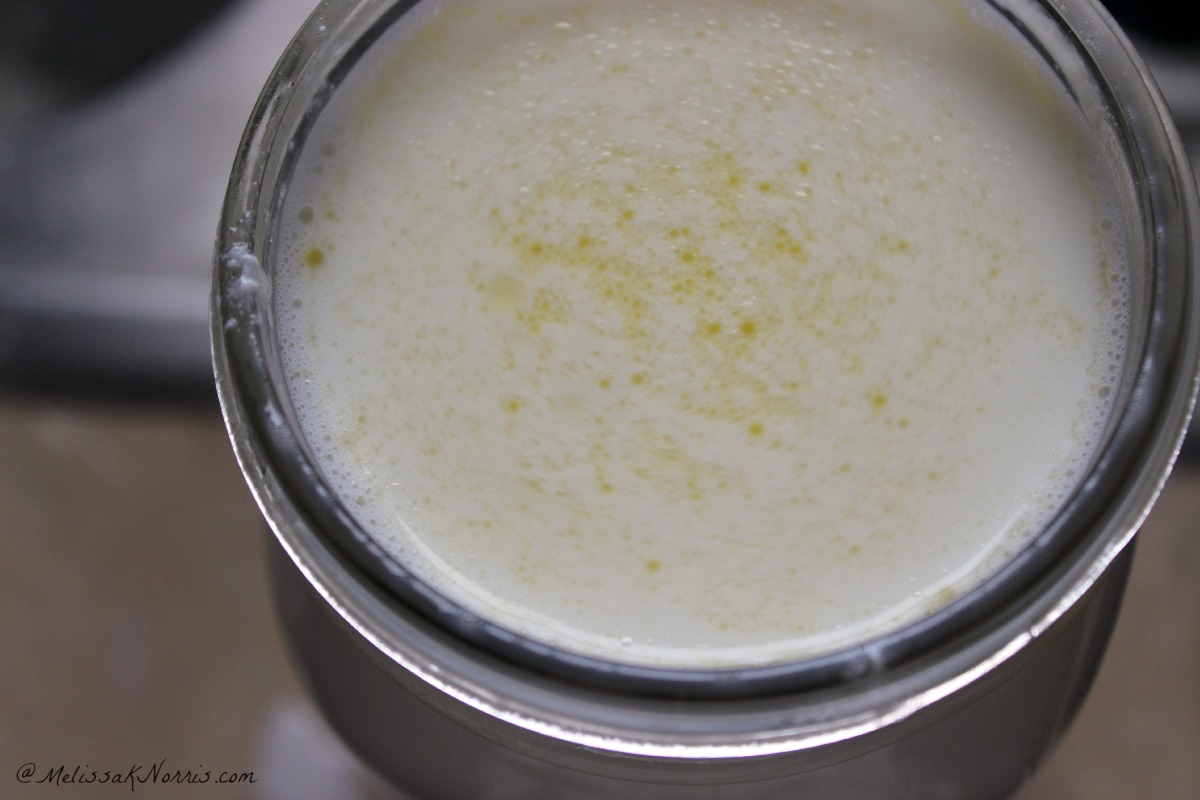 Allow milk to cool to 110 degrees F. If you add the culture before the milk is cooled, you'll kill it. If you add the culture into cold milk, you'll also kill it. It just likes to be warm, not hot, not cold. When you heat the milk, a layer of scalded milk will lay on top. Skim this off with a spoon.
Pour 110 degrees F milk into a clean glass Mason jar. Add starter and mix in thoroughly. Put a lid on your jar. I use these plastic re-usable lids *aff link or save ones from peanut butter jars. I tend to use my Mason jars for everything from leftovers to cups on the go, so the plastic lids are great as keeping track of bands drives me crazy.
Keep yogurt at a 110 degrees F for 4 to 6 hours. There are a few ways to do this. You can purchase a yogurt maker, but I prefer the more frugal route when possible. Some folks wrap their jars in towels and place it in an ice chest. I prefer to use my slow cooker, fill it halfway with water, and set it on the keep warm setting, which happens to be 110 degrees.
Check to see if yogurt is thick and then store in fridge for up to one week, if you don't gobble it up within a day or two.
I don't use my slow cooker to heat the milk for yogurt. My slow cooker cooks on the hot side and I don't have time to babysit it in the milk heating stage for hours on end. I much prefer to use my stove top and be done with it in less than 30 minutes, but that's just how I roll.
How to Make No Strain Yogurt
I don't have time for straining yogurt. There are times when I need whey and want a homemade yogurt cheese, and that's when I use this 3 easy steps to whey tutorial.
But the rest of this time, I want a yogurt that's thick, creamy, and requires no extra work on my part. Are ya with me? Yes, see, that's why we're friends.
When you're milk is heated to approximately 161 degrees F keep it at this temperature for 10 to 20 minutes. The longer heating time helps create a thicker yogurt, which means no straining! The heating of the milk isn't about pasteurization or killing bacteria, it actually breaks down a protein in the milk allowing it to thicken once you've added the starter.
Don't shake or stir it after adding the culture. I'm probably the world's least patient person. I literally sweep back the dirt to see if my seeds are sprouting because I can't wait for them to break through the surface in the spring. When I first started making yogurt I wanted to see how thick it was and would basically poke and prod it. Results, runnier yogurt. Resist the temptation my friend, resist.
Let it ferment longer. Sometimes it just needs another hour or two. That patient thing again.
Is your culture fresh? Like sourdough, live cultures are the strongest when they've been fed frequently. (Here's more details on making your own sourdough starter, including a free video) The first time I activated the powdered culture from Cultures for Health, it took 8 hours and was still kind of runny. Ideally, you should remove 1/4 to 1/2 cup yogurt right after it's made as your starter for next time.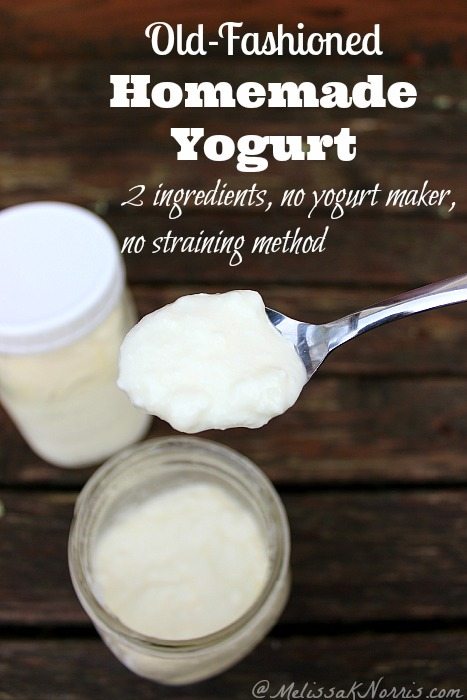 Freeze your starter if it's going to be more than a few days until you make yogurt again. The longer your yogurt sits in the fridge, the more of the live cultures will die. This is why homemade yogurt has more live cultures than store bought yogurt. By freezing the yogurt as my next starter when it's the most active, even though a few may die off from being frozen, I have a much larger colony of live cultures to work with. Score!
Do you make homemade yogurt?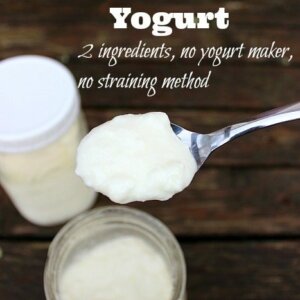 Homemade Yogurt
Ingredients
4

cups

milk

1/4

cup

yogurt or starter
Instructions
Heat milk to 161 to 175 degrees F.

Allow to cool to 110 degrees F and skim off scalded layer. Pour into a quart sized clean Mason jar.

Stir in 1/4 cup yogurt or starter until well combined.

Keep in a warm area at 110 degrees F for 4 to 6 hours or until firm.

Move yogurt to fridge and store for up to 7 days
More fermentation articles: