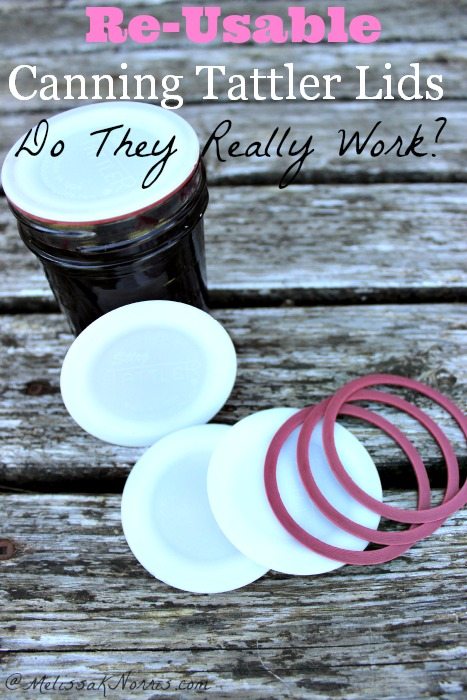 Re-Usable Tattler canning lids. I had no idea re-usable canning lids even existed until about a year ago. I love being able to can food at home. Re-using Mason jars every year and growing our own food makes canning almost free. Except for the lids.
The lids aren't hugely expensive. If I can get them on sale, they usually equal out to about $.30 a lid. Pretty good for organic jars of food, but if I could re-use the lids, too… you know where this frugal Mamma's mind is going. Note: regular canning lids are not re-usable.
When I first started looking at the Tattler lids *affiliate link I was a bit hesitant. One, the reviews on Amazon are about thirty percent saying they aren't sealing. Two, the price is higher than the regular lids at $10.67 for 12 lids and rubber gaskets. But, if you reuse them three times, then they're the same price, and if you reuse them more than that, well, ya get the picture, they get to be quite cost efficient.
One of the big draws for me on Tattler lids is in a preparedness situation, or if the stores go down, I'll still be able to can my food at home. No worrying about getting new lids every season.
But I had to see how I liked them first. Last fall, Tattler had a really good sale and I purchased three boxes of lids to test them out. I decided to test them out on jam, because if they didn't seal, I could put the jars in the freezer for freezer jam with no problem. Can you tell I was expecting them to fail?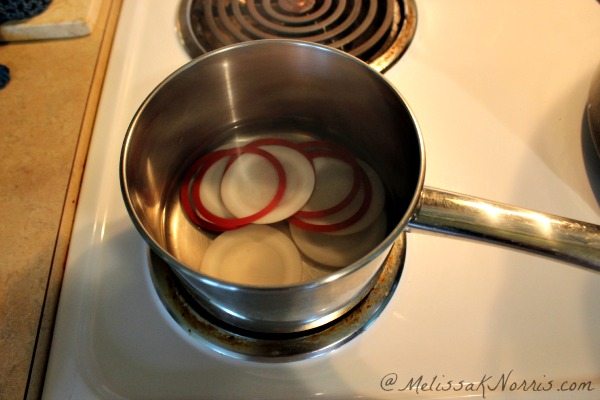 I used them on my Low Sugar No Pectin Blueberry Jam.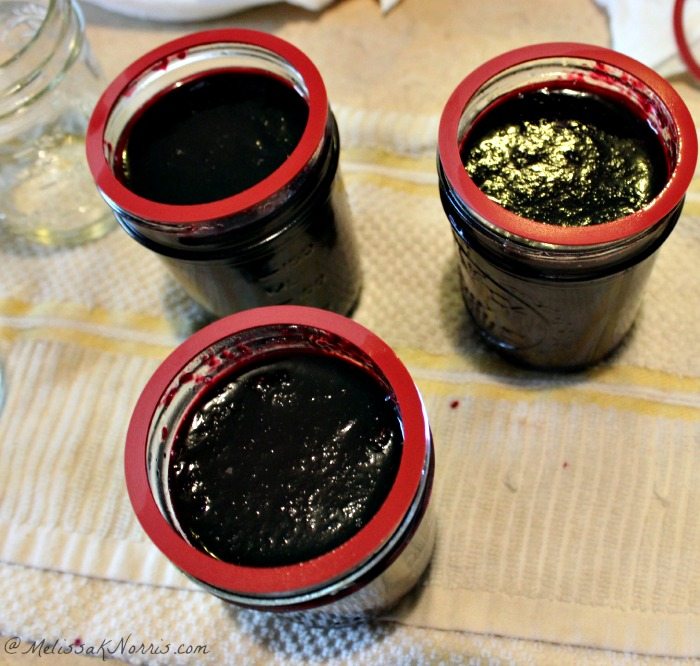 First step, scald the lids and rubber rings in a pot of water.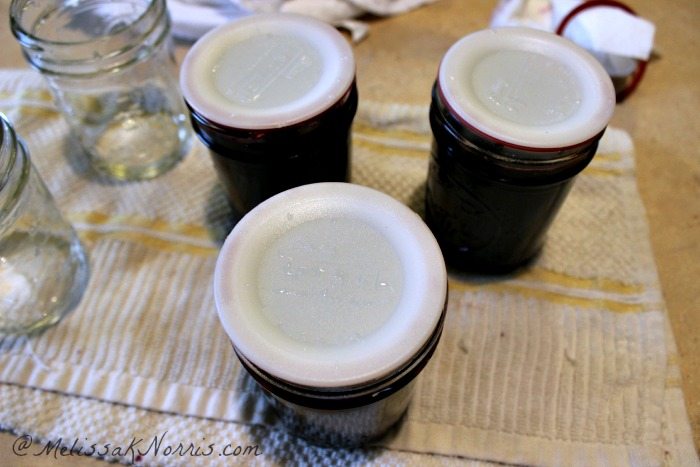 Fill your jars with food, wipe rim clean, and then place the rubber gasket on the rim of the jar.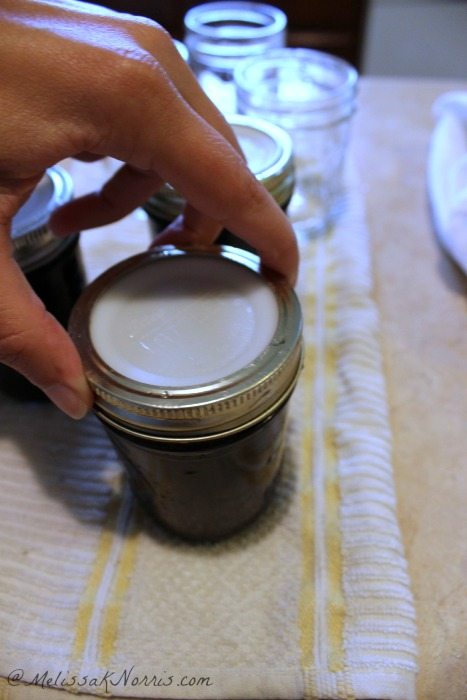 Place the Tattler lid on top of the rubber gasket. They snug right into place.
You use the same metal rings you use with regular canning lids. Screw the lids into place until they're just tight. Then, turn the rings back a 1/4 inch. This is the most important part. You don't tighten them like regular lids. I believe this is where most of the failed seals come from.
Place them in your canner and process like normal. Remove the jars from the canner and place on a folded up kitchen towel.
Now immediately tighten the rings down. I have to tell you, I didn't read this part until 3 hours after I'd removed my jars from the canner to the counter…. So immediately for me was 3 hours later. I was really nervous I'd ruined the seal on all the jars, but I waited until the jars were cooled to test the seal. Have I ever mentioned how horrible I am at waiting?
One of the disconcerting things for me was no ping of the lid. I used one regular lid in the run as a control.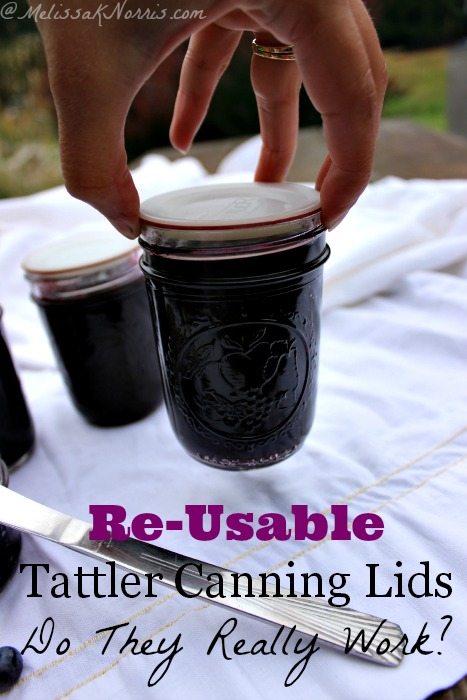 To test the jars, you lift the jar from the lid a few inches. If the lid stays put, you've got a seal. If not, you're eating the food immediately, tossing it in the fridge, or freezer.
My pulse jumped when I lifted the jar. After all, I'd kind of missed the last part of the instructions… But every jar sealed. Every one!
Do re-usable Tattler canning lids really work? Yes, they do. If you follow the instructions, or most of them, in my case.
Will I be replacing all of my lids? As money allows I'll slowly build up a larger inventory of Tattler lids. I want to see how long I can re-use each lid and jar before investing a lot of money and replacing my whole inventory with them. I do like that they are BPA free.
Looking for more preserving and canning recipes? I've got ya covered with these canning recipes.
Have you ever used Tattler canning lids? What's been your experience?

Join us as we share different reasons and methods of how we preserve food to create a long-term storage plan for our families. Click on each link to be taken to a new blog with helpful information and tips.
Mom with a PREP – How to Dehydrate Ginger and Make Ginger Powder
Preparedness Mama – Make Jam Without Pectin
Mama Kautz – Dehydrating
Busy B Homemaker – Freezer Jam
Ed That Matters – Anyone Can Do It: Fool Proof Food Storage
The Apartment Prepper – Easy Marinated Mushrooms
The Homesteading Hippy – How to Use Your Pressure Canner
Montana Homesteader – Making and Preserving Cherry Pit Syrup
Are We Crazy or What – How to Dehydrate Cherries
Your Thrive Life – How I Preserve Food: Meals in a Jar
Melissa K Norris – Re-Usable Canning Tattler Lids-Do They Really Work?
Real Food Living – Preserve and Store Grains wiith Dry Ice
Cooke's Frontier – Smoking
Homestead Dreamer – Water Bath Canning
Evergrowing Farm – How to Preserve Red Chile
Survival Sherpa – Modern Mountain Man MRE's
The Backyard Pioneer – Fermentation
Trayer Wilderness – How We Preserve Food
Living Life in Rural Iowa – Vegetable Soup
The Organic Prepper – How to Make Jam without using added Pectin
Homesteading Mom – How I Preserve Broccoli and Goat Cheese Soup
A Matter of Preparedness – How I Preserve Using Mylar Bags
This post is featured on the Prairie Homestead Blog Hop.