This no-sugar blackberry jam recipe, that's low sugar and high on taste is something no home should be without. Especially when I share how you can make this without any sugar.
Yes, no added sugar, just one secret ingredient to replace all those white granules, and it can be grown on your homestead if you so desire. Am I the only one who gets excited about this stuff?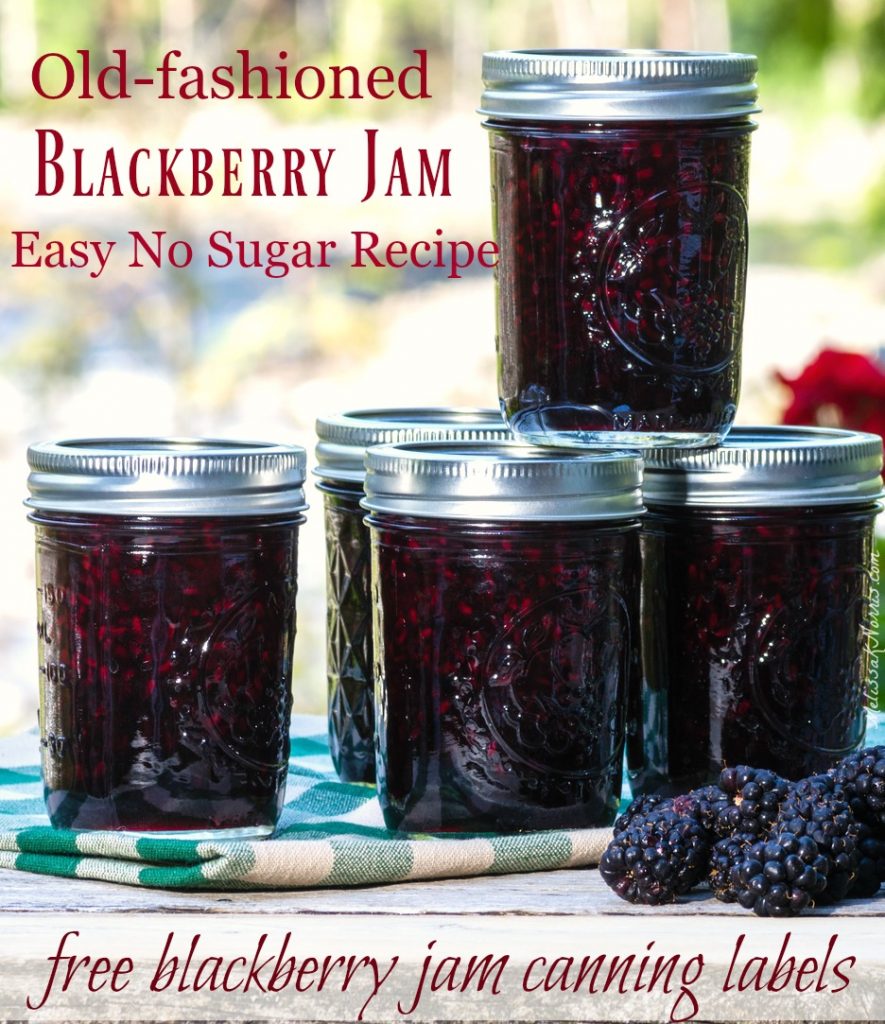 Blackberries signify the end of summer in our neck of the woods. It is definitely a bitter/sweet goodbye. We love them. LOVE them. They make the most incredible jam. Ever. Syrup? Oh yeah. Pie Filling? Winner! Even humbly flash frozen, they are a favorite.
And dumplings, oh yes, dumplings are not only for your chicken dishes, but they're also delightful with berries and you can use this 1940's recipe for Blueberry Dumplings (swap out the blueberries for blackberries) better be happening at your house soon. It's a sad day when the last of them go down. August is an eternity when you're in December.
If you can get a hold of fresh-picked, summer-ending blackberries (I'd even make it with some good organic frozen berries too!) I encourage you to try this jam, you will not regret it.
Tip: Frozen berries that are thawed release their juice easier than fresh berries. Which is a plus during the busy hot harvest months. If you're pressed for time, freeze your berries until things calm down.

Melissa
The first time I heard of adding grape juice in place of all that white sugar in traditional summer jam recipes? I was, to say the least, pretty skeptical. However, I was willing to try, if it got rid of some of that sugar load!
Surprisingly, we noticed immediately how much more of the 'fruit' we tasted. (Amazing what happens when you don't add a 5 lb bag of white sugar!) Now sometimes, I will toss in a 1/4 C of organic sugar here. It is totally optional, it just adds a hint of sweetness. If you prefer a more tart jam, leave this out. Either way– it is delicious. The best part, even if you don't have a ton of berries you can make this small batch of blackberry jam!
Resources
Grab our FREE simply sweet custom Blackberry Jam Canning Labels for easy pantry shopping (our favorite kind of shopping) and quick gift giving!
Ever have a failed batch of jam or jelly? Nothing is more frustrating than having runny syrup when what you really want is a spreadable jam or jelly. Grab my free Jam & Jelly Troubleshooting Guide here and learn my easy tips for a sure set… p.s. there's a bonus involved.
Blackberry Jam Recipe Low Sugar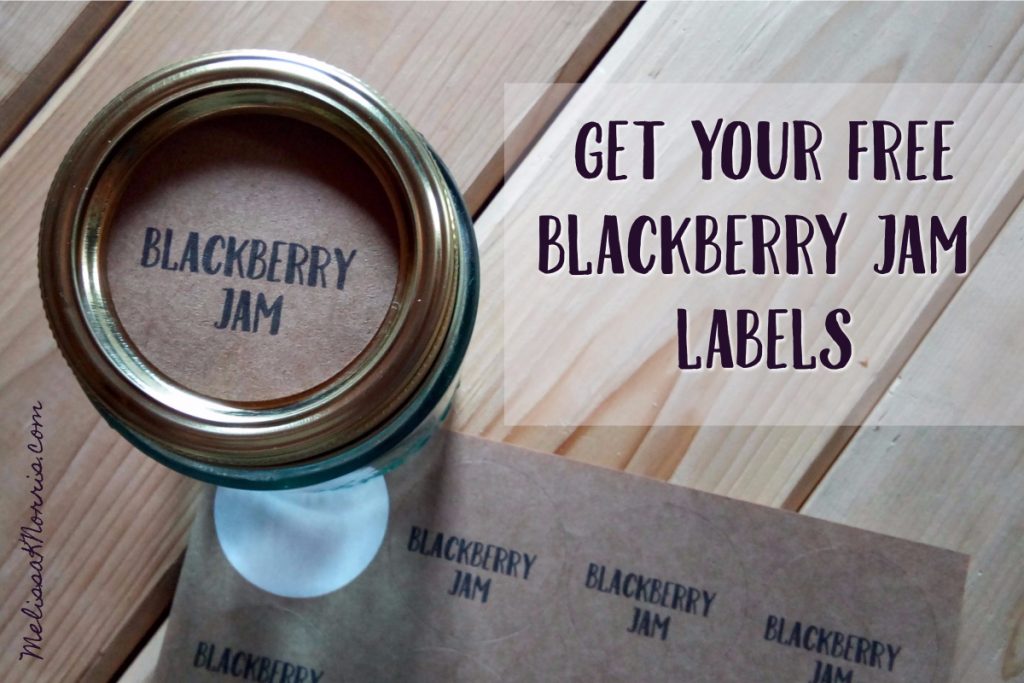 After 24 hours, check seals, remove bands, wipe down the jars, label lids and put them on the pantry shelf. (You did grab our incredibly cute custom free jam labels, right?)
This jam is a very special treat! Beautiful on the shelf and a very appreciated gift! Capture a little summertime in a jar with this easy blackberry jam recipe!
Other Low Sugar Jam Recipes
Spicy Peach Jam Recipe Low Sugar and No Pectin
No Sugar Strawberry Jam Recipe
Apple Pie Jam Low Sugar Recipe
Strawberry Jam Recipe without Pectin and Low Sugar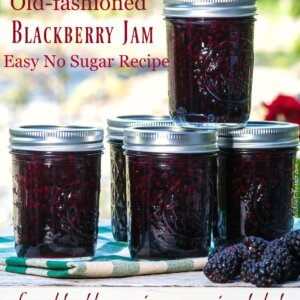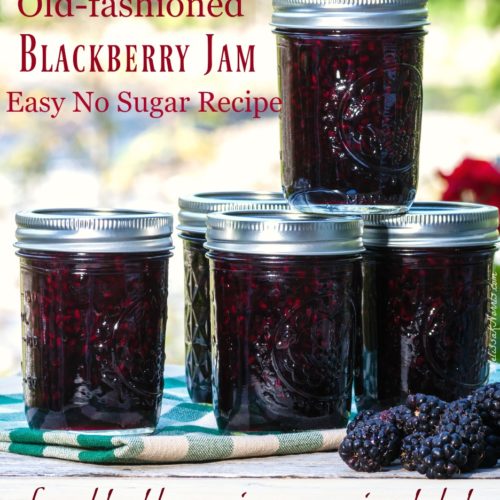 Easy Blackberry Jam Recipe Low Sugar with Canning Instructions
Easy blackberry jam recipe with no added sugar
Ingredients
3

Cups

Freshly picked and washed berries

or frozen and thawed

1

box of No Sugar PectinNote from Melissa:

the only store bought pectin I use is Pomona's Pectin, it's a natural pectin without added sugar or GMO ingredients and allows you to make no sugar added jams and jellies. You won't need to use the whole box when using Pomona's, just follow the instructions that come with it

1/4

cup

lemon juice if using sweet blackberries

1

Cup

Grape Juice from concentrate

You can use any juice from concentrate you like for different flavor profiles
Instructions
Wash jars in hot soapy water, rinse right before filling with hot water. Prepare your water bath canner, place rack inside and fill with water so jars are completley covered by at 1 inch. Turn the heat to medium so water is 180 degrees F when you put jars filled with jam in the canner.

You'll want to use a large stainless or enamelware pot for cooking up your jam, and put it on low heat. Add in your clean/washed berries, I slightly crush mine with a potato masher. Optional.

Turn heat up to medium. Dump in grape juice. If using Pomona's pectin, add 2 teaspoons calcium water and stir until combined.

Add powdered pectin (2 teaspoons pectin powder from Pomona's pectin) then use an immersion blender to make sure pectin is fully dissolved and mixed in with juice and berries. Bring to a boil.

Ladle the jam into jars to 1/4 inch headspace, remove air bubbles and add more jam if needed to stay at the 1/4 inch headspace, make sure jar rims are wiped clean, put lid in place, fasten the ring down and set in the canner rack. Repeat.

Bring water to a full boil in canner and then process for 15 minutes. When my timer goes off, I turn off the burner and remove the lid for 5 minutes or so. Then carefully (with a jar lifter) remove jars and set them on a towel to cool for 24 hours

After 24 hours, check seals, remove bands, wipe down the jars, label lids and put them on the pantry shelf.
Notes
*this will yield on average 2 pints (4 cups) of finished jam.