Some of the links below are affiliate links, which means I will earn a commission at no additional cost to you, if you click through and make a purchase. Regardless, I only link to products we use on our homestead or believe in.
Learn my tips on how to preserve food when it's too hot to can so you don't lose your harvest at peak production.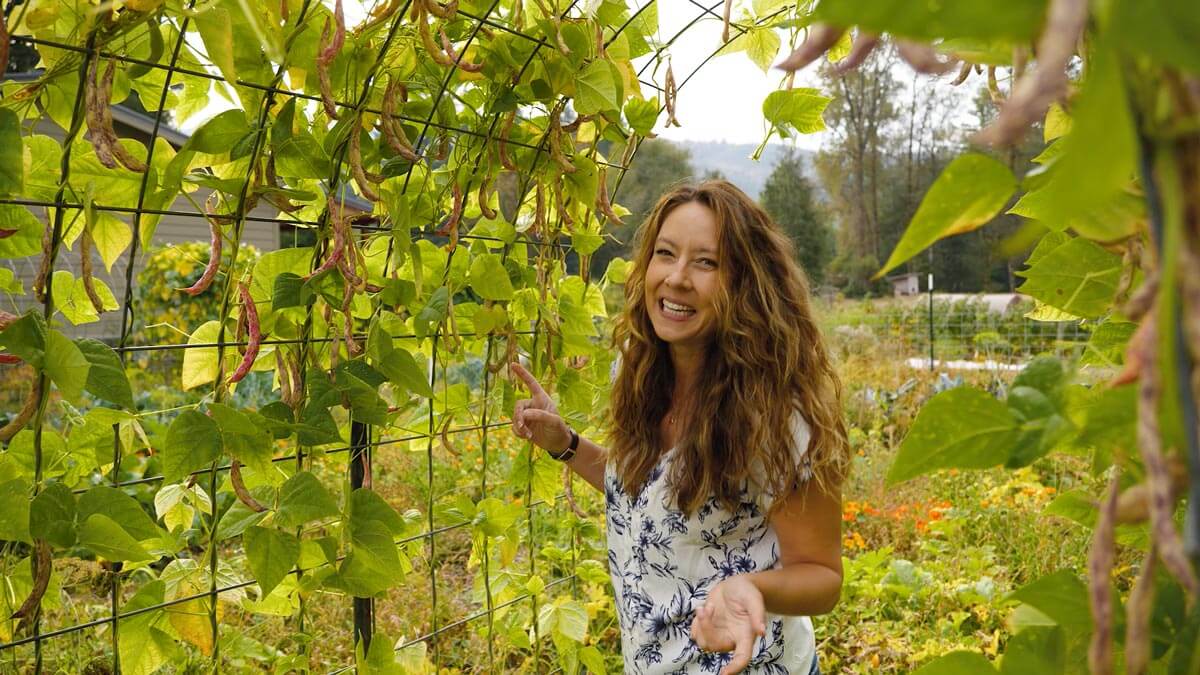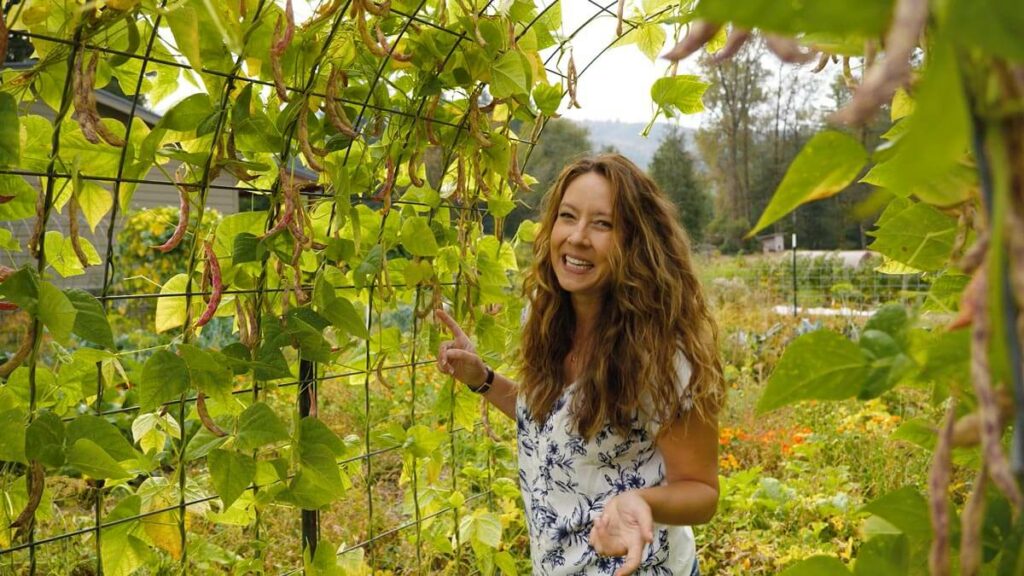 There are a few weeks out of the year when extreme heat coincides with peak production of the garden. When that happens, and the garden harvest is coming in fast, we still need methods to preserve and put up our harvest, or we risk losing it.
So how can we preserve food when it's too hot to can (even canning outdoors)? Join me for today's episode of the Pioneering Today Podcast (episode #401), as I share my tips for preserving food during extreme heat.
You'll also want to check out my blog post on how to can outdoors (in the video, I demonstrate my outdoor canning setup by canning bone broth). Canning outside is the only way I can my food in the summer months. However, there are some tips you'll need to know to ensure a successful canning session.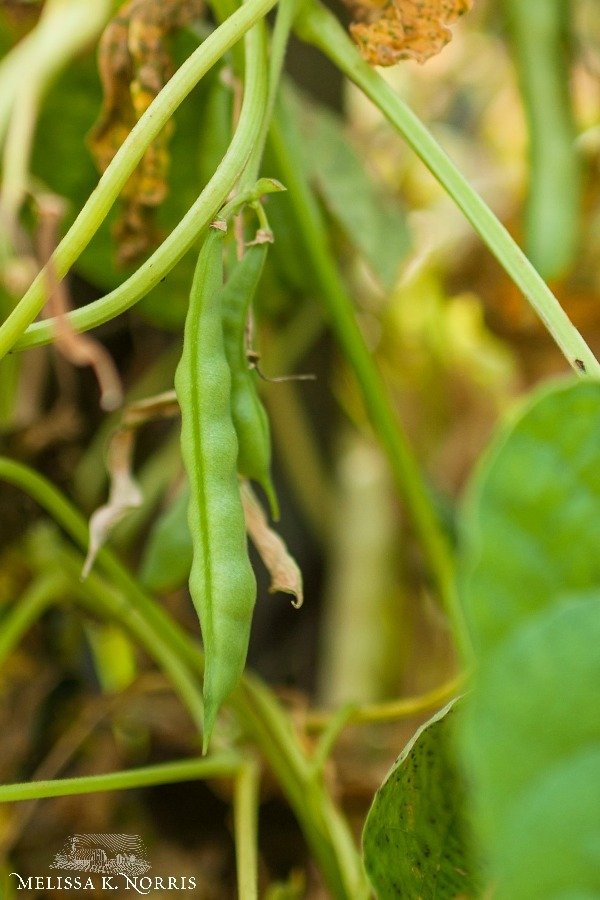 Tips for Preserving in Extreme Heat
There are a handful of tips to keep in mind when preserving food in extreme heat. Things like:
Watching the forecast to anticipate the heat.
Harvesting a bit early rather than too late.
Knowing ways to hit "pause" on the preservation process.
Knowing the best methods of food preservation for each crop.
Anticipating your first frost.
Planning ahead to count August out for harvesting/preserving.
And considering other methods of preservation (but also keeping in mind their heat output).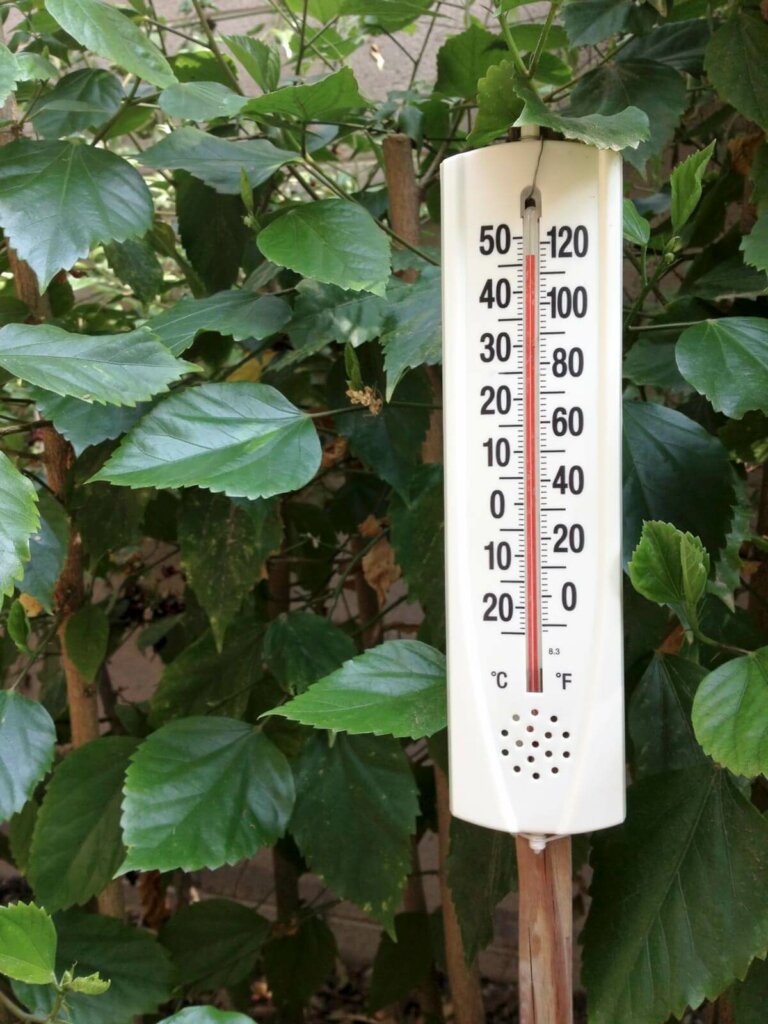 Keep Your Eye on the Forecast
More times than not, a heat wave comes with a bit of warning. For instance, at the time of this recording, we are in the midst of a heat wave, and we knew it was coming about a week ahead of time.
When you know the hot weather is coming, it allows you to take inventory of your garden to know what will survive the heat and what needs to be picked/harvested before the heat comes.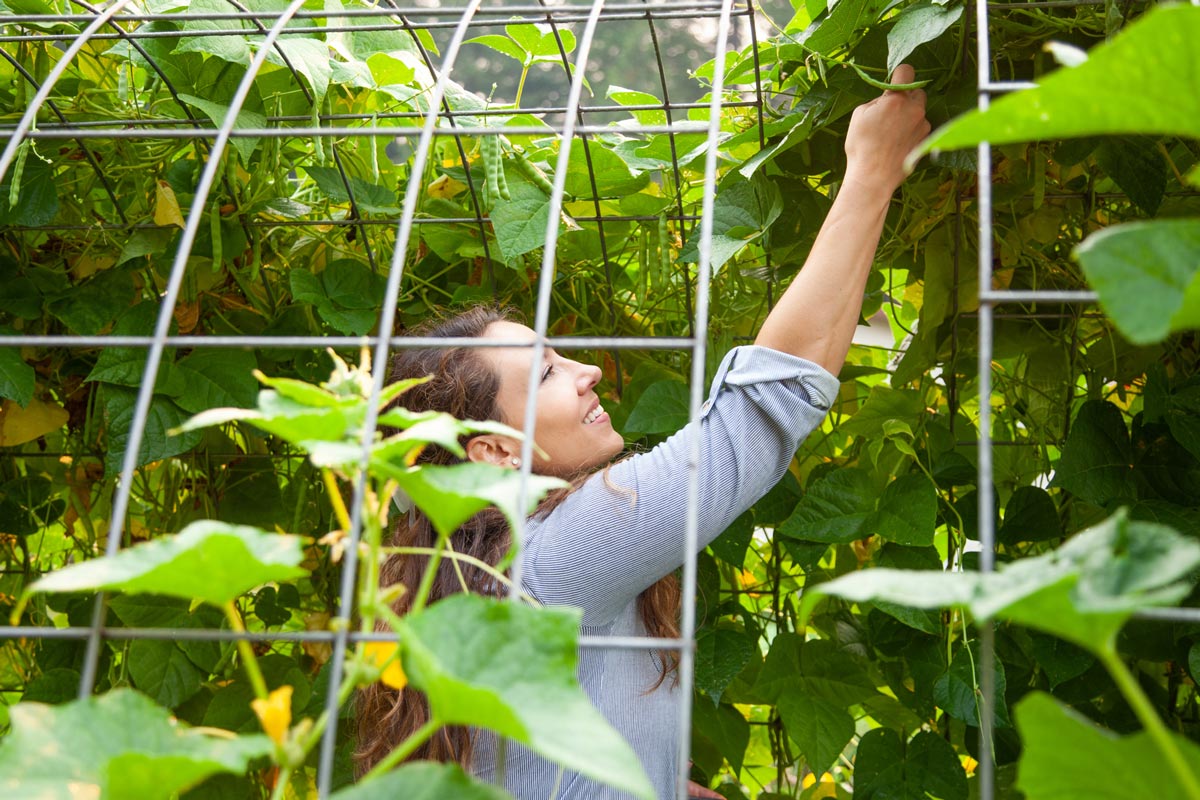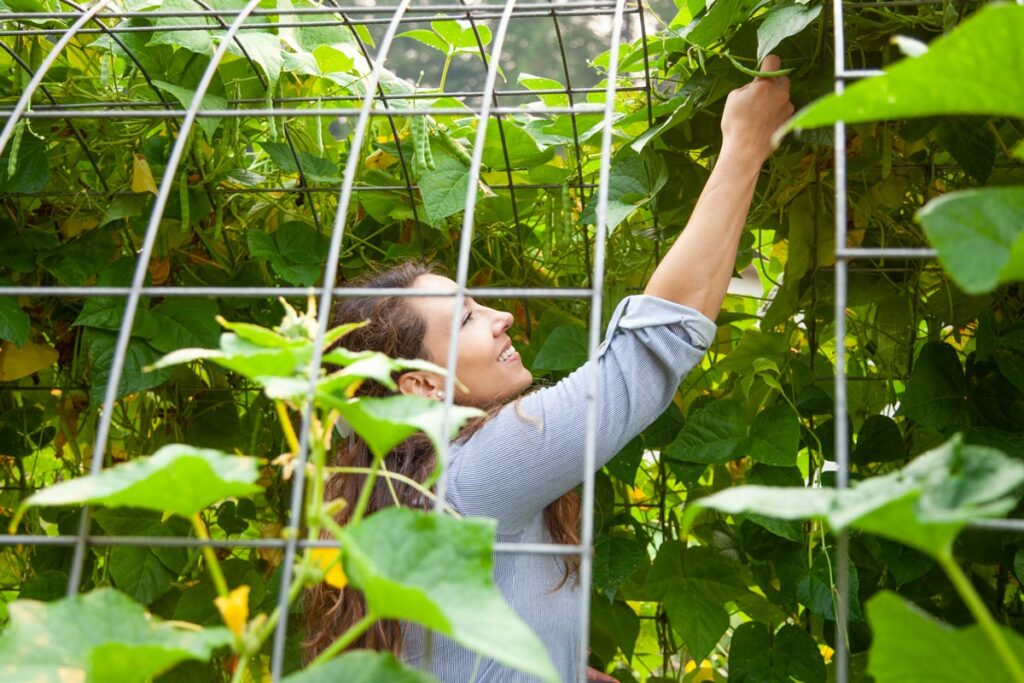 Harvest Sooner Than Later
Just before our heat wave came, we had quite a few green beans that were ready to harvest (or nearly ready). If I left them on the vine, they'd get overripe and past their prime for fresh eating.
Thankfully, this harvest also coincided with our last in-person workshop at the Norris Farmstead. Those of you who came out for our canning workshop helped me pick and pressure can 19 pints of green beans just in time. Thank you!
There are a couple of reasons why we want to harvest before a major heat wave. First, we would have lost those green beans to the heat. And second, once daytime average temperatures are over 85-90°F for more than a few days, the beans will blossom, but the blossoms won't set. They'll wither and fall off the bush (also called blossom drop).
The beans will stop producing more vegetables during those hot temperatures. The same thing happens with tomato plants. They'll stop producing more fruit, and all the energy will go into ripening the existing fruit on the plant until temps subside.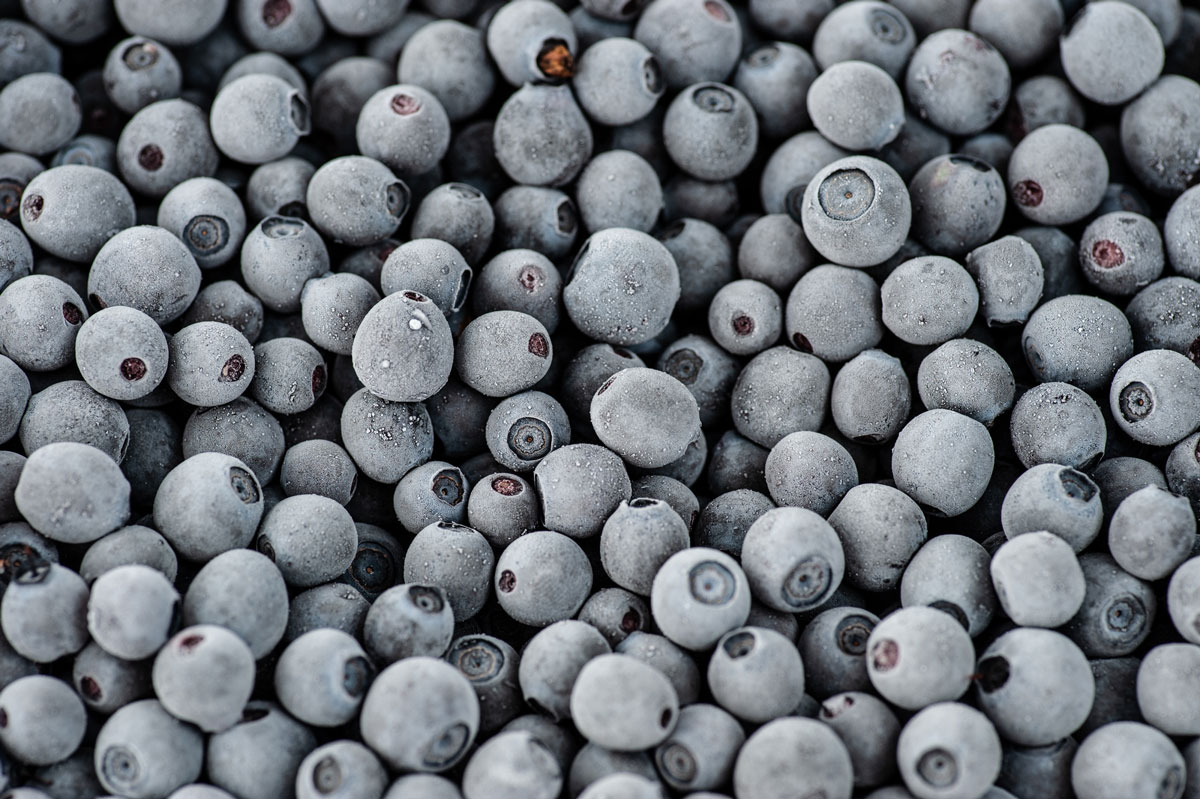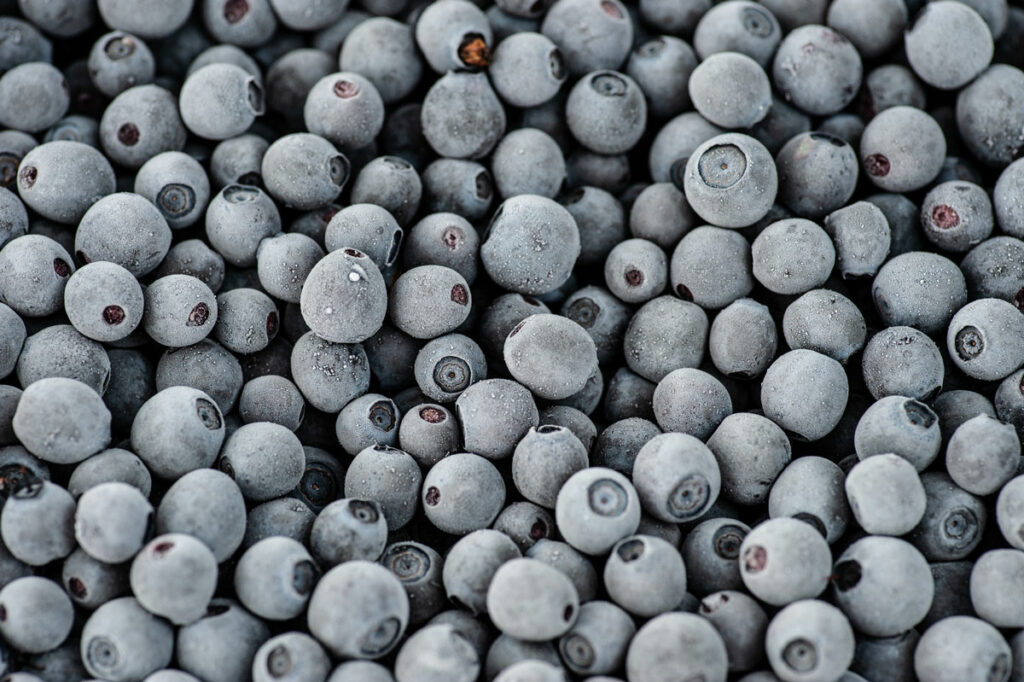 Know How to Hit "Pause" (and the Best Preservation Methods for Each Crop)
There are certain crops that you can harvest and essentially "pause" the preservation process by utilizing the freezer. I do this throughout the summer with items that I don't mind having a mushy texture later on.
Keep in mind this doesn't work for all crops. I wouldn't recommend this method for anything that won't have a great texture after defrosting. Unless, of course, the end product is also mushy, saucy, or runny.
Because I know green beans tend to be mushy after freezing them, I knew I needed to can them up before the heat got to them. Freezing green beans is certainly a preservation option. However, our family prefers pressure-canned green beans over frozen ones.
Knowing what your family enjoys best also plays an important role in preservation.
Furthermore, because we were about to stock our freezer full of beef, I knew I needed all the freezer space I could get.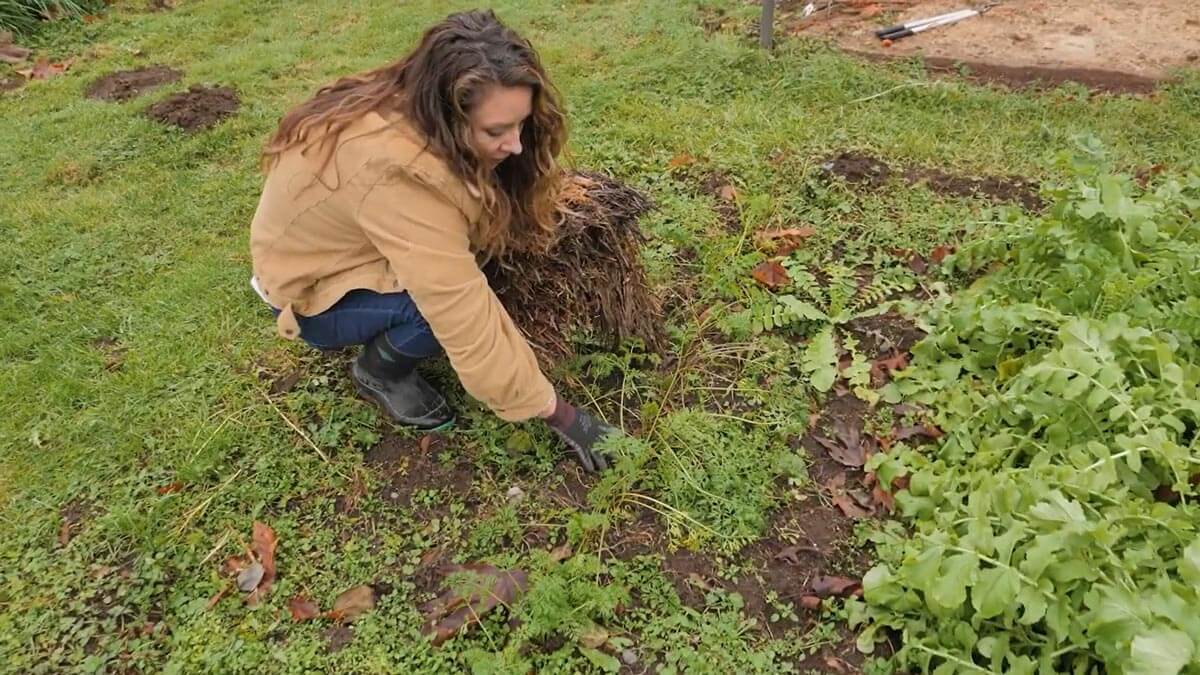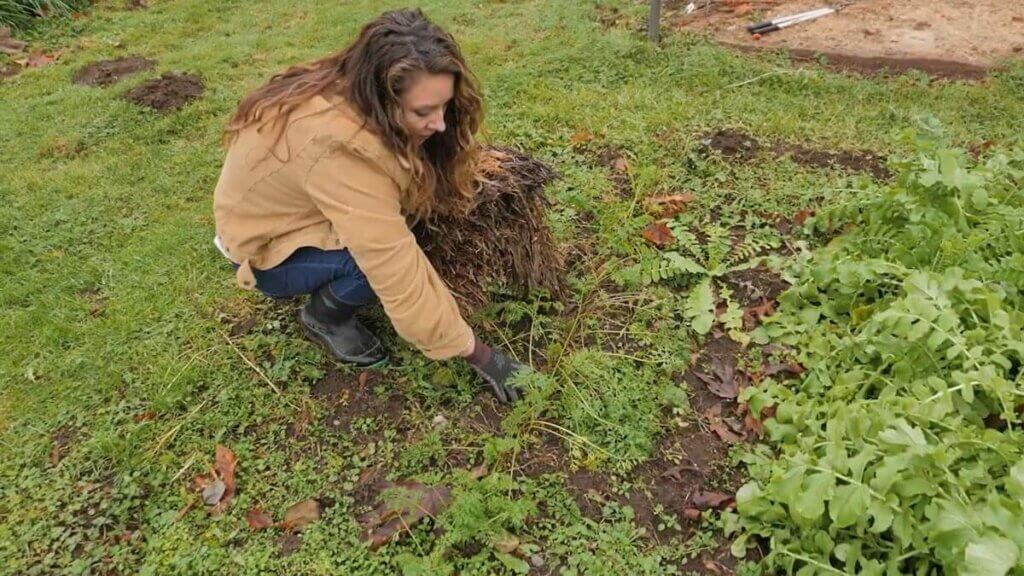 Carrots are another vegetable that I won't freeze. We leave our carrots in the ground throughout the winter and harvest them as needed. (That's me pictured above harvesting our carrots in late winter/early spring!) You can check out how we store our carrots (and other root crops) in the ground here.
Knowing the best methods of preservation for each crop is important. If you don't have my book, Everything Worth Preserving, I highly recommend you get a copy. It lists every crop and every safe preservation method possible for that crop.
It's the preservation book I always wished I had but never could find. You'll find each crop listed from A-Z, along with preservation methods and multiple recipes.
Even better, at the time of this publication, there's currently a small run of spiral-bound books available on Amazon! There's just something extra special about a cookbook that lies flat on the counter.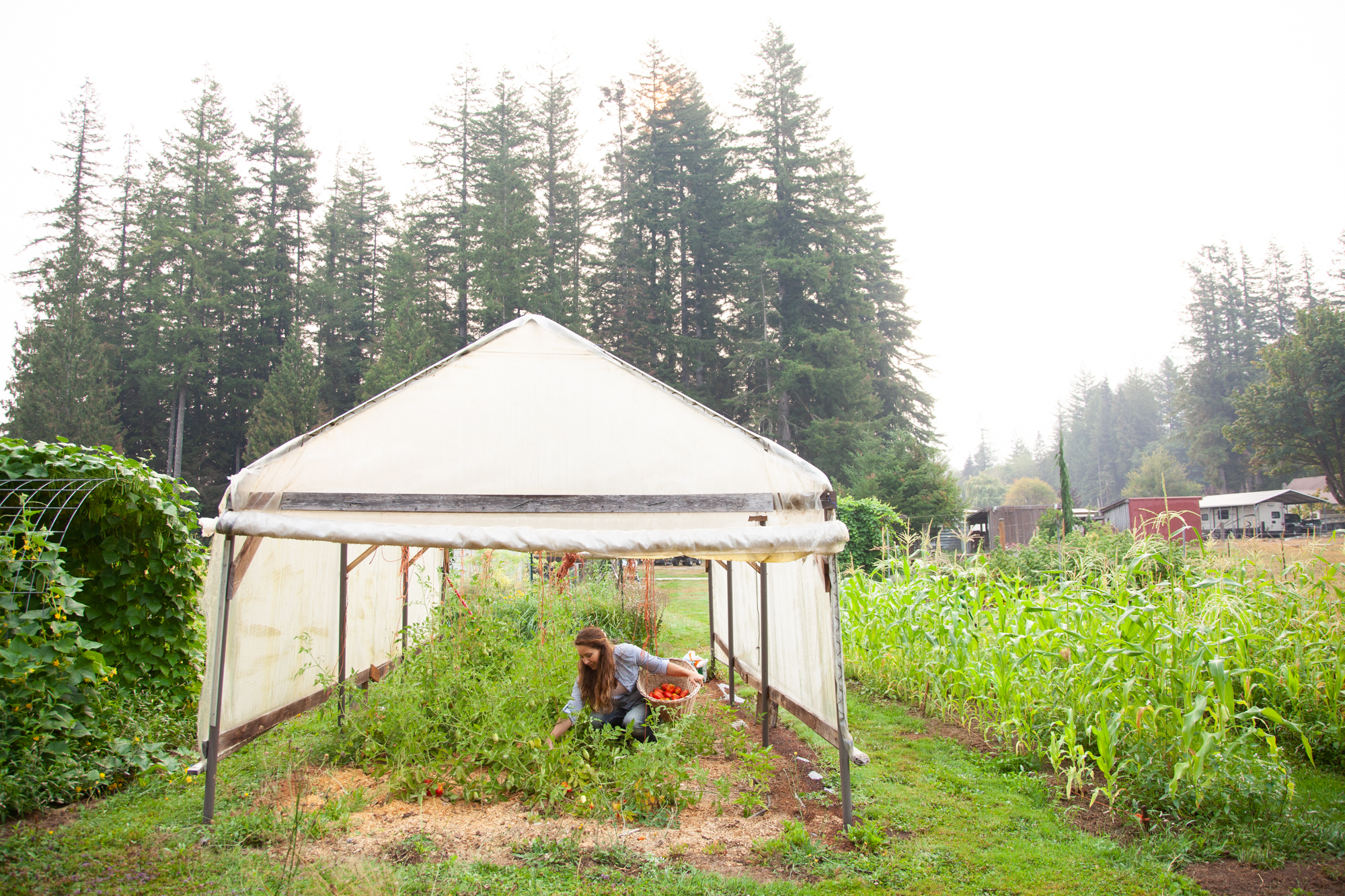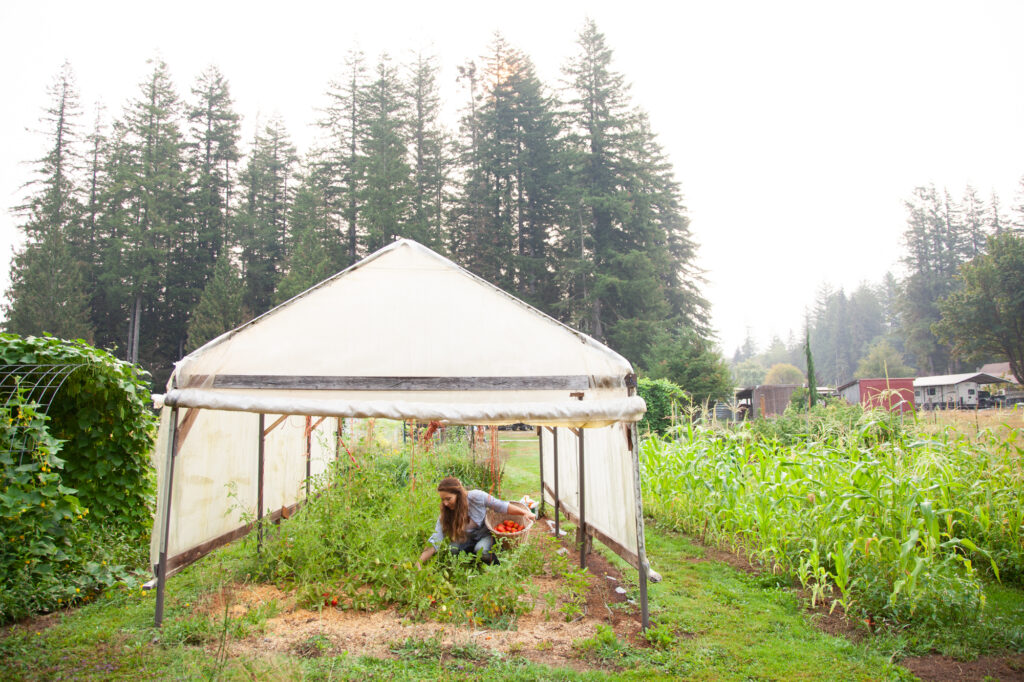 Be Thinking About Your First Frost
It's so easy this time of year to roll our eyes at the garden and want to be done with it. We're tired, it's hot, and we wish we could just tell everything to stop growing. At least for a week or two until we can catch our breath.
But here in the Pacific Northwest, it's not uncommon to get our first killing frost at the end of September. When I consider a week of hot temperatures where my green beans won't be setting new blossoms, I quickly realize I may only have four more weeks of growing time on those plants.
That means we need to get as much harvest as possible before our potential first frost.
When I think about the "end game" of the garden, this can give me the determination I need when the weather is miserably hot to push just a little bit harder.
Count August Out
If you live in the South, August may be too hot for canning/preserving (or even growing a garden).
In this case, you need to plan your garden accordingly so that your summer garden is wrapping up as the weather turns hot. This is also when you should be getting your fall garden started (mid to late July and even early August).
Be sure to check out my tips for planting seeds in hot weather for better germination.
You'll just need to ensure your garden is getting adequate water. Also, utilize hot weather growing methods like shade cloth or row covers to help your plants in the extreme heat.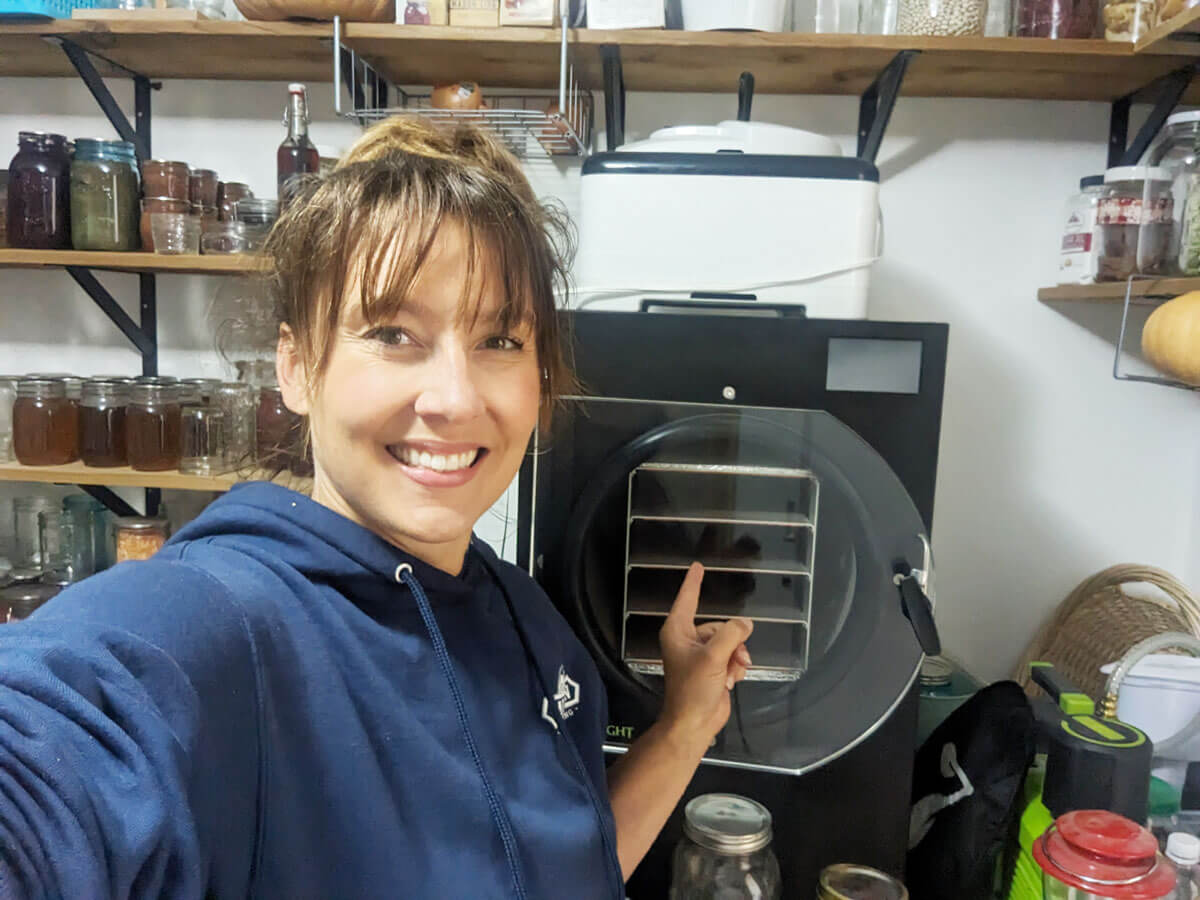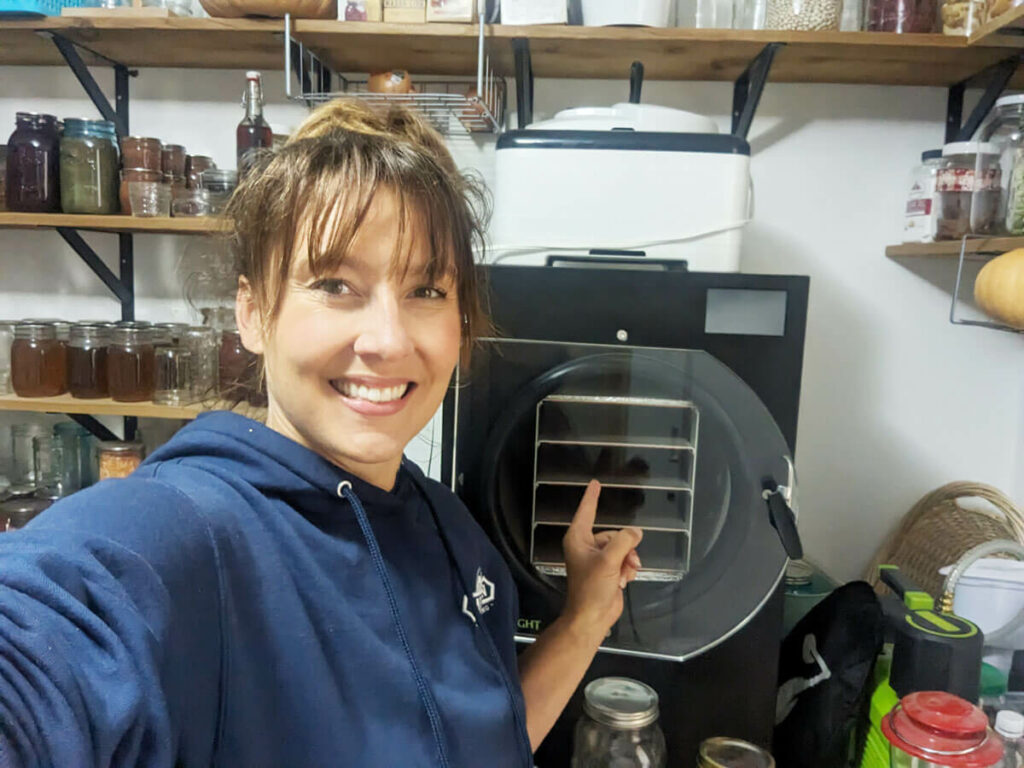 Consider a Freeze Dryer
One of my favorite things about having a freeze-dryer is that it allows me to take shortcuts. Freeze-dried veggies can be far superior to frozen veggies. So crops that I wouldn't otherwise want to freeze can be frozen, then freeze-dried once the temperatures cool off.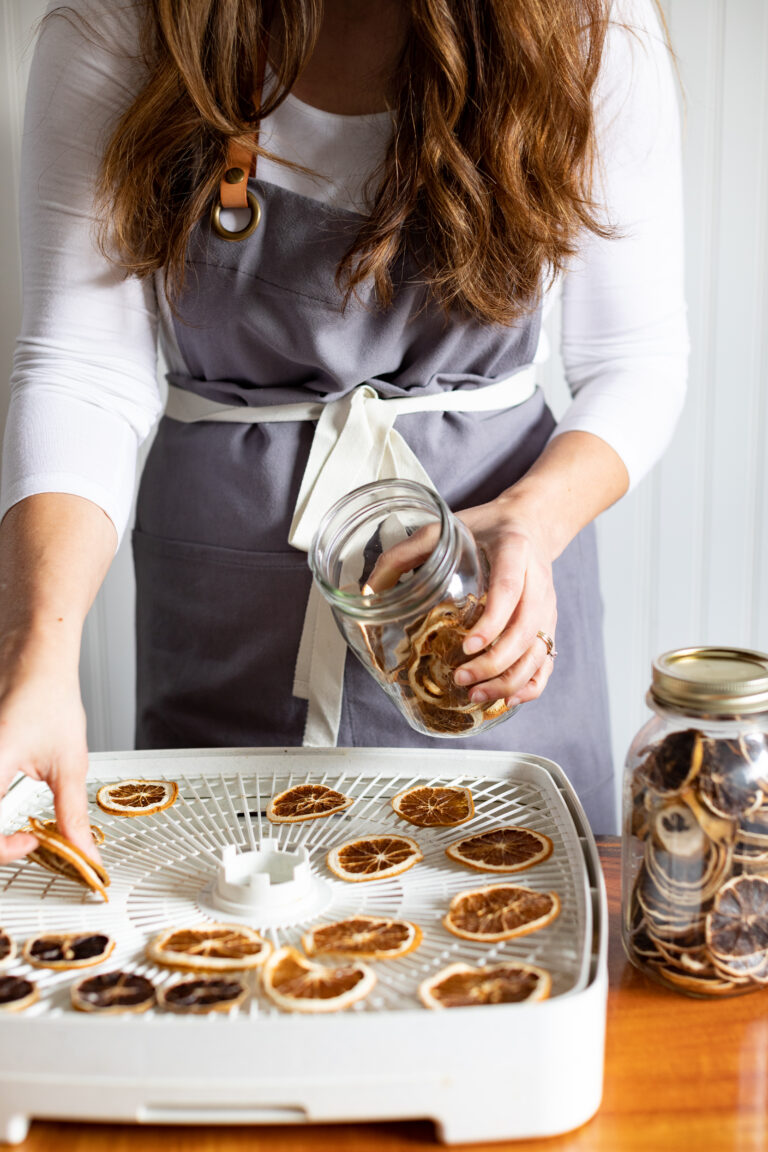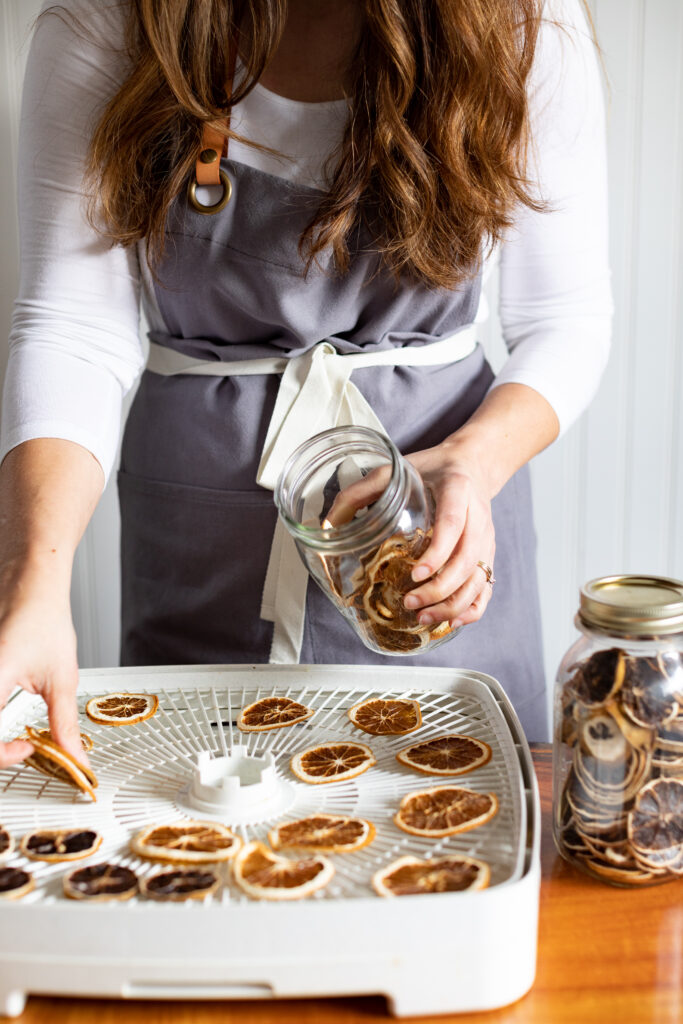 Think About the Heat Output of Your Preservation Method
When utilizing other preservation methods than canning (such as dehydrating and freeze drying), it's important to consider the heat output of that method.
We don't want to unnecessarily heat up our homes. For me, our freeze dryer is in our pantry and can heat that room by about five degrees when running.
I can eliminate the need to run the freeze dryer during the heat by freezing my food and leaving it in the freezer until the weather cools down.
Be Patient
All in all, there are many things that can still be done in August. Learning how to preserve food when it's too hot to can certainly save you a few degrees inside the house.
However, don't count all preservation methods out just because it's hot. You can get a jumpstart on preservation for when the weather cools off. No more losing your hard-earned crops to the heat!
Verse of the Week: 1 Peter 2:1-4
More Posts You Might Enjoy
Hey pioneers. Welcome to episode number 401. Today's episode we're going to be going over your game plan for when it is too hot to even can outside. We are in the middle of a decent sized heat wave here. And I am recording this, for those of you who are watching this on YouTube where you're seeing the video portion, you do see me with a tank top and a flannel on. I'm recording this in the early morning hours before the heat gets too hot to even want to be in my office. My office is both southern and eastern exposure, so by the end of the day even mid-afternoon, it gets really hot in here. So I thought this would be a fabulous episode to share with you because many of us go through some very hot days in the middle of harvest season.
It's like the peak of preserving time if you're harvesting your fresh fruits and vegetables as they come on but that's also the hottest time of the year. So I wanted to give you some of my game plan when those days get too hot to even can and how to help mitigate that so that you are not having food that goes past the prime time in order to be able to preserve it and you don't have too much that is going into the freezer because most of us only have so much freezer space. This was actually something that we were talking about inside the Pioneering Today Academy. We are doing a preserving challenge right now inside the academy and this was a topic that just came up yesterday, so I thought I would record this episode for you and get it out the same week when it is very timely.
So just for context right now, yesterday we were forecasted to be 100 degrees. We're supposed to be 101 to 102 degrees Fahrenheit today and tomorrow. And then we cool off to a lovely 99 degrees Fahrenheit, which I find kind of funny that 99 degrees is the cooling off day or when we drop beneath the heat advisory. So we're basically going to be close to a hundred every day this week. Now I know for some of you you're like, "That is actually cool, or that's kind of our normal for August." Here where I live generally we're more in the eighties in August. We don't usually stay up at a hundred quite that long. We also have a fire going. It's not near us. We're not in any danger.
It's up in the mountains. It's about 45 minutes away from us. It's not very contained. And so this heat, of course is not helping things. So there's also quite a bit of smoke outside. I doubt you can hear it, but I can hear it in myself. My voice is a little irritated from all of the smoke. So just to let you know that that's kind of where our summer is at right now. And one of the things, we have a little tiny air conditioner that is in our living room. It's just one of those little window units and it does an okay job of keeping that space cool. But when we're this hot, we're not cooling off very much at night, which means every day the heat in the house just continues to build.
So I am not even cooking in the house right now. I'm using the instant pot or we're cooking things outside or just doing cold salads with some home canned chicken, those types of things where I don't even want to turn on the oven in the house, let alone heat up the stove with any type of canning or prepping. Now if you are watching the video that I just released, if you're watching this on YouTube, I released a video on canning outdoors in order to help keep the house cool and that is great and I love having my outside kitchen set up. We do quite a bit of outside canning during the month of August.
That caveat is though we are getting in the afternoons some decent winds, which is not good for firefighting, of course. It dries things out even further when you're a hundred degrees and plus, but any type of propane when you have that much wind and you're trying to can, even with my tips that I shared in that video with you, which you'll definitely want to go and watch, if you haven't seen that. We'll put a link in the video description beneath this for those of you watching on YouTube as well as the blog posts that accompanies this episode.
If you're listening to it the old-fashioned way of podcasting, then you can find that at melissaknorris.com/401. That's just the number 401 because this is episode number 401, but you can catch those tips there. However, knowing that it's that hot with that amount of wind, it's likely going to blow my flames out and that is not a good thing when you are canning. So I have decided... Plus even outside, when it's that hot and you're standing next to a canner, it is still unpleasant. So I'm not doing any canning this week. So a few things. One is keep your eye on the weather because we knew that this heat was coming last week and the extended forecast, and of course those can vary a little bit, but usually they give you an idea if a bigger heat wave is coming through.
So knowing that I made sure that we picked all of the green beans that were ready and caned them. So I did 19 pint jars on Saturday. Actually it was our in-person preserving workshop at Norris Farm Stay. And so those of you who came to that helped me and we did a large double stack pressure canning run of green beans, and I got those 19 pints done and that was pretty much all of the harvest that I had on the bean plants at that time, leaving a little bit for seed. Now why is that important to know? Well, one, I knew that if I waited to pick what was ready and extended that past this heat time, they would likely be over mature and past the point of being a really good, fresh, tender eating green bean.
Secondly, peas and green bean plants especially, and even tomatoes, though I find my tomatoes are a little bit more forgiving. Once you start to get daytime average temps that are over 85-90 degrees Fahrenheit for few days on end, the blossoms on your beans and your pea plants, they will bloom, but they won't set fruit. It's called blossom drop. It just gets too hot and they drop the blossoms. The plants don't die, but they're not going to set any fruit or vegetable, green bean, pea, et cetera. Same thing can actually happen with tomatoes too. If you get those really extended hot temperatures, the plants don't die, but they're not going to be setting new tomatoes on the plant.
They're simply going to be maintaining and growing the ones that are already set, not new ones. So knowing that it became critical for me last week to get all of the green beans picked that were ready and to get those canned. Now with green beans, yes, you can freeze those. However, if I freeze them and then thaw them and then can them, they're going to be very mushy. So I tend to only put things in the freezer to can later that I don't mind that the texture is going to be mush. So usually that's going to be tomatoes because those thawed tomatoes then get turned into tomato sauce.
It's already running and saucy. Nobody caress, right? I will put berries in there that I'm going to be turning into jam or jelly or fruit syrup because again, textural wise, it's already going to be soft. I will freeze cherries because cherries aren't as soft when thawed as a berry. So I will freeze cherries to then make into cherry pie filling or cherry jam later down the road. But I do not freeze things that I think will be mushy like diced carrots. I don't freeze those with the plan of thawing and then canning. I just leave the carrots in the ground actually.
I've got some videos on using that type of technique, but I look at the vegetable and decide if I freeze it and then thaw it and then can it, is it going to be very mushy in texture. And if so, and that's an unpleasant texture, I don't like complete mush green beans, you probably don't either. Then it's not something that I'm going to freeze and then that becomes a top priority to can up immediately as fresh or whatever other form of food preservation I'm going to be doing with that. So the reason for going back to the green beans and the reason that you really want to make sure that you look and plan ahead is because right now it is the middle of August.
It's rare, but sometimes we'll get a really early killing frost in the middle of September, which means I could have only four more weeks of harvest time on my warm weather crops, vegetables that would be killed by a frost. And knowing that we have this heat dome here for the next week, then I won't be getting any new blossoms setting baby beans this week. It's supposed to cool off the following week. So then those blossoms would form beans and as long as we don't have an early frost, I'll get another harvest of tender green beans before the plants die off, just knowing that that's when our cold weather fronts usually move in and the plants are done producing.
So it becomes very critical then that I get that harvest picked and preserved and canned because it may be my only opportunity with the weather this year in order to do that with those. Same thing with the peas. I went through all of the peas that were ready, were even almost close to being ready. We got all of those picked and shelved and those I actually blanched and threw in the freezer ahead of time. Because I like frozen peas and I'm planning on, excuse me, freeze drying those peas, which if you freeze something and then freeze dry it is totally fine because in the freeze dry it goes through the freezing process anyways.
And you might be wondering, "Well, why don't you just put them in the freeze dryer to begin with?" Which is bringing up another point of your planning. If you have a freeze dryer, they are wonderful, but here's the caveat, they do get warm while they're running. And so I have mine in the room actually right through that door, which is our back storage pantry area, and it will heat up that room by about five degrees after a 24-hour timeframe. And most things take about 24 to 48 hours in the freeze dryer just depending upon how much moisture content they have.
And I don't want to add an additional five degrees to the house when it's already this hot out and I don't have air conditioning in this back portion of the house. Second, if your freeze dryer, the room it's in is too warm and that's usually if the room starts to get around 80 degrees Fahrenheit, it won't run. It will give you a warning that says it's too hot, it could damage the machine and it won't run. And with the temps we're having and knowing by running it, I would be putting another five degrees probably in that room.
That room would be very close to hitting that threshold where the machine wouldn't operate safely anyways and I couldn't have it going. So when it gets really warm out, I do not in the house pressure can any type of canning or run the freeze dryer. And so I can put the things in the freezer and know as soon as it cools down next week I can pull them out of the freezer and then put them in the freezer dryer. I just need to have them prepped in order to do that. So I am doing that because freezer space is at a premium. I only have so much space, but I usually can fit something in there to hold it for a week or so, just not long-term with the rest of the harvest that's coming on.
So I share that with you because you want to look at your preserving goals the way that you like that food to be preserved. So for example, I love home canned green beans. It's one of our staples. I don't actually really enjoy frozen green beans with a variety that we have. And to some of you you might be like, "I'm the opposite. I only like frozen green beans." I don't like canned green beans. But the key here is knowing how you and your family like that specific fruit or vegetables so that it's preserved in that manner. For example, you can technically dehydrate green beans, but I don't like dehydrated and then re-hydrated green beans. I will do some leather britches, but it's not our predominant favorite way of eating our green beans.
I do really prefer them just to be pressure canned. So knowing how the different methods of things and how they can be preserved is really key. So if you have my book, Everything Worth Preserving, all of the ways that you can preserve those, you just open it up to... In fact, I did have it open up to the peas because I could not remember how long you're supposed to blanche peas before you put them into the freezer. And for a hot boiling water blanche, it is 1.5 to two minutes. So I had to look that up as I was blanching those to put them in the freezer. Now some things don't require blanching and can just go straight into the freezer. And most of my fruits, I just put them straight into the freezer.
When it comes to vegetables, if I'm shredding zucchini to use later for zucchini bread or cakes or baking, I don't blanch it. But if I'm doing it in chunks to put into... Let's hope not, soups or stews later, then I do blanch them because otherwise the texture gets a little bit off and they don't ever cook or taste quite right if you don't blanch them in my experience. So those are all important things for us to know as we're putting up our food and as we're looking at the weather because as it's hot, the dehydrator will heat the room up a little bit, nowhere near the freeze dryer.
So I'll be looking at things I really like, quite a few fruits dehydrated, some of the herbs dehydrated, and I also have calendula, which is edible, but we don't tend to eat it. I will use it as a tea, but generally, and there will be a video coming out, very shortly, your away, on how to do that, but I use it for medicinal topical a lot. And so making sure that my blooms when they are at their most vibrant and fresh and when you have heat of over a hundred degrees for several days in a row, that can really wilt and affect flower blossoms and the plant even producing more flowers. I wanted to make sure that I had my blossoms picked and ready to go. And I usually do those in the dehydrator.
You can air dry those as well, but we have kind of a high humidity right now. We were actually at a hundred percent humidity this morning and so I decided it'd be better to dehydrate those. So the dehydrator however, can operate just fine outside, ideally under a covered, slightly protected area, though we have no rain in the forecast right now. But I can run that dehydrator outside on the porch so it doesn't heat the house up at all. But I still have that going as a mode of food preservation. So I tend to look at things that can be dehydrated and I like their texture dehydrated, and I plan those items to go in and to be done when it is really hot out like it is this week if I don't have another way to hold them until my preferred mode of preservation.
But because we were planning ahead and saw what was coming, I was able to harvest all of those things that really wouldn't make it through and get those pressure cans because that was my main preferred method of preserving that right before this big heat wave took over. Now, I know some of you might be listening to this and you're like, "Well, you only have this heatwave for a week. You're pretty lucky. All of August is like this for me." So in that case, if that's your normal, like you just know. I know in the more eastern southern parts and definitely deep south parts of the United States for example, all of August is really, really hot for you. It's very rare that you have a break for that.
So that would be planning your garden and getting your harvest if you're buying it from CSAs and farms so that you're getting the most of those items before August. So that you're planting your green beans early enough that you can get that harvest, you can get the tomato harvest, et cetera from those plants before that heat really sets in. Because I know for those of you who are in the eastern southern part of the state, a lot of states a lot of the times in August, the tomatoes and the beans, all of it's just going to die off anyways or it's going to really struggle to get through there.
So making sure that you've got your planning part done of planting early enough in the late spring and summer so that they have come to harvest time, say in July so that you're not trying to deal with this in August. So some of that is just planning ahead for next year within the timing of it. Now when it comes to tomatoes, as I shared, tomatoes are great to freeze because when you put them in the freezer and then you pull them out and thaw them, the skins just slip right off. So I tend to always throw the tomatoes in the freezer at this time of year and plan ahead so that I've got space in the freezer allocated already for the tomatoes to go in because I don't like to simmer sauce in the middle of August, even outside that takes longer.
And so I'll wait until the fall and I do most of my sauce making with the tomatoes then, and I just keep popping them in the freezer as they come on. And then unless you have planted a huge amount of tomatoes, rarely, especially as they first begin to ripen, do you have enough to even bother making a big batch of sauce coming on at once. Because they start to kind of trickle ripe, like you'll get a few ripe off this plant and then a few ripe off that plant in the beginning. And then it's not really until mid-season that you get the large amounts all ripening at once in order to make sauce. Some of the other things that you want to think about is if you just want to go ahead and can and you're going to do it early in the morning or perhaps late at night when it's at the cooler part of the day.
As I said right now I'm recording this episode for you, the cooler part of our day, but it's actually getting... I'm feeling a little warm in here. It's already starting to heat up in here, but of course that is something to take into consideration. And when we're kind of flirting more around the nineties, then I just plan usually on canning late in the evening after dinner because the house is heating up. But at that time, I can usually open up the windows and the outside air temperature is much cooler than in the house. And the house will cool off overnight and then we can start the morning with it cool.
Rather than in the morning while the house is cool in the morning, if I'm canning in the morning, I'm adding additional heat into the house and I don't have a way to cool it off until that night. And I feel like it just makes that whole day that much more uncomfortable because it's raised... Depending on what you're canning and how long and how large your caners are, I mean you can raise the temperature in the kitchen with canning by I would say anywhere from two to five degrees, which might not sound like a lot. I don't know about you, but when it's 70 degrees in my house versus 75 degrees or 75 versus 80, 5 degrees actually is a big swing on the comfort level.
So I do usually if I'm going to just braid it anyways and we're going to heat up the house, I prefer to do it in evening and I would rather stay up late and can so that the house has an opportunity to cool off overnight than versus doing it in the early morning. But obviously schedules and personal preference and all that does come into play. But if I have to can like there is no other choice either outdoors in the morning if it's not too windy or inside in the latter part of the day. And I don't like to can at night outside because of the bugs. I don't want to get bit by the mosquitoes.
And then of course I need to make sure I've got lights which attracts the bugs, the gnats, the mosquitoes, et cetera, even though it's cooler because I can't see outside. So I don't can outside in the evening, but I will inside. So I hope that this helped provide you with some things as you might just be thinking about different ways to preserve and kind of what some of those game plans might be, especially when it is very hot outside. And the other thing is knowing that... For me, peas tend to be a little bit more picky with hot weather than even the beans.
So I'm looking at my peas and I just don't know if I'm going to get anything else out of them after this week. I'm going to leave them in the ground, not pull them yet, because there is still some younger pods, I'm growing some shelled peas this year that haven't developed yet. So I'm just going to see if they have time being say were already developed, not fully developed, but the pod is there, see if they end up developing at all. But I know that the likelihood that they'll produce all the way through the end of August and into September is very low.
So I am doing a fall crop of peas right now, soaking those seeds really well overnight so they're fully hydrated and then I'm going to be planting them and then they'll ideally be germinating and sprouting as we start to cool back off into the eighties next week. At least that's my hope. And then they would be at producing size by the end of September, which should give me at least one more picking on the new pea crop into fall. And if we are lucky and get a late frost, which one never knows. That if we don't have our first frost until mid-October, I actually would have probably about two to three weeks of pea picking. And so kind of game planning that too.
It may be too late right now in the heat of things for some crops, but you may have enough time to get that fall garden in. So I do have a video and a whole blog post on fall gardening, what to plant in August for your fall garden, some crops that you can get in. So I'll make sure and link to that video here on YouTube as well as in the video description and the blog post that accompanies today's episode. So for the verse of the week, we are in 1 Peter chapter two, verse one through four. This is the amplified translation.
"So be done with every trace of wickedness, depravity, malignity, and all deceit and insincerity, pretense hypocrisy and grudges, envy, jealousy and slander and evil speaking of every kind. Like newborn babies, you should crave, thirst for, earnestly desire, the pure unadulterated spiritual milk that by it you may be nurtured and grow unto completed salvation. Since you have already tasted the goodness and kindness of the Lord, come to him then to that living stone, which men tried and threw away, but which is chosen and precious in God's sight." And actually 1 Peter and 2 Peter, they're pretty short books of the Bible overall, but really have been immersing myself in those. We actually did 2 Peter as our summer Bible study, and so I went back and read 1 Peter as well.
And so kind of been parked here for the past couple of weeks in the Peters books of the Bible. But I wanted to share that one because I think it's really important that we think about what we are speaking and therefore what we are thinking. Because what we are thinking is what we end up speaking. So even though this verse says, "Be done with every trace of wickedness, deceit, insincerity, grudges, and slander and evil, speaking of every kind." Also thinking those things because sometimes we're like, "Well, you might be thinking it, but you don't say it out loud." But really, if we don't think it, we'll never speak it.
And yes, there's definitely times where I have thought something and praise the Lord, did not speak it out loud and then was able to redirect my thoughts. But there's been sometimes when I thought it and then I also spoke it. So for me, I've been trying to take this further and the instant those thoughts start to come to mind, even before they come out of my mouth to recognize it in my thought pattern and then do an immediate redirect. So maybe that's something that you've been dealing with and struggling with too. So that was something that I wanted to share with you as it's definitely something that I have been working on and I feel like God has been just continuingly refining and reminding me about.
Well, thank you so much for joining me for today's episode. I am actually going to go and retire my flannel because it is already getting quite warm in here. So I will be back here with you next week. Blessings and mason jars for now, my friend.
Sign up to receive email updates
Enter your name and email address below and I'll send you periodic updates about the podcast.