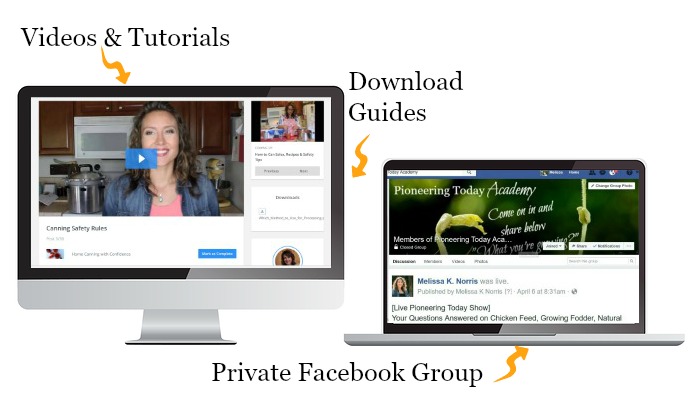 Save money by stocking your pantry with healthy jars of food
Raise your own food from heirloom seed and without pesticides and chemicals.
Relax when storms roll in, you know you've got your grocery store right inside your pantry.

Imagine Having a Year's Worth of Food 
Open up your cupboard and have shelves of food at your finger tips. It's stored in glass, so no fear of nasty chemicals leaching into the food.
You know exactly what ingredients went into each jar, and more importantly, what didn't. No GMO's, no fake food coloring, no pesticides (assuming you grew it yourself or picked/purchased organic if not), no chemicals, and no hydrogenated this or that.
No more food waste, it's good in the jar for months
Easy fast meals without pre-planning, thawing it out or running to the store
When my husband's hours were cut by 8 hours a week this October, I didn't bat an eye.
I knew we had plenty of home canned goods in the cupboard and I could go weeks without buying anything at the store except fresh milk. That my friend's is pretty amazing.
This class is truly one of the best investments I've ever made in my family's health and well-being!
"I love that you have safety at the top of your list! I've realized that many of the recipes and techniques I learned from my mother and grandmother are outdated and/or unsafe, and your classes helped me learn to preserve food the right way.
Learning to can bone broth and jam for the first time and trying recipes you post that go back a generation or two are lots of fun.
I appreciate that you are so thorough in your tutorials for visual learners like me. We can ask questions of you when we need help, and you are so patient in your responses, never talking down to us.
Your posts and tutorials show your love of teaching others how to be more self sufficient, whether they are homesteaders, yard gardeners, or people like me who get their produce from local Farmers' Markets. But being part of such a wonderful group of encouragers is so good for the soul! Kathy P. Member
How Pioneering Today Academy was Born
Howdy! I'm Melissa, I'm a wife, mom of 2, full on homesteader, pharmacy tech by day and pioneer expert by night…. er, morning, and waking hours, too.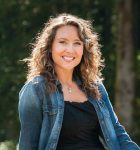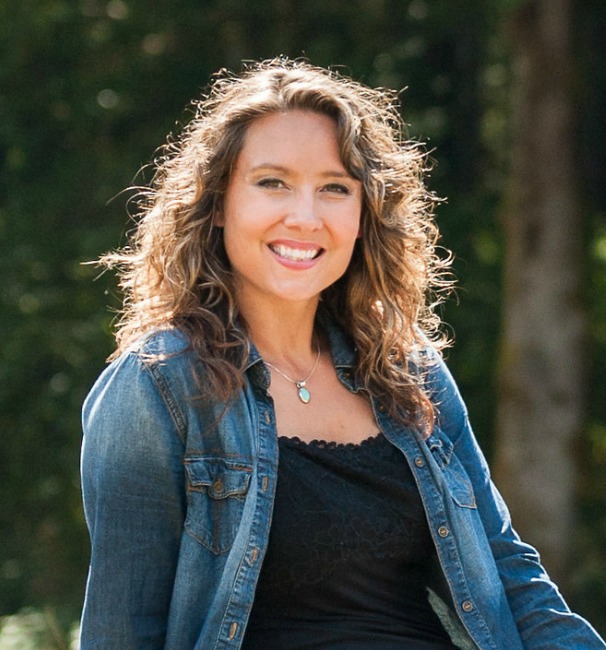 When my daughter was just an infant, I had to have my upper stomach and esophagus biopsied. Thankfully, it came back clear, but that was enough to make me get serious about what was in the foods we were eating and what I was putting into my body.
Stomach acid and ulcers
Cutting out processed foods and replacing them with more home grown and home canned items became high on my list. Some things I just couldn't find versions in the store that didn't have high fructose corn syrup, food dye, or questionable preservatives.
And if I did find them, they carried a higher price tag. But I wasn't willing to sacrifice my health or that of my families.
Stomach issues no more!
With big feed lots, antibiotics and hormones flooding the meat on grocery store shelves, we decided to raise all of our own meat ourselves. We raise our own grass fed beef, pork, meat chickens, and a flock of laying hens.
My family has been saving and raising our own strain of heirloom pole green beans for over 4 generations, stretching back into the early 1900's. I've never purchased bean seed from a store or green beans, and you don't have to either.
Like so many generations before us, I returned to the traditional ways of cooking, raising our own food and putting it up.
From heirloom seeds and without pesticides or chemicals
Like so many generations before us, I returned to the traditional ways of cooking and putting up food. By cutting out all of the ick in store bought canned and processed foods, I was able to regain my health.

Easy to follow instructions and guides
Is Pioneering Today Academy Right for You?
As a member, you get:
Unlimited 24/7 access to all of the video lessons and download guides, printable tutorials, and most importantly, the recipes! There's nothing like having true and tested canning recipes, because quite frankly, you shouldn't be using anything else, and once you get going, you'll always be looking for a fun new safe recipe to add to the collection.
Our members only Facebook group to share photos, ask questions, and be a part of a community of folks who get the thrill of hearing that canning lid "ping" as it seals and the harvest of that first ripe tomato. Having a fellowship of people to support you is priceless.
Monthly Live Q&A's. Join our live once a month question and answer sessions where you can ask those tricky questions about canning recipes, when to harvest, what to do if your plant isn't doing so hot, techniques, or problems, and I'll answer them.
On-going access to new videos and bonuses when they're released.
Weekly email support with tips of the week and new video lessons as we walk you through every step of how we operate on our homestead going through every season. This helps you not feel overwhelmed and you get real life on the spot videos and training.
Oh, oh, I almost forgot, we have really pretty vintage inspired canning labels waiting for you as a bonus as a download in the welcome video of the course. There's circle ones for the tops of jars, rectangle ones for the front, and blank ones you can fill in the info yourself. Way cool, right?
They print out on address labels for easy stick on or you can print them on card stock to cut out, punch a hole in, and tie on a jar with ribbon or jute twine for fun gift giving.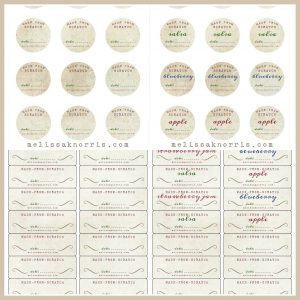 "I did it! Was scared to death. But I took my new pressure canner out of its box, read the directions (twice) and my results…..34 pints of green beans." Gretchen B. Member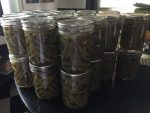 Pioneering Today Academy Could Save You $2,640
plus saves hours of time and gives you peace of mind
For our family of 4 to go out to eat, we typically spend around $40 for a full meal. Even if we only eat out 3 times a month, that's $120, times a full year= $1,440 
When we go out to eat, trying to find a restaurant that serves totally from scratch cooking where they use no processed ingredients, chemicals or GMO's is pretty much unheard of. Which means we're not eating as healthy as I'd like, plus we're spending gas and time on the road. (That just tends to happen when you live a full hour away from the closest stop light and large grocery stores)
With home canned food, even on busy nights, I can open a few jars from the pantry, heat it, and have a delicious meal made completely from scratch (and many times by the items we've grown here on our homestead) and served to my family in just 10 minutes.
I don't know about you, but when I go grocery shopping, the prices seem to always be on the rise. I have a hard time finding any canned food in glass jars, and when I do find items that don't contain questionable ingredients, they always cost more.
For just about $.25 a jar (when I've grown the ingredients myself) I'm able to put up jars of organic tomato sauce, salsa, green beans, apple sauce, and jelly. I easily put up 150 jars of just these items alone. If I purchased these in the store I'd be paying close to $400 for just these items alone, which saves us $362.50 by canning it at home.
We put up close to 400 jars of food a year, which easily saves us at least $100 or more a month off our grocery bill. 
I've seen other canning courses online, but they only offer 4 to 5 lessons, and many don't cover pressure canning at all. Which means you have to buy their other canning courses separately.
With 70 lessons, recipes, charts, tutorials, and guidelines, we cover everything from how to test your  jams, jellies, and fruit butters to know they're set without store bought pectin, how to can your own meats, broths, vegetables, pickles, salsa, and sauces, plus more.
That's a complete savings of $2,640 for just  $27 a month. 
*These savings are based on our family and what we normally spend, your savings could be less or more, this is not a guarantee.
I personally jump into the Facebook group every day and answer recipe questions, alter recipes for safety, and support.

Success Stories
"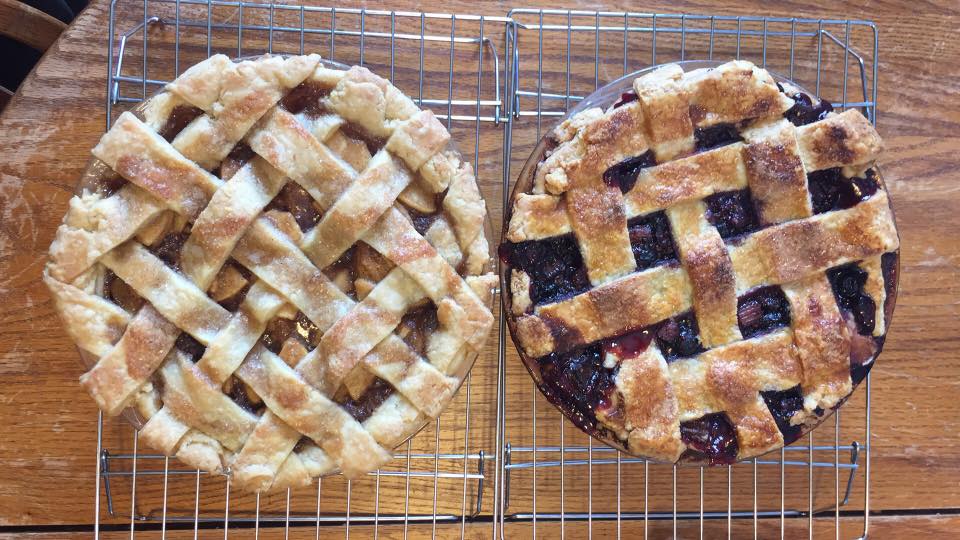 "Look what I made with my rendered lard (thanks for the tutorial in the Homesteading Skills section) and great-grandma's flaky crust recipe in Melissa's book The Made from Scratch Life. There's apple pie on the left and rhubarb-berry on the right!"
Amy S. Pioneering Today Academy Member
One of the greatest components in my arsenal of homesteading skills learning
I'm more of a visual learner and love that there is a video for each skill from canning, gardening, to grinding flour, making soap, and so much more. And I can learn at my own pace at any time of the day.
Last year I canned so much more than the previous two years filling up my pantry and then some. It gives me security to know that I'll be able to feed my family no matter what. Most recently I watched the video on pruning fruit trees as I am new to growing and caring for fruit trees.
Becoming a member is well worth the money spent.
Michelle H
.

Member of Pioneering Today Academy
With all of the food allergies and health issues cropping up, I'm determined to know how my food is raised and prepared. Dousing it with chemicals that kill other living animals and then serving it to my family makes no sense to me.
The pioneers raised much of their own food and put it up to feed themselves and their families through the winter months. Not only does this lower the food bill, but it gives a sense of accomplishment, brings our family together, and drastically improves our health.  
There is definitely a learning curve. The first three years we raised tomatoes I could barely get one or two ripe tomatoes. This did not work for my dreams of canning all of our tomato products for the entire year.
For the past three years we've not only raised enough tomatoes to can all of our own salsa, tomato sauce, and stewed tomatoes for THE ENTIRE YEAR, but we've saved the seed to replant again the next spring, even living here in the typically rainy Pacific Northwest.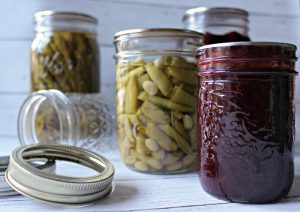 Which Self-Sufficiency Course Are You Going to Jump Into First?
Pioneering Today Academy is organized into 5 Courses with step-by-step videos, tutorials, and downloads with:
Grow Your Own Fruits and Vegetables
Raising Livestock
Seed Saving
Home Canning with Confidence
Homesteading Skills
Here's a quick look at what you'll learn in each course:
Not everything is safe to can at home. There are numerous recipes and down right dangerous procedures floating around. The Home Canning With Confidence will teach you how to determine if a recipe is safe and includes the DO NOT CAN at home list.
The Home Canning with Confidence 
Anyone can learn how to can and do it safely, you just need someone to show you the way: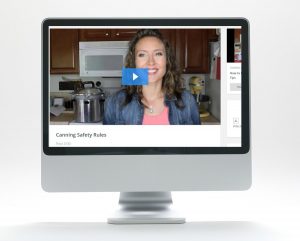 Learn all of the safety and science behind canning, including the do not can at home list, and most importantly, why. Up to date canning procedures and why following recipes and procedures from older sources isn't safe, and more importantly, what is safe

Fruit, 

Jams and jellies without store bought pectin and low sugar (and the only store bought pectin we use), pie fillings, fruit butters, and sauces, stewed and canned fruit and applesauce (my no peeling or chopping apples method) Recipes for all and tips for proper processing.
Pickling– learn how to safely pickle foods at home, including knowing if an older recipe is safe, vinegar and brine recipes and tips, how to keep pickles crisp, and our favorite relishes.
Tomatoes- safety methods for both water bath and pressure canning, how to make tomato sauce, stewed tomatoes, peeling tips and tricks, and of course, our favorite recipes using tomatoes
Pressure Canning safety tips and operation, from beginning to end. We share both models of pressure canners, the All American and a Miro, and how they operate to get your going with confidence.
Meat- including smoked fish, poultry, beef, and venison, and seafood times and pounds of pressure. Learn how to make delicious and nutritious broth at home along with homemade soups, including safe home canned tips for canning your favorite soups

Troubleshooting, what if my lid doesn't seal, why did I loose so much liquid, is it normal for the water to be cloudy, how do I know if its safe to eat. We'll answer all of these questions and more.

Proper storage of your jars. Now that you've got these beautiful jars full of food, you want to make sure you're storing them properly for maximum shelf life.
What Members are Saying
"I did it! Was scared to death. But I took my new pressure canner out of its box, read the directions (twice) and my results…..34 pints of green beans." Gretchen B. Member of Home Canning with Confidence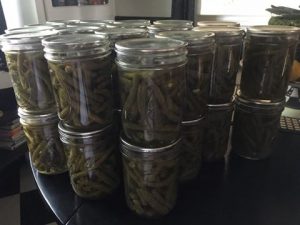 Grow Your Own Fruits and Veggies
There is nothing more satisfying than going grocery shopping right outside your own back door. But failed crops or mistakes can set you back, cut down your learning curve:
How to choose the best place for your garden so you're not fighting nature.
How to plan, plant, and prune your fruit trees and fruit bushes (including tomatoes) to get maximum harvest. Plus our download guide for cross-pollination and why it's crucial to your harvest.
How to amend your soil for the best life of your plants and harvest using natural methods, including special tips when planting your peppers and tomatoes.
How to start your own seedlings indoors to save money and get more from your growing season, including transplanting, and which seeds are best sown directly into the ground.
How to use companion planting for the health of your plants and to cut back on pests and disease.

Seed Saving
There is nothing more self-sufficient than using heirloom seeds and never having to purchase seed from the store again.
What you'll learn:
The history of heirloom seeds and exactly what they are
The difference between self-pollinating and cross-pollinating plants and why it's so important when seed saving.
How to hand-pollinate for seed purity
Which seeds need to be fermented and how to do so in order for germination the next year.
When to harvest seed for seed saving and how to ensure genetic diversity
How to dry and store seeds for next year's crop and to keep the viable
Tips for keeping your seeds organized as well as fall back methods in case you discover your seed strains haven't been kept pure

Raising Your Own Livestock
Having your own vegetables and fruits is wonderful, but protein and meat are needed in order to be truly self-sufficient.
You'll learn:
How we raise our own grass fed beef, pasture needs, fencing options, and how to choose if you'll do your own breeding or just purchase a calf each year (bonus, how to raise cattle even if you don't have your own land)
How we raise our own pastured pork, including fencing, feed options and which feed we believe delivers the best tasting pork
How to raise backyard chickens for eggs, including hatching out eggs even if you don't have a rooster and the best feed for chickens, including the do not feed to chickens list
How to raise your own meat chickens with a step by step video lesson of butchering and processing them at home
How to use pasture rotation for the best management of your land and the health of your animals
How we manage pest control including worms naturally in our animals

Homesteading Skills
There are many skills in a homesteaders tool set, far beyond just raising and preserving your own food.
You'll learn:
How to render your own lard
Make your own soap, including cold process and melt and pour
How to grind your own flour
Baking and cooking with ancient grains
I'm so excited to have you join the Pioneering Today Academy, I will give you
your  money back, no questions asked, no hassle for 30 days. Like you, I can't stand a big hassle when it comes to canceling, all you have to do is shoot me an email and I'll personally handle your refund in the first 30 days, but I'm pretty sure after you join you'll never want to leave.
Imagine Having a Year's Worth of Food You Raised and Preserved Yourself
Imagine opening up the cupboard and having shelves of food at your finger tips. It's stored in glass, so no fear of nasty chemicals leaching into the food. You know exactly what ingredients went into each jar, and more importantly, what didn't. No GMO's, no fake food coloring, no pesticides (assuming you grew it yourself or picked/purchased organic if not), no chemicals, and no hydrogenated this and that.
It won't go bad if the power goes out, the freezer or refrigerator breaks, pests won't get passed the glass, and it's not going to go bad if you don't use it right away.
If you forgot to thaw something for dinner, ran out of time, get sick, or just plain don't want to cook, you can pop open a few jars and have a home cooked and prepared meal on the table in minutes.
You literally have your own grocery store at your finger tips, without having to leave your house or fork over whatever price they decide to raise it to that week. Want to bake? Just go out to the backyard and gather that morning's eggs from the hens.
Imagine what you could put that extra money in your pocket towards. Imagine the peace of mind that brings.
Especially the peace of mind knowing that all of those home canned jars of food were done following approved and safe canning methods. You can confidently serve them to your family and not worry about if you were doing it right.
At the end of the growing season, you have hundreds of jars of food canned and ready to feed your family no matter what happens. Just like the homesteaders and pioneers of old, your food is stored up for the winter and it feels good! So good you may stand and stare at your Mason jars filled with food in satisfaction.
I want that to be you this year, in just a few short months.
That's why I created the Pioneering Today Academy.
It's a complete road map to raising and harvesting your food yourself and preserving it for the months and years to come.
There's something to be said to surrounding yourself with people who have the same goals as you. When you hear that "ping" of the canning jar, meaning you've got a seal, you need to celebrate with people who get it (and that is one of the best sounds in the whole wide world).
If you've got a question, you need someone you can ask and turn to. You need people who don't think you're crazy and cheer you on when you might be feeling overwhelmed. You need inspiration!

Join the Pioneering Today Academy and let this be the year you actually do it, instead of thinking about it or wishing. No more letting that canner sit in the back of the closet mocking you or gathering dust.
Frequently Asked Questions
Do I have an expiration date on how long I can view the lessons and recipes?
No, members can go in at anytime and view the lessons and print out the guides, recipes, and tutorial material.
Do I have to follow along weekly?
No, you can go in and use the lessons and recipes whenever you want. The weekly emails are just to let you know the new lesson is up and to give you the helpful tip of the week as you go through the season.
Can't I just find all this out on my own?
You can spend the time researching, but frankly, I've been down the internet rabbit hole before and I prefer to save time when possible. You can hope to find someone who is knowledgeable and up to date in your area and try to mesh up your schedules for a lesson, or you can have all of the lessons in one spot, at your convenience, with all the material available to print out.
Is this for beginners only?
It's for all levels, we have beginners and we have experienced canners and homesteaders. This is for people who want to implement this lifestyle and want to make sure they're getting advice from someone who has done it and has had success. There is nothing more valuable than being able to learn from someone who has real life experience and is doing it. There's a big difference from operating a family farm and homestead when you're both still working full time jobs, than a full on commercial farmer, and that's how we share. How we do it while still working outside the home and keeping it manageable and successful.
I've seen other canning courses and homesteading courses out there, why should I join this one?
This is the only canning course that I've seen that goes this in depth. Many others for the same price or more only include water bath canning and an overview of using your pressure canner. This is in depth, walking you through canning up a years worth of different foods, and I've never seen a canning course show you how to make jams and jellies without store bought pectin. This is a homesteading and self-sufficiency course that walks you through the entire year of everything we do here on our operating homestead from the kitchen, to the garden, to the barnyard.