My absolute favorite new kitchen appliance to make tomato sauce and strain juice is the Weston Roma Tomato Press. It's not electric but simply a hand-cranked machine to make the sauce. It separates the skins and seeds for you and is a game-changer when it comes to canned tomato sauce.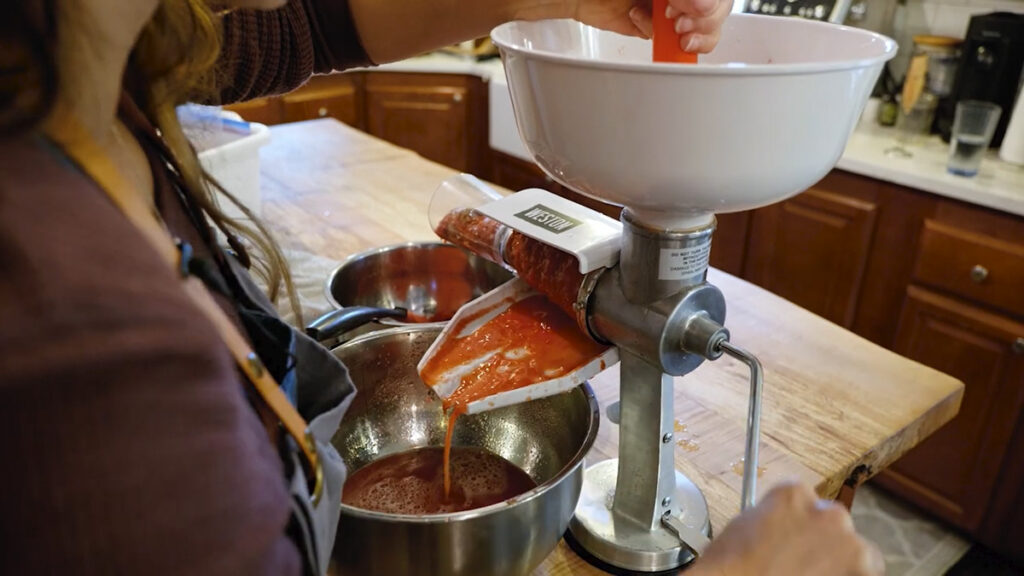 Why I Love This Method
You may or may not know I was previously a roasted tomato sauce snob and would only make my tomato sauce following my roasted tomato sauce recipe. Though it's a little more hands-on work, it's incredibly delicious, and I like to stock my pantry with both options for different recipes.
And let me tell ya, if you've never had homemade tomato sauce made from vine-ripened tomatoes, then you've never had tomato sauce before. All else is an imitation, my friend.
Be sure also to grab my quick and easy homemade tomato soup recipe that you can make with your jars of homemade tomato sauce.
This tomato press method is fantastic because I can toss all my garden fresh tomatoes into the freezer and keep them there until I'm ready to whip up a large batch. This is also one of my favorite hacks for not heating up the kitchen during those hot summer months.
And if you're still bringing in green tomatoes from the garden (to save them from the frost), learn how to ripen green tomatoes indoors for fresh eating through the winter months.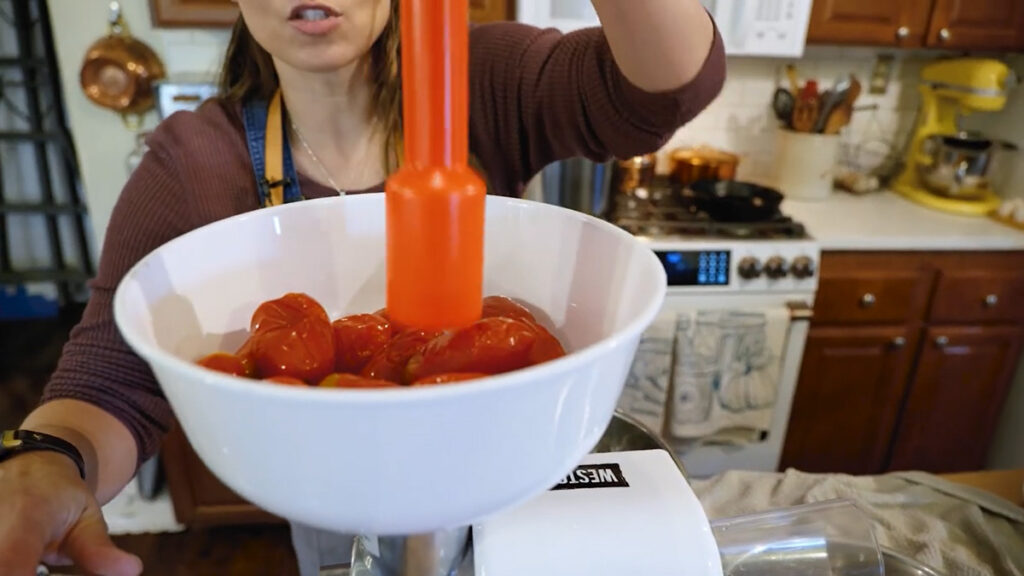 What Does a Tomato Press Do?
This tomato press, or tomato food mill, will take off the skins and remove the seeds from your tomatoes, and leave you with only the juice. This juice can then be reduced and made into tomato sauce which can be canned for future use.
Use this machine when you have a bunch of tomatoes and need to crank through making tomato sauce quickly.
This blog post and video is sponsored by Lehman's. If you've never shopped Lehman's let me tell ya, you're in for a treat! Go see everything they have to offer, then be sure to search "Weston Tomato Press"and grab your new favorite kitchen tool!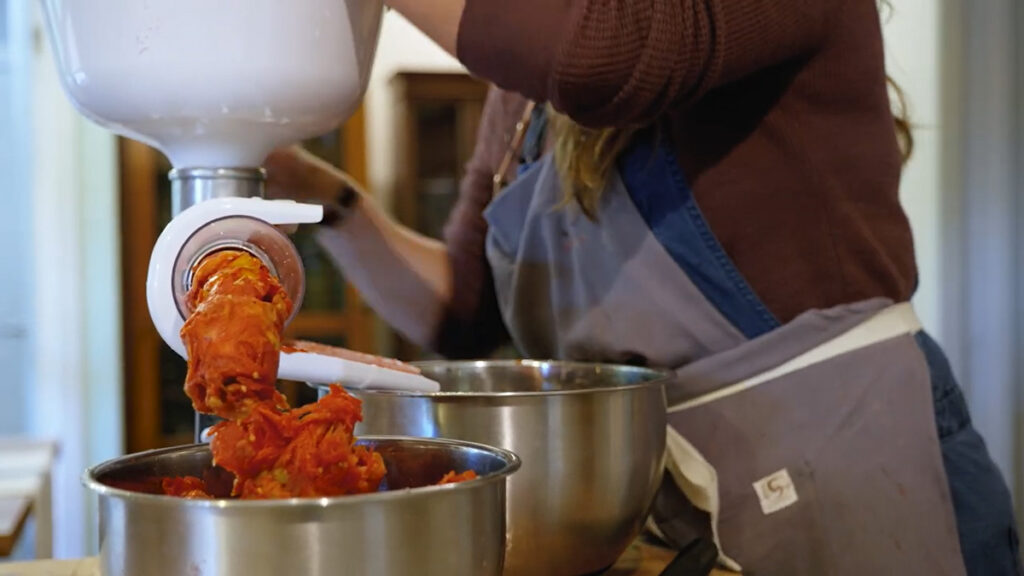 Reasons For Using A Tomato Press
There are many great reasons for using a tomato press. Some are safety-related, and some are just preferential.
Saves Time – Using a tomato press saves time. It's much easier to use a press than to take the time to blanch all of your tomatoes and individually peel the skins, then core them and remove the seeds.
Safer – As for safety, removing tomato skins before canning is essential because the skins contain more bacteria than the rest of the tomato.
Better Texture – Some people remove the skins because they do not like the texture in their tomato sauce.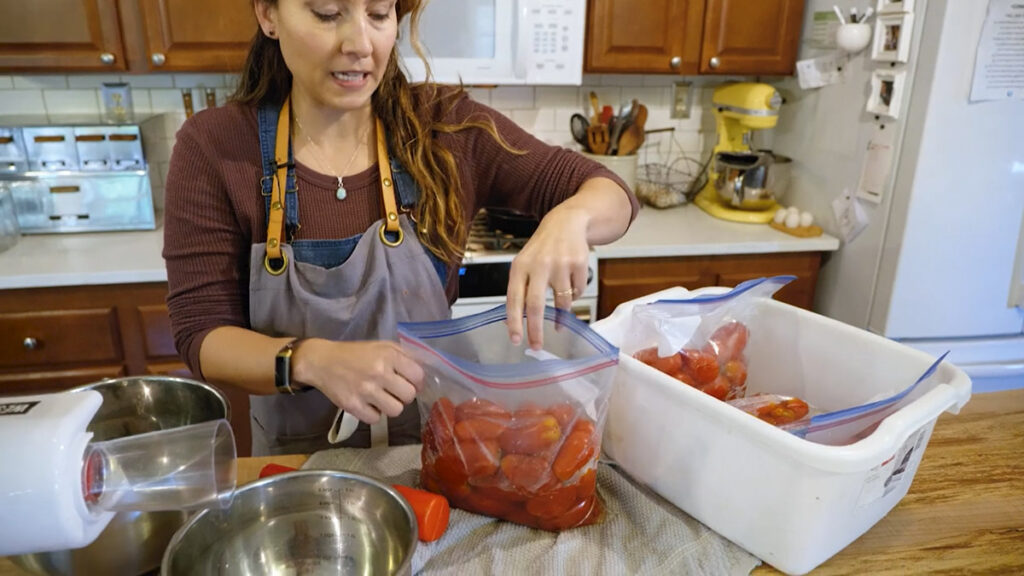 Common Questions About Tomato Presses
Can you put raw tomatoes through a food mill? YES! This makes it so much easier to make tomato sauce. No peeling, coring or removing of seeds is needed.
Do I need to peel tomatoes before using the food mill? No! Great news, right? Simply put your room temperature or thawed tomatoes into the press, skin and all.
Pro Tip: if you are freezing or dehydrating tomatoes, you can leave the skins on.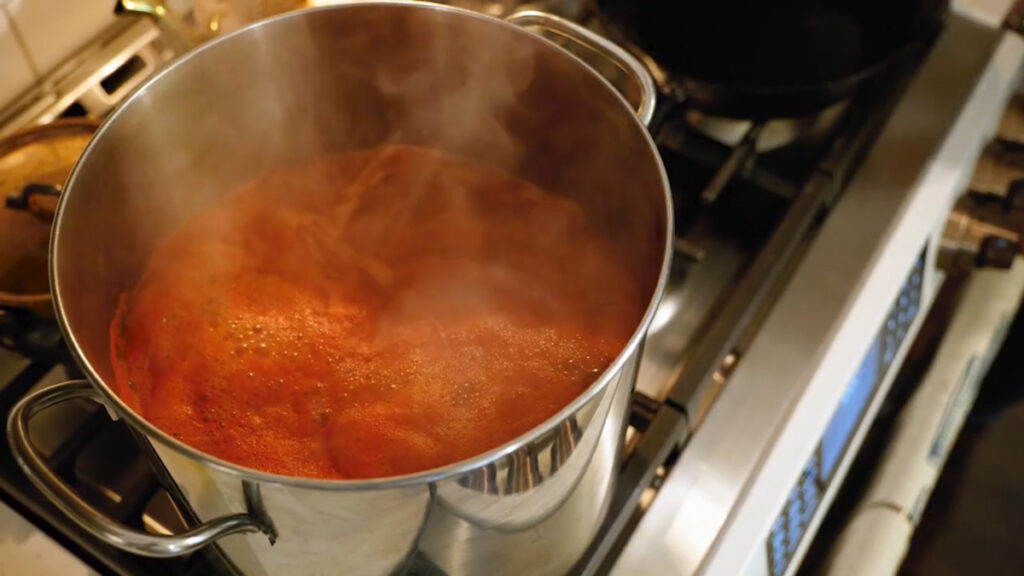 How to Make Tomato Sauce
Here is a great way to use your tomato press by making homemade tomato sauce.
Tools Needed To Make Tomato Sauce
Weston Tomato Press – As I mentioned, this method is so much faster than my previous method for making tomato sauce. If you don't have a tomato press, be sure to check out this tomato sauce recipe, but honestly, just go grab yourself a Weston tomato press, and you can thank me later!
Two Large Mixing Bowls – this is to quickly transfer the sauce from the press into the stock pot, so it immediately gets heated.
Spatula – to help get the sauce off the press.
Canning Jars and Lids– I use ForJars pint-size canning lids (be sure to use code "Modern10" at checkout for 10% off) because they work great.
Funnel – this helps pour the sauce from the stock pot into the canning jars with less mess.
Ladle – for spooning the sauce into the canning jars.
Apron – making tomato sauce can be quite messy, so I always use an apron. Pro-Tip: Use a linen apron. The dirt, food, and liquid don't penetrate the fibers as much as they do with cotton aprons. Linen also absorbs water and dries faster.
You can purchase my Aprons or my new "Everything Worth Preserving" flour sack towels on my website in the General Store.
Large Stock Pot – this is to simmer the sauce before putting it in the canning jars.
Canning Method Tools – you can use a water bath, steam, or pressure canner for your tomatoes.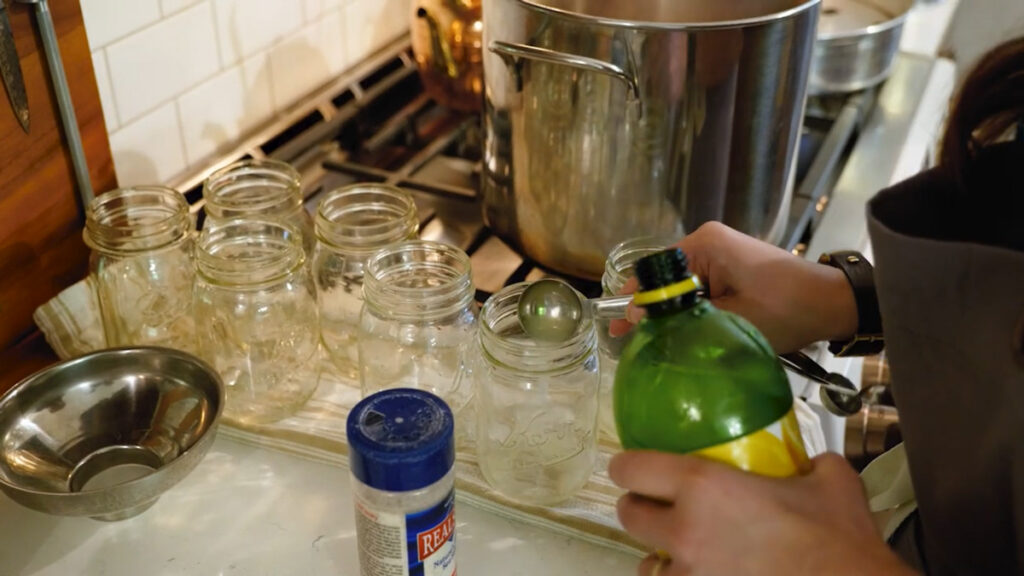 Ingredients Needed To Make Tomato Sauce
1-gallon fresh or frozen tomatoes – if using fresh tomatoes, quarter them. If using frozen tomatoes, be sure they're completely thawed before putting them through the tomato press. You can use as many tomatoes as you want. Just scale the recipe up or down.
Bottled lemon juice from concentrate – do not use fresh lemon juice.
Salt – this is optional and only for flavor. I use Redmond Real Salt.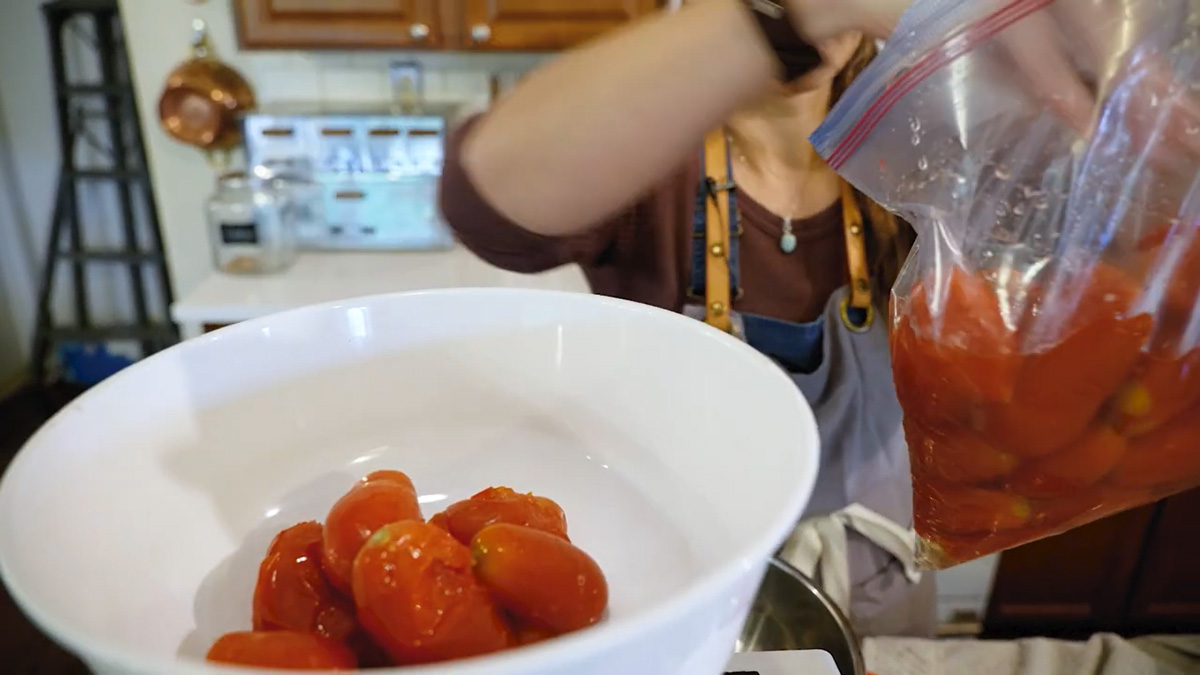 How To Use a Tomato Press for Tomato Sauce
I'm not listing the step-by-step canning method for this tomato sauce recipe. If you'd like to know exactly how to process your jars, visit this tomato sauce canning tutorial. I specify headspace, canning times, and more in that post.
Clamp your tomato press nice and tight to the counter. It does have a suction cup, but depending on your counter surface type, it may not hold as tightly as it would if using the clamp.
Place the two large mixing bowls on each end of the press. One will catch the tomato liquid, and one will catch the seeds, pulp, and skins.
Place the stock pot onto your stove and heat on low to medium heat.
Fill the large-capacity hopper halfway full of your tomatoes.
Pro Tip: Don't put any liquid from the thawed frozen bag of tomatoes into the hopper. You want the least amount of liquid possible for a better tomato sauce.
Use the stomper tool to push the tomatoes through the hopper while you turn the crank.
Scrape the rest of the pulp into the liquid bowl using a spatula.
Pour the liquid into the stock pot to get it heated immediately.
Take the leftover peels, skins, and seeds and put them through the hopper a second time. This liquid will be thicker and more flavorful. If you want to, you can repeat this a third time.
Pro Tip: You can also freeze dry and/or dehydrate the leftover peels, skins, and seeds and grind them up into a finer powder to put in sauces, stews, or chilis later on.
Bring the stock pot to a simmer for about an hour or two or until the thickness has been reduced to at least half of what it originally was. A third of a reduction is also fine.
Have your canning jars ready to go. They should be washed with hot soapy water and still warm. You want to jar your tomato sauce while the jars are warm and not cold.
Have your canner ready to go as well.
Turn off the heat of the stock pot.
Fill each pint jar with 1 Tablespoon of bottled lemon juice from concentrate. You can also add 1/2 teaspoon salt, but it's optional (it's just for flavor).
Pro Tip: I add the lemon juice and salt to every jar before pouring my sauce in. This way, I make sure I don't miss any jars.
Place your funnel on the jar and ladle the tomato sauce into it.
Place the lid on the jar and tighten to fingertip tight.
Continue with your chosen canning method.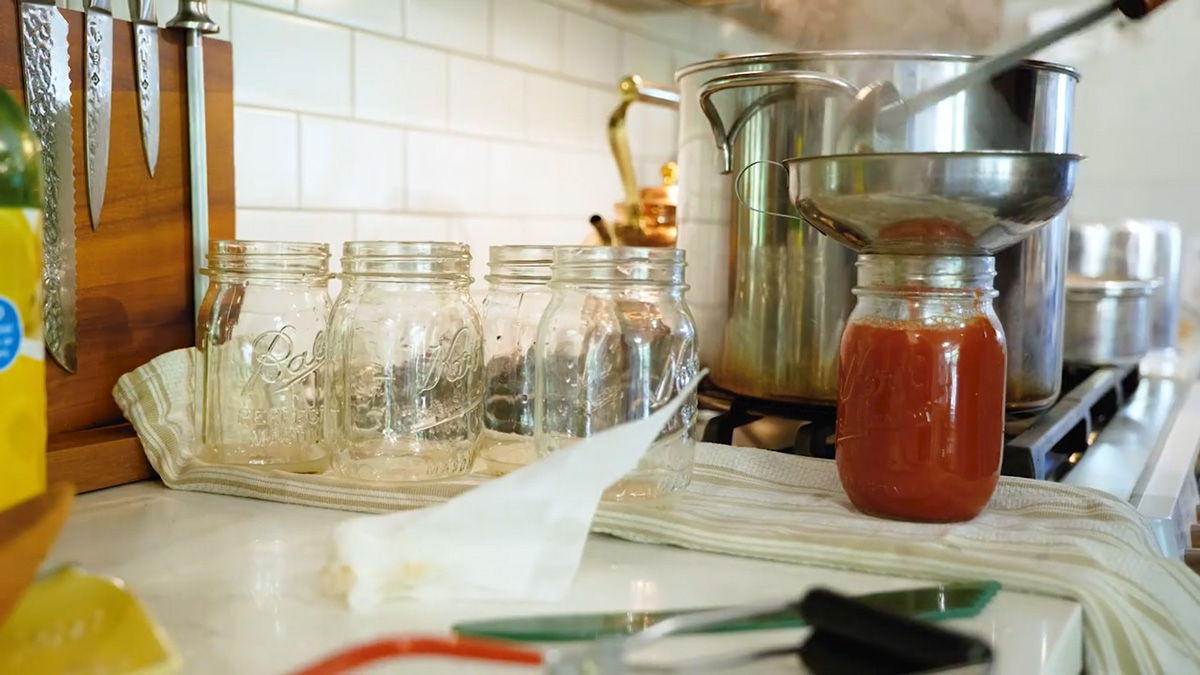 Can I Use A Tomato Press for Apples?
You can also use your tomato press for apples. The press comes with a stainless steel screen for tomatoes and apples. Other accessories are available such as the pumpkin screen, a salsa screen, the berries screen, and a grape screen.
So the next time you have lots of tomatoes, little time, or want to make some great tomato sauce, get out your new favorite tool, the Weston Tomato Press and see how quickly you can get your jars canned and onto the shelves.
And then enjoy using them for other recipes and wonderful meals together.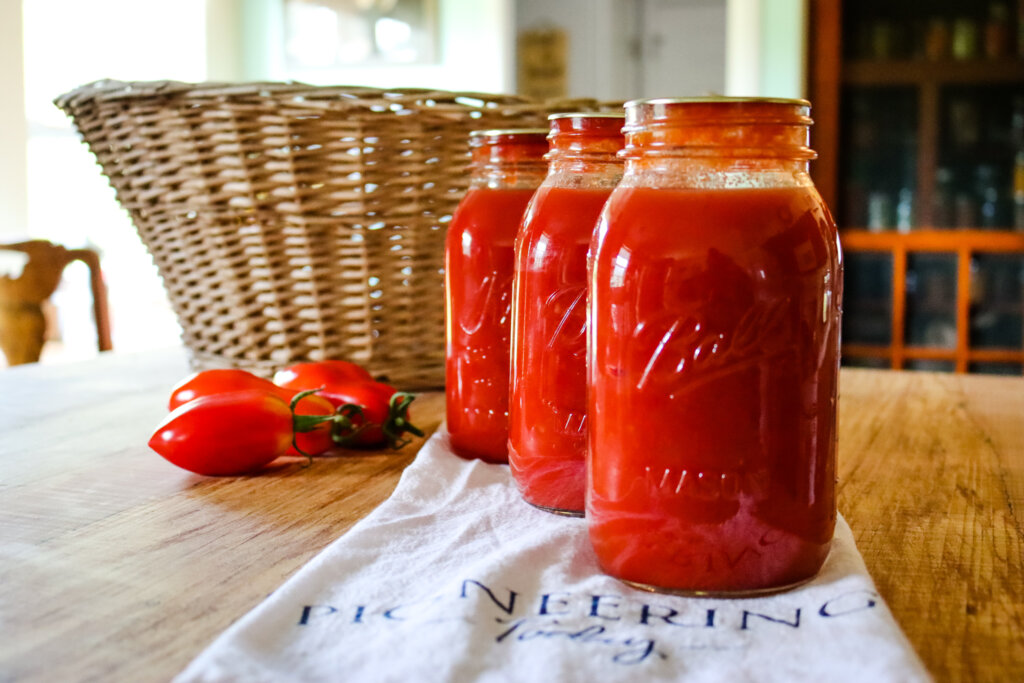 More Posts You May Enjoy