Some of the links below are affiliate links, which means I will earn a commission at no additional cost to you, if you click through and make a purchase. Regardless, I only link to products we use on our homestead or believe in.
Does homesteading and raising your own food really save you money? Is it truly worth it?
Welcome to our 100th Episode and Part 1 of How Much Money Does Homesteading Cost and Is it Truly Worth It?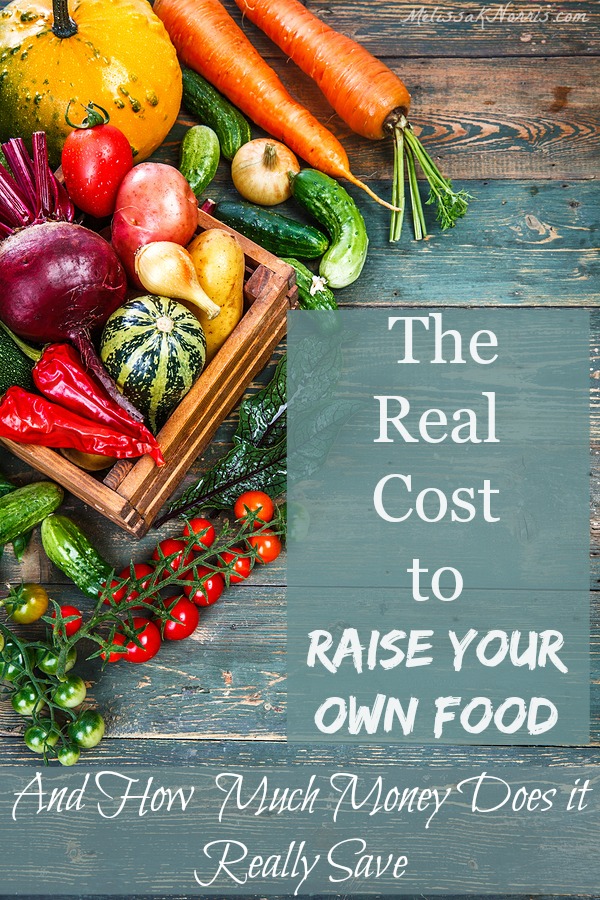 This is a great question and on so many levels. First we'll dive into vegetable gardening because this is the easiest place to start for most people, aka versatile no matter where you live.
Costs of Growing a Vegetable Garden
Depending upon the size of your garden, you'll spend between $25 and $50 on seeds and starts your first year. If you use heirloom seeds and begin saving your seeds from each years harvest, your seed cost will go down.
What type of beds?
Raised beds need boards or something to corral the soil and raise the bed up, then you have the soil cost, especially if you're having it brought in from somewhere else.
Raised Bed Options:
Lumber-cedar is naturally long lasting and rot resistant. Research what is used to treat wood if using treated lumber as it will break down or leach out into the soil. .
Rocks
Old Tires
Cement Blocks
Your raised beds can be any size you like, but remember, many plants have deep roots and will suffer if the beds aren't deep enough, both by being root bound and they'll dry out quicker.
The prices range from $50 to $2,200 depending upon the size of beds, fencing, and if you have to purchase soil.
Recommended size for raised beds
This will depend somewhat on the space you have available. Most raised beds are between 3 and 4 feet wide and should have at least 12 inches of soil for most plants.
These were taken from my awesome readers over on my Facebook page, to see all of the responses or to add your's go here (and make sure ya like the page while you're there)
Reader Raised Beds and Costs
Michelle S. B. : Not including chickens. Less than $500 Dollars. Cement Blocks. Bulk Soil compost/lava sand 5 raised beds, various sizes. We also have Tire Garden…they were free. Soil less than $50 for bulk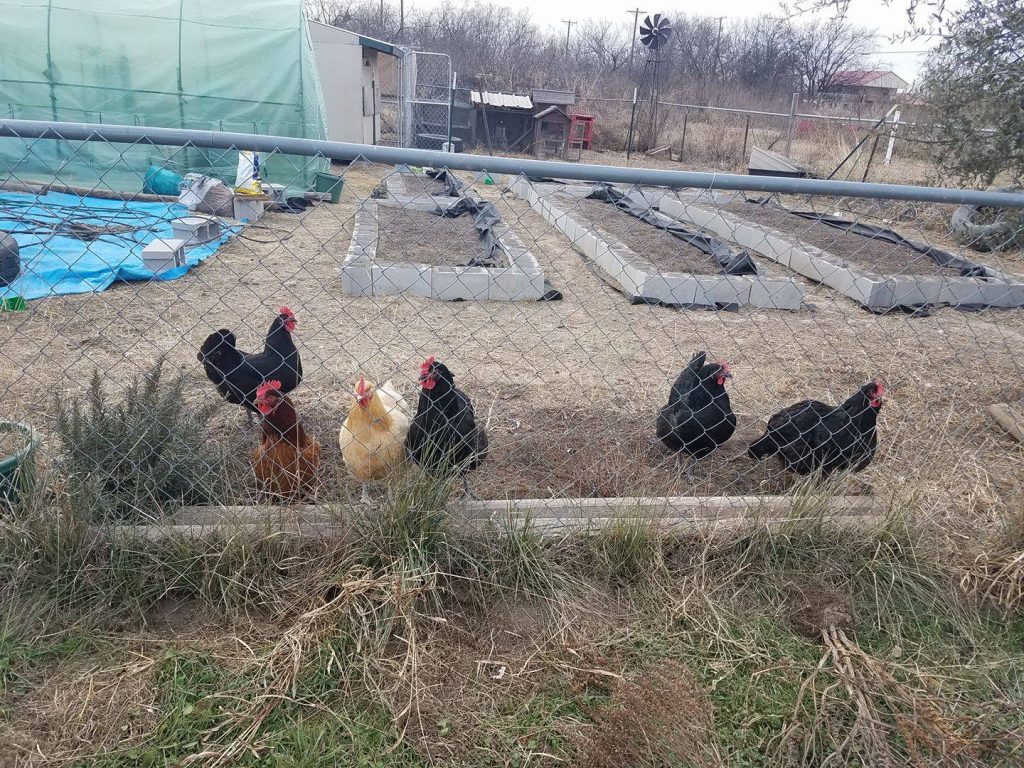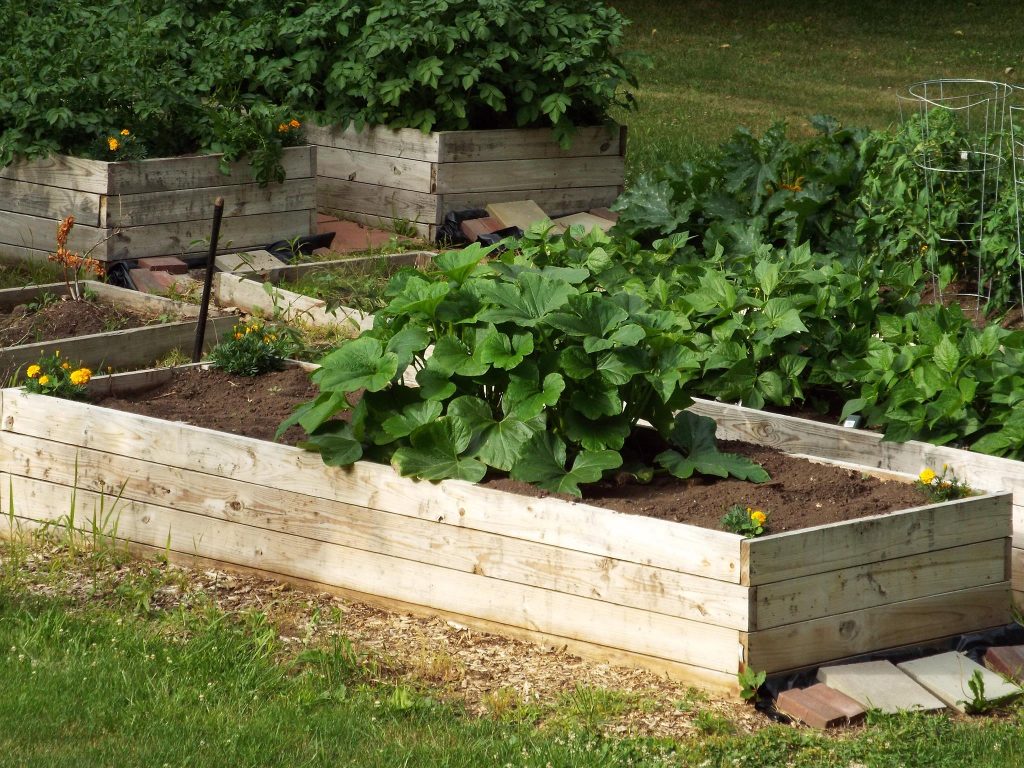 David N. : I have 14 raised beds, most are 4 boards high. This really saves my old back while weeding. They are various sizes, 4×4′, 4×10′ and 4×12′. I used 2×6″ treated lumber which makes each box 22″ tall. I used some 1×2″ on the inside of the long edge to keep the 4 boards aligned. All of my newest boxes are the 4×12′ variety. I filled them with leaf compost that I got from a neighbor. It's like magic soil. The picture here show the one acorn squash plant that eventually produced 51 fruit. Each 4×12′ box cost about $45 in lumber.
Kelly J.: We have 8 raised beds of various sizes. The boxes we made from recycled deck wood we got for free just for taking it apart and hauling it away. We trucked in the top soil by the cubic yard. Probably spent $300 – $400 on dirt. Original walk paths around the boxes were grass – we later added the weed blocker and river rock.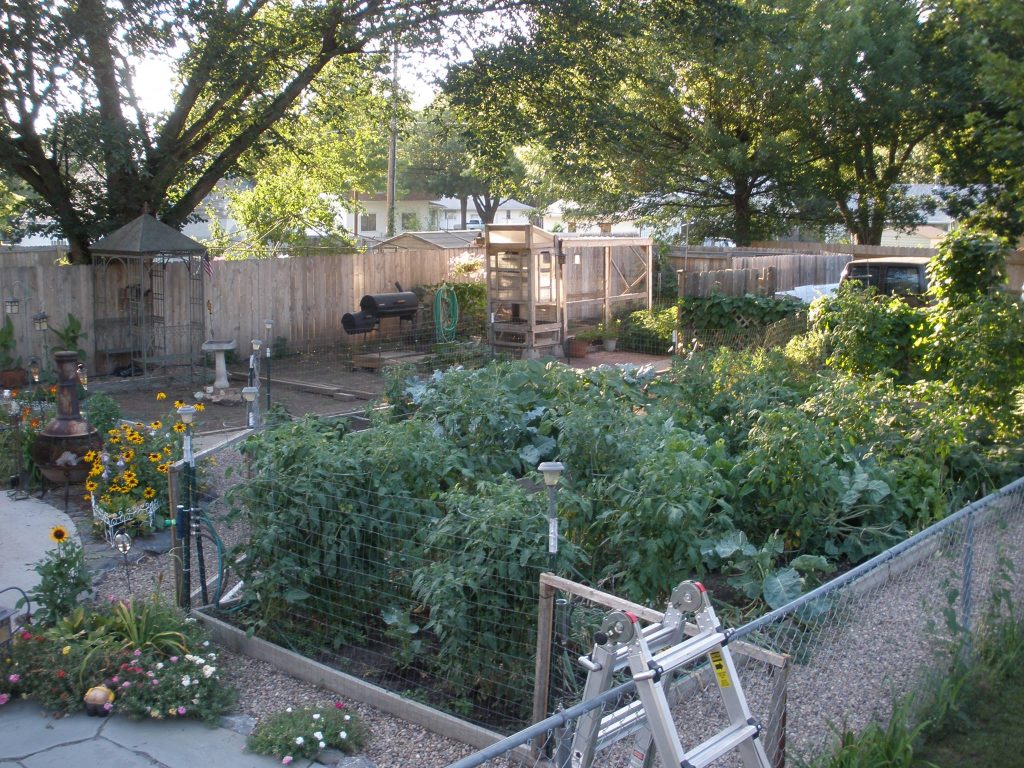 Sherri S. G.: inside our 42 x 50 enclosure we have 3 8x8x12″ raised beds and a small greenhouse. The rest of the garden area we plant directly in the ground. The total cost excluding the greenhouse was about $500. Hubby did all the work himself.
We used a combo of new wood and recycled. Main cost was the wire fencing. Had to have 6′ due to deer.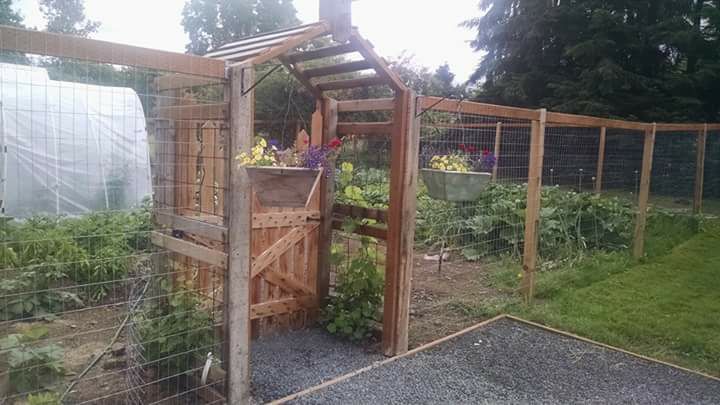 Jenni S. I have 9 raised beds, each is 3×5, it is enclosed because of abundant wildlife, if you're only asking about the beds & enclosure, mine was $2200.00, that doesn't include soil, seeds, starts, etc. my garden is 20×30, enclosed with wire fencing.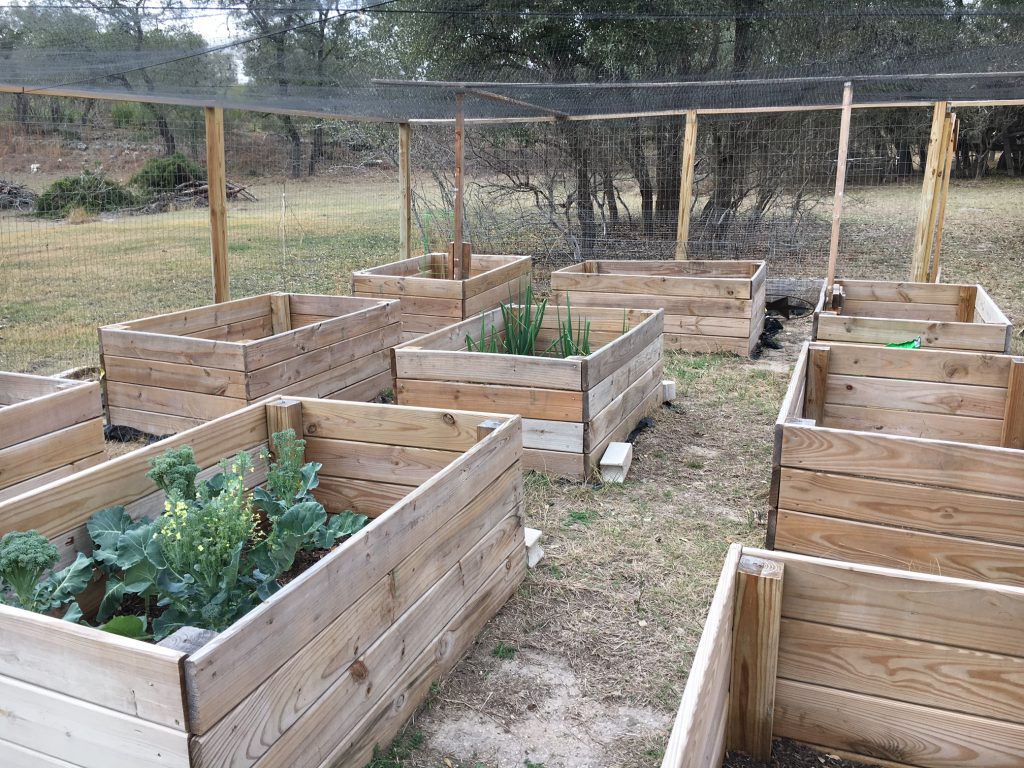 I feel it was totally worth it, as I do not have to worry about deer, raccoons, armadillos, possums, rabbits, etc. I also have the top covered in netting to keep out the birds. And the ladybugs and butterflies get in just fine for pollinating. We also dug down 2 feet with the wire to keep burrowing critters out.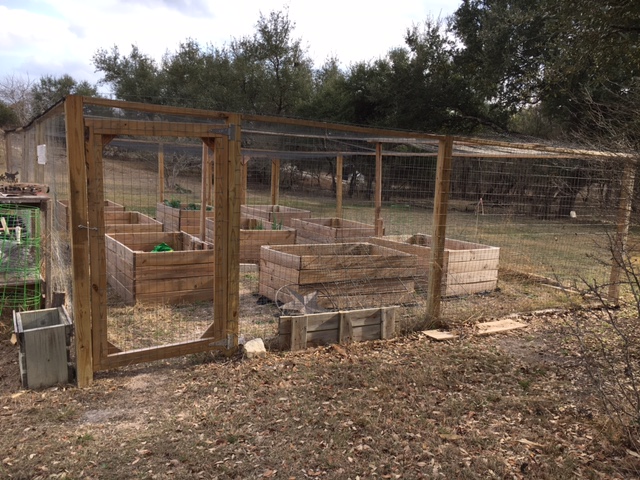 Regular Garden Bed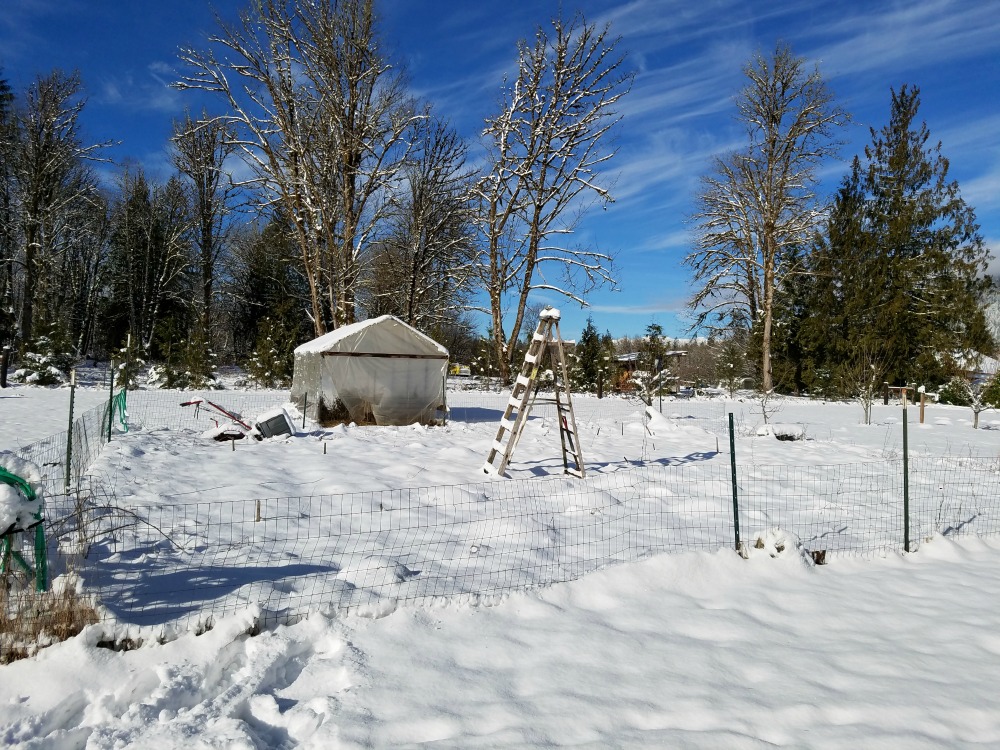 The majority of our vegetables are raised in our 35 x 35 foot enclosed garden plot pictured below. I also have a homemade green house that houses our tomatoes and peppers. The greenhouse is an old metal carport/shed frame. We purchased greenhouse plastic and fasteners for $300 and have had it up for 4 years. It's been worth every penny as I raise 18 tomatoes plants and 6 pepper plants in it, with enough for me to preserve all of our own tomato products for the entire year.
Due to deer and cattle we fence our garden in. This is a one time expense and with the metal t-posts and 3″x 2″ wire mesh gauge fencing. We purchased ours over 10 years ago but the average cost for the size of our garden and today's pricing would be about $80. We're still using the original fencing and posts we put in. Our fence isn't very high, but we haven't had any deer jump inside.
How much money do you save?
A lot. This will vary by location and current grocery prices, but our garden saves us a ton of money. Just 8 medium beets recently cost me almost $5 for organic (which is the only way we grow our vegetables so to get a true price comparison, we gotta price reference the same).
I've mentioned in the past I preserve about 400 jars worth of food from our garden and our livestock. We eat fresh vegetables and fruit throughout the growing season as well.
With just our bean and tomato crop, I save over $500 with just the canned jars of food, not counting what we eat fresh or dehydrate. We save the seeds so I don't have the expense of seeds.
With just our vegetable garden, not counting our fruit trees and plants, I estimate we save close to $1,000 on food costs a year.
Episode #84 Best Plants for Companion Planting and Preserving Secrets to Natural Pest Control
Episode #76 Best Vegetables for Small Spaces & Self-Sufficiency
Episode #75 Tips to Successfully Growing Your Own Food
a Rafflecopter giveaway