Some of the links below are affiliate links, which means I will earn a commission at no additional cost to you, if you click through and make a purchase. Regardless, I only link to products we use on our homestead or believe in.
Learning how to render lard in ten easy steps. Knowing how to render lard is like a homesteader's right of passage. It's an extremely healthy fat, despite what you may have learned growing up, and makes the most delicious pastries, flaky pie crust, and crispy fried chicken!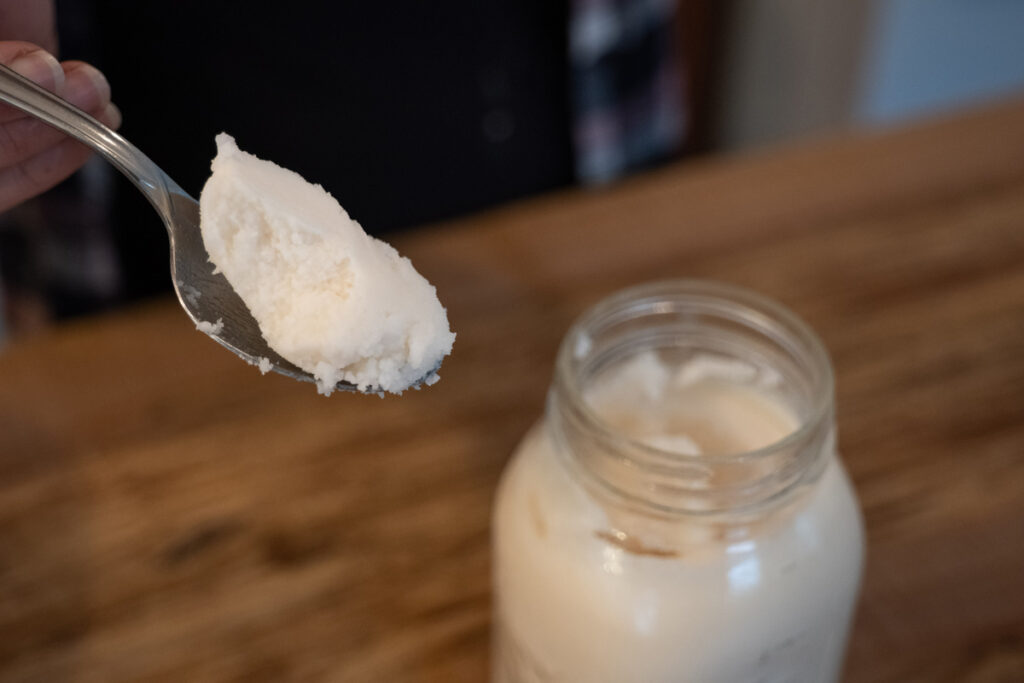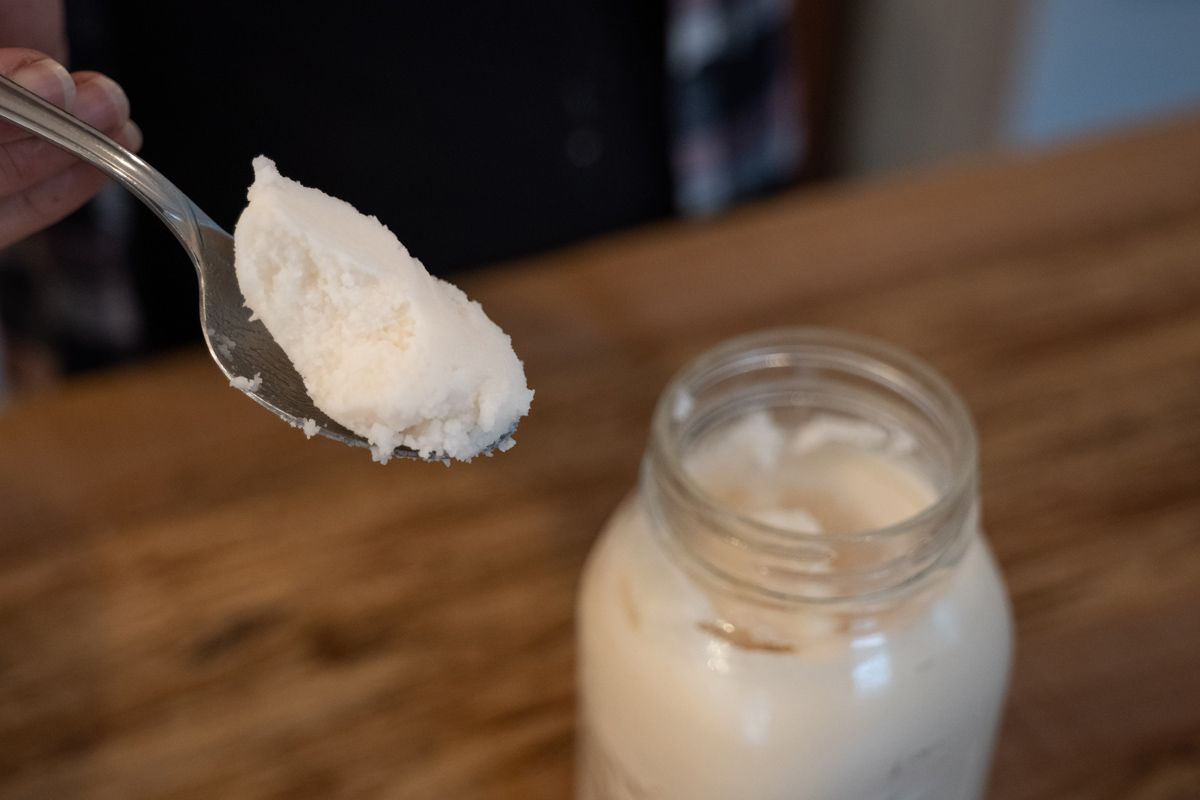 Why I Love Lard
We practice many pioneering skills at our homestead, from butchering pigs, raising beef cattle and meat chickens (a proud flock of egg-laying hens), heirloom organic gardening and seed saving, and traditional cooking and meals. But before I learned how to properly render lard I'd never saved the fat from our hogs! It almost pains me to say that!
Sure, I had saved bacon grease from the pan after cooking and poured it into a small jelly jar and stored it in the fridge for future use, but never had I rendered down the white creamy lard that's so wonderful for homemade pie crusts, hand pies (aka homemade pop tarts), flaky biscuits with layers upon layers.
Little did I know I was basically rendering lard from my bacon and collecting it on a small scale all those years, but now we do it on a larger scale. I'm happy to say that by the time we tried our hand at raising American Guinea Hogs (known for their fat production) I was well versed in rendering lard! And boy did those pigs produce a lot of it!
Lard vs. Tallow
Last month when our local butcher came to butcher the cows, I asked him for the beef fat (called tallow). He asked if I was making soap from it, and I told him I wanted it for cooking.
He was so sweet and let me know that pork lard is preferred for cooking, as beef tallow tends to have a much stronger flavor for cooking (especially for pastries). I was thrilled when he offered me some lard for free.
That was my first experience rendering lard, which is when I originally wrote this blog post back in 2013. But I've been rendering lard for over eight years now.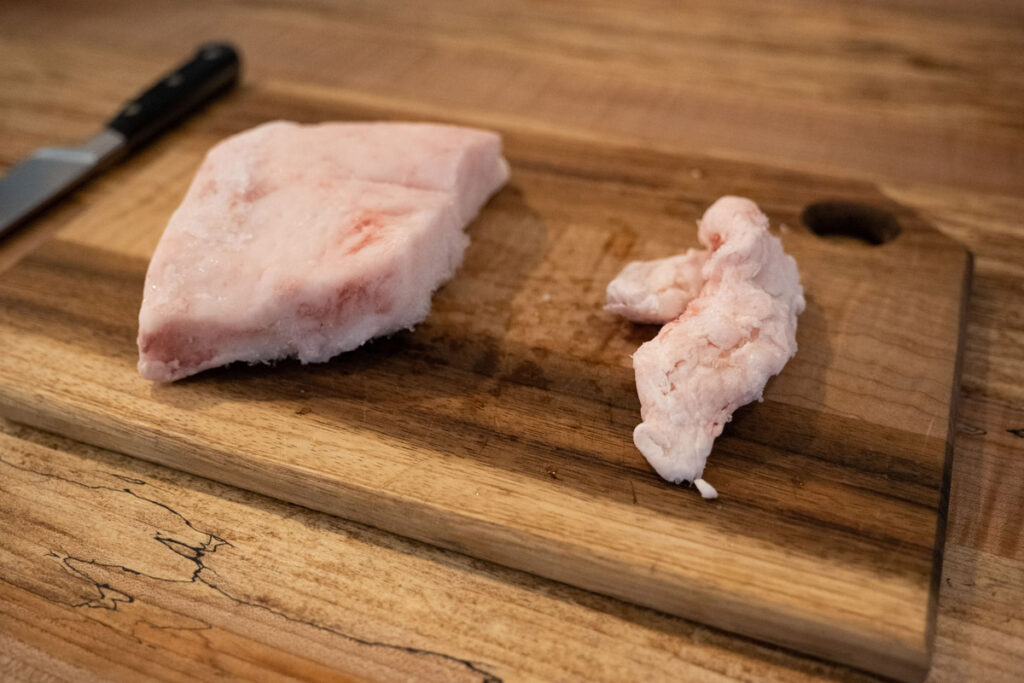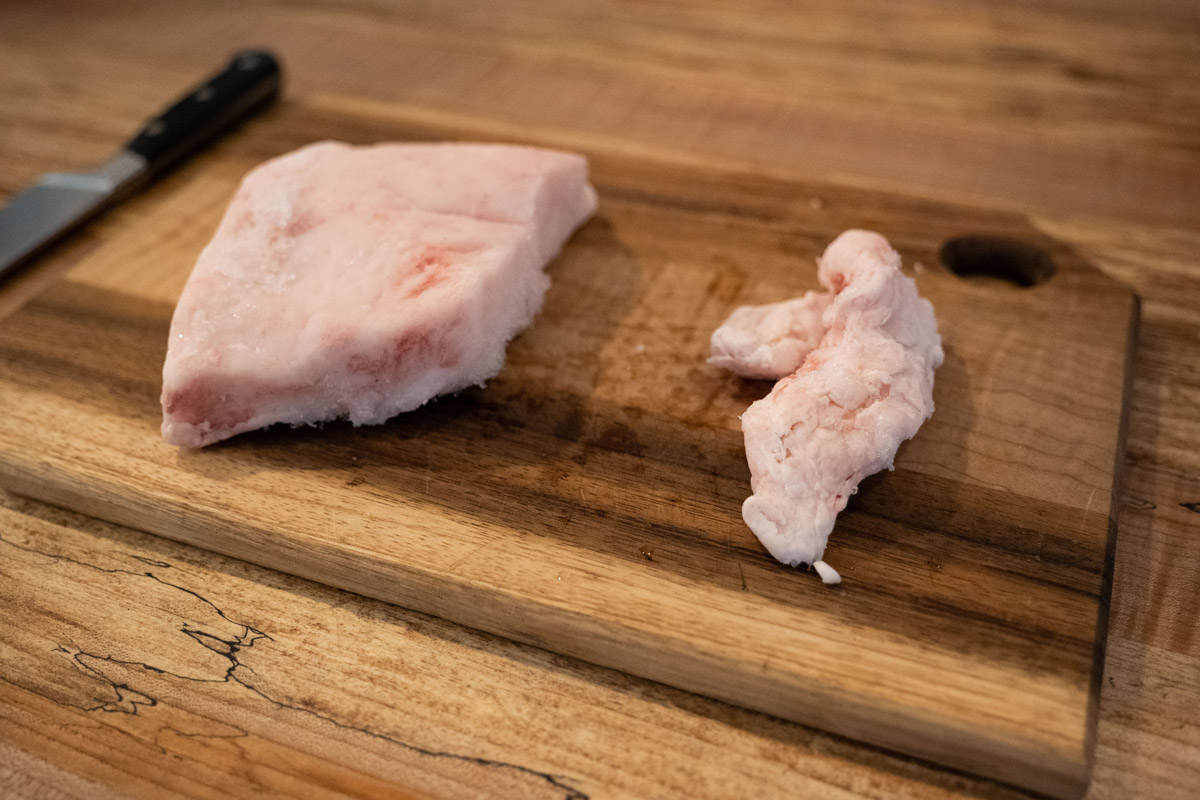 Types of Lard
There are two types of lard and it's important to know the difference as the flavor is quite different.
Leaf Lard
The lard around the kidneys and organs of the animal is referred to as leaf lard and is considered the purest form and best for baking. In the above photo, the leaf lard is on the right, it looks more ropey.
Fat Back or Back Fat
Another form of lard is the back fat of the animal. The first time I got lard from the butcher it was all mixed together. (But not to worry, there's a way to make it work for both baking and general cooking/frying.) In the above photo, the fat back is a larger solid piece of fat.
If you can, I recommend requesting your butcher separate the types of fat so you know what you're rendering and how you'll use it.
Pork Belly
Pork belly is part of the pig that's been growing in culinary circles for its incredible flavor! The pork belly is the fat right alongside the bacon and it tends to have quite a bit of meat intertwined with the fat.
You could render it down, but I wouldn't recommend it because pork belly is so yummy when cooked just right!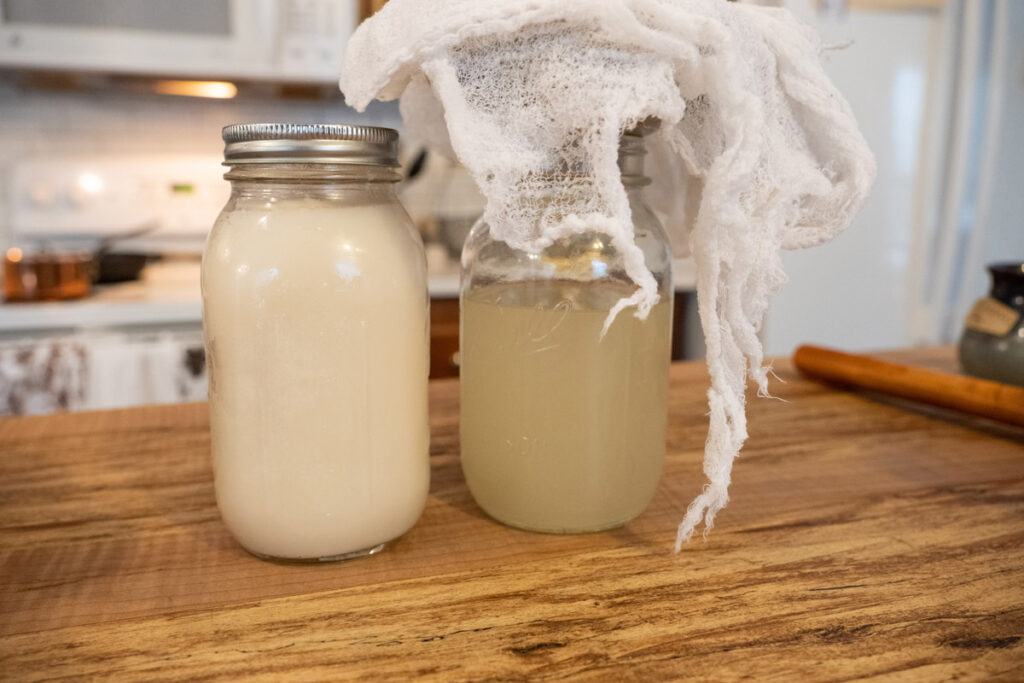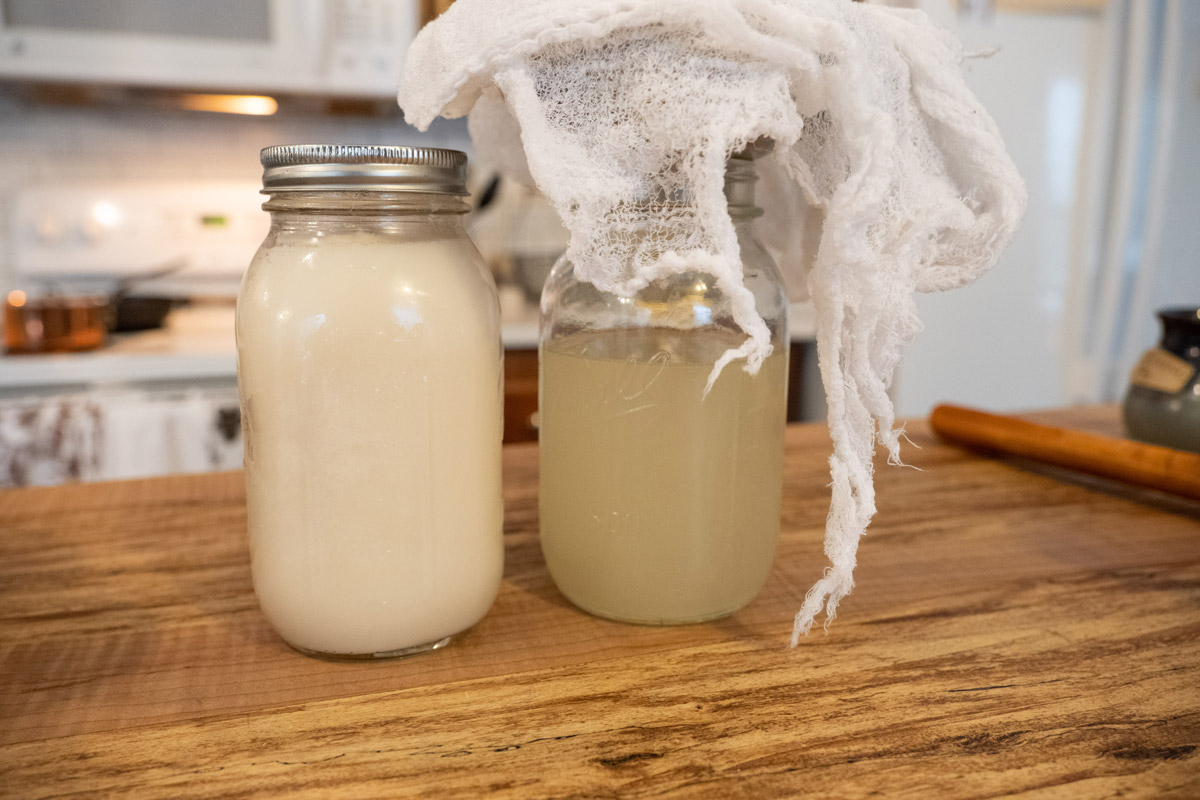 Results of Different Renderings
When rendering lard I break it up into three different renderings. You can think of the process in thirds. The first third of the lard that melts is the first rendering, the second third is the second, etc.
I'll explain the differences in flavor and how I like to use them below:
First Rendering
The first part of the rendering is going to be the pure white lard that is excellent for baking.
This will have the least amount of "porkiness" in flavor which is why it's best for pastries, pie crusts, cookies, etc.
Second Rendering
With the second rendering, the flavor will have a bit more porkiness, but not overpowering. It's a more desired flavor which is why I'll use that lard for items like making my homemade 5-minute crackers or homemade tortillas.
Third Rendering
With the third rendering, the pork flavor will be much more pronounced. This is the lard I will use for cooking savory foods like fried chicken and sauteed vegetables. Dishes that will benefit from that added flavor.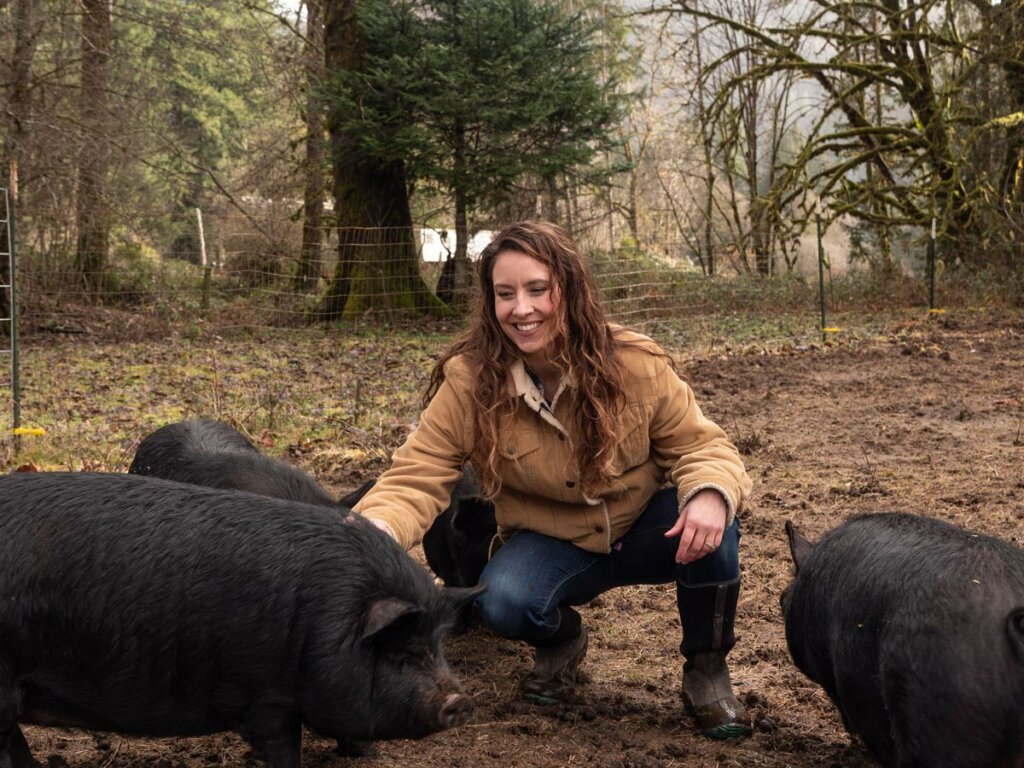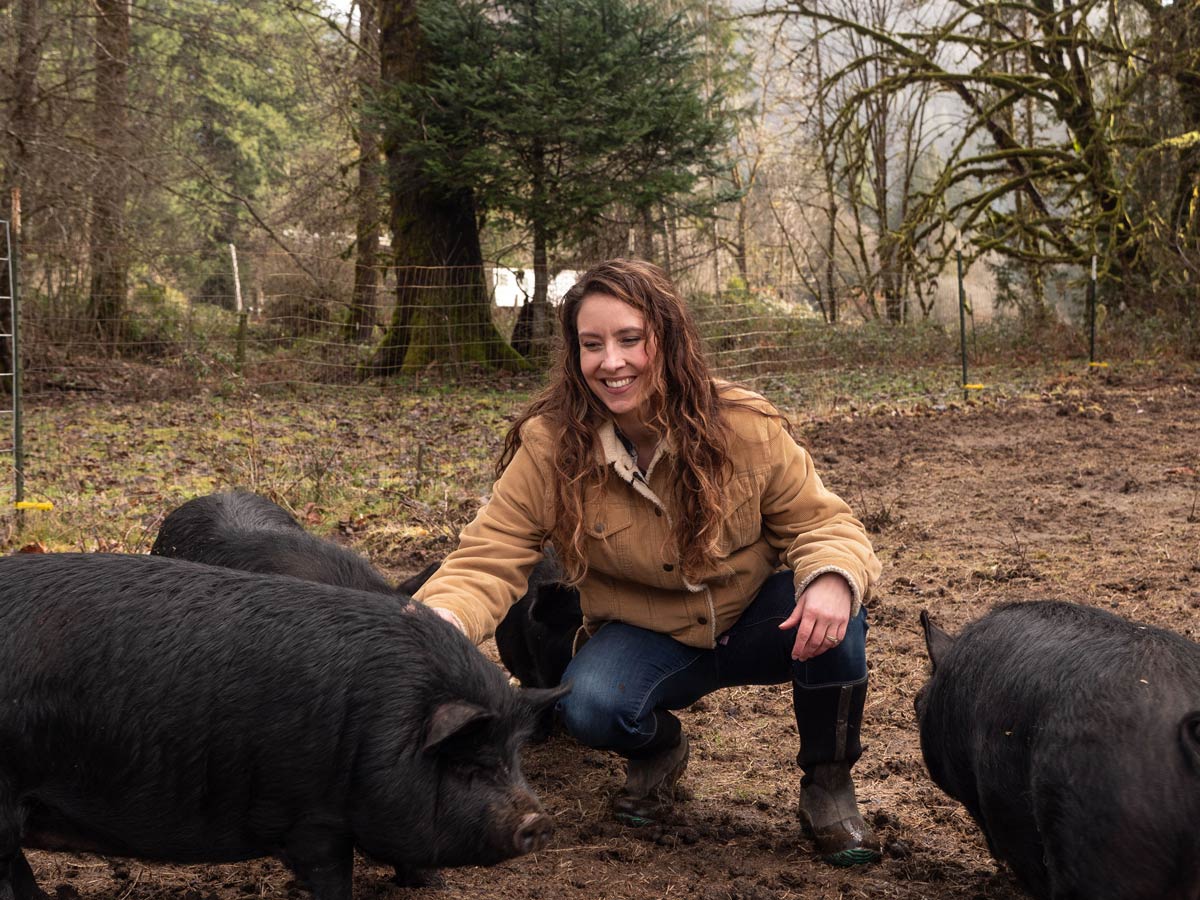 Is Lard Healthy?
You may be wondering why I would want to render lard to use in cooking and baking. Despite popular myth, lard is not bad for you. It's actually a source of healthy fats when used in moderation.
Let's first put to rest the myth that fat is unhealthy and low-fat is the way to go.
When you have organic pasture-raised pork (or any meat for that matter), you're getting meat that's high in vitamin d as well as omega 3 fatty-acids rather than a high ratio of omega 6.
As we know, getting too many omega 6 fatty acids without omega 3s is very unhealthy. Having a diet high in healthy fats is one of the best things you can do for your health.
Lard is much preferred over the GMO-laden shortening (I'm looking at you Crisco) and vegetable/canola oil found on store shelves. This article explains the top 3 reasons you should be using lard.
We now raise pigs about every other year and I keep all the fat from them. I use organic butter and coconut oil when baking, but the cost of it can be expensive. The lard was free and after rendering down five pounds of it, I ended up with two pints and almost one full quart. Compared to organic coconut oil, that's a savings of $20.
Plus, I love adding more lost traditions to our home. Now I can use my great-great-grandmother's cookbook and know how the recipes are supposed to taste with the lard. Want more old-fashioned tips and tutorials? Check out The Made-From-Scratch Life!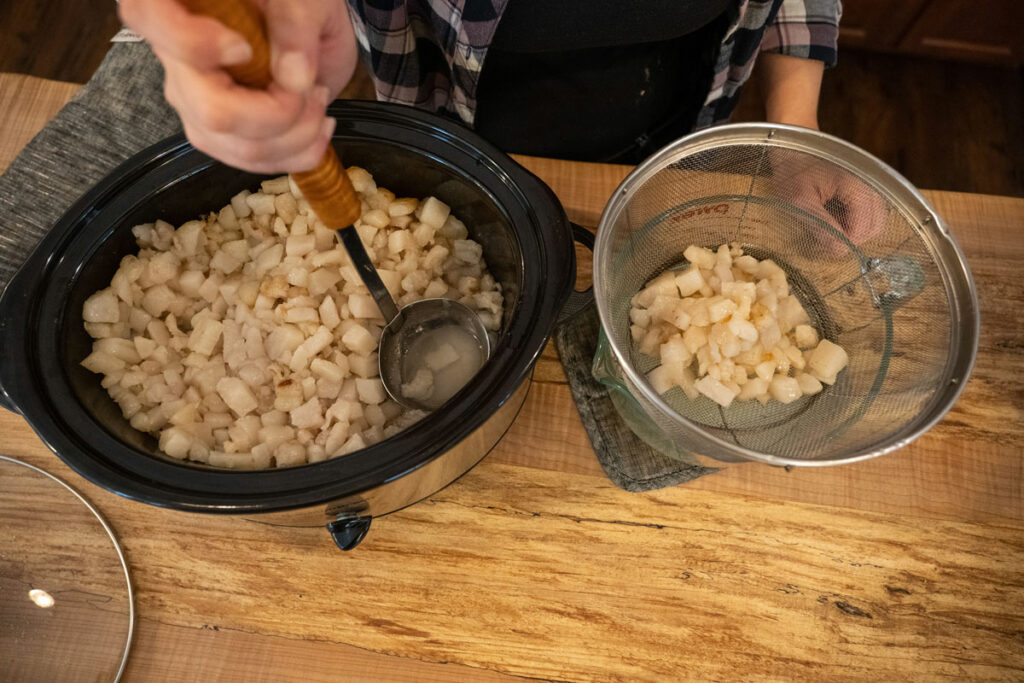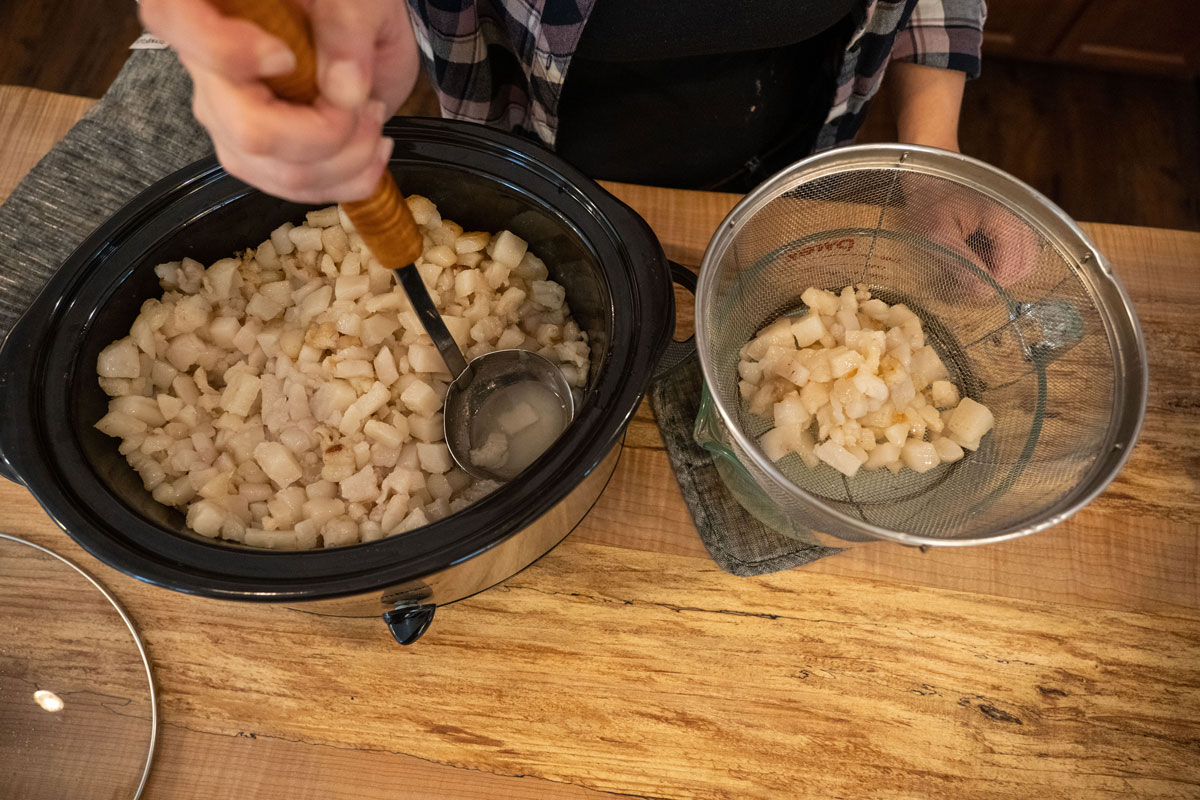 How to Render Lard
I prefer using the slow cooker method when rendering lard. I've tried rendering lard multiple ways including the stovetop and outside on a cookstove, but I like using the slow cooker the best because I feel like there's less chance for scorching or a burnt flavor in the end result.
This also eliminates the possibility of tying up my stovetop if the process is happening during dinner time (and avoiding possible grease splatter).
1. Freeze the Lard
When rendering lard, it's easiest to work with if you freeze it first. Allow it to partially thaw for about two hours on the kitchen counter so you can at least cut through it.
I actually store my lard in the freezer until I'm ready to render it down. Last year we raised and butchered five pigs and only one other person wanted their lard, so we have an excess! It does take up quite a bit of freezer space, but it's worth it to me not to have to worry about it until I have the time to render it down.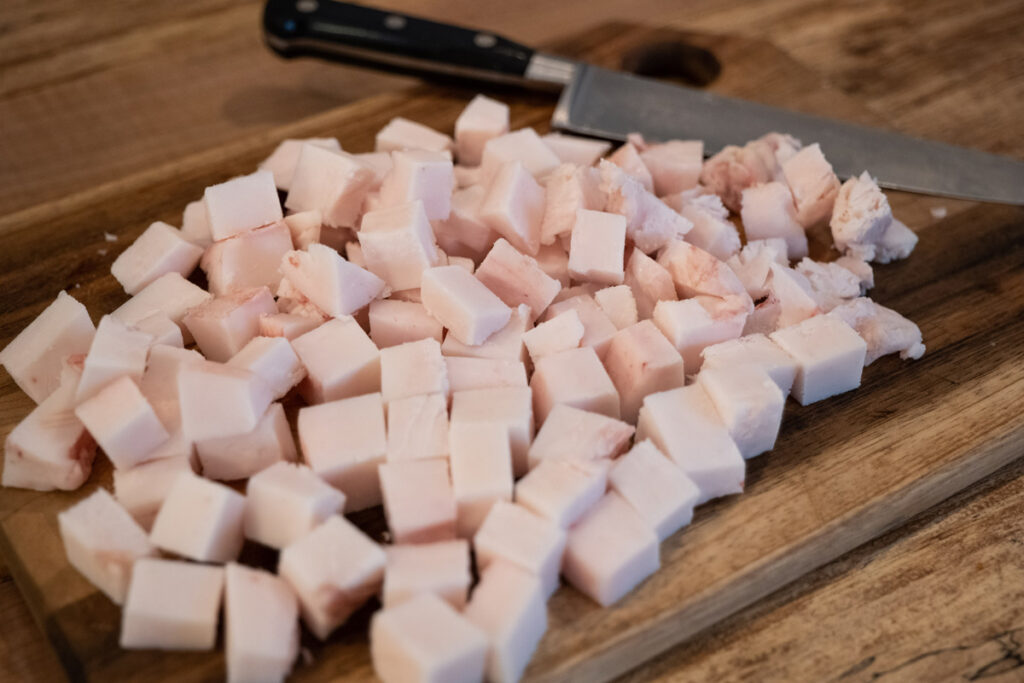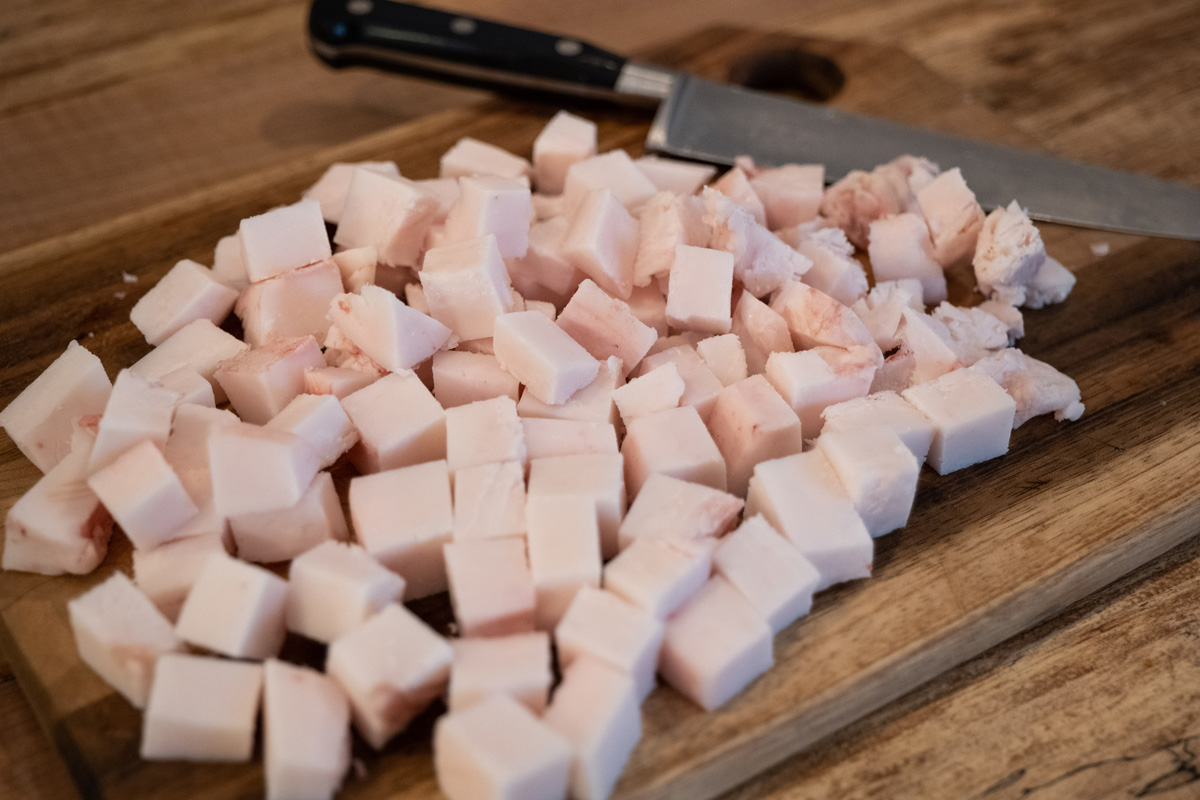 2. Chop the Lard
Chop the lard up in 1-2 inch cubes. You want the pieces of fat to be uniform in size to avoid scorching and uneven cooking. And the pieces should be small so they'll release the oils.
Some people will ask the butcher to grind the fat up first, but I've never bothered with this and the small cubes seem to work just fine. Either way would work.
While chopping the lard, your knife and cutting board will become slick, so use caution.
3. Add Water to Slow Cooker
Put 1/4 cup water in the bottom of your slow cooker. This is to prevent any scorching as the fat is starting to melt. The water will cook off during the rendering process.
4. Add Lard to Slow Cooker
Fill your slow cooker to the very top with the cubes of lard, really heap it in there but just be sure you can still secure the lid.
The lard will cook down and you really want to make your time count, so pack it full!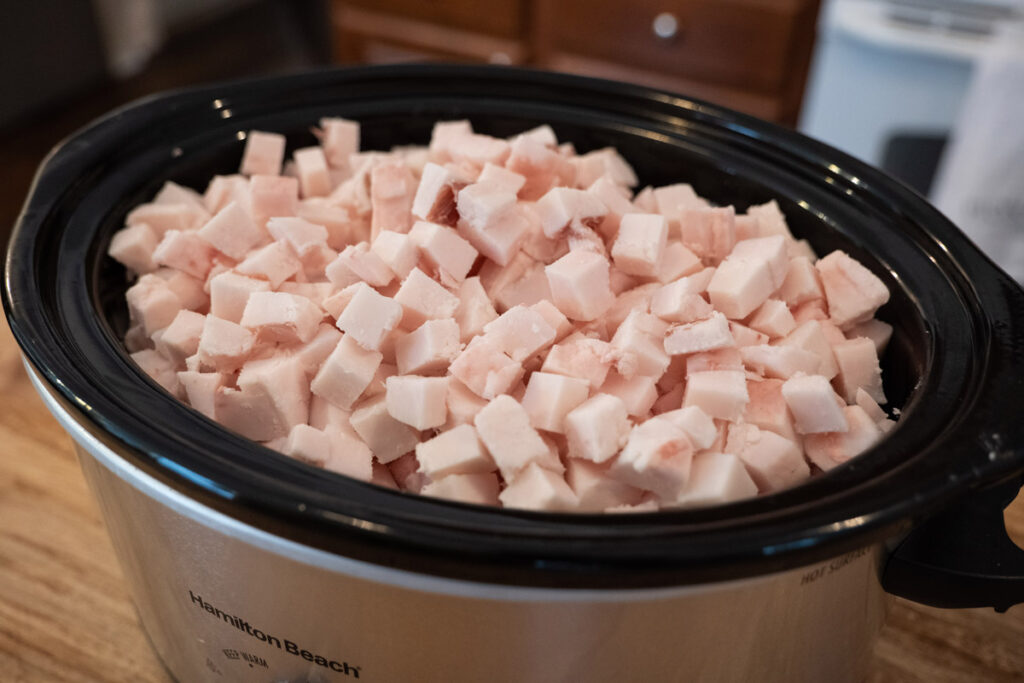 5. Cook Lard
Turn the slow cooker to high and cook for 30 minutes, then turn the slow cooker down to low for the remainder of the time.
You may need to leave your slow cooker on high for upwards of 60 minutes depending upon the temperature of your slow cooker's high setting. Mine tends to run a bit hot, so after 30 minutes it's ready to be turned to low.
What you're looking for is the very beginning of melting. The lard will get shiny and turn from slightly pink to white around the edges of the pot.
Keep an eye on it and once it starts to melt, turn the slow cooker to low.
6. Stir Every 30 Minutes
It's important to stir the lard every 30 minutes to evenly distribute the heat and avoid the outside pieces from burning.
Check on your lard after 20 minutes, just in case your low setting on the slow cooker runs hotter than mine. You might hear some sizzling, this is a good sign it's time to stir.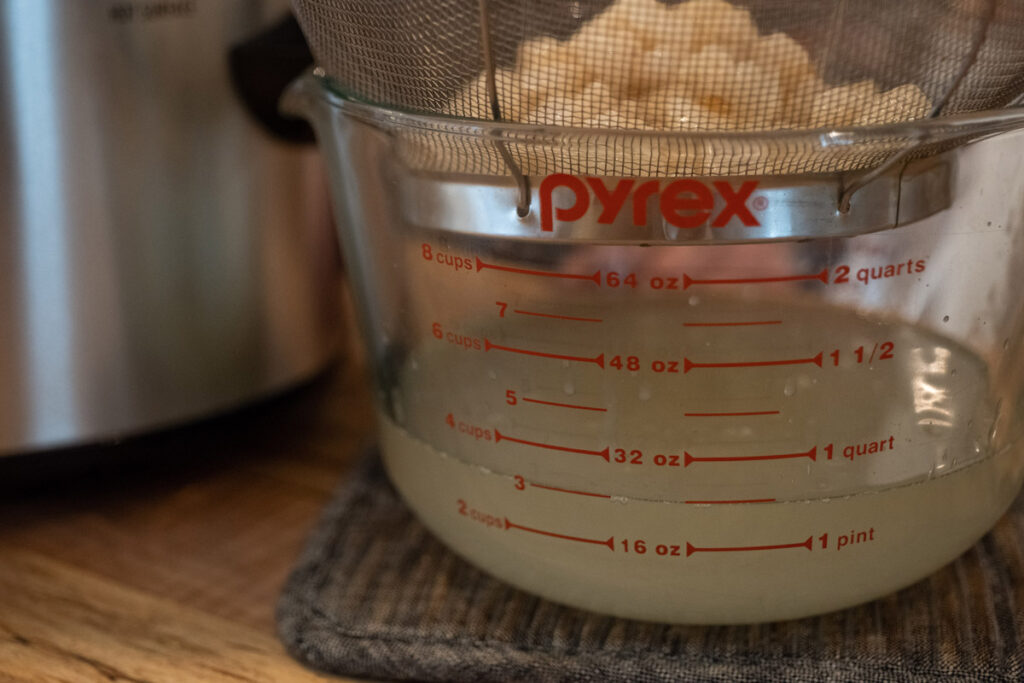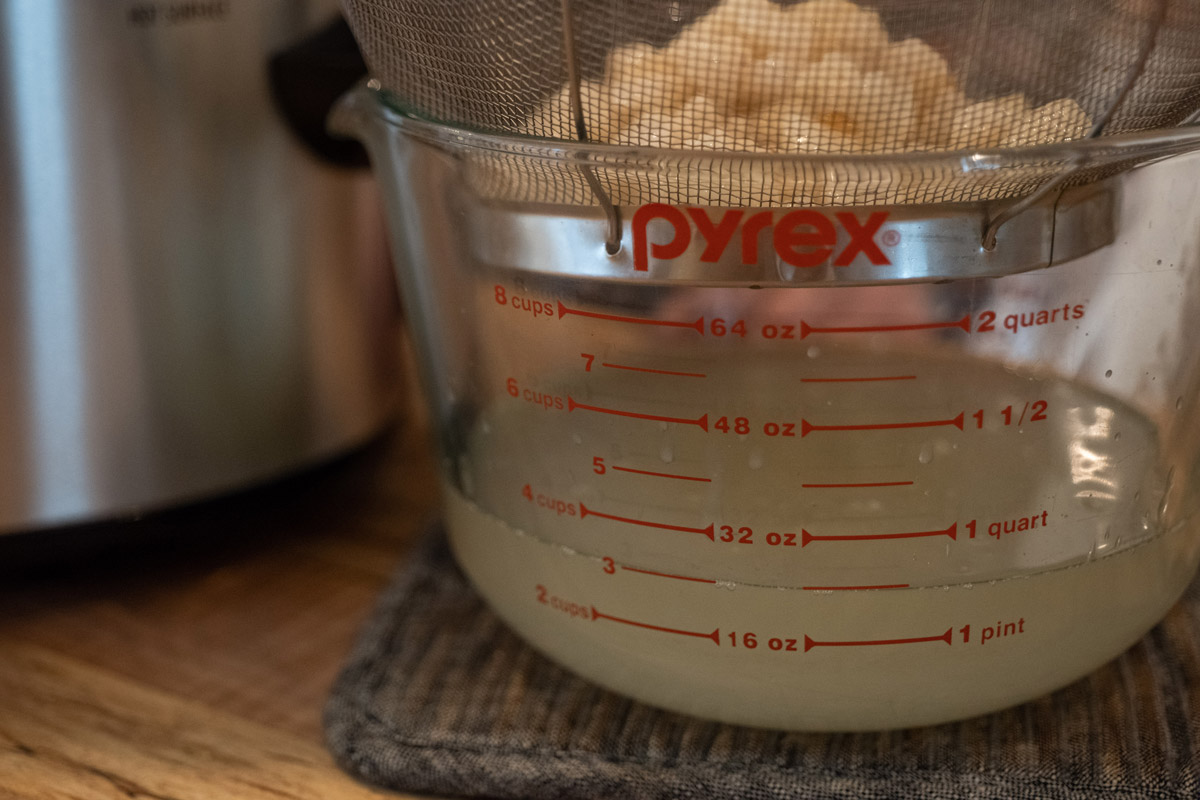 7. First, Second, and Third Rendering
Once the liquid reaches the top of the lard, you're ready for the first rendering.
Depending upon the amount of lard you're rendering, the time it takes for this to happen will vary. I did four quarts at once and it took almost three hours for the first rendering.
Place a strainer, or sieve, lined with a layer of cheesecloth over a large bowl. Using a ladle, pour the rendered lard through.
Any solid pieces of lard can be placed back into the slow cooker to continue rendering.
After the first rendering, you can remove the lid to allow any water to evaporate.
You'll render the "second" rendering when you have enough liquid fat melted again (about 2 to 3 inches) to drain off.
The third rendering is the same when the rest of the fat has melted and you've got a few inches of liquid melted fat.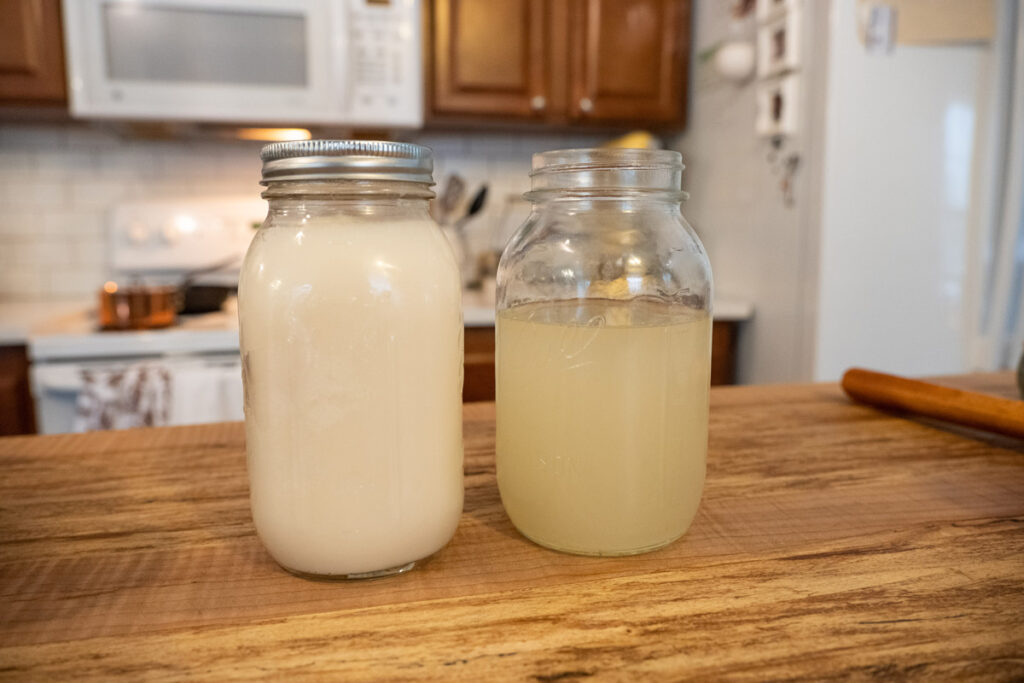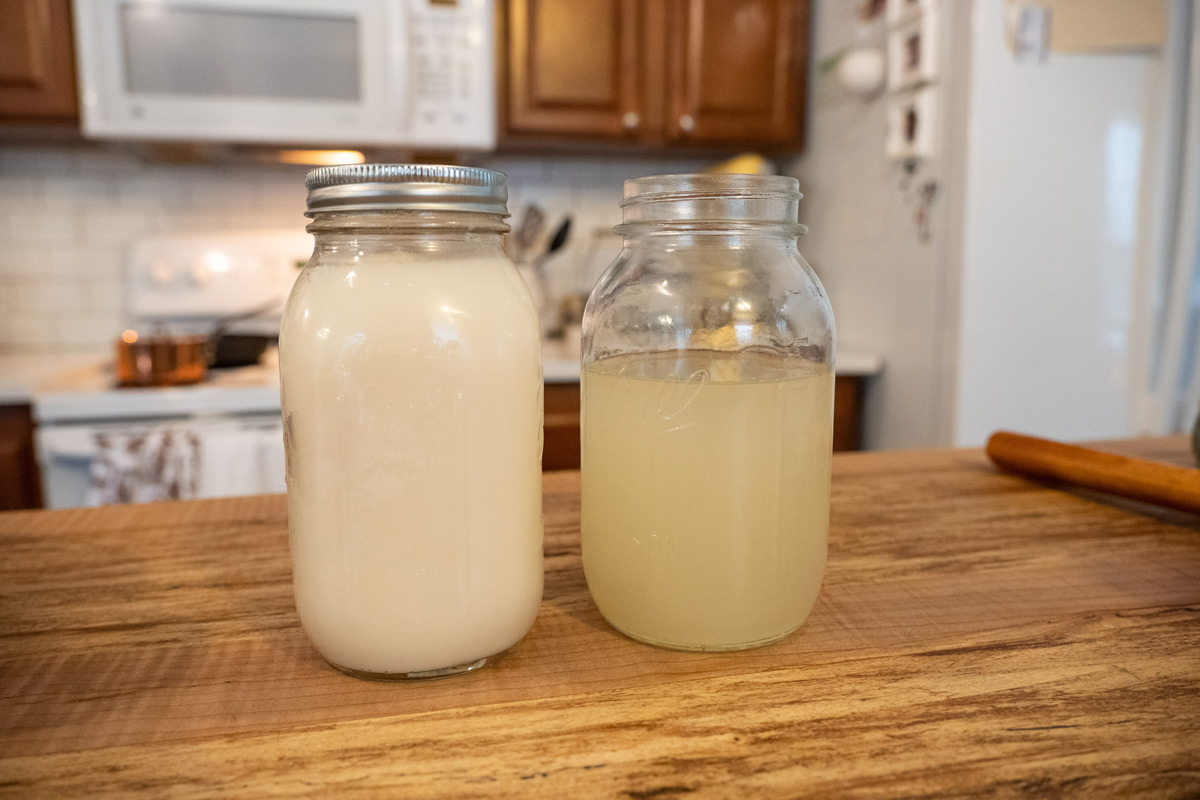 8. Cool Lard
Be sure to wipe down the outside of the jars to remove any grease residue. Then allow the lard to continue to cool to room temperature before putting on lids and placing them in the fridge.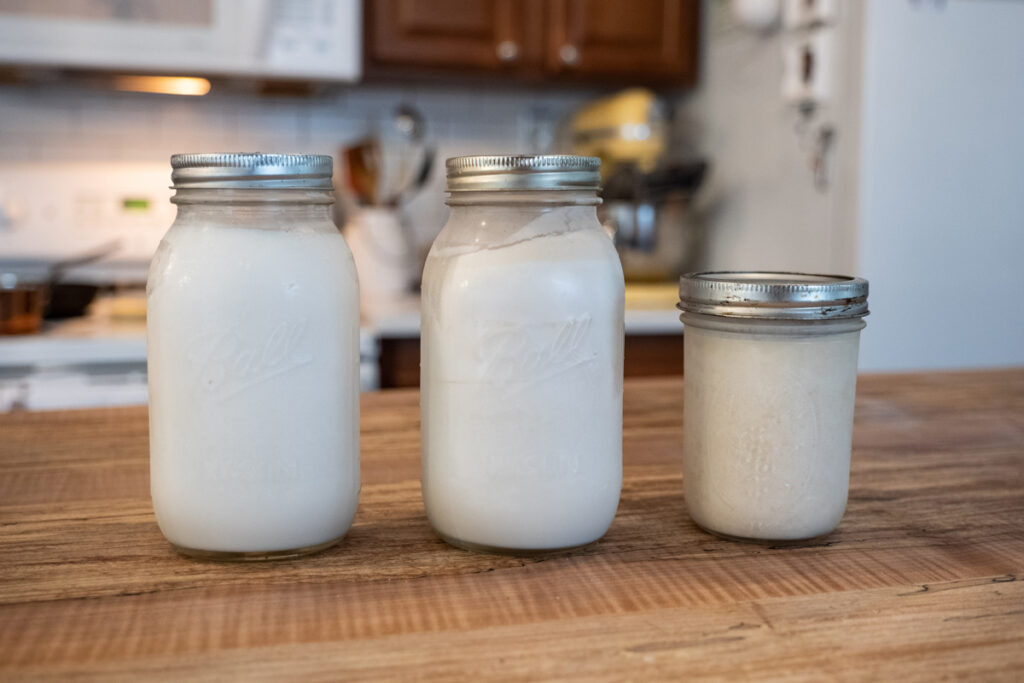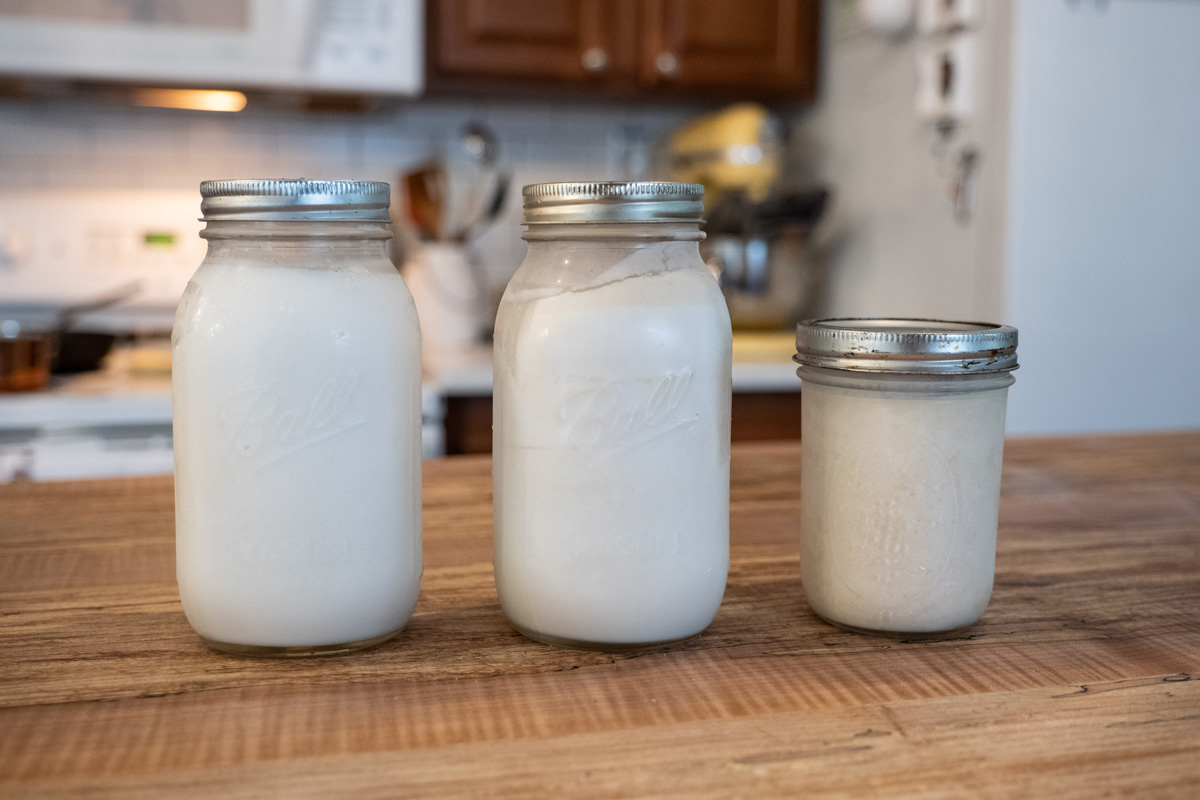 9. Label Jars
Be sure to mark your jars with which rendering it is so you know which jar to grab depending on what you're using it for.
As a reminder, your first rendering is the purest. It will have virtually no pork flavor and is perfect for baking pastries, cookies, and cakes. Once solid, the first rendering will be snow white.
The second rendering will be slightly darker in color and is still fine for biscuits, pie crusts, cornbread, and more savory-type dishes.
The third rendering will be the darkest and is best used as cooking oil for frying dishes. This rendering lard will have the most pork flavor.
All of the renderings will be a golden-yellow color in their liquid form but will turn white as they cool.
10. Store
For best results, store your lard in the refrigerator. Lard should be fine on the shelf, but I prefer to store mine in the fridge to avoid any of my hard work turning rancid.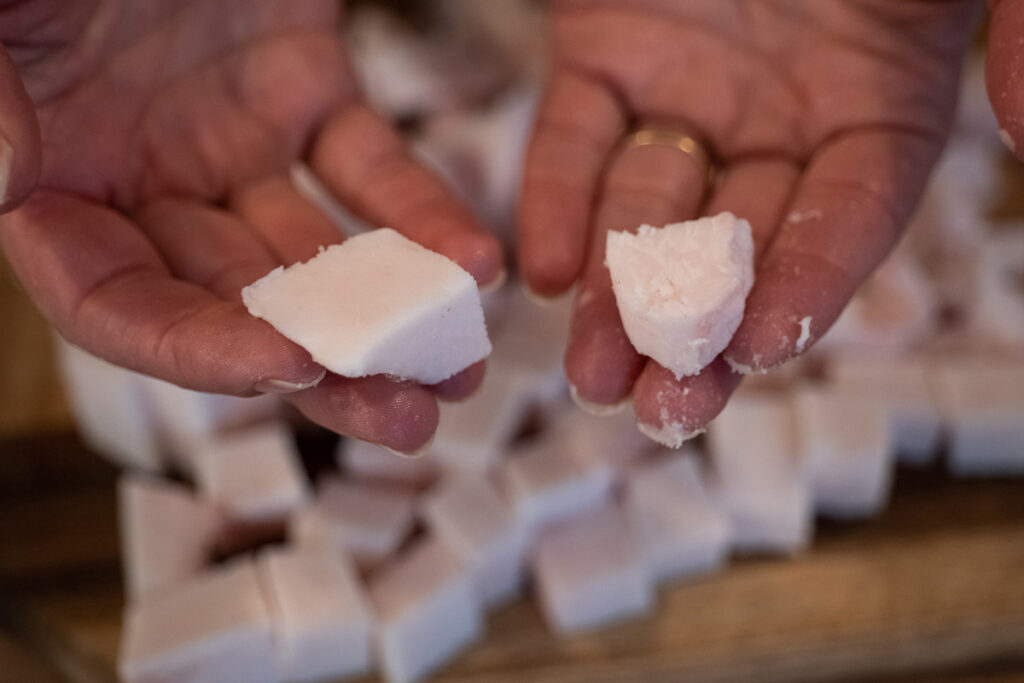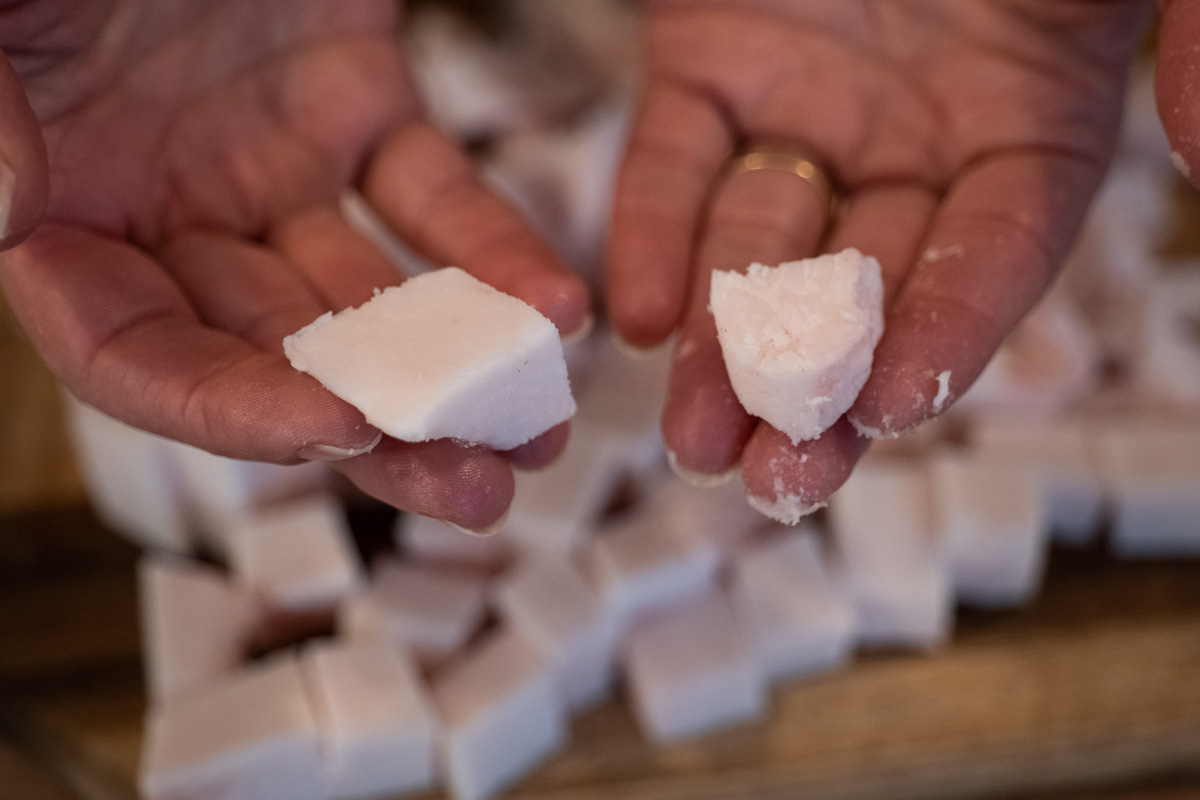 How to Render Lard in the Oven
If you don't have a slow cooker, you can render your lard down in the oven. Preheat the oven to 250-300° F and follow the process just the same using an ovenproof stockpot.
The entire process takes about 8 hours, which is why I prefer to use the slow cooker so my oven isn't on an entire day.
How Long is Lard Good For?
Lard is good in the fridge for up to a year. Do take care when scooping lard out that you're using clean utensils. If the jars get contaminated, this could cause early spoilage.
For longer shelf life, keep the extra jars of lard in the freezer until needed. They are good for at least a year or two when frozen. Simply defrost on the counter overnight (or in the refrigerator for a couple days) when ready to use.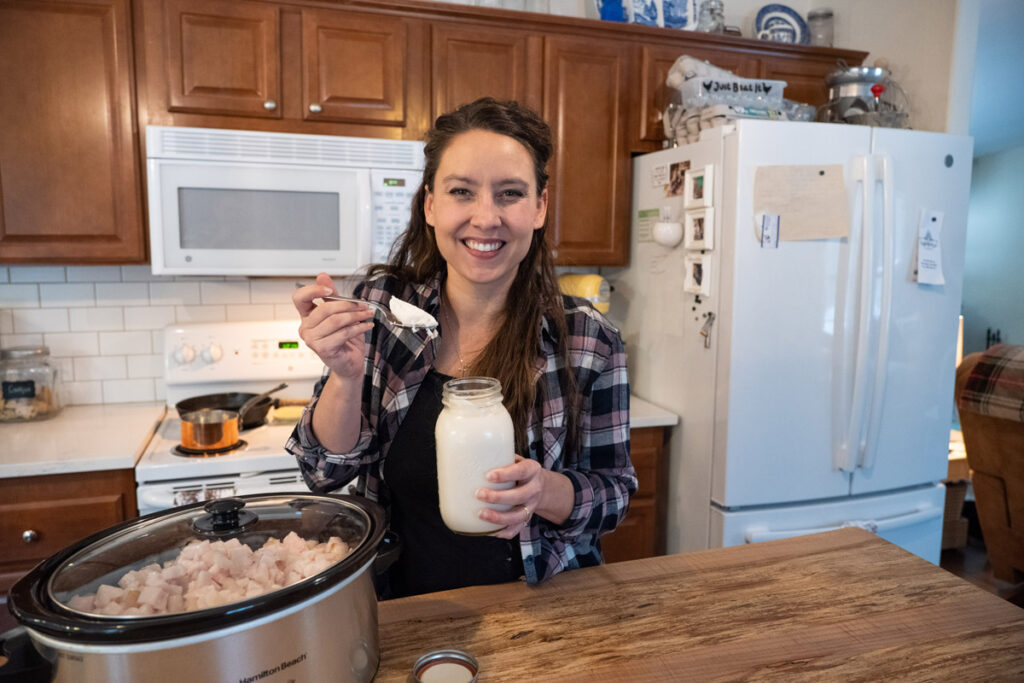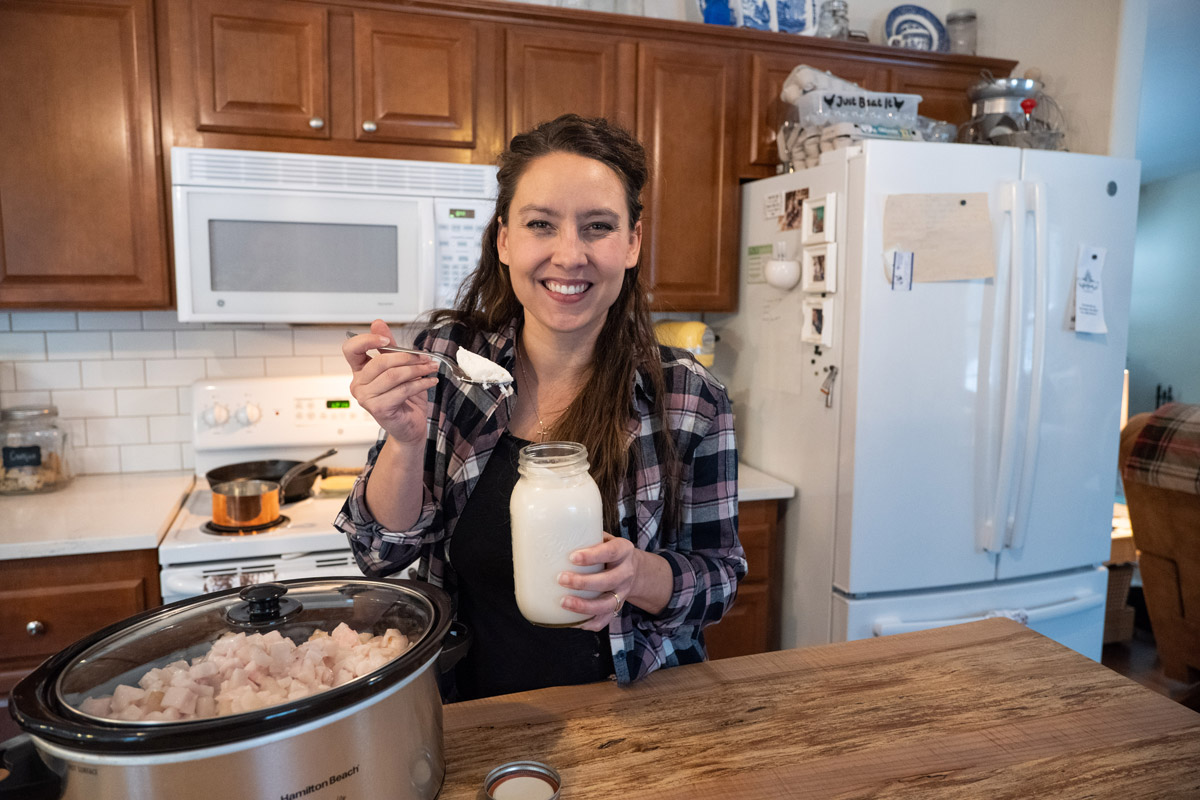 How to Use Lard
Use your lard in place of shortenings, butter, and oils. I make my biscuits with lard on occasion and they are amazing! Using lard in pie crusts will help give you the flaky crust we all want in a pie. Lard also has additional uses around the homestead such as candle making and seasoning cast iron pans.
How to Eat Cracklins
I was surprised at how far the lard rendered down. I went from a full slow cooker to a single cookie sheet of leftover cracklins.
I baked them at 350° F for 20 minutes to use in place of bacon bits and as a flavoring in beans and on top of soups.
Depending upon the amount of lard you're rendering, the time it takes for this to happen will vary. I did four quarts at once and it took almost three hours for the first rendering.
Depending upon the amount of lard you're rendering, the time it takes for this to happen will vary. I did four quarts at once and it took almost three hours for the first rendering.
Did you make this recipe? I'd love for you to let me know how it went for you by leaving a comment below, then leave a star rating on the recipe card! Snap a photo and tag me on social media so I can see @melissaknorris. I love seeing what all you Pioneers are up to!
Be sure to also follow me on Pinterest, Instagram, Facebook, and my YouTube channel where I share many more modern Pioneer-lifestyle tips, gardening tips, and tutorials, as well as other homesteading knowledge I've gleaned in my 20+ years as a homestead gal.
Other Posts You May Enjoy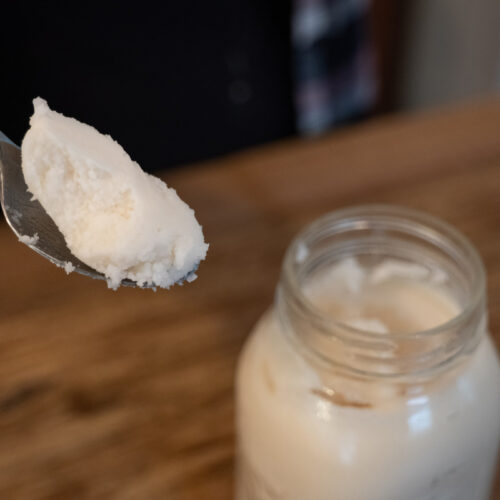 How to Render Lard
Learning how to render lard in ten easy steps. Lard is an extremely healthy fat and makes the most delicious pastries, flaky pie crust, and crispy fried chicken!
Equipment
Slow cooker

Large glass measuring cup

Ladle

Colander

Cheesecloth
Ingredients
4

quarts

lard

cubed

1/4

cup

water
Instructions
If your lard isn't frozen, go ahead and pop it in the freezer for a few hours to harden up. If it's frozen solid, leave it at room temperature for a couple of hours to soften a bit. We're looking for slightly frozen lard.

Chop the lard into 1-2 inch cubes. Try to keep all pieces uniform in size.

Add 1/4 cup water to the bottom of slow cooker.

Add cubed lard to slow cooker and turn to high.

Cook on high for 30 minutes, or just until lard is beginning to melt and pieces look shiny.

Give the lard a stir and turn slow cooker down to low.

Continue stirring every 30 minutes.

Once liquid reaches the top of the cubes of lard (after approximately 3 hours), it's time to get your first rendering.

Place strainer, or sieve, lined with a layer of cheesecloth over a large bowl. Using a ladle, pour the rendered lard through.

Any solid pieces of lard can be placed back into the slow cooker to continue rendering.

Let liquid lard cool for about ten minutes, then carefully pour into quart-sized mason jars.

Continue this process three times, pouring each rendering into different jars and labeling them as "first", "second", or "third" so you know how to cook with them.

Allow lard to cool completely in the jar before adding a lid.

Store lard in the refrigerator for up to six months and in the freezer for a year.
Notes
You can render lard in the oven by following the steps above and, in an oven-safe stockpot, rendering the lard at 250-300° F.
Storing lard in the refrigerator will prolong the shelf-life.
Properly rendered lard is shelf-stable at room temperature but is susceptible to going rancid if there's any cross-contamination.
Be sure to use clean utensils when scooping lard out of the jar.
Nutrition
Serving:
1
Tablespoon
Calories:
133
kcal
Fat:
15
g
Saturated Fat:
6
g
Polyunsaturated Fat:
2
g
Monounsaturated Fat:
7
g
Cholesterol:
14
mg
Sodium:
1
mg
Calcium:
1
mg