Homemade peanut butter in less than 5 minutes. Yes, for reals. Why has no one ever told me making homemade peanut butter was so easy and so delicious?
I mean it's almost like a whipped butter, not heavy and separated out like the natural butters at the store. And no high fructose corn syrup, sugar, or other weird additives or extra hydrogenated GMO oils. Nothing but pure peanuts, my friend. Pure whipped luscious creaminess.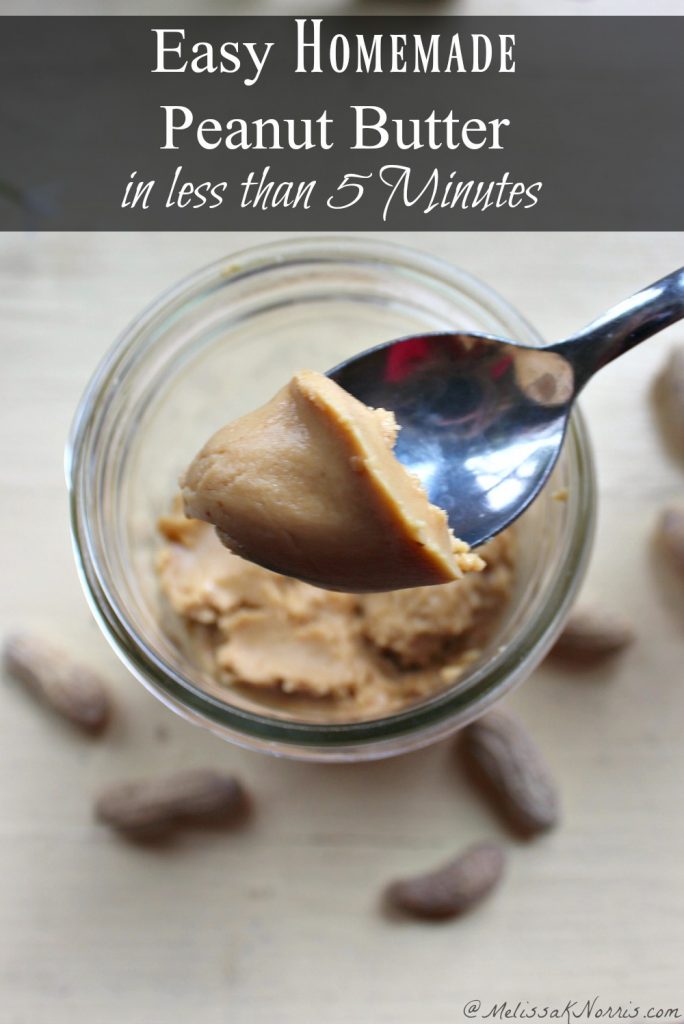 Seriously, if you've never made homemade peanut butter before, you have to. And if you have made homemade peanut butter before, you're required to share this recipe and tutorial with everyone else so they can be part of the delicious cool crowd, too. Good friends share, right? (And sometimes they hide a little jar up in the cupboard behind the baking powder just for themselves)
How to make healthy peanut butter
If you look at regular jars of peanut butter, they have high fructose corn syrup as a main ingredient. Ain't touching that stuff with a ten foot pole and neither are my kiddos. But it kind of drives me batty to constantly stir in or flip the jar of the natural peanut butters. I want need that creamy goodness kind of peanut butter.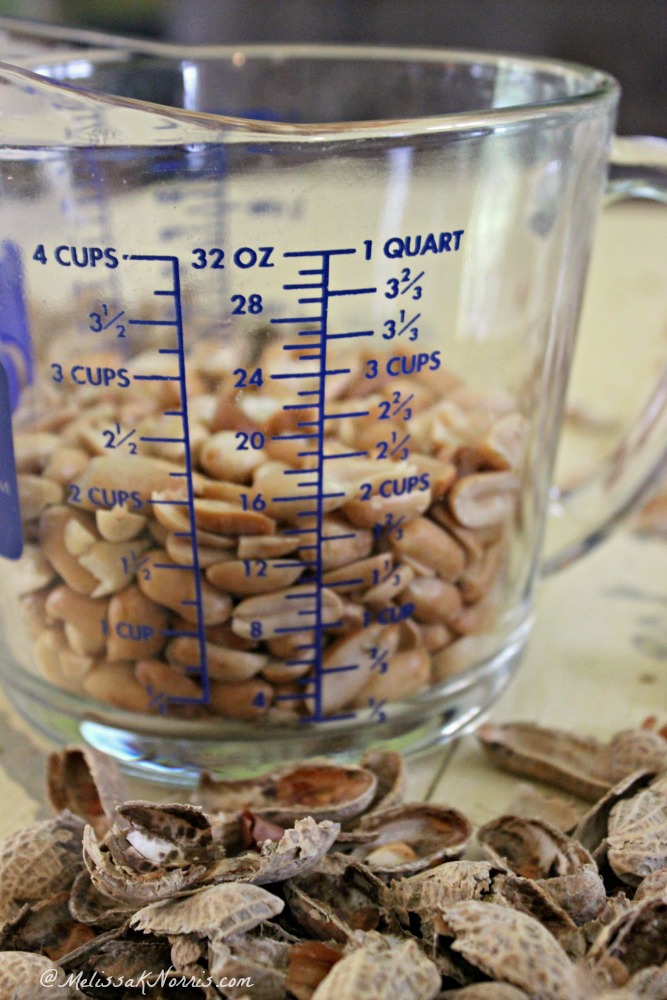 I had a bag of peanuts just sitting patiently up in the cupboard for me to do something with it. We'd been taking our time cracking and snacking on them, but then we ran out of peanut butter… and my frugal homesteading, we're using up our food storage items first mindset kicked in.
And this super quick, even better than the store peanut butter was made. To be even faster, you could use already shelled peanuts. , But if the kids need something to do, set 'em up with some peanuts to shell.
How to Make Homemade Peanut Butter without oil
Dump shelled peanuts (we had 2 cups for this first batch) in a food processor or a high powered blender. Seriously, my food processor does amazing stuff in the kitchen, like chopping all the salsa ingredients when we're canning it up by the canner load.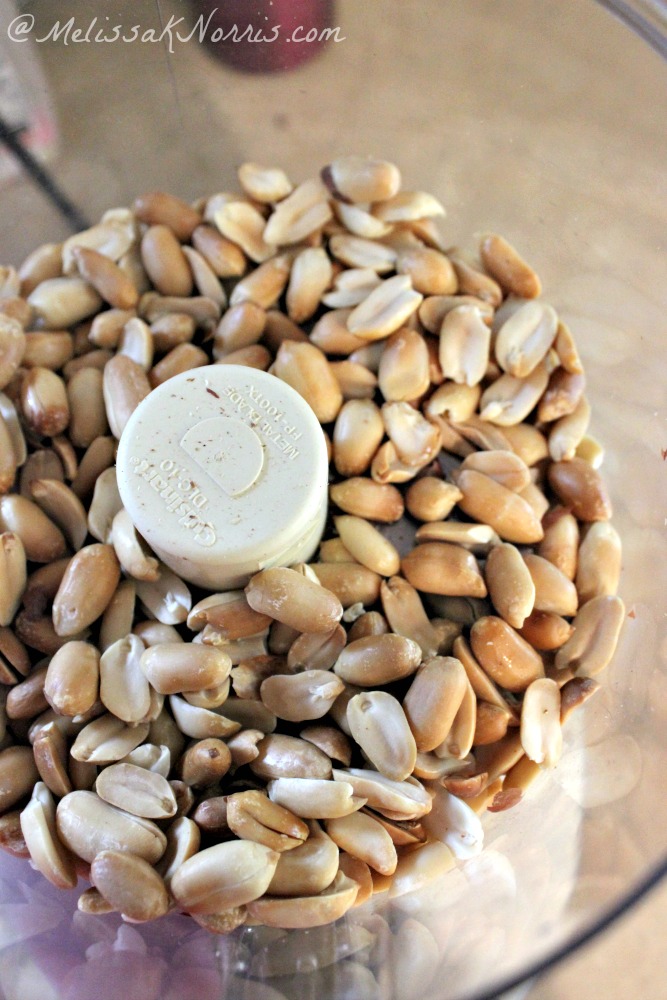 Turn it on and let it go until the peanuts resemble flour, all dry and crumbly like.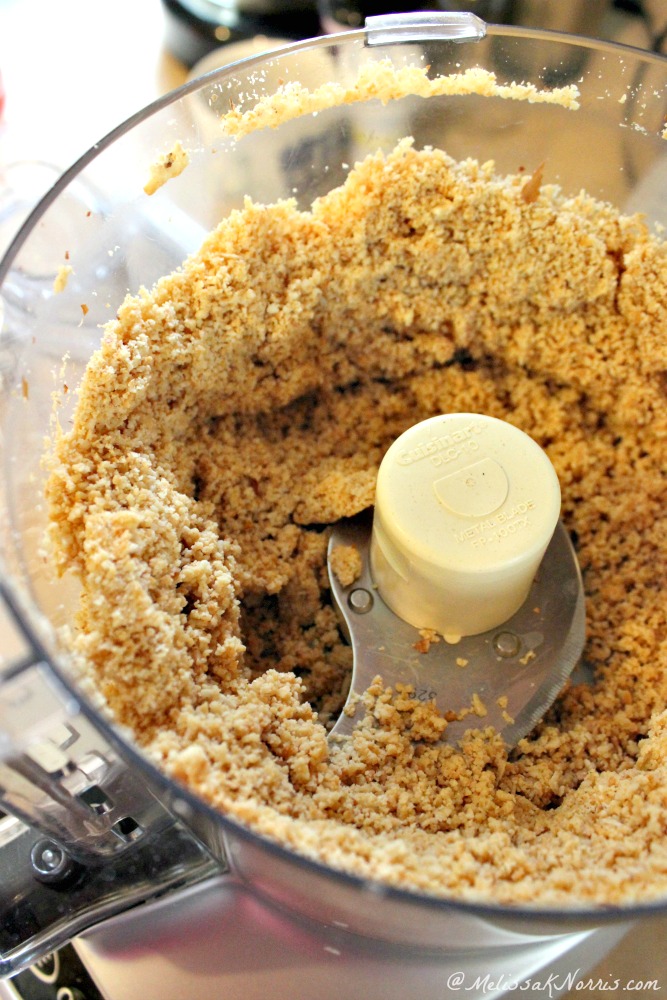 Then let it go for just another minute or two and you will see the magic happen, it will begin to cream together.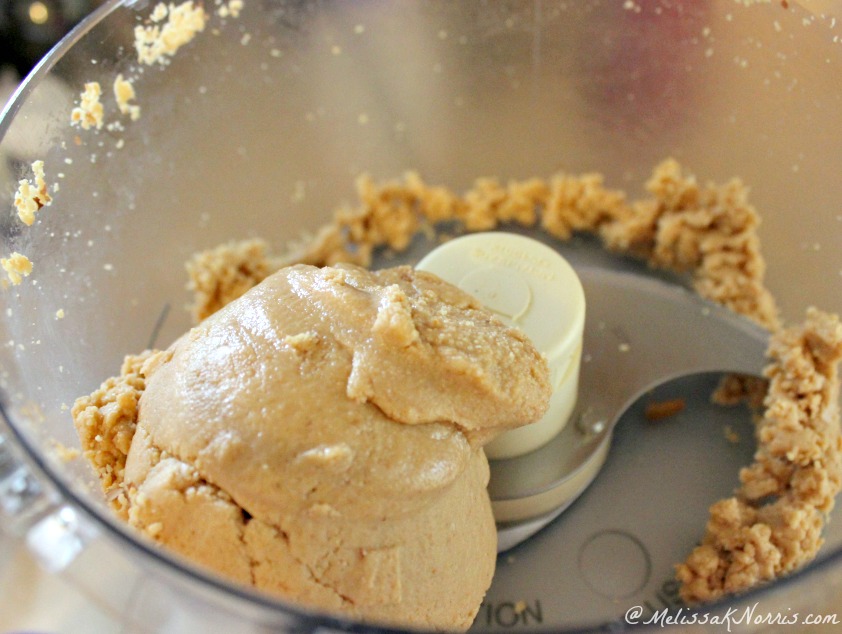 Do you see that creamy goodness? Don't lick the screen though, that'd be kind of weird, but you were tempted, right? Now you know how to make creamy peanut butter.
Keep going for just a few more seconds until it's all creamed together then transfer to a Mason jar and store in the cupboard… or eat from the spoon directly.
The best part, we had the jar for about two weeks and didn't separate out. It stayed in that lovely state of creamy, just go ahead and take a bite, peanut buttery goodness.
If you're like me, we're busy, but that doesn't mean we want to sacrifice taste, money, time, or our health for processed, GMO, chemical filled ick. Now my friend, you don't have to, because you can make this homemade peanut butter without oil or sugar in less than 5 minutes, too.
Homemade Peanut Butter Flavor Options
Want it sweet? Drizzle in a little bit o' raw honey.
Want a little kick? Sprinkle in some cinnamon.
Want it sinfully good? Add some cocoa powder and honey to taste for a chocolate peanut butter mix.
Want it chunky? Hold out some peanuts until the end and drop them in on the last few spins of the food processor for some texture.
Don't like peanuts or have an allergy? Go ahead and use any nut of your choice, I plan on trying out cashews next, but almonds are alternative as well.
Oh, want a few more sure to please snacks that our homemade and only take five minutes? Yes, the answer is yes, then head on over to our Homemade Crackers in 5 minutes!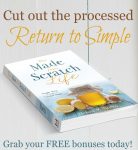 We have over 35 simple and easy Made from Scratch Recipes in my new book, The Made-From-Scratch Life, including 3 FREE bonuses to help you create a healthy pantry and kitchen without processed ingredients and with food your family will love.