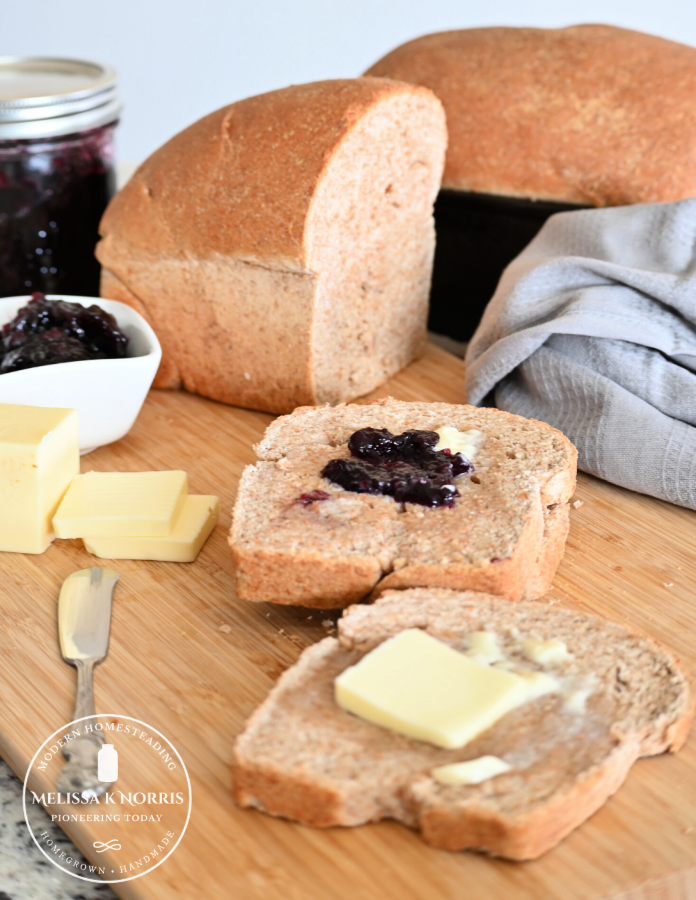 With step-by-step instructions and helpful tips, learn how to make honey whole wheat sandwich bread that is melt-in-your-mouth good and uses no refined sugar or flour. It's foolproof and easy using 100 % whole wheat flour but is light and soft inside with a chewy buttery crust that will hold all of your favorite toppings. This recipe is for two loaves because trust me, the first loaf will be gone the day you bake it, but you can easily half the recipe for one loaf if you wish.
Homemade sandwich bread is a must, but it can be tricky to get a whole wheat bread recipe to turn out light without a ton of crumbs, so I don't make this claim lightly when I say this is the best whole wheat bread recipe ever. You can use store-bought whole wheat but I'm here to tell you that until you have it with fresh ground flour, you've no idea what you're missing out on. New to home-milled flour? Get my guide to Grinding Flour at Home here, and my favorite places to find grains in bulk here.
This Honey Whole Wheat Bread Recipe is:
soft whole wheat bread with a chewy golden outside crust
free of refined sugars
made with just 7 wholesome ingredients
easy to make
simple to freeze
slightly addicting and perfect for any topping or sandwich
one of the best grinding your own flour bread recipes I have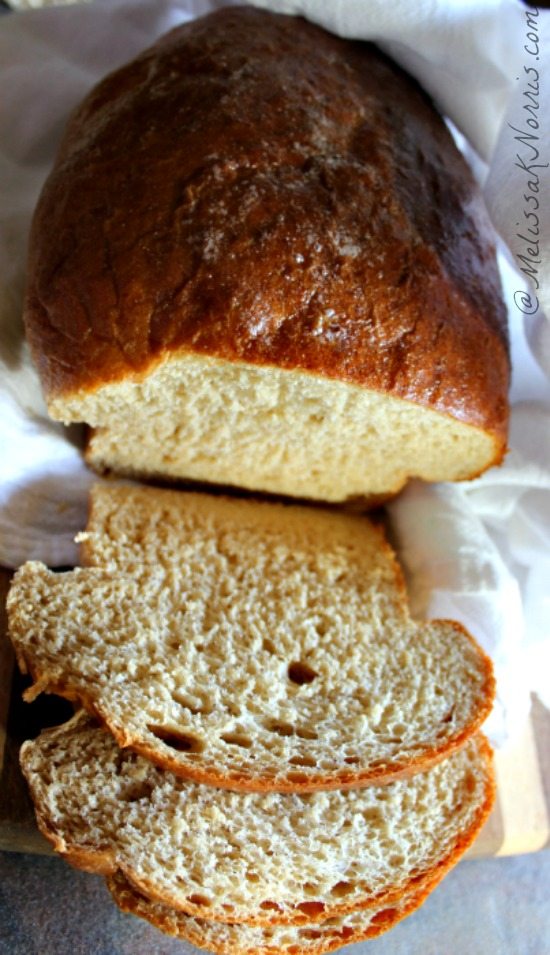 Fresh Ground Flour Tips:
Baking with freshly ground flour is quite a bit different than store-bought. Use less flour in your bread recipes when using fresh ground. Home milled fresh ground flour absorbs more moisture than store flour and can be overworked. When you first mix in the flour, it will seem too wet. Let it sit. It will absorb the extra liquid.
How to Make Honey Whole Wheat Bread
Proof yeast and make the dough. Read below for more tips on proofing your yeast and making the dough
Let dough rest for 10 to 15 minutes.
Knead dough for another 5 minutes.
Cover and let dough rise in a greased bowl until doubled in size for 1 hour.
Punch down dough and divide into two equals parts and form loaves, place in 9×5 loaf pans (I ONLY use these cast iron loaf pans, they create the BEST crust).
Allow loaves to rise and double in size, about 1 hour.
Bake at 420 degrees for 4 minutes. Lower oven temp to 375 degrees and bake for 25 minutes.
When using fresh ground or ancient grains (especially Spelt) it can be harder to get as high of a rise, the higher temperature during the first 4 minutes pushes the loaf higher, creating a better texture and rise.
As shown in the photos below, 100 whole wheat bread dough should be slightly sticky and tacky when forming. Kneading is broken up by a rest period to allow the fresh ground flour to absorb the moisture AND to help the dough from being overworked and dense.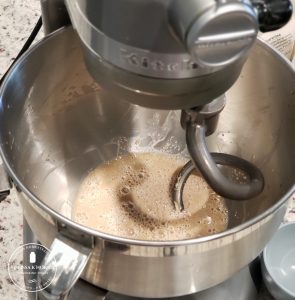 Always proof your yeast when using dry active yeast (instant yeast doesn't require proofing) by adding the yeast to the warm water.
Honey Wheat Bread Ingredients
You only need 7 basic ingredients to make this bread.
Water. Warm water activates the yeast, preferably 110 to 115 degrees F for dry yeast.
Milk. The fat in milk helps create the texture of soft whole wheat bread that is often missing when people use all whole wheat. Use whole milk, or better yet, buttermilk!
Yeast. I use dry instant yeast, which is why the proofing is an important step. Store your yeast in the fridge to prolong the shelf life.
Honey. Honey helps to feed the yeast but also improves the bread texture.
Butter. Softened or melted butter is what gives this bread (any bread) delicious flavor and the fat helps to create the perfect crumb texture we're after.
Salt. I use sea salt for added nutrition but salt is what brings the flavor to town and can't be left out.
Flour. This recipe is truly versatile and you can use all-purpose or bread flour, Spelt, or fresh ground hard white wheat, they all produce a scrumptious loaf, but you will need to see the recipe instructions below and adjust the amount of flour used by which type you have on hand.
If you want to use Spelt flour (an ancient grain) you'll need to increase your flour amount. On average, you'll need 1 and 1/4 cups of spelt per 1 cup of regular flour in a recipe. Spelt has more protein and less gluten than regular wheat and it has not been hybridized like modern wheat, making it an excellent choice in your baking recipes.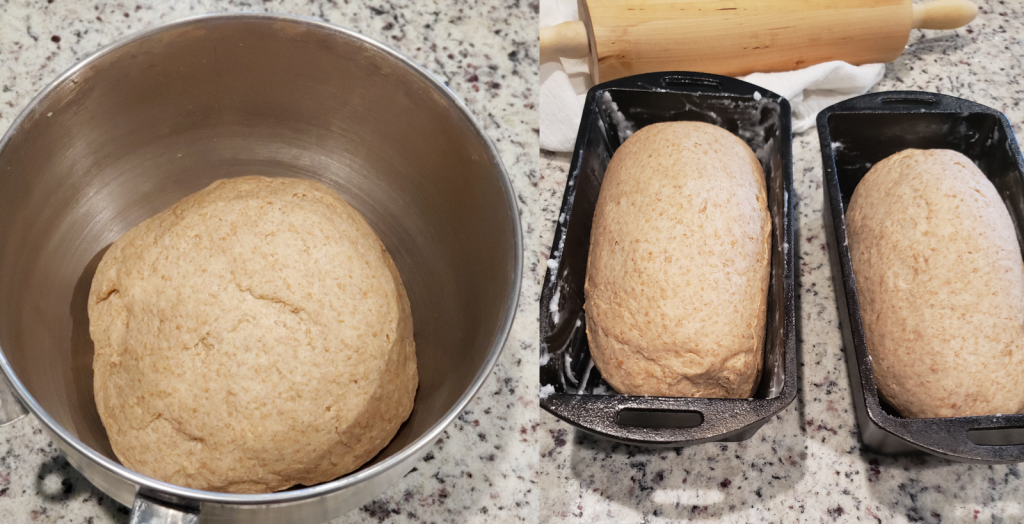 Uses for Homemade Honey Whole Wheat Bread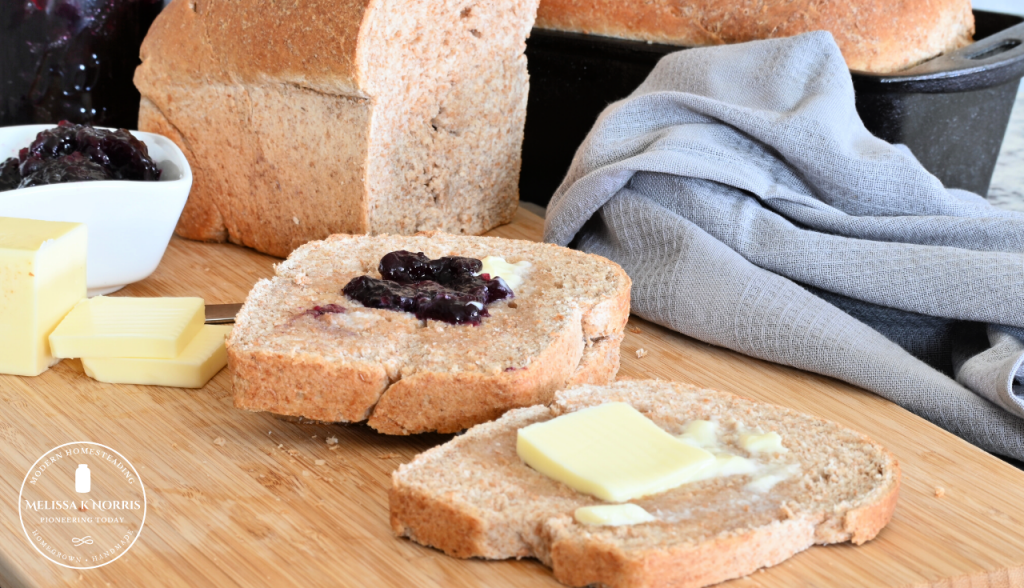 More Easy Homemade Bread Recipes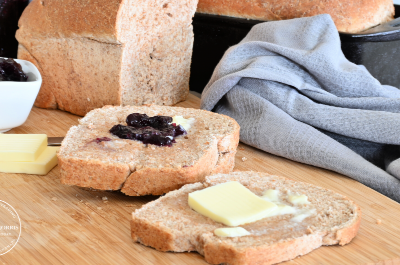 Honey Whole Wheat Bread
Ingredients
4

& 1/2 teaspoons of yeast

1

& 1/3 cup warm water

1/4

cup

honey

6

Tablespoons

melted butter

2

cups

buttermilk

8

cups

freshly ground hard white wheat

or use 9 and 1/2 cups all purpose flour or 10 cups spelt

1

Tablespoon

sea salt
Instructions
Add yeast, warm water, and honey to a mixing bowl and mix. Let proof for about 5 minutes. (proofing means water turns frothy and yeast is active) Add in the rest of the ingredients until dough starts to pull away from the side of the bowl. Knead with kneading attachment for 4 minutes.

Let rest for 10 to 15 minutes.

Knead for another 5 minutes. Grease a large glass bowl. Put dough inside and cover with tea towel. Place in warm area and allow to double in size, about 1 hour.

Punch down and divide dough into two equals parts. Place in greased 9×5 loaf pans and cover with a tea towel. Allow to double.

Bake at 420 degrees F for 4 minutes. Lower oven temp to 375 degrees F and bake for 25 minutes.

Remove from oven and immediately take a stick of butter and rub over top of bread.

Allow bread to cool on racks for at least 30 minutes before slicing. (if you slice bread before it's cooled you can have a gummy center)
Notes
Freezing Instructions: Bake bread, allow to fully cool (at least 3 hours), freeze for up to 3 months. You can freeze the loaves whole or slice and freeze slices. I prefer to freeze slices so we can grab just the amount we need.
Thawing Instructions: Thaw whole loaves and/or slices at room temperature. To thaw slices FAST, place on lowest toaster setting and toast frozen, slices will be soft and warmed through, but not toasted just like they'd thawed on the counter but faster.
Want to learn how to bake all your homemade bread and goods for your family? Check out my Homemade Bread & Baking e-Course here