Some of the links below are affiliate links, which means I will earn a commission at no additional cost to you, if you click through and make a purchase. Regardless, I only link to products we use on our homestead or believe in.
Learning about herbs and natural ways to treat myself and my family is high on my list. The pioneers didn't run to the store for every little sniffle and I think we have much to learn and benefit from by turning back to some of these "old time" remedies.
When my herbalist friend Amanda shared her new herb magazine with me, I was thrilled to learn all the wonders of ginger. I already love baking with ginger, but didn't know a whole lot about it's medicinal purposes, other than it is good for stomach issues.
I am so glad I read her magazine, it may have saved me a costly medical bill later, or worse. While natural remedies are wonderful, they still have side effects, and one of ginger's side effects prevents the blood from clotting. My daughter suffers from Von Willebrand's disease (a blood clotting disorder). I had no idea ginger would worsen her condition. I'll make this honey to use in homemade switchel or elderberry syrup for the other members in my family (because it has some awesome properties), but her's will be ginger free. Praise God He got this information into my hands before I needed it.
I believe in learning about our foods and herb use so strongly I decided to become an affiliate for Natural Herbal Living Magazine. If you think like I do and subscribe, I'll receive a small portion back. To read my full disclosure policy, head here. Big thanks if you do, it helps me with the costs of running this blog and website. 🙂
Note: This information is for educational and entertainment purposes only. I am not a medical doctor and this is not meant to prescribe or treat any ailment.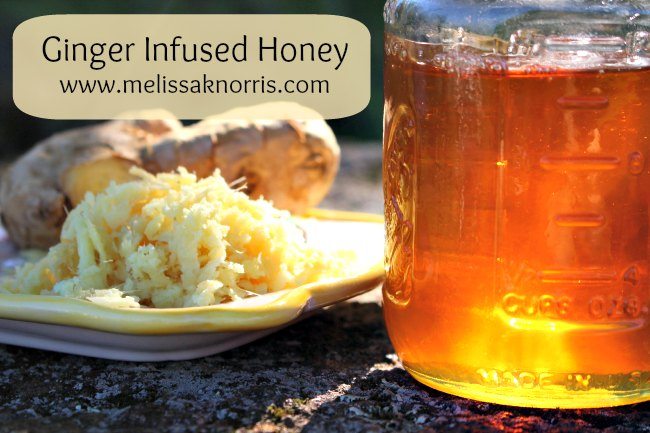 Here's some more ginger wisdom from Amanda.
Ginger honey is one of my top herbal remedies for fall and winter. Infusing ginger in honey is a wonderful way to preserve the herbs healing qualities while extracting the nutritional benefits of said herb, and makes the herbal remedy much more enjoyable than just taking it in a tincture. Herbal honeys are a delicious addition to ice cream, baked goods, raw desserts, teas, tinctures (to make an elixir), herbal vinegars (to make an oxymel) and generally safe to take by anyone over the age of 1.
Ginger is a delicious tasting herbal powerhouse. The rhizome is the part used. It is often found fresh in the produce department in your local grocery store, in the spice rack, or you can purchase it at an online herbal retail shop like Mountain Rose Herbs or Bulk Herb Store.
Ginger grows well from an organic rhizome when kept in a warm moist environment, but does not like cold and the plant will die if it has contact with a frost or freeze. It is commonly used for to help soothe a sore throat, support the bodies response to indigestion, and other symptoms that leave a person feeling cold.
I use local raw honey whenever possible. Raw honey is a potent medicine in and of its self. It has anti-oxidants, helps support the bodies response to inflammation and allergens, and helps to strengthen the immune system.
Ginger Infused Honey (Fresh Ginger)
Ingredients:
1 pint mason jar
Local raw honey
3-4 inches of fresh ginger rhizome
Directions:
Peel the ginger like you would a carrot (optional) then slice the ginger thinly. Place it inside the jar, cover with honey, and push the air bubbles out of the honey. Put a lid on the ginger honey and place it in a sunny window sill or cold dark place. I prefer the window sill for the gentle warmth the sun provides to aid the infusion, and the joy I get from the light shining through the honey, but if you don't have a window sill it can be stored in any cupboard. Let it sit for 4-6 weeks and strain out the ginger (or just leave it in until it is in the way). Enjoy any way you would enjoy regular honey!
Ginger Infused Honey (Dry Ginger)
Ingredients:
1 Pint mason jar
Local Raw honey
4-5 Tbsp dry ginger
Directions:
Pour the honey in the jar until it is half full, add the powdered ginger, then add the rest of the honey. Stir the honey well until the ginger is well incorporated. This honey can be used instantly and is the perfect remedy for an unexpected cold, flu, or stomach troubles.
Do you want to learn more about Ginger?
We're a proud affiliate of Natural Herbal Living Magazine's herb of the month is Ginger.
The magazine issue articles you will find are:
Ginger Essential Oil Profile
Ginger Flower Essence Profile
My Journey to Ginger Tartlets
Herbal Vinegars, Oils, and Tinctures
Natural Herbal Living also has an herb box subscription where you can get the ingredients to make some of the recipes in the magazine. They are now accepting orders for the Rose herb box until October 15th. You can see what the contents of the rose box will be HERE. If you order the herb box after October 15th your first herb box will be for Echinacea.
How will you enjoy your ginger honey? What herbs would you like to learn more about? Do you already use herbs for medicinal purposes?