Some of the links below are affiliate links, which means I will earn a commission at no additional cost to you, if you click through and make a purchase. Regardless, I only link to products we use on our homestead or believe in.
If you're like me, tomatoes are one of your most prized crops in the garden. Trellising tomatoes can help increase your yield and help ward off common tomato diseases such as early blight and blossom end rot. Learn how to trellis your tomatoes the right way here.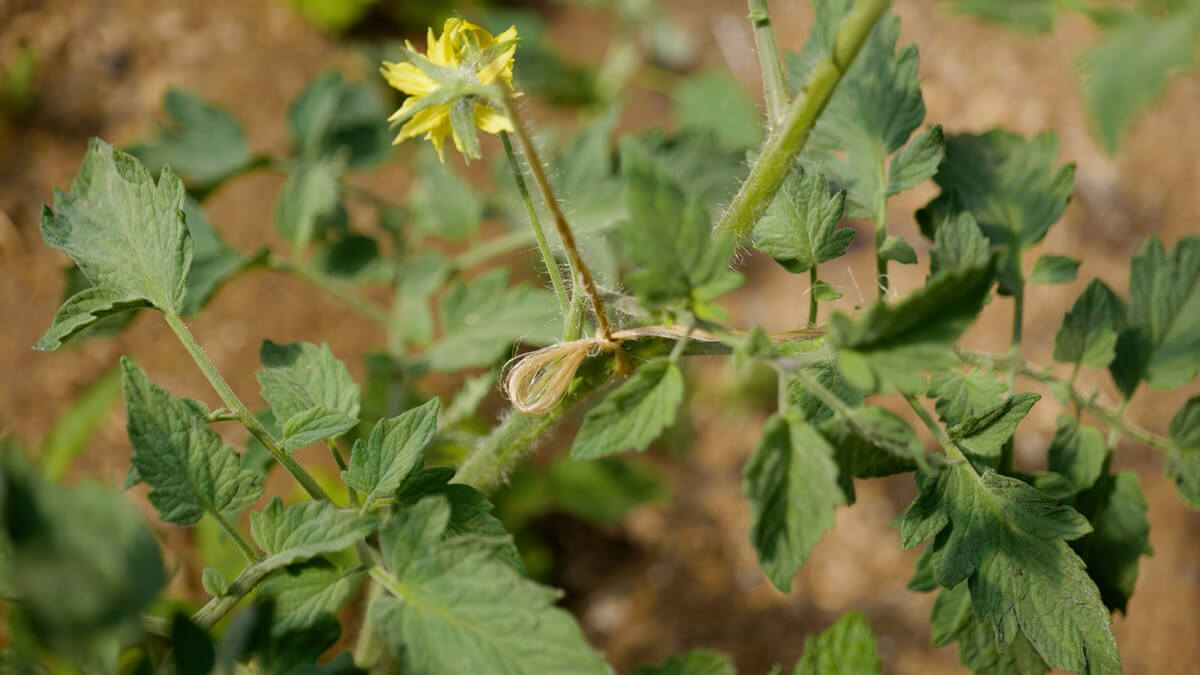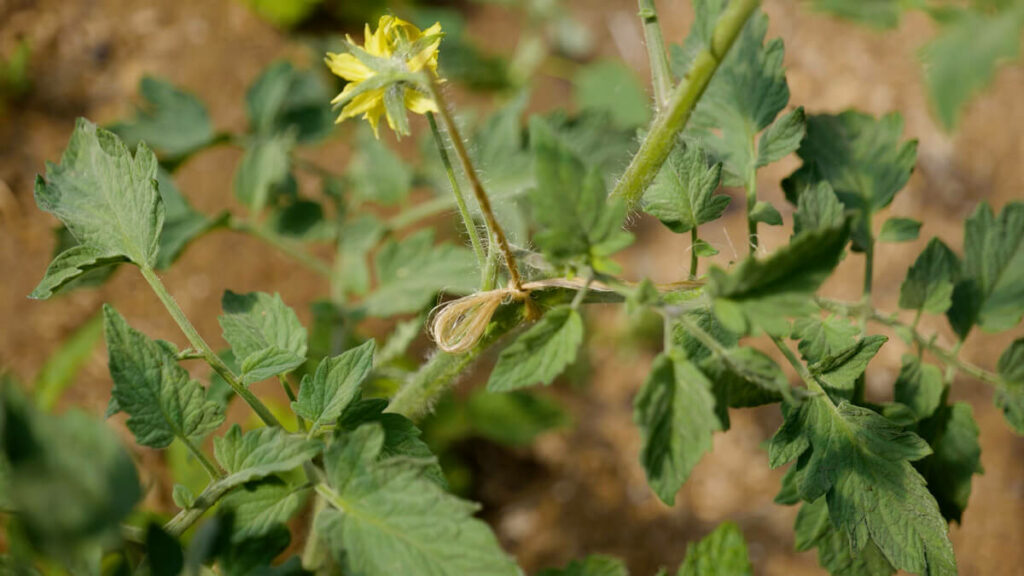 I love growing tomatoes. So much so, in fact, that I've already shared the following posts all about planting and growing tomatoes:
Depending on when you're reading this, you may also be interested in how to start seeds indoors as well as how to pot up seedlings before they're ready to transplant into the garden.
Then follow up with my favorite way to make homemade tomato sauce (including canning instructions).
Why Trellis Tomatoes
Trellising tomatoes is an important garden task for many reasons:
Tomato vines can grow tall and bend over or break with the weight of the fruit.
Fruit close to the ground is more susceptible to getting eaten by pests.
Fungal spores are transferred from the soil, so keeping tomatoes off the ground helps prevent common diseases.
BONUS: Harvesting tomatoes will be easier!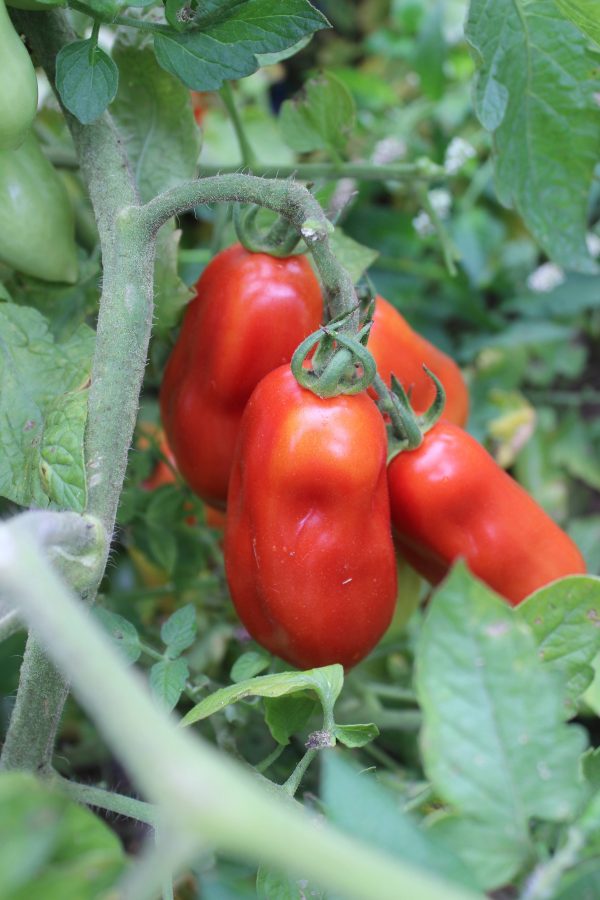 Less Breakage
Indeterminate tomatoes will continue growing in height as long as they have the right conditions. By growing tomatoes up on a trellis, your plants will yield more fruit throughout the summer months.
Trellising tomatoes and training them up is important for tall growth, but also to avoid the branches from breaking under the weight of the setting fruit.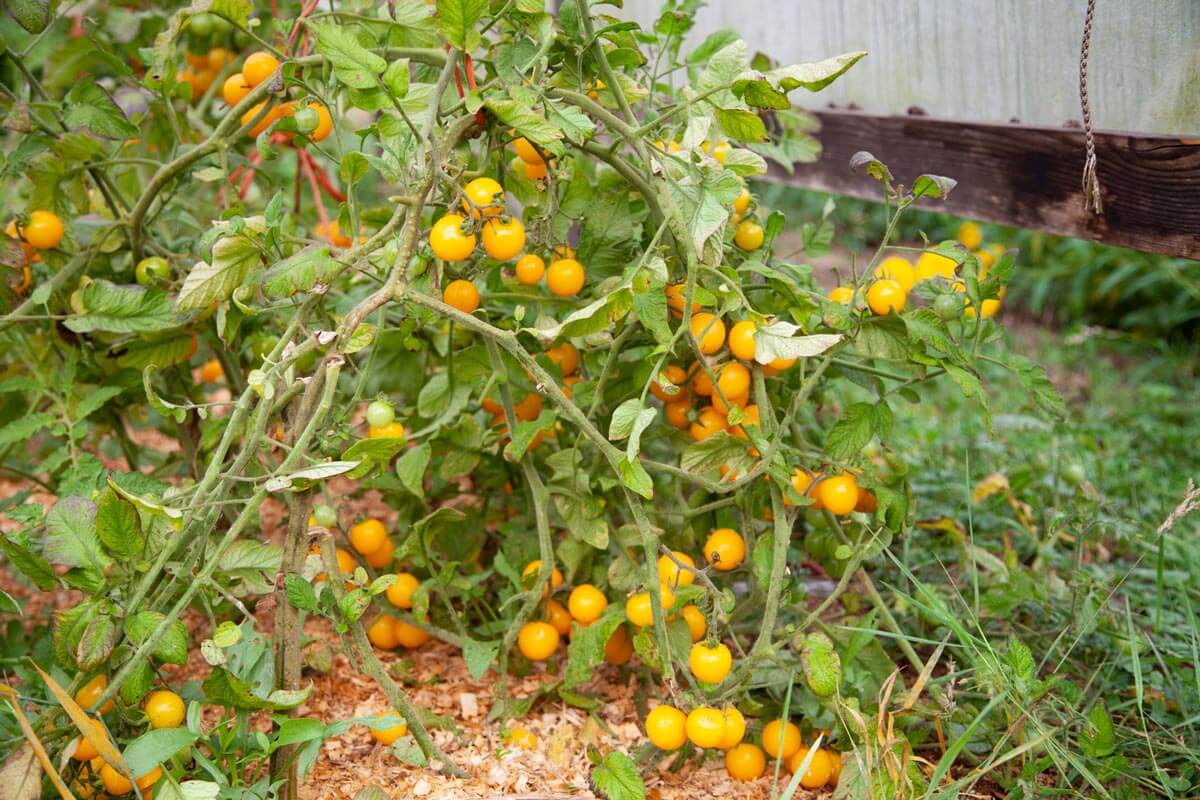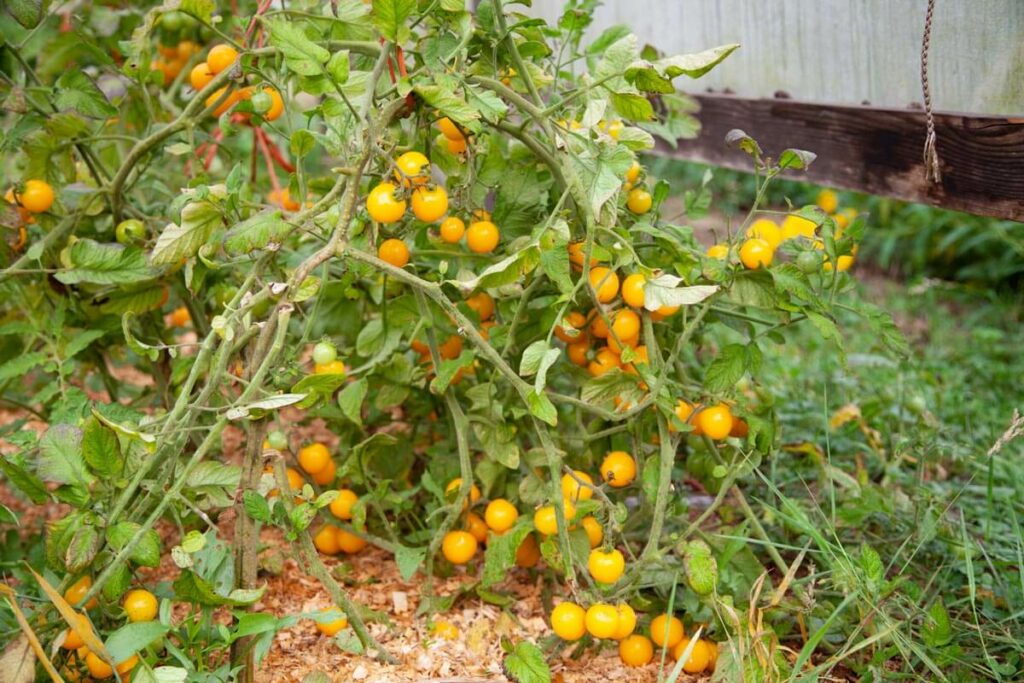 Less Susceptible to Pests
As tomato plants grow, they love to vine, so if we're not trellising them up and away from the ground, they'll lie on the ground making your fruit susceptible to pest infestation and damage from slugs and other garden critters.
So if you want to keep your fruit and not feed the garden critters, I recommend trellising tomatoes.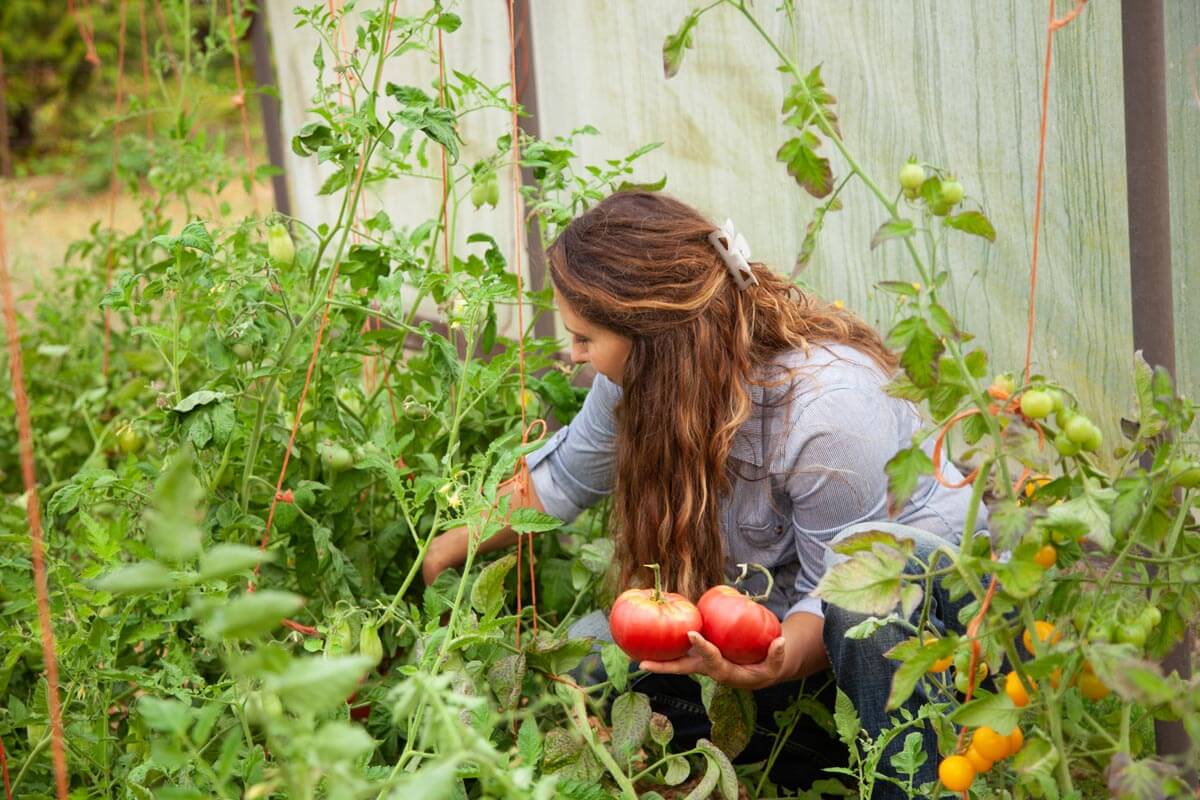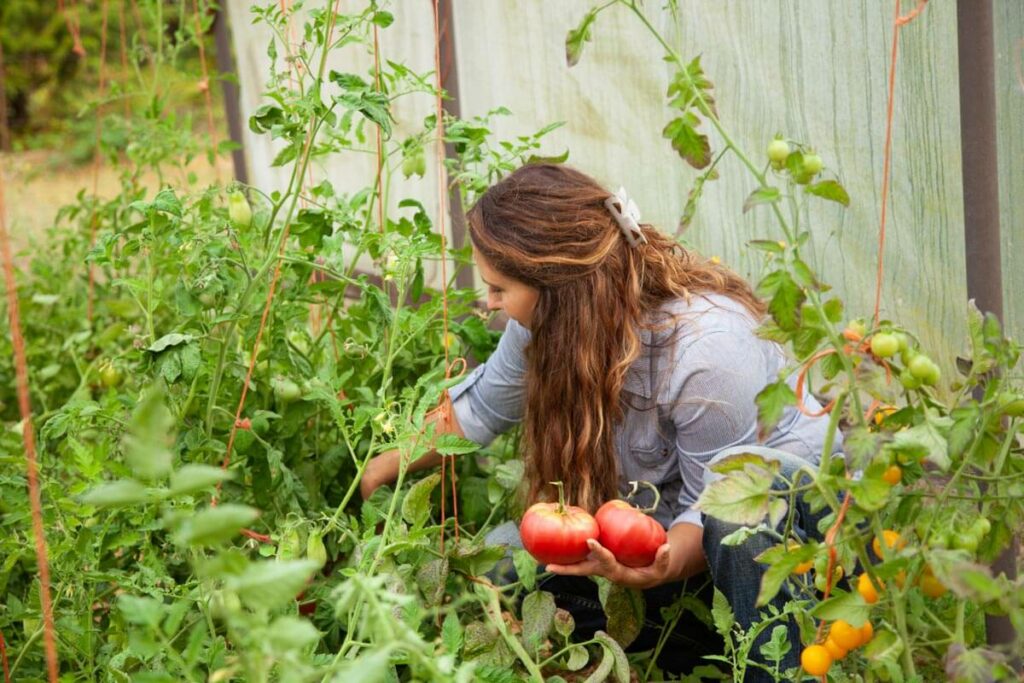 Less Disease
And finally, when trellising tomatoes, they will be less prone to disease. In many climates, especially those with damp or humid summer conditions, pruning tomatoes is important for proper airflow.
However, trellising tomatoes is imperative to avoid fungal diseases such as early blight. Keeping the plants up off the ground will naturally improve airflow as well.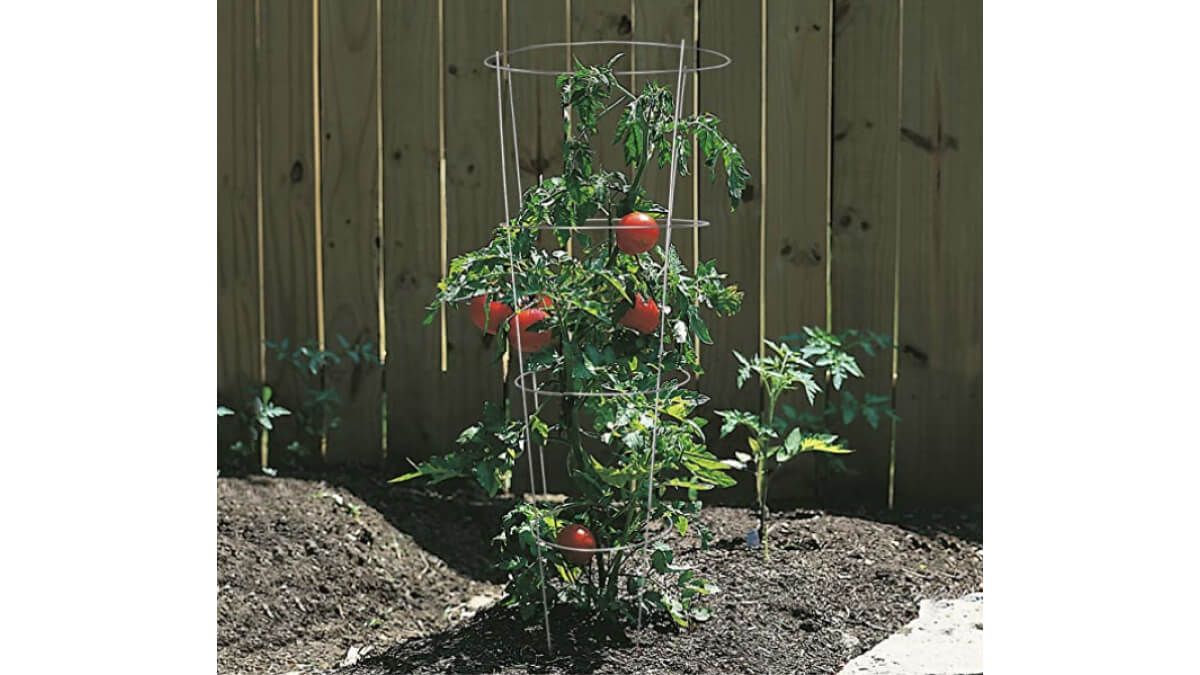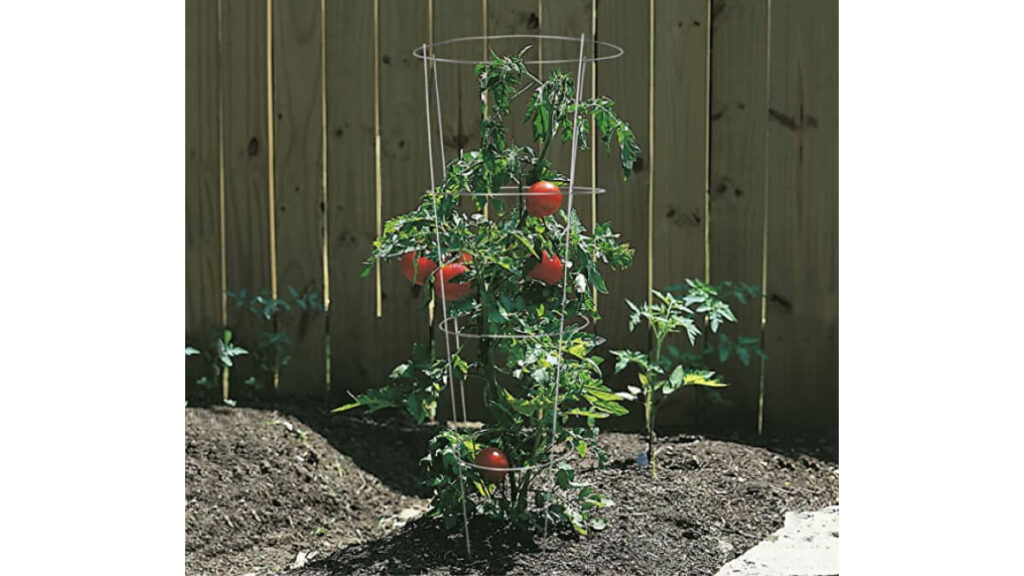 Why Tomato Cages Don't Work
Smaller tomato cages that you see in the garden centers (pictured above) aren't ideal for indeterminate tomato varieties. They may work well for the first couple of months or for some smaller determinate tomato plants, but indeterminate tomatoes will grow as tall as I am, and those cages always end up bent and broken under the weight of the plant by the end of the season.
You may think using tomato cages when the plant is small is a good idea, but as those vines grow out, the cage will be near impossible to remove without damaging the plant.
I recommend that you steer clear of those cages and learn how to trellis your tomatoes.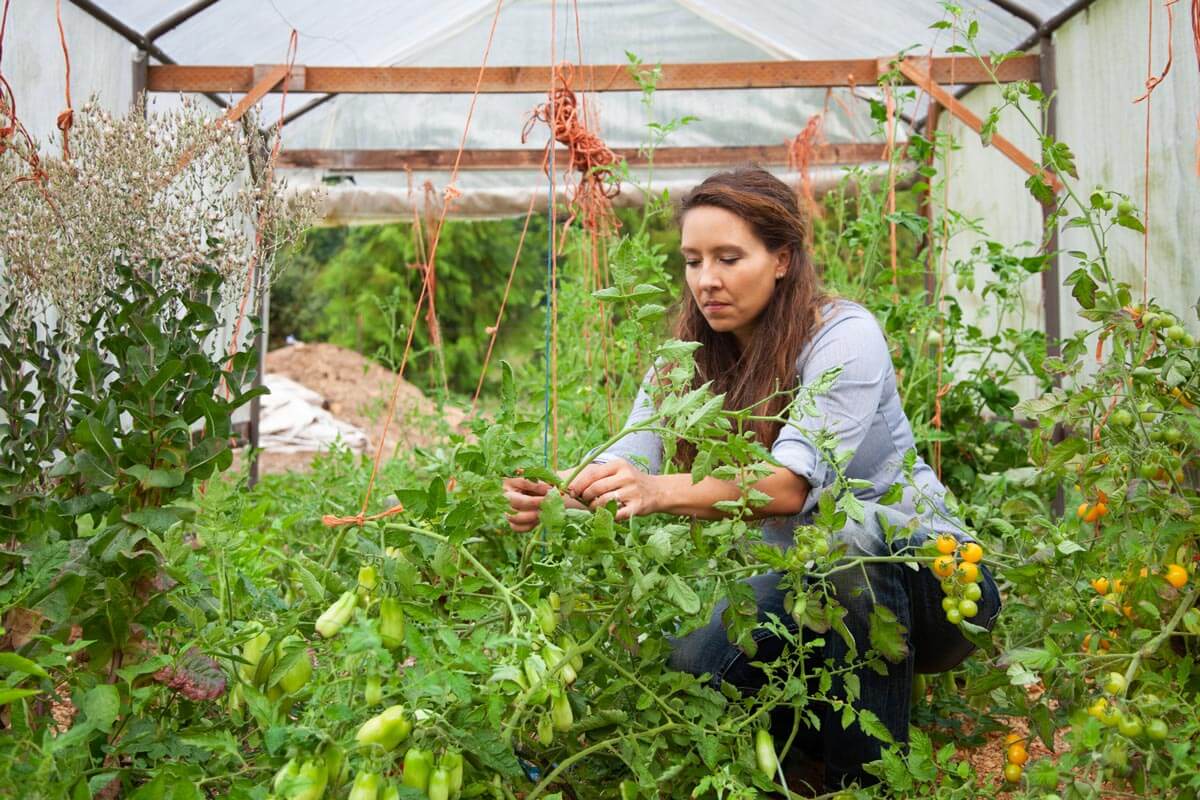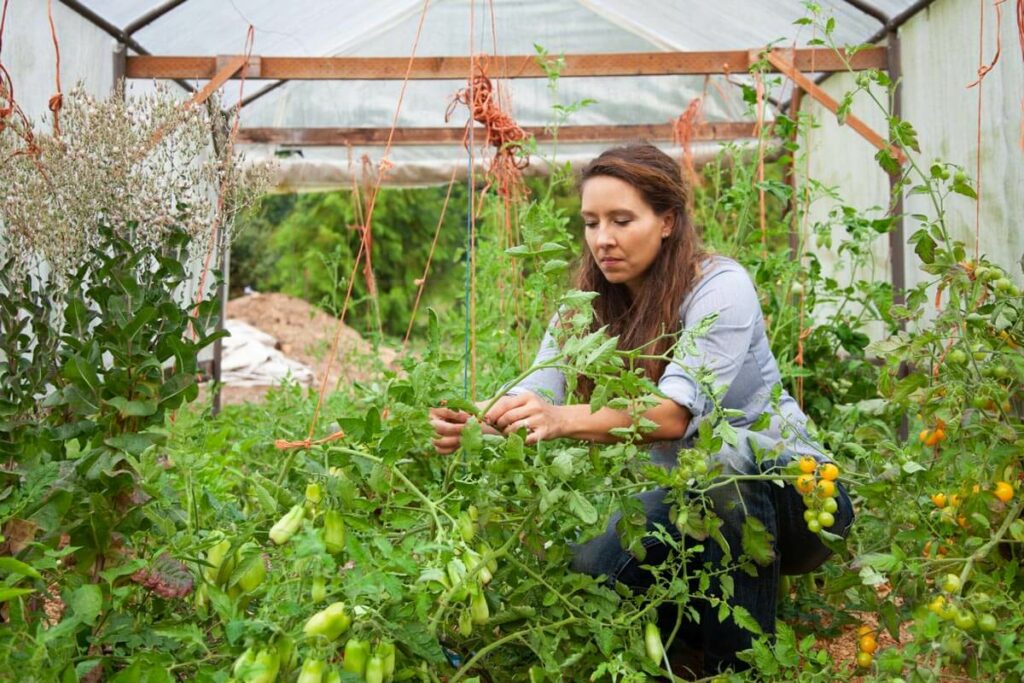 How to Trellis Tomatoes
I will share the two methods of trellising tomatoes we use in our gardens. The first is with a guide wire stretching above our tomatoes, and the second is with a hog panel.
Supplies Needed
Supports – You'll need some kind of support for trellising your tomatoes. In our high tunnel, we have the wooden support beams that we've drilled holes through to run the wire. At the Farmstead, we use hog panels. Another option is to use T-posts or wooden fence posts.
Wire – Thin metal wire is ideal for running as the support wire. It's stronger than twine and can be used for multiple years.
Twine – For trellising tomatoes, you'll want to use either jute twine, baling twine or any other soft string that won't cut through the tomato's stem.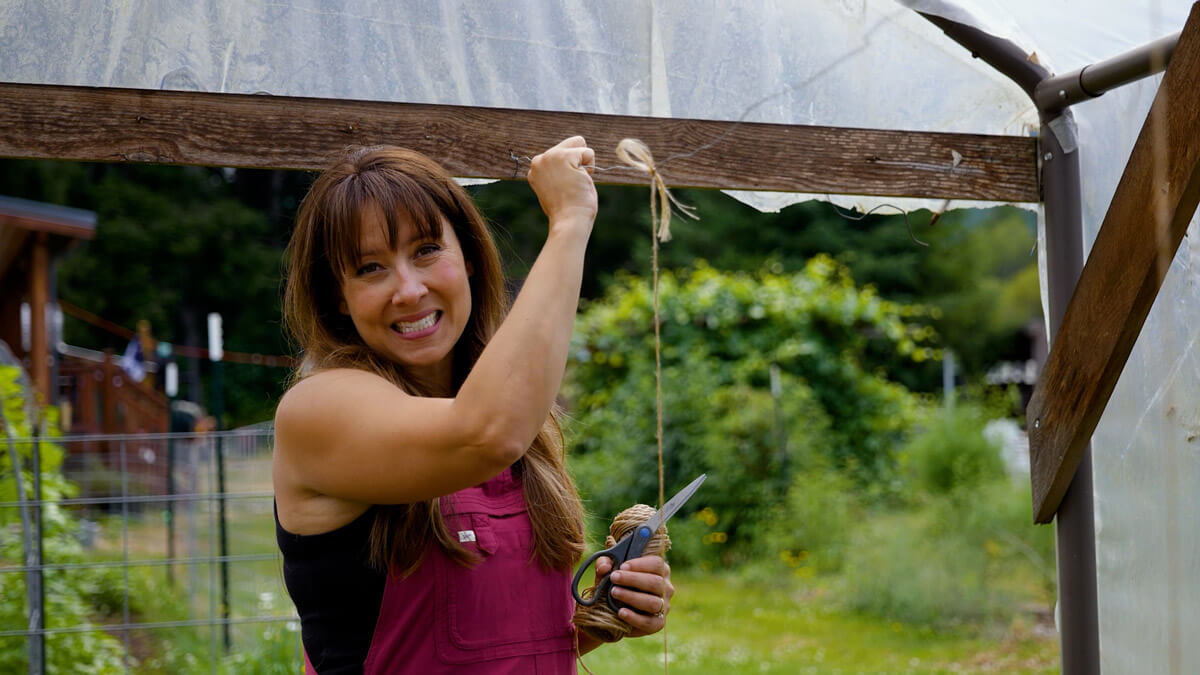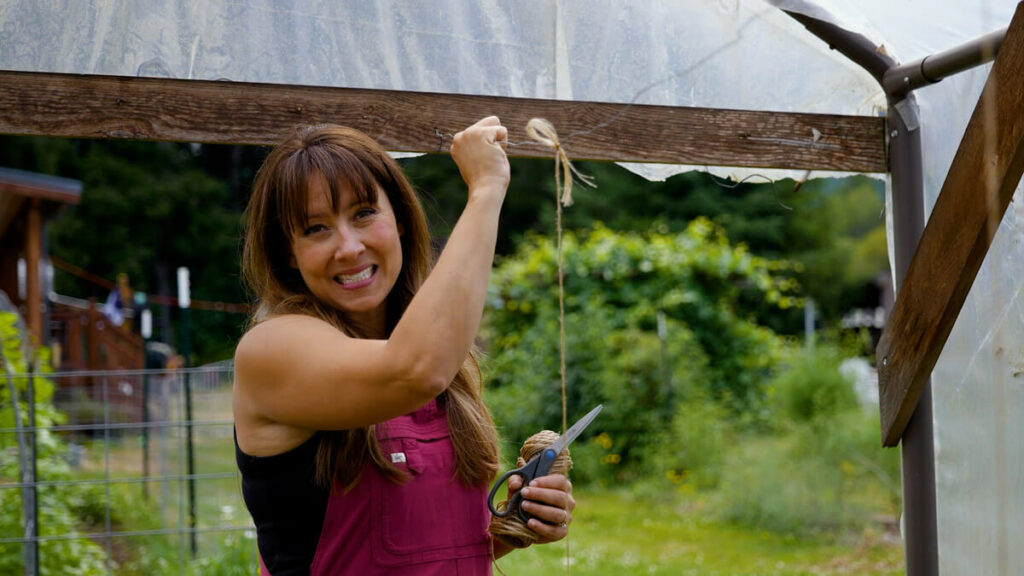 Because we live in the Pacific Northwest, we tend to get a lot of rain in early and late summer. Therefore, we grow most of our tomato crop in our high tunnel. This works well to run a wire from one end to the other through the wooden supports.
If you don't have a structure to attach the wire to, you can drive T-posts or wooden fence posts into the ground and run the wire along the top of those. We use this method for our raspberries.
Depending on your row length and how many tomato plants you're trellising, you may need additional support in the center. I'd recommend a height of at least 6-8 feet above the soil level for the posts.
One piece of wire is sufficient to support about three tomato plants. Any more than this, and you'll need some kind of bracing to help support the weight of the tomatoes.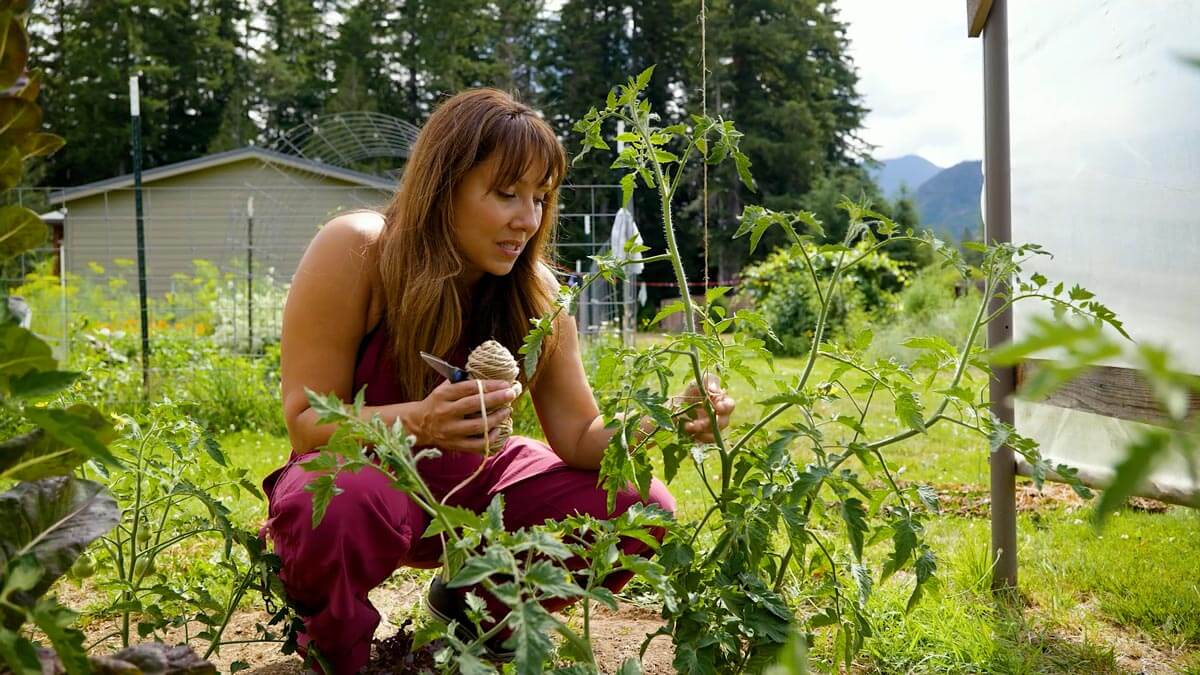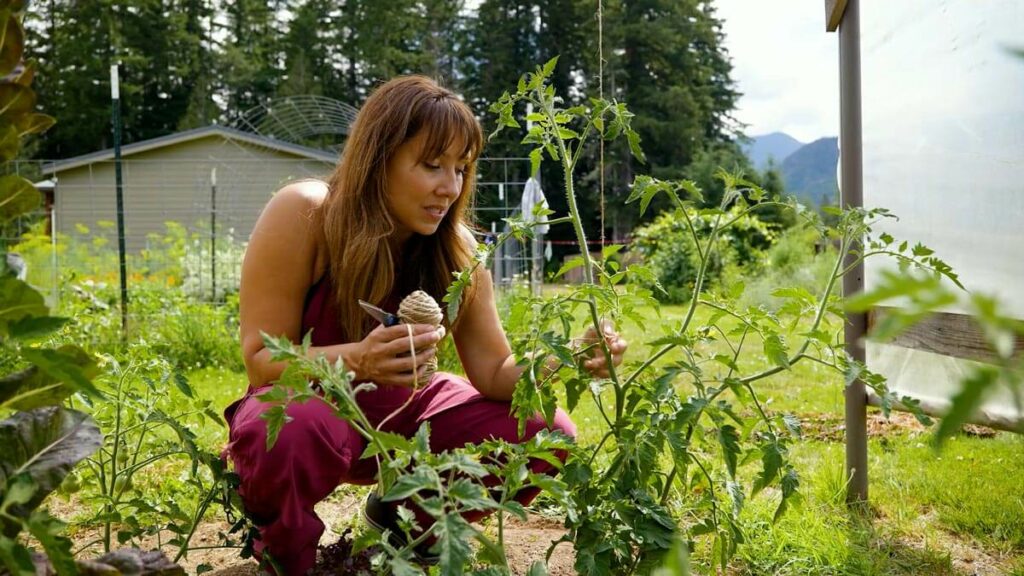 Step-by-Step Directions
Choose the best option for running your support wire and get that set up before trellising tomatoes.
Once your support wire is run, find a good spot on your tomato plant on the central stalk to tie the initial support twine. I call this the first tying, as it's likely all you'll need to do for each plant as they start growing. Find the spot on the main vine and tie the twine, using a slipknot, just below a sturdy branch. Be sure to leave a bit of wiggle room for the vine to grow in diameter.
Stretch the twine to the support wire or hog panel and tie it off.
As your tomato plants grow and more branches shoot off, you'll want to return and do the second tying. This is where you identify branches with flowers and get them tied up before the fruit sets and branches bend or break.
For the second tying, instead of tying off each piece of twine onto the guide wire or hog panel, I like to take the twine up and over the wire and then tie it off to another branch. This means you're supporting two branches with half the effort.
After that, you may only need to return for a third tying if your growing season is long enough or if you notice some of the branches need additional support. I find my larger heirloom varieties tend to need more support than something like the San Marzanos.
And that's it! You now know how to trellis your tomatoes to maximize your growing space and your harvest.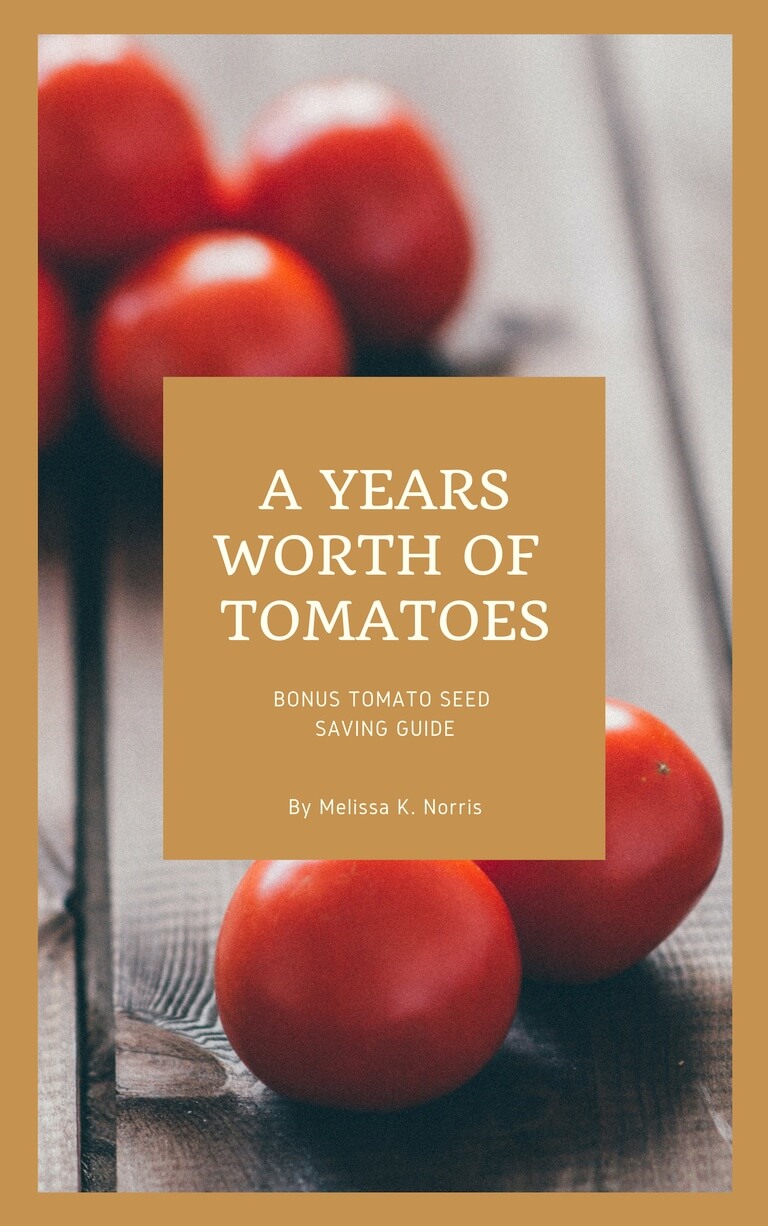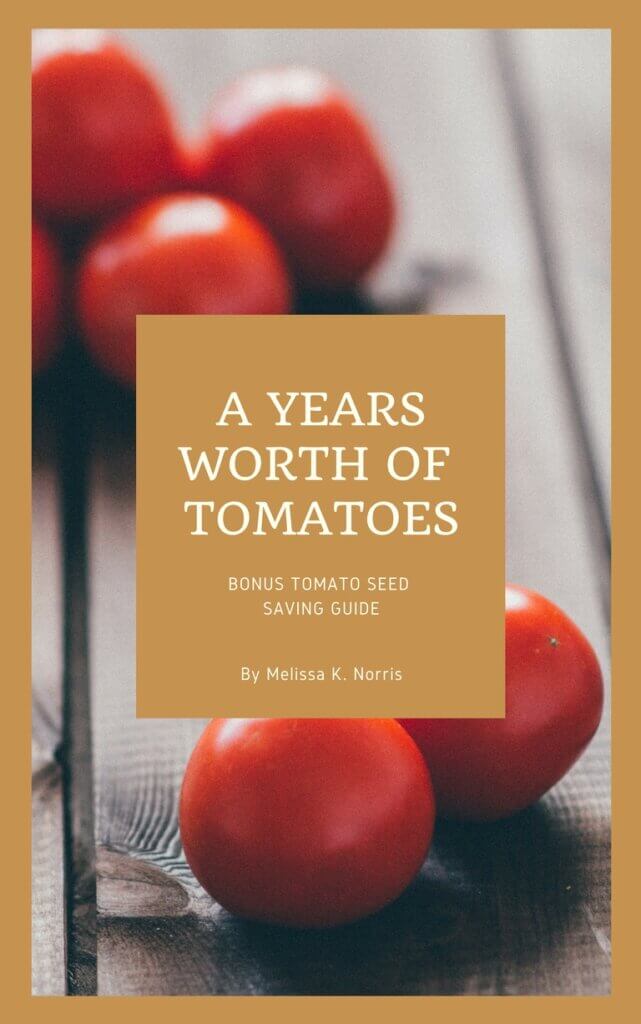 Be sure to grab my free e-guide on growing a year's worth of tomatoes to learn:
how to prune tomatoes for a larger harvest,
the simple steps to do at planting time for a healthier plant,
how to avoid blight,
how to get rid of blossom end rot,
and a bonus tomato seed-saving tutorial.
Then, be sure to check out the posts below for more great gardening content.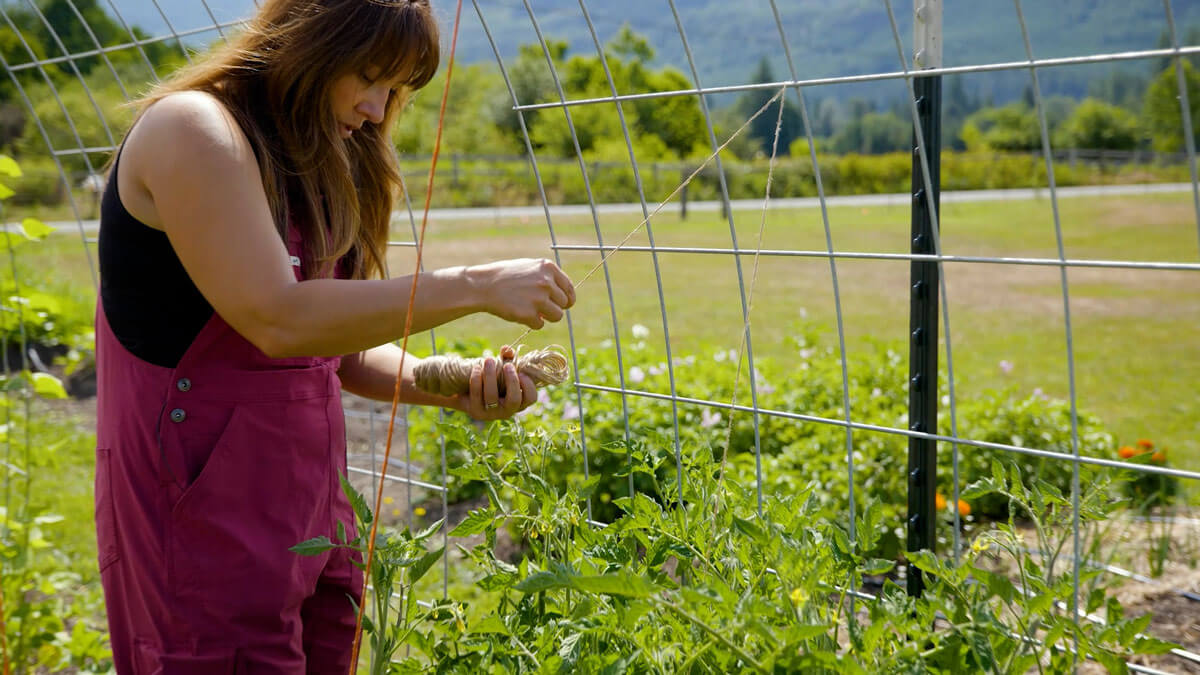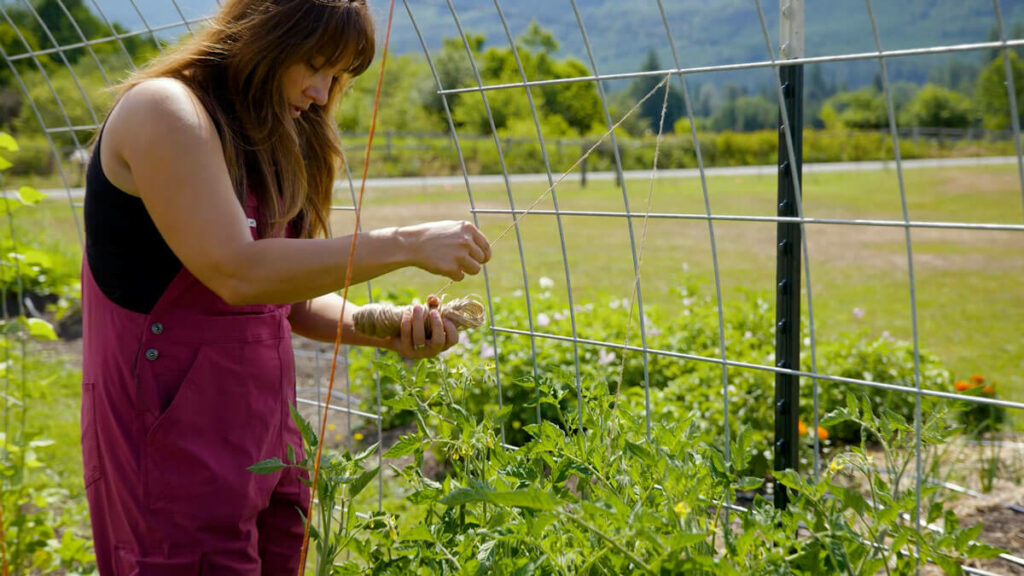 More Posts You May Enjoy