Some of the links below are affiliate links, which means I will earn a commission at no additional cost to you, if you click through and make a purchase. Regardless, I only link to products we use on our homestead or believe in.
Guess what? I'm storing green tomatoes to continue ripening for fresh eating well into the winter months. How do you store green tomatoes to ripen them? Here is my super simple and easy old-time process for storing green tomatoes from your garden.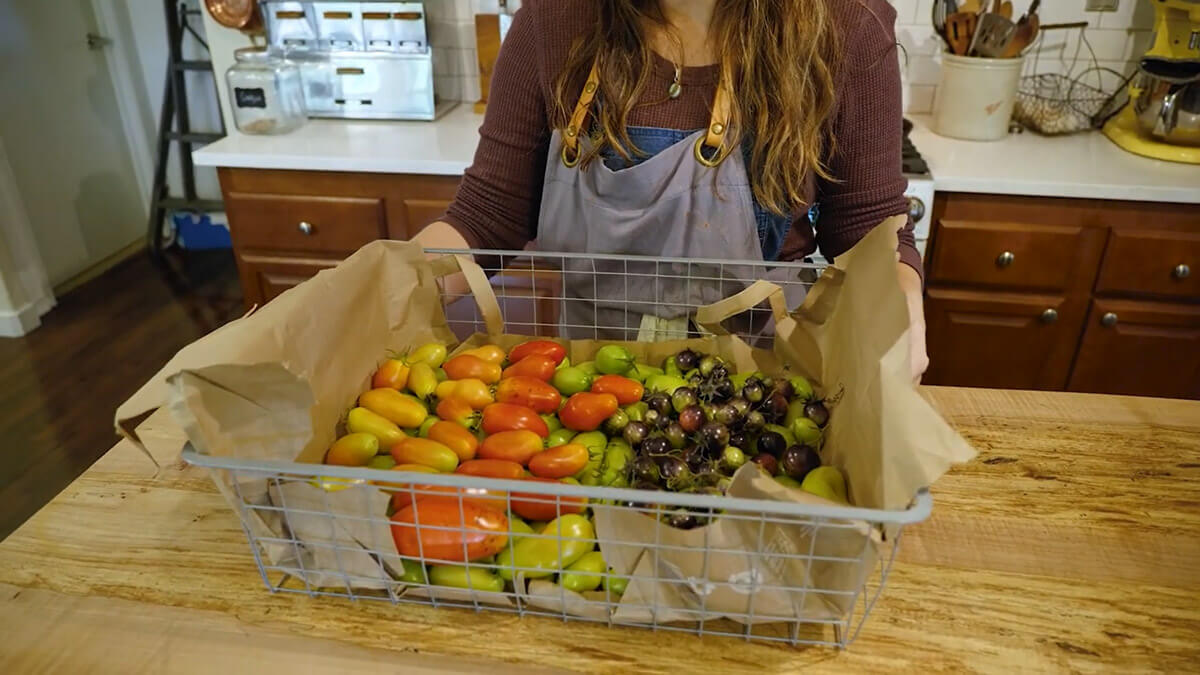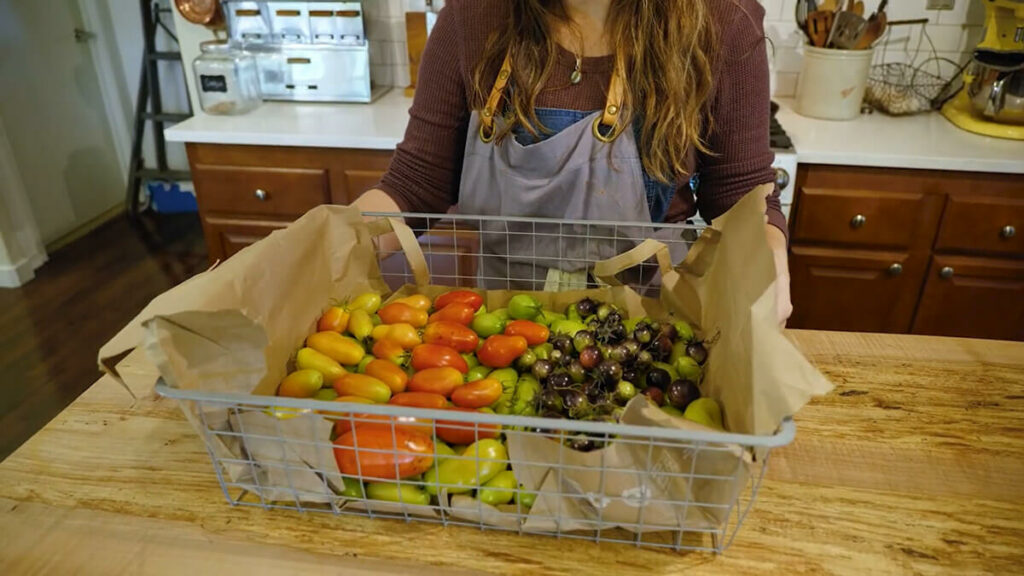 Why I Love This Method
There's nothing worse than putting all your long days of work and hard efforts into growing tomatoes and trellising tomatoes the right way, only to lose a large portion of your crop when that first killing frost comes.
When it comes to tomatoes, you can actually store green tomatoes using this method and enjoy them well into the long winter months.
And these tomatoes can be used for all sorts of recipes. Who doesn't love homemade tomato soup made from fresh tomatoes? Grab my tomato soup recipe here (good with fresh or canned tomatoes). As well as some of my favorite canned tomato recipes here.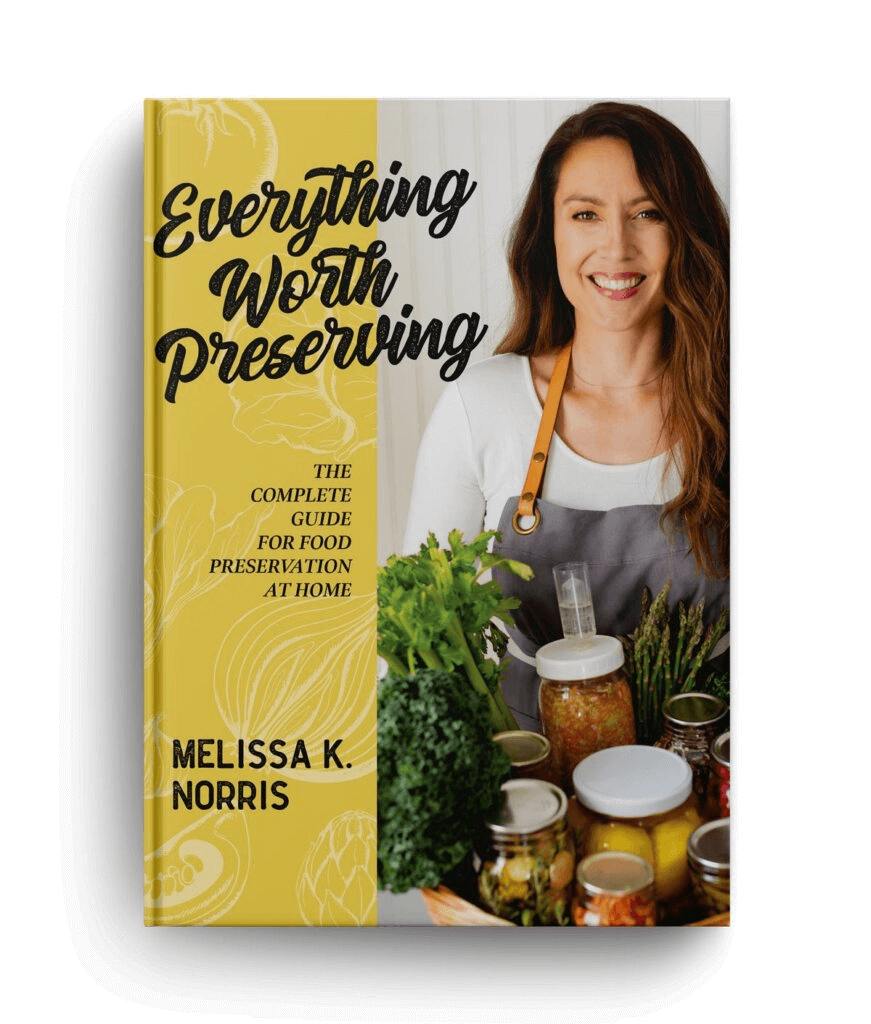 Everything Worth Preserving
Looking for tomato recipes? This book is it! Not only do I cover the nine different methods for home food preservation, but I also share all of my step-by-step tutorials, recipes, and easy-to-use charts.
Learn everything you need to know about cold storage (aka freezer), water bath/steam canning, pressure canning, dehydrating, fermenting, freeze-drying, root cellar, infusion, and salt/curing in the new book, Everything Worth Preserving.
Preserve food for a healthy well-stocked pantry & peace of mind, all in one resource.
In this book, you can search for any produce from A-Z (such as tomatoes) and get a list of all the ways to preserve that item, plus recipes! Grab your copy and all of your pre-order goodies here.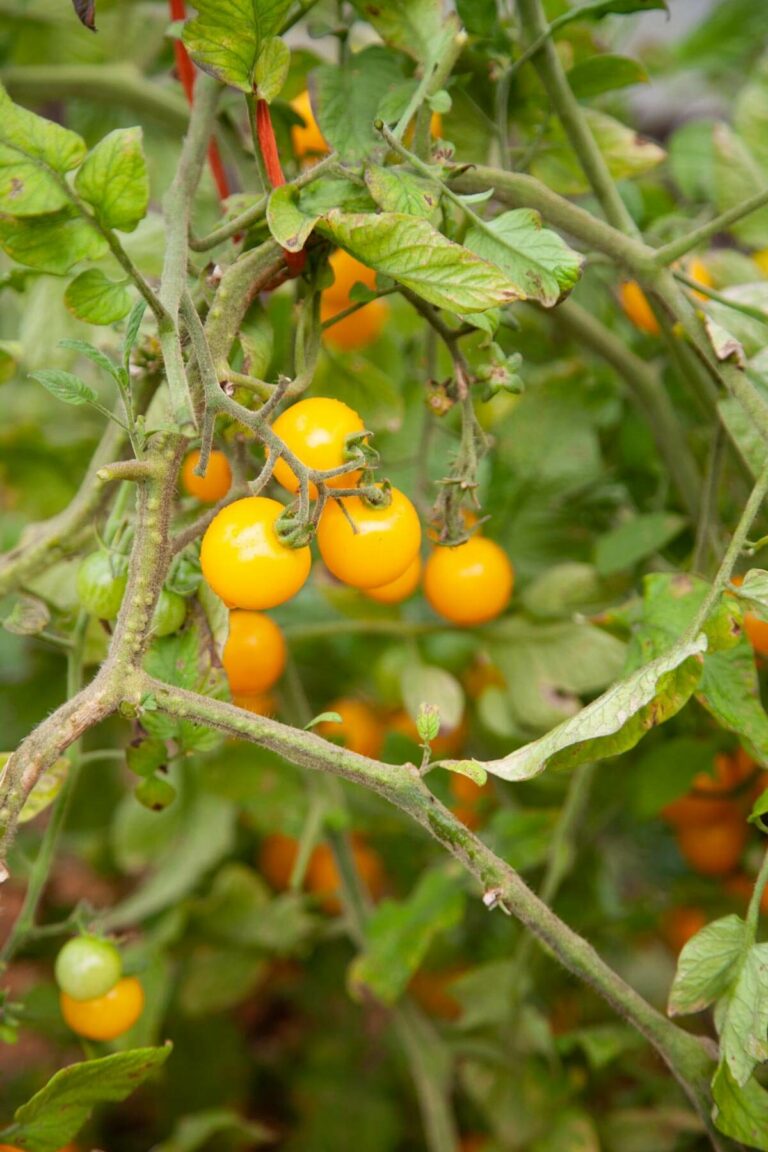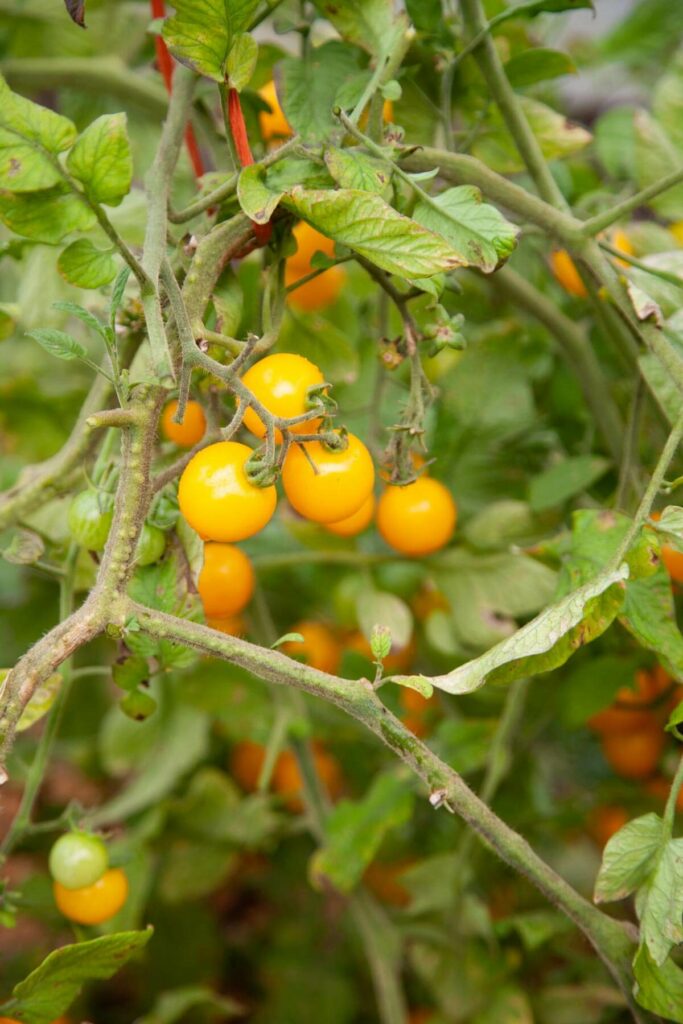 Tomato Facts & Definitions
Tomatoes are technically a fruit.
Chlorophyll is what keeps the tomatoes green.
Lycopene is what you see as they ripen and change color.
The "Blush Phase" is what I call them when they first show signs of color change.
Tomatoes do not have to be on the vine to continue ripening.
The "Break Point" is the term used to define those tomatoes that are just starting to blush.
If the tomatoes are green or have some color change, they will continue to ripen into full color even after being picked.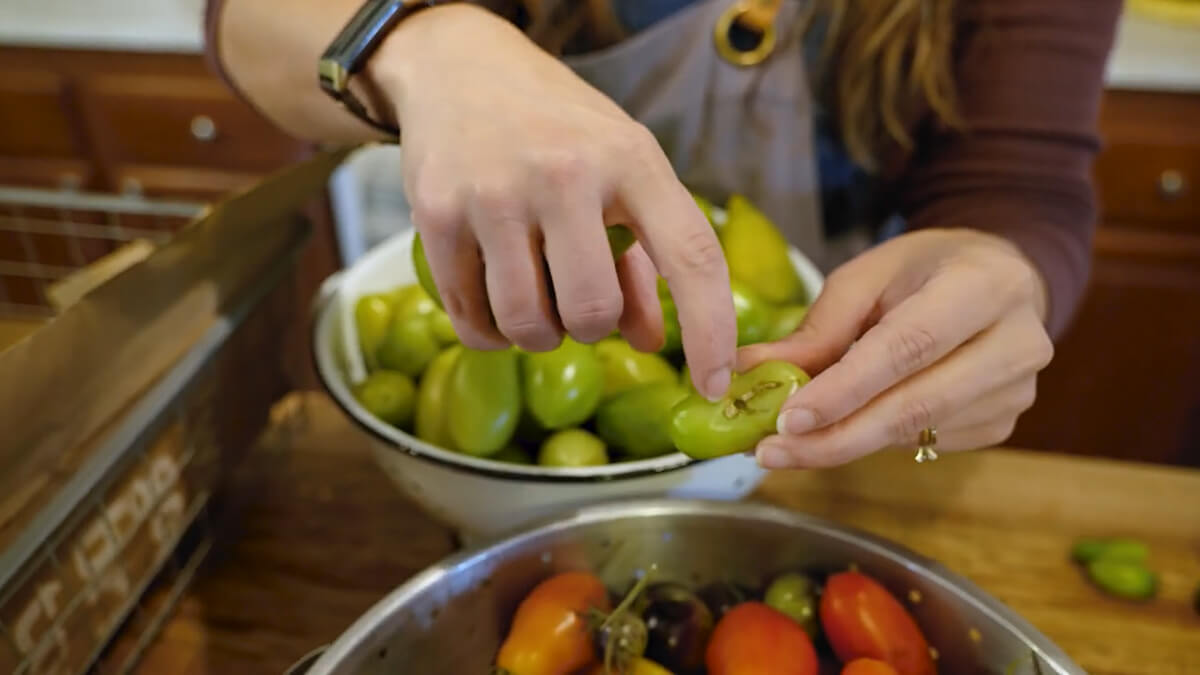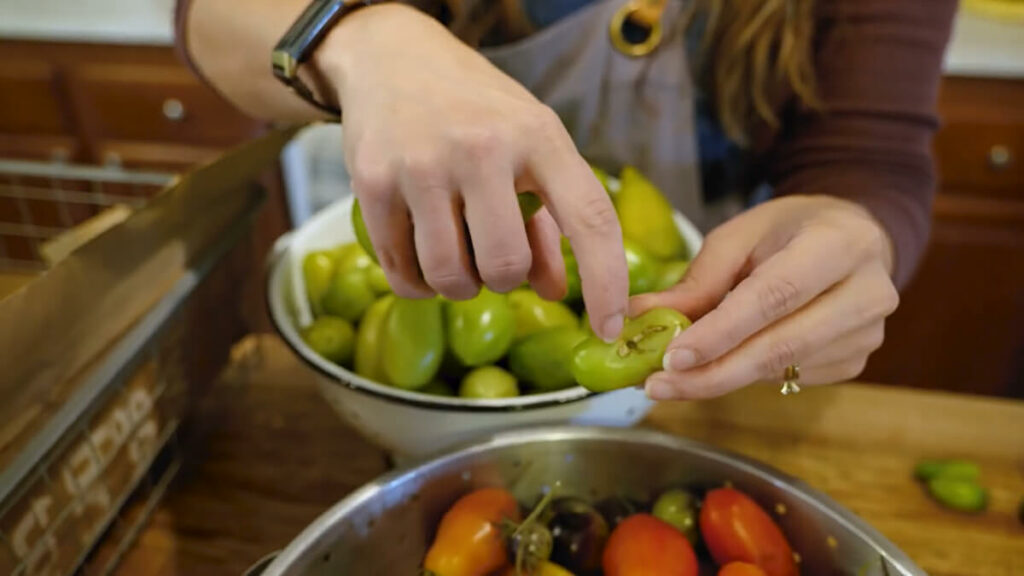 Is There a Way to Store Green Tomatoes?
YES! The key is to get them at the right time and know how to store them
before the first deep killing freeze.
What is the best way to preserve fresh green tomatoes? There are two ways, the first one being to uproot the whole plant, and the second is to pick the remaining tomatoes, whether ripe or completely green.
Uproot the Whole Tomato Plant
You can rip up or "uproot" the whole tomato plant instead of picking the remaining tomatoes.
You can then hang these plants upside down in the garage, root cellar or even inside. You just need to be sure they're stored where they won't freeze.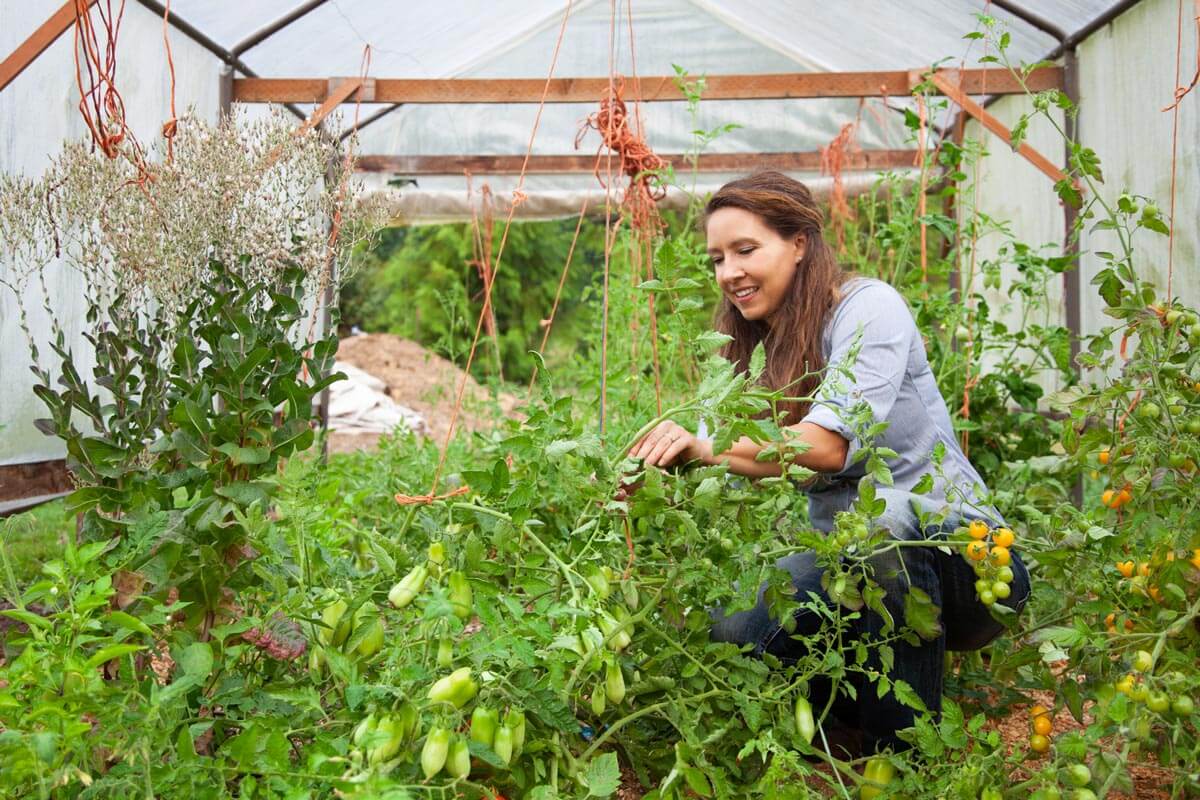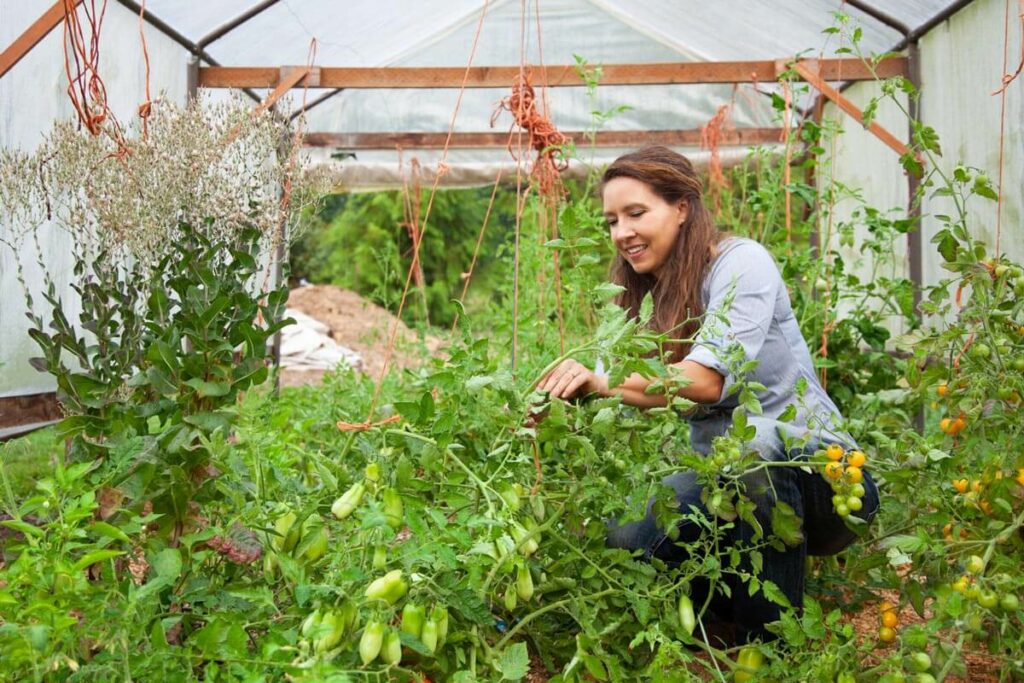 Pick All of the Remaining Tomatoes
The second way to preserve your tomatoes is to pick all remaining tomatoes regardless of the color. They can be green, blush, or almost ripened. One of my favorite varieties that I grew this year was a Black Strawberry Tomato from Baker Creek.
If you can, harvest them with stems on the end. This way, the tomato stem prevents it from opening up to oxygen. These tomatoes won't break down as quickly as the others.
Then you can arrange them so they can be stored indoors. Keep reading for how to arrange and store them.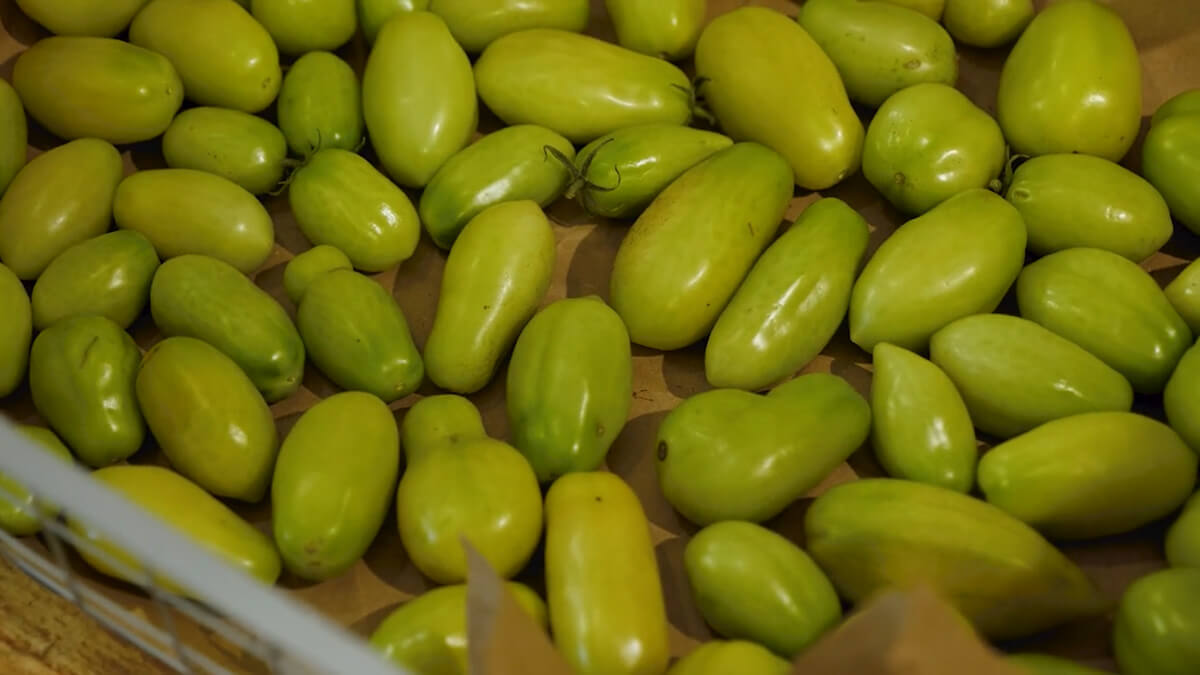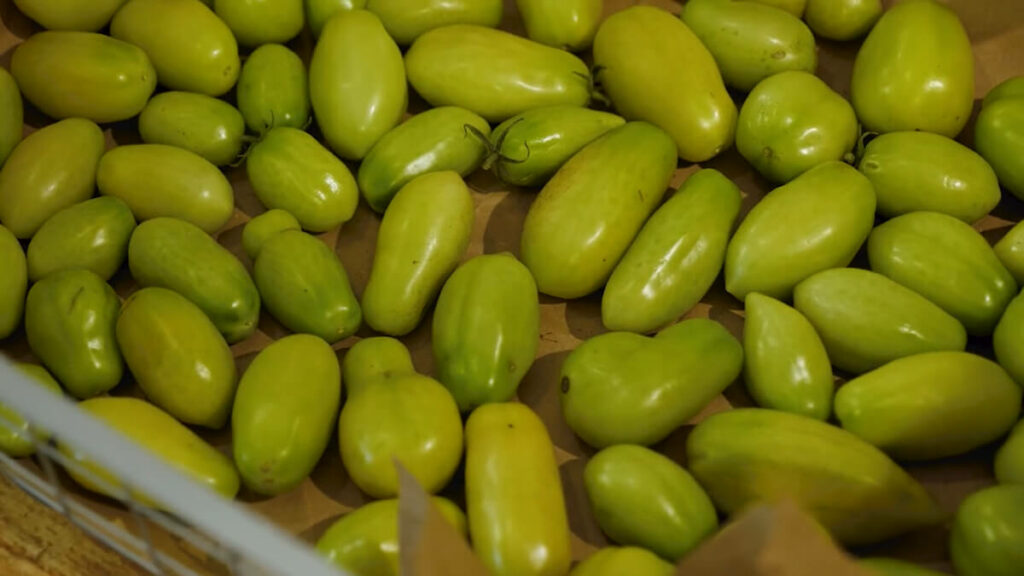 How Do You Store Green Tomatoes?
After you have picked all of your remaining tomatoes, make sure there are no cracks and no partial decaying. Also, check for any partial rot starting in small holes that have been penetrated.
If you have tomatoes with these characteristics, set them aside and use them soon, but do not store them with the other tomatoes.
Storing Green Tomatoes
Sort the picked tomatoes – You'll want to sort your tomatoes into three groups. I find using a colander for this helpful. The three groups are:

Completely green tomatoes
Blush or partially ripened tomatoes
Most ripened or almost ready-to-use tomatoes

Wire basket or crate – It doesn't matter what you store your tomatoes in. It just needs to be breathable. If your basket has holes where your tomatoes might fall through, you can place a paper bag or piece of cardboard into it.
Layer – At most, you only want two layers when adding your tomatoes to the basket. This prevents pressure points from causing rot and makes it easier to see the ripened tomatoes when you want to use them.

Place the completely green tomatoes on the bottom layer.
Place the blush or partially ripened tomatoes on the second layer in a group on one side.
Place the most ripened or almost ready-to-use tomatoes on the second layer in a group on the other side.

Store – Choose from the storage methods below.
Check on them frequently – You'll want to check on your tomatoes often to ensure they don't rot, and use the ones that have ripened the most so they don't damage the unripened ones.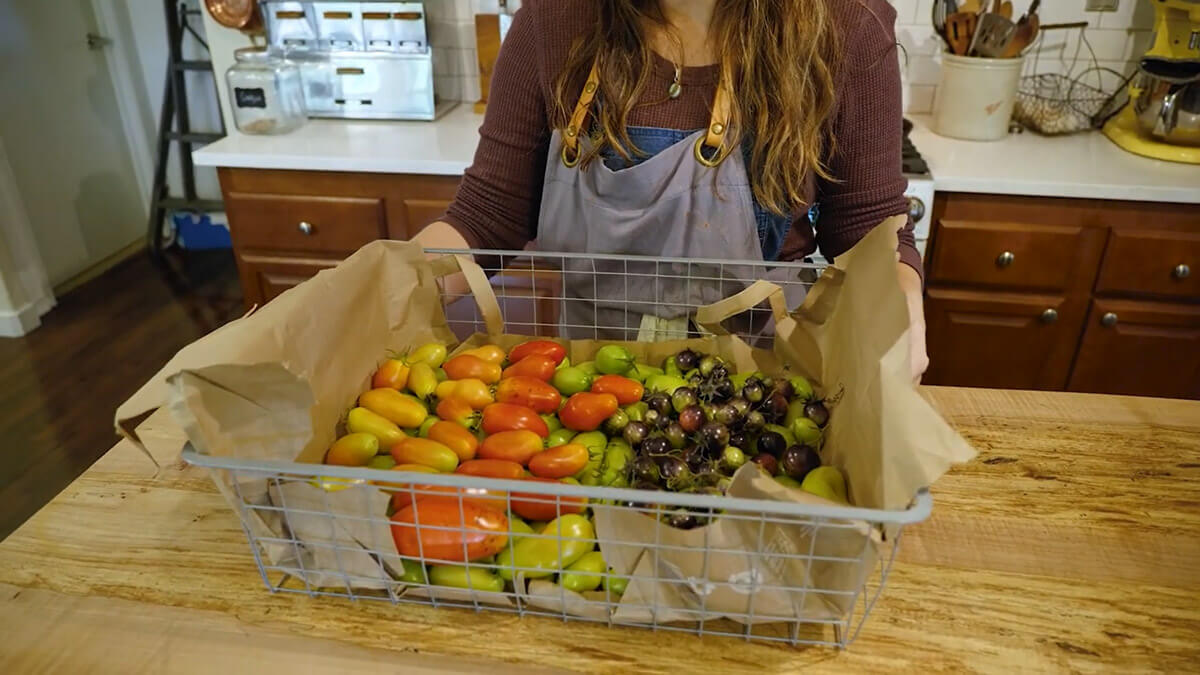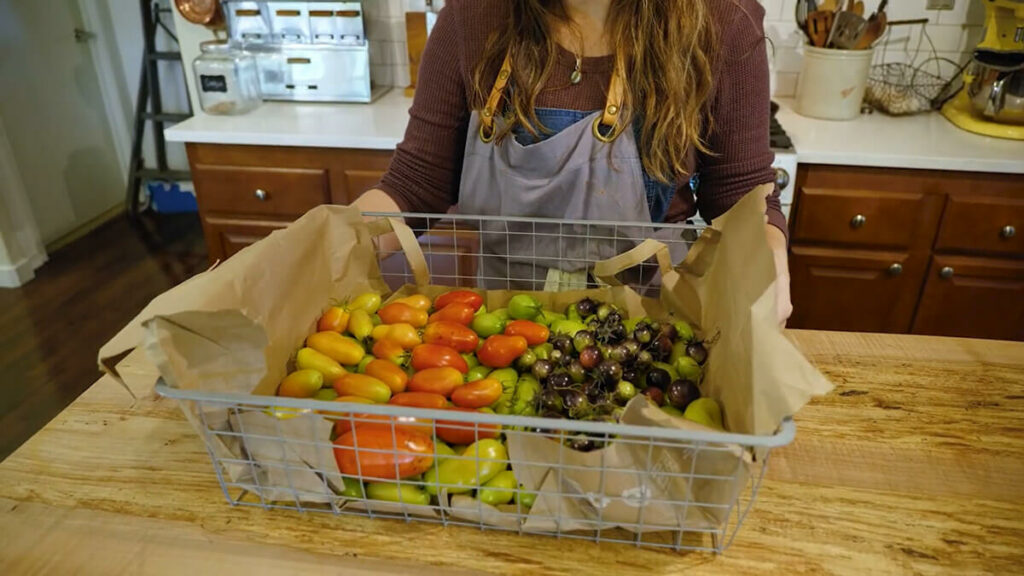 Frequently Asked Questions
How do you store green tomatoes to ripen them?
Store your wire basket of sorted tomatoes at room temperature (65°F to 75°F is the sweet spot) in a back pantry or other indoor room. The good news is they do not need daylight exposure to keep ripening.
You may be wondering how long green tomatoes last once picked. You can store your tomatoes for weeks or even months.
How do I keep my tomatoes fresh for a long time?
How long tomatoes take to ripen depends on each tomato and how ripe each one was when it was picked. Even if their color has changed slightly, they will still ripen off the vine and have great flavor.
It also depends on how you store them for how quickly they'll ripen. If you want your tomatoes to last a long time, then follow the method above.
If you want your tomatoes to ripen quickly, then keep reading.
How to ripen tomatoes quickly?
The trick for getting tomatoes to ripen quickly is to trap the ethylene gas. Some people will layer their wire basket or crate with newspaper and even wrap each tomato individually. The wrapping is said to get them to ripen faster because the newspaper will trap the ethylene gas.
Also, individually wrapping them will prevent one bad tomato from spoiling the rest. You could even try placing a banana in with your tomatoes to get them to ripen even faster!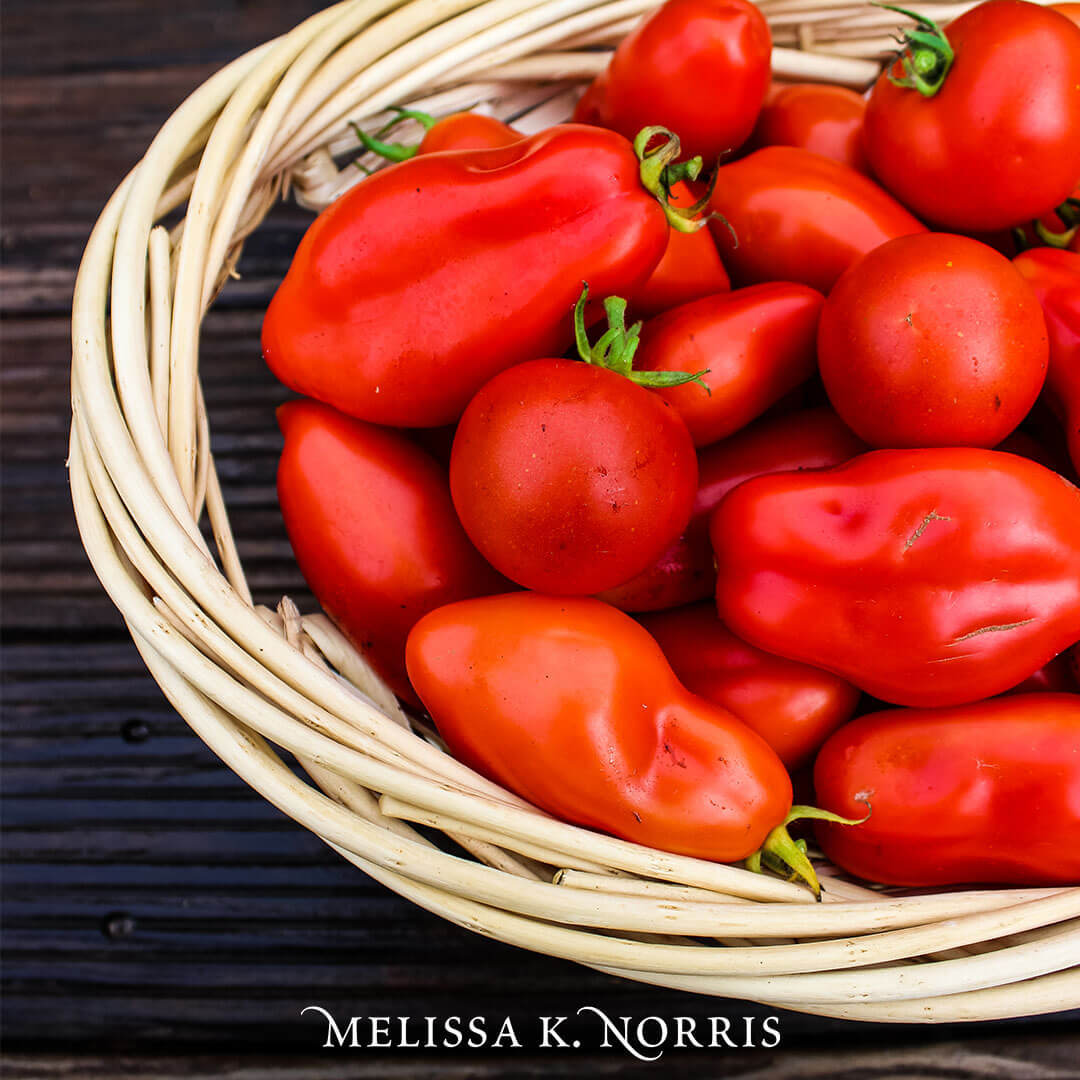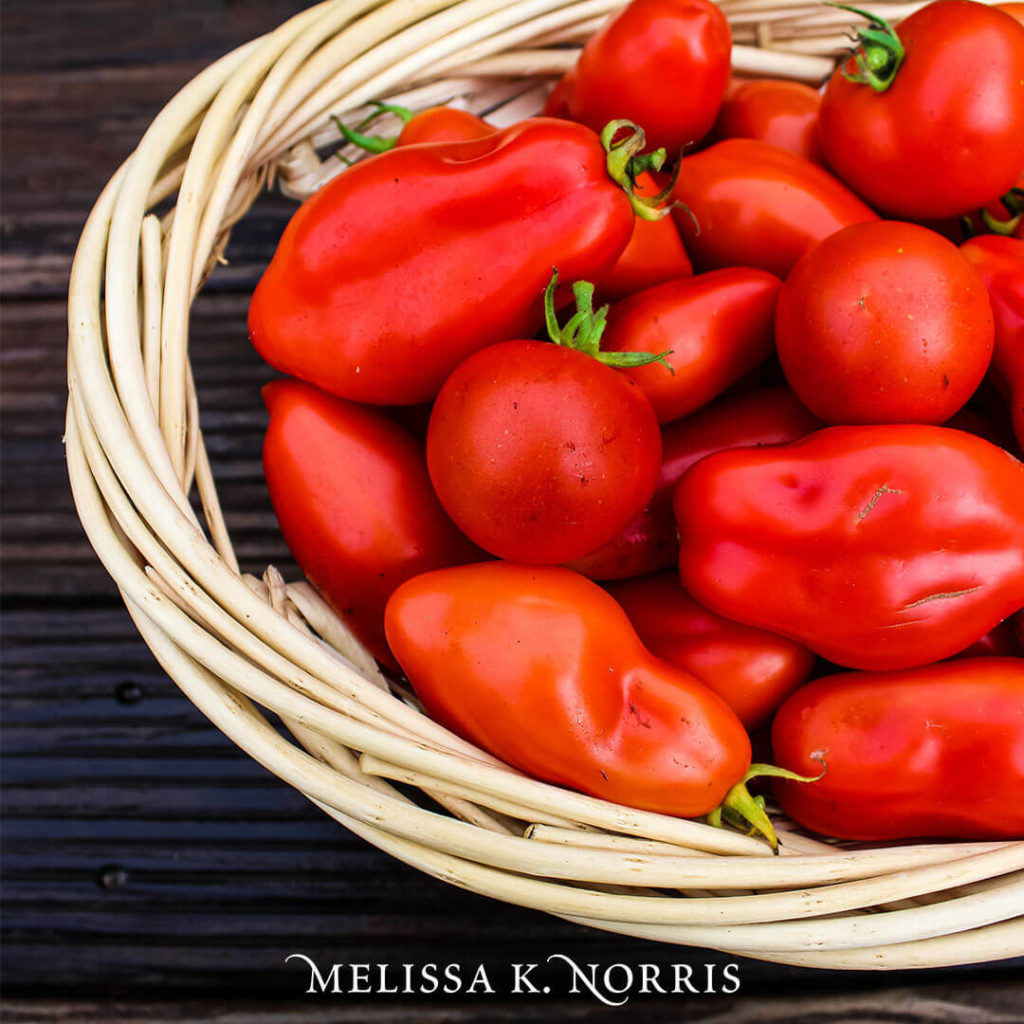 Fresh Tomatoes for Months
Now that you have your tomatoes picked before the first freeze and tucked into storage, enjoy eating fresh tomatoes well into the winter months.
And especially try some of my canning recipes for soups, salsa, or even fermented green tomatoes. My fresh fermented salsa recipe is an excellent use for your tomatoes. There are so many wonderful uses for these "fruits" as your tomato season ends!
And also, check out my video and blog post on how to harvest and store potatoes without a root cellar.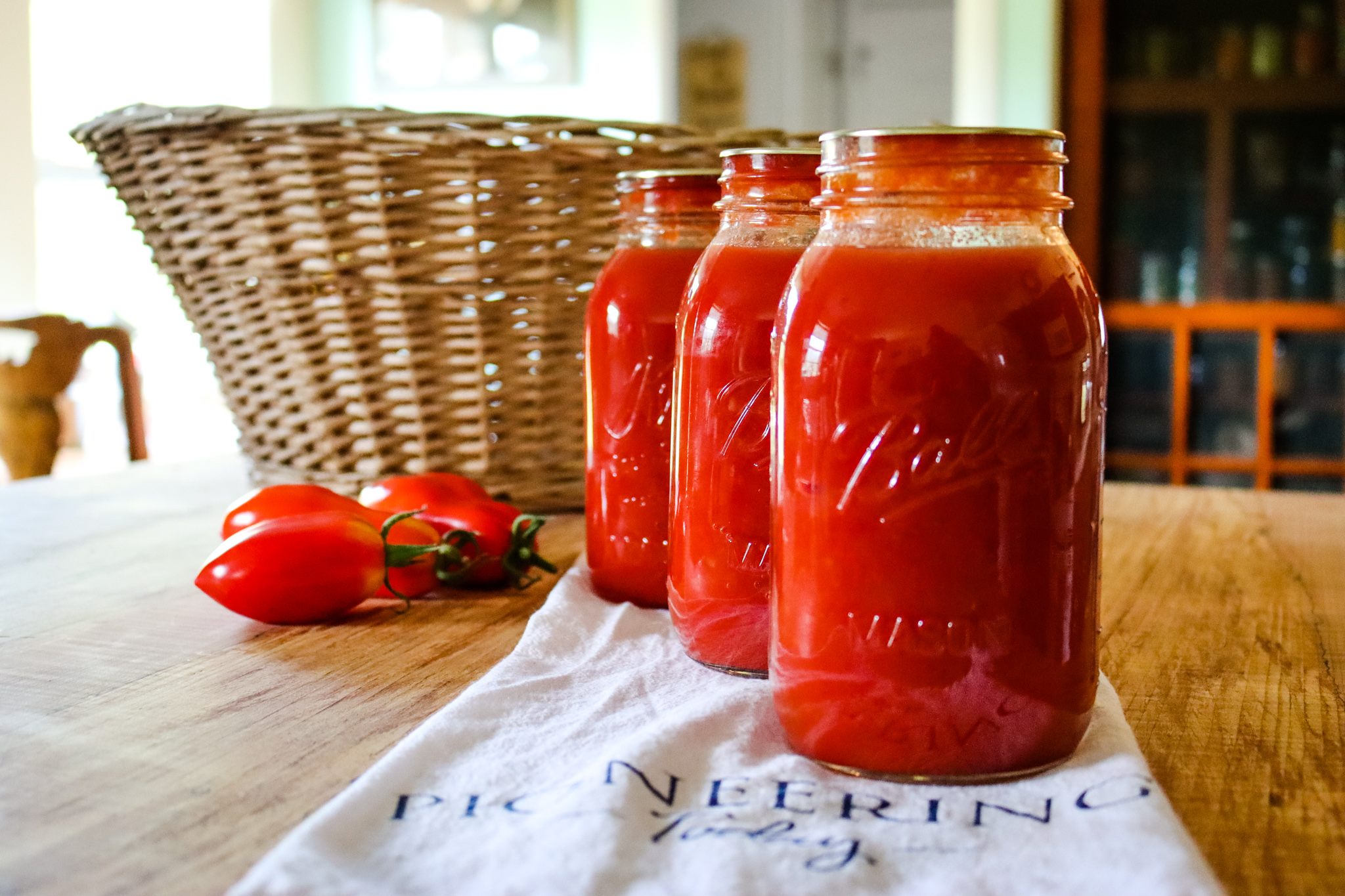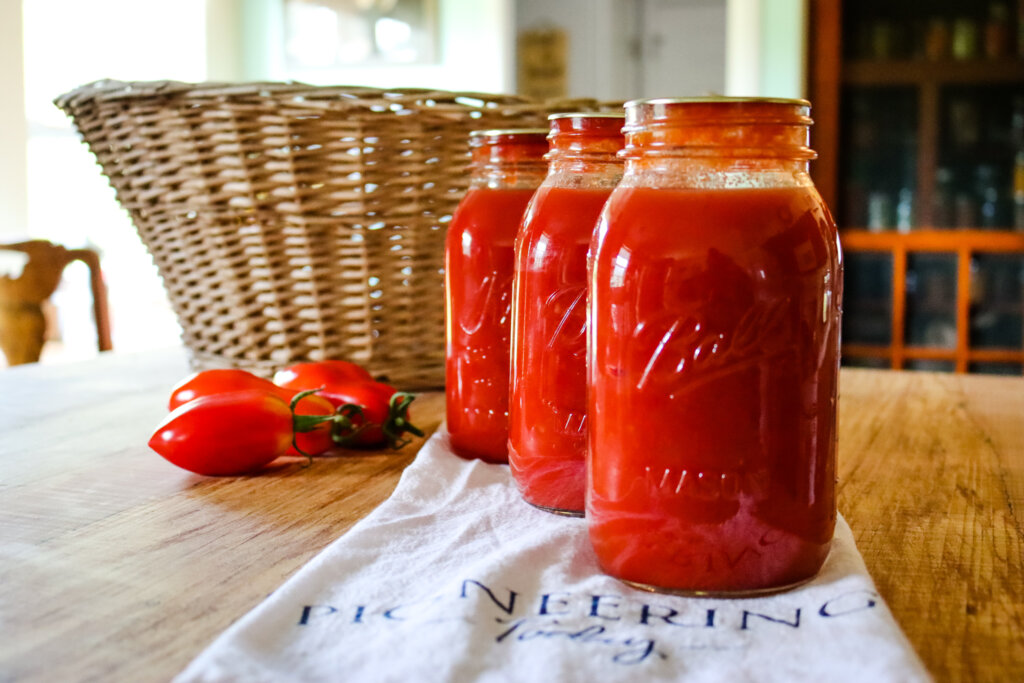 More Posts You May Enjoy