Some of the links below are affiliate links, which means I will earn a commission at no additional cost to you, if you click through and make a purchase. Regardless, I only link to products we use on our homestead or believe in.
Sheet mulching is one of the easiest ways to build up your soil, in fact, I'm going to call it the lazy way to compost and that makes it one of my favorites!
When it comes to growing a productive and healthy garden, it always comes back down to the health of your soil. In previous episodes, we've talked about different aspects of this and how having the right micro and macronutrients as well as making sure that the PH level of your soil is ideal for your crops. Check out the resource section below if you didn't listen or read those episodes.
Today, we're going to be diving into the things we do in our garden in the fall months. Depending on your climate, you can pretty much do this anytime as long as your ground is still not completely frozen or if you don't have a good bit of snow accumulation on the ground.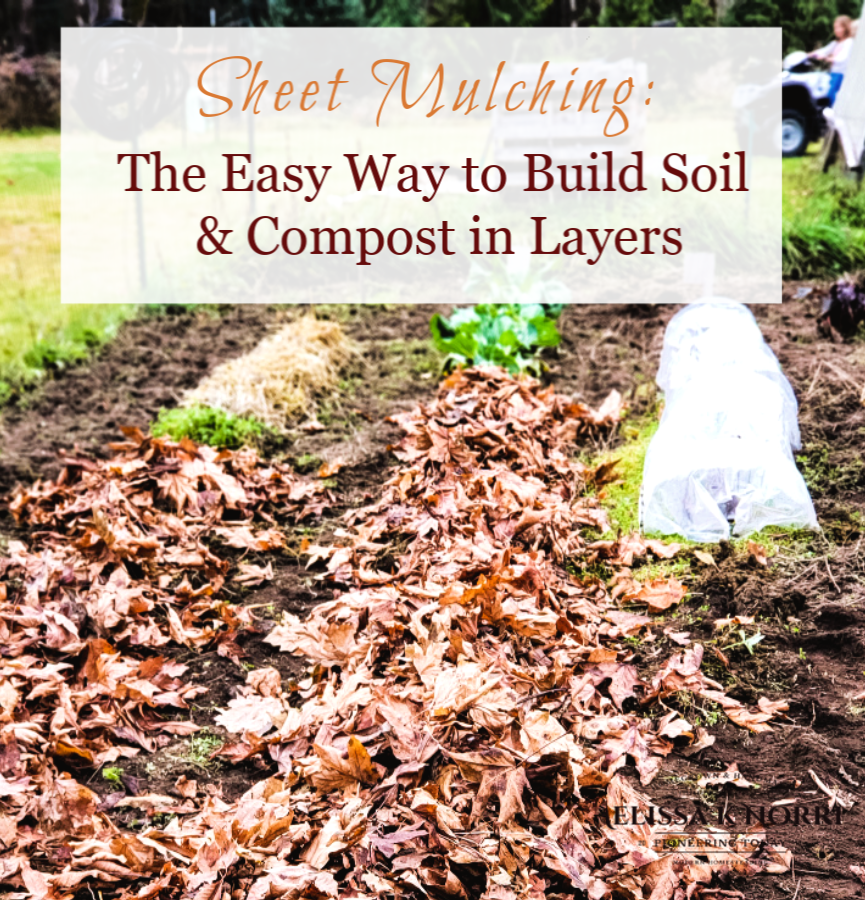 Listen in below to the full podcast, Episode #217 Sheet Mulching: the Easy Way to Build Soil & Compost in Layers of the Pioneering Today Podcast, where we don't just inspire you, but give you the clear steps to create the homegrown garden, pantry, kitchen and life you want for your family and homestead.
Sheet Mulching: the Easy Way to Build Soil & Compost in Layers
It's important to note that sheet mulching in fall is ideal, because whatever we put into the soil has enough time to break down and be absorbed into the soil so that it is ready to go for the spring and the summer months. This is an easy sheet mulching method we use in our vegetable garden.
Cover Crops
If you live in a northern state with the cold climate that we're having now (mid-November), it is too late for cover crops. The crops wouldn't have enough time to become established. Often as gardeners, if we think we missed the timing to do something specific in our garden, we believe that the opportunity has passed us by, and we can just try again next year. I'm here to tell you that this is false! There is almost always a workaround that you can do now, even if you think you waited too long.
Cover crops can be great, but there are certain areas of the garden where all of our cold-weather plants are still growing, and so it was harder for me to plant cover crops where I had existing plants going. I didn't want the cover crops to take over that area. Those plants are also still drawing nutrients from the soil, and so I didn't want the cover crops to compete with those areas as they were becoming established.
Cold Frames
I was still able to grow beets in the ground because of my cold frames. I will be harvesting them over the next several weeks. I wasn't able to sow cover crops this fall, because life got a little hectic. Well, life got A LOT hectic! But I know that because I did spring, summer, and fall crops in the garden, I will need to reintroduce nitrogen into the soil as it really needs to be fed.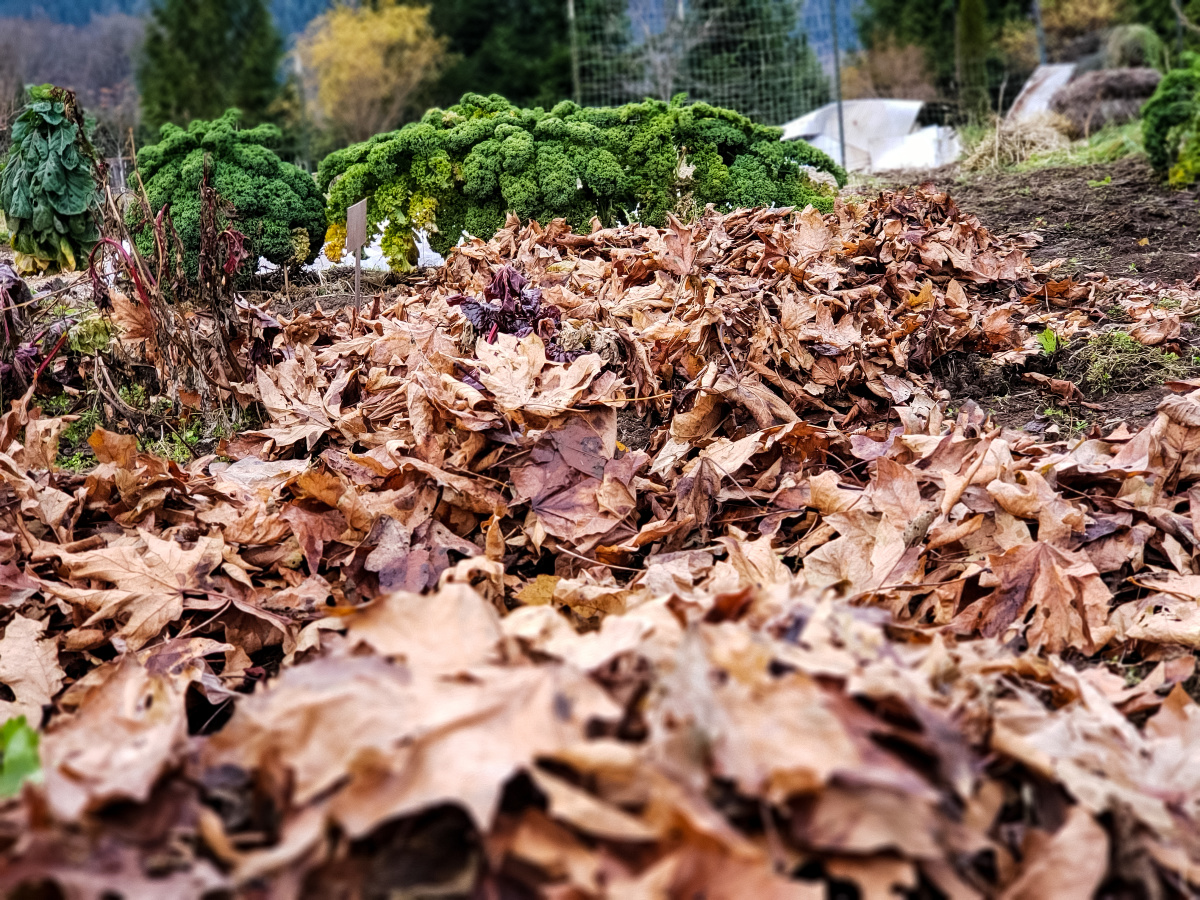 Protect the Soil
Over the winter months, you don't want to leave your soil bare for several reasons:
The rain and snow will wash away that valuable topsoil

The soil can get more compacted

Have more weed seeds
Manure
Because I missed the boat with the cover crops, we went out instead and got manure. If you do not have livestock, maybe check in your area to see if other farms can provide you with manure. Please note that if you have a large commercial farm that you want to contact, be cautious and ask what they usually feed their animals. Many times these larger farms use commercial feed that is not organic or that is treated with pesticides or herbicides. If it is important to you to keep your garden organic, you may want to look elsewhere. If you have friends or small farms, ask them what do they treat their fields with where the animals are eating and what type of feed they are feeding the livestock, because many times the small farms may not be certified organic, but they do practice this on their farm.
Once you have the fresh manure you put that down first. Now, this is one of the few times where you can put fresh manure down first because the manure will have enough time during the fall and winter months to fully break down.
You can use many different types of manure for sheet mulching in fall:
Cattle

Sheep

Chicken

Rabbit

Horse
Keep in mind that many people do not like to use horse manure in an annual vegetable area. This is because if the horses are eating hay, the horse manure a lot more seeds in it, and unless you're putting it into a compost pile that is reaching higher temperatures, then it isn't going to kill the weed seeds. Then the seeds will sprout wherever you put the manure in your garden.
Be sure to be careful of where you place the fresh manure if you still have fall crops in the ground.
After you place the manure down, you can place another layer of straw. Like hay, straw can grow some small sprouts if the day temperatures get high enough. My preferred method is to use leaves. So, you're creating sheet mulching on top of your garden layer.
The green layer – manure

The brown layer – leaves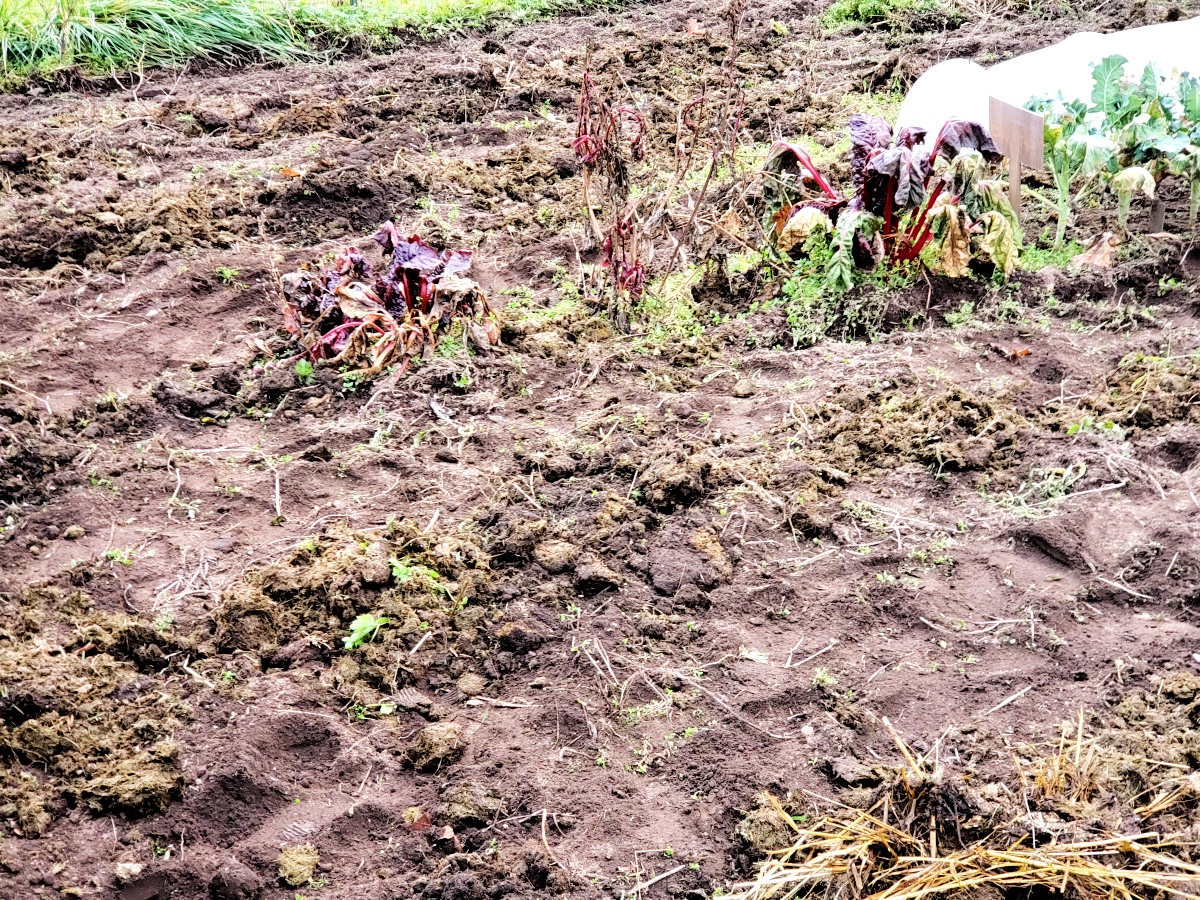 I usually do a rough chop as I'm working the leaves into the soil come Springtime.
If you did not get a cover crop in and you haven't had a chance to amend your soil yet it's not too late. Get some manure, and be sure to spread it evenly. How long does sheet mulching take? You want to have at 120-day buffer before harvesting any crops and with cooler temps during the winter, at least 4 months.
Resources:
Episode #213 Plant Covers for Cold Weather Gardening: How to Grow Vegetables All Year
Episode #209 How to Improve Soil Health
Episode #200 Ways to Improve Your Garden Soil Organically
Preorder my new book today The Family Garden Plan to take advantage of all the bonuses! In this book, you'll learn how to grow a year's worth of food for your family! Increase your harvest and maximize the space you have using organic and natural methods to raise a year's worth of the fruits and vegetables your family enjoys with Melissa's step-by-step plans and charts.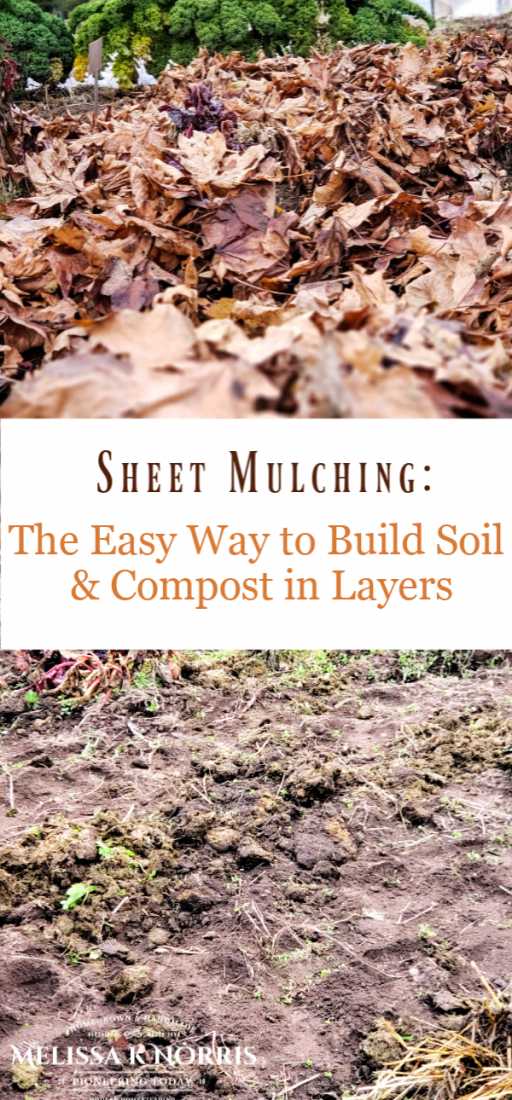 More Gardening Articles