Some of the links below are affiliate links, which means I will earn a commission at no additional cost to you, if you click through and make a purchase. Regardless, I only link to products we use on our homestead or believe in.
Seed Starting Mistakes & How to Avoid Them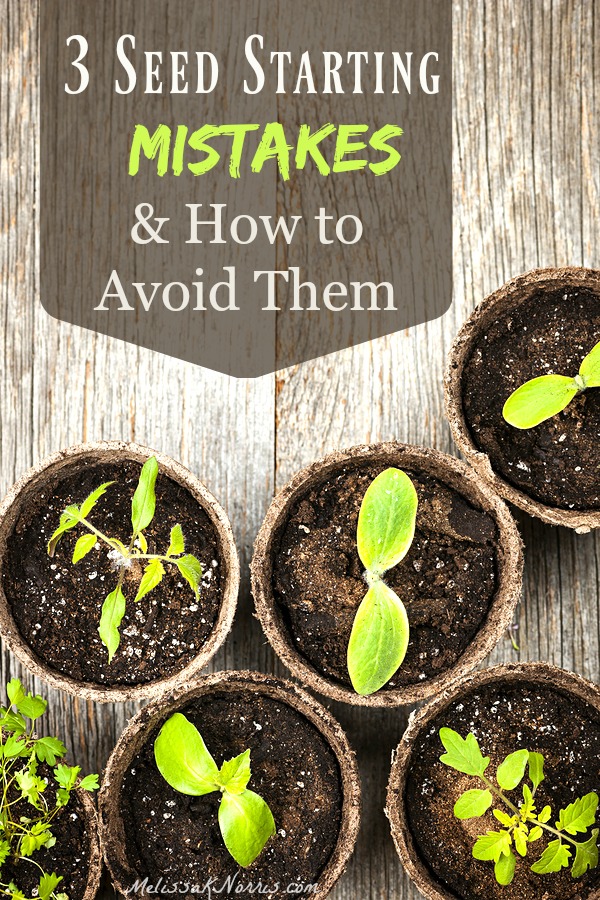 Starting your seeds at home is a great way to increase your growing season, harvest, and self-sufficiency. But there's little more frustrating than putting in the work of starting your own seeds only to have them die or not make it.
Common Seed Starting Mistakes
Getting the timing wrong. You need to know your last average frost date and the weeks it takes each plant to reach maturity or to be old enough to transfer to it's permanent garden spot outdoors.
If you start your seeds too early, they'll become too large for the pots they're in or root bound, stunting their growth.
If you start your seeds too late, they might not become large enough to bear fruit or your harvest season may be cut short because the plant didn't reach full maturity before cold weather sets in.
You can get my full planting chart included in my book The Family Garden Plan
Using the wrong dirt. Do not use dirt straight from your garden. Baby seedlings are like baby humans, they're more susceptible to disease and infection. Sterile soil is important to make sure you're not passing on disease to your new seedlings, such as dampening off or fungus. Plus, you're likely to bring insects or insect eggs into your house if you use soil from the garden.
You can purchase seed starting mix, potting mix, or heat soil in your oven until it reaches 180 degrees Fahrenheit. This is one instance I prefer to purchase seed starting mix. I use this Fox Farm potting soil.
Keeping the correct moisture level. When seeds are sprouting, they need to be kept moist at all times. Do not let the soil dry out. However, after the seeds have sprouted and are starting to grow, you don't want to keep the soil too wet.
When watering, you want to mimic nature. If you pour water over the seeds or seedlings, you can wash too much soil away from the baby roots.
Use a spray bottle to mist the plants. This provides even moisture and acts like rain, providing movement for the plants to help them grow stronger roots and stems.