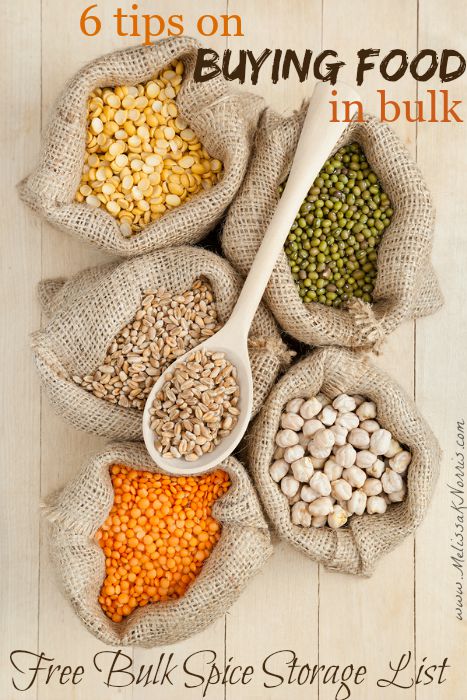 One of the first rules of food storage is to purchase in bulk. Actually, that might be one of the first rules of frugal grocery shopping, but it also applies to food storage.
3 Rules for Food Storage
I have a hard and fast rule in regards to food storage. Never purchase things you won't eat in regular life. I believe it is a waste of money to purchase emergency food you won't use in your ever day life.
I have this rule for two reasons. One, what if the emergency never comes? And I seriously hope and pray that it never does. But if you're investing a bunch of money into food you'll only use in an emergency, then you might be banking your money on something that doesn't happen.
Second part of the rule, if you're not using your emergency or food storage food on a regular basis, you're going to have enough things to deal with when an emergency happens and learning how to cook said emergency food is not going to be another stress you want to add on.
And third part of this rule (boy, I sound bossy, don't I? Let's say it's the mother in me coming out… because that sounds way nicer than bossy), if you have children and a spouse, getting them to eat something they don't normally eat can sometimes be a huge issue.
Whew, glad we got that part covered. Now onto the fun stuff.
Normally, purchasing in bulk will save you money. Happy dance, like full on grooving over here. And this is good news any time of the day, but especially when you're building up your food storage.
If you're not sure what items to begin with in your food storage, I've got ya covered in my 8 Foods Everyone Should Store and How. Check out some of the wise wisdom in the comment section, too.
Fresh fruits and vegetables are not a storage item, unless you preserve them for use later. This is where my Ultimate Home Food Preservation Guide comes in. All of my recipes, tutorials, and how-to's, plus a ton of others from folks I trust and follow to cover all aspects of home food preservation. Because preserving your own fresh fruits, vegetables, and meat is a very important part of any food storage plan. Specifically, because this an area you can replenish every year.
A major part of some food storage advice I see has a flaw, because there is no way to replenish it without the stores. You may not be able to grow everything yourself, but finding a local source will mean you can still purchase or barter if transportation was shut down. And I much prefer helping out a neighbor and keeping small family businesses going with my money when possible.
That being said, I don't have a local source for all items in my food storage, and that's where this buying in bulk guide comes in.
The items I keep in my food storage and I buy in bulk are items of what you'd typically see the pioneers purchase when they went into town. Think Little House Laura Ingall's living.
Places to purchase food in bulk
Costco
Amazon
Azure Standard
Local Co-op
Local Farmers
Mormon Church Store House (no, you don't have to be a member, because I'm not and never have been, and I double checked, it's open to the public but you do have to call for hours, though some folks say you need to go in with a member, here's a map where you can find a location near you if you're interested)
Tips to Buying Food in Bulk
1. Wheat berries. I buy my wheat berries in 50 pound bags. I purchase these about twice a year. When I open my last bag, I purchase another. This way, I'm never almost out and have a buffer. Because if I wait until I'm out, then if I don't get my order in or to the store before an emergency happens, I'm left with a whole in my food storage. This also ensures I'm practicing proper rotation with our food.
I've purchased my wheat berries from a few different sources. The best deal I've found for organic hard white wheat has been from our local co-op. If I order a bag in bulk, then I get 10% off. However, their organic spelt berries are much more expensive than ordering online.
This is the best price I've found for Spelt Berries. If it's just a small dollar amount difference, then I'll still purchase local, but if it's a large amount then I purchase on-line. If you don't have a co-op, then this is a local brand to my area and they also have really good prices.
I've seen some people say wheat berries isn't a good food storage for the fact you have to have a grinder. My answer, it's much healthier to grind your own flour than said flour from the store (read all those facts on why you should be grinding your own flour) and you should start now! My goal is to be living the healthiest I can now, and simply swapping out my flour is an easy way to do that. Plus, it adds to my preparedness skills and isn't something I'll have to deal with later.
2. Sugar is another item I store in bulk. I usually keep 25 pounds of brown sugar on hand and 25 pounds of organic evaporated cane juice. I don't use nearly as much sugar as I used to in my baking, but I do use it for our homemade jam/jelly and in some baking.
I purchase my sugar in bulk from Costco primarily. It's a better price than the regular grocery store. Many people like to buy in bulk from Azure Standard, but we don't have a drop zone in our area, so it's now an option for me. I've also purchased from the bulk bin at our local co-op, especially things like coconut palm sugar and other speciality sweeteners, but Costco has the best deal and beings they're carrying a lot more organic items now, I check there.
3. Dried beans. We grow enough shelled beans to almost get us through the year, but I do supplement with a 25 pounds bag from Costco of pinto beans. One thing to keep in mind is if you're eating strictly from your food storage, as in emergency type conditions, then you're going to go through it faster than you think. I keep a buffer of dried beans on hand for this reason, beyond what we grown and dry ourselves. Remember, dried beans are good for about 2 years before they begin to get too hard when cooked. And once they're too old, it doesn't matter how you cook them, they'll still be hard and tough.
Most of us still end up supplementing some of our food from the store, eating out, etc. even if we feel we're eating mostly from our food storage or pantry at home.
4. Rice. I purchase rice in bulk. It's much cheaper and can be cooked in such a variety of ways. You can add it to soups, stuff it in a tortilla, eat it all by its lonesome, and also make puddings out of it. There are lots of options for rice. Remember, brown rice will go rancid quicker than white. I personally love wild rice, so I try to stock a blend. Costco has a 25 pound of Jasmine rice that I use for our bulk, and then I mix it in with quinoa or other rice to make my own mix.
5. Spices. Trust me, spices go along long way to making plain old beans and rice palatable and down right delicious. Seriously. My kids beg me to make homemade refried beans all the time. It's one of their favorites. Now, spices in the store can get expensive. Those little glass bottle add up quick and if you're cooking a lot from scratch, you're going to go through them quick.

I purchase my spices and seasonings (herbs and teas, too) from Mountain Rose Herbs. They're a pretty awesome company out of Oregon. You can choose what amount to buy your spices and they give discounts for bulk orders.
I recommend going in with some friends if your order isn't large enough for the bulk discount if possible. I often combine my mom's order with mine. Chili powder is one I use a lot of, because I make all my own seasonings for tacos, chili, stews, and other dishes. Their prices have far beat out the stores, plus, they're usually organic, Non-GMO, and when harvested wild, harvested responsibly so as not to deplete an entire area. That is some awesome sauce right there.
6. Salt. I keep all kinds of salt on hand. I use canning salt for canning and keep at least a box on hand. (Canning salt means no iodine or other additives so it won't discolor or taste funny in your home canned foods) My sea salt I found at a discount store, but I keep at least five pounds of sea salt on hand for every day use, cooking, baking, fermenting, you name it going on in the kitchen. If you want to cure meat with salt, then you need some curing salt which has nitrates in it.
If you have the extra money or room in your grocery budget, I'd purchase these items in bulk now. But I know not everyone can afford to do all of it at once. I would buy one item a week in bulk. The beans and rice were both just under $10, making them fairly easy to slide in on our budget.
Don't go into debt to build up a food storage, but add in items as you're able. We'll be talking about how to store these items, and getting creative with storage space, in 8 Tips for Bulk Food Storage.