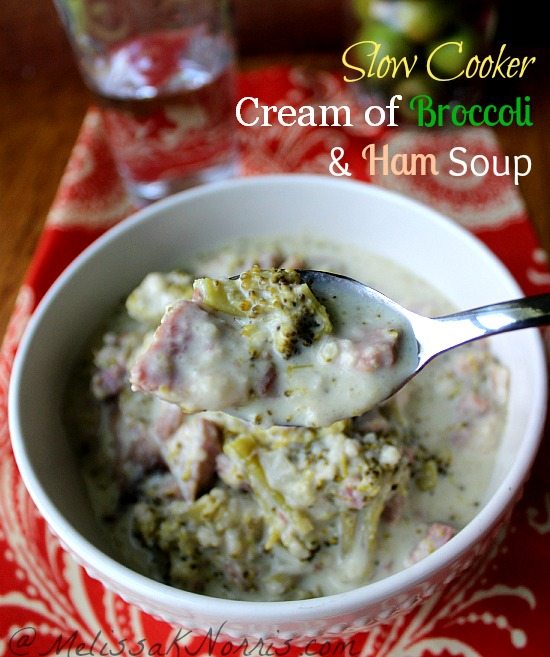 Our food budget is one of the few areas I can really cut back on without sacrificing flavor, health, or taste. Being able to stretch a few dollars is important to most folks and if you're like me, I need recipes and meals that are quick to make, easy, frugal, and taste like they belong in the blue ribbon winners circle at a county fair.
Because I don't care how cheap something it so make, if my family thinks it tastes bad, then it was a waste of time and money. This recipe has been in our kitchen for years. It was one of the first soups I learned how to make when my husband and I married.
As I've learned how to do things more from scratch and to make them healthier with real food ingredients, it's had a makeover or two. But my husband still declares it one of his favorite meals ever.
Cooking a large piece of meat, like a whole ham, chicken, or roast is a frugal way to stretch the dollar and create multiple meals. You can almost always purchase a whole chicken cheaper than if you bought each piece individually, plus you have that beautiful carcass left over to make bone broth from. I'll have eleven whole chickens in three weeks when we butcher our first bunch of meat chickens. Ya can bet I'll be writing a post or two about that… and maybe a video for the non-squeamish.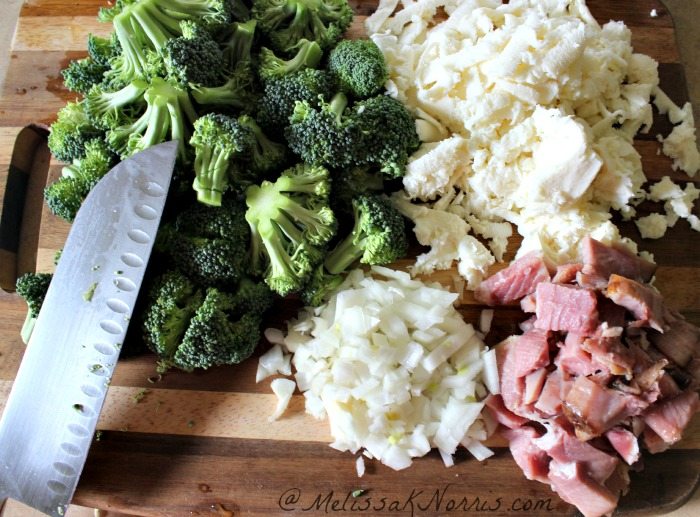 Chop all of your ingredients up. Don't they make a pretty scene with all of those complimenting colors. Hey, cooking is an art form, am I right?
Whisk the corn starch (I use this non-GMO organic cornstarch from our affiliate partner Amazon Rapunzels Pure Organic Corn Starch) with the bone broth in the slow cooker. Add all the rest of the ingredients except the cream.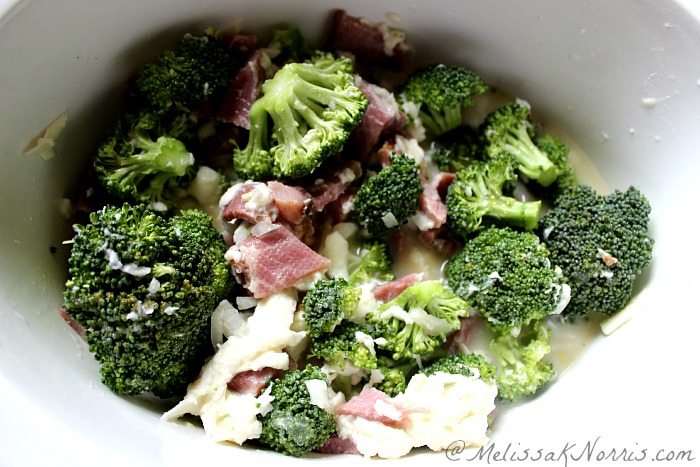 Cook on low for 4 to 6 hours or high for 3 hours. Turn off slow cooker and take of the lid for a few minutes if boiling hard.
Pour in the cream and stir. Serve and try not to devour it all. Two bowl fulls is a must for me… and I may have licked the serving spoon clean afterwards.
Cost break down:
Broccoli=$1.45 (based on $1.70 per pound price)
Ham=$2.00 (based on average price per lb.)
Onion=$0.45
Bone broth=$2.00(if you make your own with left over bones, it's almost free)
Cream=$1.00
Cheese=$2.50
Total cost=$9.40 dividing by 10 servings equals just $.94 cents a serving, less if you make your own broth or grow your own veggies. You may be able to get more or less servings depending upon your portion size.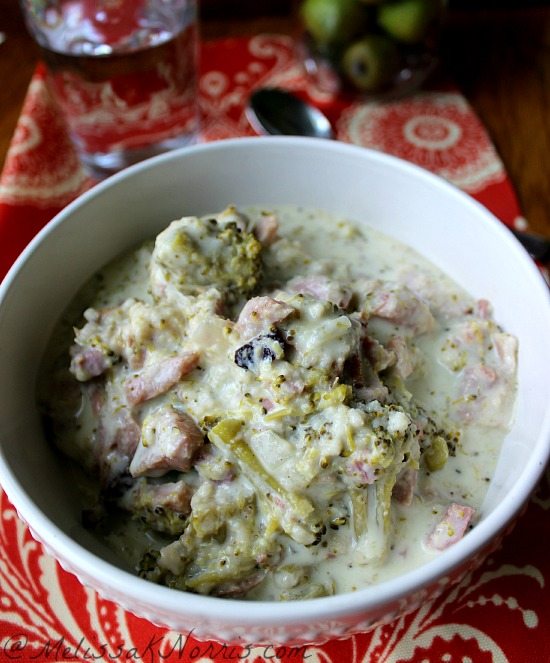 More Articles You May Enjoy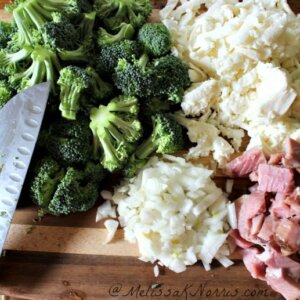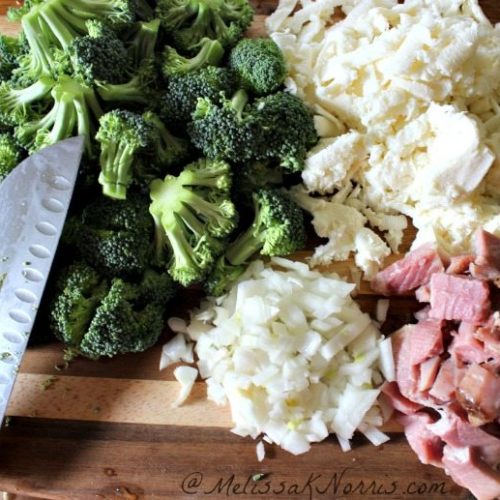 Slow Cooker Cream of Broccoli and Ham Soup-Frugal Supper
Ingredients
2

Tablespoons

corn starch

2

cups

chicken or bone broth

2

cups

diced ham

3

cups

chopped broccoli

1/4

cup

minced onion

1

cup

grated mozarella

swiss, or queso fresco cheese

1

cup

cream
Instructions
Whisk together corn starch and broth in the bottom of the slow cooker. Add all other ingredients except the cream! Stir together. Cook on low for 4 to 6 hours. Pour cream in, stir, and serve.