What are the best seed starting containers?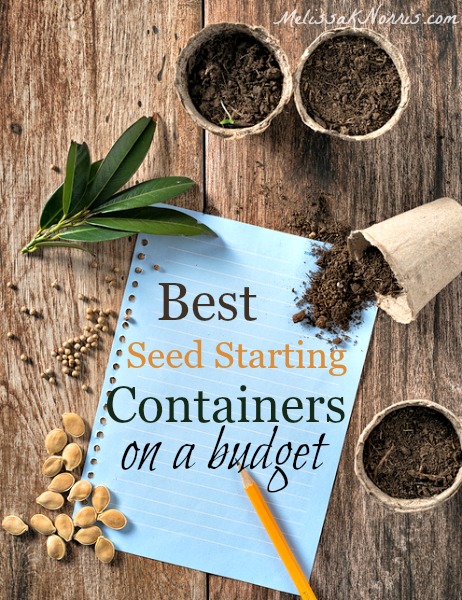 Starting your own seeds at home not only makes you more self-sufficient so you're not relying on stores for your starts and growing your own vegetables, but it saves you money if done correctly.
You also have a greater range of variety of vegetables, especially heirloom varieties than you will from a regular retail store.
Listen to the Pioneering Today Podcast while you're whipping up something amazing in the kitchen, scrubbing the toilets, driving or playing in the dirt, basically, wherever you are, on the homestead or not with the audio edition below!
You can download it, follow us on ITunes, subscribe via RSS, or listen right here on the blog.
We'll be talking starting seeds and my favorite ways and containers for doing so on today's Live Broadcast of the Pioneering Today Show. I broadcast live on Facebook every Thursday morning at 8:30 am Pacific (11:30 am Eastern).

Reader Question:
Which containers are best for starting seeds in?
There are a few factors to consider when choosing containers for starting your seeds in. If they're a small root system or a start I'll be transferring outside shortly, I don't worry about the depth of the container as much.
You need to know your last average frost date to help calculate how long your starts will be staying in the house where it's warm.
For tomatoes, which have a large root system, I will start them in a smaller container, knowing I'll be moving them to a larger container before the final transplant.
Reusing Containers for Seed Starting
No matter what container you use, you'll need to make sure it's been washed and dried, if it had plants in it last year, you'll need to sanitize the pots with a solution of 1 part bleach to 10 parts water and soaking the containers for 10 minutes. Then wash with regular soap and water, scrubbing well, and allow to dry.
If you don't properly wash and sanitize your containers, you can introduce disease to your starts, which are more susceptible than older plants. We're not saving any money if our efforts die because we didn't take a simple step, right? I know ya'll are with me.
Free Options
This is always my favorite route.
Egg cartons work well for starting seeds. They're free and will degrade down if you decide to plant them in the ground. However, they draw up more moisture due to being porous, so you'll need to water more frequently. They're small, so they won't hold the seedling for long before needing to be transplanted to a larger home.
Plastic clamshells and lettuce containers. These are some of my favorites because they create the natural greenhouse effect we need when starting seeds by simply shutting the lid. Lettuce containers with the lid are deep, so I don't need to replant many starts, especially lettuce, when using these containers. Plus, it gives new use to something I'd normally out.
Milk Cartons. These have a handle for easy moving and are quite deep.
Worth the Money
1 Gallon Pots . The main crop of seedlings I start in doors are my peppers and tomatoes. Due to our shorter growing time here in the Pacific Northwest it's the only way I can get a crop of tomatoes and peppers.
Because my darlings spend months indoors, I have to pot them into a larger container so their roots can flourish and grow. I purchased these pots three years ago and reuse them every year. They have been well worth the money and should last me for several more years.
Resources:
Planting Guide Worksheets in The Made-from-Scratch Life pg. 24-26
More Articles to Get Your Garden Off to a Good Start:
What is the Live Pioneering Today Show
The live Pioneering Today Show is where I go live once a week to answer your questions on all things related to simple living and homesteading, from growing your own heirloom gardening, raising livestock, preserving food at home, cooking from scratch, and making it yourself.
Details:
When: Every Thursday morning at 8:30 am Pacific (11:30 Eastern)
Where: on my Facebook page.
What if I can't make it Live?
No worries, you can catch the replay here on the blog, Youtube, or on Facebook.
Have a Question You'd Like Answered on the Show?
Shoot me an email at melissa (at) melissaknorris.com and put #Question for Live Show in the subject line.