Learning how to assess seed packet information and reading those seed packets can make a big difference in your gardening success.
Back when we first started raising our own garden which was, *cough* 20 years ago. I didn't really understand as much as I do now. I especially didn't know about what seed variety grows the best in my area and climate. It's one of the reasons that we really didn't have good tomato crops for a number of years. I struggled to grow peppers too. I also had years where the crops were ok, but I would only have a week or so to harvest before the first frost would hit. All of this was a result of me not knowing how to read the seed packets correctly.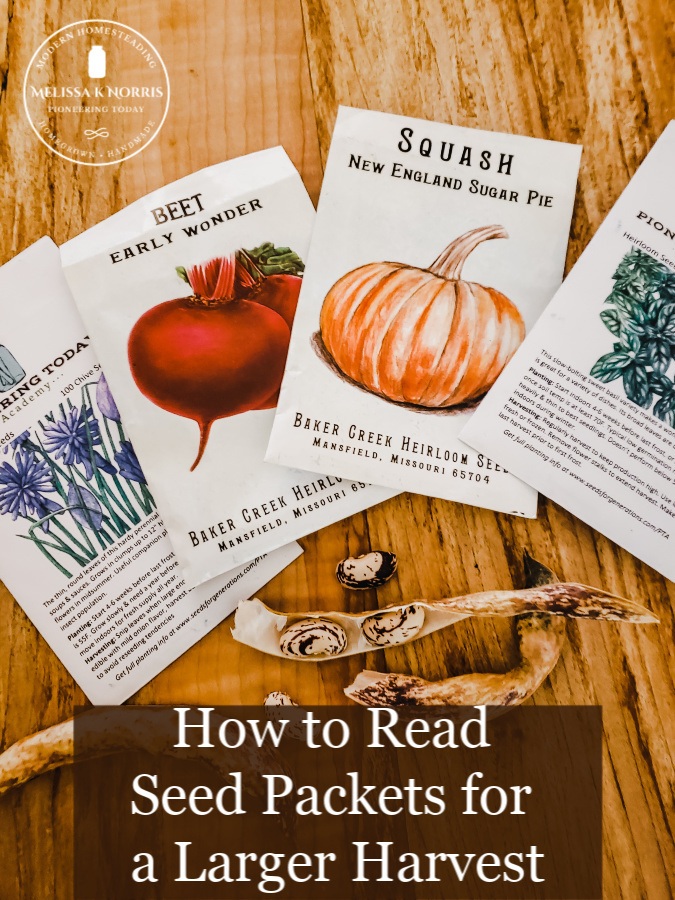 Listen in below to the full podcast, Episode #227 Seed Packet Information – How to Read Seed Packets for Gardening Success of the Pioneering Today Podcast, where we don't just inspire you, but give you the clear steps to create the homegrown garden, pantry, kitchen, and life you want for your family and homestead.
In today's episode, we're diving into the things you need to know when you're picking your seed variety specifically what you need to be looking at, and understanding the information on the seed packets. And how you can use that information to make sure that you are picking the absolute best varieties. By choosing the best ones for your growing area can be the difference between a plant the produces a high yield or one that doesn't do well at all.
Seed Packet Information – How to Read Seed Packets for Gardening Success
Back in the day, when we first got married the internet was really in its infancy and no one hardly used it. The majority of seed shopping was done at my local grocery store. Now, I did seed save my bean seed but had to purchase the rest of my seeds. In the spring grocery stores and gardening centers would have cardboard displays with all the seed varieties. They may have had 2-3 different varieties of tomatoes and maybe 2 varieties of cucumbers. Choices were limited but at the time, I didn't know any different and it's the way most people purchased their seeds.
Seed Type
One of the main reasons I purchase my seeds online is that I only purchase heirloom or open-pollinated seeds for my garden. These are the only types of seeds that you're able to seed save and thus why I only purchase these. I may be a little partial to heirloom seeds, but I personally feel that the products that are grown from these versus hybrid seeds have a greater flavor depth and they have a lot more varieties as well.
Look for the terms heirloom, heritage, or open-pollinated. If you don't see this listed, then it's most likely a hybrid variety.
Temperature
Often times you'll see the ideal temperatures listed for growing, this lets you know the appropriate time of year to plant the crop. This indicates their hardiness (warm or cold weather crop).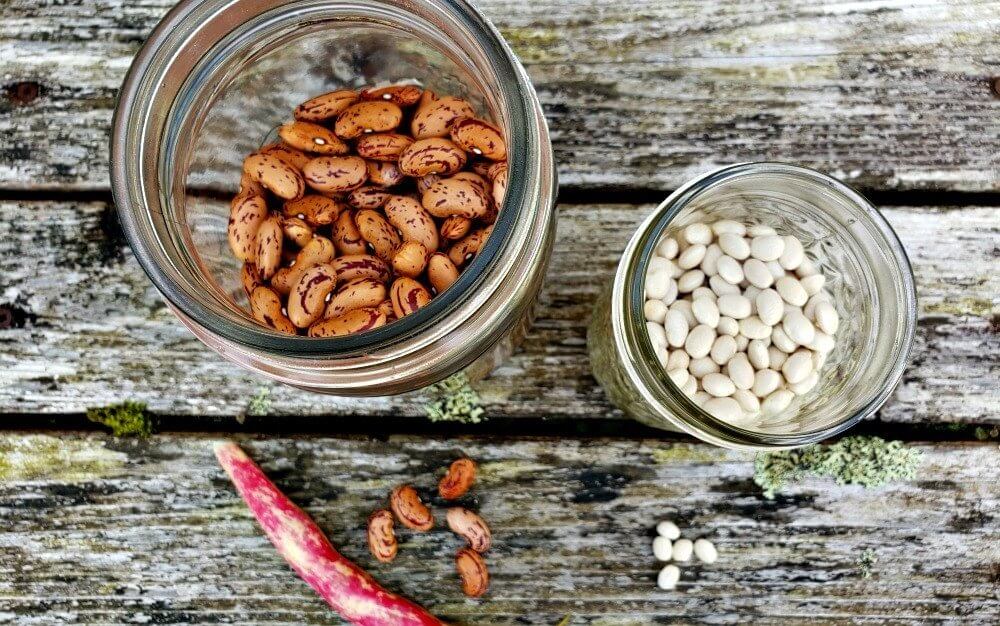 Days to Germinate
This tells you on average how many days it takes the seed to sprout from the time you put it in soil. Keep in mind these are averages, if soil temperatures are on the cooler side, it can lengthen the number of days before the seed sprouts.
Description
This is a biggy. The description will tell you about the growing habits of the plant, for example, some squash plants will say more compact than most varieties, so if you have a small growing space, you'll want plants with this characteristic. Others will say how they handle weather conditions such as: does well in a cool or mountain type climate or drought-resistant for warmer climates.
Not all of the seed descriptions will be this specific, but it is something that I look for to help me narrow my selection.
Days to Harvest
This can be the difference between a long bountiful harvest and one cut short. Many seed packets or websites will have a spot that says 120 days (the amount of days varies by plant and variety). This is important information as it tells you the average amount of time from sowing the seed until your first harvest.
If you have a shorter growing season, you'll want to pick a variety that has a shorter amount of days to harvest over another with longer days. Even a 14-day difference between varieties can mean quite a bit when it comes to the harvest yield.
An important distinction to make is the days to harvest are pretty close for direct sowing, but if the packet says start indoors as a seedling, then the days indicated are from when you plant the SEEDLING outdoors, not from the time you start the seed indoors.
Many of these packets will also direct you to plant the seed indoors first. This is what I do for my tomato and pepper plants around March of every year and let them grow into seedlings and put them outside sometime in May with my first harvest of tomatoes usually by the very last of July or the first part of August.
Spacing
The seed packets will tell you approximately how much area the plant will need to grow successfully. Even amongst things that vine out and spread like winter and summer squash, if you read the description you'll find a compact variety.
Disease Resistant
Some of the seed packets now indicate if the seed is a disease-resistant variety, especially for crops like tomatoes that are known for getting blight. You'll see wording that says disease-resistant or resistant to blight for example. Not all varieties or companies will list this, but many do when applicable.
Go here for New Gardening Techniques & Varieties to Grow in 2022
Resources from Episode #227 Seed Packet Information
Join the FREE Plan Your Best Garden Ever Challenge here including free charts and worksheets straight from the book!
Tigger Melon from Baker Creek (example in audio of podcast of a warmer climate melon pick) and Minnesota Midget Melon (example of cool climate melon pick)
San Marzano Lungo 2 the paste tomato I grow for a year's worth of tomato products.
Now that you know how to read your seed packets, learn how much to plant per person
More Articles to Get Your Garden Off to a Good Start:
Grow more in your garden this year with my new book The Family Garden Plan: Grow a Year's Worth of Sustainable and Healthy Food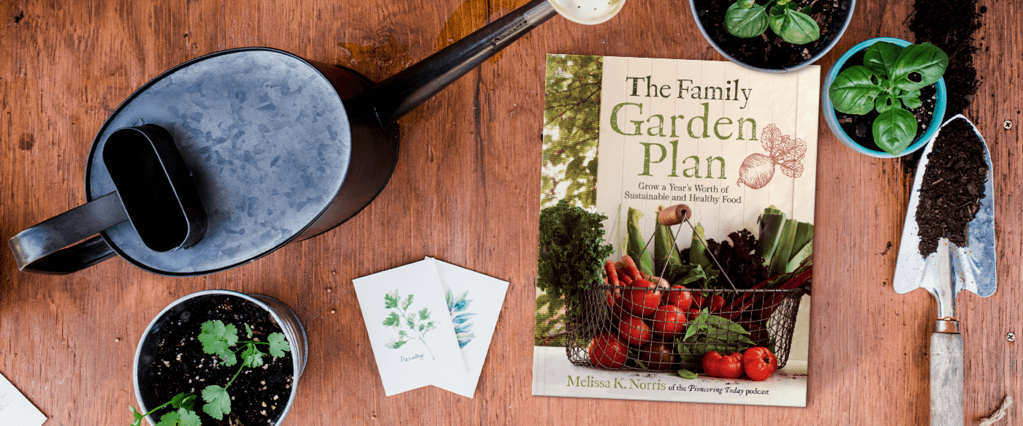 Order the Family Garden Plan: Raise a Year's Worth of Sustainable and Healthy Food and all the bonuses to grow your food here . You'll learn cold frames and season extenders, composting, and so much more!