Plant covers for cold weather gardening so you can grow vegetables all year long (or as close to possible) and what vegetables will be fine through the winter without any protection at all!
We know that as homesteaders and gardeners, our goal is to grow as long as possible. This allows us to harvest our food out of the garden to cook. In a perfect world, we would be able to grow enough food to be able to eat and preserve year-round, but we know that that this isn't the case for many of us because of the location we live in and not being able to plant enough to reach this goal.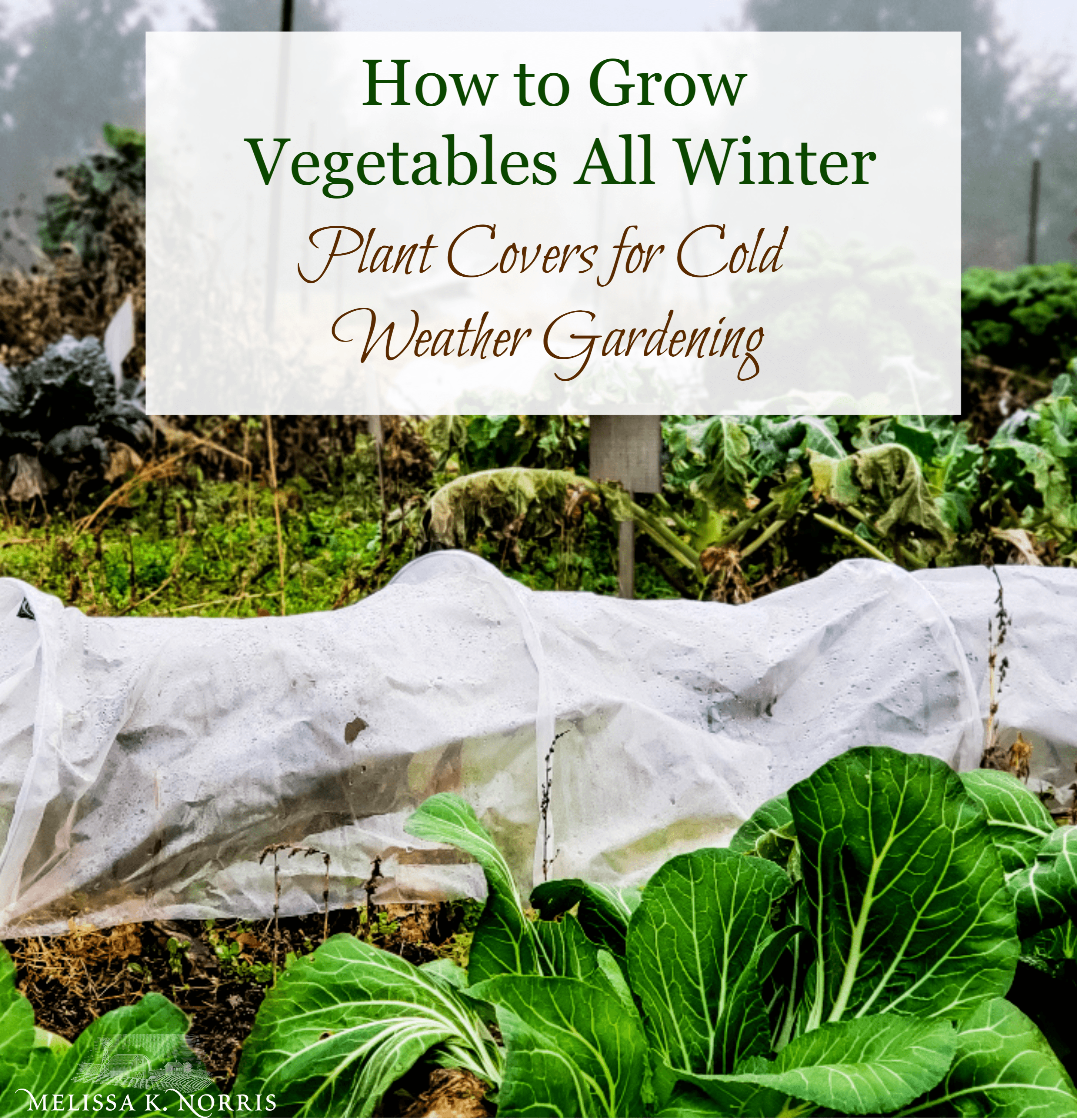 Listen in below to the full podcast, Episode #213 Plant Covers for Cold Weather Gardening: How to Grow Vegetables All Year of the Pioneering Today Podcast, where we don't just inspire you, but give you the clear steps to create the homegrown garden, pantry, kitchen and life you want for your family and homestead.
Today's topic I get excited about because I'll be covering
How to keep your garden growing as long as possible to produce more food.

Which crops you can leave in the ground until you're ready to harvest.

Crops you don't have to harvest in most areas of the country.

Ways you can extend the growing season, even if you are getting a killing frost.

Plant covers for winter
Plant Covers for Cold Weather Gardening: How to Grow Vegetables All Year
Killing Frost vs. Freeze
A killing frost is when the temperatures are below 30 degrees Fahrenheit. This type of cold kills off the vegetation. Any of your warm-weather plants freeze, and anything that is above ground is going to freeze. Then in the morning, when the sun comes up, the temperatures rise, and the frost melts.
A freeze is when the first inches of soil freezes, and even during the day temperatures, the ground doesn't thaw out. It stays frozen and not workable.
Cold Hardy Weather Crops
There are some crops that we can extend their growing time outside and harvest straight from the garden instead of always having to go to the pantry shelves. We know it will always be a combination of that in most areas of the country no matter what, but we want to be as intentional as possible in using the crops that we grow.
Many times when you have those killing frosts, the cool hardy weather plants will survive. Some examples of these are
Brussel sprouts

Broccoli

Cabbage

Bok Choy

Carrots

Kale
In fact, the flavor of these vegetables are so much better when they go through that hard frost. What happens when you start to get those colder temperatures is most of these plants slow down on their production and stop growing. So, whatever size they are when those temperatures start to hit is what size they stay. The cold weather allows us to keep it in the garden until we are ready to harvest it.
We harvested off of our kale into February, and our brussel sprouts into December. (We ran out!) We did the same with the carrots, as long as the ground isn't frozen where I'm unable to dig them up. You can mulch the area to help prevent the soil from freezing, providing that you don't get a ton of snow on top.
Garlic gets planted in October in most areas and climates, and it stays in the ground through the winter. When the temperatures start to warm up, they begin to sprout and grow the following July.
Plant Protection Covers
Other crops need a little bit of help so that we can extend that growing season much longer. One of the great things about this time of year with the crops that aren't quite as tolerant of the cold temperatures is if you put some type of cold frame cover, you can grow them for a longer time frame.
When it comes to our beets, that are not as cold hardy as many of the other vegetables that we've just spoken about. It will survive some cold temperatures, but don't usually do well unprotected. I cover my beets to give them more time to grow and so that I can harvest them further into the winter season when they reach a more harvestable size. If you're using row covers, you can increase the temperature by about 5 degrees at night and even 10-15 degrees during the day.
Some other ways you can protect your crops
cold frames

poly tunnels or hoop houses (the poly tunnel you see in the photos has been used in both my spring and winter garden through two seasons now. It's easy to install and is super cheap, I purchased mine here)

Mason jars

upside down clear pastic totes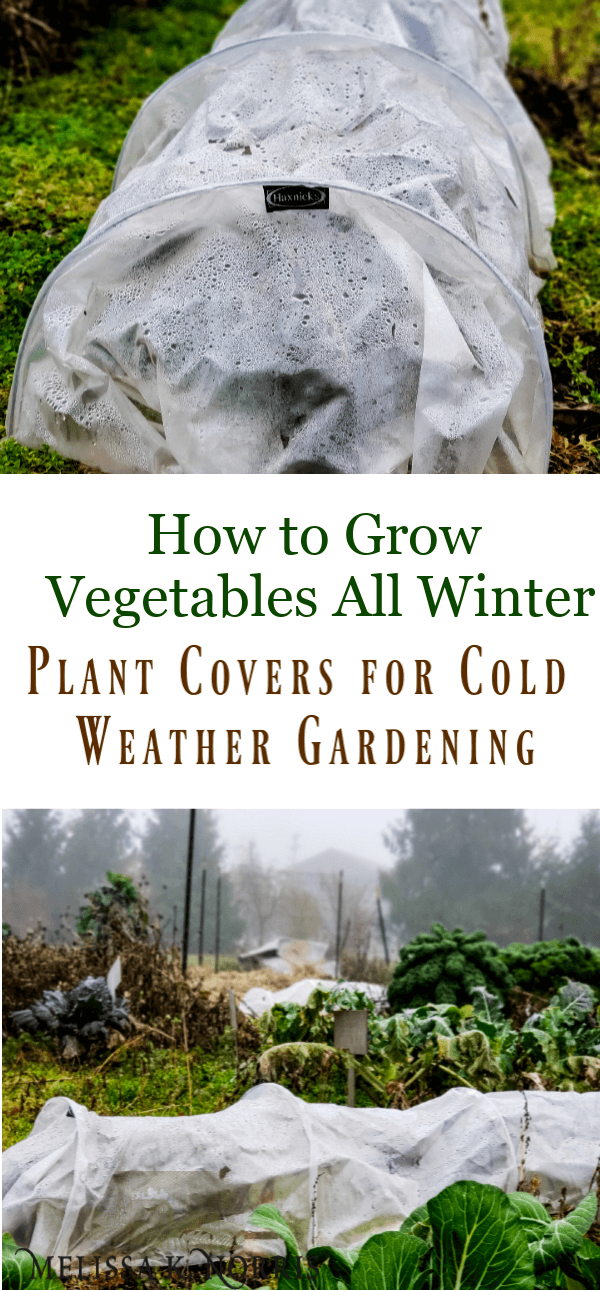 Resources for how to grow vegetables all year:
Get the poly tunnel row covers I use in my garden here: easy poly tunnel at 11 1/2 feet long
Preorder the Family Garden Plan: Raise a Year's Worth of Sustainable and Healthy Food and all the bonuses to grow your own food here . You'll learn cold frames and season extenders, composting, and so much more!
More Articles for Gardening Success: