Learn the difference between direct sowing vegetables and planting transplants that have been started from seed.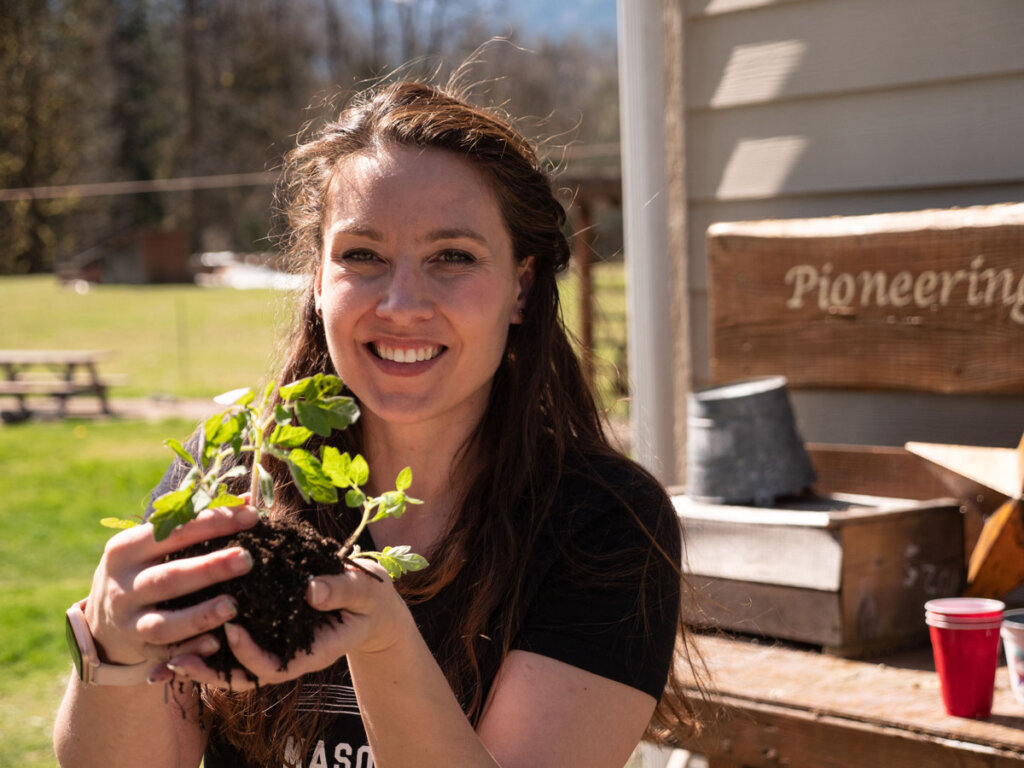 This helpful guide will help you understand the best planting process whether you are planting in a raised bed or container gardening, along with knowing what seeds have a better germination rate when started inside or out, no matter what zone you live in.
Also, find an additional section of gardening tips and processes I have learned through my years of gardening to help you feel confident in your garden endeavors.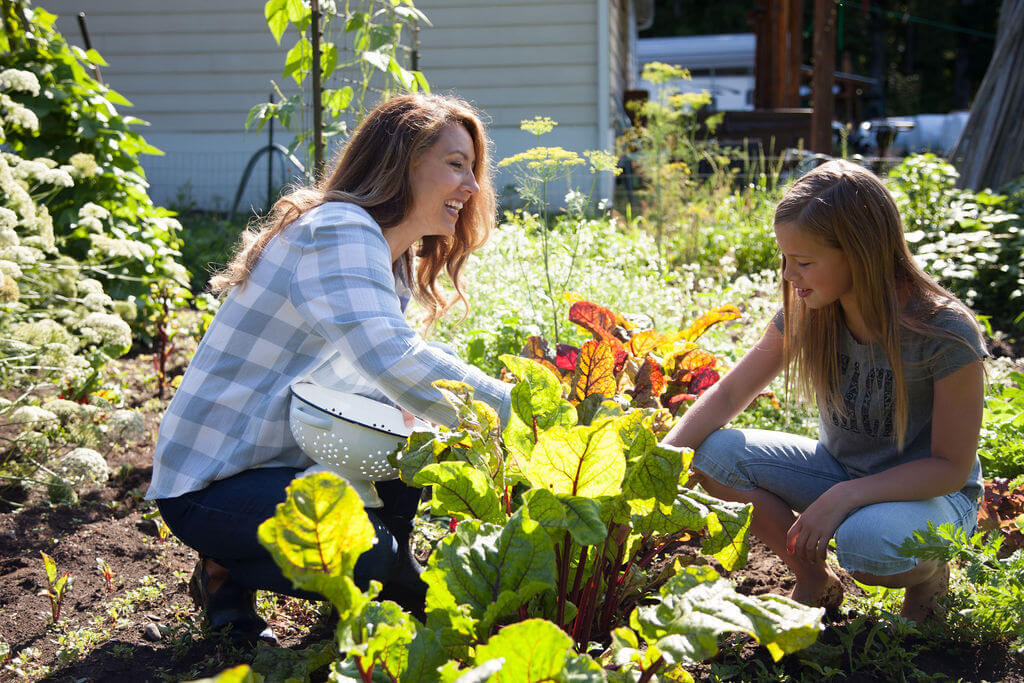 My History and Love for Gardening
I grew up in a family that always had a large vegetable garden. For me, gardening has been a part of my life and comes naturally. I enjoy gardening so much that I've written a few books to share what I've learned with others.
The Family Garden Plan will help you plan your garden from beginning to end. It has charts to help you stay organized and gives space for records and information to save from year to year. If you are inspired to get back to the basics and live a simpler life, read The Made From Scratch Life.
My family's goal of living self-sustainably is a work in progress, in fact, as of late we're now calling it "community sufficiency". We continue to make small steps in that direction every year.
We're now raising our own pigs, and grass-fed beef cattle. We also raise meat chickens along with our egg-laying chickens.
My grandparents moved from North Carolina to the Pacific Northwest in 1941 during the Depression. They traveled across the country on the back of a flat-bed truck with a few other families.
Obviously, they were limited in space, but one thing they brought with them was their heirloom seeds. These seeds are invaluable and have been with us for generations.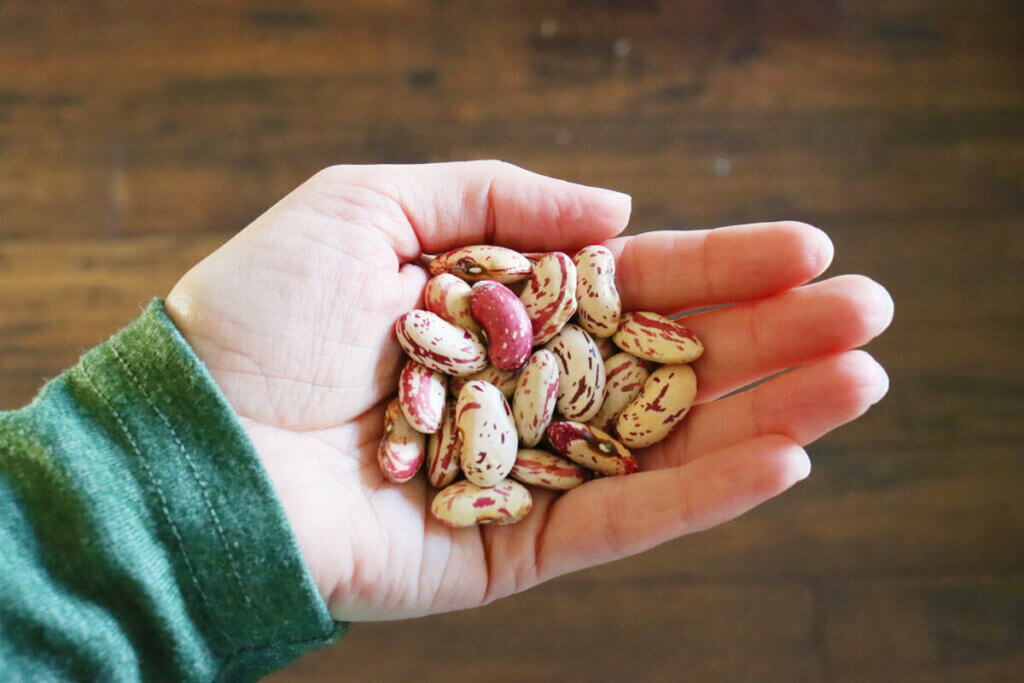 Direct Sowing Vegetables As Opposed to Planting Transplants
Most gardeners plant vegetables using both the direct-sow method and the transplanting method (also known as starts). The method you choose depends greatly on the growing zone you live in.
Some vegetables do better with a head start before planting out in the elements.
Direct Sowing Vegetables
Direct sowing is simply sowing seeds directly in the garden soil. The soil temperature needs to be 60°F for the vegetable seeds to germinate and grow.
Seeds that are sown directly will need to withstand the elements in order to get started. Do your due diligence in researching your local growing zone to make sure you understand the best times to plant seeds. Some vegetables that do well sown directly are:
Beans – There are two types of beans…bush beans and pole beans. If you are limited in space, try to find a compact heirloom bush bean variety. Pole beans are my favorite, and you can learn more about how to grow pole beans here. They will need to have a structure to grow on. If they aren't given something to vine around, they will stop growing. We have tried three different methods.

A vertical or arched trellis has become our preferred method, both to save space in the garden and for ease of harvesting.
Placing a single stake by each plant for the vine to grow on.
Placing a pole or stake at each end of the row and tying a string at the top and bottom of each pole. After that, take regular garden twine and design a "v" trellis crisscrossing back and forth for the vines to grow on.

Beets – Beets are a cool-weather crop and will be one of the first things you can direct seed. Make sure to plant them before the soil is hot, or they will rot in the ground. Find my step-by-step beet planting tutorial here.
Carrots – Carrots also like cooler weather. The seeds are super-tiny, so a benefit of direct sowing is not having to separate individual seeds. However, you will have to thin out the carrot rows after they are growing to allow for proper growth.
Corn – Plant corn one inch deep. After it has sprouted, thin it to one foot apart. Corn will have small ears if the stalks grow too closely together.
Peas – Direct sow peas in early spring, as they too like cooler weather. They will also benefit from some trellis support.
Radishes – Radishes are fun to grow and very prolific. Try sowing them every two weeks for a continuous harvest during the summer.
Spinach – Spinach does well in cooler weather, and it can even handle a light frost.
Squash – Squash has two different types… summer and winter. Plant squash in hills instead of rows. You can make a hill by heaping up garden soil into a 1-foot high by 3 feet diameter pile. Sow five seeds per hill at the top of each mound. After they sprout, thin down to three of the strongest plants and discard the other two.

Harvest summer squash early when the skin is soft and pliable.
Harvest winter squash later in the season. Make sure to bring in the winter squash before the first hard freeze. It will do well in cold storage for a few months such as in a root cellar. Learn more in detail about curing, storing and preserving pumpkins and winter squash here. Pro-tip: Press your thumbnail into the skin of winter squash. If it can't pierce through, it is ready to harvest.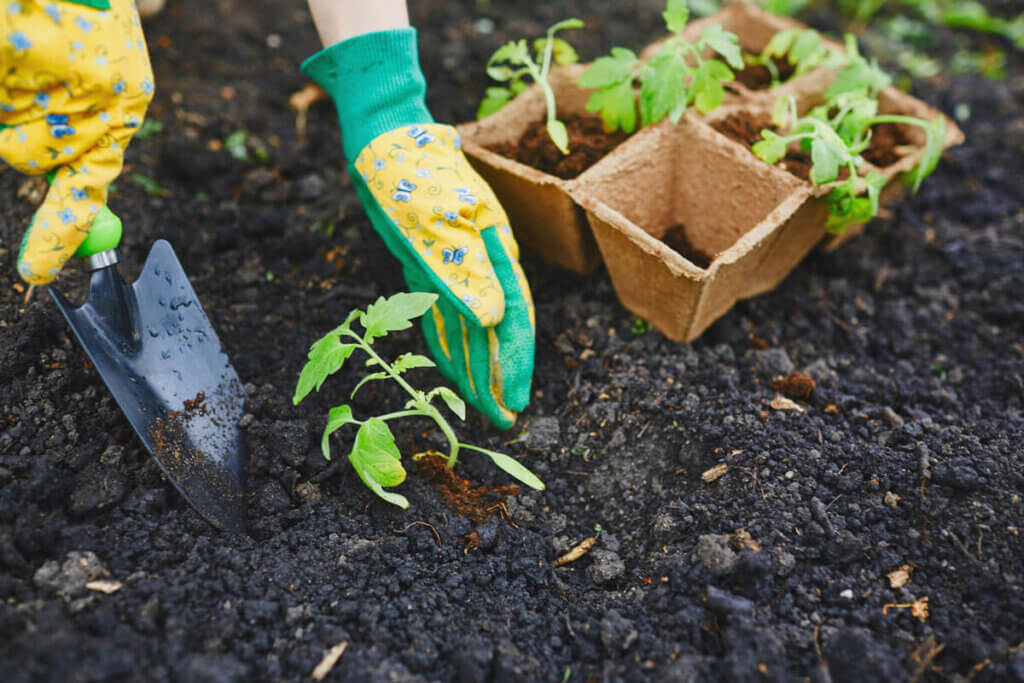 Transplanting Vegetables
Instead of direct sowing vegetables, transplants are plants that are started indoors under lighting before being planted in the garden. The seeds germinate and grow in a protected environment.
You will have a little more control over the outcome of the plants because the initial germination takes place indoors and allows the plant to be established. 
Insects tend to like baby plants for a snack, so a larger, more mature plant will not look as appetizing.
Two vegetables that I always start inside and transplant outside in warm soil are:
Tomatoes – My growing season in the Pacific Northwest is too short for tomatoes to germinate outside. I start seeds indoors in March and move them outside after our last frost date has passed. Check out my 10 tomato-growing tips for added success!
Peppers – I also start these inside, but this can vary somewhat depending on your growing zone. If your growing season is long enough to allow for you to wait until the soil temperature reaches 70°F, you can start peppers outside. For us here in the Pacific Northwest, this is not possible. The weather can get cold too soon for them to reach maturity.
When to Direct Sow Vegetables
Knowing your growing zone and familiarizing yourself with resources explaining your growing season will help you choose the best time to plant your garden. Check out my gardening by month series: gardening in March, gardening in April, gardening in May, and gardening in June where I break down what I do in these months to prepare for planting time.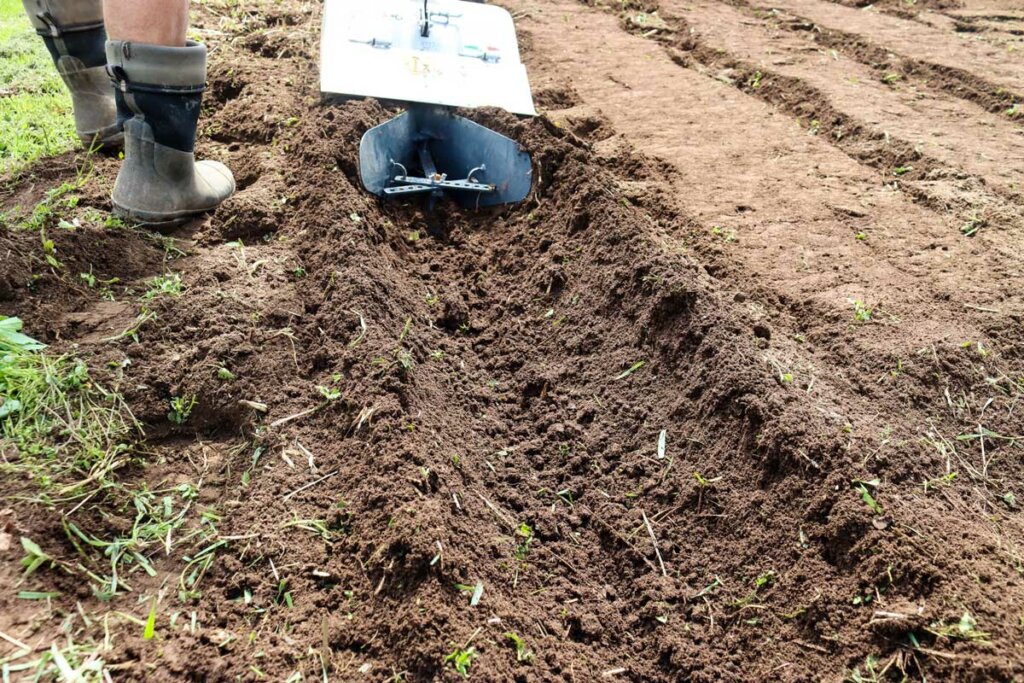 Supplies Needed for Direct Sowing Vegetables
Garden Seeds – After you have created your garden plan, and the soil temperature has reached 60°F it's time to get those seeds in the ground.
Prepared Garden Beds – Remember to follow the steps outlined above in the monthly tasks posts to have your soil ready for seeds. Learn more about soil health here.
Marking String – You will need something to help you mark straight rows. One method is placing stakes at each end and tying garden twine between the two.
Shovel or Garden Trowel – Use whatever tool works best for you to trench a straight line in the dirt.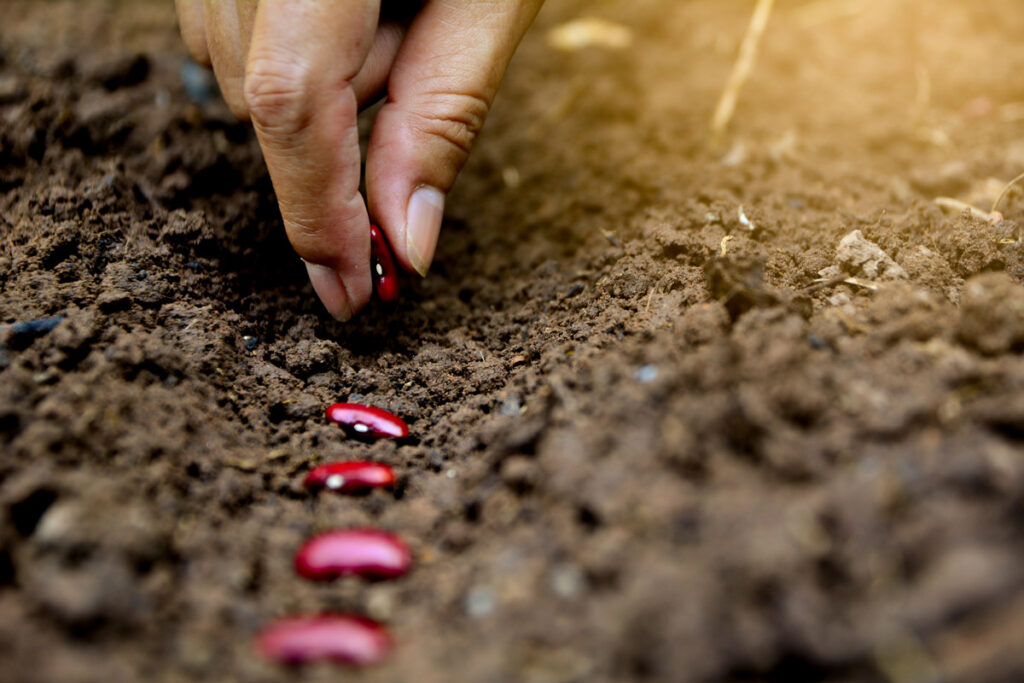 Direct Sowing Vegetables Step-by-Step
Mark the rows as straight as possible.
Read the instructions on each seed packet to know the depth and seed spacing width to be planted.
Trench a line in the garden soil at that approximate depth level, and place the seeds in the row.
Lightly tamp the garden soil back over the row and water lightly so as not to wash away the seeds.
Gardening Tips for Every Gardener
There are so many aspects of gardening that I have learned throughout my life. Some lessons are hard! We pour so much "heart" into our gardens, and making mistakes can be devastating. Here are a few tips, tricks, and practices I have learned to help you succeed.
What is Germination?
Germination is the process of growth after the seed is placed in soil and watered. Learn more about how to speed up germination for faster growth here.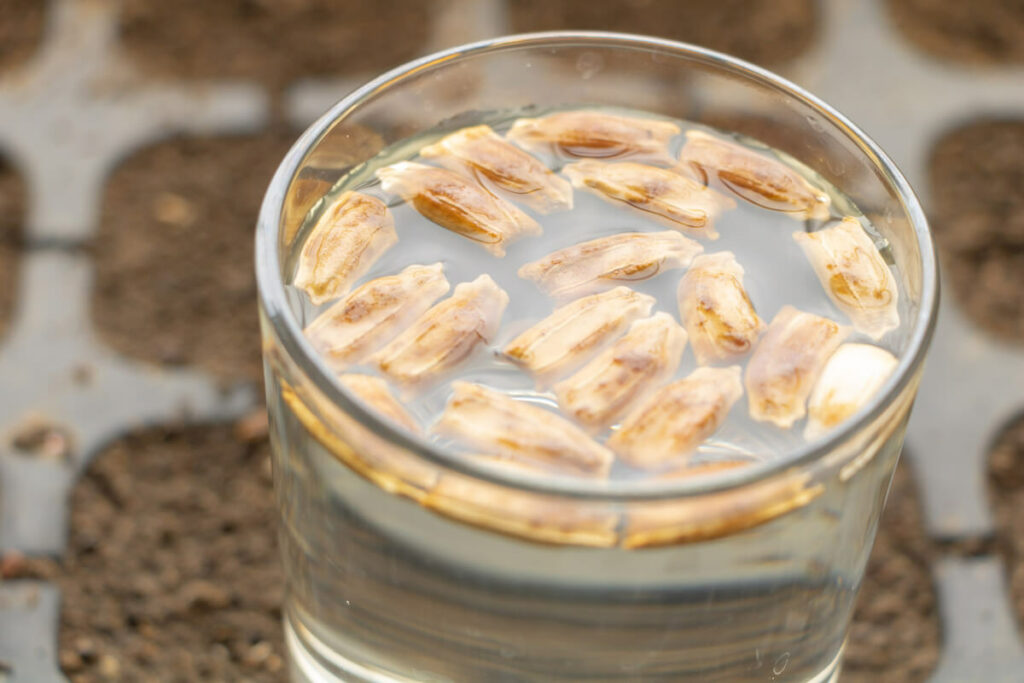 Why and When Should I Soak Seeds?
For some seeds, the recommendation is to soak them in warm water for 12 hours right before planting. This will shorten the germination period and encourage a faster and better germination rate.
Pro-tip: If your soil is not warm enough, and you soak your seeds, they will rot.
What is a Growing Season?
A growing season is the period of time each year when temperatures and rainfall are right for plants to grow. This time period varies depending on the part of the country or world you live in but is generally defined between the last frost of spring and the first frost of fall.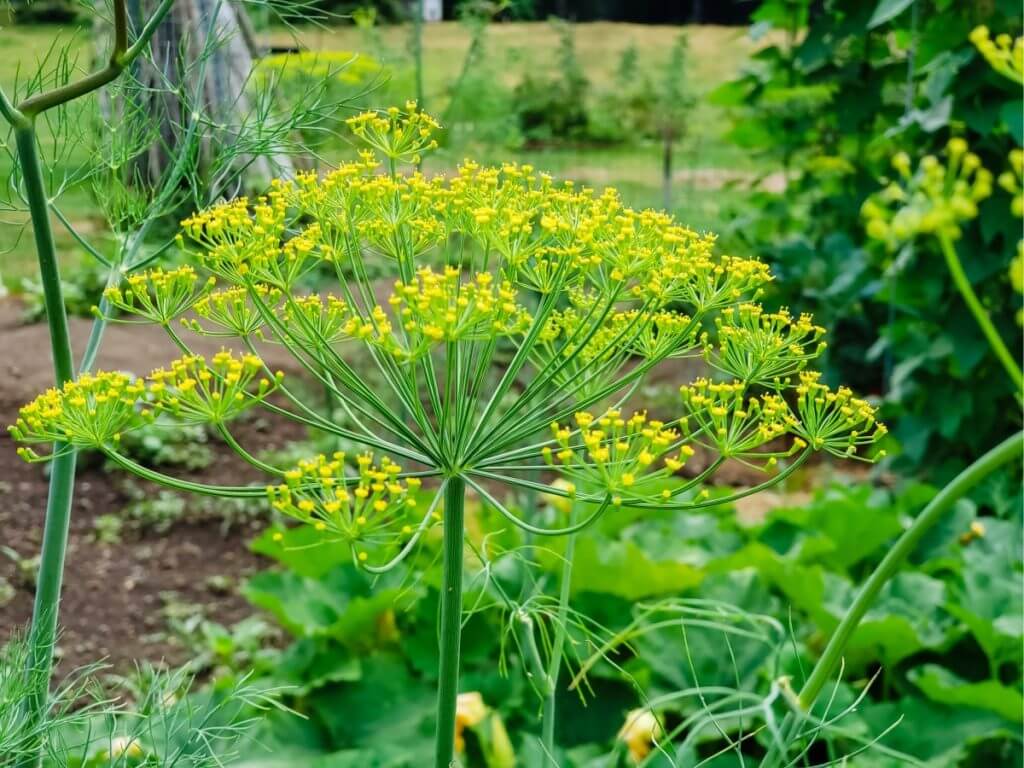 What is Companion Planting?
Companion planting is a method of using different plants to complement and benefit each other. I call this God's pest control method – no need for chemical sprays! If plants attract similar pests, don't plant them beside each other.
An example of companion planting is "Three Sisters Farming", a method Native Americans used. Corn, beans, and squash complement each other.
Check out this post on companion planting strategies to learn how to implement this method into your garden.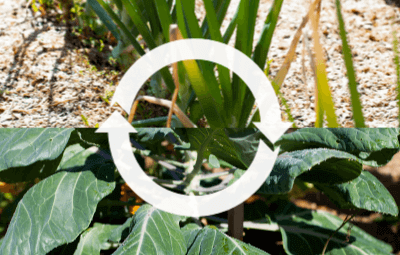 What is Crop Rotation?
Rotating crops from place to place in your garden improves the health of the soil, helps combat pests, and optimizes the nutrients in the soil.
Pro-tip: Take a picture of your garden when everything is in full bloom. Reference it next year when you are planning your garden to ensure you rotate the crops correctly.
Gain a better understanding to use crop rotation methods in your garden here.
What is a High Tunnel?
A high tunnel is similar to a greenhouse, however, the plants are planted in the garden soil. Plastic surrounds the sides of the tunnel but will lower or raise to control airflow and for protection from wind and sun.
How Do I Harden-off My Plants?
Hardening-off is a practice required for transplants. Grown inside in a protected area, they will need to ease into life out in the elements. Start by placing them outside for one hour a day, increasing by one hour increments for a period of ten days.
How to Keep Birds Away From Baby Plants
Birds think seedlings look like bugs or worms. They will often pull them out but not eat them. I like to place string right above the row as soon as I plant the seeds. This seems to distract the birds long enough to get the seedlings past the tender stage. Be sure to remove the string when the plants are around two inches tall.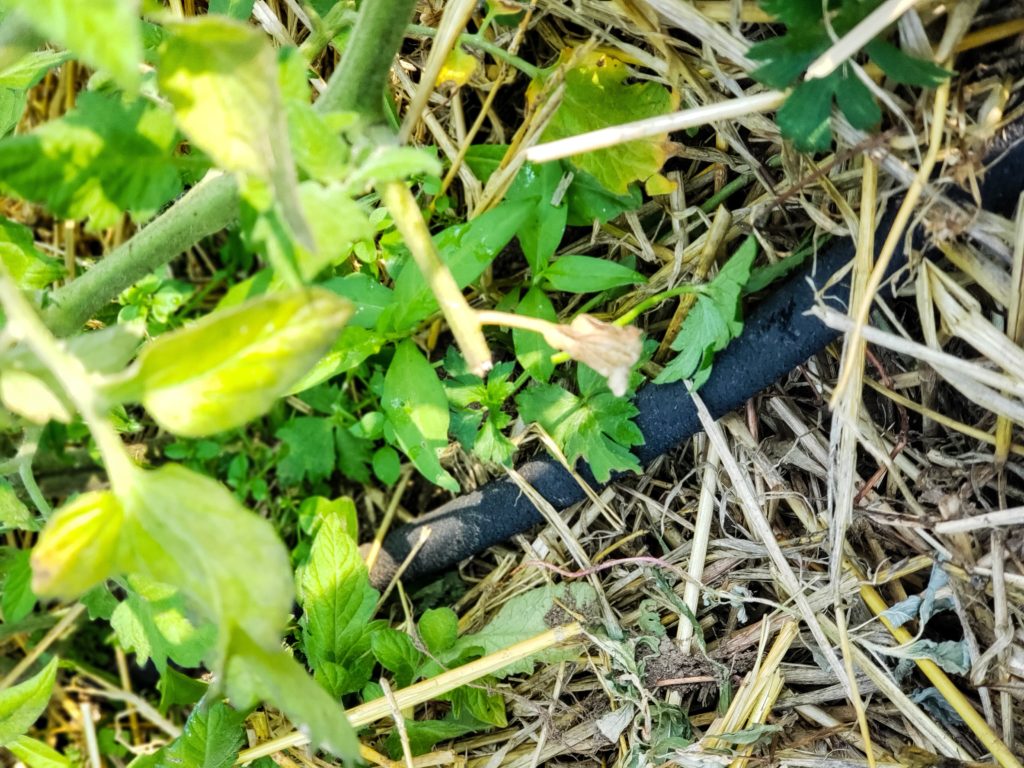 Watering Systems
Tomatoes and peppers don't like overhead watering. These plants are susceptible to fungus. Overhead watering puts water on the foliage instead of at the root. Try using soaker hoses for watering.
More Posts You Might Like