Some of the links below are affiliate links, which means I will earn a commission at no additional cost to you, if you click through and make a purchase. Regardless, I only link to products we use on our homestead or believe in.
My vegetable garden provides me with great enjoyment. I feel immense satisfaction from planting a seed, watching it grow, and produce. I wonder if God feels that way about us?
I also like knowing my family is eating healthy food, untouched by chemicals, and who knows what else on its way to the store. Plus, I get to harvest my food at its peak for best taste and freshness.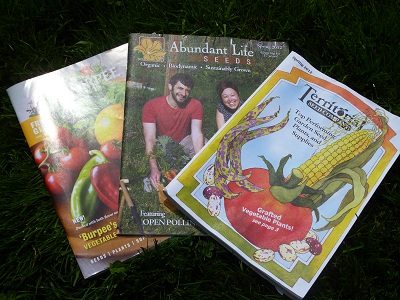 It's a lot of work. Doing most things from the ground up is. But it's worth it.
Right now is the perfect time to order your seeds if you don't already seed save. Heirloom seeds are seeds left as God made them, untouched by the hand of science. This means you can save the seed from the plant and it will grow the following year. Money in your pocket and independence from the stores.
When going through seed catalogs you may run across the term open-pollination. Open-pollinated, also known as heirloom or standard, are plant varieties that have stable traits from one generation to the next. Plants that open-pollinate will be pollinated from other plants within a mile radius via the wind and insects.
So, if you don't want your plant to pollinate with the neighbors, then you might have a problem. But, you can always cull the plants that start to drift from the "original" or you might end up liking the cross better. And you will still be able to save the seed, as hybrids don't cross-pollinate and are sterile.
Beans, lettuce, peas, and tomatoes are self-pollinating so you don't have to worry about these usually.
We use Baker Creek Heirloom Seeds (no kickbacks, just love 'em). If you're concerned about GMO seeds, I've got you covered. Heirloom seeds can't be GMO seeds, but for more information on the difference between heirloom, hybrid, and GMO, sign up for my email list and get my book, Heirloom Gardening Guide-Planting to Save Money for free!
Many times, you can find small local farms that sell heirloom starts that are acclimated for your area.
Hybrid seeds mean they've been crossed within their same species by scientists in a lab. They are usually sterile and are not candidates for seed saving.
Organic seeds mean they have been grown and collected where no synthetic pesticides or chemicals have been used. Certified organic also means they cannot be genetically modified.
My husband's is corn on the cob, but I love a good fresh tomato.
Do you have any tips for heirloom gardening or seed saving? What's your favorite vegetable, the one you can't wait for it to ripen and bite into, juices dripping down your chin?
This is featured on The Prairie Homesteader Blog Hop. Click on over for lots of other great pioneering posts.
For further information on heirloom gardening, check out these articles as well!