Some of the links below are affiliate links, which means I will earn a commission at no additional cost to you, if you click through and make a purchase. Regardless, I only link to products we use on our homestead or believe in.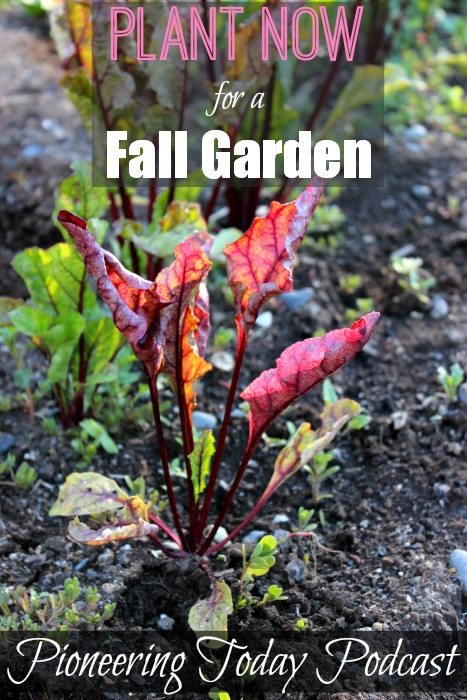 Planting a fall vegetable garden ensures you'll be harvesting vegetables far into the cooler months. But you need to start planting now to harvest in fall.
I post new episodes every other Friday morning. You can subscribe via RSS and receive every episode for free.


Or subscribe via Itunes

Question of the week: I don't always buy organic so if I put those scraps in my compost bin, is it not organic, and is that okay?
Answer: I don't buy everything organic either, some vegetables aren't sprayed with chemicals, like asparagus. But, if a fruit or vegetable is on the dirty dozen list then we buy them organic. If you're comfortable enough to eat the items without them being organic, than I'd add them to you compost pile. I personally would consider your compost organic by the time it's all broken down and applied to your plants, even if not all the scraps are certified organic.
To harvest vegetables throughout the fall, you need to sow them at the end of summer. Most cool weather crops need to be planted 6 week before your last hard frost date.
Our goal is to have food growing almost all year long. With the aid of a homemade off-grid greenhouse, we're going to try and grow vegetables throughout the winter.
Cool weather crops to plant from seed now:
Carrots, beets, lettuce, spinach, parsnips, radishes, and kale
Cool weather crops to use transplants or starts: (If you haven't started seeds yourself, go to a nursery as close to you as possible)
Broccoli, cauliflower, cabbage, and brussel sprouts.
You can continually sow some cool weather crops all summer long until 4 to 6 weeks before your first hard frost date. This allows you to harvest the crop all season long and have a new crop continually coming on.
If weather is too hot, cool weather crops won't germinate. Set up something to shade the area where you'll be planting. Watch weather and try to pick some cooler days. Keep soil moist for a few days before planting to keep soil cooler and wet for germination.
Plant fall crops behind taller summer crops like pole beans and corn to act as shade.
Soak beet seeds overnight before planting in August. Learn how to grow and plant beets here.
Once fall crops are sown, keep it moist as they're germinating and starting to grow.
Over sow to be sure you'll have enough plants coming up. Be sure to thin your carrots and beets once they've been established and growing.
Beets must be thinned in order for the beet to develop. Let beet greens grow to about 3 inches tall before thinning to use the beet greens in other recipes.
We use beet greens in smoothies, (love our new Blendtec for this, so much so we're a proud affiliate for Blendtec blenders!) in salads, and steamed or sautéed. Use beet greens sparingly in smoothies, about 3 is just right.
Cabbage can be stored in the ground all winter long. Place straw over top. Beets and carrots can be left in the ground when sown for the fall, cover with straw and pull up as needed.
Brussel sprouts are sweeter when they grow through a frost. Harvest after the first hard frost.
Kale can be used a cover crop. It will stop growing during the coldest weather and start again in the spring. We prefer curly kale for a sweeter flavor.
Resources:
5 Vegetables to Plant Now for a Fall Harvest