Whether you plant in an indoor Aerogarden, grow in a pot or container garden, or grow using a raised garden bed, learning how to prune basil properly (before it flowers) will stimulate growth and double your harvest.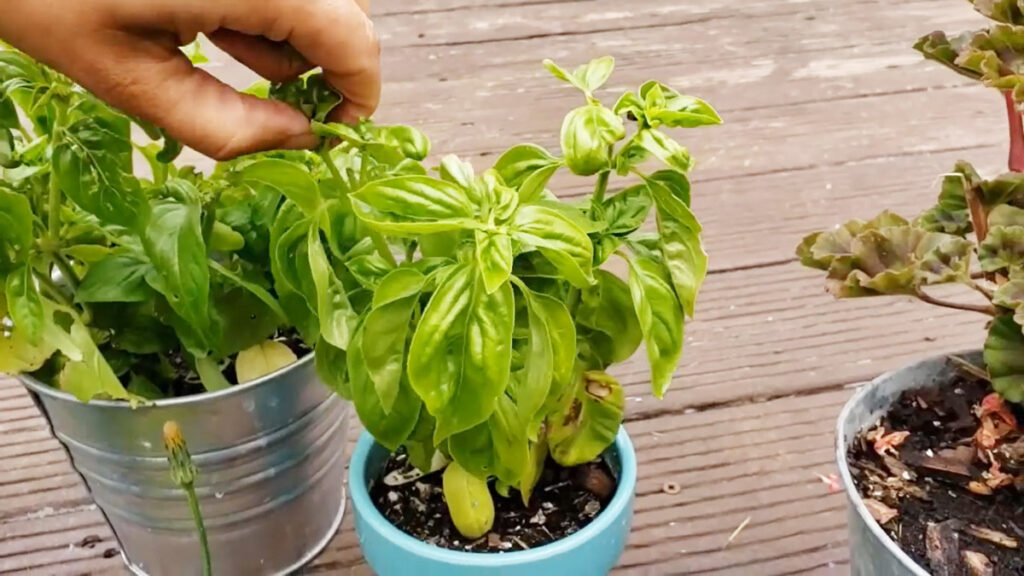 Read on to learn all about caring for basil, sage, and mint, including a step-by-step pruning tutorial and video demonstration.
Table of Contents

[Hide]

[Show]
Why Prune Herbs
Properly pruning herbs actually helps to stimulate growth and results in a fuller, healthier plant.
Basil, mint, and sage grow easily, and pruning them will give you big bushy plants rather than tall spindly plants that are not sturdy and don't produce well.
When pruning is neglected and plants are allowed to produce flowers, this signals the plant that the growing season is over, and it's time to produce seeds for the following year.
Pruning encourages the plant to continue to grow and produce leaves for a maximum harvest.
Additionally, when basil flowers form, the leaves become bitter and no longer produce an optimal flavor profile.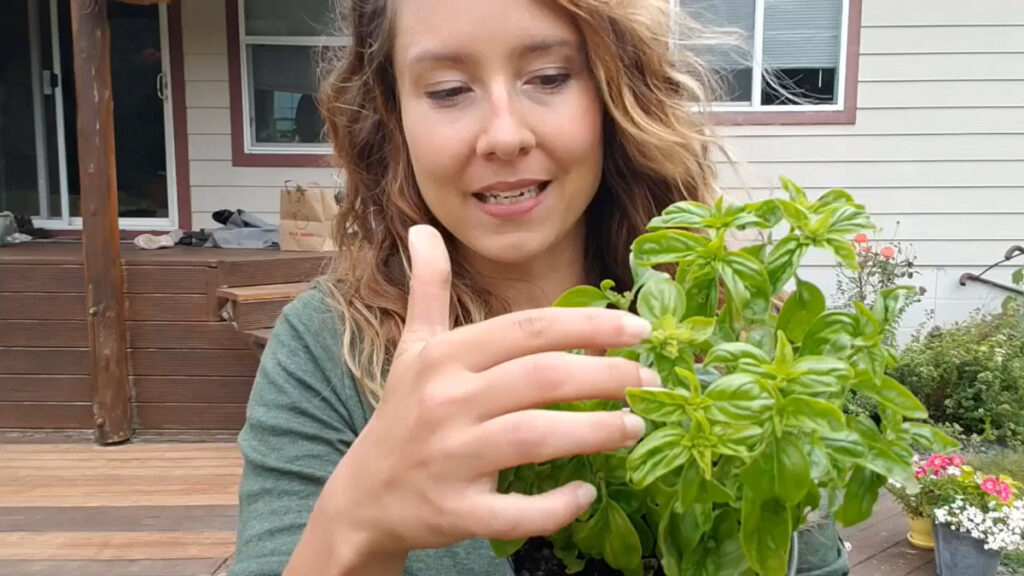 When to Prune Basil, Mint, or Sage
Sage, mint, or basil seedlings with tiny leaves will need time to establish after planting. Wait to begin pruning the plant until it is at least six inches tall and producing leaves.
The flowers of the basil plant should be pinched off as buds begin to form (in the photo above, I'm pointing to a cluster that's about to form a flower).
I would encourage you to pinch off the buds and pinch the leaves every couple of weeks. This encourages the plant to grow more leaves instead of putting its energy into forming flowers.
Trimming leafy herbs will also increase the flavor and give you stronger medicinal properties (learn the best drying methods for medicinal herbs here). You can be aggressive when trimming leafy herbs because they grow quickly.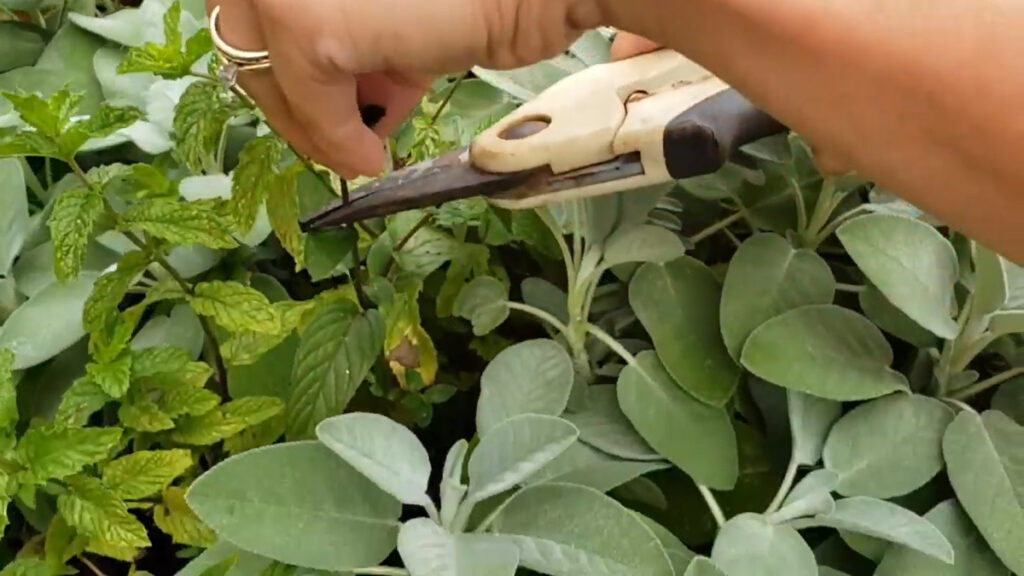 Supplies Needed
[adthrive-in-post-video-player video-id="GDoKb1z2″ upload-date="2022-05-27T18:59:39.000Z" name="How to Harvest Herbs prune basil, mint, sage to DOUBLE the harvest.mp4″ description="null" player-type="default" override-embed="default"]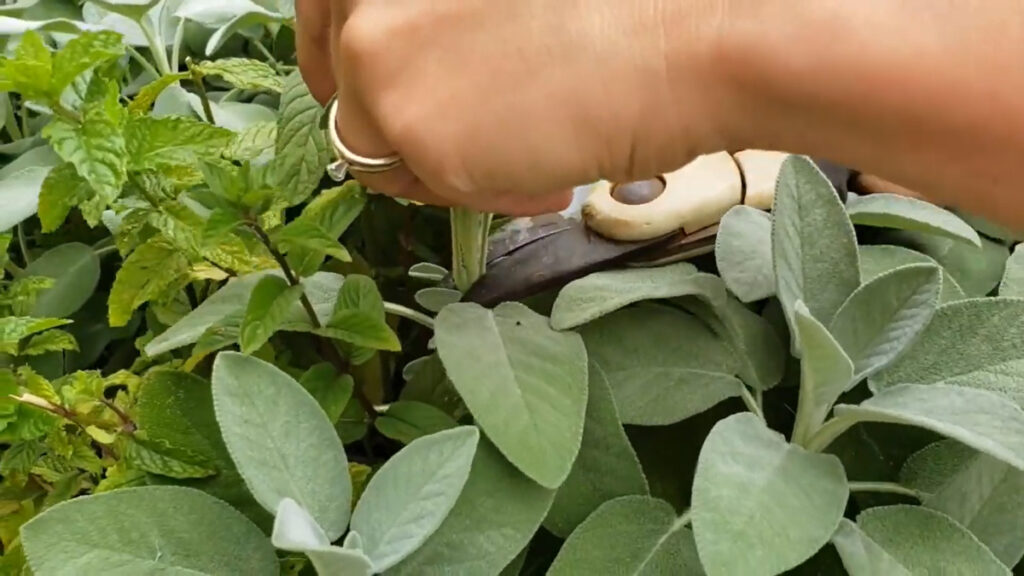 How to Prune Basil, Sage and Mint the Right Way
Begin by pinching off any buds or flowers that have formed.
Next, find a set of leaves across from each other at the top of the plant and cut the main stem to trim the basil, sage, or mint right above that. This will cause that spot to branch off into two more branches, making your plant healthier and fuller and giving you a greater harvest.
Repeat this process with each branch.
Lightly rinse harvested herbs and gently pat them to dry.
Pro Tip: There is a common misconception when pruning leafy herbs that you should remove the largest leaves on the bottom branches. Pruning those large bottom leaves will actually hurt your plant. Those big leaves are taking in the most sunlight to feed your plants, and pruning leaves from the bottom won't help your plant to create new branches and more leaves.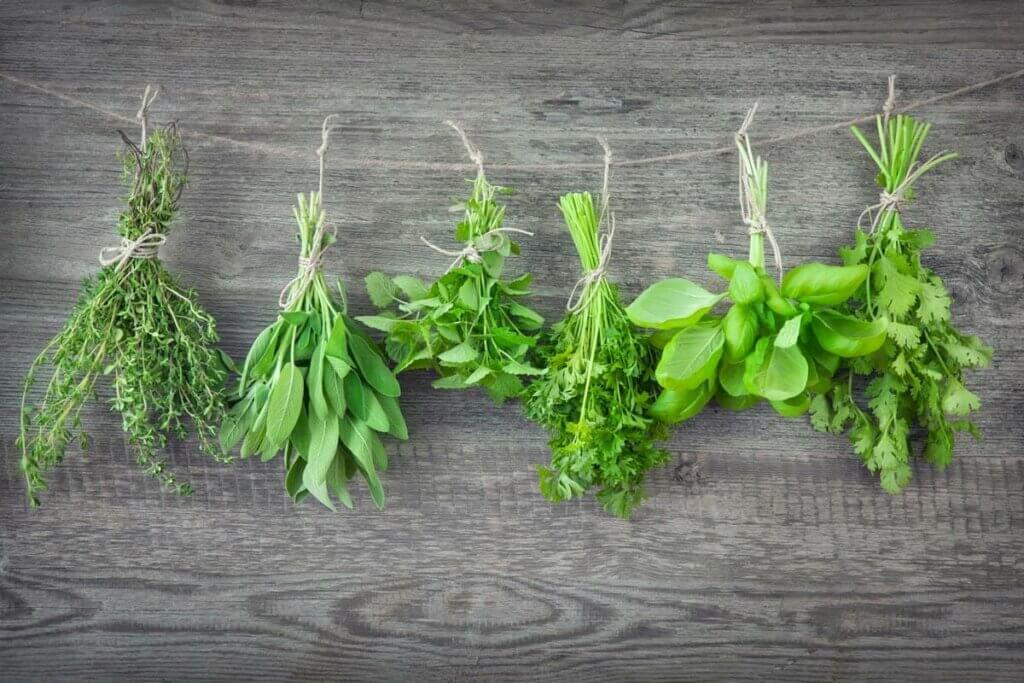 How to Use Harvested Herbs
Fresh herbs provide a delicious punch of flavor and can be used in a variety of ways.
Learning how to dry herbs and making your own culinary herb blends are also an amazing way to add flavor to your food.
Pro Tip: Dried basil does not have the same flavor punch as fresh basil so my favorite way to preserve basil is in salt.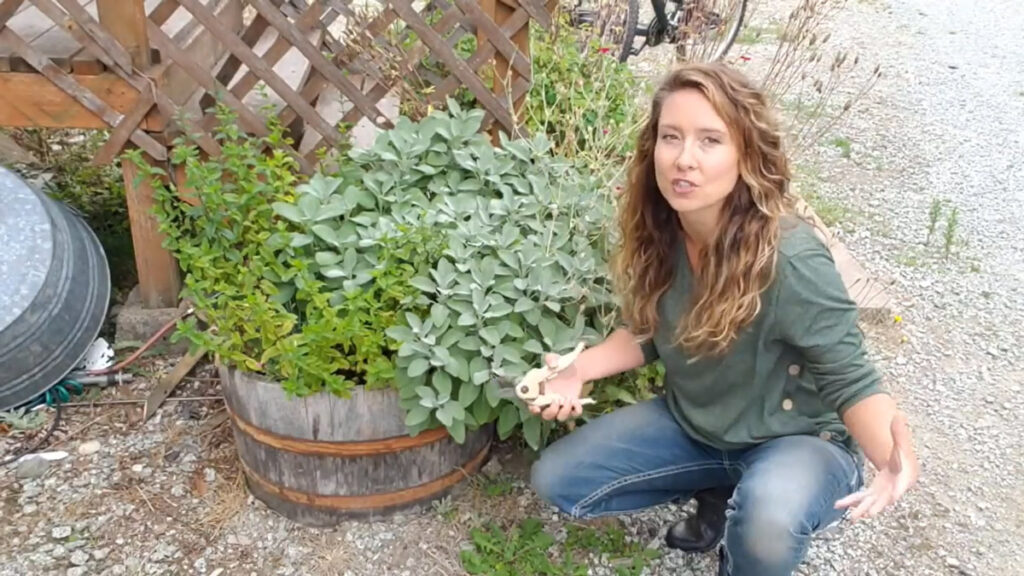 Tips When Pruning Basil, Sage, and Mint
When harvesting for flavor and medicinal purposes, look for bright green growth.
Prune the plant where any leaves show signs of damage or yellowing.
Leafy herbs bruise easily which releases the aroma of the essential oils. In order to keep every bit of flavor in the leaves, use a tender hand when harvesting.
Harvesting herbs is best done in the morning. Herbs have the highest concentration of essential oils in their leaves after the dew has dried, but before the sun heats up the plant. Basil is the exception to this rule and can be picked later in the day.
To harvest mint, you can begin plucking leaves in the spring as soon as the plant is leafy and continue to harvest as often as possible. As with basil and sage, it's important to prune right above two leaves across from each in order to encourage good bushy growth.
When harvesting sage, prune off the top big leaves or again you can look for two leaves growing across from each other and prune there to encourage more growth. Remember, you want to encourage your plants to grow bushier rather than tall so they don't fall over.
More Herb Tips and Tutorials